The Beard Papa's menu consists of luscious custard and chocolate cream puffs. It also offers Kaze Kaze treats filled with chocolate and vanilla custard. The cream used as its filling is fresh and tasty and has milky, creamy, sweet, and rich flavors. There are also seasonal flavors offered now and then that you should not miss out on. Its perfect combination of the texture of its crust, double-layered puff-choux, and special filling is like an art.
You can find the updated pricing information for the Beard Papa's menu below.
MENU
PRICE (SGD)

Party Boxes

Classic Favourites Box
$16.60
Choco Mania Box
$19.60

Custard

Custard Pie Cream Puff
$3.00
Custard Cookie Cream Puff
$3.30
Custard Éclair Cream Puff
$3.50
Custard Kaze Kaze
$4.00

Chocolate

Chocolate Pie Cream Puff
$3.50
Chocolate Cookie Cream Puff
$3.80
Chocolate Éclair Cream Puff
$4.00
Chocolate Kaze Kaze
$4.20
About Beard Papa's
Beard Papa's was established by Yuji Hirota in Osaka, Japan, in the year 1999. It became a successful shop as its patrons loved its aromatic, fluffy, and delicious treats. The management is committed to bringing happiness and satisfaction to its diners. Today, it has outlets in different parts of the world, including Singapore.
Party Boxes
Beard Papa's offers two varieties of party boxes that are perfect for different events. It is also a great snack to share and enjoy with your loved ones. These party boxes will turn your bonding into a simple yet special celebration.
Classic Favorites – The classic favorites party box menu of Beard Papa's comprises two custard pies, two custard cookies, and two custard éclairs. It is perfect for different occasions or gatherings as it has a novel taste that will impress your loved ones or guests.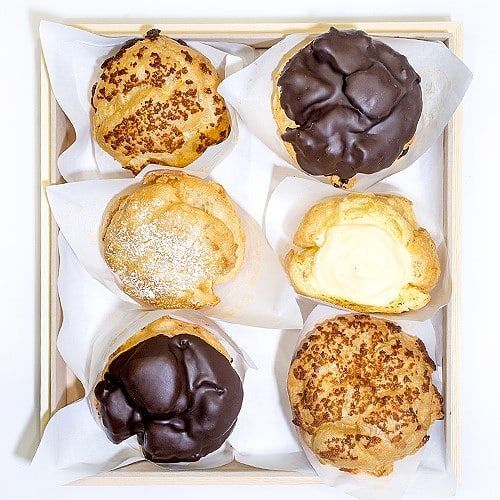 Choco Mania Favorites – Chocolate is a favorite flavor of various food and beverages. This box of Choco Mania consists of 2 chocolate pies, two chocolate cookies, and two chocolate éclairs. It is a great choice if you want to prepare something that everyone will enjoy.
Beard Papa's Menu Custard
Custard cream puffs are stuffed with delicious and rich cream. The creaminess of its filling and the enticing textures of this sweet treat makes every bite pleasurable. It is an excellent snack for those who want a quick bite.
Custard Pie Cream Puff – This menu of Beard Papa's is a delicious dessert that Singaporeans describe as shiok. It is a signature pastry of Beard Papa's and an all-time favorite of its patrons as it has a creamy filling and crispy texture that goes perfectly. The buttery and melt-in-your-mouth goodness of its filling and its classic taste make it gratifying.
Custard Cookie Cream Puff – Crunchy bits of cookies are laid on the top of the choux pastry. This topping complements well with the texture of the bread and the creaminess of its filling. Each bite of this custard cookie cream puff is satisfying as it is packed with delicious classic flavor.
Custard Éclair Cream Puff – Filled with creamy custard and topped with crispy pie crust, this delicious pastry will surely make you crave more. The layers of exciting flavors and textures are the feature of this dish that always impress its patrons. Its cream filling is light and too sweet, so you will savor its natural goodness.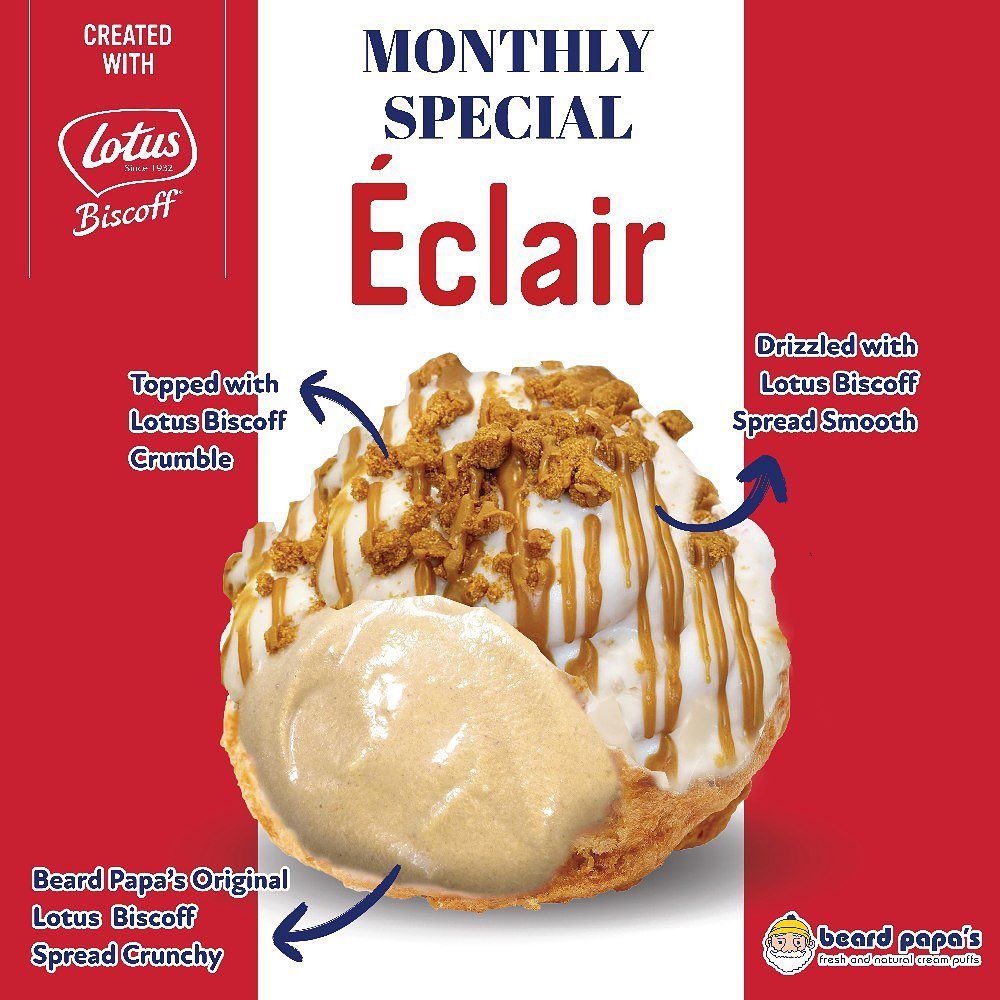 Custard Kaze Kaze – It is freshly baked daily to serve customers a flavorsome and enjoyable treat. This is in a stick-shaped treat that consists of custard fillings and is coated with almonds. The excellent combination of its texture and flavors makes it addicting.
Beard Papa's Chocolate Menu
The signature chocolate cream of Beard Papa's is stuffed in these delicious cream puffs. This special treat has a comforting goodness that will make you feel good and satisfy your chocolate cravings.
Chocolate Pie Cream Puff – Fresh cream and chocolate are mixed by hand and stuffed in bread. It is well-loved by its customers as it has a simple and luscious taste and a light and fluffy filling. If you want to add a delicious twist, you can order for takeout or delivery and heat it in your microwave to get an oozy sauce when you cut it.
Chocolate Cookie Cream Puff – This pastry is perfect for those who love chocolate as it is generously filled with Beard Papa's signature chocolate cream filling. To boost its chocolate flavor, it is topped with crunchy and delicious cookie bits.
Chocolate Éclair Cream Puff – Topped with rich and luscious chocolate, this cream puff has a chocolatey goodness and exciting flavor. This sweet treat is filled with Beard Papa's special chocolate cream. This pastry has the right balance of sweetness that makes it satisfying. People of all ages love this pastry as it has a generous rich chocolate cream filling.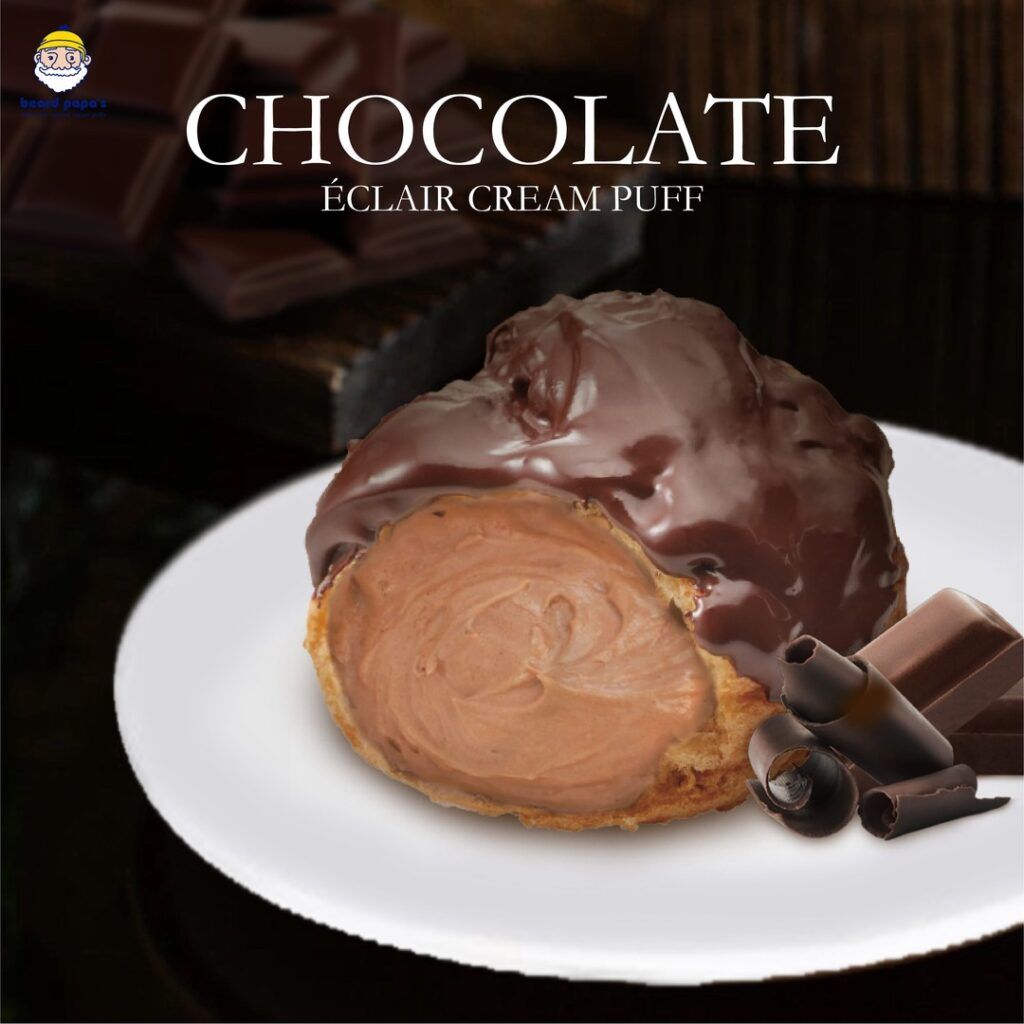 Chocolate Kaze Kaze – One of the famous pastries of Beard Papa's has a delicious chocolate cream filling. It is a treat that kids will surely love as it has a chocolate flavor, a crunchy shell, and a visual presentation that will capture their interest.
Beard Papa's Menu Delivery
You don't have to leave the comfort of your own home to enjoy the delicious cream puffs from Beard Papa's. With their availability on online delivery platforms such as GrabFood, FoodPanda, and Oddle, you can have your favorite desserts delivered straight to your doorstep. And if you have any questions or inquiries about their menu or services, you can always give them a call at +65 6222 4567. So why wait? Treat yourself to the delectable cream puffs of Beard Papa's today, without ever leaving your couch.
Social Media Pages
Beard Papa's offers an irresistible selection of creamy and decadent desserts that are sure to satisfy your sweet tooth. By following their social media pages, you'll be the first to know about their latest menu offerings and promotions, so you won't miss out on any of the delicious treats they have in store.
Facebook: https://www.facebook.com/Beard-Papa-Singapore
Instagram: https://www.instagram.com/beardpapasg/
Website: https://www.beardpapas.com/
FAQs
What are the most popular flavors of cream puffs at Beard Papa's Singapore?
Custard Pie, Custard Éclair, Chocolate Éclair, and Custard Cookie are the most popular flavors of cream puffs at Beard Papa's Singapore.
Does Beard Papa's Singapore offer any other products besides cream puffs?
Yes, besides cream puffs, Beard Papa's Singapore serves Kaze Kaze, that are available in custard and chocolate flavors.
Is Beard Papa's halal-certified?
While Beard Papa's Singapore may not have a halal certification, they still offer a wide range of delicious desserts that can be enjoyed by people of all backgrounds and dietary restrictions. Plus, they use only the highest quality ingredients to ensure that every bite is as tasty as it is safe to consume.
Does Beard Papa's Singapore offer any discounts or promotions?
Yes, Beard Papa's Singapore offers discounts or promotions that are exclusive only for a limited time. Call them on their hotline at +65 6222 4567 or visit their social media accounts to know if they have current promotions. Some of its delivery platforms also offer discounts and promotions.
Conclusion
The Beard Papa's menu is well-known for its delicious cream puffs. These delicious pastries are ideal for those who want a quick and savory treat. If you want to try different flavors of this tasty dessert or pastry, you must visit it every month as they feature special cream puffs. The features of these puffs that customers love are generous filling and yummy flavor. Its simplicity in preparing its dessert makes them one of a kind. The special and classic recipe of its dishes with a modern twist is bound to satisfy every palate.