GOPIZZA where pizza is on the go. This new brand is bringing you a new era of pizza enjoyment. They serve single-pax fire-baked pizzas that are enjoyable anytime, and anywhere. Their success all started in a tiny food truck in Korea. Now, they have more than 100 outlets, scattered across 4 countries! GOPIZZA menu gives customers the best experience they can have at an affordable price starting from $7.90. They plan to accomplish this by innovating their products while using their top-notch pricing strategies.
It doesn't matter if you're a normal pizza lover or a Korean food enthusiast, they guarantee that you'll be enjoying their mouth-watering pizzas.
GOPIZZA Menu Price List [Updated]
MENU
PRICE (SGD)

Package Meal

Single Package
$14.40
Pasta Package
$14.40
K Mukbang Package
$26.80
Duo Package
$28.60
Go Go Package
$28.60

Veggie Pizza

Classic Cheese Pizza
$8.90
Veggie Pizza
$8.90
Ham & Cheddar Pizza
$9.90
Hawaiian Pizza
$9.90
Pepperoni Pizza
$10.90
Super Combination Pizza
$10.90
BBQ Chicken Pizza
$10.90
Cream Mushroom Pizza
$10.90
Blue Cheese Pizza
$10.90

K-Pizza

Beef Bulgogi Pizza
$11.90
Fire Chicken Pizza
$11.90
Yangnyum Chicken Pizza
$11.90
Bacon Potato Pizza
$11.90

Premium Pizza

Meat Mania Pizza
$13.90
Seafood Galore Pizza
$13.90
Arugula Cheese Pizza
$13.90

Pasta

Aglio Olio Pasta
$7.90
Carbonara Pasta
$9.90
Tomato Cheese Pasta
$8.90
Seafood Tomate Pasta
$10.90
Fire Cheese Chicken Pasta
$10.90

Sides

Shoestring Fries (Sea Salt)
$3.00
Shoestring Fries (Kimchi)
$3.00
Shoestring Fries (Seaweed)
$3.00
Cheese Sticks
$4.80
Chicken Tenders
$4.80
Yuja Cheese Salad
$6.90
Yangnyum Chicken Box
$8.90
Fire Chicken Box
$8.90
Teriyaki Chicken Box
$8.90
Fire Wing Box
$8.90
Yangnyum Wing Box
$8.90
Teriyaki Wing Box
$8.90
Buffalo Wing Box
$8.90
Cheese Tteokbokki
$9.90

Desserts

Chocolate Lava Cake
$6.50
About GOPIZZA
GOPIZZA's oval symbol reflects the unique shape of its pizzas. This unique shape proposes a new future for the pizza industry. At the same time, it expresses the brand's potential for growth, their constant expansion; it represents how the brand is growing globally. On top of that, it tells everybody that pizzas are not defined by constant characteristics.
Pizzas have infinite possibilities, and you get to choose which toppings to use.
GOPIZZA Menu Best Sellers
GOPIZZA's Classic Cheese Pizza – When you're too afraid to try out a new flavor, you can always go for one of the classics. This GOPIZZA menu is as simple as a pizza can get, but don't be fooled by its simplicity. The Mozzarella and Parmesan Cheese and the tomato base will blend in your mouth, forming a symphony of cheesy, savory goodness that will keep you coming back for more.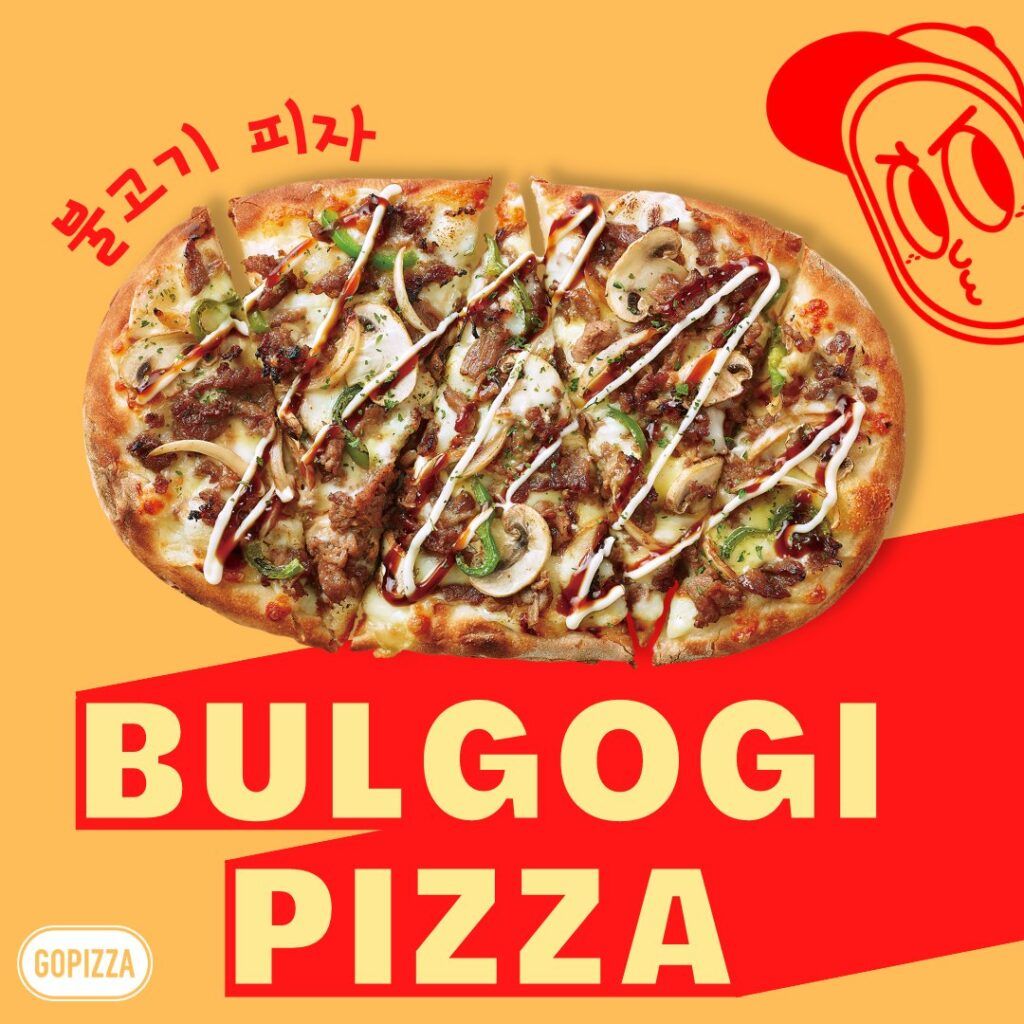 Beef Bulgogi Pizza – You can never go wrong when trying out the Beef Bulgogi Pizza. The classic dish well known to Korean enthusiasts and food lovers is now served as a pizza. Beef slices are served along with mushrooms and Mozzarella Cheese drizzled with their special Mayo-Teriyaki sauce which makes everything melt in your mouth.
Veggie Pizza – If you feel like you've been indulging yourself a little bit too much of GOPIZZA's goodness, you can always tone it down and eat a healthier option, the Veggie Pizza. This flavor has Mozzarella Cheese with a tomato base topped with green pepper, sweet corn, black olives, and white mushrooms. Just because it's a healthier option doesn't mean it tastes less good. All of GOPIZZA's products are as good as a pizza can get!
Super Combination Pizza – Veggies? Check! Meat? Check! Lots and lots of toppings? Check! If you're in the mood to eat a pizza filled to the brim with toppings, then you should try ordering the Super Combination Pizza menu. This flavor has it all! Beef Pepperoni, Beef Bulgogi, Sweet Corn, White Mushroom, and Turkey Bacon, along with the regular toppings.
Blue Cheese Pizza – Want to try something out of the blue? Try their Blue Cheese Pizza. Blue Cheese is known for its semi-soft texture and salty flavor. It features blue cheese, Garlic Chip, and Mozzarella Cheese on Cream Base, with Parmesan Cheese on Top, served with Honey for dipping. The salty flavor of the blue cheese heavily compliments the flavor of the Mozzarella Cheese and the Cream base. To kill some of the saltiness, you can dip the pizza in honey to add some sweetness.
Aglio Olio Pasta – Pizzas can't be the only ones taking credit. They also offer tons of good pasta. One of which is the Aglio Olio Pasta. This GOPIZZA menu is one of the most well-known pasta out there, and the company's here to give its own spin on it. Their Aglio Olio Pasta is spicy and non-customizable. It features Garlic Chips, Cherry Tomatoes, Turkey Bacon, and Spaghetti in Garlic Oil, topped with even more Garlic Chips, and Parsley.
Carbonara – They also offer another equally famous pasta, the Carbonara. Their Carbonara features Turkey Bacon, Onion, White Mushroom, and Spaghetti in Cream Sauce, topped with Black Pepper and Parmesan Cheese. The cream sauce further accents the flavor of the turkey bacon, and the white mushroom compliments the creaminess of the sauce. The Black Pepper and the Parmesan further enhance the overall flavor of the pasta.
Tomato Cheese Pasta – Another one of the company's pasta favorites is the Tomato Cheese Pasta. The two most memorable pizza ingredients are now cooked into one pasta goodness. This GOPIZZA menu features White Mushrooms, Green Peppers, Onions, and Cherry Tomatoes. On top of these are Mozzarella and Cheddar Cheese, sprinkled with Parsley. The main sauce of the pasta is the ever-favorite tomato sauce. All of these ingredients are reminiscent of a pizza.
Meat Mania Pizza
GOPIZZA's Meat Mania Pizza is their meatiest pizza yet! This flavor starts off with the usual tomato sauce and Mozzarella Cheese duo, topped with Cheddar Cheese, Turkey Bacon, Beef Bulgogi, and Beef Pepperoni with Roasted Onion Sauce to top it all off.
Arugula Cheese Pizza
This is one of the newest additions to the GOPIZZA menu. The Arugula Cheese lets you enjoy cheesy goodness guilt-free. The meal is topped with lots and lots of fresh Arugulas, sun-dried tomatoes, Bocconcini Cheese, sprinkled with Grana Padano, and Black Pepper, all on Mozzarella Cheese on a tomato base.
BBQ Chicken Pizza
If you're a fan of barbecue, and you're a fan of chicken, then the BBQ Chicken Pizza is for you! This features top quality Fried BBQ Chicken, Onion, Green Pepper, and White mushrooms. Instead of the regular Mozzarella Cheese on a tomato sauce base, this has Mozzarella Cheese on a Roasted Onion Sauce base to fully bring out the flavor of the BBQ Chicken.
Social Media Pages
If you love the GOPIZZA menu and wanted to get the latest updates from them, you should start following them. This way, you cannot miss any important news about them. To follow them, refer to the social media pages below:
Facebook: https://www.facebook.com/gopizza.sg/
Instagram: https://www.instagram.com/gopizza.sg/
GOPIZZA Menu Delivery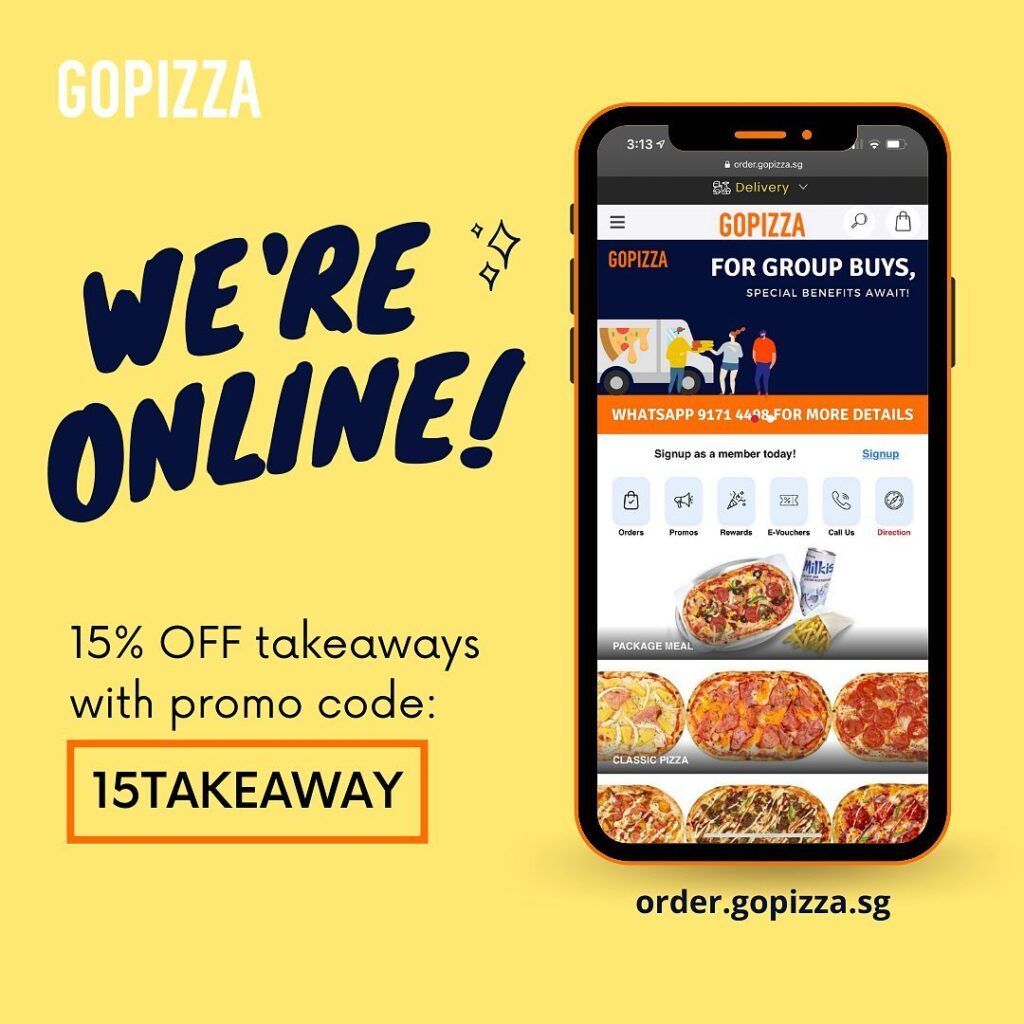 GOPIZZA brings Korea-flavored pizza straight into your palettes. Your orders will be at your doorstep in a flash by using their new Goven. The Goven is a patented oven developed by the company that can bake pizzas in less than 5 minutes. They deliver their pizzas, pasta, and drinks in simple but dashing designs. Their designs are mostly white with orange text, reflecting their brand colors. To start ordering, you can simply go here and select any of your favorite GOPIZZA menus. Keep in mind that delivery availability and fee will differ on your location.
Conclusion
GOPIZZA has a pizza for everyone. They innovated pizza by showing us that pizzas are not bound by any limits. It can be oval, it can have blue cheese, and the sky's the limit! If there's GOPIZZA in your area, it's time to taste the new era.