We honor and appreciate seasonality via food, as well as the toil of our farmers and producers. The Black Sesame Brioche and the Petit Fours are not to be missed. Whitegrass menu got its first Michelin Star for its French Japanese cuisine and was lauded by Michelin inspectors for its little meals that are rich with natural flavors. Whitegrass's idea is French and Japanese. They employ seasonal, fresh Japanese ingredients in our meal, which is based on traditional French fare. We also wish to convey to our visitors the value of nature and sustainability by using fresh seasonal vegetables.
Whitegrass Menu Price List [Updated]
MENU
PRICE (SGD)

Appetizer

Seafood Green Salad with Caesar Dressing
$20.00
Hokkaido Asparagus Salad with Truffle Dressing
$28.00

Soup

French Sweet Corn
$15.00
Hokkaido Mushroom
$15.00

Main

Shirobuta Belly with Lentil and Shallot Vinegar Sauce
$32.00
Braised Omi Wagyu (200g) with Red Wine Sauce & Mashed Potato
$42.00
Ora King Salmon Brioche with Vin Blanc Sauce
$72.00

Sides

Mashed Potato
$8.00
Braised Lentil
$8.00
Sautéed Vegetables
$12.00
Truffle Fried Rice
$16.00
Squid Ink Rice
$16.00

Dessert

Caramel Walnut Cake
$10.00
Pistachio Panna Cotta with Dark Cherry
$12.00
Valrhona Gâteau Chocolat
$14.00

Bread

Focaccia
$8.00
Brioche
$8.00

Cocktails

Sam-Urai
$23.00
Bittersweet Affair
$25.00
Plausible Deniability
$23.00
Dead Celebrity
$24.00
Alabazam
$24.00
Blood and Sand No.2
$22.00
Yellow Jacket
$22.00
Bumblebee
$21.00

Spirits

Tanqueray
$18.00
Four Pillars
$22.00
Hendrick's
$23.00
Monkey 47
$24.00
Stolichnaya
$18.00
Grey Goose
$20.00
Belvedere
$20.00
Grasovka Bison Grass
$21.00
Bacardi Bianco
$18.00
Havana Club 3
$18.00
Captain Morgan
$18.00
Havana Club 7
$20.00
Mount Gay XO
$28.00

Lunch Menu

Executive
$108.00
Creation
$148.00
Creation Sommelier's Pairing Experience
$98.00

Dinner Menu

Degu Station
$188.00
Degu Station Sommelier's Pairing Experience
$148.00
Gastronomic
$268.00
Gastronomic Sommelier's Pairing Experience
$198.00
About Whitegrass
Whitegrass features traditional French cuisine with a Japanese twist under the direction of Head Chef Takuya Yamashita. At Whitegrass, the emphasis is on using the best seasonal ingredients to provide thoughtful, environmentally conscious, and gastronomically sophisticated cuisine. The 48-seat restaurant, which is housed in the ancient CHIJMES monument, offers excellent service and a well-chosen beverage menu that further enhances the pleasure of dining in this legendary location. Chef Takuya Yamashita was born in Nara Prefecture and growing up so close to mountains and beautiful woods sparked his love of the outdoors. Thoughts of studying forestry were abandoned in favor of a deeper passion for the culinary arts.
Additionally, he works at a bakery on his off days. He later relocated to France in 2015 to work at one of the top bistros, Les Enfants Rouges, and Restaurant Etude, which has a Michelin star in Paris. He then returned to Tokyo and apprenticed under renowned Chef Kazunori Otowa at the One Michelin-starred Ciel et Sol, where he later rose to the position of Head Chef. By imaginatively introducing a novel French Japanese culinary concept to Singapore, he enjoys sharing moments with the diners through the food as well as through conversation and explanations of his cuisine's natural inspirations and food-related stories, making the experience even more memorable for them.
Whitegrass Menu Best Seller
Shirobuta Belly – Additionally, the breakdown of the fatty layer, which enrobes the meat, gives pork belly its rich, buttery flavor. Most people combine this beef cut with fresh items because of this. Pork belly has an exceptionally rich taste when left whole because of the substantial layer of fat that runs along the top.
Ora King Salmon Brioche – King salmon has a deep, rich, and strong taste as well as a buttery, almost silky texture and big, tender flakes. Because of its many culinary uses, salmon is quite popular. It tastes fantastic when cooked in a variety of ways, including pan-frying, steaming, grilling with the skin on, poaching, and braising. In contrast to the rest of the globe, which raises the more prevalent Atlantic salmon species, only the King salmon is farmed in New Zealand.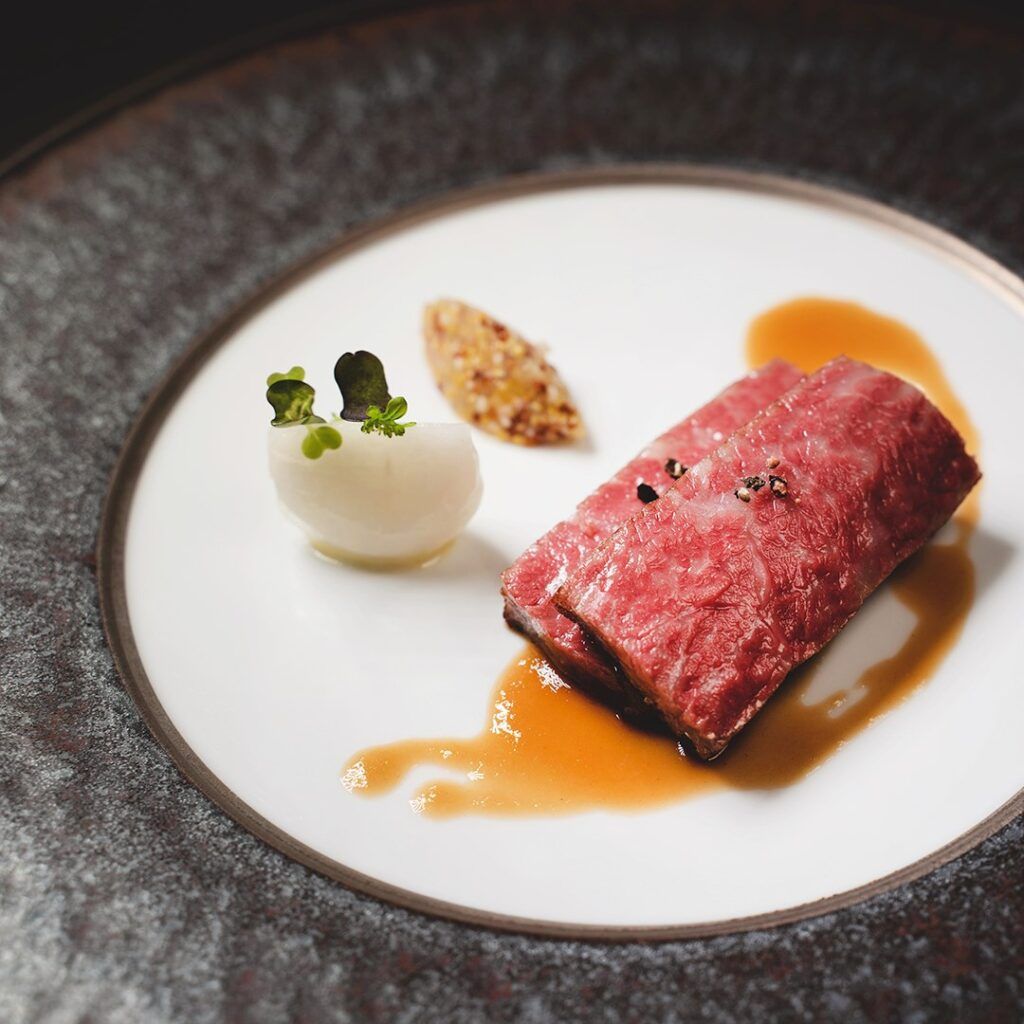 Braised Omi Wagyu – Along with Kobe beef and Matsusaka beef, mi beef is typically regarded as one of the top three brands. According to legend, mi beef is the earliest beef brand in Japan. It has a buttery yet firm texture and beautiful crimson color. This form of beef is exceptionally juicy and has a strong umami flavor. Additionally, wagyu marbling tastes better. Wagyu beef has a rich, buttery taste that is unmatched by other breeds of beef because Wagyu fat melts at a lower temperature than that of any other animal.
Whitegrass Lunch Menu
The Whitegrass restaurant offers a Lunch menu named executive and creation. The executed costs $108 and the creation costs $148. This menu includes many items that customers can enjoy. Here are some of them:
Organic Poulet – Its flesh is simultaneously solid, silky, and tender to the bite.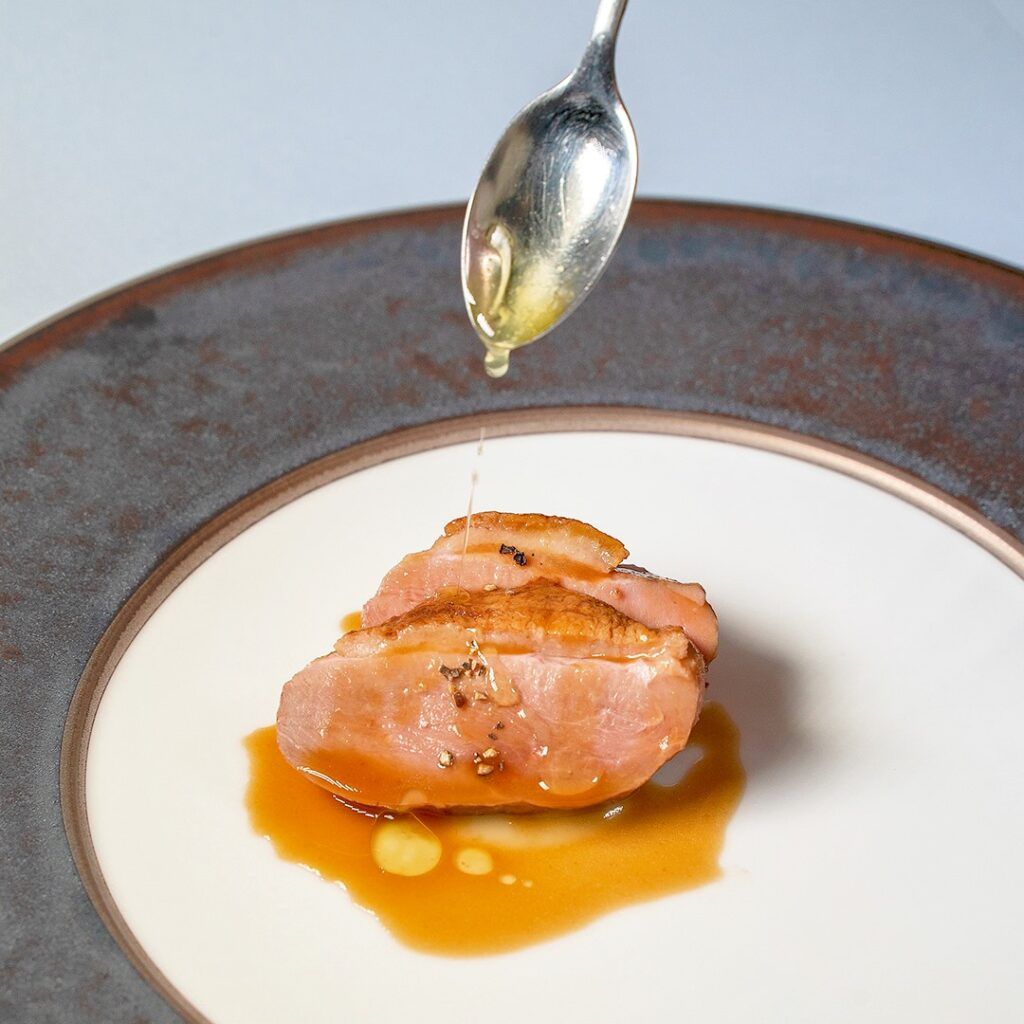 Maple Leaf Duck – The most consumed duck is the Pekin duck. The flavor of Pekin duck flesh is renowned for being mild, pleasant, and versatile. It is said to be ideal for whole roasting since it has a gentler flavor and lighter meat than either Muscovy or Moulard duck. The all-natural, boneless duck breast is as lean as chicken while tasting just as flavorful as red meat. Lightly marinated for the finest possible cooking experience and to allow for unrestricted creativity. The ideal ingredient to make a stunning, elegant, or informal entrée is duck breast.
Kumamoto Wagyu – Kumamoto meat forms a beautiful platter. As the only free-grazing cattle in Japan, Kumamoto Wagyu's meat is a little leaner than its more well-known sister breeds, which helps to balance off the highly buttery flavor. Japanese products are nearly like drinking mild beer. Simply put, the taste of beef isn't as strong, and there is also an umami flavor that is difficult to define. It almost has a sweetness to it.
Whitegrass Dinner Menu
Aki Nasu – The flesh of the king crab is snow-white with crimson splotches. Its mild, sweet flavor is sometimes compared to lobster. It separates into enormous, soft slices that are definitely worth it. The king crab's legs are not only delicious, but they also serve as a means of transportation. The delicious reputation of Alaskan king crab precedes it. The leg flesh is prized for its flavorful sweetness and tenderness, which are reminiscent of lobster meat. However, it requires effort to get at the desired flesh since the thick shells and protruding spikes sometimes require a cracking instrument.
Iberico Pluma – The unique, nutty flavor of Iberico pork will definitely be present in whichever method you choose to prepare it, owing to the pigs' diet of oak woodlands in the months before harvest. This is a highly unique cut of Iberico pig loin, known for its rich flavor and translated as "feather." This may be grilled to a luscious pink color, much like a steak, because it has both lean meat and a considerable quantity of fat.
Unagi – Unagi has a mild, sweet flavor that is quite pleasant and not overbearing. Despite its gloomy, snake-like look, it is a tasty dinner. Some eel eaters have compared the flavor to lobster or salmon. Others claim that it has more of an octopus or catfish flavor.
Social Media Pages
In order to make sure that you will get the latest news of the Whitegrass restaurant menu, promo, events, and many more, we recommend that you start subscribing to them. In this way, you will get notified whenever they have something on their social media. To start following them, click any of the links below:
Facebook: https://www.facebook.com/whitegrasssg/
Instagram: https://www.instagram.com/whitegrass.sg/
Whitegrass Menu Delivery
Restaurants that provide fine dining would like you to enjoy your great cuisine there. Rarely do these eateries let you enjoy your meal in the comfort of your home? This is mostly due to the fact that, especially in a Michelin Star restaurant like Whitegrass, the experience you get is just as important as the quality of the meal. Try placing an order at whitegrass.getz.co, which is their website. The page is not particularly responsive.
Conclusion
There are several types of hospitality. Unfortunately, this staff member had a major meltdown in which a single-cuffed sleeve and too many pens in his shirt pocket. The meals on the Whitegrass menu, which reflect both culinary heritage and originality, are simple but exquisite representations of nature, sustainability, and the journey of fresh food. The chefs' personal experiences serve as the basis for the recipes, which combine French and Japanese flavors to create a creative cuisine that honors the seasonality of food and the toil of our chosen farmers and producers.