Gorging out can be a very satisfying experience. It has turned out to be a means of life for most individuals and it becomes our comfort on our stressful days. Additionally, it also became our solace in our daily hectic schedule life. Moreover, certain individuals find it less stressful and relaxing to eat out together with their friends and families, have a romantic meal while on a date, celebrate some special event, and even time alone. Together with this, it gives us additional satisfaction and pleasure if it comes along with an elegant and cozy environment on the SKAI menu that is served on the table.
SKAI Menu Price List [Updated]
MENU
PRICE (SGD)

The House Of Kaviari

Kaviari Oscietre Caviar 15G
$75.00

Sourced Artisanal Beef

Miyazaki Wagyu, Japan, A4
$135.00
Brandt, U.S.D.A, Prime
$85.00
Brandt, U.S.D.A, Prime, California, Usa
$95.00
Saga, Wagyu, Japan, A5
$155.00
Tenderloin Oscar
Brandt, U.S.D.A, Prime, California, Usa 1
$115.00

Sharing Cuts For Two

Stanbroke, Black Angus, Australia, Mb4
$210.00

Sauces

Green Peppercorn, Black Truffle, Red Wine

Sides

House Salad
Roasted Mushrooms
Hokkaido Corn
Hand-Cut Chips
Asparagus

Small Plates

Crab Cake
$36.00
Irish Oysters 2 Pieces 22 | 4 Pieces 40 | 6 Pieces
$58.00
Bbq Spiced Cauliflower
$20.00
Stuffed Portobello
$24.00
Charred Rainbow Trout
$22.00
Pulled Duck
$34.00
Crispy Tofu
$20.00

Mains

Spanish Sea Bass
$74.00
Kabocha Pumpkin
$46.00
Crab Fettuccine
$62.00
Dingley Dell Pork Belly & Bbq Secreto
$58.00
Westholme Wagyu, Flat Iron
$75.00

Sides 8

House Salad
Hokkaido Corn
Roasted Mushrooms
Hand-Cut Chips
Asparagus

Desserts

Paul'S Childhood Wimberry Tart
$22.00
Baked Vanilla Cheesecake (For Two)
$34.00
Chocolate Sphere
$24.00
Chocolate Mousse
$20.00
Matcha Tiramisu Trifle
$22.00
Cheese Platter
$28.00

Lunch Set Menu

Yellow Fin Tuna/ 2-Course/3-Course
$50.00/ $60.00
Cauliflower Soup/ 2-Course/3-Course
$50.00/ $60.00
Angus Beef Tataki/ 2-Course/3-Course
$50.00/ $60.00
Irish Oysters +12/ 2-Course/3-Course
$50.00/ $60.00
Stuffed Portobello +12/ 2-Course/3-Course
$50.00/ $60.00
Chicken Thigh/ 2-Course/3-Course
$50.00/ $60.00
Snapper/ 2-Course/3-Course
$50.00/ $60.00
Roasted Eggplant/ 2-Course/3-Course
$50.00/ $60.00
Stanbroke, Black Angus, Australia, Mb 3/ 2-Course/3-Course
$50.00/ $60.00
Skai Carrot Cake/ 2-Course/3-Course
$50.00/ $60.00
Apple Pie/ 2-Course/3-Course
$50.00/ $60.00

Sunday Lunch Set Menu

Irish Oysters /3-Course
$78.00
Stuffed Portobello /3-Course
$78.00
Pulled Duck /3-Course
$78.00
Pea And Fennel Soup/3-Course
$78.00
Bbq Spiced Cauliflower/3-Course
$78.00
Stanbroke, Black Angus, Australia, Mb 3/3-Course
$78.00
Pork Belly/3-Course
$78.00
Salmon/3-Course
$78.00
Kabocha Pumpkin/3-Course
$78.00
Matcha Tiramisu/3-Course
$78.00
Chocolate Mousse/3-Course
$78.00

4 Course Set Menu

Kaviari Oscietre Caviar /4-Course/15G
$168.00

Appetiser

Lobster

Intermediate

Stuffed Portobello

Mains

Wylarah Wagyu

Dessert

Blueberry Pie
About SKAI
Are you searching for a great spot to unwind? Or are you currently on a vacation and looking for an ideal place to visit? Well, leave no highlight unexplored as you experience the finest things to do in Singapore! SKAI, Singapore offers you a one-of-a-kind experience! This astonishing restaurant is situated on 2 Stamford Road, Level 70 of Swissotel, Singapore 17882. It is considered one of the highly popular establishments that deliver panoramic views of the city and at the same time puts your dining experience to another level.
Moreover, SKAI does not only showcase iconic city views but at the same time an amicable service and excellent food for you to enjoy.
SKAI Menu Best Seller
Skai's menu features a selection of fantastic picks for you. With this, I am pleased to share with you some of my favorite choices as well as the best-seller menus of SKAI Singapore.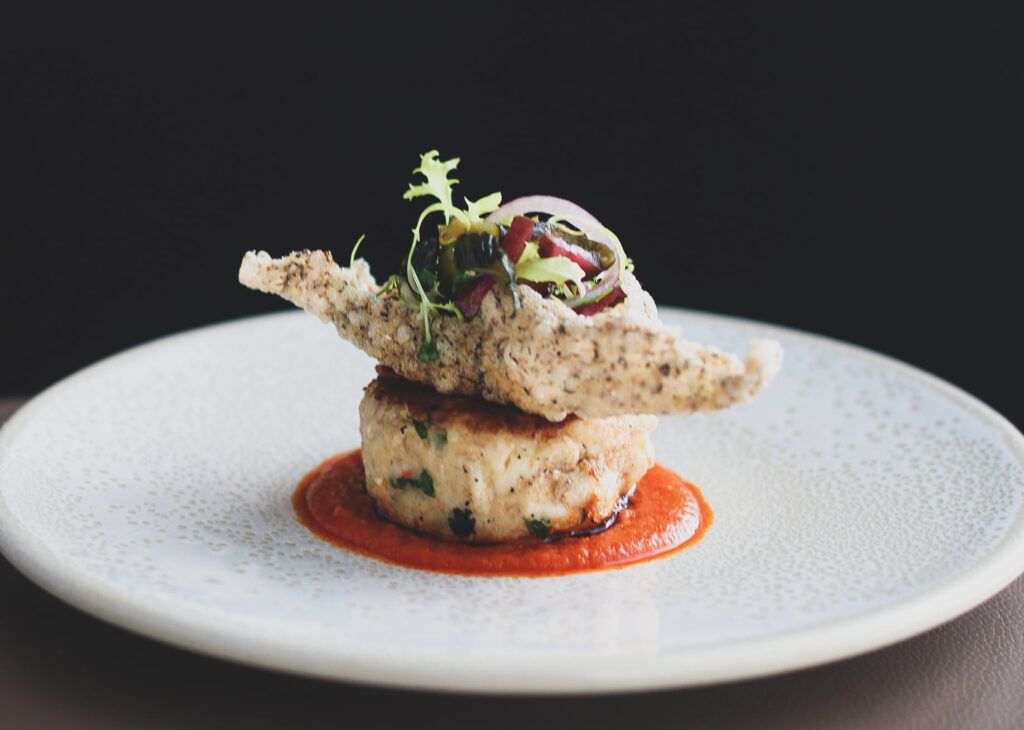 Crab Cakes – This perennial favorite on the Skai menu is served with passion fruit, bits of Romanesco, and chili that comes along on a bed of daikon salad. Surely the sweet and flavorful taste of this menu will give you satisfaction and keep you reaching for more.
Chocolate Mousse – A perfect pick of chocolate mousse will certainly make your dining complete. This delicious dessert offers you a great taste of Hazelnut, Mille-Feuille, and Apricot Sorbet.  
SKAI Brunch Menu
Skai Singapore also offers you Saturday Brunch set Menu which is served from 12 pm-3:30 pm. It gives you unlimited triples and plated dishes.
For Every Table – This Skai menu gives you SKAI House baked bread with a Butter Charcuterie Board and Chutney Seafood on Ice Crab. It is also served along with a Prawn, Mussel, and Clam.
Cold Plates – Meanwhile this Menu is served with Kabocha Squash, Avocado, Black Quinoa, and Pomegranate Eggless Salad. In addition to this, it is also served with Glass Noodles, Shiitake, Sesame Dressing Octopus, Cucumber, Wakame, Sesame Burrata, Baby Gem, Salsa Verde, Almond Cured Gravlax & Smoked Salmon, Pickled Cucumber, and Rye Bread.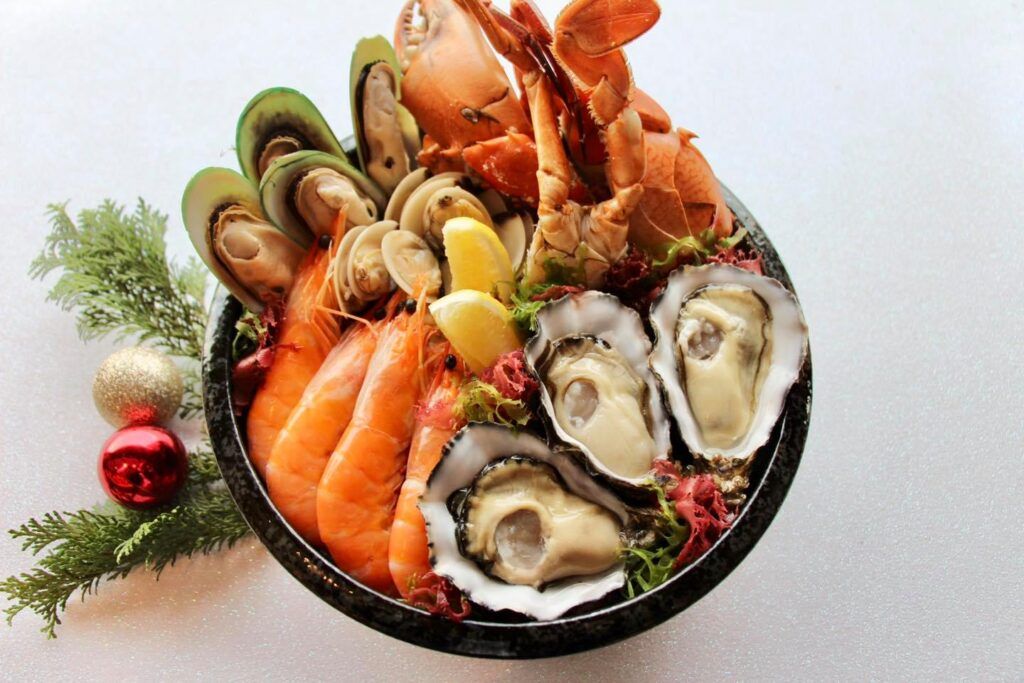 Hot Plates – This brunch Menu comes with a Roasted Pumpkin, Thyme, Black Truffle Spiced Falafel, Avocado, Romesco SKAI Steak, Wedges, Peppercorn Pork Sausage, Mushroom, Onion, Mustard Chicken Thigh, Cauliflower, Leek, Walnut Baby Bass, Eggplant, Tomato, and Chilli.
From the Desserts Buffet Table – This menu is served together with Citrus Apple Sable, Matcha Coffee Opera, Chocolate Cream Choux Pastry, Soft Mango Cheesecake, Isaphan Roulade, Donuts, Petit Fours, and Waffle and Condiments.
SKAI Dinner Menu
Along with the contemporary and cozy vibe that this cuisine offers, it also gives us a variety of Menus for us to enjoy may it be for starters, refreshments, lunch, or dinner.
Dingley Dell Pork Belly – One of my favorites! I was really impressed with this menu by its unique combination of ingredients. This menu was served along on a bed of tomato sauce, grace with fennel, and Fuji Apple.
Stanbroke, Black Angus, Australia MB4 –  Elevate your great experience at SKAI restaurant by trying this delightful dish. It comes along with a green peppercorn, black truffle, and red wine. Along with this it also offers you side dishes such as; house salad, roasted mushrooms, Hokkaido corn hand-cut chips, and asparagus.
SKAI Promotion
Along with several classic dishes, cold and hot plates, a selection of delicious desserts, and iconic city views, SKAI restaurant also offers you several deals and the latest promotions for you to enjoy.
Come and elevate your high experiences at Skai with SKAI high Tea x Bacha Coffee that for sure will lead you sideways. Along with this, raise a glass and party the night at Rose Soiree Party at SKAI Bar together with your loved ones and friends. Just visit the SKAI Page for you to check on their schedules.
Meanwhile, if you are fantasizing about a champagne valley, try to indulge and savor the delicate flavors of Minuty M at SKAI Bar as they offer you SKAI x Pol Roger Champagne Pairing Dinner.
SKAI Menu Delivery
If you wanted to have your cravings delivered straight to you in the comfort of your home visit the SKAI restaurant webpage and look for on-the-go menus!
Moreover, for you to completely experience the best treat of SKAI, don't hesitate to visit their page and book reservations. Assuredly you will love the aesthetically pleasing and scrumptious delights offered only by SKAI.  Along with this, pamper yourself with the relaxing spectacular view of the breathtaking iconic cities in Singapore.
For you to book reservations, simply visit the website https://www.skai.sg/ and it will direct you to their homepage.
for you to have an idea regarding with best offers and deals of SKAI just click 'Take a Virtual Tour" or you can go to their menu list or your reference.
Alongside, you can just simply click the "book a table" button or make a reservation. Choose the specific day and time you wanted to avail and follow the step-by-step process.
Enjoy!
Social Media Pages
If you love the SKAI and wanted to follow them for more updates, we highly encourage you to start following them. Simply check the links that we provided to get on their official social media pages:
Facebook: https://web.facebook.com/SKAI.SG
Instagram: https://www.instagram.com/skai.sg/
Conclusion
Skai Restaurant believes in building a genuine connection with every guest and providing each one with a perfect place to dine in. May it be for a get-together with your families or friends, a business lunch, or a romantic dinner date. SKAI restaurant will surely provide you with a brunch experience like never before.
If you are looking forward to a fun-filled weekend holiday, well it is the time for you to make plans with your besties, loved ones, and families to have a high tea date at Skai Restaurant. Definitely, Skai will be the icing on the cake of your week.