The Fat Mario menu includes starters, tasty pasta, fire-baked pizzas, desserts, and drinks. It also offers set meals where you can combine your choice of favorite foods. These dishes are freshly-cooked and served to retain their natural goodness and have generous servings to satisfy every palate. The homemade ingredients used in creating these dishes give a unique twist that will make you crave more. 
You can find the updated pricing information for the Fat Mario menu below.
MENU
PRICE (SGD)

Sets

Dapper Duo (2X Choice of Pastas + 2 Soft drinks + Garlic Herb Bread)
$34.00
Strands and Slices (1X Choice of Pastas + 1X Choice of Pizza + 2 Soft drinks)
$31.00
Tasty Trio (2X Choice of Pastas + 2 pcs Crispy Fried Chicken + 2 Soft Drinks)
$38.00

Starters

6 PC Nuggets
$6.90
Calamari Rings
$10.50
Chicken Tenders
$10.50
Crispy Fried Chicken (2pcs)
$10.00
*Fried Chicken Add On: Blue Cheese Dip
$1.20
*Fried Chicken Add On: BBQ Sauce
$0.80
*Fried Chicken Add On: Hot Sauce
$0.80
Garlic Herb Bread
$5.50
Mozzarella Cheese Sticks
$10.50
Onion Rings
$9.50
Truffle Mayo Fries
$10.00
Wings
$11.50

Fat Mario's Tasty Pastas

Bacon & Mushroom Aglio Olio (Non Spicy)
$14.50
Bacon & Mushroom Aglio Olio (Spicy)
$14.50
Beef Bolognese
$15.50
Beef Lasagne
$17.00
Creamy Bacon and Mushroom Pasta
$15.00
Garlic Prawn Aglio Olio (Spicy)
$15.50
Garlic Prawn Marinara Pasta
$16.00
Impossible™ Bolognese
$15.90
Spicy Chicken Alfredo
$15.00
Spicy Chicken Pasta
$15.00
Truffle Mac and Cheese
$16.00
Veggie Alfredo
$14.00
Wagyu Meatball and Mushroom Pasta
$17.00
*Condiments on the side: Chili Flakes
$0.54
*Condiments on the side: Parmesan Cheese
$0.54

Fire-baked Pizzas

All Cheese Pizza
$15.00
BBQ Chicken Pizza
$16.00
Hawaiian Pizza
$16.00
Margarita Pizza
$15.00
Meat Lover Pizza
$17.00
Pepperoni Pizza
$16.00
Truffle Mushroom Pizza
$16.00
*Condiments on the side: Chili Flakes
$0.54
*Condiments on the side: Parmesan Cheese
$0.54
*Pizza Add Ons: Aged Cheddar and Parmesan
$3.00
*Pizza Add Ons: Chicken Fennel Sausage
$3.00
*Pizza Add Ons: Hand Torn Wagyu Meatballs
$3.00
*Pizza Add Ons: Honey Baked Ham
$3.00
*Pizza Add Ons: Pepperoni
$3.00
*Pizza Add Ons: Poached Chicken Strips
$3.00
*Pizza Add Ons: Roasted Musshrooms
$3.00
*Pizza Add Ons: Roasted Onions
$3.00
*Pizza Add Ons: Truffle Oil
$3.00

Desserts

Chocolate Lava Cake
$7.00

Drinks

Coconut Water
$5.10
Coke
$3.10
Coke Light
$3.10
Coke Zero
$3.10
Lemon Tea (300ml)
$2.90
Perrier Slim Can (250ml)
$3.80
Sprite
$3.10
Vittel Mineral Water (PET 330ml)
$2.40
About Fat Mario 
Fat Mario is a restaurant in Singapore that offers Italian dishes such as pasta and pizza. It aims to provide hearty and comforting cuisines that give diners a unique dining experience. The management is committed to ensuring that its food becomes its own lifestyle and believes in the "way to your stomach is through your heart" principle. 
Fat Mario Menu Best Seller 
Fat Mario is known for delicious and freshly cooked pasta, pizza, and other hearty starters. The best sellers of this restaurant are well-loved for their delicious taste and creative presentation. 
Beef Bolognese – It is a classic Italian pasta that has a mouthwatering goodness. This pasta is created using homemade beef Bolognese and signature Napoli sauce. It is mixed with your choice of pasta. Fresh parsley and parmesan are topped on it to enhance its flavor. 
Garlic Prawn Aglio Olio – Your choice of pasta is cooked with minced garlic, chili padi, and sauteed prawns. The grated parmesan cheese and fresh parsley are laid on its top. Its spicy flavor makes it more exciting. This is one of the crowd's favorites as it is simple and amazingly flavorful. 
Beef Lasagne – Layered with lasagne, bechamel sauce, slow-cooked beef, a mirepoix of veggies, and herbs, this pasta has a creaminess and meatiness that gives a comforting feeling. It is garnished with a flavorsome Napoli sauce, cheese, and parsley, giving it an appetizing look and additional flavor.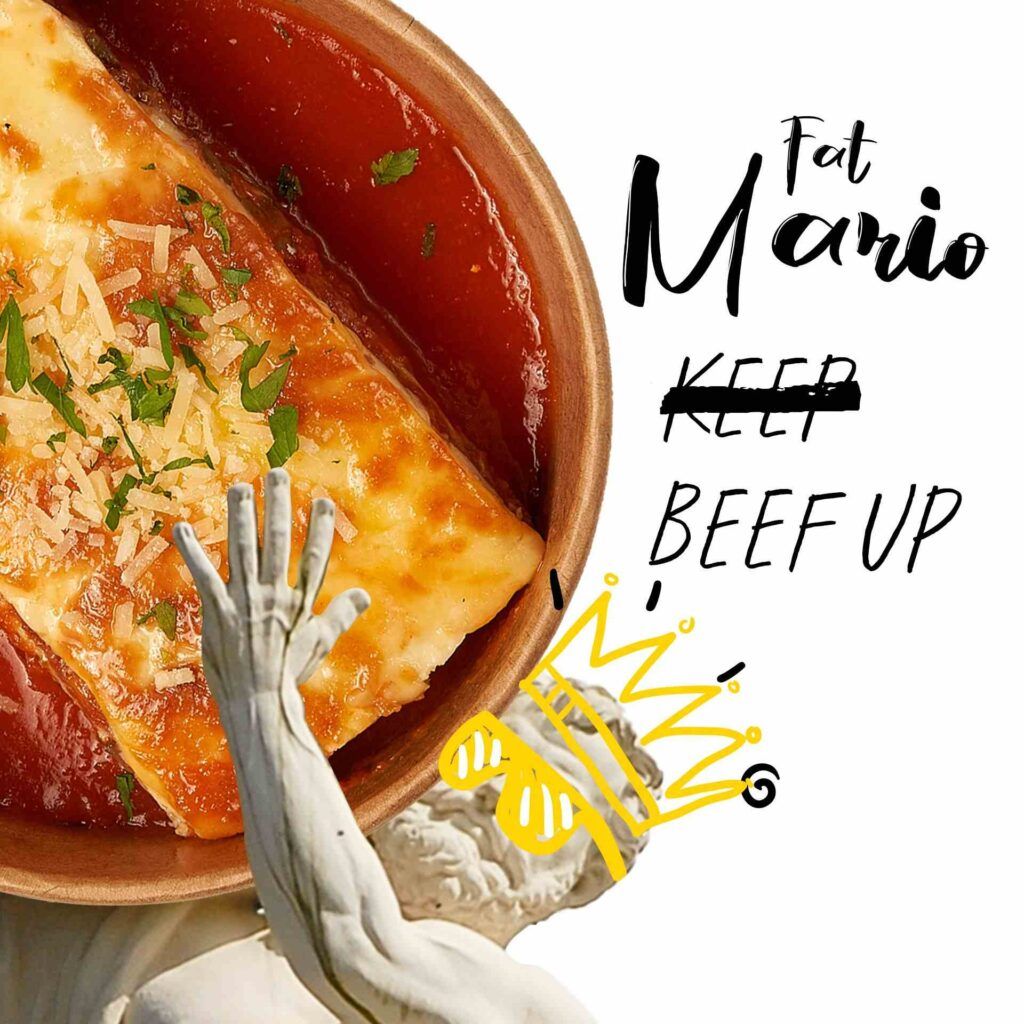 Creamy Bacon & Mushroom Pasta – Classic yet perfect, this pasta combines your preferred pasta, bacon, mushrooms, parmesan cream sauce, parsley, and parmesan. These ingredients are well-combined, creating an appetizing taste that always impresses customers. 
Mozzarella Cheese Sticks – The creaminess of the cheese, the marinara dip spiciness, and its bread's crispiness are combined perfectly, resulting in an irresistible appetizer. Fat Mario fried this dish expertly to achieve a crispy and flawless outer layer, making it visually appealing. 
Fat Mario Menu Starters 
Fat Mario's starters comprise well-loved comfort foods such as chicken, onion rings, bread, fries, calamari, nuggets, and cheese sticks. Every bite of these foods is exciting and can make you feel good. 
Garlic Herb Bread – The focaccia roll is sliced and flavored with honey and butter spread. This vegetarian bread has an enticing aroma and rich flavor that stimulate your appetite. 
Truffled Mayo Fries – Fries are among the most popular comfort and hyper-palatable foods loved by people of all ages. These satisfying fries of Fat Mario are served with a truffle mayo dip.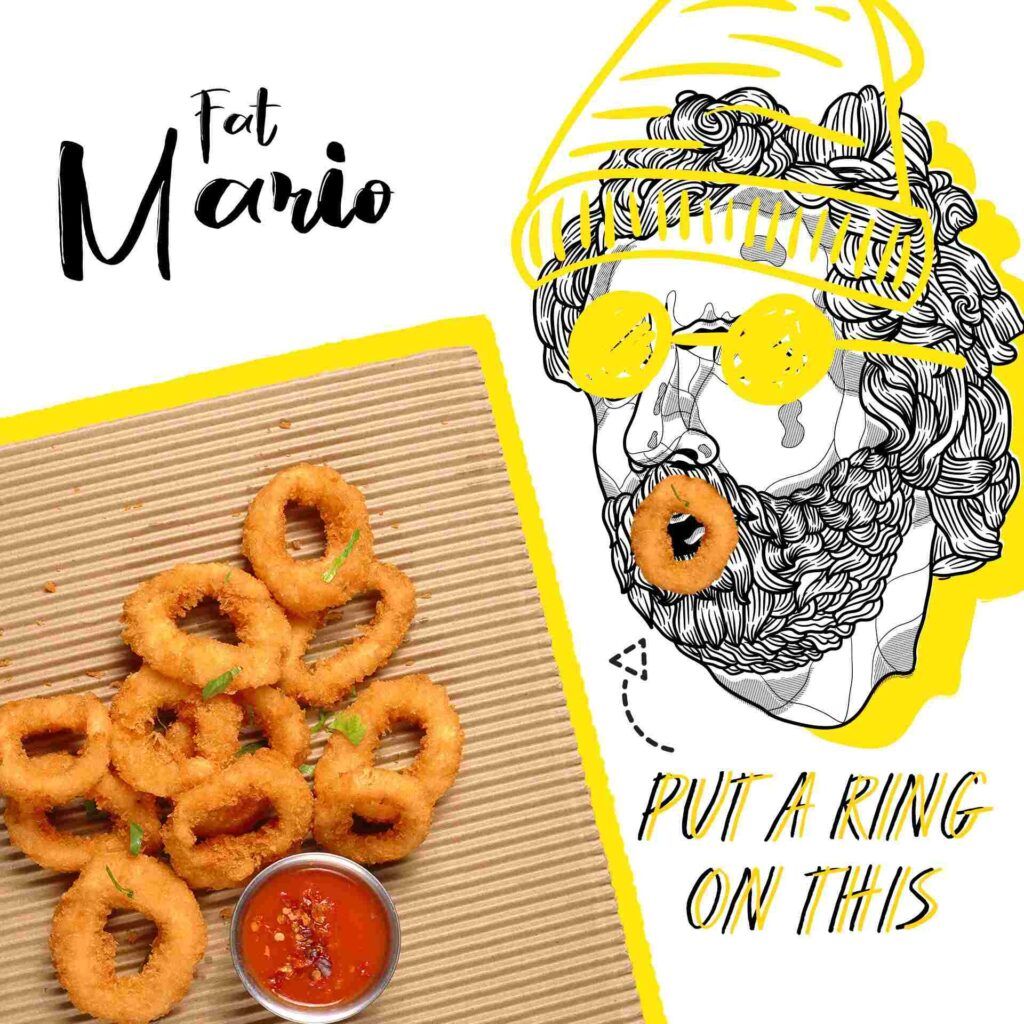 Wings – Marinated in a special sauce, these wings are fried perfectly to make them more delicious. Classic Hot Sauce and Good Ol' Hickory BBQ are the restaurant's options for sauces. 
Fat Mario's Tasty Pastas Menu
The Italian pasta dishes of Fat Mario are simple and hearty. Spaghetti, macaroni, penne, and linguine are the choice of pasta this restaurant serves. It consists of spicy, vegetarian, and vegan cuisines. 
Bacon & Mushroom Aglio Olio – Spice up your meal with this Bacon & Mushroom Aglio Olio made with sauteed bacon, mushroom, minced garlic, chili padi, fresh parsley, and delicious cheese. This Italian pasta tastes extraordinary, as Fat Mario added a little twist.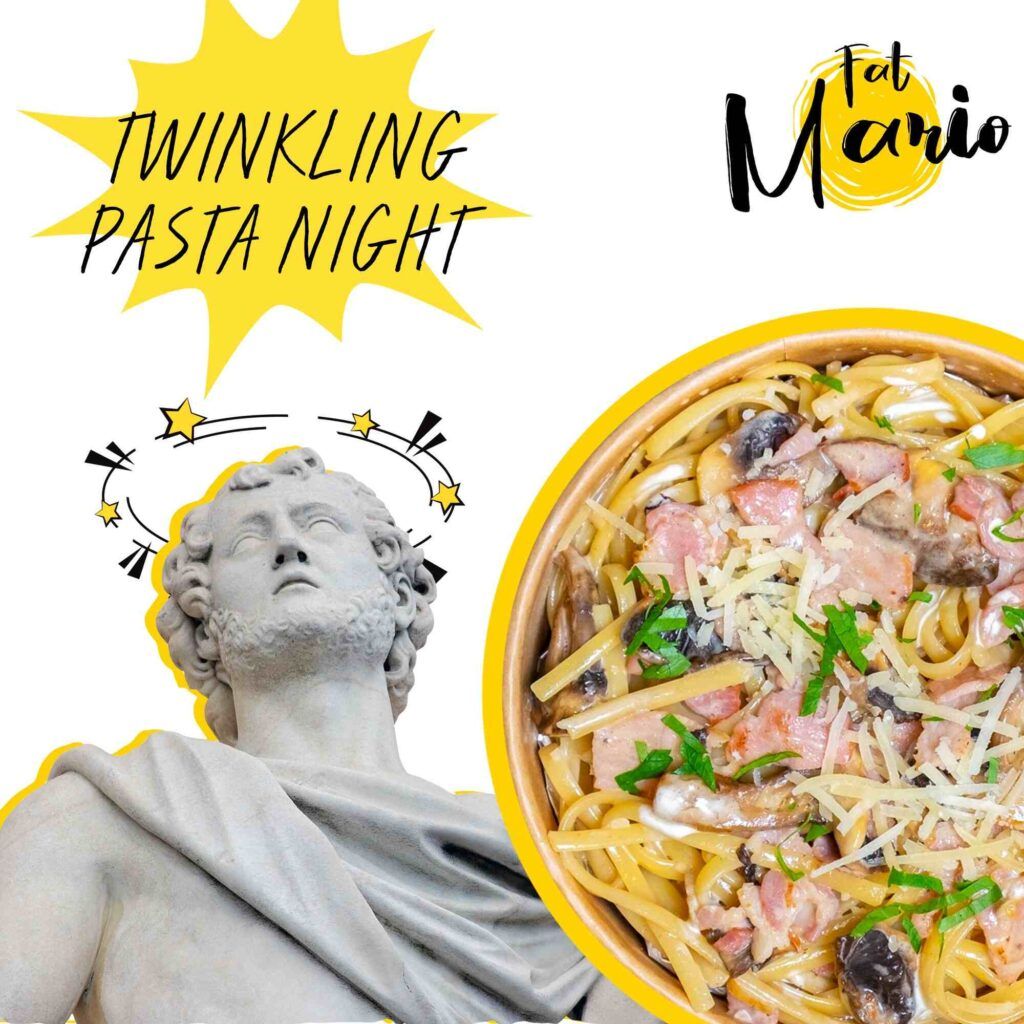 Truffled Mac & Cheese – Macaroni is cooked with roasted mushroom and homemade cheese sauce. The truffle oil on this pasta imparts a flavor and aroma that makes this dish appetizing. It is garnished with parsley packed with nutritional benefits and enhances the flavor of pasta and parmesan cheese that, locks in this dish's appetizing scent and taste. 
Impossible™ Bolognese – The plant-based Impossible™ meat is used in creating this classic, vegan, and vegetarian pasta. Your choice of pasta is also cooked with signature Napoli sauce, slices of tomato, and other special ingredients. This pasta is bursting with flavor as the ingredients are perfectly combined. 
Fire-Baked Pizzas
The fire-baked pizzas menu of Fat Mario is made with in-house California vine-ripened tomatoes, homemade sauces, premium cheese, and delicious toppings. Each pizza is 9 inches in size and has surprising goodness. 
Meat Lover Pizza – A delicious pizza is overloaded with meaty goodness. Chicken fennel sausage, pepperoni, and wagyu meatballs are the kinds of meat included in this dish. Each bite of this pizza is gratifying as it has a melt-in-your-mouth goodness that makes it enticing. It is decorated with oregano and grated parmesan cheese, making it visually appealing. 
All Cheese Pizza – Mozzarella, cheddar, and parmesan are the three types of cheese that are topped on this pasta. These cheeses complement well with the flavor and texture of California tomato sauce and the texture of pizza dough. 
Margarita Pizza – Margherita Pizza is One of the most popular pizza variants with a delicious tangy flavor. The California sauce is topped with parmesan, mozzarella, oregano, and fresh basil, adding an extra layer of appealing fragrance and mouthwatering taste. 
Fat Mario Menu Sets 
Fat Mario serves three kinds of set meals. It offers Dapper Duo, which consists of two choices of types of pasta, two options of soft drinks, and one garlic herb bread. If you prefer a chicken and pasta combination, the Tasty Trio, which comprises two choices of kinds of pasta, two crispy fried chicken, and two soft drinks, is perfect for you. This restaurant also serves a Strands and Slices set with pasta, pizza, and soft drinks. 
Fat Mario Menu Delivery 
Order your favorite comfort food from Fat Mario and enjoy it with your loved ones at home. Its heartwarming Italian-inspired cuisines are offered through GrabFood, FoodPanda, and Deliveroo.
Social Media Pages
Craving for the best New York-style comfort food in Singapore? Look no further than Fat Mario! Stay connected with us on our social media pages for the latest updates on our delicious pizzas, juicy burgers, and mouthwatering dishes. Get a glimpse behind the scenes, explore our menu specials, and be the first to know about exclusive promotions and events.
Facebook: https://www.facebook.com/eatfatmario/
Instagram: https://www.instagram.com/eatfatmario
Website: https://www.fatmario.com/
FAQs
Where is Fat Mario Singapore located? 
Fat Mario Singapore is located at Robertson Quay and Holland Village. 
What are some popular dishes at Fat Mario? 
Beef Bolognese, Margarita Pizza, Chicken Tenders, and Garlic Prawn Aglio Olio are some popular dishes at Fat Mario. 
Can I make a reservation at Fat Mario? 
Fat Mario does not yet offer a reservation. 
Are there any promotions or special offers available at Fat Mario?
Fat Mario does not have any promotions or special offers yet. 
Is Fat Mario Halal certified? 
Fat Mario is not a halal-certified restaurant in Singapore, but it serves vegan and vegetarian dishes that are great for those who do not eat pork. 
Conclusion
The Fat Mario menu is well-loved for its flavorful Italian-inspired cuisines made with sassy and homemade sauces, quality ingredients, and tasty toppings. Its dishes have funky packaging and a creative plating presentation that will excite you. The simple and delicious twist this restaurant adds gives its dishes a unique and classic taste.