Central Perk offers a range of menu items inspired by the popular television series, Friends. The menu includes a variety of food and drinks, including all-day breakfast options, sandwiches, salads, pasta dishes, pizzas, desserts, and specialty beverages. The cafe also sells Friends merchandise, including t-shirts, mugs, and other souvenirs. Overall, the Central Perk menu offers a fun and nostalgic dining experience for fans of the Friends television series.
You can find the updated pricing information for the Central Perk menu below.
MENU
PRICE (SGD)
Salads
Rachel "Green" Salad
$13.91
Phoebe's Nutty Vegetarian Salad
$12.84
Alessandro Caesar Salad
$14.98
Soups
Phoebe's Mushroom Soup
$14.98
Joey's "Stuffed Clam" Chowder
$16.98
Mains
Chandler's Thanksgiving Chicken
$38.52
Ahh.. Unagi
$38.52
Janiee's Oh. My. God. Baby Back Ribs
$41.73
Joey's Fisherman Stew
$40.6
Joey's "You're My Everest"
$38.52
Phoebe's "I Can't Eat Meat" Steak
$41.73
All Day Brunch
Egg Benedict
$23.54
Ross' Thanksgiving Sandwich
$22.47
Joey's "Ride Along" Sandwich
$22.47
Joey's Big Breakfast
$24.61
Pizza
Phoebe's Vegetarian Pizza
$25.68
Joey's Meatlover Pizz
$29.96
Joey's Salami Pizza
$27.82
Barbados Pizza
$27.82
Pasta
Monica's Vegetarian Lasagne
$27.82
Phoebe's "You're My Lobster" Pasta
$34.20
Monica's "Too Much Garlic" Aglio Olio
$29.96
Monica's Marinara
$34.24
Sides
Ross-Ti
$14.98
Tater Tots
$10.70
Garlicky French Fries
$10.70
Phoebe's Mushrooms
$14.98
Alejandro Calamar
$14.98
Chandler's Righteous Mac & Chees
$16.05
Joey's Chicken Wings
$14.98
Monica's Baked Oysters
$16.05
Phoebe's Sauteed Vegetable
$10.70
Desserts
Mrs Braverman's Cheesecake
$17.12
Heavy Fudge Chocolate Mudcake
$17.12
Hot
English Breakfast
$6.42
Chamomile
$6.42
Earl Grey Lavender
S$6.4
Jasmine Rose
$6.42
Mint
$6.42
Chocolate
$8.56
Matcha Latte
$8.50
Juices & Tea
Lime Juice
$6.42
Apple Juice
$6.42
Pineapple Juice
$6.42
Soursop Juice
$6.42
Cranberry Juice
$6.42
Iced Lychee Tea
$7.49
Homemade Strawberry Earl Grey
$7.49
Homemade Lemonade
$7.49
Other Beverages
Coke
$5.35
Coke Light
$5.35
Sprite
$5.35
Soda
$5.35
Ginger Ale
$5.35
Lemon Tea
$5.35
San Pellegrino Sparkling Water
$7.49
Acqua Panna Still Water
$7.49
F.R.I.E.N.D.S Puccino
Monica Geller
$10.70
Rachel Green
$10.70
Phoebe Buffay
$10.70
Ross Geller
$10.70
Chandler Bing
$10.70
Joey Tribbiani
$12.84
About Central Perk
Central Perk was inspired by the popular American sitcom Friends. It was opened in 2016 and is located at Central Mall in Clarke Quay. The interior of the cafe is styled after the set of the Friends TV show, complete with iconic props and decorations. Breakfast items, sandwiches, pizzas, and pasta dishes all have quirky names inspired by the show. Friends merchandise, such as t-shirts, mugs, and other souvenirs, is also available at the cafe.
Central Perk Menu Best Seller
This menu features the most popular dishes at Central Perk. Each of these is always present at every diner's table.
Ross-Ti – This Central Perk menu is a popular dish consisting of beef pastrami on sourdough bread, topped with melted mozzarella cheese, caramelized onions, and Dijon mustard. It's a hearty sandwich that is both savory and satisfying.
Tater Tots – This dish is made up of bite-sized, deep-fried potato nuggets that pair well with any meal. They are crispy on the outside and soft on the inside and can be served with a variety of dipping sauces.
Garlicky French Fries – These crispy french fries are infused with garlic flavor and sprinkled with parsley. They make an excellent snack or side dish for garlic fans.
Phoebe's Mushrooms – This dish is a flavorful combination of sautéed mushrooms, onions, and garlic served on a toasted baguette. It's a vegetarian option that is not only flavorful but also filling and satisfying.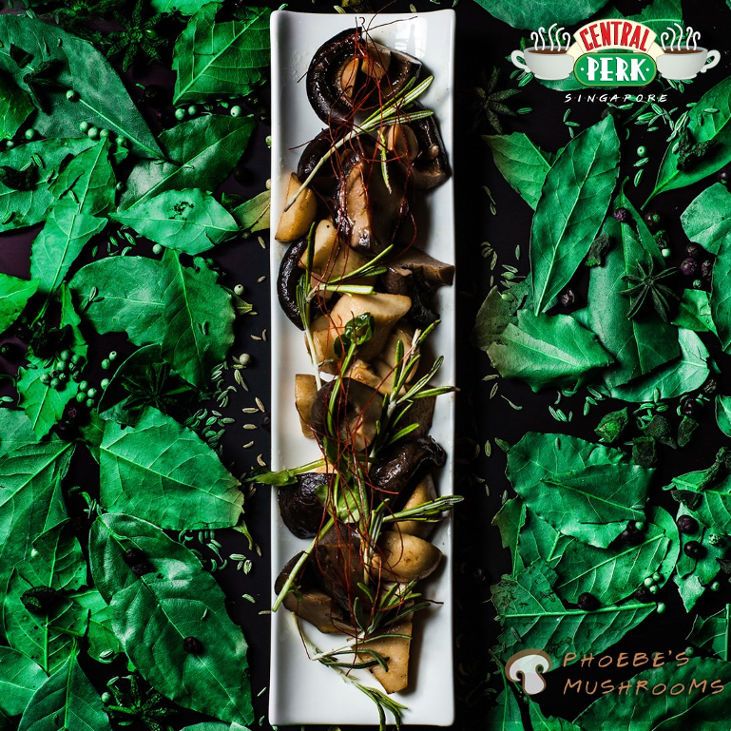 Alejandro Calamar – This is a popular seafood dish that features deep-fried calamari rings served with a tangy dipping sauce. It's a classic appetizer that is perfect for sharing with friends and family.
Central Perk Menu Mains
This menu features main dishes from Central Perk, which are known for being both filling and satisfying.
Chandler's Thanksgiving Chicken – This dish features roasted chicken breast with cranberry sauce and mashed potatoes served on the side. The chicken is cooked to perfection, with a crispy exterior and tender interior. The cranberry sauce adds a touch of sweetness to the savory chicken, and the creamy mashed potatoes tie everything together, making this dish both filling and satisfying.
Ahh.. Unagi – This dish is a Japanese-inspired grilled eel with teriyaki sauce, served with steamed rice and salad on the side. The eel is perfectly grilled, with a smoky and slightly sweet flavor that blends well with the rich teriyaki sauce. The rice is fluffy, and the salad gives the dish an appealing and fresh contrast. For fans of Japanese cuisine, this is a delicious and filling dish.
Janice's Oh. My. God. Baby Back Ribs – These baby back ribs are marinated in a sweet and spicy sauce, and grilled to perfection. The meat is tender and falls off the bone easily, while the sauce provides a sweet and tangy flavor with a kick of heat. The dish is served with a side of fries and coleslaw, which adds a nice texture and crunch to the meal making it a mouth-watering and satisfying dish for fans of ribs.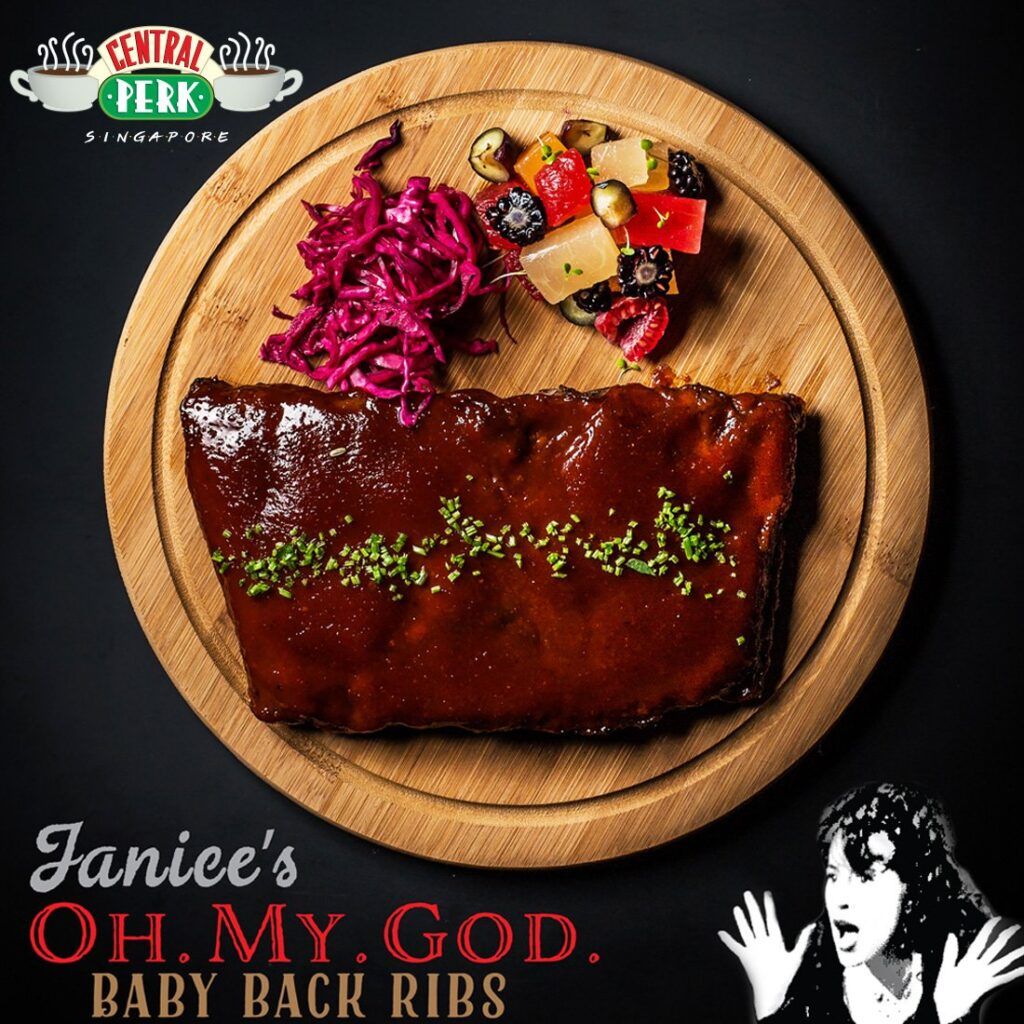 Central Perk Menu All Day Brunch
This menu features classic dishes to inventive creations that are both well-executed and packed with flavor.
Egg Benedict – The poached eggs in this dish is perfectly cooked, and the Hollandaise sauce has just the right amount of tanginess. The dish is served on a bed of spinach and topped with crispy bacon, making it a hearty and satisfying meal.
Ross' Thanksgiving Sandwich – This sandwich is packed with roasted turkey, stuffing, and cranberry sauce making it a must-try for turkey lovers. The sandwich comes with fries or salad on the side, making it an extremely nutritious and delicious meal.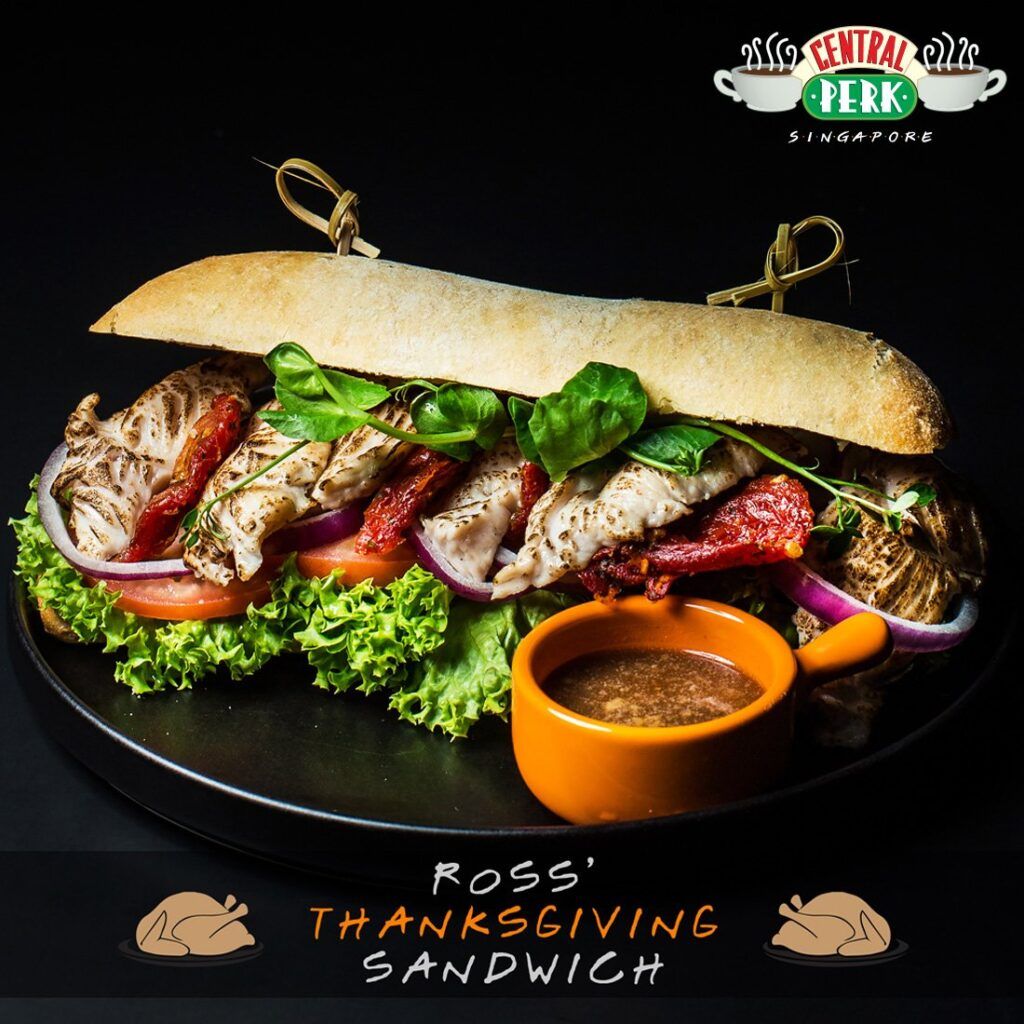 Joey's "Ride Along" Sandwich – Named after Joey from Friends, this sandwich is loaded with salami, ham, provolone cheese, lettuce, tomato, and red onion, all stacked high on a fresh baguette.
Pizza
This menu consists of a variety of delicious-tasting pizza options that are sure to please any pizza lovers that come to visit.
Phoebe's Vegetarian Pizza – This pizza's crust is crispy and the toppings, including mushrooms, bell peppers, and olives, are fresh and flavorful. The cheese is melted to perfection, making this pizza a great option for vegetarians who are looking for a tasty and filling meal.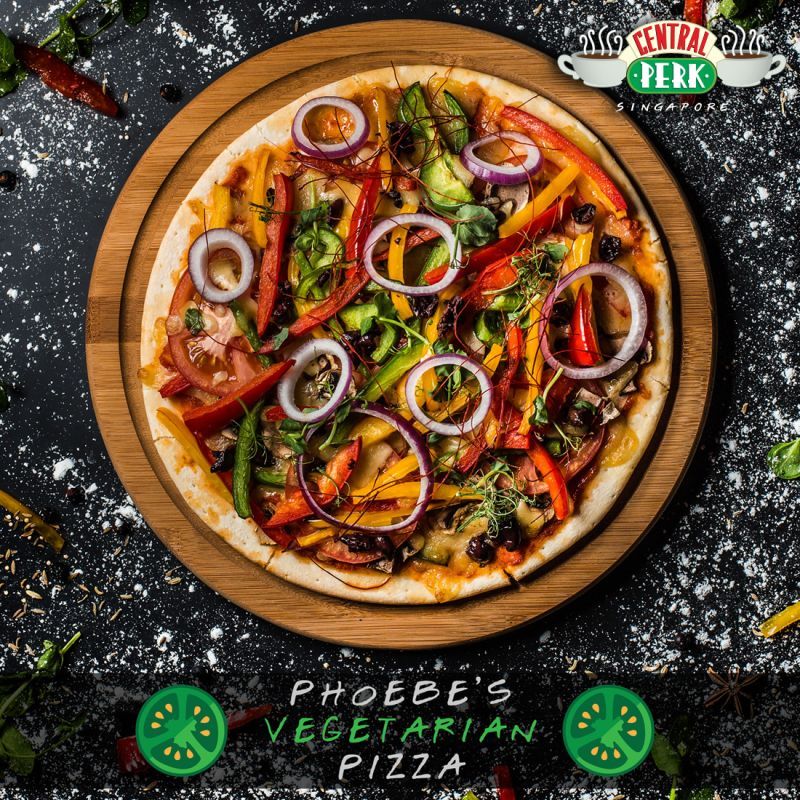 Joey's Meatlover Pizza – This pizza is a must-try for meat lovers, with its generous toppings of pepperoni, sausage, and bacon. This pizza's crust is light and crunchy, and the cheese, as well as toppings, are evenly distributed in this pizza. It's an excellent choice for those who enjoy a little sweet and spicy in their pizza.
Barbados Pizza – This pizza offers a unique and interesting blend of flavors, with its toppings of ham, pineapple, and jalapenos. It has a thin crust and is topped with a good amount of cheese making it a great option for those who are looking for a sweet and spicy pizza.
Salad and Soup
This menu is made up of hearty soups and healthy salad options that are both tasty and filling. Every dish on this menu is made from the best ingredients available to make sure that their beloved customers are getting their money's worth.
Central Perk Menu Delivery
Central Perk has taken customer convenience to the next level by introducing their delivery services. Now, you can easily order their delightful products from the comfort of your own home or wherever you may be. To make the process even smoother, Central Perk has partnered with popular third-party applications like FoodPanda, GrabFood, and Deliveroo. These platforms ensure efficient ordering, allowing you to enjoy your favorite Central Perk goodies with just a few taps on your phone.
Social Media Pages
Are you a fan of the iconic Central Perk from the hit TV show Friends? Come visit our Central Perk-inspired café and enjoy a cup of coffee with your friends! Follow our social media pages to stay updated on our latest menu items and promotions. Don't miss out on the fun, and see you soon at Central Perk!
Facebook: https://www.facebook.com/centralperksingapore/
Twitter: https://twitter.com/centralperksg
FAQs
What kind of food and drinks does Central Perk Cafe serve?
Central Perk Cafe provides a variety of selections for customers with different tastes and dietary needs. Aside from their food menu, they also serve coffee, tea, iced tea, and smoothies
Does Central Perk Cafe take reservations?
Absolutely! Central Perk Cafe is more than happy to accommodate reservations. Whether you're planning a special gathering with friends or simply want to secure a spot for a cozy coffee date, you can easily reserve a table at Central Perk. Just give them a call or drop by in person to make your reservation. They'll make sure to provide you with a warm and welcoming atmosphere for a memorable dining experience.
Is Central Perk Cafe halal-certified?
Unfortunately, Central Perk Cafe does not have a halal certification. This means that their food and beverages may not comply with the strict dietary requirements of halal. It's important to keep this in mind when considering dining options, especially if you adhere to halal guidelines. However, Central Perk Cafe offers a wide range of other delectable options that cater to various dietary preferences and restrictions. Feel free to explore their menu and find alternatives that suit your preferences.
Conclusion
Central Perk's menu offers a variety of food and beverages inspired by the popular TV show "Friends." Their menu includes all-day breakfast items, pasta dishes, sandwiches, pizzas, and desserts, as well as coffee, tea, and other beverages. Central Perk also offers a range of merchandise related to "Friends," including mugs, t-shirts, and tote bags. Overall, it appears to be a fun and quirky spot for fans of the TV show to enjoy some good food and drinks.