Collin's Restaurant menu includes appetizers, salad, pasta, mains, seafood, grilled meats, steaks, woodfired pizza, and beverages. The attention to detail skill of the management and the premium ingredients used in creating dishes ensure that the cuisines it offers are high quality, have great value, and will give its guests a memorable experience. It offers combo and flash deals where customers can enjoy their favorite foods at lower prices. 
You can find the updated pricing information for Collin's Restaurant menu below.
MENU
PRICE (SGD)

Flash Sale (Limited Time Promotion)

Signature Grilled Chicken Chop and Pork Chop + Chicken & Shroom Aglio Olio
$19.90
Signature Grilled Chicken Chop and Roasted BBQ Pork Ribs (1/4 Slab) + Chicken & Shroom Aglio Olio)
$19.90

Irresistible Combo Deals

Breaded White Fish and Tempura Squid Tentacles
$13.90
Grilled Pork Chop, Roasted BBQ Pork Ribs (1/4 Slab) and Prime Iberico Pork Sausage
$16.90
Signature Grilled Chicken Chop and Pork Chop
$13.90
Signature Grilled Chicken Chop and Roasted BBQ Pork Ribs (1/4 Slab)
$15.90
Spaghetti Beef Bolognese and Prime Iberico Pork Sausage
$12.90
Spaghetti Carbonara and Buffalo Drumlets (2 pc)
$13.90

Crazy Pizza Deals

2 Pizza
$20.00

Appetizers

Baked Garlic Baguette
$6.00
Breaded Button Mushroom
$9.00
Charcoal-Grilled Spanish Pork Belly
$15.50
Charcoal-Grilled Surume Ika
$24.00
Cheesy Mayo Fries
$7.50
Cream of Wild Mushroom Soup
$8.00
Creamy Prawn Croquette (3 pcs)
$11.90
Duo of Potato Au Gratin
$9.50
Fresh Tomato Soup with Wagyu Meatball
$11.90
Mashed Potato
$5.00
Prime Iberico Pork Sausage
$12.50
Romesco Mentaiko Fries
$9.00
Seafood Bouillabaisse
$11.90
Shellfish Marinara
$22.00
Shoestring Fries
$6.00
Smoky Beef BBQ Drumlets (4 pcs)
$12.90
Spanish Octopus Carpaccio
$21.50
Sweet Potato Waffle Fries
$8.00
Szechuan Mala Chicken Wings (4 pcs)
$12.90
Tempura Calamari
$12.90
Tempura Squid Tentacles
$12.90
Truffle Parmesan Fries
$7.50
Wagyu Meatball and Mashed Potato Gratin
$18.00
Wagyu Steak (200 gm) & Frites
$27.00

Salad

Chipotle Prawn Avocado
$25.00
Classic Caesar Salad
$12.50
Grilled Chicken Salad
$15.00
Italian Burrata and Parma Ham
$29.00
Italian Burrata and Rocket
$23.00
Salmon Avocado
$24.00

Pasta

Chicken & Mushroom Aglio Olio
$18.00
Homemade Beef Lasagna
$21.00
Penne Au Gratin
$21.00
Pomodoro Mozzarella Ravioli
$23.50
Porcini Mushroom Ravioli
$22.00
Prawn & Clam Aglio Olio
$19.00
Singapore Chili Crab
$21.50
Spaghetti Carbonara
$18.00
Spaghetti Pescatore Rosso
$21.50
Spaghetti Truffle Mushroom with Wagyu Meatball
$26.00
Truffle Alfredo
$22.00
Wagyu Beef Penne Bolognese
$24.00
Add On: Baked Garlic Baguette
$4.00

Mains

Acqua Pazza (Good for Sharing)
$42.00
BFT Fish & Chips
$27.00
BFT Fish & Tempura Calamari
$31.00
COLLIN'S All-Day Breakfast
$24.00
COLLINS Premium Combo (Good for Sharing)
$65.00
French Duck Leg Confit
$27.00
Grilled Norweigian Salmon
$27.00
Lamb chop & Prime Iberico Sausage
$31.00
Pork Chop & Prime Iberico Sausage
$23.00
Red Sea Barramundi
$30.50
Seafood Risotto
$28.50
Signature Crispy Chicken Cutlet
$21.00
Signature Grilled Chicken Chop
$18.90
Signature Roasted BBQ Pork Ribs
$30.50
Wagyu Cheese Burger
$27.00
Add On: Baked Garlic Baguette
$4.00

Reserve

COLLIN'S Mixed Grill
$27.00
COLLIN'S Premium Mixed Grill
$32.50
Prime Black Angus Grain-fed Ribeye Steak (200gm)
$36.50
Prime Black Angus Grain-fed Sirloin Steak (200gm)
$34.50
Add On: Baked Garlic Baguette
$4.00

Woodfired Pizza

10/10 at COLLIN'S
$36.00
Best Picks
$33.00
East meets West
$32.00
Midnight Nutella
$20.00
Shrooms Bloom
$22.00
Slice of Italy
$21.00
Specks of White
$23.00
Spi-Sea-Food
$33.00
Summer Smiles
$23.00
The Xtra Ordinary
$36.00
Add On: Baked Garlic Baguette
$4.00

Coffee/Alternatives

Caffe Latte
$6.80
Caffe Mocha
$7.30
Cappuccino
$6.80
Cocoa
$6.80
Espresso
$4.00
Flat White
$6.80
Iced Caffe Latte
$7.80
Iced Caffe Mocha
$8.30
Iced Cocoa
$6.80
Iced Dirty Caffe Matcha
$9.50
Iced Long Black
$6.50
Iced Matcha Latte
$7.80
Long Black
$5.50
Piccolo Latte
$6.50

Premium Homemade Iced Tea

Elder-Apple
$6.80
Lemon and Orange
$6.80
Lychee
$6.80
Peach
$6.80

Tropical Quenchers

Botanist
$9.90
Classic Nojito
$9.90
Litchi Fragaria
$9.90
Lychee Nojito
$9.90
Passion Dragon
$9.90
Passion Nohito
$9.90
Peach Fragaria
$9.90
Yuzu C
$9.90

Juice

Apple
$6.20
Lime
$6.20
Mango
$6.20
Mixed Fruit
$6.20
Orange
$6.20

Soft Drink & Juice

Coke
$3.20
Coke Zero
$3.20
Root Beer
$3.20
Sprite
$3.20

Remedy Kombucha

Lemon, Lime & Mint
$10.20
Mango Passion
$10.20
Raspberry Lemonade
$10.20
Wild Berries
$10.20

Water

Mineral Water (500ml)
$3.20
About Collin's 
Collin's is a restaurant in Singapore founded by Chef Collin Ho in 2012 to bring premium Western cuisines to Singapore. It is one of the brands managed by SF Group Limited. He has more than 20 years of experience in the culinary and hospitality industry, so he and his team are passionate about creating good food and giving quality service. 
Collin's Restaurant Menu Best Seller 
The best sellers of Collin's consist of signature dishes, mixed grills, and comfort foods. These cuisines are extraordinary as they are cooked using special methods, come with many side dishes, and have a delicious taste. 
Signature Grilled Chicken Chop – The star of Collin's menu. Chicken is grilled expertly to achieve its perfect consistency, making it tender and flavorful. Grilled Corn, Spaghetti Aglio Olio, and House Salad are the side dishes that come with it. Mushroom, Smoky Sweet BBQ, and Black Pepper are the sauces selections that this restaurant offers.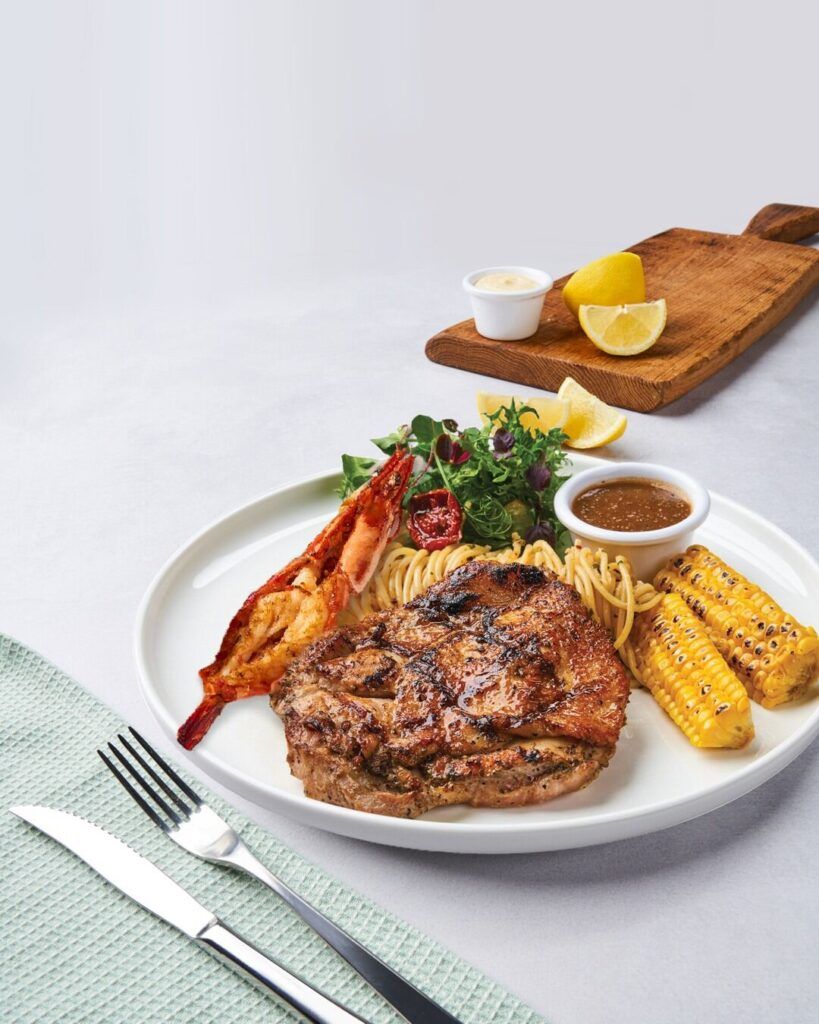 Signature Crispy Chicken Cutlet – This signature dish menu of Collin's Restaurant consists of a crispy chicken cutlet breaded evenly and deep-fried perfectly. The delicious flavor, tender meat, and crispy breading are the features of this chicken cutlet that makes it sensational. To make it more satisfying, house salad, shoestring fries, and special tartar sauce are paired with it. 
Signature Roasted BBQ Pork Ribs – Pork Ribs are grilled and glazed with barbecue sauce. This sauce gives a glossy finish, making it mouthwatering. It includes seasonal vegetables, grilled corn, and potato au gratin. 
Collin's Mixed Grill – The signature grilled chicken chop, grilled pork chop, and prime Iberico Pork Sausage are the main dishes that come with this mixed grill. The exclusive Harissa sauces and other food items make this dish more gratifying. 
BFT Fish and Chips – Fish and Chips is a classic combination that always satisfies its diners. A premium white fish is cooked using Bi Feng Tang crumble method, where it is deep-fried in bread crumb, black beans, chili, and aromatic garlic. This unique cooking style gives this dish a distinctive and gratifying taste. It comes with a tartar sauce and two side dishes. 
Irresistible Combo Deals 
Collin's Restaurant offers irresistible combo deals comprising signature and popular items. These deals come with a complimentary cream of mushroom soup. It is a budget-friendly meal that will satisfy your cravings. 
Grilled Pork Chop, Roasted BBQ Pork Ribs (1/4 Slab), and Prime Iberico Pork Sausage – It is one of the popular combo deals and the well-loved meal combination of its diners. With this meal, you can enjoy the signature dishes and hearty sides at an affordable price.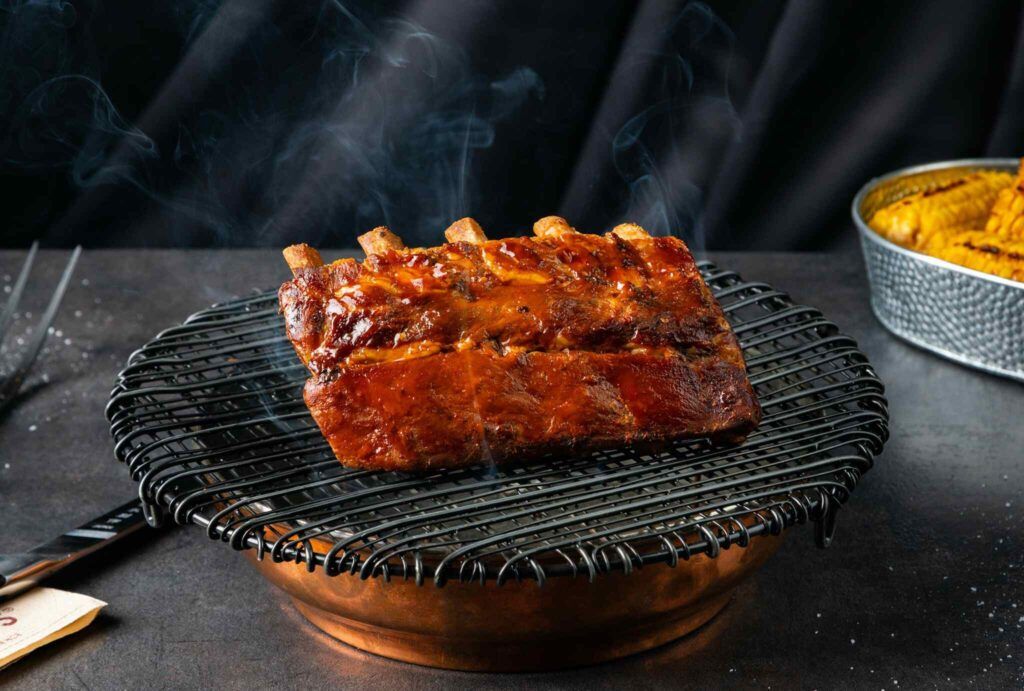 Breaded White Fish and Tempura Squid Tentacles – A perfect choice for seafood lovers as it consists of white fish and squid tentacles coated with a special breading mix.  The sides that come with them are mesclun salad, corn cob, spaghetti aglio olio, and in-house tartar sauce. 
Spaghetti Beef Bolognese and Prime Iberico Pork Sausage – Beef Bolognese is a famous and well-loved sauce by people of all ages, as it is hearty and satisfying. It is cooked with spaghetti pasta, making it delicious. The sausage with a notable nutty and evocative flavor is served with it. 
Collin's Restaurant Menu Appetizers
Start your meals with these hearty and comforting appetizers served by Collins. It includes various fries, mashed potato, tempura calamari, kinds of seafood, heartwarming soups, baked garlic baguette, sausage, grilled dishes, and meat. 
Seafood Bouillabaisse – A hearty dish where various kinds of seafood are laid on top of the luscious tomato-based soup. The freshly baked garlic baguette goes well with the soup's flavor. 
Shellfish Marinara – Spice up your meal with this cuisine, where shellfish is cooked with chili, peanuts, herbs, and other ingredients in a spicy tomato sauce. The ingredients combined in this dish create a delicious flavor that impresses its patrons. 
Wagyu Meatball and Mashed Potato Gratin – The rich and creamy mashed potato gratin is topped with a Wagyu meatball. This meatball has a meaty, juicy, tender, and melt-in-your-mouth goodness that pairs perfectly with mashed potato. It is also served with tomato marinara to give diners a filling meal. 
Collin's Restaurant Menu Salad 
Salads are light and healthy foods always sought by those following a healthy lifestyle as they contain nutritional value. The refreshing fruits, greens, and other ingredients give these salad dishes a fascinating presentation. 
Italian Burrata and Parma Ham – Italian Burrata is placed on the center of the plate and surrounded by fresh slices of tropical fruits. The honey balsamic glaze brings out the flavors of fruits. It has a colorful presentation that makes it enticing. 
Grilled Chicken Salad – Chicken is grilled, cut into slices, and mixed with Japanese cucumber, mixed mesclun, and cherry tomato. This salad is tossed in a sesame dressing, adding a delicious flavor to every bite. 
Chipotle Prawn Avocado – Prawns are cooked in a chipotle sauce and combined with a salad that consists of cherry tomato, mixed mesclun, ricotta cheese, and Japanese cucumber. The lemon-calamansi vinaigrette is tossed with it. 
Pasta 
Collin's Restaurant serves various pasta dishes. Some dishes it serves are Singapore Chili Crab, Homemade Beef Lasagna, Spaghetti Truffle Mushroom with Wagyu Meatballs, and Truffle Alfredo. The Penne Au Gratin, Spaghetti Pescatore Rosso, and Pomodoro Mozzarella Ravioli are the kinds of pasta cooked with prawn, making it perfect for those who enjoy seafood pasta. 
Mains 
The main cuisines menu of the Collin's Restaurant consists of signature dishes, burgers, seafood, and meat. One of the meals that it offers is the All-Day Breakfast which consists of Bacon, Prime Iberico Pork Sausage, Seasonal Vegetables, Potato Au Gratin, Freshly Baked Garlic Baguette, and a choice of Scrambled Egg or Sunny Side Up egg. The restaurant's Acqua Pazza and premium combo are the cuisines good for sharing as they have generous servings.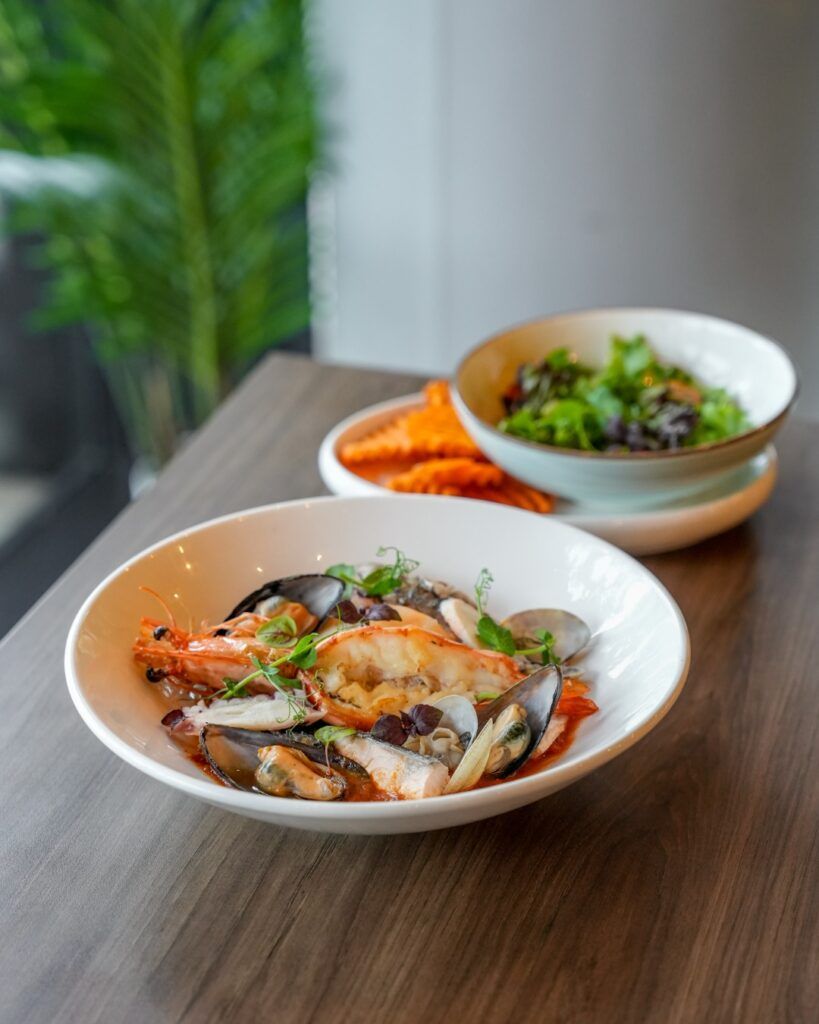 Collin's Menu Delivery 
If you're craving some delicious, filling food from Collin's Restaurant, you're in luck! Now, you don't have to leave your house to enjoy their mouthwatering dishes. Just hop onto their official delivery website and place your order with a few simple clicks. But that's not all – Collin's Restaurant wants to make sure you have plenty of options, so they've partnered with various delivery platforms like Deliveroo, Grabfood, and Foodpanda. This means you can choose the platform that you're most comfortable with, making it even more convenient for you to get your hands on Collin's Restaurant's hearty meals. So go ahead and explore their official delivery website or check out those popular delivery platforms to satisfy your hunger with Collin's Restaurant's tasty offerings.
Social Media Pages
Indulge in the mouth-watering dishes of Collin's Restaurant and stay up-to-date with their latest offers and promotions by following their social media pages. Don't miss out on the opportunity to tantalize your taste buds with their delectable creations. Follow Collin's Restaurant today and embark on a culinary journey you won't forget. #CollinsRestaurant #DeliciousDining #FoodieParadise
Facebook: https://www.facebook.com/CollinsGrille.sg
Instagram: https://www.instagram.com/collinsgrille.sg/
Website: https://contact.collins.sg/
FAQs
Where are Collin's outlets located? 
Here are the outlets of Collin's in Singapore: 
Changi Airport Terminal 3 (65 Airport Boulevard, Changi Airport Terminal 3 #03-21, Singapore 819663
Marina Square (6 Raffles Boulevard, #01-204/205 Singapore 039594) 
Northpoint City (930 Yishun Ave 2, #01-113/114 Singapore 769098)
Jubilee Square (61 Ang Mo Kio Ave 8, #01-07/10 Singapore 569814)
Westgate (3 Gateway Drive, #01-05 Singapore 608532) 
Funan (107 North Bridge Road, #01-15 Singapore 179105)
Paya Lebar Quarter (10 Paya Lebar Road, #B1-01 Singapore 409057)
NEX (23 Serangoon Central, #B1-27 Singapore 556083)
Great World (1 Kim Seng Promenade, #B1-106/107 Singapore 237994)
Jurong Point (63 Jurong West Central 3, #03-58/59 Singapore 648331)
NTP+ (151 Lorong Chuan, #01-10 Singapore 556741)
The Seletar Mall (33 Sengkang West Ave, #01-14/15/16 Singapore 797653)
Sengkang Grand Mall (70 Compassvale Bow, #01-20 Singapore 544692)
Shaw Plaza (360 Balestier Road, #01-24 Singapore 329783
The Woodleigh Mall (11 Bidadari Park Drive, #01-24 Singapore 367803
Mandai (20 Mandai Lake Road, Mandai Wildlife Reserve (West Node) #02-10 Singapore 729825
What type of cuisine does Collin's offer? 
Western, Italian, and Asian are the type of cuisines offered by Collin's Restaurant. 
Can I make reservations at Collin's? 
Yes, you can make reservations at Collin's by visiting https://www.collins.sg/reservation. 
Are there any signature dishes or must-try items at Collin's? 
Collin's signature dishes and must-try items are Grilled Chicken Chop, Roasted BBQ Pork Ribs, and Crispy Chicken Cutlet. 
Is Collin's halal certified? 
Collin's is not a halal-certified restaurant in Singapore. 
Conclusion
Collin's Restaurant menu consists of a wide selection of cuisines perfect for people from different walks of life, making it an ideal place to bond with family and friends. Its dishes have generous servings, are continuously innovated, and are reasonably priced, which is why most of its guests love this dining place. The relaxing atmosphere and friendly service give diners a satisfying dining experience.