Finding good Italian cuisine is difficult, and the challenge increases when it is authentic and halal. Kucina, Singapore's first authentic Italian Halal restaurant that is entirely Muslim-owned, is a hidden treasure of Italian cuisine. Genuine Italian cuisine is served at Kucina Italian Restaurant menu in a laid-back setting from Singapore. They only provide real Italian foods that have been passed down through their family's generations on their menu, which is short and to the point. Along with more contemporary options like chicken parmigiana, you may discover traditional meals like spaghetti all'amatriciana and lasagna Bolognese. Fresh ingredients are used, and manual preparation is used.
Kucina Italian Restaurant Menu Price List [Updated]
You can find the updated pricing information for the Kucina Italian Restaurant food items below.
MENU
PRICE (SGD)

Kucina Restaurant Antipasti

Insalata Mista
$11.90

Kucina Restaurant Burratina

Burratina
$19.90

Kucina Restaurant Secondi

Cioppino
$27.90
Stinco di Agnello
$30.90
Bistecca
$32.90
Pollo Parmigiana
$27.90
Salmone
$28.90

Kucina Restaurant Pizza

Aglio Olio Pepperoncino
$15.00
La Barca Funghi e Tartufo
$28.90
Pollo Bianca
$25.90
Margherita di Bocconcini
$20.90
Kucina
$22.90
Pizzotto
$22.90
Caponata
$23.90
Mare Nero
$27.90
Quattro Formaggi
$25.90
Tonno e Cipolla
$22.90
Carnivora
$23.90

Kucina Restaurant Desserts

Panna Cotta
$9.90

Kucina Restaurant Popular

Carbonara
$22.90
Margherita di Bocconcini
$20.90
La Barca Funghi e Tartufo
$28.90
Carnivora
$23.90
Beef Lasagna
$20.90

Kucina Restauran Zuppa

Soup of the Day
$9.00

Kucina Restaurant Pane

Menu Items
Price
Bread Basket
$8.90

Kucina Restaurant Primi Pasta

Linguine alle Cozze
$25.90
Linguine Pescatora
$28.90
Caserecci alla Boscaiola con Manzo
$25.90
Beef Lasagna
$20.90
Risotto di Amalfi
$26.90
Spinaci Tagliatelle con Gamberi Zafferano
$25.90
Carbonara
$22.90
Bolognese
$19.90
Granchio
$23.90
Arrabbiata
$17.00

Kucina Restaurant Fritti Items

Calamari
$19.90
Arancini
$11.90
About Kucina Italian Restaurant
Chef Gero Omar made the decision to build the first one after realizing that Singapore lacks an authentic, halal Italian restaurant. Due to the ingredients frequently used in Italian cuisine, Chef Gero wants to expose Italian cuisine to the Muslim population, who may not otherwise have the opportunity to do so. In Kucina's view, authenticity is all about sticking to the traditional way of making Italian food – no fusion or shortcuts.
The food provided at Kucina is the most genuine and halal Italian meal you will ever find in Singapore. It was energizing and heartwarming to witness Chef Gero's fervor for expanding the availability of Italian cuisine to the Muslim community, and the caliber of his creations spoke for themselves. Chef Gero, who has 25 years of expertise in Italian cooking at prominent restaurants like Da Paolo and the Garibaldi Group, is in charge of Kucina, which opened its doors in June 2016. He was motivated to start his own restaurant that catered to the Muslim population without sacrificing the originality of Italian cuisine after converting to Islam.
Kucina Italian Restaurant Menu Best Seller
Margherita di Bocconcini – The little bocconcini is most commonly associated with the Caprese salad, although it may also be used as a side dish for pasta. These bite-sized cheeses have an elastic texture and firmness, a highly sweet flavor described as tasting like butter, and a delightfully light and creamy scent.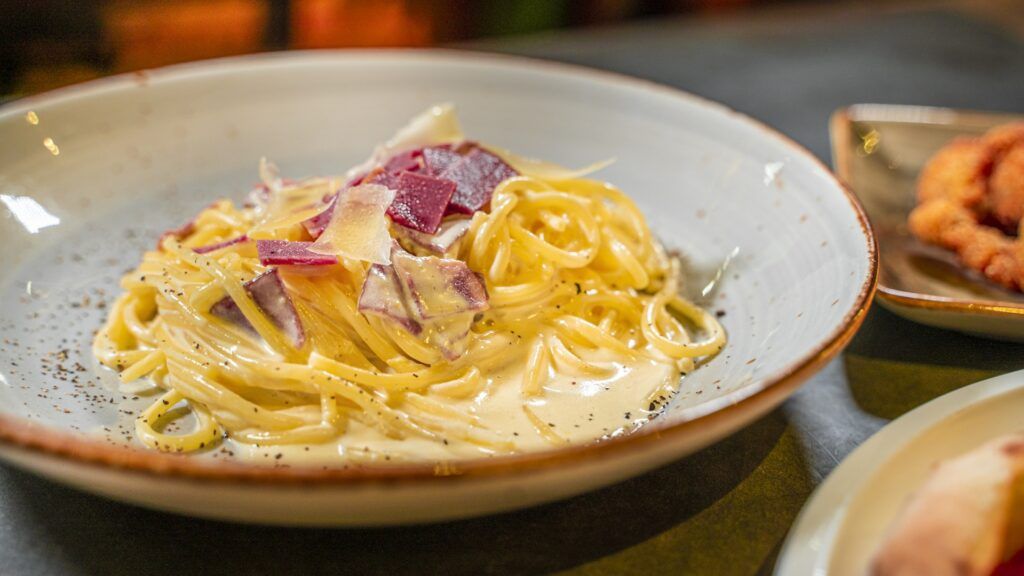 Carbonara – At Kucina Restaurant, the carbonara is a fantastic delight. Rich and creamy without being overly substantial. The egg yolk is cooked to perfection and has the ideal amount of gooeyness. You'll want to order another dish of cheese since it has the ideal amount of salt in every bite. This recipe is perfect if you're searching for something tasty and soothing to eat after a hard day at work or school. We all know how crucial it is to ensure we are eating well when on the road, and it is not only satisfying but also nutritious.
La Barca Funghi e Tartufo – Amazing pizza was served! Pricey, but well worth it. Although not too crunchy, the crust is thin and crispy. Neither the cheese nor the mushrooms are overcooked nor undercooked. The excellence of the ingredients and the labor that went into producing this pizza is both discernible. A delicious treat for any mushroom fan is Funghi e Tartufo from La Barca, which is loaded with creamy mushroom sauce, black truffle pate, mozzarella, and scamorza smoked cheese. The smoked scamorza cheese provides an additional layer of flavor while the mozzarella gives the dish a hint of creaminess.
Gnocchi – One of the nicest dishes at Kucina is gnocchi, which has a generally bland flavor.
Kucina Italian Restaurant Primi Pasta Menu
Beef Lasagna – Not only is beef lasagna tasty, but it's also nutritious! This is due to the protein-rich beef used in its preparation. Additionally, it includes vitamin and mineral-rich veggies like tomatoes and onions. The cheese topping gives this meal extra calcium and protein. The actual thing is this beef lasagna. It is not merely something that appears to be fantastic; it truly is amazing. The layers of cheese, pasta, and beef are wonderfully complemented by the sauce's deep taste. You can see that they took great effort in creating this dish and used high-quality components.
Bolognese – Regarding flavor, it will be meaty and hearty thanks to the browned meats, sweet and tangy because of the rich tomatoes, and herbal thanks to the many Italian spices employed. It was probably a bolognese recipe if you've ever eaten a pasta meal with meat and tomato-based sauce.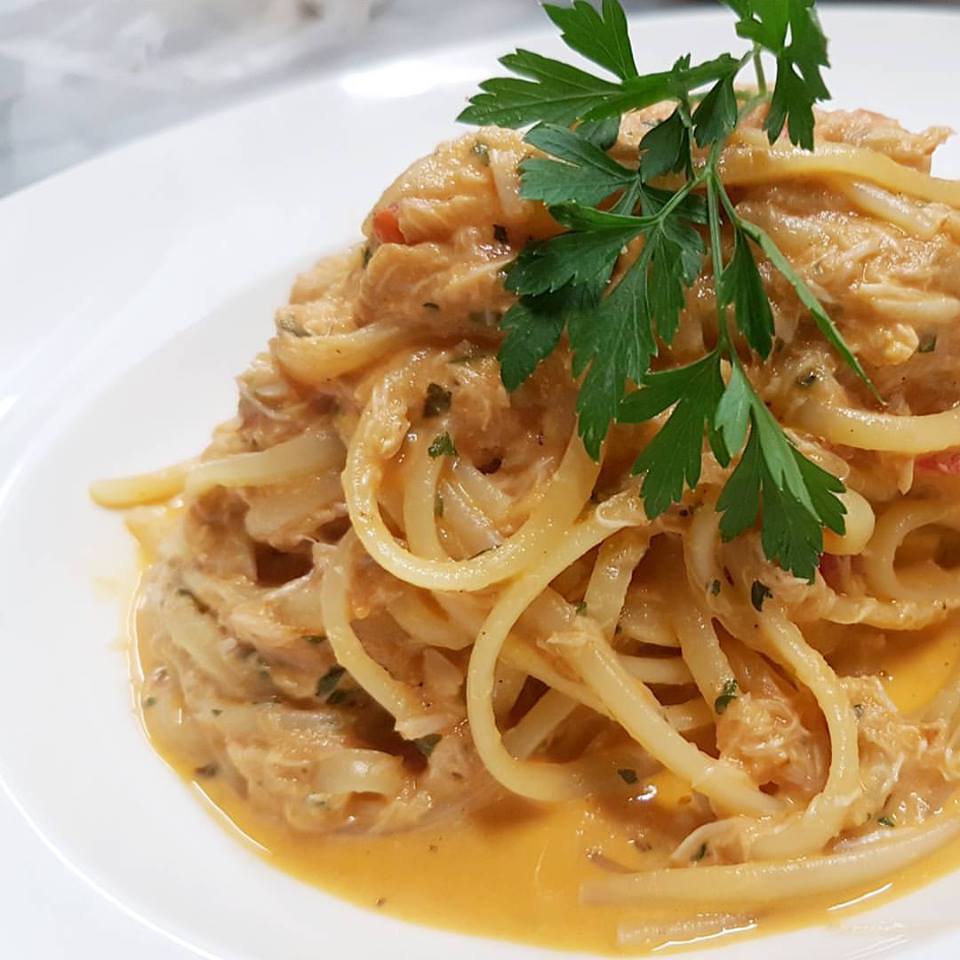 Granchio – The crab taste in this recipe for granchio pasta is incredibly pure, and the condensed crab steaming liquid gives it a depth of flavor. Absolutely delectable, the female crabs are widely regarded in Italian cuisine. The roe, which is frequently served with meat, may provide a meal with an entirely new flavor level. Some people take the brown meat and the roe from the crab and purée them with the pasta boiling water before adding them to the pan with the crab meat.
Kucina Italian Restaurant Pizza Menu
Pizza is necessary for the menu to be full because it is an Italian restaurant. One of Singapore's top pizza menus is available there. When dining here, guests will undoubtedly want to order the following products.
Sicilian Boat Pizza – One of the most well-known dishes from the Kucina is Sicilian boat pizza. In comparison to regular pizza, it gives a lot more sauce. Compared to the majority of other kinds produced today, it utilizes a lot more tomato sauce as its base. It is a rectangular, thick-crust pizza that resembles focaccia bread.
Quattro Formaggi – On a thin, crispy pizza dough topped with tomato sauce, a true four-cheese pizza is constructed using four extraordinary and delectable kinds of cheese.
Kucina Italian Restaurant Menu Delivery
On a busy day, most customers would just want to order food and eat it at home. It would be a good thing to stay away from crowded areas where good food is served like Kucina. You can order through the GrabFood or Foodpanda app. You could also order through Deliveroo or eats.oddle.me.
Social Media Pages
To ensure that you get the latest status update about the Kucina Italian Restaurant menu, and its promos, you need to subscribe to their social media pages. In this way, you can always get updated whenever they posted something new on their pages. You can also check their website from time to time to keep updated.
Facebook: https://www.facebook.com/kucinaitalianrestaurant/
Instagram: https://www.instagram.com/kucina_sg/
Website: https://kucinaitalian.oddle.me/
Conclusion
One of the well-known restaurants with a Hala certification is Kucina Italian Restaurant menu. It was freshly produced in 2016 by a highly skilled and seasoned Italian Muslim chef with 30 years of expertise. Its consumers, both Muslims, and non-Muslims, will receive genuine and excellent Italian food from it. Kucina quietly but steadily acquired a lot of support from the Muslim community when it first opened, and President Halimah Yacob has even paid Kucina for many trips. Due to its increasing popularity, Kucina started a catering company that now provides services to major corporations like Netflix, Google, and Facebook.