Mun Zuk offers a diverse menu of traditional Cantonese and Teochew cuisine, showcasing a variety of appetizing dishes. The menu features a wide variety of dishes that ranges from starters, soups, seafood, poultry, meat, vegetables, and rice/noodle dishes. With its wide range of menu offerings, Mun Zuk caters to different tastes and preferences, ensuring that its customers had the best dining experience that they could've gotten. So if you are a local in Singapore or a visiting tourist looking to try something new, unique, and delicious, might as well try visiting Mun Zuk.
You can find the updated pricing information for the Mun Zuk menu below.
MENU
PRICE (SGD)

Seasonal Bundle Deal

2 Pax Frog Legs Bundle Deal
$25.90
1 Pax Ice-Bath Poached Chicken Bundle Deal
$11.90
1 Pax 4 Treasure Seafood Bundle Deal
$15.90

Congee Set Meal

Lala Congee SET MEAL
$9.10
Wok Hei Prawn Congee SET MEAL
$10.10
Century Egg & Lean Meat Congee SET MEAL
$7.90
Mixed Pork Congee SET MEAL
$10.10
Sliced Tioman Fish Congee SET MEAL
$8.10
Mixed Scallop Congee SET MEAL
$10.10
Meatball Sliced Pork Congee SET MEAL
$7.90
Fish & Cuttlefish Congee SET MEAL
$9.10
Chicken Congee SET MEAL
$7.90
Boat Style Congee SET MEAL
$9.90
Popcorn Chicken Congee SET MEAL
$8.00
Fresh Sliced Red Grouper Congee SET MEAL
$14.50
Creamy Trio Eggs Congee SET MEAL
$8.90
Salmon Congee SET MEAL
$11.90
Ginseng Chicken Drumstick Congee SET MEAL
$14.10
Fresh Minced Pork Congee SET MEAL
$8.50

Sides

Claypot Liver
$5.90
Claypot Lean Meat
$8.90
Claypot Chicken
$9.90
Crispy Deep-fried Mini Shrimps
$6.90
Butter Garlic Lala
$7.90
Yu Sheng Jellyfish
$7.50
Fried Intestines
$9.00
Century Egg 1Whole
$2.50
Salted Egg 1 Whole
$2.50
Stir-Fried Garlic Dou Miao
$8.00
Crispy Youtiao (1 Pair)
$2.00
Fried Yam Rolls
$4.90
Fried Scallop Rolls
$5.90
Fried Mini Popiah
$4.90
Thai Style Tofu
$4.90
Mini Siew Mai
$3.80
Pork Ribs
$3.80
Chicken Feet
$3.80
Fresh Soya Bean Drink
$2.00
About Mun Zuk
Mun Zuk is a well-known restaurant in Singapore that specializes in traditional Chinese cuisine, specifically Cantonese and Teochew dishes. The restaurant has a good reputation for serving delicious and authentic food with a menu that offers a diverse menu which caters to various tastes and preferences. The restaurant as a whole has a warm and inviting ambiance, attentive service, and delectable dishes which made it a popular destination for those seeking a taste of traditional Chinese cuisine in Singapore.
Mun Zuk Menu Best Seller
This menu is composed of the best-selling dishes from both Mun Zuk's physical stores and online delivery services.
Thai Style Tofu -Thai style tofu is a popular dish known for its combination of crispy tofu, aromatic herbs, and tangy Thai flavors. The dish features deep-fried tofu cubes that are crispy on the outside and soft on the inside that was stir-fried with a variety of vegetables such as bell peppers, onions, and carrots, creating a colorful and nutritious dish.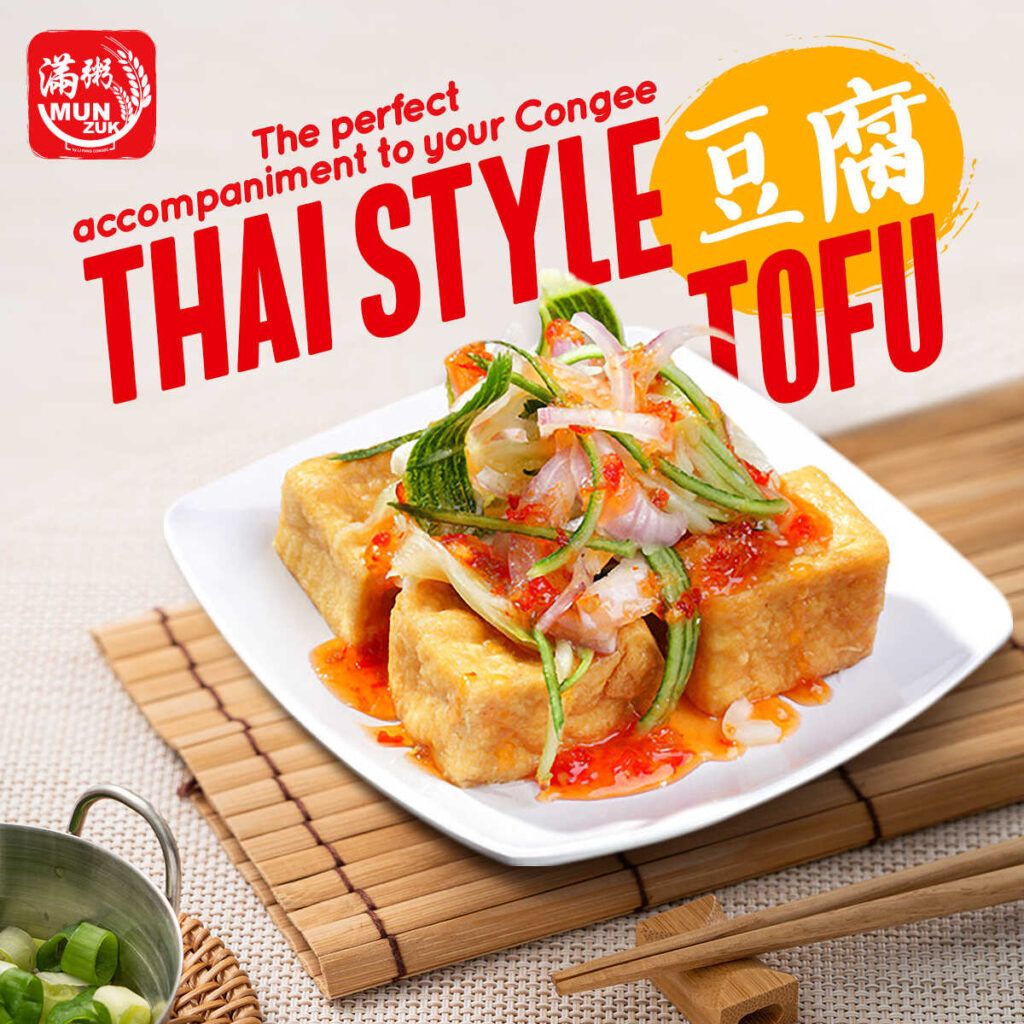 Pork Ribs – The pork ribs at Mun Zuk are succulent and flavorful because they are marinated and cooked to perfection, resulting in tender meat that easily falls off the bone. The sauce used to glaze the ribs adds a savory and slightly sweet taste, making them a popular choice for meat lovers.
Chicken Feet – Mun Zuk offers chicken feet that are typically braised until tender and then marinated in a flavorful sauce. They have a gelatinous texture and are rich in flavor, with a combination of savory and umami notes. 
Mixed Pork Congee – The congee, a rice porridge, is cooked until smooth and creamy and then topped with a variety of tender and flavorful mixed pork, such as sliced pork, minced pork, and pork balls. The combination of the savory congee and the different pork elements creates a delightful and filling meal.
Ginseng Chicken Drumstick Congee – This dish features a flavorful congee infused with aromatic and herbal notes of ginseng that is complemented by a tender chicken drumstick, which adds richness and depth to the dish. The combination of the ginseng and chicken flavors creates a unique and comforting taste experience.
Mun Zuk Menu Congee Set Meal
This menu is composed of a selection of set meals with congee as its main. All of the set meals on this menu are satisfying and filling.
Meatball Sliced Pork Congee Set Meal – This is a hearty and comforting option for congee lovers that features a flavorful and smooth rice porridge cooked to perfection, topped with succulent meatballs and thinly sliced pork. The combination of meat adds a savory and rich taste to the congee, making it a satisfying meal.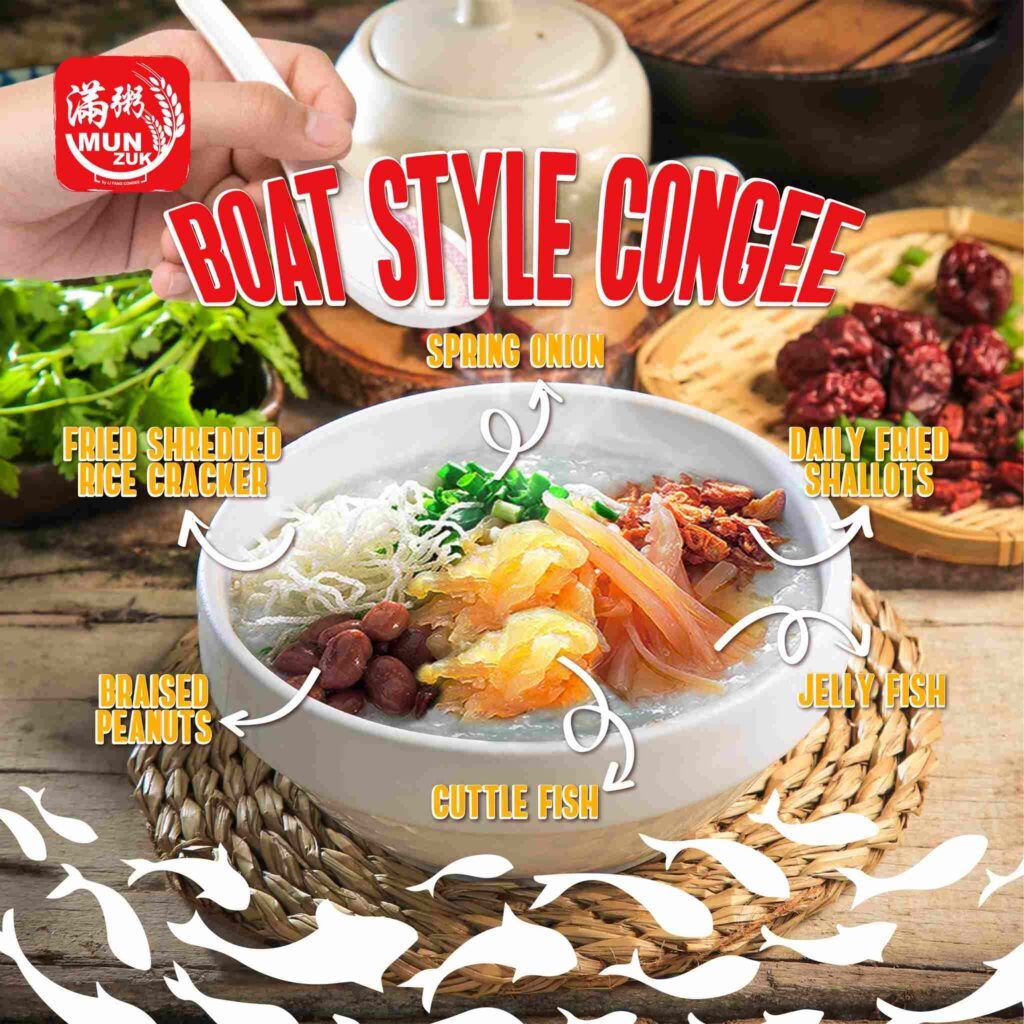 Fish & Cuttlefish Congee Set Meal – This meal offers a delightful seafood twist to the classic congee as it features tender fish and cuttlefish simmered in the congee, infusing it with seafood flavors. The fish and cuttlefish add texture and depth to the dish, creating a delicious and nourishing option for seafood enthusiasts
Chicken Congee Set Meal – This is a popular choice for those seeking a comforting and familiar flavor. The congee is generously topped with tender and flavorful chicken, providing a satisfying and protein-rich meal while the chicken is cooked to perfection, ensuring it is juicy and tender. 
Mun Zuk Menu Sides
This menu is made up of a wide variety of side dishes that could serve as the perfect accompaniment to your main dishes at Mun Zuk.
Crispy Deep-fried Mini Shrimp – This is s an exciting and delicious appetizer that packs a crunchy and flavorful punch. The mini shrimps are coated in a crispy batter and deep-fried to perfection, resulting in a satisfying texture and a savory taste.
Butter Garlic Lala – It is a mouthwatering seafood dish that combines the natural sweetness of lala clams with the rich flavors of butter and garlic. The lala clams are cooked to perfection, tender and succulent, and then tossed in a fragrant butter and garlic sauce.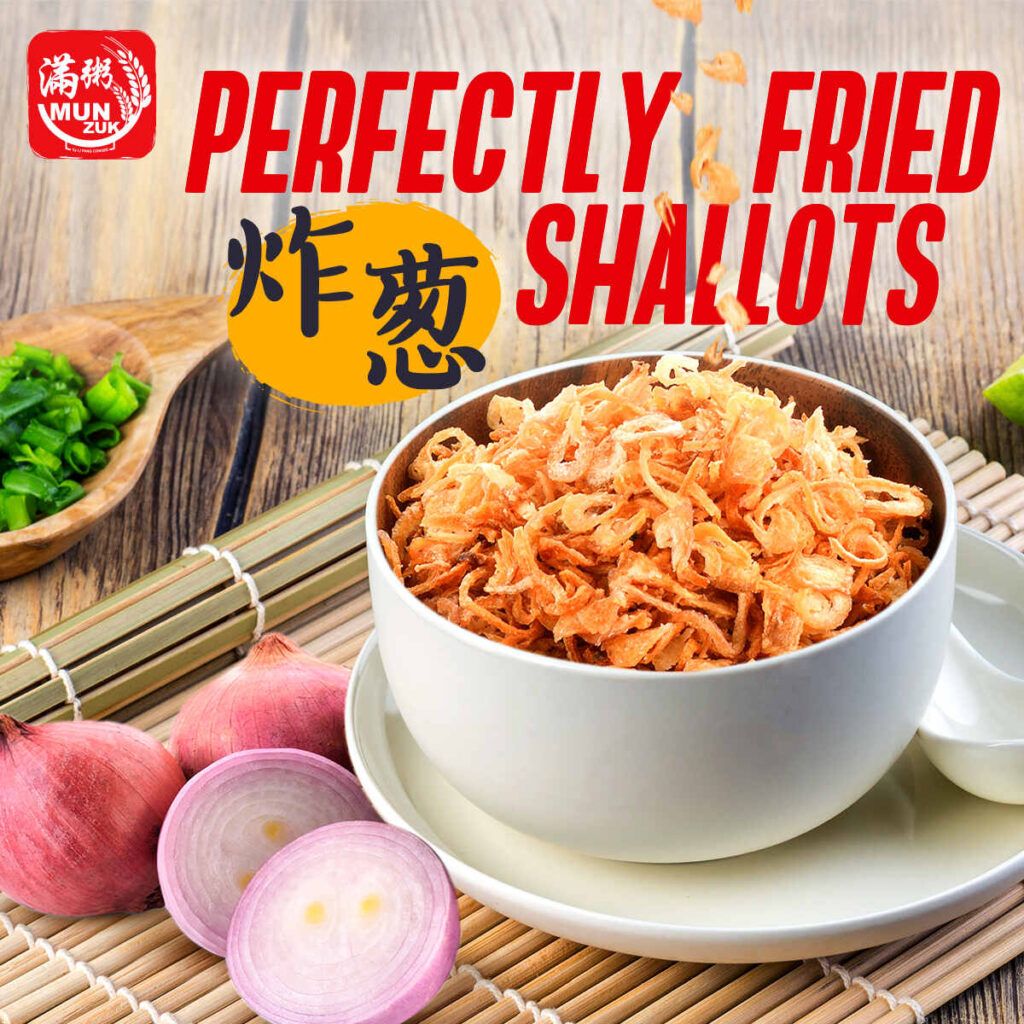 Fried Yam Rolls – The fried yam rolls at Mun Zuk are a tasty and satisfying appetizer that features a crispy exterior and a soft, flavorful interior. The yam rolls are filled with a savory mixture, which includes ingredients like minced meat or vegetables, and then deep-fried until golden and crispy.
Seasonal Bundle Deal
This menu offers a fantastic selection of bundled meals that are perfect for those looking for a satisfying and complete dining experience. It features a selection of set meals which includes a main dish that is accompanied by a variety of side dishes and other complementary items.
Mun Zuk Menu Delivery
Mun Zuk now offers a menu delivery to provide customers with easy access to their favorite dishes anytime and anywhere they are. This way, customers can order without visiting their physical store but instead use third-party delivery services like Foodpanda or grab food.
Mun Zuk Social Media Pages
Follow Mun Zuk's social media pages to stay updated on our latest promotions, events, and limited-time offers. Visit Mun Zuk and experience the vibrant energy of Asian street food, where every visit is a tantalizing adventure for your taste buds.
Facebook: https://www.facebook.com/munzuksg
Instagram: https://www.instagram.com/munzuksg/
Website: https://munzuk.getz.co/Home/Hours
FAQs
Where is Mun Zuk located?
You can visit Mun Zuk at 238 Thomson Rd, #01-86/87 Velocity, Novena Square, Singapore 307683 in Singapore.
What type of cuisine does Mun Zuk serve?
Mun Zuk primarily serves Chinese cuisine. 
Can I make a reservation at Mun Zuk?
You can definitely make a reservation at Mun Zuk for a more convenient dinner.
Are there any signature dishes at Mun Zuk?
Almost all of the dishes at Mun Zuk are considered signature dishes.
Is Mun Zuk halal-certified?
Mun Zuk is not a halal-certified eatery.
Conclusion
Mun Zuk is a popular restaurant in Singapore known for its diverse menu and flavorful dishes with a focus on Chinese cuisine. The restaurant offers a variety of dishes ranging from soups and appetizers to main courses and desserts to satisfy a range of customers that visits the place. The restaurant strives to provide a pleasant dining experience with its cozy ambiance and friendly service. So if you are looking to explore a blend of traditional and classic Chinese flavors, Mun Zuk is definitely worth a visit.