Tired of having a repeating flavor profile of your everyday meal? Well, you can try this hidden gem that is located in the heart of the bustling city of Singapore. Goodmama's menu provides locals with a wide range of delicious dishes that are thoughtfully crafted to specifically provide a unique and satisfying dining experience. Its menu features diverse and exciting food offerings that showcase the fusion of Asian and Western flavors that will surely please everyone. So what are you waiting for? Try visiting Godmama and experience the vibrant flavors of their food offerings and discover the magic of Peranakan cuisine that is waiting for you!
You can find the updated pricing information for the Godmama menu below.
MENU
PRICE (SGD)

Plates to Share

Keropok Ikan
$6.90
Ngoh Hiang
$1.90
Nynya Fried Wings
$10.90
Otak Otak
$9.90

Grandmama's Specials

All-Star Egg Skin Popiah
$6.50

Meat and Poultry

Lamb shank Rendang
$32.00
Babi Assam
$18.90
Babi Pongteh
$18.90
Tau Yu Bak
$19.90
Beef Rendang
$19.90
Ayam Buah Keluak
$21.90
Bakwan Kepiting
$17.90

Seafood

Sambal Udang
$23.90
Udang Masak Nanas
$23.90
Ikan Masak Nanas
$20.90
Sambal Sotong
$19.90
Ikan Gerang Assam
$20.90
Sambal Buah Keluak Udang
$23.90
Sambal Buah Keluak Sotong
$20.90
Sambal Udang Petai
$23.90

Vegetables

Nyonya Chap Chye
$14.90
Sayur Lodeh
$14.90
Sambal Bendi
$14.90
Kacang Panjang
$14.90

Rice

Godmama Nasi Ulam
$11.90
Sambal Buah Keluak Fried Rice
$21.90
Bunga Telang Jasmine Rice
$1.50

Specialty

Espresso
$3.50
Long Black
$4.50
Latte
$5.50
Piccolo
$4.50
Mocha
$6.50
Chocolate
$6.50
Add Espresso Shot
$1.00
GodMama Signature Coffee
Craft White
$6
Black Cold Brew
$6.00
THE SINGAPORE COLLECTION
Lychee Kris Earl Grey
$8.50
Pandan Chi?on Green
$8.50
Kebaya Blue Lemongrass
$8.50

Home-brewed Coolers

Peranakan Longan Red Date
$6.50
Butterfly Pea Lemonade
$6.50
Calamansi & Sour Plum
$6.50
Lychee Iced Tea
$6.50
Pandan Lemograss
$6.50
About Godmama
Godmama is a vibrant and contemporary restaurant located in Singapore, known for its fusion cuisine and modern dining experience. The restaurant has a friendly, cozy ambiance that makes it the perfect place for friends and families to get together and have a special time and a memorable meal. Godmama offers a diverse menu that combines traditional Asian flavors with Western influences, resulting in unique and innovative dishes. The restaurant also takes pride in using fresh and quality ingredients, ensuring that each dish is prepared to perfection that appeals to customers' palates.
Godmama Menu Best Seller
This menu offers a selection of delectable dishes and beverages that showcase the flavors and history of Peranakan cuisine. 
Beef Rendang – It is a standout dish that captures the rich flavors and tender texture of the traditional Indonesian dish. A flavorful mixture of spices and coconut milk is slowly simmered with meat to produce a hearty and enticing curry. The sauce has an appropriate balance between sweetness and heat, and the meat is melt-in-your-mouth tender.
Lamb Shank Rendang – The tender lamb shank in this dish is cooked to perfection in a flavorful rendang sauce, infused with aromatic spices and coconut milk. The meat is succulent and falls off the bone, and the rendang sauce adds layers of depth and complexity to every bite.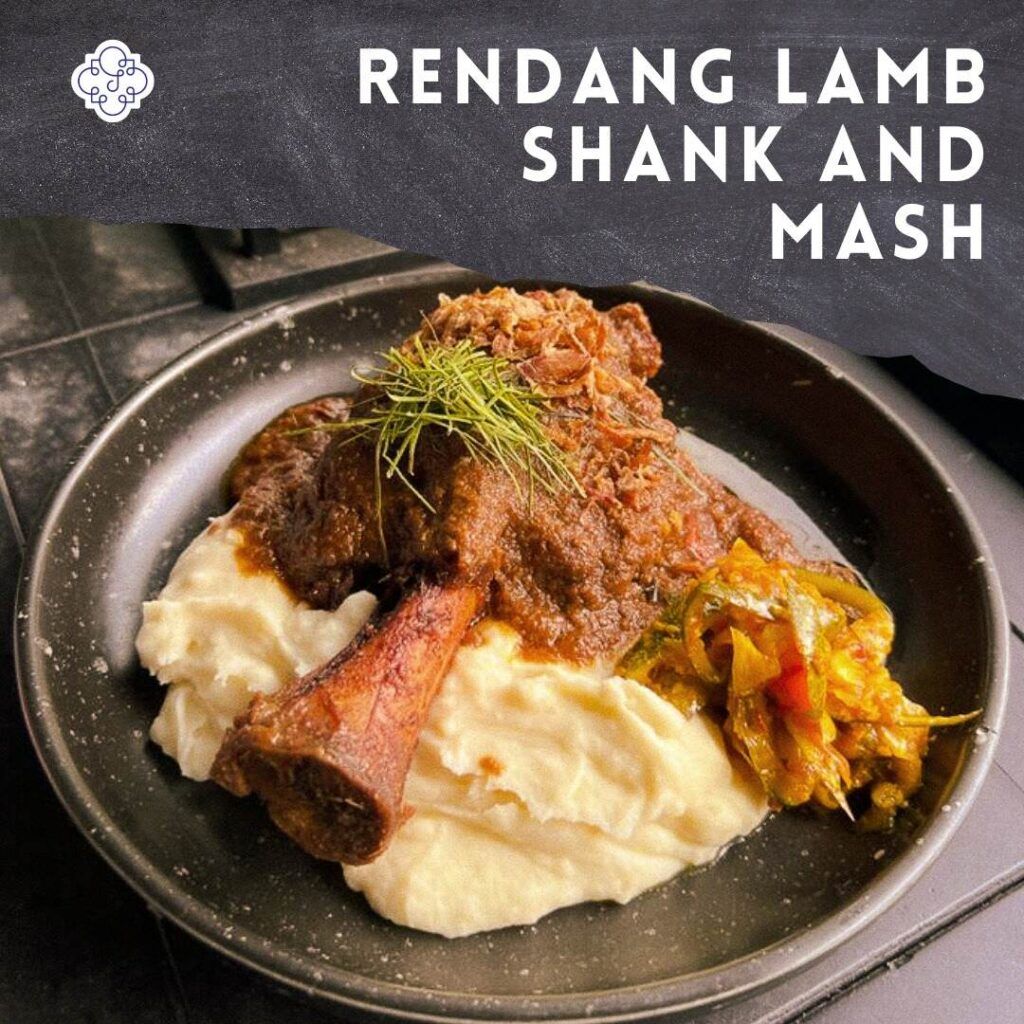 Sambal Udang – This dish is made from prawns that are plump and juicy, and a sambal sauce that packs a punch with its combination of chili, garlic, and other aromatic ingredients. It's a delicious and satisfying food for those who want to add a bit of spicy touch to their meal.
Sambal Sotong  – This food item is a tasty dish that showcases tender squid cooked in a vibrant and spicy sambal sauce. The squid is cooked just right, maintaining its natural tenderness, and the sambal sauce adds a fiery kick and a burst of flavor.
Espresso – Godmama's Espresso is a perfect way to end your meal on a high note. The espresso is expertly brewed to deliver a rich and bold flavor profile. Whether you prefer it straight or with a dash of milk, the espresso at Godmama is sure to satisfy any coffee lover's cravings. 
Godmama Menu Plates to Share
This menu offers a range of appetizing dishes and beverages that are best for sharing with friends and family.
Keropok Ikan – Keropok Ikan is a delectable snack that showcases the foundation of what Peranakan cuisine should be. These crispy fish crackers are made from a combination of fish and tapioca flour, resulting in a light and airy texture.
Ngoh Hiang  – The Ngoh Hiang is made by wrapping a mixture of minced meat, prawns, and various herbs and spices in bean curd skin before being deep-fried to perfection resulting in a crispy and flavorful roll with a tender and juicy filling.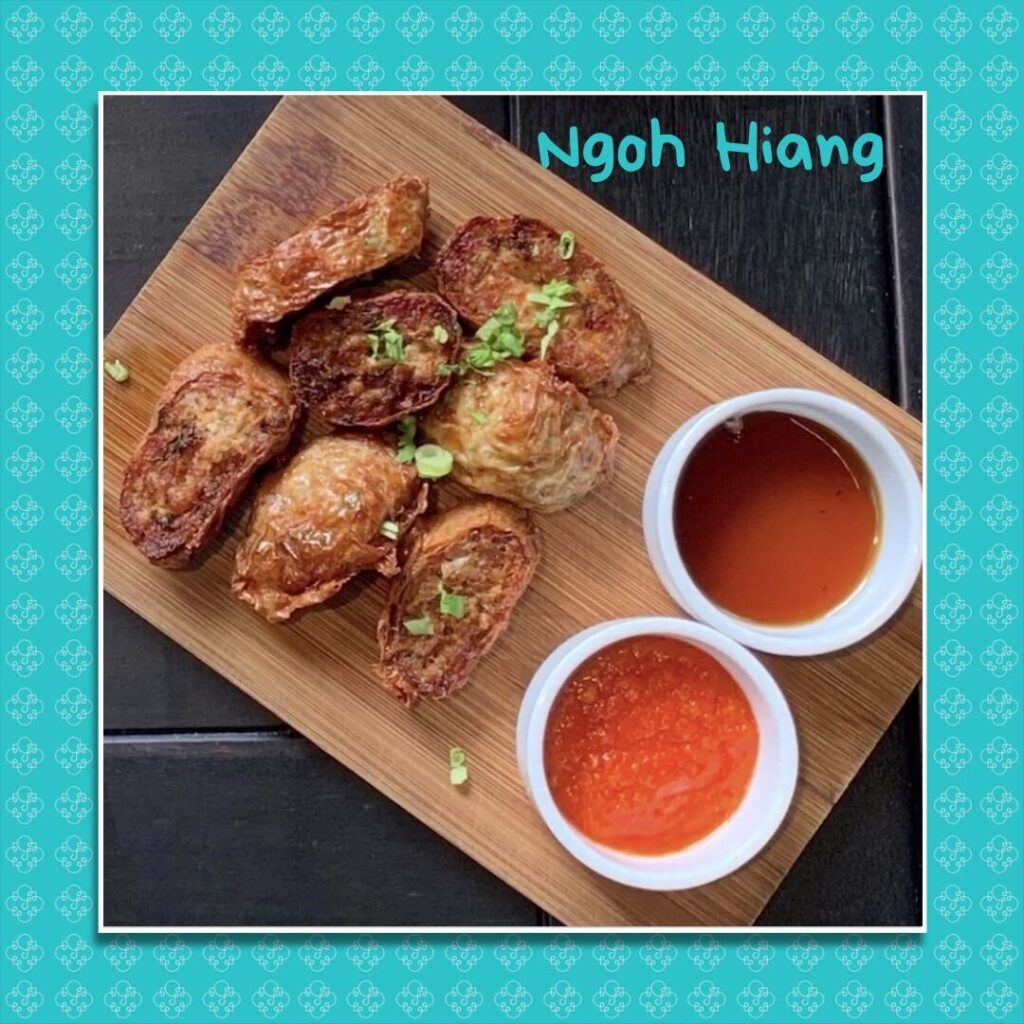 Nyonya Fried Wings – These succulent wings are marinated in a flavorful blend of herbs and spices, then deep-fried to perfection. The result is crispy and juicy wings with a hint of sweetness and a touch of spice. 
Godmama Menu Meat and Poultry
The dishes that are on this menu are made up of a variety of meat and poultry dishes that are delicately prepared, cooked perfectly, and beautifully presented.
Babi Assam  – It features a tender and succulent pork belly stewed in a flavorful tamarind-based sauce, along with a mix of aromatic herbs and spices. The rich and tangy sauce is absorbed by the soft pork belly, creating a filling and savory dish that is sure to please your palate.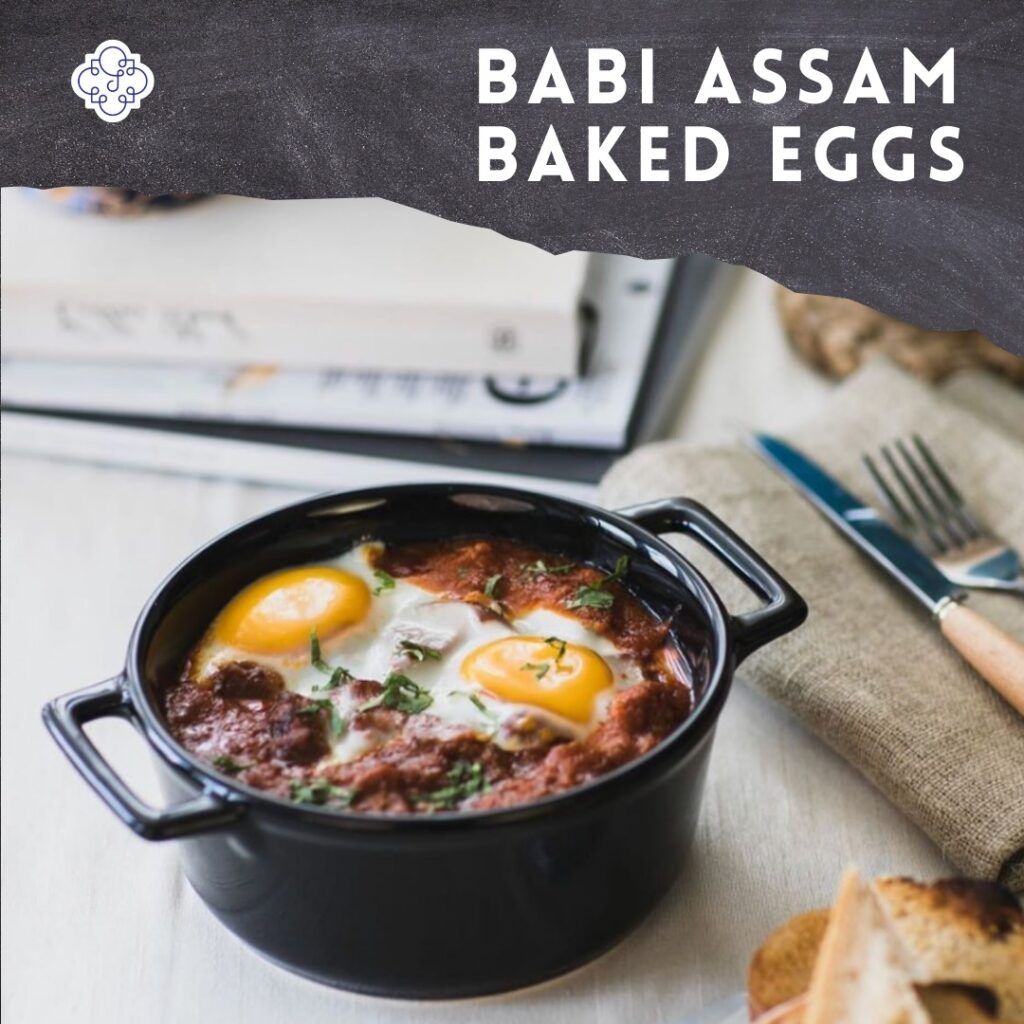 Babi Pongteh – This dish features a tender and braised pork belly cooked with fermented soybean paste, garlic, and other aromatic spices which results in a hearty and flavorful dish with a rich and savory sauce. 
Tau Yu Bak – The dish features a tender and fatty pork belly simmered in a flavorful mixture of soy sauce, spices, and aromatics. The pork absorbs the rich flavors of the sauce, becoming incredibly tender and succulent.
Godmama Menu Vegetable
Each food that makes up this menu is a delicious vegetable option that highlights the use of fresh ingredients and aromatic spices.
Nyonya Chap Chye – It features a medley of assorted vegetables such as cabbage, carrots, mushrooms, and bean curd skin, cooked in a fragrant and savory sauce. The vegetables retain their freshness and crunch while absorbing the flavors of the sauce. 
Sayur Lodeh – This is a comforting and aromatic vegetable curry that is sure to satisfy your cravings that showcases a mix of vegetables such as long beans, cabbage, carrots, and tofu, cooked in a rich and creamy coconut-based curry broth.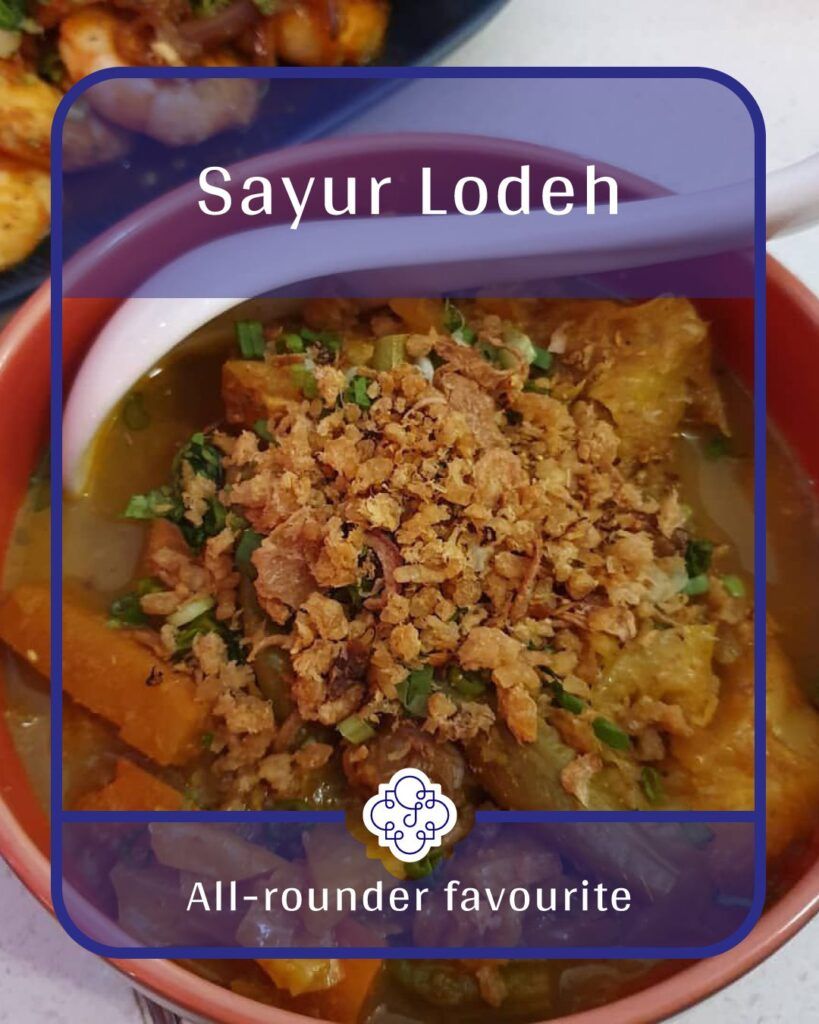 Sambal Bendi – It is a spicy and tangy dish that features okra (lady's fingers) stir-fried with a robust sambal sauce. The okra is cooked to perfection, retaining its natural crunch and vibrant green color, and the added sambal sauce adds a punch of flavor to the dish.
Godmama's Special
This menu offers a unique and exciting culinary experience for diners looking to explore the vibrant flavors of Peranakan cuisine. This menu showcases the restaurant's creativity and expertise in reimagining traditional dishes with a modern twist.
Signature Coffee
This menu offers a variety of carefully chosen and roasted coffee beans. These beans have been sourced with great attention to detail, ensuring their quality. They come in different flavors and are prepared using various brewing techniques. This menu is a delight for coffee lovers who truly appreciate the craft of making a flawlessly brewed cup of coffee.
Godmama Menu Delivery
Godmama's menu delivery provides customers with a convenient way to satisfy their craving for Peranakan cuisine. Customers don't need to go outside of their homes as they can order their favorite Peranakan cuisine through third-party delivery services like FoodPanda.
Social Media Pages
Connect with Godmama's social media pages to stay updated on their latest culinary creations, seasonal specials, and exclusive events. Share in love for food and culture as we take you on a culinary journey that will tantalize your taste buds and awaken your senses.
Facebook: https://www.facebook.com/godmamasg
Instagram: https://www.instagram.com/godmamasg
Website: https://godmama.sg/reviews/
YouTube: https://www.youtube.com/@godmama-modernperanakan
FAQs
Where is Godmama located in Singapore?
You can find Godmama at 107 North Bridge Rd, #04-07, Singapore 179105.
What type of cuisine does Godmama serve?
Godmama serves Peranakan cuisine, which is a unique blend of Chinese, Malay, and Indonesian culinary traditions.
Can I make a reservation at Godmama?
Yes, you can make a reservation at Godmama if you ought to make one.
Are there any special promotions or events at Godmama?
Godmama occasionally offers special promotions and events to enhance the dining experience, especially for its loyal customers.
Does Godmama have any halal certifications?
They do not have any halal certifications.
Conclusion
Godmama's menu features a variety of appetizers, sushi, main courses, and desserts, which cater to a wide range of palates and dietary preferences. The restaurant offers well-executed dishes with attention to flavor, presentation, and quality ingredients. So, whether you're craving a satisfying sushi roll, a flavorful curry, or a decadent dessert, Godmama has something to offer. The inviting ambiance and friendly service further enhance the overall dining experience. If you're looking for a restaurant that combines different culinary influences and delivers delicious, well-rounded meals, Godmama is worth a visit.