The J.Co menu offers a wide variety of donuts, coffee, and other beverages. Their donuts are made fresh daily and come in a variety of flavors, ranging from classic glazed donuts to more unique options like the Alcapone. They also offer coffee drinks such as lattes, cappuccinos, and espressos, as well as iced and frozen coffee drinks like the Jcoccino and the Jcoccino Frappe. In addition to their donuts and coffee, they also have a selection of sandwiches, pasta dishes, and salads to give their customers more options.
You can find the updated pricing information for the J.Co menu below.
MENU
PRICE (SGD)

Beverages

Iced Jcoccino
$6.66
Iced Mocha Espresso
$7.40
Hot Jcoccino
$6.60
Hot Americano
$5.50
Hot Mocha Espresso
$7.40
Hot Hazelnut Latte
$7.40
Iced Hazelnut Latte
$7.40
Iced Cafe Latte
$7.40
Iced Americano
$6.90
Hot Cafe Latte
$5.50
Hot Caramel Jcoccino
$6.90
Hot Tiramisu
$7.40
Iced Caramel Jcoccino
$7.40
Iced Brown Sugar Latte
$6.60

Layered Cakes

Three layer Cake
$6.60
Thousand Layer Cheese
$7.10
Thousand Layer Prune
$7.10
Thousand Layer cake
$6.60

Beverages - Non Espresso Based

Iced Lychee Berry Tea
$6.10
Iced chocolate
$7.10
Hot chocolate
$7.60
Hot Green Tea Latte
$7.10
Iced Chocolate Mint
$7.60
hot Chocolate Mint
$7.60
Iced Hazelnut Chocolate
$7.60
iced Green Tea Latte
$7.60

Beverage - Frappe

Caramel Frappe
$7.60
Avocado frappe
$7.30
Mocha Espresso Frappe
$7.60
Chocolate Forest Frappe
$7.30
Jcoccino Frappe
$7.40
Chocolate Frappe
$7.60
Chocomint Frappe
$8.10
Hazelnut Chocolate Frappe
$7.60

Donuts

Alcapone
$2.30
Jacky chunk
$2.30
Coco Loco
$2.30
Heaven Berry
$2.30
Meisisippi
$2.30
Glazzy
$2.30
Choco Caviar Strawberry
$2.30
Tiramisu
$2.30
Choco Caviar Chocolate
$2.30
Cheese Cakelicious
$2.30
Avocado Di Caprio
$2.30
Blue Berrymore
$2.30
Mr. Green Tea
$2.30
Milosaurus
$2.30
Forest Glam
$2.30
Crunchy Crunchy
$2.30
Sugar Ice
$2.30
Don Mochino
$2.30
Why Nut
$2.30
Oreology
$2.30
Katy Berry
$2.30
Copa Banana
$2.30
About J.Co
J.Co Donuts & Coffee is a popular café and doughnut chain that originated in Indonesia in 2005. The brand has since expanded to multiple countries, including Singapore, where it offers a variety of doughnuts, coffee, and other sweet treats. The café's bright and cheerful ambiance, combined with its delicious menu offerings, makes it a popular spot for both quick bites and leisurely dining.
J.Co Menu Best Seller
J.Co's best-selling menu is made up of a wide variety of doughnuts that are mostly ordered by customers that visit the place.
Alcapone – This is a classic that combines the sweetness of white chocolate and the nutty flavor of almonds. It has a light and fluffy texture that complements the crunchy almonds on top, making it a perfect doughnut for those who prefer a subtle sweetness.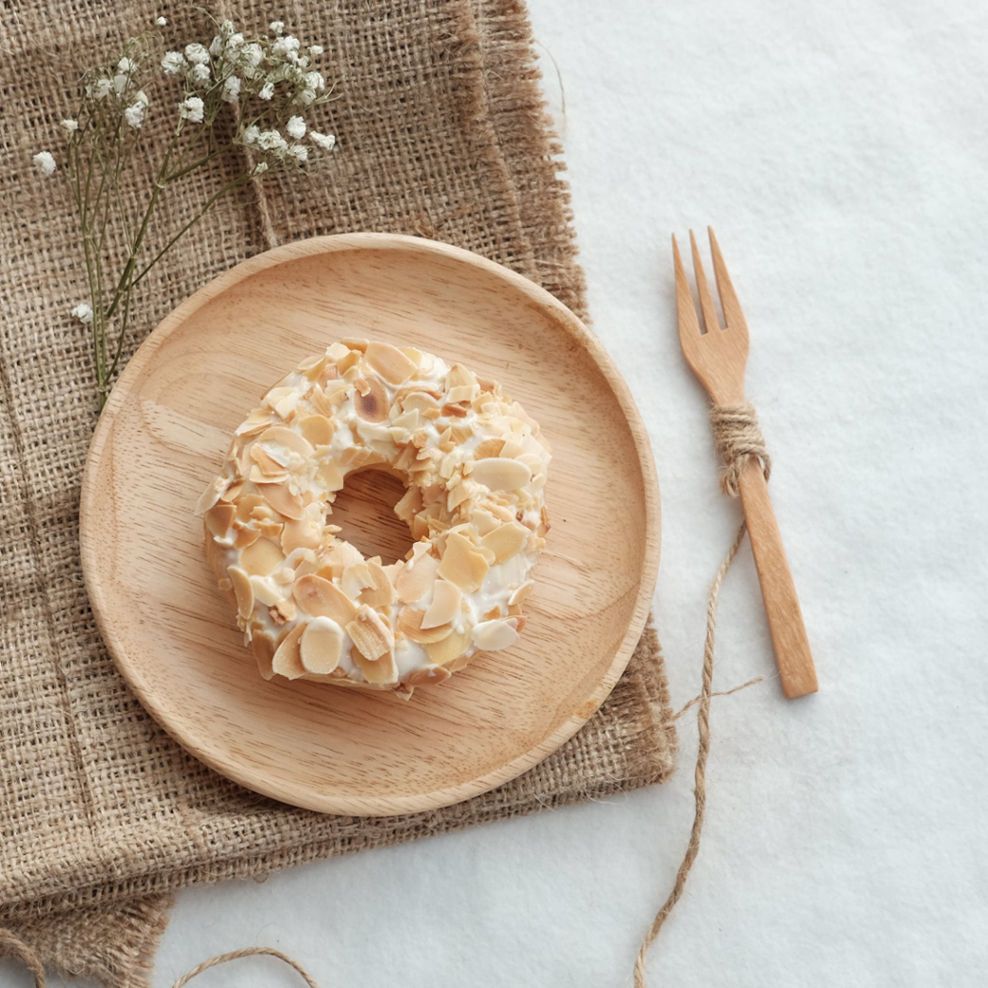 Oreology – This doughnut is perfect for those who are looking for something with a rich chocolate flavor. The doughnut is coated with dark chocolate and Oreos, giving it a satisfying crunch with every bite.
Tiramisu – This J.Co menu is a great choice for those who are fans of the Italian dessert. It has a creamy coffee filling that is complemented by the light and fluffy doughnut. It is then finished off with a sprinkle of cocoa powder on top.
Cheese Cake – It is another popular choice at J.Co that has a light and fluffy texture that is complemented by the rich and creamy cheesecake filling. It is then topped with a layer of strawberry jam that gives it a fruity sweetness.
Don Mochino – A unique doughnut that combines the flavors of donuts and mochi. J.Co's Don Mochino has a soft and chewy texture that makes this drink perfect after its sweet and chocolatey filling.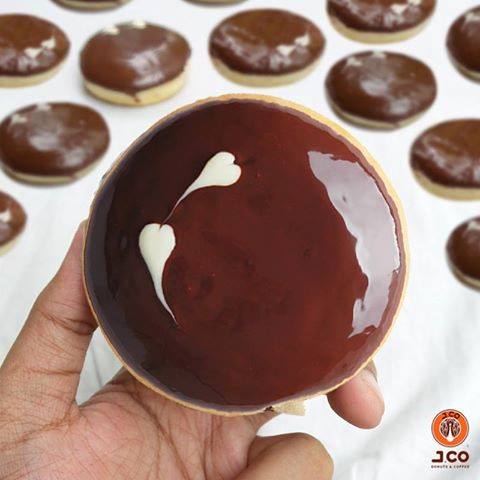 J.Co Menu Espresso Based
J.Co's espresso menu features a variety of drinks that are sure to satisfy each customer's caffeine cravings.
Iced Mocha Espresso – This is a delicious and refreshing drink that combines the richness of espresso with the sweetness of chocolate. The iced version is perfect for a hot day and the mocha flavor is perfectly balanced giving a taste of not too sweet and not too bitter.
Iced Americano – J.Co's Iced Americano is a simple yet satisfying drink that's perfect for those who love a strong, no-frills coffee. The espresso is perfectly brewed and the drink is served over ice, making it a great pick-me-up on a hot day.
Hot Tiramisu – It's a rich and creamy drink that combines the flavors of espresso, chocolate, and tiramisu. The drink is topped with a dusting of cocoa powder and whipped cream, making it a perfect indulgence on a cold day. However, it can be quite sweet and heavy, so it might not be the best choice for those who prefer lighter drinks.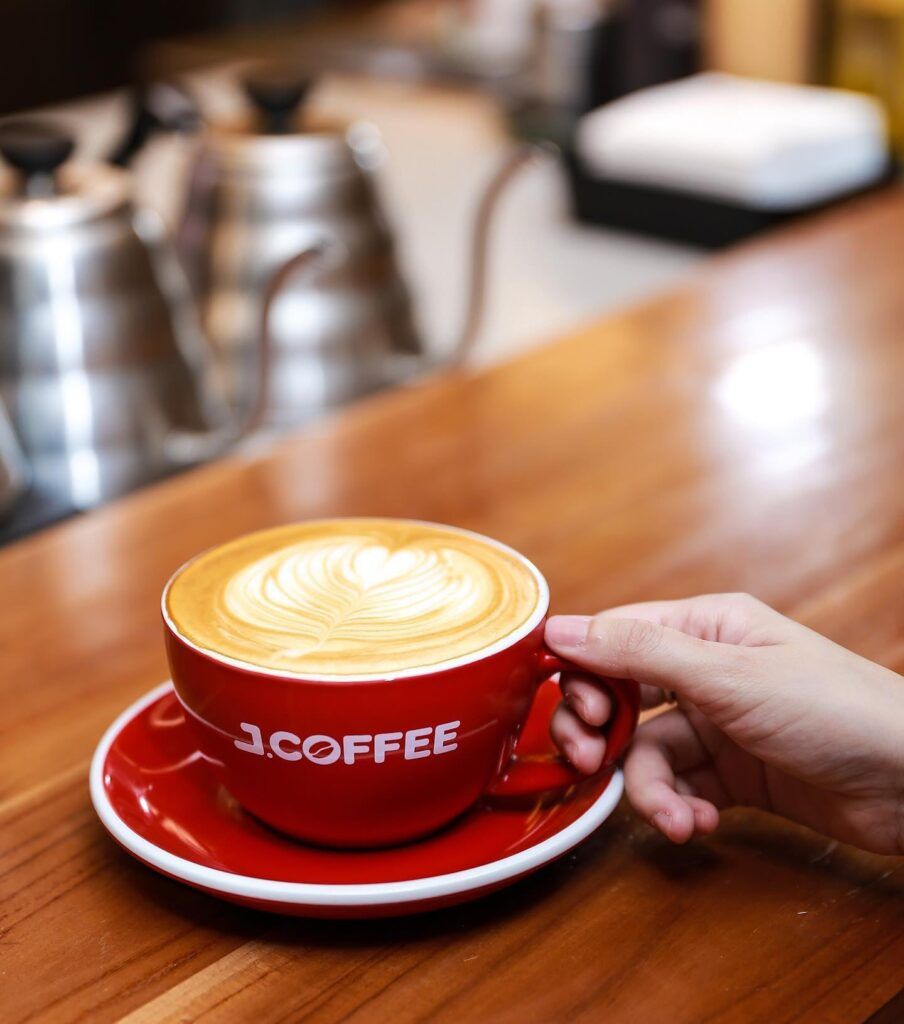 J.Co Menu Non-Espresso Based
This menu features showcases the variety of J.Co's menu. Not only that they serve espresso beverages but non-espresso as well which are just equally refreshing and delicious.
Iced Lychee Berry Tea – The tea has a nice balance of lychee and berry flavors that complement each other well. The drink is not overly sweet, making it an excellent choice for those who don't want an overly sugary beverage.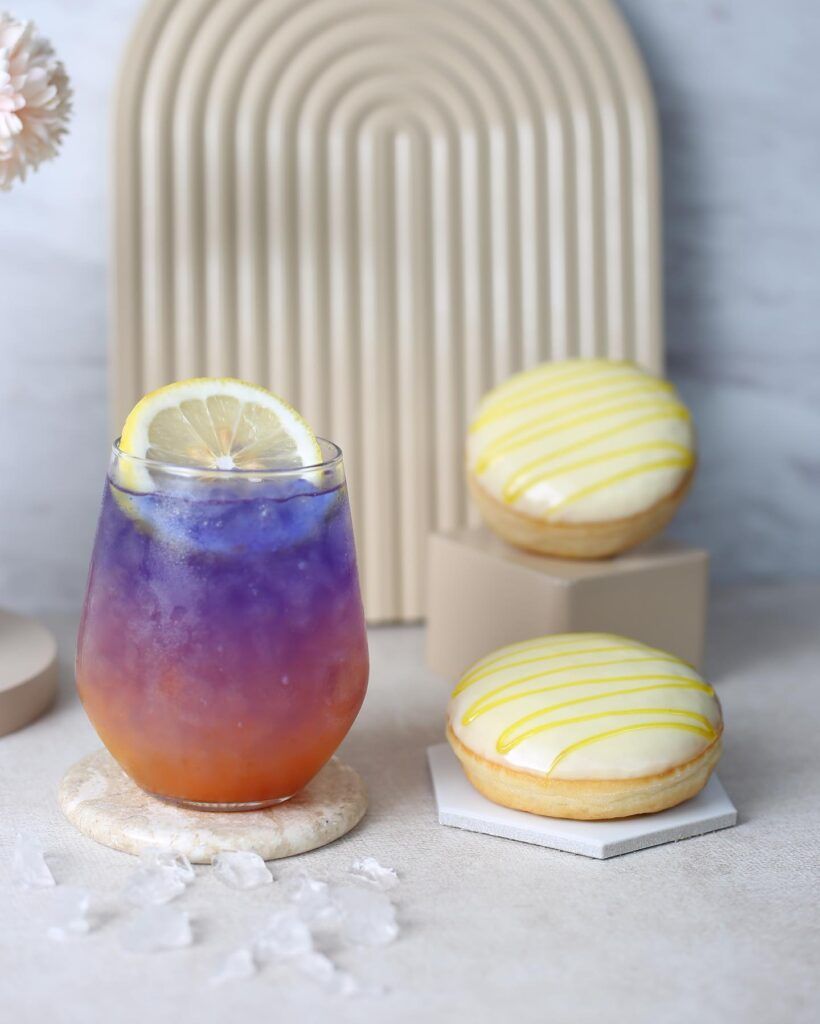 Hot Green Tea Latte – The green tea flavor in this drink is strong but not overpowering, and the milk adds a creamy texture to the drink. The sweetness level is just right and not too cloying making it a great pick-me-up for those who need a caffeine boost but that is not as strong as espresso.
Hot Chocolate Mint – This drink is perfect for chocolate lovers who want a bit of a twist on their classic hot chocolate. The mint in this drink adds a nice refreshing flavor to the drink without being too overpowering and the chocolate in it is rich which makes it a perfect indulgence on a cold day.
Frappe
The J.Co's Frappe menu offers a delightful range of frappes that cater to both coffee enthusiasts and those who prefer non-coffee options. These frosty beverages are crafted using premium ingredients and are served in satisfying portions, making them an excellent selection for perking up your day or indulging in a delightful dessert following a meal.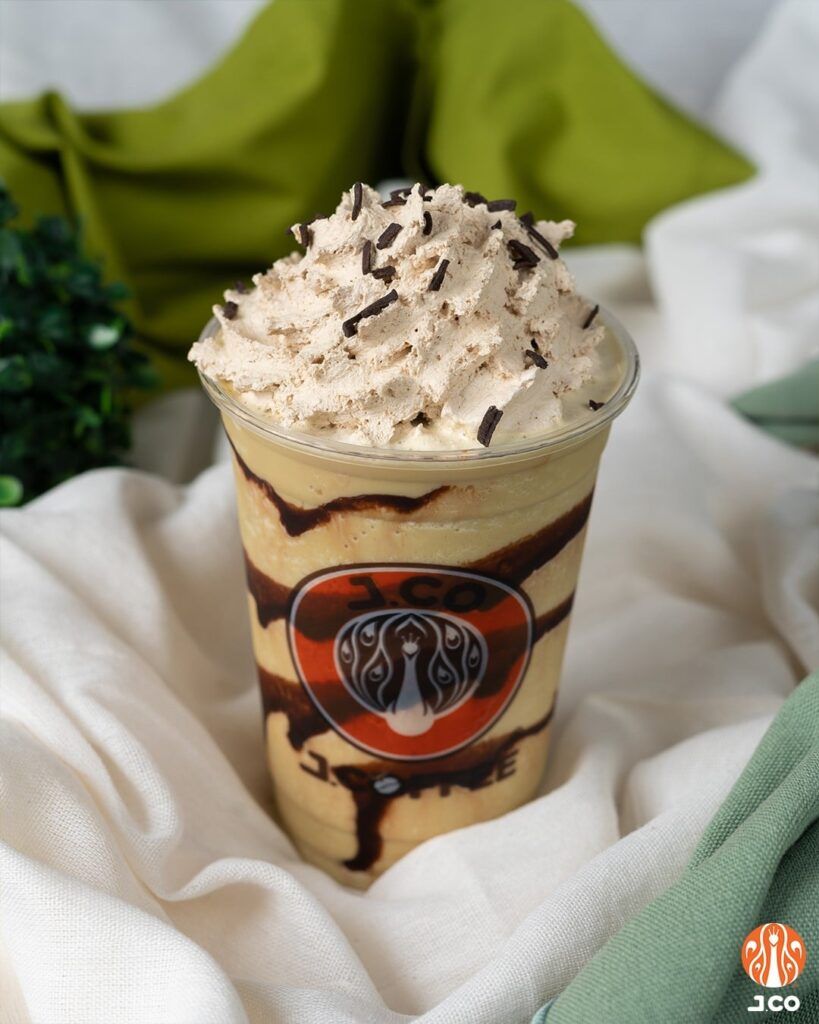 Layered Cakes
J.Co's luscious layered cakes are an absolute must-try for anyone with a craving for all things sweet. With an array of delectable flavors to entice your taste buds, each cake boasts multiple moist and airy layers that guarantee a truly gratifying mouthful. Indulge in these divine treats and prepare for a sensational journey through textures and flavors that will leave you yearning for more.
J.Co Menu Delivery
J.Co goes the extra mile to ensure the utmost convenience for its valued customers by offering a seamless menu delivery service. Sit back, unwind, and effortlessly place your order from the comfort of your own home. Whether you choose to order directly through J.Co's user-friendly website or opt for the convenience of popular third-party delivery apps like FoodPanda, your delicious treats will swiftly make their way to your doorstep. Embrace the ease and relaxation as you eagerly anticipate the arrival of your delectable delights.
Social Media Pages
Indulge in delectable donuts and mouth-watering coffee at J.Co! Follow their social media pages to stay updated on their latest offerings, and satisfy your cravings with their delicious treats. Don't forget to share your J.Co experience with your friends and family!
Facebook: https://www.facebook.com/JCOSingapore
Instagram: https://www.instagram.com/jco_singapore/
Twitter: https://twitter.com/jcosingapore
Website: https://www.jcodonuts.com/sg/en/contact-us
FAQs
Is J.CO a halal-certified cafe?
Yes, J.Co is a halal-certified cafe. They have received certification from the Halal International Authority (HIA), which is recognized by the Department of Islamic Development Malaysia.
What are some popular doughnuts at J.CO Singapore?
J.Co Singapore offers a wide variety of doughnuts, but some of the most popular ones are Alcapone, Oreology, Tiramisu, Cheese Cake, and more.
Does J.Co Singapore offer any promotions and discounts?
J.Co Singapore also offers promotions and discounts randomly. It is recommended to follow their social media pages to stay up-to-date on their latest promotions.
Conclusion
J.Co's menu is filled with a variety of delectable donuts, sandwiches, and beverages that cater to all tastes and preferences. Their donuts are all freshly made and have a light and airy texture that melts in your mouth, while the fillings are rich and flavorful. The atmosphere at J.Co is cozy and inviting, making it a great place to have a quick bite or reconnect with old acquaintances. J.Co is a must-visit for anyone looking for delicious, high-quality donuts and beverages, and a cozy place to enjoy them.