The mix of the sweet tea aroma and the tapioca balls makes boba unique. Everyone would likely enjoy the flavor of bubble tea today. Playmade menu has a big selection of milk tea menu options. Bubble tea has a flavor that is well-rounded, sweet, and milky with a hint of boba pearls. In this post, we go through Playmade's top sellers and explain why you should try sipping their concoctions.
Playmade Menu Price List [Updated]
You can find the updated pricing information for the Playmade food items below.
MENU ITEMS
PRICE (SGD)

Green Bean Series

Green Bean Milk Tea
$5.80
Green Bean Taiwan Green Tea
$5.00
Green Bean Taiwan Green Tea Latte
$6.60

Milk Tea Series

SG Milk Tea
$4.10
Taiwan Milk Tea
$4.10
Green Milk Tea
$4.10
Taiwan Green Milk Tea
$4.10
Chrysanthemum Milk Tea
$4.10
Ovaltine
$4.70
Burnt Caramel Milk Tea
$4.80
Brown Rice Milk Tea
$4.60
Cocoa
$4.70
Earl Grey Milk Tea
$4.10
Brown Sugar Milk Tea
$4.60
Osmanthus Oolong Milk Tea
$4.90

Yakult Series

Grape Yakult Green Milk Tea
$5.70
Grape Yakult Taiwan Milk Tea
$5.70
Yakult Chrysanthemum Tea
$4.90
Yakult Taiwan Green Tea
$4.90
Yakult Green Tea
$4.90
Grape Yakult Green Tea
$4.90
Grape Yakult Black Tea
$4.90
Grape Yakult Honey Green Tea
$5.90

Fresh Fruit Series

Pink Cactus Smoothie
$6.30
Cranberry Vinegar
$3.90
Emerald Green Tea Blend
$5.80
Osmanthus Oolong Lemon Tea
$6.30
Passionfruit Pulp Green Tea
$5.10
Passionfruit Yakult Green Tea
$6.60
Coconut Milk Tea
$5.10
Coconut Smoothie
$5.40
Coconut Tea Smoothie
$5.20
Coconut Tea Smoothie
$5.30

Popular Menu

Chrysanthemum Milk Tea
$4.10
Grape Yakult Green Tea
$4.90
Taiwan Milk Tea
$4.10
Grape Yakult Taiwan Milk Tea
$5.70
Earl Grey Milk Tea
$4.10
Chrysanthemum Tea
$3.10

Original Series

Jasmine Green Tea
$3.10
Black Tea
$3.10
Taiwan Green Tea
$3.10
Hot Taiwan Green Tea
$3.10
Osmanthus Oolong Tea
$4.10
Brown Rice Sencha
$3.60
Earl Grey Tea
$3.10
Chrysanthemum Tea
$3.10

Latte Series

Black Tea Latte
$4.90
Green Tea Latte
$4.90
Burnt Caramel Latte
$5.80
Cocoa Latte
$5.70
Matcha Latte
$5.70
Brown Rice Latte
$5.80
Earl Grey Latte
$4.90
Brown Sugar Fresh Milk
$4.90
Osmanthus Oolong Latte
$5.50
Chrysanthemum Latte
$4.90

Honey Series

Honey Black Tea
$3.90
Honey Green Tea
$3.90
Honey Taiwan Green Tea
$3.90
Honey Black Latte
$5.70
Honey Green Tea Latte
$5.70
Honey Taiwan Green Tea Latte
$5.70
Honey Lemon
$4.30
Honey Lemon Black Tea
$5.70
Honey Lemon Green Tea
$5.70
Honey Lemon Taiwan Green Tea
$5.70
Honey Lemon Chrysanthemum Tea
$5.70
Honey Black Milk Tea
$4.90
Honey Green Milk Tea
$4.90
Honey Taiwan Green Milk Tea
$4.90
About Playmade
Since 2017, Playmade by Onezo has established a branch in Singapore for the Taiwanese bubble tea company. To ensure that everyone may enjoy the flavor of freshly prepared boba, pearls are manufactured by hand in-store without the use of any additives or preservatives. We have bobas that are bouncy, tastier, and healthier because of their emphasis on using natural, fresh ingredients. The secret of Playmade's unique beverage is found in its recipes. Quality raw materials are the foundation of our creations, from hand-pulped fruits to handcrafted aromatic brown sugar caramel.
Tasty tapioca pearls are then added, and everything is quickly shaken. In spite of becoming unexpectedly popular in the UK, bubble tea has really been a hot (or cold!) favorite in places like China since the 1980s. Bubble tea is a Taiwanese dish that is produced by combining a tea base with milk, fruit, and fruit juices, then adding the distinctive bubbles and delectable tapioca pearls that settle at the bottom. The tapioca balls, also known as boba or pearls, are served with bubble tea in clear cups with a large straw so that you may chew them as you savor the delectable beverage.
Playmade Menu Best Seller
PlayMade Yakult Tea Series – A new series has been introduced for Playmade's menu, the New Yakult Tea series. They take this series to the next level by blending several Yakult tastes with their well-known milk tea.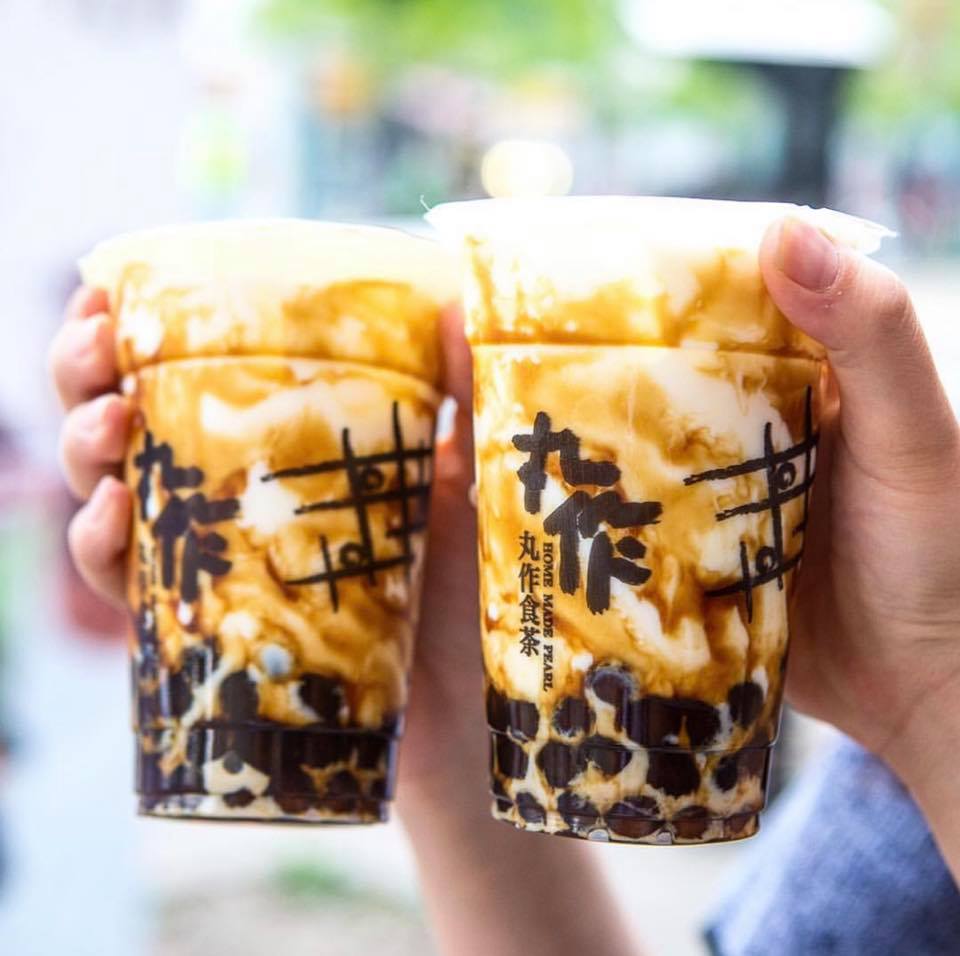 Tieguanyin Milk Tea – Tieguanyin Milk Tea, is one of Playmade Menu Singapore's most well-known dishes, with a sweetness that lingers in the aftertaste. Tea and pearl combine to form a tasty beverage. Their distinct method of pearl production results in unshaped (irregularly shaped) pearls. Their handcrafted pearls are lighter when compared to pearls from other retailers. You will notice the exceptional freshness of their pearl in every sip.
Playmade Matcha Latte – If you enjoy matcha, you must try Playmade's Matcha Latte, which is a member of their tea latte line. Sesame pearls and light matcha drinks make a delicious pairing.
PlayMade Chrysanthemum Milk Tea – A sweet and refreshing tea that is ideal for an afternoon pick-me-up is chrysanthemum milk tea. The chrysanthemum blooms, which have been used as a medicinal herb in China for many years, provide the taste for this tea. Chrysanthemum milk tea is a terrific option for individuals trying to get healthier without losing flavor because it can be both reviving and restorative. Green tea leaves are steeped in fresh milk and sugar syrup to produce this tea, which is a creamy and subtly sweet beverage with undertones of peach and honey. Chrysanthemum flowers offer an earthy aroma that counteracts the sweetness of the milk and syrup, resulting in an original and delectable final product.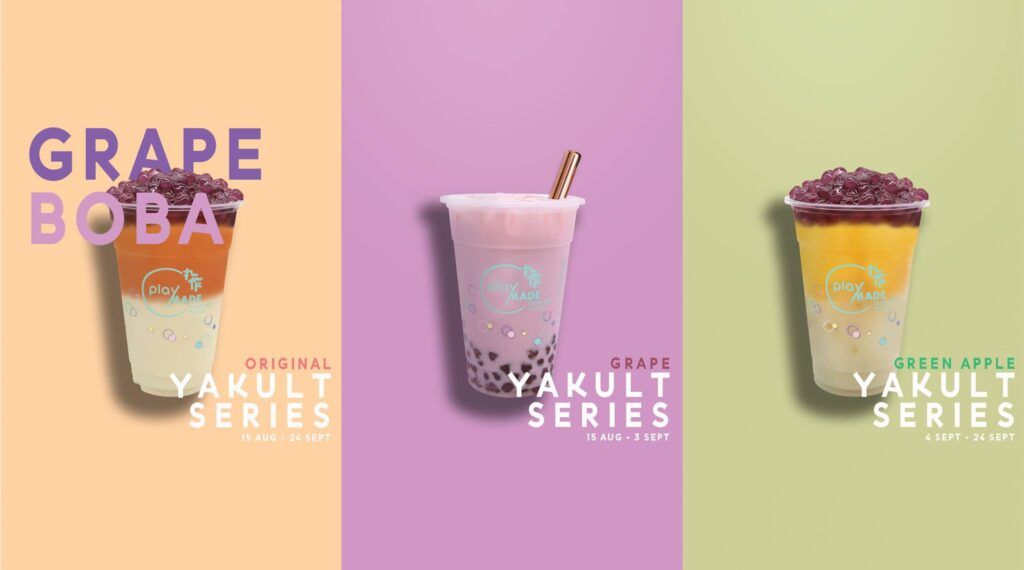 PlayMade Grape Yakult Taiwan Milk Tea – This Playmade menu has a lot going on, yet it all comes together to make a lovely whole. The tea base is robust enough to compete with the milk and fruit tastes while also balancing and enhancing them. It's exactly right—not too sweet or tart.
PlayMade Grape Yakult Green Tea – Yakult Grape Green Tea is a delightful beverage that is ideal for any time of day since it is a combination of green tea and grape juice. Even though the grape flavor is faint, it is unmistakably present and pairs flawlessly with the flavor of green tea. The outcome is a taste that is sweet and fruity with just the right amount of tartness to be reviving without being too sweet.
Playmade Most Popular Drink
It is difficult to assess what the most popular drink is in Playmade. It offers tasty drinks in all of its menu items. However, one that you would most likely see when searching for Playmade is the Pink Cactus.  The pink cactus that is used to make your beverage can only be found in Taiwan's Penghu province. The plant's vibrant pink juice is painstakingly harvested and naturally added to your very own cup of bubble tea. You'll detect flavors that are flowery, sweet, and milky like those found in Bandung, with a somewhat sour aftertaste.
The Prickly Pear fruit is juiced for Brooke's trademark cocktail at Pink Cactus, which also includes lime and 100% Blue Agave Tequila. As a tribute to the black dirt and clay of Oaxaca, which is frequently used to create specialized vases and ceramics in the area, the Margarita is garnished with black volcanic salt.
Playmade Menu Delivery
Milk teas have been one of the most ordered drinks all over the world. Singapore is no exception. Sometimes it is inconvenient for customers to drink at a physical store like Playmade where there are dozens of people waiting in line to get that delicious drink. Luckily, Playmade offers a delivery service through the Foodpanda or Grab app. You could also order through the Playmade website.
Social Media Pages
To get the latest news about the Playmade menu, price, and promo, we encourage you people to go to their social media pages and then follow or subscribe to them. In this case, you won't miss any latest updates. You can also visit their website from time to time.
Website: https://www.playmade.com.sg/
Facebook: https://www.facebook.com/playmadeonezo/
Instagram: https://www.instagram.com/playmade.onezo/
FAQs
What should I drink from Playmade?
To enjoy your experience at Playmade, you need to choose the best drinks. The type of drink should be based according to what you really want and who you are. Sometimes, what we drink reflects who we are. The ones discussed extensively in the best seller and most popular drink is the drink that you should try in Playmade.
What is Playmade pink cactus made of?
Smoothies and Pink Cactus Pearls are produced in Taiwan's Penghu region from fruit pulp. These creamy delights, which are sold in popsicle shape, pay homage to their trademark Pink Cactus pearl flavor, but this time the floral component takes center stage. The fruit, which is native to Taiwan and is more often known as a dessert apple, has a beautiful pink flesh that gives the ice cream its Instagram-worthy appearance.
Is Playmade from Taiwan?
Yes, the famous bubble tea shop is from Taiwan. Playmade is a Taiwanese company. They take pleasure in using only natural ingredients and doing everything by hand.
Conclusion
A delightful delicacy that is sweet, chilled, and wonderful. You may choose from as many flavors as there are teas and fruits since it is available. As said, the Playmade menu has a wide selection of mouthwatering drinks. Customers' thoughts can be calmed, which can make it easier for them to get through the day.