Hey Buddy! Tired of having plain water and a boring drink? Do you want to level up your drinking experience? Want to feel the soothing nature with every sip? Then I am your best buddy! Choose from the different drink variations from hot tea up to the cold thirst-quencher. Buy and choose a drink from the HEYTEA menu and may you have your HEY day ahead!
Freshly crafted from the rich land of China, HEYTEA traveled the space between China and Singapore and made its first anchorage in the country in the year 2012. Since it aims to not just give refreshments but memories, HEYTEA doesn't stop innovating and now begin its partnership with another brand!
To deliver a more zesty experience, HEYTEA had a current partnership with SULWHASOO, a beauty boutique in Singapore. With the said collaboration, two (2) new limited edition drinks arise with the aim of giving sparkle in every sip. So what are you waiting for? Grab your phone now and make a purchase online via the HEYTEA app!
HEYTEA Menu Price List [Updated]
You can find the updated pricing information for the HEYTEA food items below.
MENU
PRICE (SGD)

Bobo Family

Roasted Brown Bobo Milk
$6.40
Taro Bobo Milk Tea
$4.60

Cheezo Tea

King Fone Cheezo (Original)
$5.40
Amber Orchid Cheezo
$4.20
Regal Aqua Green Cheezo (Original)
$4.20

Fruit Tea Family

Mango Cheezo
$10.10
Strawberry Cheezo
$10.00
Strawberry Peach Cheezo
$10.10
Very Mango Grapefruit
$9.00

HEYTEA Ice Cream

Bobo Sundae
$4.70
Mango Grapefruit Cheezo Sundae
$4.70
Taro Blast Cheezo Sundae
$4.70

In Season

Strawberry Mulberry-Noir Tea
$7.10
Mango Grapefruit Pops
$7.10
Very Tangerine Blast
$7.30

Pure Tea

Iced Brew Green Osmanthus
$3.10
Pure Amber Orchid
$3.20
Pure King Fone
$4.40
Pure Regal Aqua Green
$3.20

Re-Freshing Drinks

Coconut Mango Fusion
$6.60
Emblic Superfruit Refresher
$8.30
Emblic Superfruit Starfruit Mx
$9.50
Grapefruit Boom
$5.40
Very Grape Tea Original
$8.60
Very Mango Tea Original
$8.60
Very Strawberry Peach Fusion
$8.50
Very Strawberry Tea
$8.60

Top Picks

Original Natural Coconut Milk with Pudding
$7.80
Roasted Brown Bobo Milk Tea
$7.00
Very Grape Cheezo (Original)
$10.10
About HEYTEA
HEYTEA as a brand started selling Cheezo Teas in the year 2012. This popular drink is fresh from China and now delivers greatness in Singapore. With the scope of power that CEO Nie Yunchen holds, in less than a decade he managed to grow his Chinese Milk Tea brands to over 450 stores worldwide.
The idea of mixing cheese with tea started with HEYTEA. And in Singapore, HEYTEA had recently established its brand – and that was in the year 2018. The new milestone that HEYTEA made in Singapore became a stepping stone as the company reached its success in the present time.
As you walk in the hot street of Singapore, you may stumble upon one of our outlets. So if I were you, I would buy from these three top picks: Very Grape Cheezo (Original), Roasted Brown Bobo Milk Tea, and Original Natural Coconut Milk with Pudding. Enjoy your drink today and visit Singapore tourist spots while sipping your own HEYTEA drink.
HEYTEA Menu Best Seller
Enticed by the drinks and teas that we offer? Grab your keys now and pay a visit! However, in order to ultimately enjoy the plethora of drink variations at HEYTEA, below is a list of the Best Seller drink that can be purchased for a minimum price: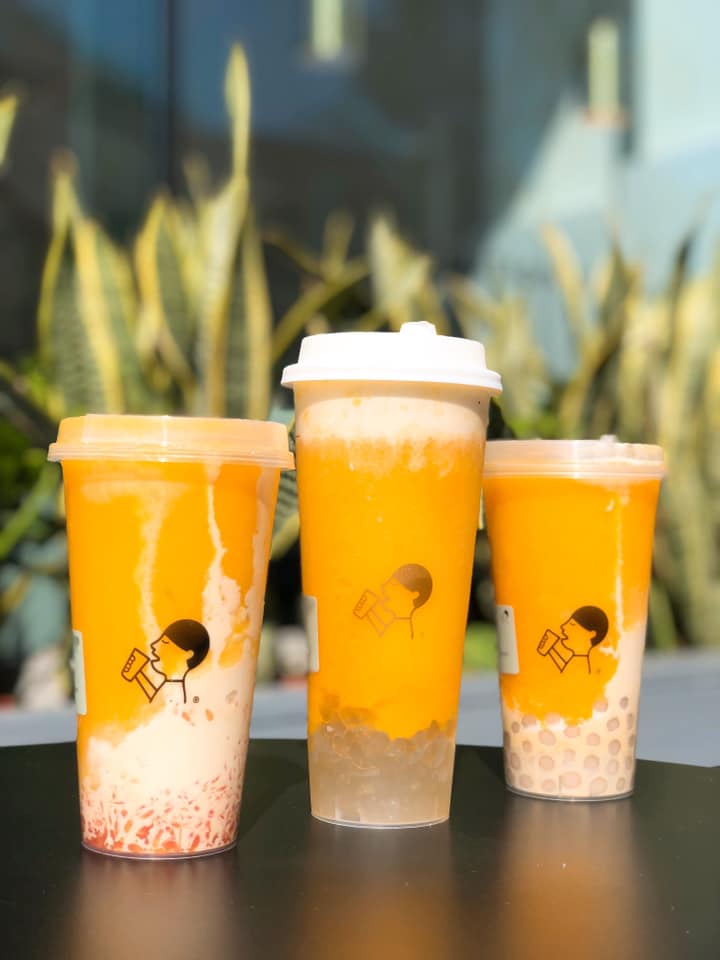 HEYTEA Mango Cheezo – Mango lovers out there would really love this cheesy mango tea! Indulge with the fresh slices of mango mixed with hot or cold green tea, a sentimental sugar experience, and cheese on the side or on top.
King Fone Cheezo (Original) – This original archetypal cheezo drink is a classic drink which is brought from China to Singapore. This century-old drink is one of the best sellers in HEYTEA which you can certainly try.
Amber Orchid Cheezo – Have fun with oolong tea lately? Then this HEYTEA menu is best for you! Be enchanted with the oolong tea from southern Fujian province in China partnered with an Amber taste and a fresh orchid kick. Enjoy a lovely charm voyage with the exquisite amber orchid oolong tea on top.
HEYTEA Most Popular Drink Menu
The majority of us wouldn't like to settle for classics and ordinary drinks, right? We want that new and fresh combination of drinks. With the idea of putting compassion in every cup, below is a list of HEYTEA Singapore Best Seller Menu that you should try!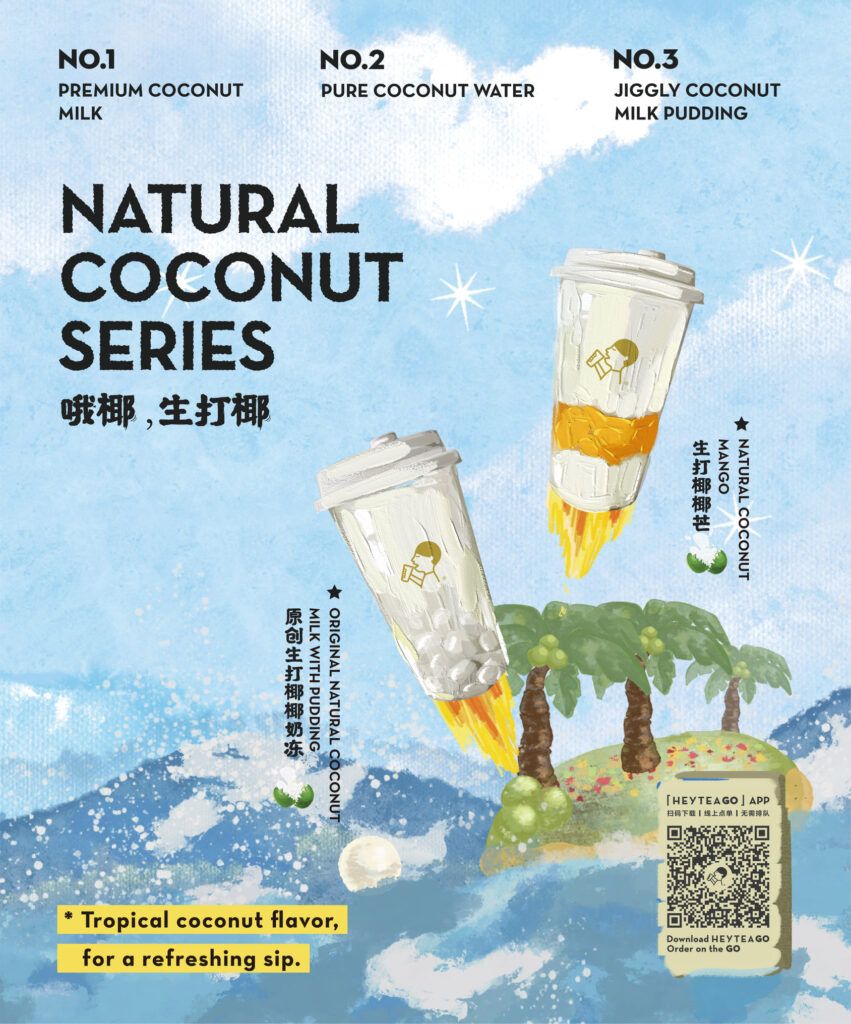 Original Natural Coconut Milk with Pudding – In the year 2020, this new 500ml drink is inspired by the power that the tree of life can give. From the hand-pick selection of coconut fruit, genuinely crushed coconuts in order to extract the fresh silky milk it can provide. This drink doesn't settle for a single taste only, it was combined with coconut milk pudding & bobo pops for a chewy experience.
Roasted Brown Bobo Milk Tea – Another milestone for the company is the creation of Roasted Brown Bobo Milk Tea in the year 2021. Even though the pandemic dominates our entire world and made a huge toll on our lives. HEYTEA doesn't stop conquering its goals. This HEYTEA menu is made with quality red blossom black tea, creamy milk, sugar, chewy brown boba pearls, and natural flavorings, this tea can certainly satisfy your palate.
Very Grape Cheezo (Original) – with the refreshment that each grape pulp can give, HEYTEA crafted its own original grape cheezo. This tea is a zesty explosion of citrus taste, brimming with grapefruit delight which you can purchase for 10.10 dollars only!
HEYTEA Promo
Are you the kind of person who loves eating at a discounted price? Do you love special offers and promos? Then HEYTER is right here to give you promo, limited discounts, and limited drinks for you to maximize your drinking experience.
HEYTEA X SULWHASOO SINGAPORE Collaboration – 12 hours ago, HEYTEA announced its collaboration with the famous Sulwahasoo. In conjunction with Sulwhasoo Singapore's 10 anniversary and as the collaboration piques the interest of many, HEYTEA decided to launch its two limited drinks. This drink includes Golden Osmanthus Lemon Refresher featuring the ultra-fragrant and sweet perfume lemon for 5.50 dollars only, and the Golden Osmanthus Milk Tea featuring floral osmanthus pudding which was handmade daily and costs about $2.90 only!
HEYTEA Menu Delivery
Want to taste a relish of milk tea and another refreshment at your own home? Then HEYTEA suits you very well! Due to the threat of the pandemic that we currently felt, the type of living that residencies in Singapore have enormously changed. With that, the idea of food service delivery evolve, and now HEYTEA grasp the opportunity and launched its very own application.
You can use HEYTEA official application by downloading them through the link which they pinned on their Social media accounts. You can order directly from their app and choose your favorite drink.
Since the application is new, you can just try the common food service delivery app like food panda or grab food. Once you already had your food service delivery ready, just fill in the required fields, add to the cart, place your order then patiently wait for your cup of glee to arrive.
HEYTEA Outlets
The land area of Singapore is really huge if you try to travel it. So for the convenience of everyone and as the company grow, different outlets from different location materialize. If you don't have any idea which outlet is near and open, I'll provide a table that entails the different HEYTEA outlets, their contact details, and their specific addresses. Note that all HEYTEA outlets always open at 11 o'clock in the morning.
HEYTEA Ion Orchard
| | |
| --- | --- |
| Address | 2 Orchard Turn #B4-29 ION Orchard, Singapore 238801 |
| Telephone Number | +65 6908 0019 |
HEYTEA Westgate
| | |
| --- | --- |
| Address | 3 Gateway Drive, Jurong East, #01-25 Westgate, Singapore 608532 |
| Telephone Number | +65 6261 0929 |
HEYTEA Marina Bay Sands
| | |
| --- | --- |
| Address | 2 Bayfront Ave, #01-73/74, Singapore 018956 |
| Telephone Number | +65 6688 7347 |
HEYTEA VivoCity
| | |
| --- | --- |
| Address | 1 HarbourFront Walk, #01-111 VIvoCity, Singapore 098585 |
| Telephone Number | +65 6255 0214 |
HEYTEA Orchard Central
| | |
| --- | --- |
| Address | 181 Orchard Rd, #01-26 Orchard Central, Singapore 238896 |
| Telephone Number | N/A |
Talk to HEYTEA Singapore Staff
Since the foundation of social media, HEYTEA didn't hesitate to hop into the social media trend. HEYTEA managed to establish accounts on three different platforms, this platform includes Facebook, Instagram, and even at Twitter.
Facebook: https://www.facebook.com/HEYTEASG/
Instagram: https://www.instagram.com/heyteasg/
Twitter: https://twitter.com/heytea/
Conclusion
As we may see the success of HEYTEA as a brand today, of course, their story starts just like any other inspiring story. Their story begins in the corner lane of Jiangbianli in Jiangmen, and Guangdong in China. It was a 20-square meter stall only, with the dedication that Nie Yunchen had, he managed to grow the milk tea brand and now has a summation of 600 outlets in over 40 countries nationwide.
Tea is indeed a staple drink in different countries across the world. It is a mythological and traditional drink that didn't end even though the world already evolved from what it used to be. HEYTEA as a company also believes that Tea's won't disappear from the dining of everyone.
So if you are craving milk tea today, then visit and order from the HEYTEA menu. Choose from the wide selection of hot or cold tea and be refreshed with the fresh ingredients which were added to each tea.