There are many Italian restaurants that you can find while walking around Singapore, but if you are looking for something authentic, especially if you are craving for a pasta menu, then Pasta Express is for you! Pasta Express takes pride in serving up delicious Italian cuisine that will allow its customers to have a taste of what Italy's food is like. The restaurant specializes in serving an array of mouthwatering pasta dishes and what makes the dining experience at Pasta Express unique is that they allow their customers to customize their pasta to their own preference.
You can find the updated pricing information for the Pasta Express menu below.
MENU
PRICE (SGD)

Build Your Own Pasta

Aglio Olio + Organic Spaghetti
$4.40
Cream Sauce + Organic Spaghetti
$4.40
Tomato Sauce + Organic Spaghetti
$4.40

Pasta

Carbonara
$9.00
Bolognese
$9.00
Chicken Alfredo
$9.00
Smoked Duck Aglio Olio
$9.00
Vegetarian Delight
$9.40
Meat Lovers
$10.20
Aglio Olio Ultimate
$10.20
Creamy Mushroom
$8.40
About Pasta Express
Pasta Express is one of the many renowned Italian restaurants in Singapore that serves authentic Italian pasta items. Its menu focuses on quality ingredients and traditional recipes ranging from classic favorites like spaghetti carbonara to unique creations like seafood aglio olio. The restaurant provides an inviting and cozy atmosphere for customers to dine in like they are in their own homes. These good qualities make Pasta Express a great and convenient restaurant to go to if you are in Singapore.
Pasta Express Menu Carbonara
If you're a fan of rich and creamy pasta dishes, Pasta Express' Carbonara is the perfect dish for you. Their Carbonara pasta is a classic Italian dish that promises to satisfy your cravings for comfort food, made with high-quality ingredients that makes it one of the best on their menu. One of the highlights of Pasta Express' Carbonara pasta is the attention to detail in its preparation. The flavors are well-balanced, with the creaminess of the sauce blending harmoniously with the other ingredients.
Pasta Express Menu Bolognese
Pasta Express' bolognese pasta is a must-try for all pasta lovers in Singapore! This dish promises a satisfying dining experience by combining the perfect blend of flavors and a generous helping of rich meat sauce. This traditional dish features a meat sauce made from a combination of ground meat, aromatic vegetables, tomatoes, and a blend of herbs and spices. And above all, this dish is generously portioned, ensuring that you get a hearty serving that leaves you feeling satisfied.
Pasta Express Menu Chicken Alfredo
One option that never fails to impress on Pasta Express' menu is its Chicken Alfredo pasta. The dish features perfectly cooked pasta tossed with succulent pieces of chicken in a velvety Alfredo sauce the chicken is tender and flavorful, providing a protein-rich element to the dish, while the sauce strikes the perfect balance between richness and lightness, allowing the flavors to shine through. This dish is perfect for those seeking a comforting and satisfying meal because the portion size of each serving is generous and ensures that you will leave Pasta Express feeling completely satisfied.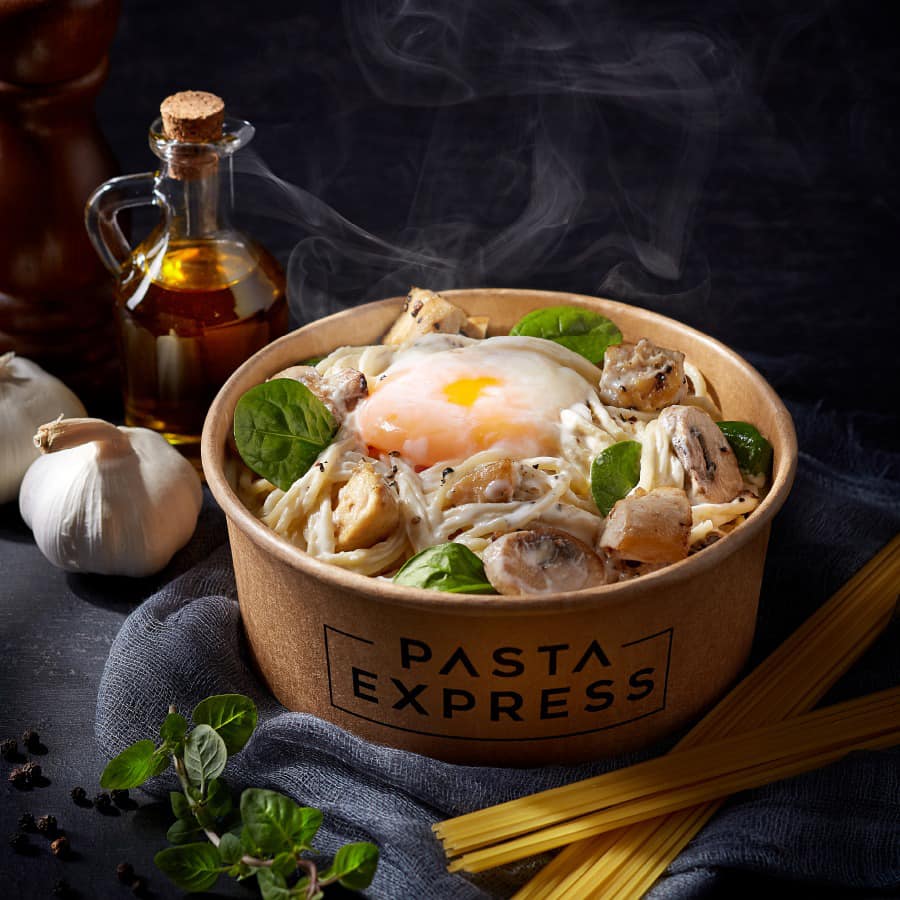 Smoked Duck
Pasta Express' smoked duck pasta is a dish that stands out from the crowd, offering a delightful combination of flavors and textures with a unique twist that will never fail to surprise. The dish features al dente pasta tossed with juicy slices of smoked duck, sauteed vegetables, and a savory sauce that ties it all together. The combination of smoky flavors, tender duck meat, and well-balanced seasoning creates an unforgettable dining experience that is hard to match. In addition, the sauce brings together the elements of the pasta and smoked duck, infusing every strand with a tantalizing blend of flavors.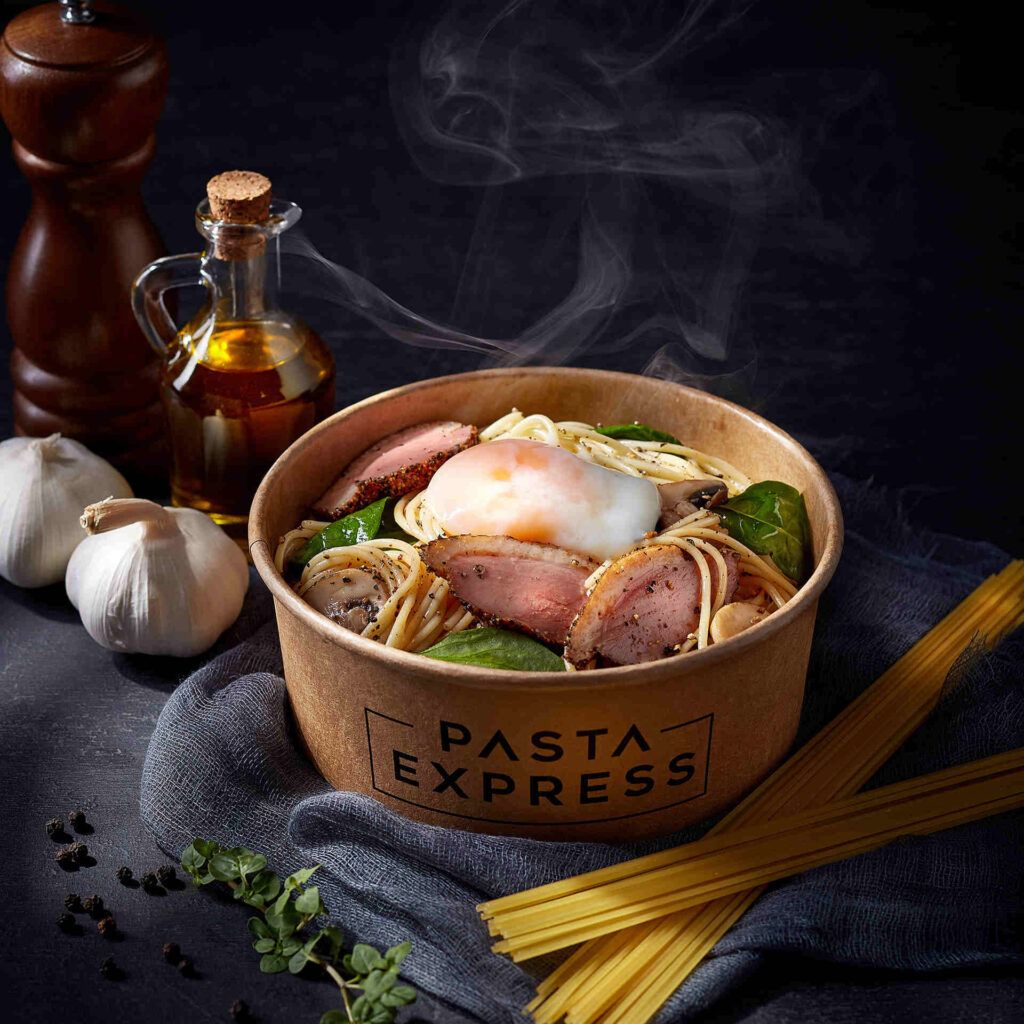 Vegetarian Delight
Pasta Express' vegetarian delight pasta is a combination of fresh and vibrant flavors that will satisfy both your cravings and palate. The dish features a medley of colorful vegetables, perfectly cooked pasta, and a light yet flavorful sauce that ties it all together. The star of this dish is undoubtedly the array of fresh vegetables that are sauteed to perfection, retaining their vibrant colors and natural flavors. Overall, the combination of fresh vegetables, perfectly cooked pasta, and a light yet flavorful sauce makes this dish a must-try if you visit Pasta Express.
Meat Lovers
This pasta is a must-try for those who are looking to try pasta dishes with a lot of meat in it. Meat Lovers pasta from Pasta Express is packed with a tantalizing combination of juicy meats and rich flavors combined with a rich sauce that enhances the flavors of the meat. The combination of succulent meats, perfectly cooked pasta, and a rich, savory sauce creates a harmony of flavors that will satisfy even the insatiable meat lovers.
Aglio Olio Ultimate
For those who appreciate the simplicity and robust flavors of classic Italian cuisine, this pasta dish is the ideal choice. This dish showcases the power of a few key ingredients that come together to create a harmonious combination of flavors. The pasta itself is cooked to perfection which results in a tender but firm texture which made it perfect for allowing the flavors of the sauce to soak. The addition of chili flakes in the sauce adds a subtle kick of heat to the dish, enhancing the overall flavor profile without overpowering the pasta.
Build your Own Pasta
Pasta Express' Build Your Own Pasta is an exciting concept that allows customers to customize their own pizza according to their preferences. From choosing your pasta type to selecting the perfect sauce and toppings, there are a lot of options that allow you to create a personalized dish that satisfies your cravings. What sets Pasta Express' Build Your Own Pasta apart is the attention to detail and quality of the ingredients which ensure a fun and exciting dining experience.
Pasta Express Menu Delivery
Pasta Express also offers a menu delivery that allows customers to order their favorite pasta dishes without the need of going outside of their homes. Customers can easily and quickly order through third-party delivery services like FoodPanda with the use of their mobile devices.
Social Media Pages
From classic Italian favorites to unique and creative creations, their menu is a pasta lover's dream come true. Follow their social media pages for mouthwatering food photos, cooking tips, and exclusive offers that will make your pasta cravings even harder to resist.
Facebook: https://www.facebook.com/profile.php
Instagram: https://www.instagram.com/pastaexpress.sg/
Website: https://www.pastaexpress.sg/
FAQs
What types of pasta dishes do they serve?
Pasta Express serves a wide variety of pasta dishes such as Carbonara, Bolognese, chicken Alfredo, and more!
Can I customize my pasta order at Pasta Express?
Yes, Pasta Express has an option for customers to customize their own pasta.
Is the pasta made fresh?
Yes, Pasta Express' pasta dishes are made with fresh and high-quality ingredients.
Do they have any special promotions or meal deals?
Yes, Pasta Express offers special promotions and other deals to proved a better experience for their customers.
Does Pasta Express have any halal certifications?
Unfortunately, there is no available information on whether Pasta Express has a halal certification or not. It's best to ask the restaurant directly in regard to this matter.
Conclusion
With its wide selection of pasta dishes and the option to make your own pasta dish, Pasta Express has become a go-to destination for pasta lovers in Singapore. Each pasta dish on their menu is made with high-quality ingredients and is prepared by using traditional Italian techniques that result in pasta that is good both in taste and visuals. So if you are in Singapore and are looking for an Italian restaurant that specializes in pasta, Pasta Express should be one of your options.