Eighteen Chefs' menu is designed to cater to different preferences and dietary needs, with options ranging from pasta and rice dishes to grills and sides. One of the highlights of the menu is the customizable pasta, where diners can choose their pasta type, sauce, and add-ons to create their own personalized dish. There is also a wide range of meats and fish available on the grill, all of which are expertly prepared and presented with mouthwatering sauces. And to complement the main dishes, Eighteen Chefs also offers a selection of sides, such as salads, soups, and appetizers.
You can find the updated pricing information for the Eighteen Chefs menu below.
MENU
PRICE (SGD)

Starters

ST1. Garlic Bread (2pcs)
$3.00
ST2. Black Pepper Chicken Sausage
$3.40
ST3. Soup of the Day
$4.00
ST4. Potato Wedges
$4.20
ST5. French Fries
$4.20
ST6. Chicken Nuggets
$0.10
ST7. Onion Rings
$5.10
ST8. Roasted Chicken Drumettes
$9.40
ST9. Popcorn Chicken
$7.00
ST10. Calamari Rings
$8.20
ST11. Mixed Platter
$17.80

Salads

SA1. Classic Caesar
$10.20
SA2. Fruity Prawns
$10.20

Meat Lovers

M1. BBQ Chicken
$14.20
M2. Black Pepper Chicken
$14.20
M3. Teriyaki Chicken
$14.20
M4. Crispy Chicken
$14.20
M5. Chicken & Sausage with Mushroom Sauce
$6.60
M6. Prime Striploin
$21.40
M7. Prime Ribeye
$23.80
M8. Chicken & Beef Combo
$29.80

Fish Lovers

F1. Pan-fried Fish with Thai Salsa
$15.00
F2. Fish & Chips
$17.80
F3. Teriyaki Salmon
$29.80

The Legendary Burgers

L1. Salted Egg Crispy Chicken Burger
$13.00
L2. 18C Angus Beef Burger
$15.40

Hearty Fried Rice

FR1. Rodeo Drumettes & Black Pepper Chicken Sausage
$13.00
FR2. Breaded Prawns & Calamari Rings
$14.20
FR3. Chicken with Coconut Sambal
$15.40
FR4. Grilled Chicken
$16.60
FR5. Tempura Fish Fillet
$19.80
FR6. Striploin (180g)
$22.60
FR7. Striploin Steak with Black Pepper Chicken Sausage
$23.80
FR8. Ribeye Steak with Black Pepper Chicken Sausage
$26.20

Cheese Baked Rice

CH1. Truffle Mushroom Grilled Chicken
$13.00
CH2. Striploin Steak with Mushroom sauce
$14.00
CH3. Breaded Prawns with Japanese Curry
$11.80
CH4. Chicken Katsu with Japanese Curry
$13.00
CH5. Teriyaki Salmon
$14.20

Pasta

P1. Seafood Aglio Olio
$14.20
P2. Carbonara with Sous Vide Egg
$13.00
P3. Truffle Cheese Fusilli
$13.00
P4. Tom Yum Seafood Fusilli
$14.00
P5. Beef Bolognese
$11.80
P6. Salted Egg Prawn Pasta
$14.20
P7. Shimeiji Mushroom & Asparagus Aglio Olio
$11.80
P8. Prawn Aglio Olio
$15.40

Be Your Own Chef

1. Spaghetti
$11.11
2. Fusilli
$11.80
3. Cheese Baked Rice
$11.11
4. Cheese Baked Spaghetti
$12.20
5. Cheese Baked Fusilli
$12.60

Cold Beverages

C1. Bottled Water
$2.20
C2. Iced Lemon Tea
$3.60
C3. Iced Honey Lemon Tea
$4.00
C4. Iced Latte
$4.20
C7. Lime Soda
$4.60
C8. Grape Soda
$4.60
C9. Blue Ocean
$5.40
C10. Coke
$3.40
C11. Coke Zero
$3.40
C12. Root Beer
$3.40
C13 Oreo Freeze
$5.40
C14. Strawberry & Mango Smoothie
$5.80
C15. Chocolate Milkshake
$7.10

Desserts

D2. Brownie
$5.80
About Eighteen Chefs
Eighteen Chefs is a popular restaurant in Singapore known for its unique concept of combining Western cuisine with a local touch. Their signature dishes include customizable pasta, rice, and grill options, allowing diners to create their own unique meals with a variety of ingredients and sauces. Aside from it being a terrific spot for friends and family to get together due to the relaxing and welcoming ambiance, the restaurant is also known for its affordable pricing which makes it a popular choice among students and young professionals.
Eighteen Chefs Menu Best Seller
This menu is made up of a variety of delicious food offerings that are considered to be the most popular items at Eighteen Chefs.
Breaded Prawns & Calamari Rings – The prawns and calamari rings are coated in a flavorful breading and fried to perfection, resulting in a satisfying crunch with each bite. The seafood is cooked just right and served with a tangy dipping sauce making it a great choice for seafood lovers.
Ribeye Steak with Black Pepper Chicken Sausage – This juicy and tender ribeye steak is cooked to your preference and accompanied by flavorful black pepper chicken sausage. The combination of the tender steak and the robust flavors of the sausage creates a mouthwatering combination.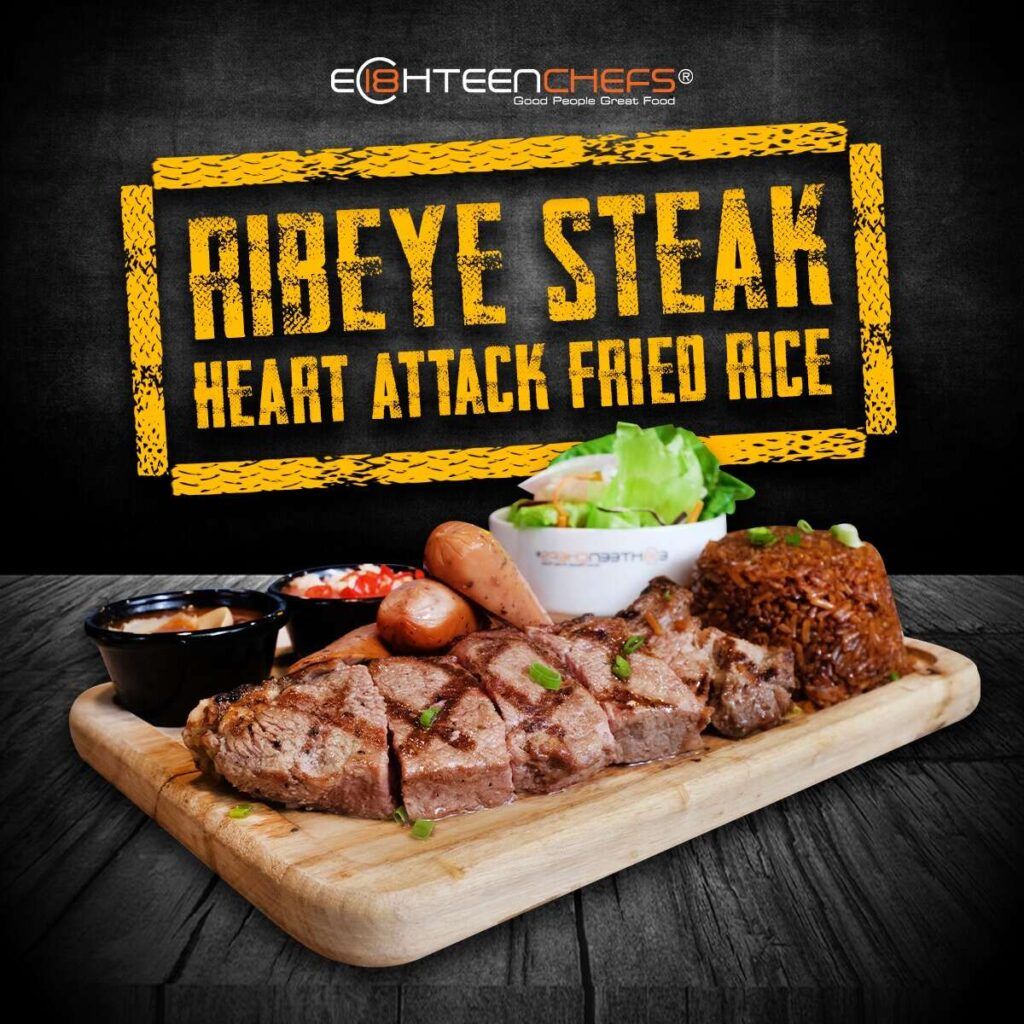 BBQ Chicken – The chicken is expertly marinated and grilled, producing meat that is soft and juicy and has a barbecue flavor that is both smokey and slightly sweet. The dish is served with a side of mashed potatoes and coleslaw, complementing the chicken nicely. 
Teriyaki Chicken – The chicken is marinated in a delicious teriyaki sauce, which infuses it with a perfect balance of sweetness and savory notes. With a side of rice and steamed veggies, the chicken is expertly cooked, yielding soft and juicy meat.
Crispy Chicken – The chicken in this dish is coated in a crispy breading and deep-fried to a golden brown, creating a satisfying crunch with each bite. As a result, the meat remains juicy and tender on the inside, providing a nice contrast in textures.
Eighteen Chefs Menu Starters
This menu is made up of a wide selection of appetizing dishes that will kickstart your dining experience at Eighteen Chefs.
Onion Rings – Eighteen Chefs' onion rings are coated in a light and crispy batter, providing a delightful crunch with each bite. The onions inside are cooked to a tender and sweet state, creating a perfect balance of flavors. 
Roasted Chicken Drumettes – The drumettes are marinated in a flavorful mixture of herbs and spices before being perfectly roasted, producing meat that is supple and succulent. The seasoning enhances the chicken's inherent flavor by adding depth to the flavor.
Popcorn Chicken – The chicken pieces are seasoned with a blend of herbs and spices, then fried to a crispy and golden brown perfection with each piece offering a burst of flavor and a satisfying crunch.
Eighteen Chefs Meat Lovers Menu
This menu is well-thought-of and was specially made for meat lovers. It is composed of different varieties of meat dishes that are bound to satisfy any meat lovers that come to visit.
Black Pepper Chicken – This dish uses a tender chicken that was wok-fried with a generous amount of black pepper, creating a spicy and savory flavor profile. The dish is well-balanced with a hint of sweetness, and the chicken is cooked to perfection, ensuring a juicy and tender texture.
Chicken & Sausage with Mushroom Sauce – To make this dish, tender pieces of chicken and flavorful sausages are cooked in a creamy mushroom sauce that is rich in taste and texture. The combination of chicken, sausage, and mushrooms creates a satisfying umami flavor that is enhanced by the creamy sauce. 
Prime Striploin – The striploin is expertly grilled, producing a delicious and soft piece of meat, and then cooked to the customer's preferred level of doneness. The steak is juicy and flavorful, with a deliciously charred exterior, and served with the customer's choice of sides.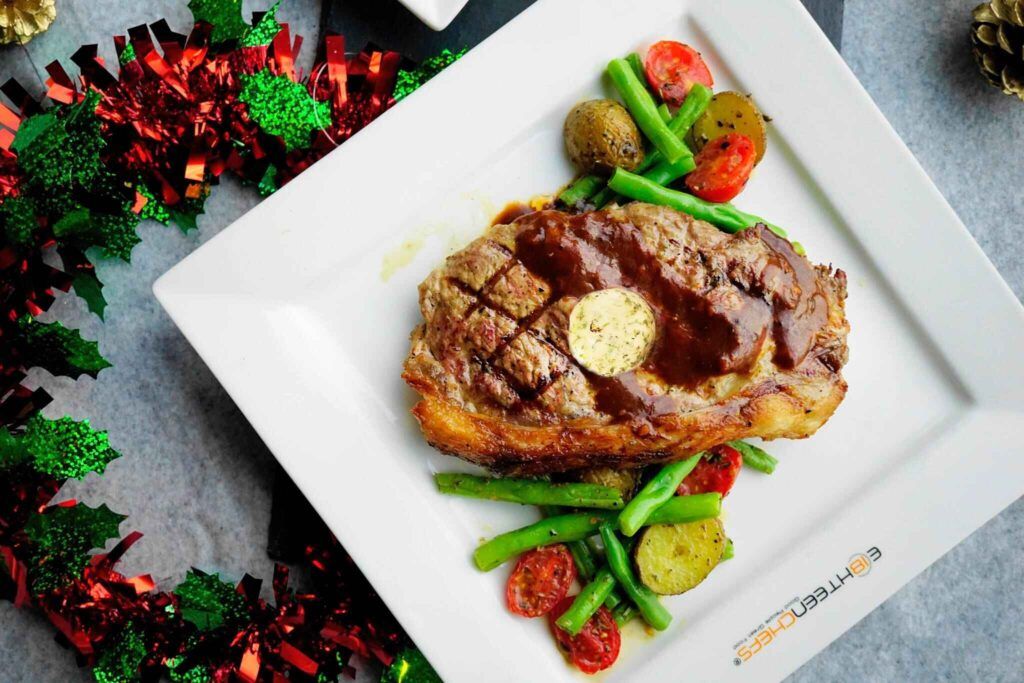 Fish Lovers
As they have made a menu for meat lovers, this one is specifically made for customers who want to taste delicious seafood dishes at Eighteen Chefs.
Pan-fried Fish with Thai Salsa – This menu of Eighteen Chefs is a delightful and refreshing dish that combines perfectly cooked fish with tangy and zesty Thai salsa. The addition of Thai salsa, which is made with a blend of fresh herbs, lime juice, and spices, adds a burst of vibrant flavors to the dish.
Fish & Chips – These fish fillets are coated in a crispy batter and fried to golden perfection which results in a satisfying crunch on the outside while the fish remains moist and tender inside and then served with a side of thick-cut fries and tartar sauce.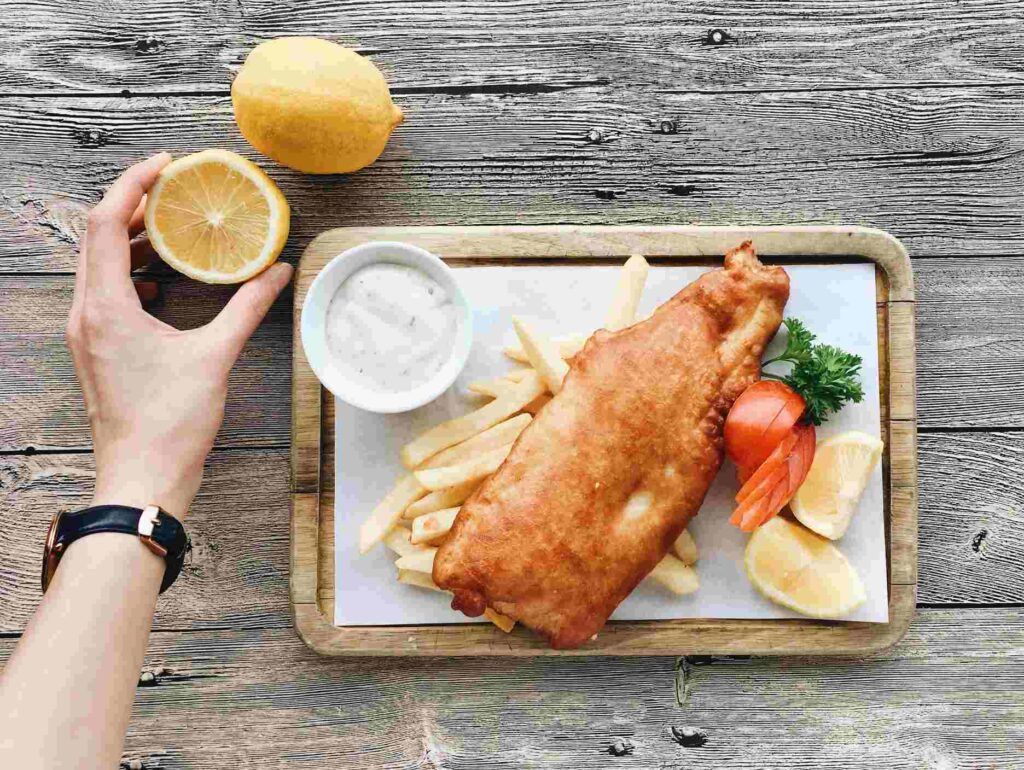 Teriyaki Salmon – These dishes highlight the restaurant's commitment to quality ingredients and skilled preparation, resulting in flavorful and satisfying options for seafood lovers. 
Salad
This menu offers a refreshing and healthy selection of options that are perfect for those seeking a lighter meal or a fresh accompaniment to their main course. The salads are thoughtfully crafted with a variety of ingredients that provide a burst of flavors and textures. 
The Legendary Burgers
This menu is made up of a variety of burger options that are an absolute delight for burger enthusiasts. Each burger is crafted with care, showcasing a combination of flavors and textures that are sure to satisfy your cravings. 
Eighteen Chefs Menu Delivery
Through this service, Eighteen Chefs allows its customers to enjoy their delicious food offerings without leaving their homes. Customers can order through third-party delivery services like FoodPanda to cater to their daily cravings.
Social Media Pages
Follow the culinary adventures of Eighteen Chefs on their vibrant social media pages. Discover a world of delicious creations, from delectable pasta to mouthwatering grilled meats and more. Stay updated on their latest promotions, special events, and limited-time offerings.
Facebook: https://www.facebook.com/EighteenChefs/
Instagram: https://www.instagram.com/eighteenchefs
Twitter: https://twitter.com/18chef
Website: https://www.eighteenchefs.com/contact-us
FAQs
Where can I find Eighteen Chefs restaurants in Singapore?
Some of their branches in Singapore are located in Bugis Junction, Downtown East, and Star Vista.
What type of cuisine do Eighteen Chefs serve?
Eighteen Chefs serves a diverse range of cuisine, primarily focusing on Western and Asian fusion dishes.
Can I make a reservation at Eighteen Chefs, or is it walk-in only?
Eighteen Chefs operates on a walk-in basis and reservations are not totally required.
Do Eighteen Chefs have any dessert or beverage options available?
Yes, Eighteen Chefs provides a selection of drinks and desserts to go with their customers' meals.
Is Eighteen Chefs a halal-certified restaurant?
Yes, Eighteen Chefs has received a halal certification.
Conclusion
Eighteen Chefs' menu has a wide range of dishes from pasta to rice, grills to sides, there is something to suit every taste and dietary preference. It has become a popular restaurant in Singapore known for its diverse menu, fusion flavors, and customizable options. The restaurant's commitment to quality and flavorsome dishes has earned it a loyal following among locals and visitors alike, making it a go-to destination for a satisfying and enjoyable dining experience.