Masizzim's menu features a variety of modern and traditional Korean dishes that range from stews, rice dishes, noodles, and sides, as well as a selection of Korean-style drinks and desserts. Some of the signature dishes at Masizzim include the Galbi Jjim (braised beef short ribs), Kimchi Jjigae (spicy kimchi stew), and the Cheese Deokbokki (rice cakes in a spicy sauce with melted cheese accompanied by a number of vegetarian and gluten-free options, which makes their food menu accessible to a wide range of dietary requirements.
You can find the updated pricing information for the Masizzim menu below.
MENU
PRICE (SGD)
Meat & Seafood Side Dishes
Iron-Plate Spicy Beef
$21.70

Rice & Noodles

Kimchi Fried Rice
$13.20
Steamed Rice
$2.50
Spicy Cheese Fried Rice
$14.40

Rice Balls

Rice Ball Bulgogi Beef
$13.20
Rice Ball Crabmeat & Roe
$16.90
Rice Ball Kimchi Tuna
$14.40
Spicy Pork Rice Ball
$13.20

Eggs

Tuna Seaweed Egg Roll
$15.70
Honey Mustard Cheese Egg Roll
$15.70
Crabmeat Egg Roll
$18.10
Kimchi Bacon Egg Roll
$16.90

Pancakes

Potato Pancake
$18.10
Squid & Leek Pancake
$20.50

Non Alcoholic Beverages

Coke
$4.20
Coke Light
$4.20
Mineral Water
$3.00
Canned Sprite
$4.20
Canned Green Tea
$4.20

Alcohol

Cass
$11.80
Asahi
$12.90
About Masizzim
Masizzim is a Korean casual dining restaurant that first opened in Singapore in 2015 whose menu is known for its comforting and hearty Korean stews, which are made using traditional recipes and ingredients. In addition to stews, Masizzim also offers a variety of Korean rice dishes, noodles, snacks, and drinks. Masizzim only uses the freshest ingredients to offer an authentic Korean dining experience to locals and tourists alike. With its cozy atmosphere and flavorful food, Masizzim has become a popular spot for diners seeking a satisfying Korean meal.
Masizzim Menu Best Seller
This menu is made up of different food items that are considered the most popular at Masizzim restaurant.
Iron-Plate Spicy Beef – This dish features thinly sliced beef that is cooked on an iron plate with spicy sauce, onions, and other vegetables with tender beef and sauce that has a good level of spiciness. The iron plate gives the dish a unique smoky flavor that adds to the overall experience.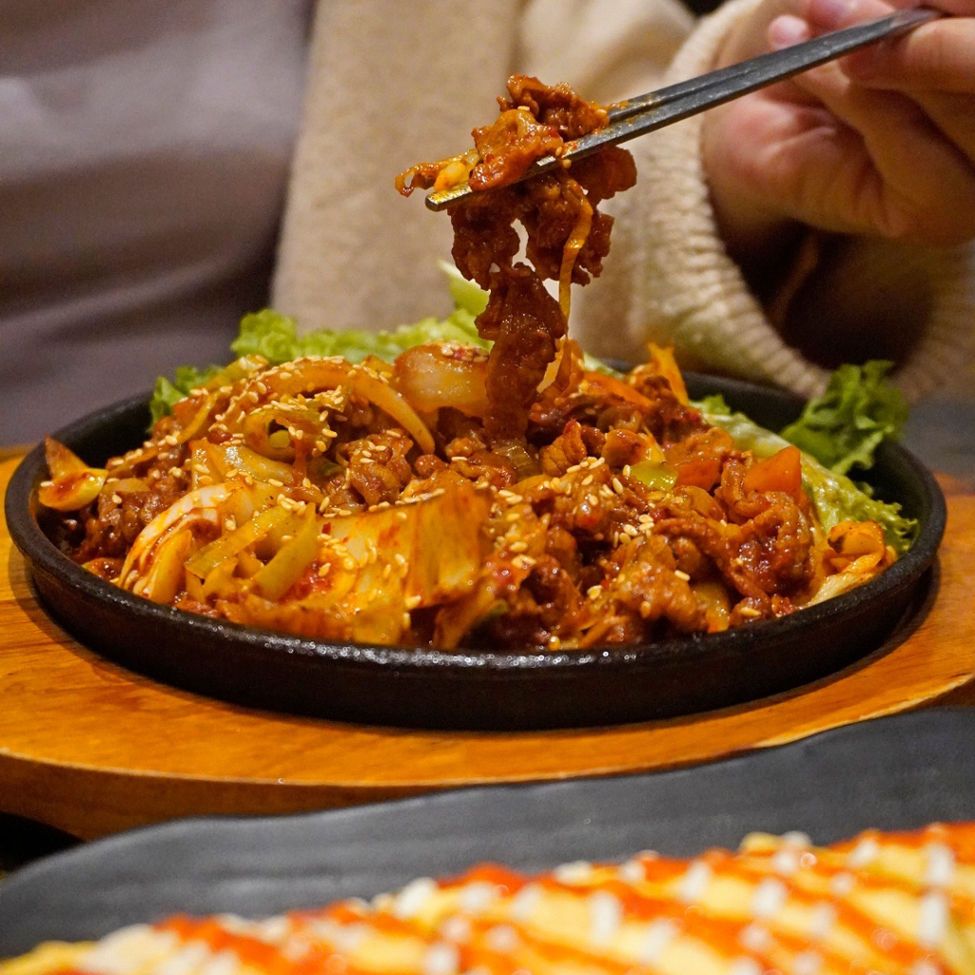 Rice Ball Bulgogi Beef –  This dish consists of rice balls mixed with bulgogi beef and various vegetables. The rice balls are chewy and flavorful, while the bulgogi beef adds a savory taste to the dish which makes it a great option for a light meal or a snack.
Kimchi Bacon Egg Roll – This dish is a classic Korean dish that features a rolled omelet with kimchi, bacon, and other ingredients with a fluffy omelet and kimchi and bacon that adds a nice kick of flavor. This combination makes for a great option for a breakfast or brunch meal.
Potato Pancake – This dish features crispy and savory pancakes made with grated potatoes and other vegetables. This pancake is a tasty treat! It has a crispy outside and a soft inside, giving you a satisfying contrast of textures. The vegetables in it bring extra flavors that make the dish even more delicious.
Squid & Leek Pancake – This pancake has a good amount of crunch and the squid and leeks are cooked to perfection, making the dish flavorful and satisfying. It is a great option for those looking for a seafood dish.
Masizzim Menu Rice and Noodles
This menu consists of different variety of rice and noodle dishes that are worth a try for their taste and affordability.
Kimchi Fried Rice – It is a delicious and satisfying dish that is full of flavor because the kimchi adds a nice tangy kick to the fried rice, while the crispy fried egg on top adds a nice texture making it a great dish for those who love spicy and flavorful rice dishes.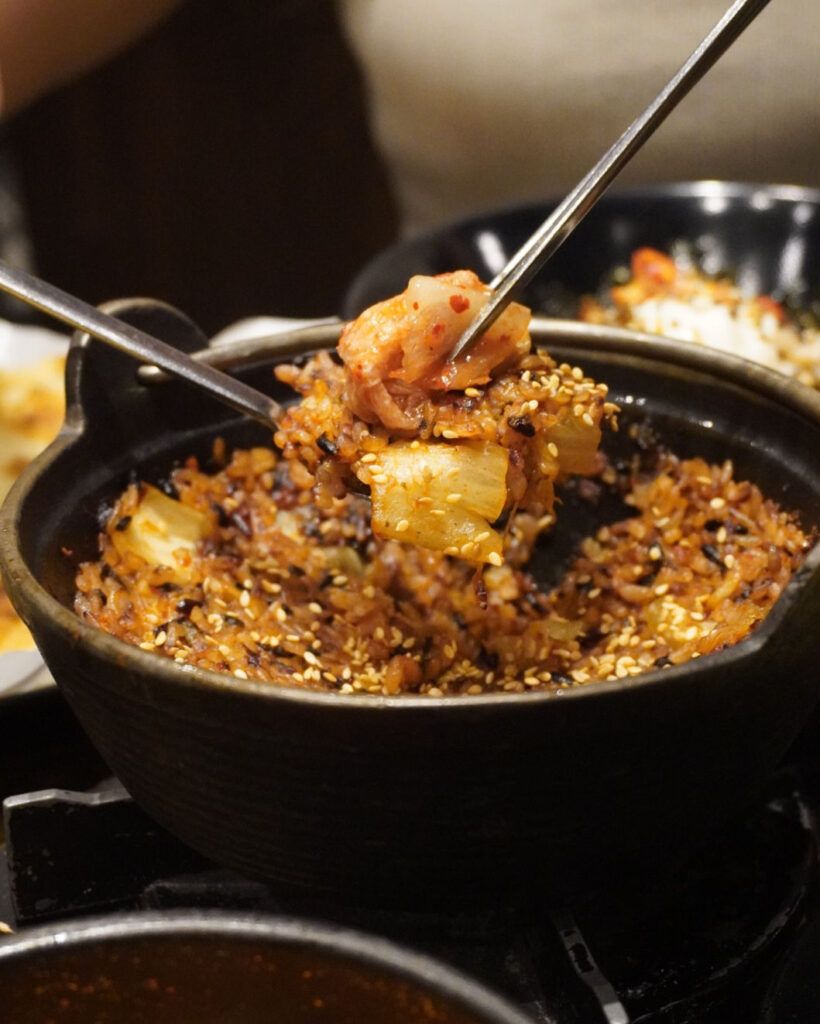 Steamed Rice – The steamed rice at Masizzim is cooked perfectly and pairs well with the various meat and vegetable dishes on the menu. The rice is fluffy and not too sticky, making it a great base for the other dishes that they offer.
Spicy Cheese Fried Rice – This dish is a fusion of Korean and Western flavors, featuring a spicy kick from the gochujang (red pepper paste) and melted cheese on top. The rice itself is cooked with various vegetables and meats, making it a hearty and satisfying meal.
Masizzim Menu Rice Balls
This menu is made up of a different variety of rice balls that pairs well with the other food items that Masizzim offers.
Rice Ball Crabmeat & Roe – This dish features rice balls stuffed with crab meat and roe, which are then served in a savory broth. This dish is a seafood lover's dream! The crabmeat and roe add a delightful taste of the sea, bringing a wonderful seafood flavor. And let's not forget the flavorful and satisfying broth that completes the dish. It's a delicious combination that will leave you wanting more.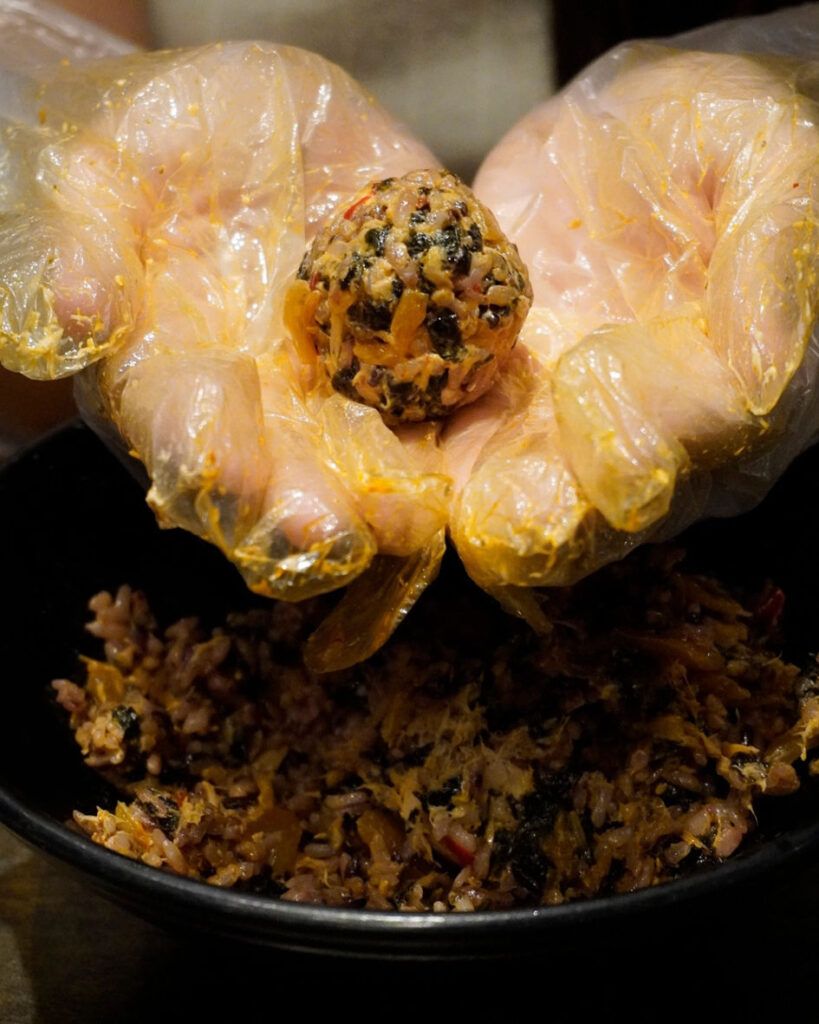 Rice Ball Kimchi Tuna – The rice balls in this dish is filled with a mixture of kimchi and tuna and served in a similarly savory broth. The combination of flavors is interesting and unique, with the tangy kimchi and meaty tuna complementing each other well.
Spicy Pork Rice Ball – The spicy pork in this dish is served with rice balls and a flavorful broth. The rice balls add a nice texture to the dish, making it filling and satisfying.
Eggs
This menu is made up of creative and flavorful egg rolls that make for a great appetizer or snack.
Tuna Seaweed Egg Roll – This menu of Masizzim is a delicious fusion dish that combines the flavors of tuna and seaweed in a crispy egg roll wrapper. The tuna itself is fresh and flavorful, while the seaweed complements the tuna well and adds a nice umami to the dish.
Honey Mustard Cheese Egg Roll – This eggroll has a unique take on a classic Korean dish in which it uses an egg roll wrapper that is filled with melted cheese and drizzled with honey mustard sauce, creating a perfect balance of sweet and savory flavors.
Crabmeat Egg Roll – This egg roll is filled with fresh crabmeat, which is juicy and flavorful and pairs well with the crispy egg roll wrapper which makes it another tasty and affordable option at Masizzim.
Pancakes
Masizzim's pancake menu offers a variety of flavors and textures to satisfy every taste. With so many delicious options, it's tough to pick just one pancake because each has its unique flavor and texture that you'll love.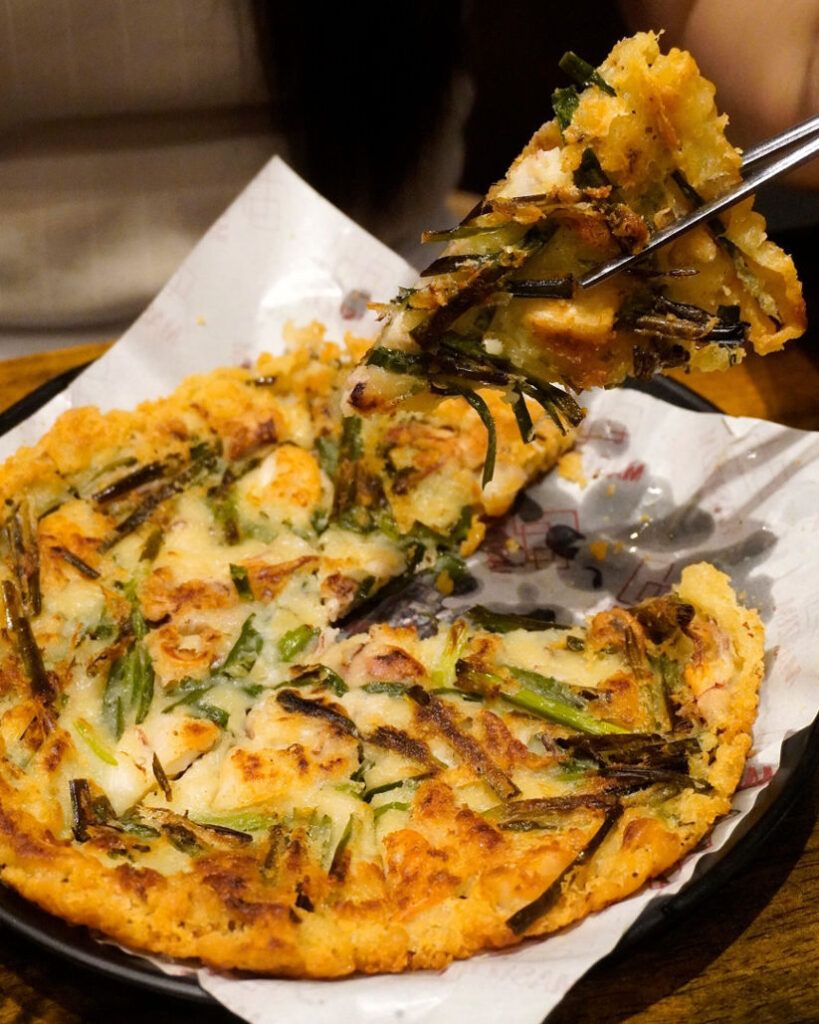 Masizzim Menu Delivery
Masizzim offers delivery for their customers so that they can conveniently order from anywhere and whenever they want without visiting their restaurant in person. Customers can use third-party delivery services such as FoodPanda and GrabFood to easily and quickly order their favorite dish at Masizzim.
Social Media Pages
Stay connected with Masizzim on social media to stay updated on their newest menu items, special offers, and upcoming events. Join the online Masizzim community and engage in discussions about delicious Korean cuisine.
Facebook: https://www.facebook.com/masizzimsingapore
Instagram: https://www.instagram.com/masizzimsg/
Website: https://masizzim.getz.co/
FAQs
What are some signature dishes or must-try items at Masizzim?
Some signature dishes and must-try items at Masizzim include their signature Beef Rib Stew, Spicy Chicken Stew, Pork Galbi Jjim, Kimchi Pancake, and Cheese Egg Roll.
Are there vegetarian or vegan options available at Masizzim Restaurant?
Yes, Masizzim Restaurant offers several vegetarian and vegan options on its menu.
Does Masizzim cater for private events or large groups?
Yes, Masizzim Restaurant does offer catering for private events and large groups. 
Is Masizzim halal?
Masizzim does not have halal certification, so it is not considered a halal restaurant. 
Conclusion
Masizzim offers a unique and satisfying dining experience with its focus on hearty Korean stews and sharing plates. The restaurant's cozy ambiance and friendly service add to the overall appeal and an extensive menu that caters to various customers'  tastes and dietary preferences, with options for meat lovers and vegetarians alike. Masizzim's signature dishes, including the beef rib stew and spicy pork stew, are particularly noteworthy for their depth of flavor and generous portions. Overall, Masizzim is a great choice for those looking to enjoy delicious Korean comfort food in a relaxed and welcoming environment.