Korean cuisine is the highlight of the Bornga Korean Restaurant menu. It consists of soups, barbecues, traditional dishes of Korea, dosirak, and side dishes. The signature and most famous dish of this restaurant is BBQ Woo Samgyeop. Special deals and set meal promotions are also offered for those who want a cost-effective Korean meal. Dosirak or packed meals are also offered, perfect for lunch in school or the office.
You can find the updated pricing information for the Bornga Korean Restaurant menu below.
MENU
PRICE (SGD)

Special Deals

Pork Belly
$18.20
Pork Belly (Soy)
$18.20
Pork Gochujang BBQ (B)
$22.40
Stir Fried Squid (B)
$20.93
BBQ Woo Samgyeop
$20.93
Chicken Soy
$20.93
Sutbul Dakgalbi Soy
$16.10
Sutbul Dakgalbi Spicy
$16.10
Yangnyeom Pork Galbi
$23.10
Add On: Beef Soup
$0.70
Add On: Rice
$1.40

Set Meal Promotion

Meal Promo Set (2-3 Pax)
$49.90

Special HMR

Army Stew
$42.00
Bornga Bulgogi
$45.00
Bornga Set (4 Pax)
$108.00

Soup

Bulgogi Jjigae
$18.90
Chadol Doenjang Jjigae
$17.90
Galbi Tang
$19.90
Ginseng Chicken Soup
$26.00
Kimchi Jjigae
$16.90
Suntofu Jjigae
$18.90

BBQ

Pork Gochujang BBQ (S)
$18.90
Kkot Sal
$38.00
Saeng Galbi
$45.00
Yangnyeom Kkot Sal
$39.00
BBQ Hangjeong Sal
$28.00
Beef Galbi Sal
$32.00
Yangnyeom Galbi
$45.00
Mansinchang Samgyeopsal
$26.00
Mansinchang Samgyeopsal Soy
$26.00
Saeu Gui
$32.00
BBQ Set A
$32.00
BBQ Set B
$69.00
BBQ Set C
$55.00
Grilled Chicken (Soy)
$23.00
Grilled Chicken (Spicy)
$23.00
Yangnyeom So Galbisal
$33.00
BBQ Beef Tongue
$32.00

Traditional Dish

Chicken Soy BBQ (S)
$17.90
Jap Chae (Small)
$16.90
Jap Chae (Large)
$24.00
Seafood Pancake (Small)
$17.90
Seafood Pancake (Large)
$25.00
Seafood Rice Cake
$29.00
Stir Fried Squid (S)
$17.90
Stir-fried Rice Cake
$15.90

Dosirak

Bibim Rice
$9.90
Chicken Gochujang BBQ Dosirak
$12.90
Dosirak
$5.90
Ojingeo Bbokem Dosirak
$12.90
Pork Gochujang BBQ Dosirak
$12.90
Samgyeopsal Dosirak
$18.90
Sutbul Dakgalbi Dosirak
$16.90
Tteok Galbi Dosirak
$12.90
Woosamgyeop Cup Rice
$9.90
Woosamgyup Dosirak
$20.90
Yangnyeom Pork Dosirak
$22.90

Side Dish

Steamed Eggs
$9.90
Kimchi
$1.00
Radish Kimchi Cube
$1.00
Radish Kimchi
$1.00

Choice of Extras

Beef Soup
$1.00
Rice
$2.00

Drinks

Coke
$3.00
Coke Light
$3.00
Sprite
$3.00
Fanta Orange
$3.00
Fanta Grape
$3.00
Lotte Green Grape
$3.50
Lotte Orange
$3.50
Lotte Pear
$3.50
Paldo Sikhye
$3.50
Milkis
$3.00
About Bornga Korean Restaurant
The Bornga Korean Restaurant was founded by Baek Jong-woon in 1993. Bornga is a Korean word that refers to the head of the family. It aims to bring the authentic flavors of Korean dishes to different parts of the world. In 2012, it opened its first branch in Singapore. The black and gold concept of this restaurant represents elegance and abundance.
Bornga Korean Restaurant Menu Best Seller
Korean cuisine is one of the most-sought dishes of people from different parts of the world as it has an extraordinary taste. These are some of the best sellers of Bornga Korean Restaurant with authentic Korean flavors.
BBQ Woo Samgyeop – It is a short beef plate with 200 grams of thinly sliced beef brisket garnished with a special sauce of Bornga. This is the first dish that this restaurant created. The food items on its side enhance its visual presentation making it appealing to diners. This BBQ Woo Samgyeop is the most recommended dish for its patrons.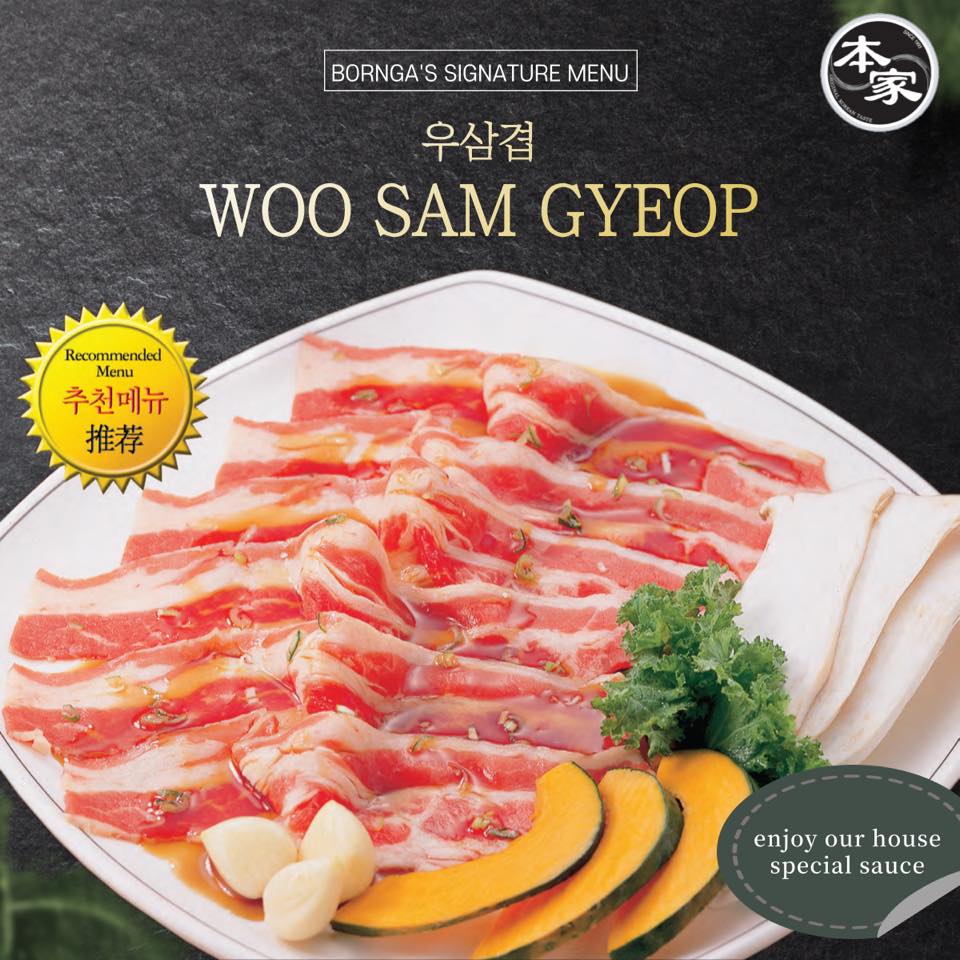 Kimchi Jjigae – One of the most popular and common stews in Korea with a spicy flavor. This kimchi stew consists of tender slices of meat, fermented kimchi, onions, and other vegetables that make it hearty. People love this stew as its delicious taste gives a sense of warmth.
Chadol Doenjang Jjigae – This menu of Bornga Korean Restaurant is a heartwarming soybean paste stew with delicious beef brisket. It is made with Chadol, a thinly sliced beef brisket, and Doenjang, a savory paste with an earthy umami flavor. The other ingredients, such as soy sauce, various vegetables, and secret seasonings, make this dish delicious. 
Galbi Tang – Galbi Tang is a clear soup with short ribs and other special ingredients. Beef short ribs and other ingredients are simmered for an hour to release their natural and appetizing flavor, making the soup extra flavorful. It is also known as one of the stamina foods in Korea, as it can energize and enhance your mood.
Seafood Pancake – Pancake is stuffed with scallions and various seafood. The crispy texture of its outside layer and the soft and fluffy fillings are combined perfectly, making every bite gratifying. In Korea, this dish is named Haemul Pa Jeon.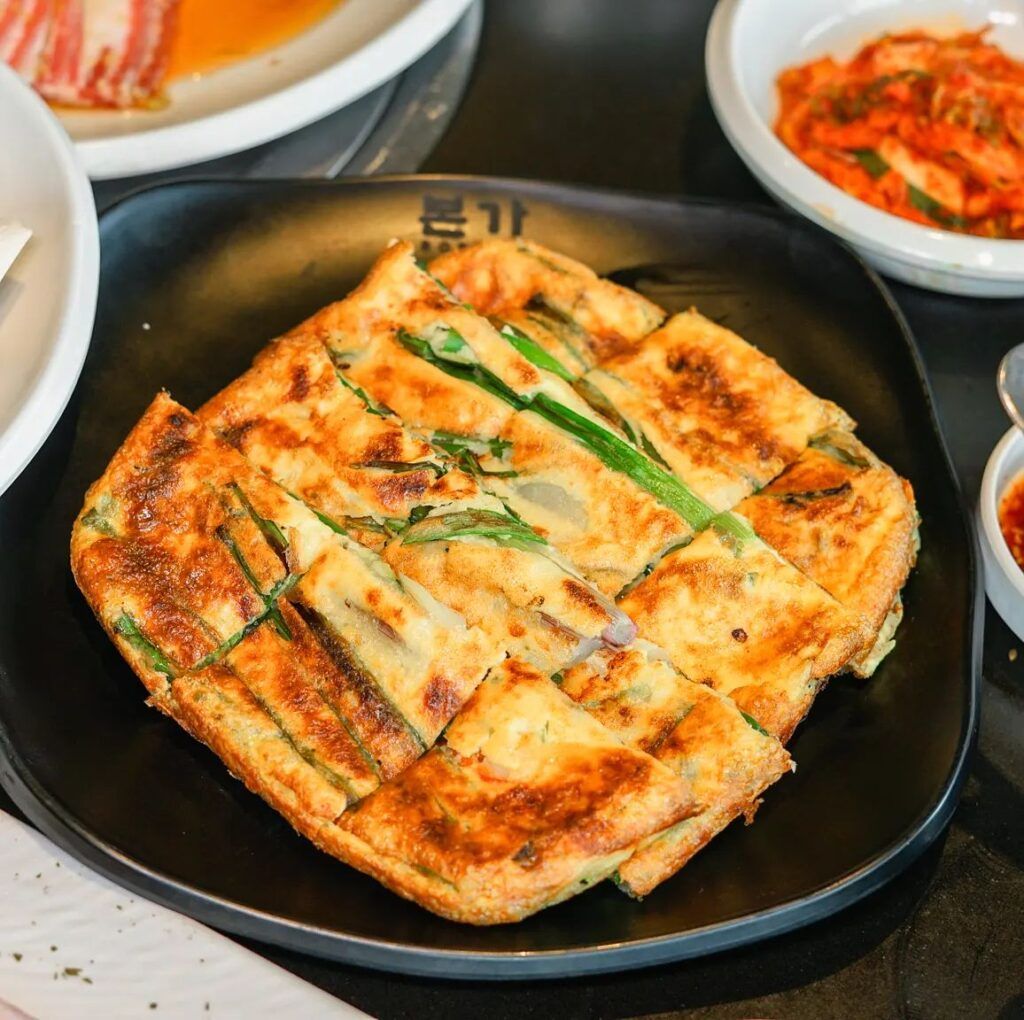 Bornga Korean Restaurant Menu Special Deals 
Special deals consist of dishes that are available at a discounted price, making them perfect for those who are looking for delicious and budget-friendly meals. It consists of pork belly, barbecue, grilled chicken, beef, and marinated pork rib.
Pork Gochujang BBQ (B) – Gochujang is an iconic condiment used in different cuisines in Korea with a mildly sweet and spicy flavor. This red chili paste is cooked with pork and vegetables. It is laid on top of onion rings, adding an appetizing aroma to this dish.
Sutbul Dakgalbi Soy – Chicken is grilled over charcoal and garnished with Bornga's special soy sauce. The special sauce gives this dish a mouthwatering flavor and glossy appearance. Each serving consists of 200 grams of chicken.
Pork Belly (Soy) – Thin slices of pork belly are expertly marinated in soy sauce. It has an even taste and texture, making every bite satisfying. This is one of the dishes commonly served in different Korean restaurants as it is easy to make.
Bornga Korean Restaurant Menu Soup 
Soup is one of the popular dishes in Korea as it has a savory, rich, and distinctive taste. These nourishing and savory soups are cooked with food items such as chicken, beef brisket, tofu, short ribs, and kimchi.
Bulgogi Jjigae – A hearty soup made with various ingredients such as meat, vegetables, noodles, and other Korean food items. The combination of flavors and textures of the ingredients that comes with this dish makes it filling and soul-soothing.
Suntofu Jjigae – Fresh soft tofu, vegetables, and kinds of seafood are stewed in this savory soup. The gooey egg yolk on its top adds texture to this dish. It is one of the most-sought Korean dishes of its diners as it has a rich and savory flavor.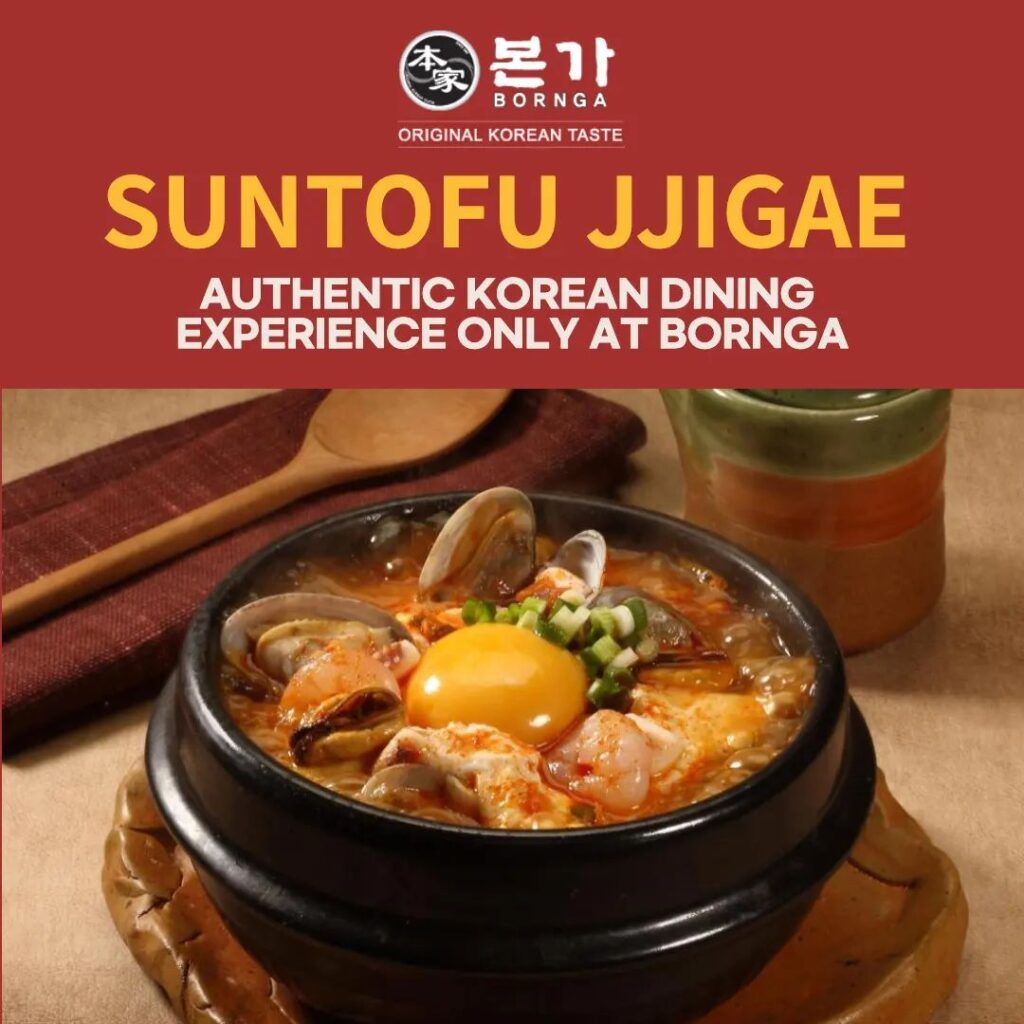 Ginseng Chicken Soup – In Korea, this dish is popularly known as Samgyetang. Whole Chicken is stuffed with ginseng, rice, and other ingredients. This soup's herbal, meaty, and complex flavors make it distinctive. It is a famous soup in summer as its ingredients are a great source of essential nutrients that can boost stamina in hot weather.
Bornga Korean Restaurant BBQ Menu
Korean BBQ is iconic for its tenderness, savory, and appealing taste. The barbecue dishes that this restaurant serves include pork, beef, chicken, and grilled shrimp. It also offers barbecue sets, each composed of four different dishes.
Saeng Galbi – This meal serves two pieces of prime cut and tender raw beef ribs. It is filled with fresh lettuce and another side dish. Unlike other Korean dishes that use a variety of sauces and seasonings, it simply uses salt as a flavor enhancer. The classic savory taste and freshness of beef make this dish satisfying.
Saeu Gui – Saeu Gui is a grilled shrimp cut in half lengthwise. It is garnished with special sauce and seasonings. The plating presentation of this seafood barbecue encourages the crowd to try it.
Grilled Chicken (Spicy) – For those who do not eat pork or want a spicy dish, this grilled chicken is the meal that will satisfy your cravings. The tenderness of meat complements well with the spicy goodness of its marinade.
Traditional Dish
Bornga Korean Restaurant takes pride in offering a delightful array of traditional Korean menu that are bursting with vibrant colors and tantalizing flavors. Indulge in a culinary adventure with their signature dishes, including the mouthwatering Jap Chae, succulent Chicken Soy BBQ, delectable Stir-fried Rice Cake, flavorful Stir-fried Squid, tempting Seafood Pancake, and satisfying Seafood Rice Cake. These dishes are renowned for their eye-catching presentation, rich umami flavors, and unmistakable authenticity that captures the essence of Korean cuisine. Each dish is skillfully prepared to perfection, ensuring an unforgettable taste experience that transports your palate to the heart of Korea.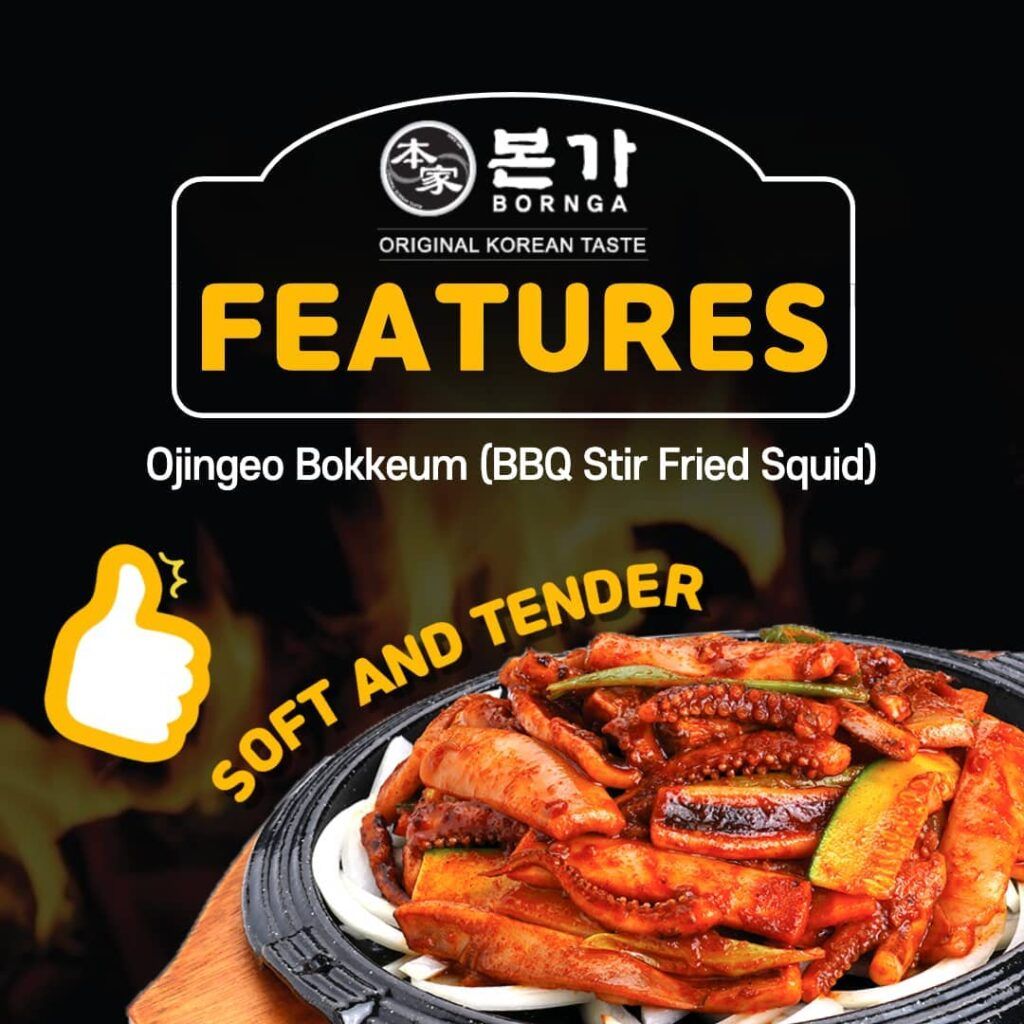 Bornga Korean Restaurant Menu Delivery
Craving the authentic flavors of Korea? Look no further! You can now conveniently order and enjoy a delectable Korean feast from the comfort of your home or office. Simply visit your favorite online delivery platforms such as BossHappyDelivery, FoodPanda, or GrabFood, and place your order to embark on a delightful culinary journey. Indulge in the mouthwatering dishes served by this establishment, which is open daily from 11:30 AM to 10:00 PM. Treat yourself to the rich and flavorful cuisine of Korea without leaving your doorstep.
Social Media Pages
Experience authentic Korean cuisine at Bornga Korean Restaurant in Singapore! Follow their social media pages to stay updated on their menu offerings, promotions, and events. Don't miss out on their mouth-watering signature dishes like the savory Galbi-tang and the sizzling Bulgogi. Contact them through their social media pages to make a reservation or inquire about their catering services.
Facebook: https://www.facebook.com/Borngasg
Instagram: https://www.instagram.com/borngasg
Email: [email protected]
TikTok: https://www.tiktok.com/@borngasg
FAQs
What are some famous dishes at Bornga Korean Restaurant?
Some of the popular dishes of Bornga Korean Restaurant in Singapore are BBQ Woo Samgyeop, Kimchi Jjigae, Galbi Tnag, Stir Fried Squid, and Pork Gochujang BBQ.
Where is Bornga Korean Restaurant located in Singapore?
Bornga Korean Singapore has outlets at:
Suntec City Tower 3, #01-641/642
Vivocity, #02-123/124
Are reservations required at Bornga Korean Restaurant?
Reservations are not required at Bornga Korean Restaurant. It only offers reservations on special occasions such as Valentine's Day.
Is Bornga Korean Restaurant halal certified?
The Bornga Korean Restaurant in Singapore is not halal-certified, as most of its dishes are made of pork.
Conclusion
The Bornga Korean Restaurant menu will give you a glimpse of Korea's vibrant and unique culture. It serves popular and traditional Korean dishes that have an authentic taste. The dishes it serves are family-friendly, making it a perfect place to bond with your loved ones. This is where you will discover a whole new flavor of the exceptional cuisine of Korea.