Korean food is now being recognized all over the world, there are a lot of Korean restaurants that are now mushrooming in different parts of the country but have you heard about a Korean restaurant that serves authentic Korean dishes at affordable prices? I am talking about Ajumma's, a casual Korean restaurant. Ajumma's Korean menu has a lot of authentic Korean dishes to choose from and if you're a fan of this Korean cuisine I'm pretty sure that you will find what you like in their restaurant. Stay with me in this article for you to be able to have an idea about the food that they serve, their prices, and of course something about them. Let's go!
You can find the updated pricing information for Ajumma's Korean menu below.
MENU
PRICE (SGD)

Bundle meals

Ajumma's platter for 4 pax
$102
Ajumma's platter for 10 pax
$234
Two hot to handle bundle
$58.80

Ajumma's Dosirak

Signature beef kalbi dosirak
$23.50
Beef Bulgogi dosirak
$18.30
Chicken bulgogi dosirak
$18.30
Spicy chicken bulgogi dosirak
$18.30
Pork bulgogi dosirak
$18.30
Grilled norweigian Mackerel dosirak
$18.30
Crispy fried chicken with toppoki In sweet spicy sauce dosirak
$18.30
Bibimbap dosirak
$15.90
Kimchi fried rice dosirak
$21.90
Jjajangmyeon dosirak
$18.30
Crispy pork belly dosirak
$19.60

Meats

Signature beef kalbi
$20.70
Beef bulgogi
$15.50
Chicken bulgogi
$13.70
Spicy chicken bulgogi
$14.20
Pork bulgogi
$13.70
Grilled norweigian Mackerel
$13.70
Spicy pork and charred cabbage
$15.50

Rice and ramyeon

Bibimbap
$15.50
Kimchi fried rice with shrimp and egg
$16.80
Kimchi ramyeon
$11.50
Spicy ramyeon
$13.70
Jjajangmyeon
$15.50
Beef ramyeon
$13.70
Crispy samgyupsal with creamy scrambled egg and soy yuja sauce
$18.10
Crispy samgyupsal kkal guksu with pork bone broth
$19.40
Jjajanhbap
$18.10

Stews

Jjampong
$24.60
Army base stew
$19.40
Kimchi pork belly stew
$19.40
Beef bulgogi stew
$20.70
Ginseng chicken stew
$25.90
Sundubu jjigae
$19.40

Korean street foods (appetizers)

Sweet spicy fried chicken with crispy toppoki
$14.20
Kimchi pancake
$12.90
Traditional jangtteok seafood pancake
$18.10
Fluffy steamed eggs
$8.90
Pork chive dumplings (5pcs)
$8.50
Pork kimchi dumplings (5pcs)
$8.50
Hotteok (2pcs)
$6.40

Drinks

Grape juice (Bong Bong)
$3.90
Pear juice
$3.90
Shik hye (sweet rice punch)
$3.90
Coca cola
$3.90
Grape demisoda
$4.60
Apple demisoda
$4.60
Peach demisoda
$4.60

Desserts

Omija hwachae
$11.60
Chapssal red bean donuts (5pcs)
$10.30

Ajumma's Dosiraks Caterings (good for 15pax)

Chicken bulgogi dosirak
$208.50
Beef Bulgogi dosirak
$223.50
Pork bulgogi dosirak
$223.50
Bibimbap dosirak
$165

Add ons

Crispy pork belly (5 slices)
$10.30
White rice
$2
Multigrain rice
$4.10
About Ajumma's Korean
Ajumma's is established in 2014. They are a Korean casual restaurant that serves different varieties of authentic Korean dishes that customers can find in Korean markets. Dominique Tan is the CEO and at the same time the founder of this casual Korean restaurant. The restaurant first started with the love of Korean foods by the founder that's why serving Korean comfort foods to their customers is truly his passion.
Their original location is in Cathay but eventually closed down and relocate to Bukit Panjang Plaza in the year 2021. This restaurant has Korean home-style cooking and most of their dishes are affordable. This is just like eating hearty and fresh food prepared by an Ajumma. As of now, Ajumma's Korean casual restaurant can be found in 4 different locations. One is in Funan Mall, another is located in Bukit Panjang Plaza, another one is in waterway point and the last one is in PLQ Mall. They are open from 11:30 AM until 9.30 PM.
Ajumma's Korean Menu Best Seller
Here are Ajumma's Korean best-selling items that we gather through research and surveys from their customers.
Bibimbap Dosirak – One of the most ordered meals of their restaurant is their bibimbap dosirak. This is a meal with a perfect balance of everything. Each vegetable in this dish is seasoned individually and paired with the meat of your choice and fried egg. They also serve this with gochujang which for more flavor. This is advisable to mix together everything and then eat. This also comes with chives mandus and 2 banchan as side dishes and also with crispy pork.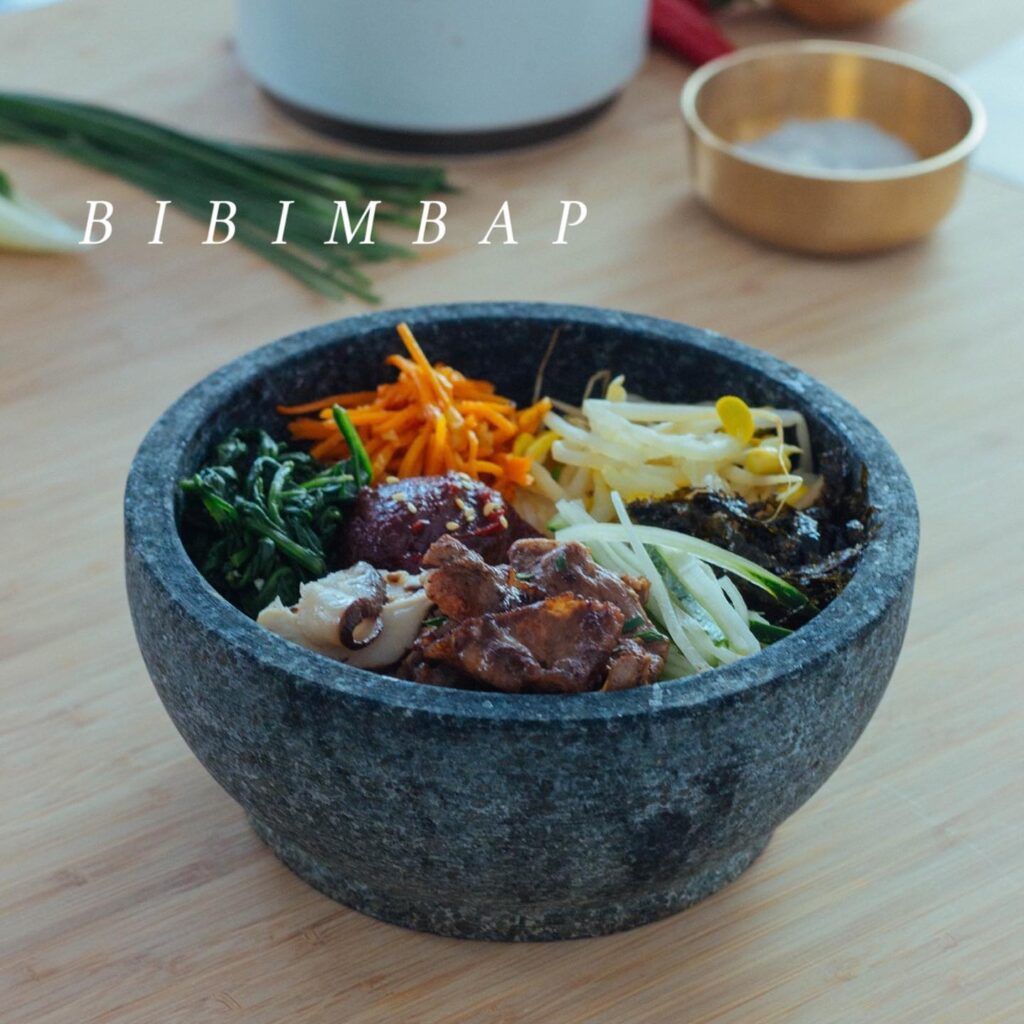 Signature Beef Kalbi – Ajumma's version of beef kalbi uses only USDA prime beef. This is made with boneless ribs that they marinated in their homemade special sauce. Meat is very tender and flavorful and this for sure will leave your tastebuds satisfied. Their signature beef kalbi is also served with 4 bachan as a side dish and rice.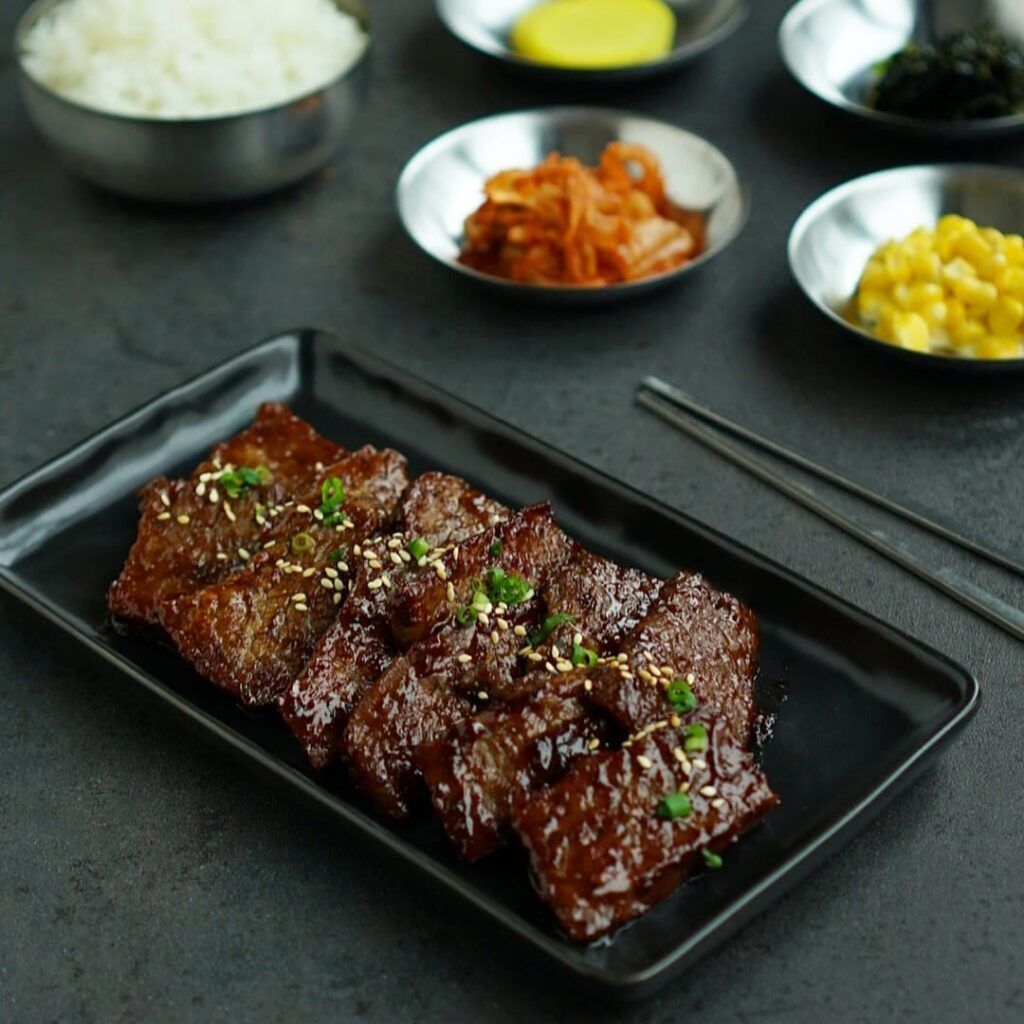 Army Base Stew – Their version of army base stew is made with Spam an American brand of canned meat, noodles, and sausages. The broth is made with kimchi and anchovy base, it also has spring onions and enoki mushrooms then topped with melted cheese. The broth is absolutely delicious and the combination of ingredients made this stew different from others. I once read an article about this dish. It says that this recipe is invented inside an army base where their ingredients are limited.
Ajumma's Korean Menu Bundle Meals 
Ajumma's Korean bundle meals are perfect for sharing with friends and family. They offer three different options to choose from. The first option is Ajumma's platter for 4 people, which includes a variety of delicious Korean dishes. The second option is the Ajumma's platter for 10 people, great for larger groups. And if you're looking for something for just two people, you can try one of their "hot-to-handle" bundles. These bundles are perfect for couples or pairs who want to share a tasty meal together. With such a variety of options, everyone can enjoy the authentic Korean flavors of Ajumma's bundle meals.
Meats
If you are a meat lover then this is the right menu for you. They have delicious meat dishes on their meat menu. First is their signature beef kalbi which only uses USDA prime beef. Next is their beef bulgogi which is made with sliced beef marinated in their special bulgogi sauce. Next is their chicken bulgogi just like beef bulgogi only difference is the meat used. Spicy chicken bulgogi is also an option if you want it hot. They also have pork bulgogi which is made with tender pork cuts marinated with special bulgogi sauce. Grilled Norwegian mackerel and spicy pork and charred cabbage are also an option on their meats menu.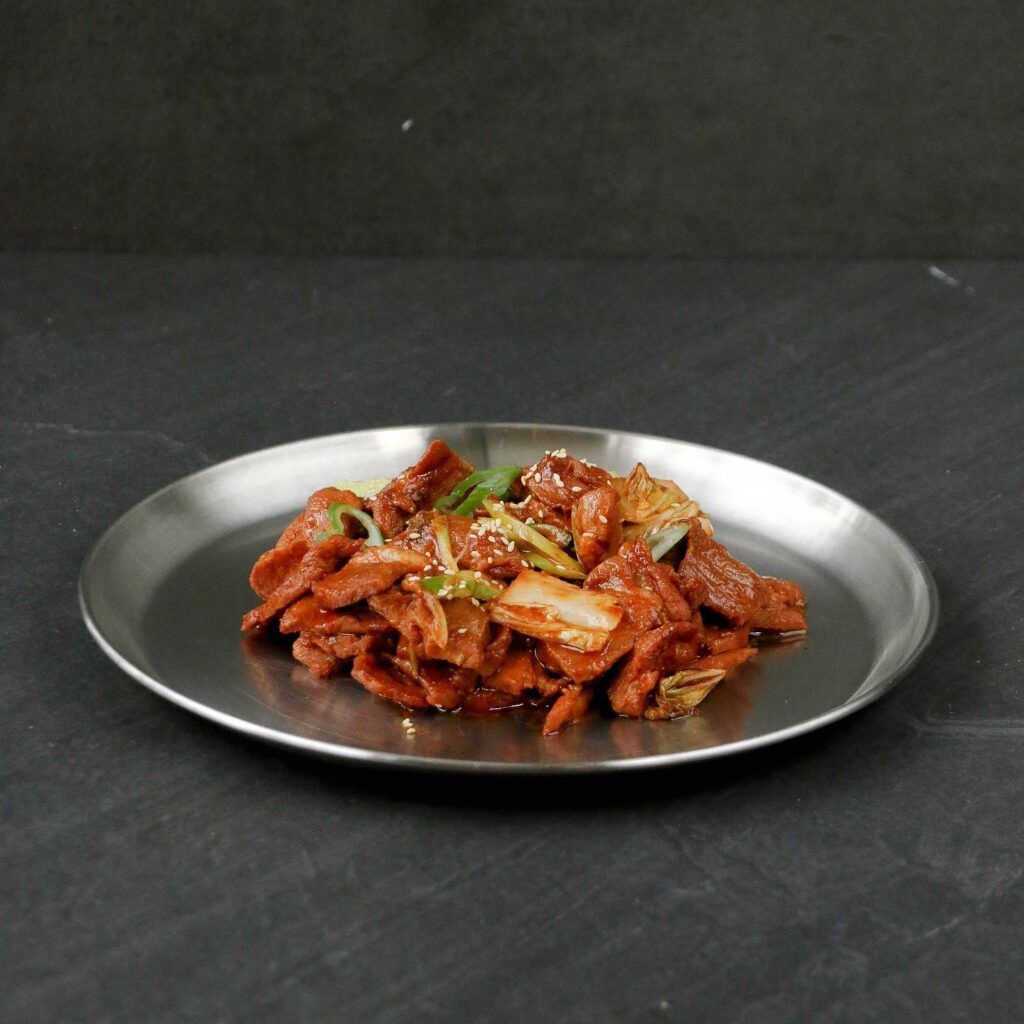 Ajumma's Korean Rice & Ramyeon Menu
On their rice and ramyeon menu, you can find a lot of delicious dishes like bibimbap, kimchi ramyeon, kimchi fried rice with shrimp and egg, and spicy ramyeon. Other options are jjajangmyeon, beef ramyeon, jjangbap, crispy samgyupsal with creamy scrambled egg and soy yuja sauce, and lastly their crispy samgyupsal kkal guksu with pork bone broth.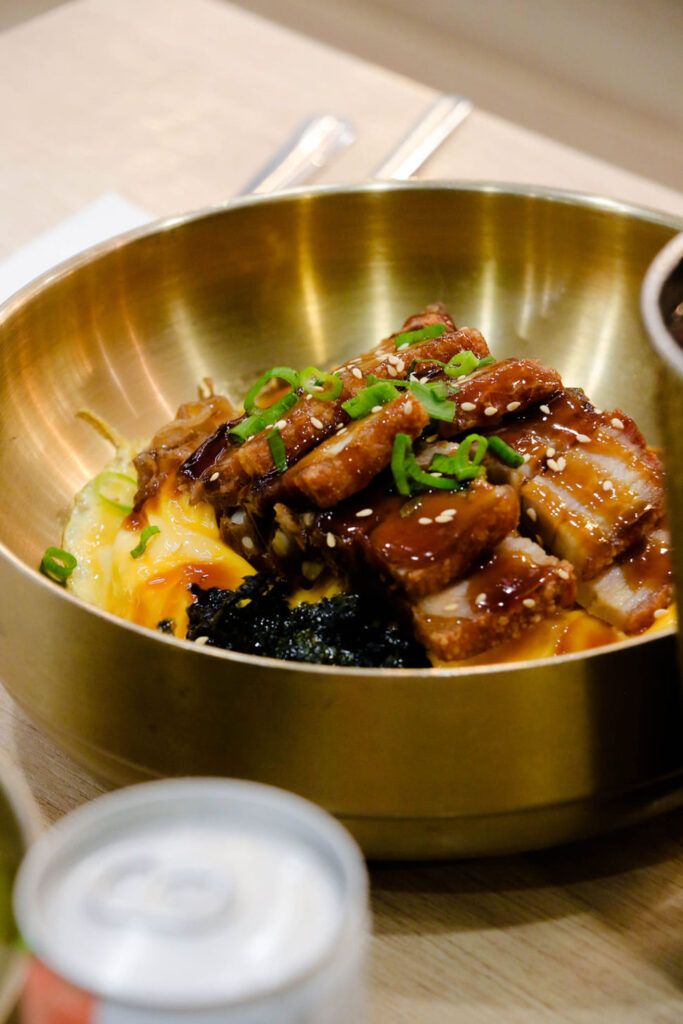 Stews
Ajumma's stew menu has something for everyone! With six delicious options to choose from, you're sure to find a stew that you'll love. If you're a fan of spicy food, you might enjoy their jjampong or budae jjigae, which is also known as army base stew. For pork lovers, they have the kimchi pork belly stew. If you prefer beef, they have the beef bulgogi stew. And if you're looking for a healthy option, you might like their ginseng chicken stew. Finally, they have the sundubu jjigae, a seafood soft tofu stew that's perfect for those who love seafood. With so many different options, you can try a different stew every time you visit Ajumma's!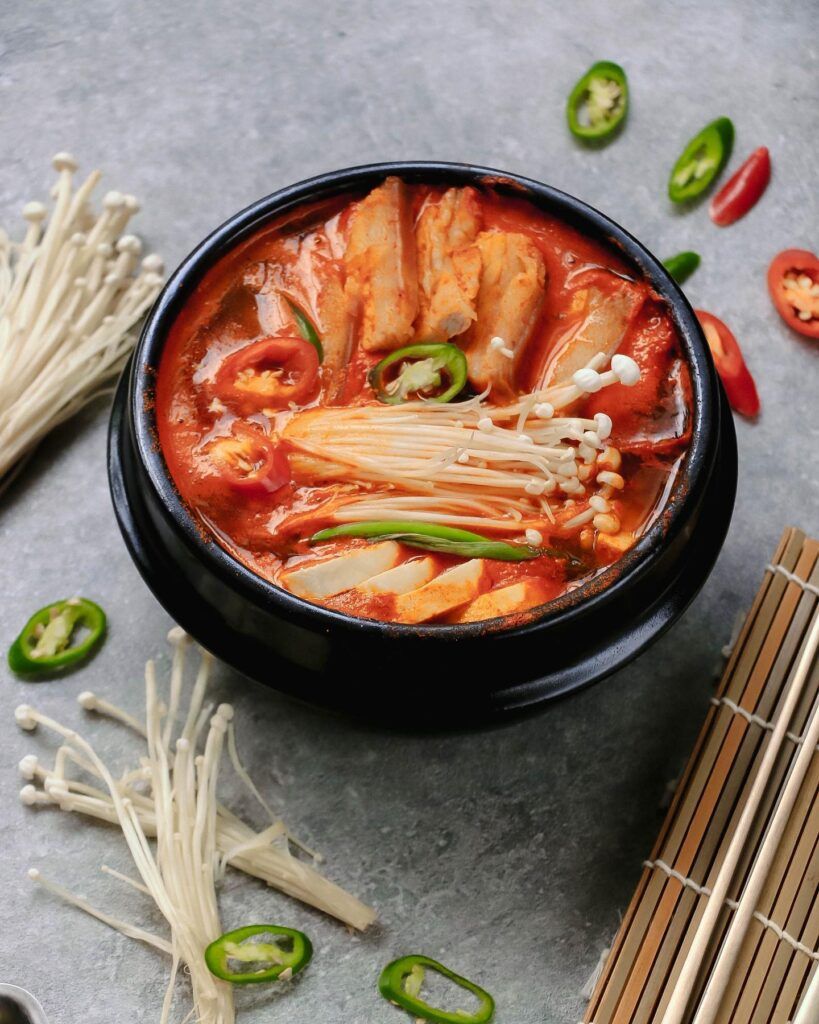 Ajumma's Korean Menu Delivery
Ordering your favorite food at Ajumma's is made easy simply by going to their website at https://ajummas.oddle.me/ or you can call their 3 branches that offers delivery near you. 
Ajumma's Waterway Point – +6587497993
Ajumma's PLQ Mall – +6588816217
Ajumma's – +6589225624
If you want to make things easier, you can order from popular food delivery apps like Food Panda, Deliveroo, or Grab Food. It's easy to use, just a few clicks on your phone or computer, and your food will be delivered to your door. So, whether you're craving their delicious beef bowls or any of their other yummy dishes, you can have it delivered without any hassle.
Social Media Pages
Looking for authentic Korean flavors? Follow Ajumma's Korean restaurant social media pages for the latest updates on their mouth-watering dishes and promotions. You can also join their online community and connect with other fans of Korean cuisine. From traditional dishes to modern twists, Ajumma's Korean restaurant has something for everyone. So why wait? Follow their social media pages today and discover the flavors of Korea in every bite!
Facebook: https://www.facebook.com/ajummas
Instagram: https://www.instagram.com/ajummasg/
FAQs
Can I make a reservation at Ajumma's Korean restaurant?
Yes. You just have to check their opening hours before calling. For reservation, You may call +6597803772
Is Ajumma's Korean restaurant halal-certified?
The answer is No. Ajumma's is serving pork dishes so they cannot be considered as a halal restaurant.
Are there any promotions or discounts available at Ajumma's Korean restaurant?
Yes, and to be honest they have a lot of promotions depending upon the occasion. You must follow their social media pages To be updated.
What is the atmosphere like at Ajumma's Korean restaurant?
The atmosphere in Ajumma's is like you're eating a homemade meal prepared by Ajumma since their ingredients are fresh and carefully selected.
Conclusion
Best place to go if you're having Korean food cravings, this place really serves delicious food. Ajumma's menu also has a lot of options and the best part is their foods are affordable. Their place has that customer-friendly vibe which is great and their place is comfortable and clean even though their crews are very busy they always make sure that the place is well maintained. The food is great and I don't give any complaints about it. Great place to go by groups since they are offering group meals. Highly recommended place for everyone.