The Delibowl menu offers a diverse and customizable menu that allows diners to create their own wholesome and delicious meals. With a focus on healthy eating, the menu features a variety of options such as rice bowls, salad bowls, and noodle bowls. Customers can choose from an array of proteins including grilled chicken, salmon, beef, and tofu, which are cooked to perfection. Delibowl's menu promotes a balanced and nutritious dining experience, making it a popular choice for those seeking a convenient and flavorful meal in Singapore.
You can find the updated pricing information for the Delibowl menu below.
MENU
PRICE (SGD)

Special

Mapo Tofu
$11.50
Saliva Chicken
$12.90
Butter Chicken
$12.90
Spicy Popcorn Chicken
$12.90
Double-Cooked Marinated Beef Slices
$14.30
Stewed Beef Brisket With Tomato
$14.30

Premium Dish

Sichuan Style Fried Eggplant
$14.30
Fragrant Hotpot Chicken
$19.80
Honey Chicken
$19.80
Sour Radish Chicken
$19.80
Sweet & Sour Chicken
$19.80
Cumin Beef Slices
$19.80
Hunan Style Fried Beef
$19.80
Sweet & Sour Fish
$21.20
Sour Soup Fish Slices
$21.20

Sides

Stir-Fried Nai Bai
$5.80
Stir-Fried Cabbage
$5.80
Fried Potato, Eggplant and Long Bean
$7.20
Rice
$1.70
Cold
Cold Mixed Cucumber
$4.50
Tofu Salad
$4.50
Lava Egg
$4.50

Soups & Beverages

Kampong Chicken Soup
$5.20
Seaweed & Egg Soup
$5.20
Homemade Lemon Tea
$4.10
Homemade Milk Tea
$4.10
Coke
$3.00
Mineral Water
$3.00
About Delibowl
Delibowl is a popular restaurant in Singapore known for its diverse and customizable menu options. It offers a unique dining concept where customers can create their own healthy and delicious meals by choosing from a wide range of fresh ingredients. Their menu emphasizes more offering balanced, nutritious meals that accommodate a range of dietary preferences and requirements. The restaurant's cozy and contemporary ambiance provides a comfortable setting for enjoying a quick and satisfying meal.
Delibowl Menu Best Seller
This menu is made up of the most popular items both at Delibowl's physical and online stores.
Sichuan Style Fried Eggplant – It is a delectable dish that uses eggplant that was expertly fried to achieve a crispy exterior while maintaining its soft and melt-in-your-mouth texture inside which captures the bold and spicy flavors of Sichuan cuisine.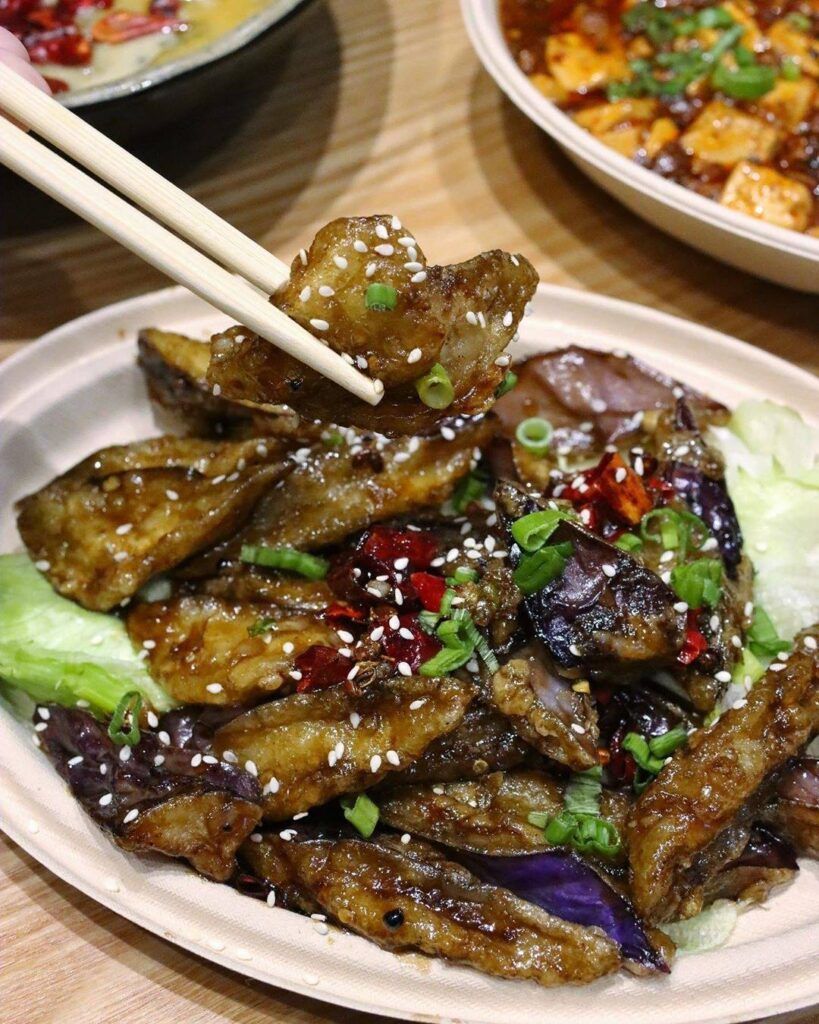 Fragrant Hotpot Chicken – The main ingredient of this dish which is the chicken is cooked to perfection, retaining its juiciness and tenderness, while the fragrant hotpot broth is rich and flavorful, infused with a medley of herbs and spices that enhance the taste of the chicken.
Honey Chicken – This dish consists of tender chicken pieces coated in a sticky and luscious honey glaze, offering a mouthwatering combination of sweetness and succulence, and the honey glaze adds a touch of richness and caramelized goodness, making it a delicious treat for those who enjoy a touch of sweetness in their savory dishes.
Cumin Beef Slices – This dish consists of thinly sliced beef that was stir-fried to perfection, resulting in tender and flavorful meat that is packed with savory goodness. The characteristic earthy and smokey flavor of the cumin enhances the beef's inherent richness.
Butter Chicken – It is a classic and comforting dish that is made of tender chicken pieces that were bathed in a creamy and flavorful tomato-based sauce and a rich and velvety sauce, with a perfect balance of spices that create a harmonious blend of flavors.
Delibowl Menu Special
This menu is made up of a selection of specialty items from Delibowl that showcases the restaurant's dedication to bold and authentic flavors.
Mapo Tofu – This dish features soft tofu cubes simmered in a rich and spicy sauce infused with fermented black beans, chili oil, and Sichuan peppercorns. The sauce's flavors are absorbed by the tofu, creating a delectable medley of textures and flavors.
Saliva Chicken – The Saliva Chicken, also known as "Mouthwatering Chicken," is a popular dish that tantalizes the taste buds with its explosive flavors. It consists of tender poached chicken served cold and marinated in a zesty and aromatic sauce.
Spicy Popcorn Chicken – This dish is made up of bite-sized chicken pieces that were coated in a crispy batter and seasoned with a tantalizing blend of spices. The chicken is perfectly deep-fried, leaving it with a crispy outside and a moist, soft interior.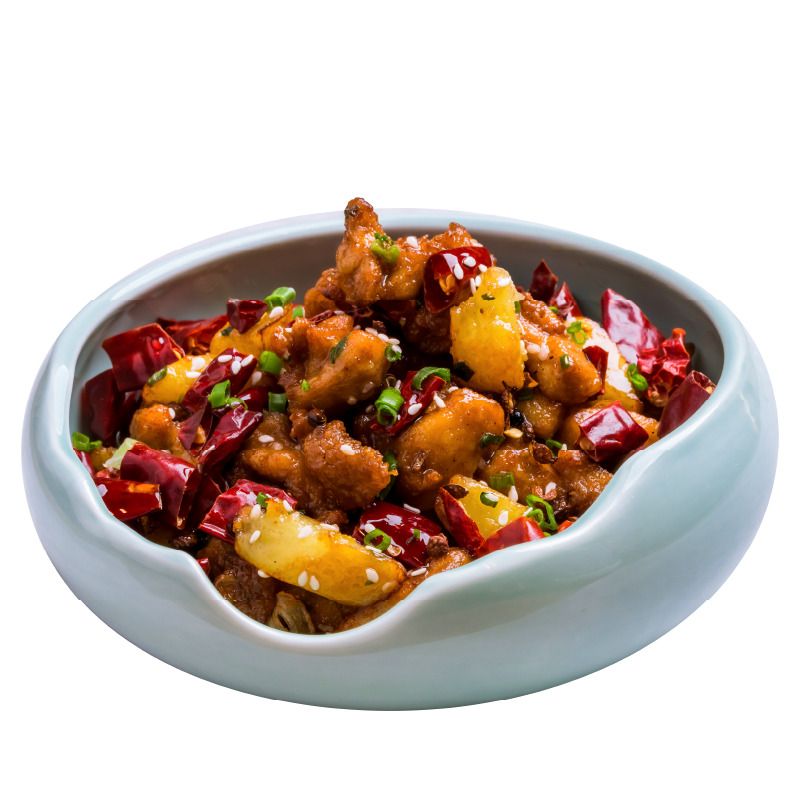 Delibowl Menu Premium Dish
This menu is made up of a wide variety of luxurious and delectable dishes that are popular with many guests that visit Delibowl.
Sour Radish Chicken – Delibowl's Sour Radish Chicken is a delightful dish that combines the tanginess of sour radish with succulent chicken that features tender chicken pieces that were stir-fried to perfection and paired with the sour and slightly sweet radish. 
Sweet & Sour Chicken – This dish consists of tender chicken pieces coated in a crispy batter and smothered in a tangy and slightly sweet sauce. The chicken remains juicy inside the crispy coating, and the sauce adds a delightful contrast of flavors.
Hunan Style Fried Beef – It is composed of thinly sliced beef stir-fried with an array of vegetables and aromatic spices, resulting in a dish that is both spicy and aromatic. The vegetables give the dish a pleasant crunch and freshness, and the beef is tender.
Soups and Beverages
This menu is made up of a wide selection of light and refreshing dishes and beverages.
Kampong Chicken Soup – This soup features tender kampong chicken cooked in a flavorful broth infused with aromatic herbs and spices and a succulent chicken that pairs well with the rich, savory broth.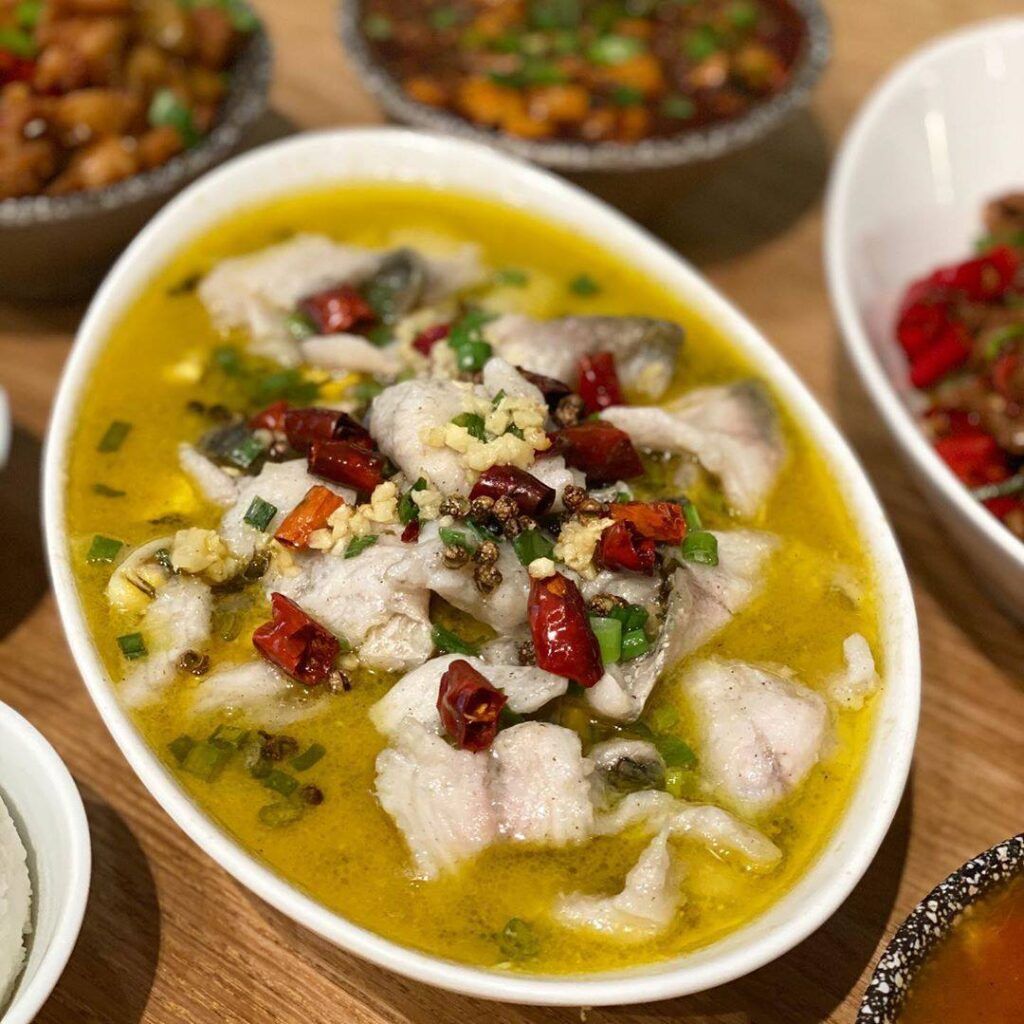 Seaweed & Egg Soup – This soup combines nutrient-rich seaweed and smooth, silky egg strands in a clear broth. The seaweed adds a subtle oceanic flavor and a pleasant texture, while the egg strands provide a silky and smooth mouthfeel. 
Homemade Lemon Tea – It is a refreshing and thirst-quenching beverage choice made from freshly squeezed lemons and sweetened to perfection, this tea offers a delightful combination of citrusy and sweet flavors. 
Cold
Delibowl's cold menu offers a refreshing selection of dishes that are perfect for cooling down on a warm day. From light and vibrant salads to chilled noodle dishes, there are options to suit different tastes and preferences.
Delibowl Menu Delivery
Delibow's delivery menu aims to provide a convenient and enjoyable dining experience, bringing their delectable dishes directly to your doorstep. Customers can conveniently order their favorite dishes at Delibowl through third-party delivery services such as FoodPanda and Deliveroo.
Social Media Pages
Experience the ultimate culinary adventure with Delibowl! Follow their social media pages to stay connected with the latest updates, mouthwatering dishes, and exciting promotions. Don't miss out on the chance to indulge in delicious and wholesome meals. Follow Delibowl's social media pages today and let your taste buds embark on an unforgettable journey!
Facebook: https://www.facebook.com/delibowlsg/
Instagram: https://www.instagram.com/delibowl.sg
Website: https://www.delibowl.com/
FAQs
Where is Delibowl located?
Delibowl is located at 60 Paya Lebar Rd, #01-77/80 Paya Lebar Square, Singapore 409051.
What type of cuisine does Delibowl serve?
Delibowl primarily serves a fusion of Asian and Western cuisine which focuses on customizable bowls that were inspired by various culinary traditions. 
Does Delibowl offer vegetarian options?
Yes, Delibowl offers vegetarian options to cater to the dietary preferences and needs of customers.
Are the ingredients used at Delibowl fresh and of high quality?
Yes, Delibowl is committed to using fresh and high-quality ingredients in its menu offerings.
Is Delibowl halal?
Yes, Delibowl is halal-certified.
Conclusion
Delibowl's menu offers a unique dining experience with its customizable menu, focusing on healthy and nutritious meals. With a wide range of fresh ingredients and protein options, customers have the freedom to create their own delicious and wholesome bowls. The commitment to quality and sourcing locally whenever possible ensures that diners can enjoy flavorful and guilt-free meals. Overall, Delibowl offers a flexible and convenient dining option that satisfies a range of dietary needs and tastes.