Pork Ribs soup is the highlight of the Song Fa Bak Kut Teh menu. It is also available in different variants, such as prime spare ribs, premium loin ribs, pig's kidney soup, pig's liver soup, sliced fish soup, and pig's stomach soup. This restaurant also serves braised and side dishes that complement the soup dishes it offers. Different kinds of tea are also offered to its diners.
You can find the updated pricing information for the Song Fa Bak Kut Teh menu below.
MENU
PRICE (SGD)

Soup Dishes

Pig's Stomach Mixed Tenderloin Soup
$10.48
Pig's Stomach Soup
$10.12
Pork Ribs Soup
$10.73
Pork Tenderloin Soup
$10.24
Prime Spare Ribs Soup
$15.44
Sliced Fish Soup
$11.82
Pig's Kidney Soup
Pig's Liver Soup
Premium Loin Rib Soup

Braised Dishes

Braised Beancurd
$2.66
Braised Beancurd Skin
$5.04
Braised Chicken Feet
$5.04
Braised Egg
$1.99
Braised Fried Beancurd
$2.40
Braised Large Intestine
$10.97
Braised Pig's Trotter
$10.61
Braised Pork Belly
$10.97
Claypot Pork Tenderloin
$10.36
Braised Chicken Feet with Beancurd Skin
Braised Sides Platter

Side Dishes

Cai Xin (Medium)
$9.14
Dough Fritters (Medium)
$4.47
Groundnuts (Medium)
$3.56
Homemade Ngoh Hiang
$11.36
Kai Lan (Medium)
$9.14
Rice (Large)
$1.75
Salted Vegetables (Medium)
$3.69
Spicy Pork Belly
$10.73
Dou Miao
Xiao Bai Cai
Mee Sua

Tea Selection

Aged Puer
Jasmine
King's Garden Tea
Osmanthus Oolong
Tie Guanyin
Bu Zhi Xiang
Xiang Ji Ji
About Song Fa Bak Kut Teh
Song Fa Bak Kut Teh is a restaurant in Singapore founded by Mr. Yeo Eng Song. His perseverance, passion, and deep appreciation for Bak Kut Teh inspired him to establish a restaurant specializing in this dish. He created other braised and side dishes that perfectly match the restaurant's special pork ribs soup.
Song Fa Bak Kut Teh Menu Best Seller
Song Fa Bak Kut Teh is popular for its signature soup dishes. Here are some of the best-selling cuisines of this restaurant, loved by its diners for their extraordinary taste.
Pork Ribs Soup – Simple yet flavorful, this is how this signature dish of Song Fa is described. It looks simple at first glance, but when you taste it, you will be impressed by its mouthwatering goodness as it is packed with flavors. The special seasonings used in this dish are roasted in-house Sarawak peppers and garlic, and the pork has less fat. This soup is notable for its tender pork and clear and peppery broth, creating an excellent concoction.
Pork Tenderloin Soup – The melt-in-your-mouth goodness of this dish makes it one of the best-selling dishes of this restaurant. It is loved for the tenderness of its meat and being bone-free. Pork slices are soft and juicy, satisfying every bite and sip.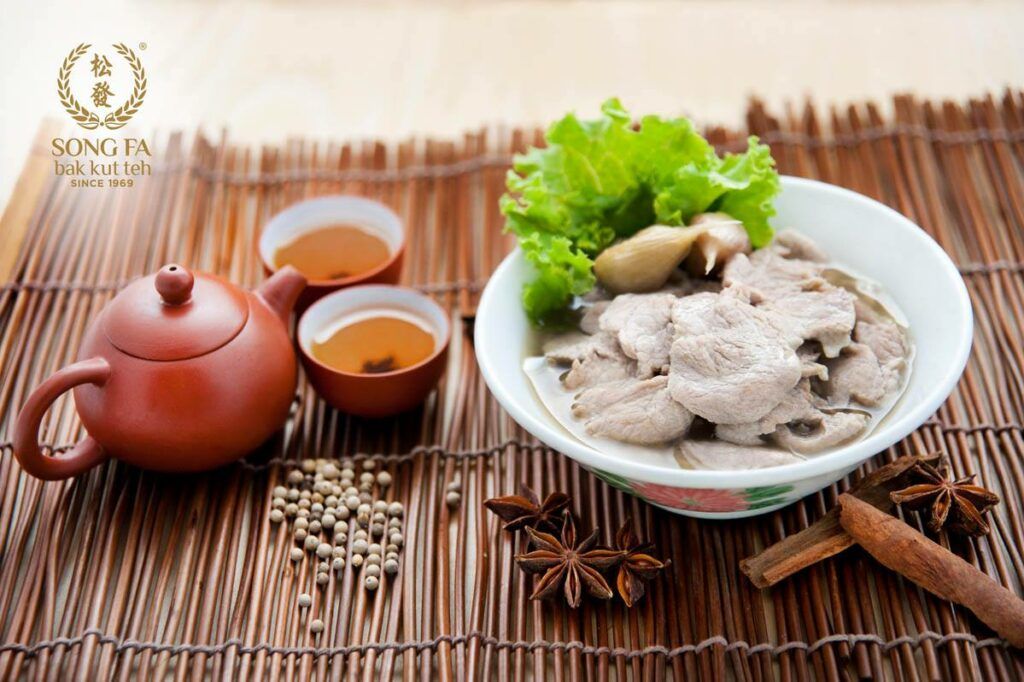 Braised Pork Belly – It is a flavorful menu of Song Fa Bak Kut Teh with melt-in-your-mouth goodness. This pork belly has a smoky aroma and tender texture, gratifying each bite. Pair it with rice and vegetable or egg for a complete meal, as its taste and texture go well with other dishes. 
Braised Pig Trotters – Some people prefer something other than pork innards; if you are one of them, this is the ideal dish for you. This dish is made up of pig feet with fatty and lean meat. It is cooked in a dark soya sauce, star anise, and other fragrant ingredients.
Homemade Ngoh Hiang – A special side dish made with marinated chicken and dory fish. These ingredients are wrapped in a bean curd skin and deep-fried until its outer layer becomes slightly crispy. The minced ingredients inside are moist, tender, and flavorful.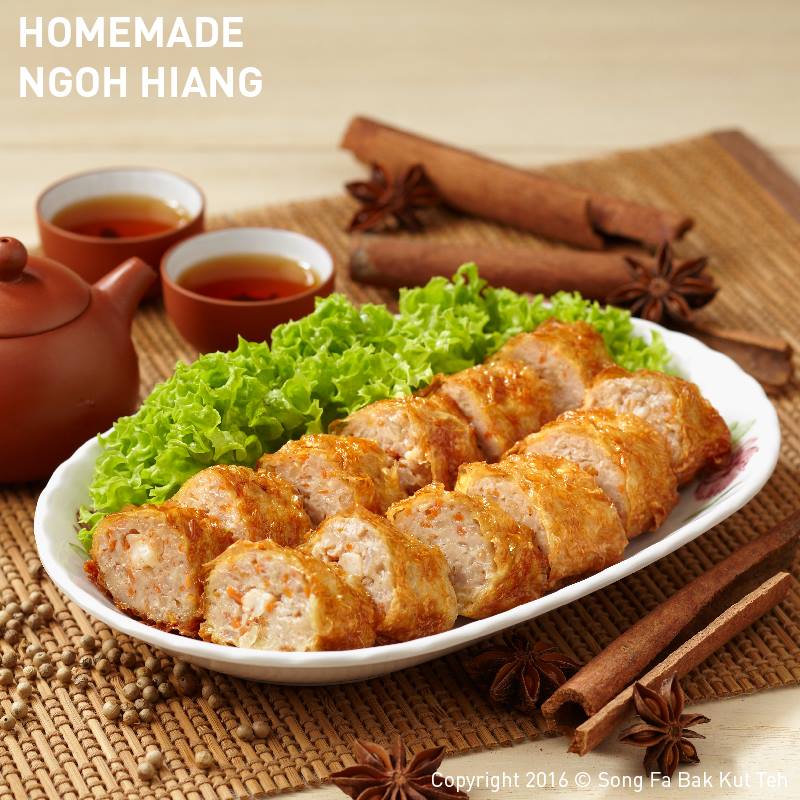 Song Fa Bak Kut Teh Menu Soups
The clear and peppery broth is the trademark of the soup dishes of Song Fa. Its broth is made with fresh ingredients such as white pepper and garlic. The meat is simmered for long hours to absorb the soup's flavor and make it tender.
Pig's Stomach Soup – Pig's stomach is cooked in peppery broth prepared in a local style. The chewy texture of meat and the savory goodness of its broth makes it gratifying. If you want to try something new, this dish is the perfect choice for you as only a few restaurants offer dishes made with pig's stomach.
Sliced Fish Soup – The best choice for those who want a light soup and are not a fan of pork dishes. It is made with slices of snakehead fish marinated and cooked in delicious broth. This snakehead fish's mild flavor complements well with its broth's taste.
Prime Spare Ribs Soup – This soup has a similarity to Pork Ribs Soup. Both are fall-off-the-bone, have the same soup base, and come from the belly side of the rib cage. Instead of using ribs, prime spare ribs are used in creating this dish. Prime spare ribs are meatier than pork ribs and have some fats within, making them juicy and flavorsome.
Braised Dishes
The braised menu of Song Fa Bak Kut Teh is remarkable for their savory and aromatic marinade and sauces. These cuisines create a wonderful concoction to the restaurant's bak kut teh or pork ribs soup. 
Braised Beancurd – Beancurd is deep-fried until it becomes soft and fluffy. It is braised in a savory gravy with shitake mushrooms. Enjoy it as a side dish, or pair it with a cup of rice.
Braised Large Intestine – It is a flavorful and irresistible dish where large intestines are cooked in a special sauce. To achieve tenderness, pork's large intestine is thoroughly cleansed, then slow-cooked for several hours. Its flavorful sauce can be used as a garnish on rice or dip for dough fritters.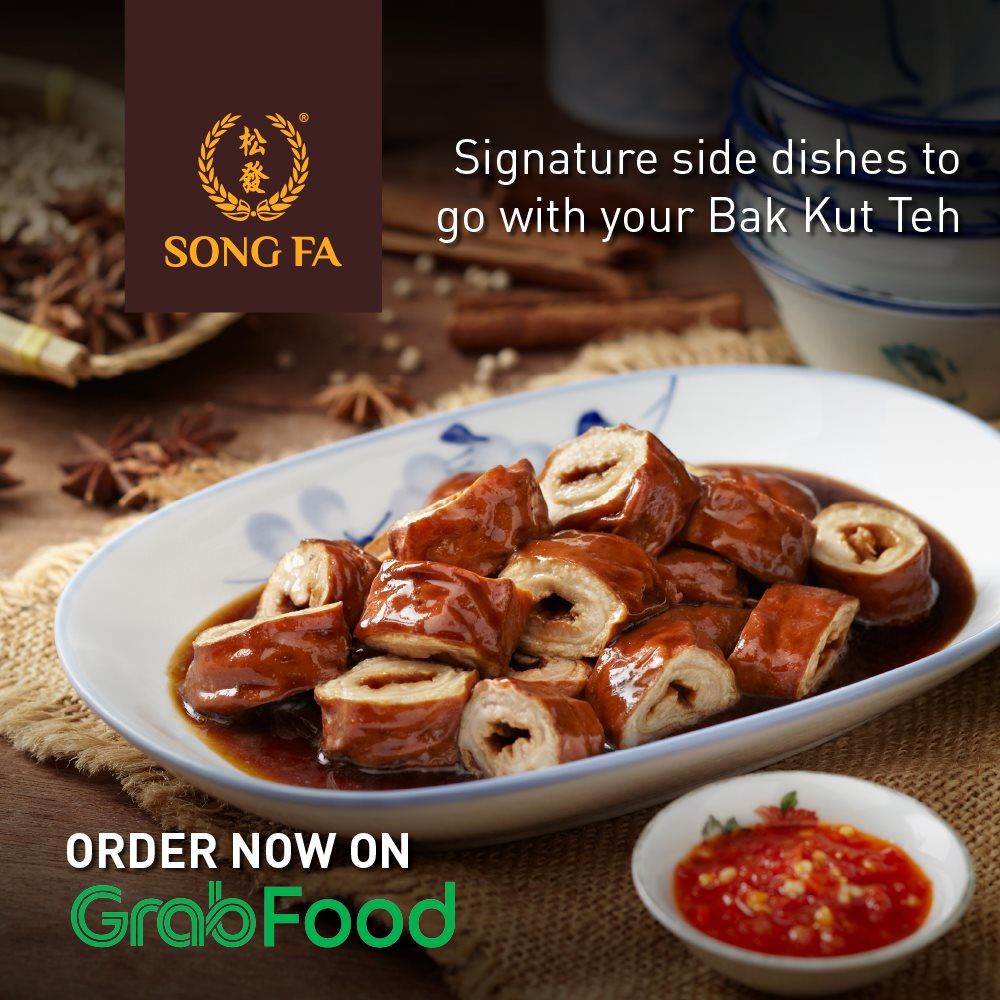 Braised Egg – One of the popular side dishes in Chinese cuisine. It is a hard-boiled egg simmered in a luscious sauce. This braised egg is an excellent source of protein and is packed with essential nutrients, providing nutritional benefits.
Song Fa Bak Kut Teh Menu Side Dishes 
Side dishes consist of classic and homemade favorite dishes. It serves vegetables, groundnuts, spicy pork belly, ngoh hiang, dough fritters, and mee sua. These dishes have an authentic and distinctive flavor, prepared using homemade sauces and special cooking methods.
Salted Vegetable – Made with preserved vegetables, this salted vegetable is stewed and seasoned expertly. It has a perfect balance of salty taste and crunchy texture. Enjoy it with a cup of rice and your favorite soup or braised dish for a complete meal.
Dough Fritters – These fried dough fritters are remarkable for their crispiness on the outside and fluffiness on the side. You can enjoy it as an appetizer, a side dish, or a topping to a noodle dish, such as mee sua.
Cai Xin – Cai Xin is a leafy vegetable typically used as an ingredient in various Chinese dishes. It is cooked in Song Fa's special sauce that balances its earthy taste. This vegetable has a thick stem that makes it juicy and is an excellent source of essential vitamins, fiber, antioxidants, and other nutrients.
Tea Selection
The tea served by Song Fa Bak Kut Teh includes Aged Puer, Bu Zhi Xiang, Jasmine, King's Garden Tea, Osmanthus Oolong, Tie Guanyin, and Xiang Ji Ji. These freshly brewed tea selections will complete your dining experience here at Song Fa. It is rich in antioxidants and other minerals, providing many amazing health benefits.
Song Fa Bak Kut Teh Menu Delivery
Conveniently have your favorite dishes from Song Fa Bak Kut Teh delivered straight to your doorstep! Simply choose your preferred delivery platform – FoodPanda, GrabFood, or Deliveroo – and place your order with ease. Indulge in the mouthwatering flavors of Song Fa Bak Kut Teh without the hassle of leaving your home. So go ahead, satisfy your cravings and let the reliable delivery services bring the delectable goodness of Song Fa Bak Kut Teh right to you. It's an easy and convenient way to enjoy a delightful meal!
Social Media Pages
Looking to satisfy your craving for a hearty bowl of Bak Kut Teh? Stay in the loop with all the mouthwatering updates from Song Fa Bak Kut Teh by following their social media pages. Discover their delectable menu offerings, get the inside scoop on exclusive promotions, and catch fascinating glimpses behind the scenes of their renowned heritage. By staying connected through social media, you'll always be in the know and ready to indulge in the flavorful world of Song Fa Bak Kut Teh.
Facebook: https://www.facebook.com/songfabkt
Instagram: https://www.instagram.com/songfabkt
Website: https://songfa.com.sg/pages/outlets
FAQs
What is Song Fa Bak Kut Teh known for?
Song Fa Bak Kut Teh is known for its pork rib soup dishes.
Where is Song Fa Restaurant located in Singapore?
Song Fa Restaurant Singapore has outlets in the following locations:
Chinatown Point, #01-04, Singapore 059413
Clarke Quay, 11 New Bridge Road, #01-01
Clarke Quay, 17 New Bridge Road, #01-01
ESR BizPark @ Chnagi #01-38, North Tower Office, 6 Changi Business Park Ave 1, Singapore 486017
HarbourFront Centre, #02-29/30, 176 Orchard Road, Singapore 099253
Jem #B1-09, 50 Jurong Gateway Road, Singapore 608549
Jewel Changi Airport, #b2-278/279/280, 78 Airport Boulevard, Singapore 819666
Northpoint City #B1 -48, 930 Yishun Ave 2, Singapore 769098
Suntec City, #b1-132, Fountain Court 3 Temasek Boulevard Singapore 038983
The Centerpoint, #02-29/30, 176 Orchard Road Singapore, 238843
The Seletar Mall #01-39/40/41, 33 Sengkang West Avenue, Singapore 797653
Velocity @ Novena Square #01-56/57/58, 238 Thomson Road, Singapore 307683
Waterway Point, #01-24, 83 Punggol Central Singapore 828761
Waterway Point, #01-24, (West Wing), 83 Punggol Central Singapore 828761
Are there any signature dishes or must-try items at Song Fa Restaurant?
Yes, the soups offered by Song Fa are its signature and must-try dishes.
Is Song Fa Bak Kut Teh halal certified?
No, it is not a halal-certified restaurant, as most of its dishes are made with pork.
Conclusion
The Song Fa Bak Kut Teh menu is known for its soup dishe, especially pork ribs soup. This place gets crowded during peak hours as it is one of the popular dining places in Singapore. Customers commend the friendliness of its staff, which makes them feel at home. It also offers retail products you can bring to your home and enjoy with your loved ones at any time.