The Meat N Chill menu is inspired by American cuisine. The steak and ribs of this restaurant are considered the meanest in town as they are expertly flame-grilled and served with homemade sauces. It also serves appetizers, snacks, platters, salads, main dishes, burgers, sandwiches, pasta, homemade desserts, and drinks. This dining place also provides a venue and food for corporate or private events. 
You can find the updated pricing information for the Meat N Chill menu below.
MENU
PRICE (SGD)

Appetizers

Bro Bruce Quesadilla
$9.00
Buffalo Wings
$10.00
Garlic Bread
$5.00
Garlic n' White Wine Baked Mussels
$14.00
Grilled Beef Cubes
$23.10
Smoked Oyster
$18.00
Soup of the Day
$6.00
Soy Garlic Wings
$10.00

Snackers

Bacon Spam
$9.00
Black Pepper Spam
$9.00
Cajun Fries
$6.00
Calamari Rings
$12.00
Chili Cheese Fries
$8.00
Golden Nuggets
$9.00
Hot n' Spicy Spam
$9.00
Original Fries
$6.00
Original Spam
$9.00
Spicy Popcorn Chicken
$9.00
Truffle fries
$8.00

Sharing Platters

All Day Brunch Platter
$111.00
Family Platter
$105.00
Meat n' Seafood Platter
$29.00
Tortilla Set
$26.00

Greens

Carne Asada Salad
$18.00
Cobb's Salad
$15.00
Grilled Chicken Salad
$12.00

Mains

Bone-In Iberian Pork Chop
$48.00
Cajun Fried Chicken
$18.90
Crispy Skin Grilled Salmon
$22.00
Flemish Beef Stew
$25.00
Lamb Ribs
$32.00
Shira Cognac Beef Short Ribs
$42.00
Texas Style Beef Back Ribs
$32.00

Pork ribs

Signature
Bourbon
$26.00
Hickory
$26.00
Honey Mustard
$26.00
Original
$26.00
Spicy
$26.00
Exotic
Caribbean
$27.50
Journey to the Yeast
$27.50
International
Alabama White Sauce
$26.50
Golden Carolina BBQ
$26.50
Jalapeno Mustard
$26.50
Old God Mother
$26.50
The Spicy #YOLO Challenge
Live Free or Die Hard
$38.50
On Cloud Nine
$31.50
Walk in the Park
$27.50

Flame-Grilled Steaks

Angus Ribeye (250g)
$45.00
Grain-fed Flat Iron (250g)
$31.00
Grass-fed Ribeye (250g)
$39.00
New York Strip (250g)
$22.50
New York Striploin (500g)
$39.00

Burgers n' Sandwiches

Angus Cheese Burger
$22.00
Cubano Sandwich
$17.00
Philly Cheesesteak Sandwich
$23.00
Three Little Pigs Burger
$18.00
Wagyu Burger
$26.00

Pastas

Bro Bruce Beef Bolognese
$24.00
Carbonara
$21.90
Chorizo Mac n' Cheese
$23.00
Flaming Beef Spaghetti
$19.00
Marinara
$28.00
Mum's Mac n' Cheese
$21.90
Prawn Aglio Olio
$21.90
Toowomba
$25.00
Truffle Mac n' Cheese
$26.50

Homemade Desserts

Affogato
$6.00
Apple Blueberry Cobbler
$9.00
Belgian Waffles n' Ice Cream
$9.00
Homemade Fudgy Brownie
$9.00
New York Cheesecake
$9.00
Drinks Menu

Specialty Coffee

Americano (Hot)
$4.00
Americano (Iced)
$4.00
Cappucino (Hot)
$5.00
Cappucino (Iced)
$5.00
Double Espresso
$4.50
Espresso (Hot)
$3.50
Latte (Hot)
$5.50
Latte (Iced)
$5.50
Mocha (Hot)
$6.00
Mocha (Iced)
$6.00

Soft Drinks

Coke (Can)
$3.50
Coke Light (Can)
$3.50
Coke Zero (Can)
$3.50
Green Tea (Can)
$3.50
Root Beer (Can)
$3.50
Soda Water (Can)
$3.50
Sprite (Can)
$3.50

Smoothies

Banana-na-na-na-na
$10.00
Merry Mango
$10.00
Strawberry Sparkles
$10.00

Milkshakes

Chocolate Factory
$9.90
Lotus Biscoff
$12.00
Oreo Madness
$9.90
Vanilla Bean
$9.90

Sparkling Teas

Lychee
$7.50
Passionfruit
$7.50
Strawberry
$7.50

Floats

Coke
Root Beer
$5.50

Juice

Apple
$6.00
Mango
$6.00
Orange
$6.00

Gourmet Teas

Chamomile Dream
Lemon Ginger Mint
Marrakesh Mint

Japanese Teas

Earl Grey
$6.90
Koku Yuzu Kukicha
$6.90
Kyo Breakfast
$6.90
Melona Manpuku
$6.90
Milky Popcorn
$6.90
Momotaro
$6.90
Ume Ume
$6.90
Xoxolat Hojicha
$6.90

On Tap

Hofbrau Muncheon (Half)
Hofbrau Muncheon (Pint)
Original Lager (Half)
Original Lager (Pint)

Bottles

Big Wave Golden American Blonde Ale
$12.00
Kono Longboard American Pale Lager
$12.00

Sparkling Wines

Madfish (Bottle)
$65.00
Montelvini Prosecco (Bottle)
$68.00

Rose Wine

Whispering Angel (Bottle)
$83.00

Red Wine

Avignonesi Toscana Rosso (Bottle)
$73.00
Avignonesi Toscana Rosso (Glass)
Chateau Larose-Trintaudon (Bottle)
$130.00
Dromos (Bottle)
$190.00
Round Hill (Bottle)
$80.00
Terrazas de los Andes (Bottle)
$73.00
Terrazas de los Andes (Glass)
The Stump Jump (Bottle)
$80.00
Villa Wolf (Bottle)
$73.00
Villa Wolf (Glass)

White Wines

Dr. Loosen Qualitatswein (Bottle)
$84.00
Howard Park Bottle
$99.00
Las Condes Bottle
$63.00
Yvon Mau (Bottle)
$67.00

Scotch Whiskey, Bourbon, & Cognac

Chivas 12 (Bottle)
Chivas 12 (Shot)
Glenfiddich 12 (Bottle)
Glenfiddich 12 (Shot)
Jim Beam (Bottle)
Jim Beam (Shot)
Remy VSOP (Bottle)
Remy VSOP (Shot)

Gin & Vodka

Absolut (Shot)
Roku (Shot)

Aperitif

Cinzano Bianco (Shot)
Cinzano Bianco Vermouth (Shot)
Cinzano Extra Dry (Shot)
About Meat N Chill 
Meat N Chill is a restaurant in Singapore specializing in ribs and steaks. The management aims to make this restaurant the prime place where people can enjoy their favorite comfort foods and bring its customers to a fun dining adventure. Its Kitchen is headed by Chef Bruce, who is dedicated to creating extraordinary dishes by spending countless hours experimenting with different recipes. 
Meat N Chill Menu Best Seller 
Meat N Chill is known for its American-style cuisine with a delicious twist. The best sellers of this restaurant are well-loved by its diners as these cuisines are made with a special blend of ingredients and spices, an excellent cooking process, and satisfying goodness. 
Honey Mustard Ribs – Considered one of the meanest and lip-smacking ribs in town, these honey mustard-flavored ribs will satisfy your cravings. These ribs are marinated in a unique blend of spices for more than twenty-four hours to make the meat tender and flavorful. 
Angus Ribeye – A tender, juicy, and smoky steak flame-grilled expertly. It is made with 150-day barley-finished beef, making its taste extraordinary. The special flame-grilling technique used by Chef Bruce and his team in preparing this dish makes it luscious. Its intricate marbling gives this steak a buttery, rich, and distinctive flavor. 
Bro Bruce Quesadilla – Filled with generous portions of melted cheddar and pulled pork, this Bro Bruce quesadilla is a delicious appetizer you should not miss out on. The softness of the tortilla, mouth-watering taste combination, and ranch dipping sauce goes well perfectly. 
Apple Blueberry Cobbler – Blueberries, juicy granny smith apples, and spices are stewed to create this sweet apple blueberry cobbler. A homemade crumble and a scoop of creamy vanilla ice cream are laid on its top to make it more flavorful. 
Flaming Beef Spaghetti – The secret recipe for tomato sauce makes this spaghetti different from the ordinary one. Its tangy and sweet flavor, al dente pasta, and aromatic beef sauce perfectly create a delicious fusion.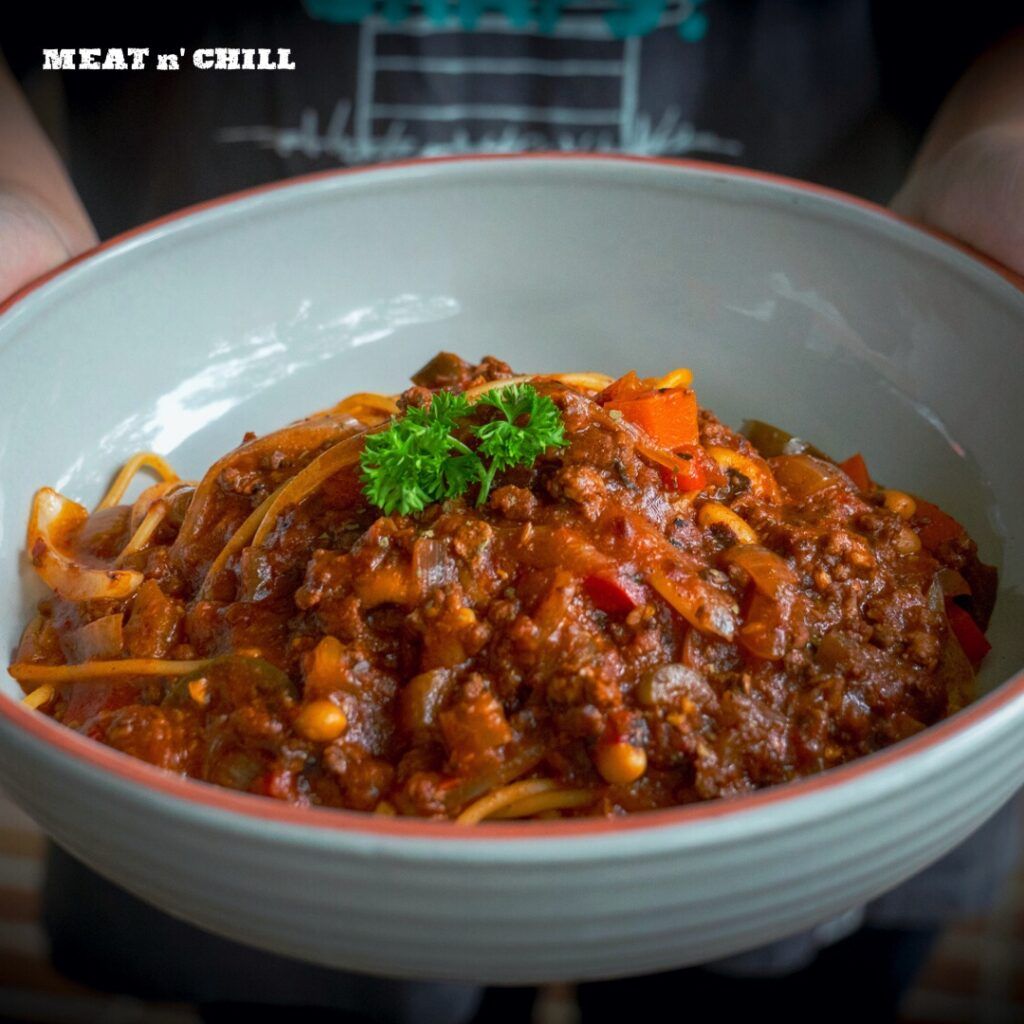 Meat N Chill Menu Appetizers
Stimulate your appetite with these heartwarming and flavorsome appetizers expertly prepared by its talented chefs. The appetizers of Meat N Chill consist of soup, garlic bread, wings, quesadilla, baked mussels, and beef cubes. 
Soy Garlic Wings – Drench in a special mixture of soy garlic sauce, these juicy and flavorsome wings will boost your appetite. It is well-seasoned and has a nice crispy texture, making every bite pleasurable. 
Garlic n' White Wine Baked Mussels – Springy mussels are cooked with garlic and baked in a sweet white wine. This light dish with a briny and sweet finish and delicious flavor can make your meal extra special. The stimulating aroma and appearance of this dish will excite your senses.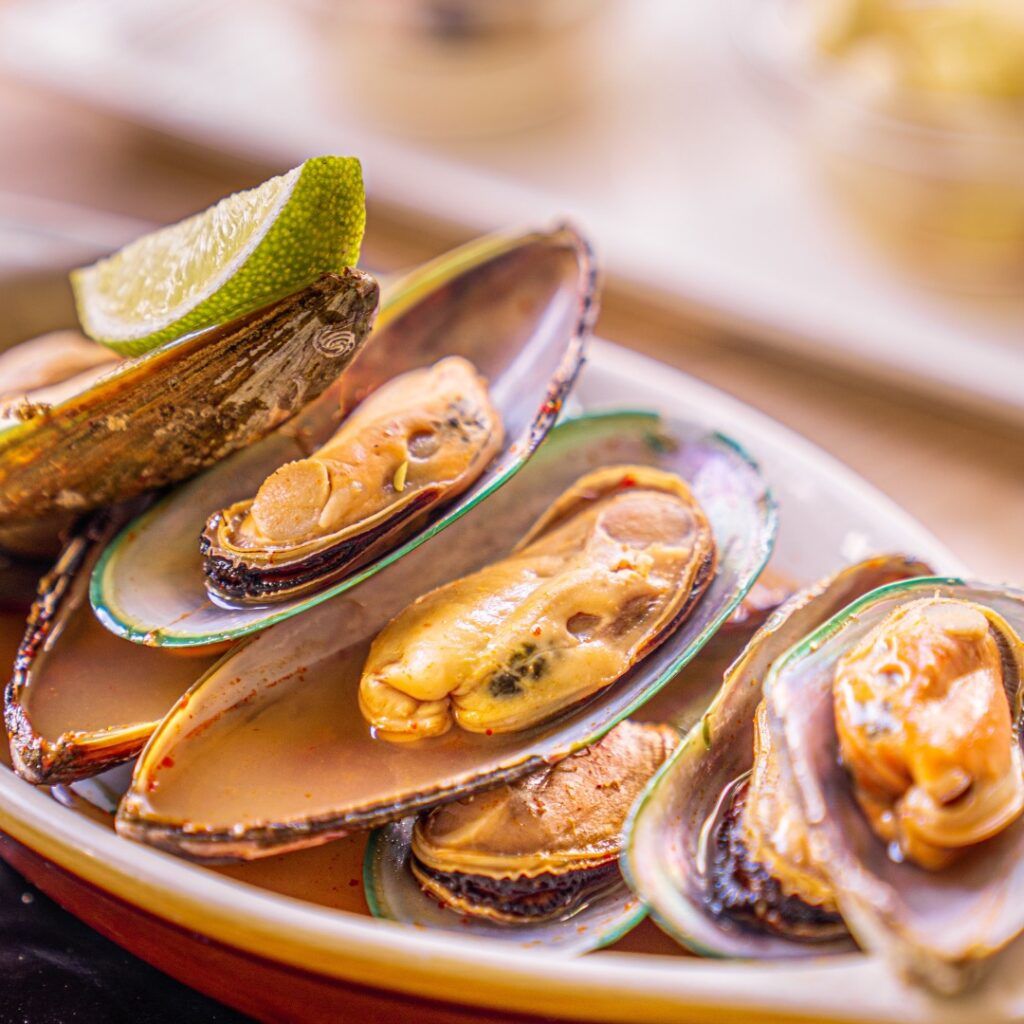 Grilled Beef Cubes – It is made up of grilled beef cubes doused in special spices and served with a slice of lemon. Each serving consists of 180 grams of grilled beef cubes. The marinade is evenly distributed throughout the beef to achieve its tender and juicy texture. 
Meat N Chill Menu Snackers 
The snacks of Meat N Chill consist of classic food items served in most restaurants and are loved by people of all ages. It includes fries, spam, popcorn chicken, nuggets, and calamari rings. 
Spicy Popcorn Chicken – The spicy goodness and satisfying crunch in every bite of this spicy popcorn chicken will make you love this dish. This bite-sized snack has crispy skin, tender meat, and a nostalgic taste. 
Original Spam – Spam is a brand of luncheon meat known in different parts of the world. This original spam is cut into slices, fried, and served with a dipping sauce. The salty flavor of luncheon meat and the delicious taste of sauce complements well together. 
Chili Cheese Fries – Fried to a perfect crisp, these chili cheese fries will capture your attention. These fries are topped with melted cheese, chili powder, and minced beef to enhance their flavor. The wonderful fusion of chili and cheese flavor of these fries makes this one of the crowd's most-sought snacks.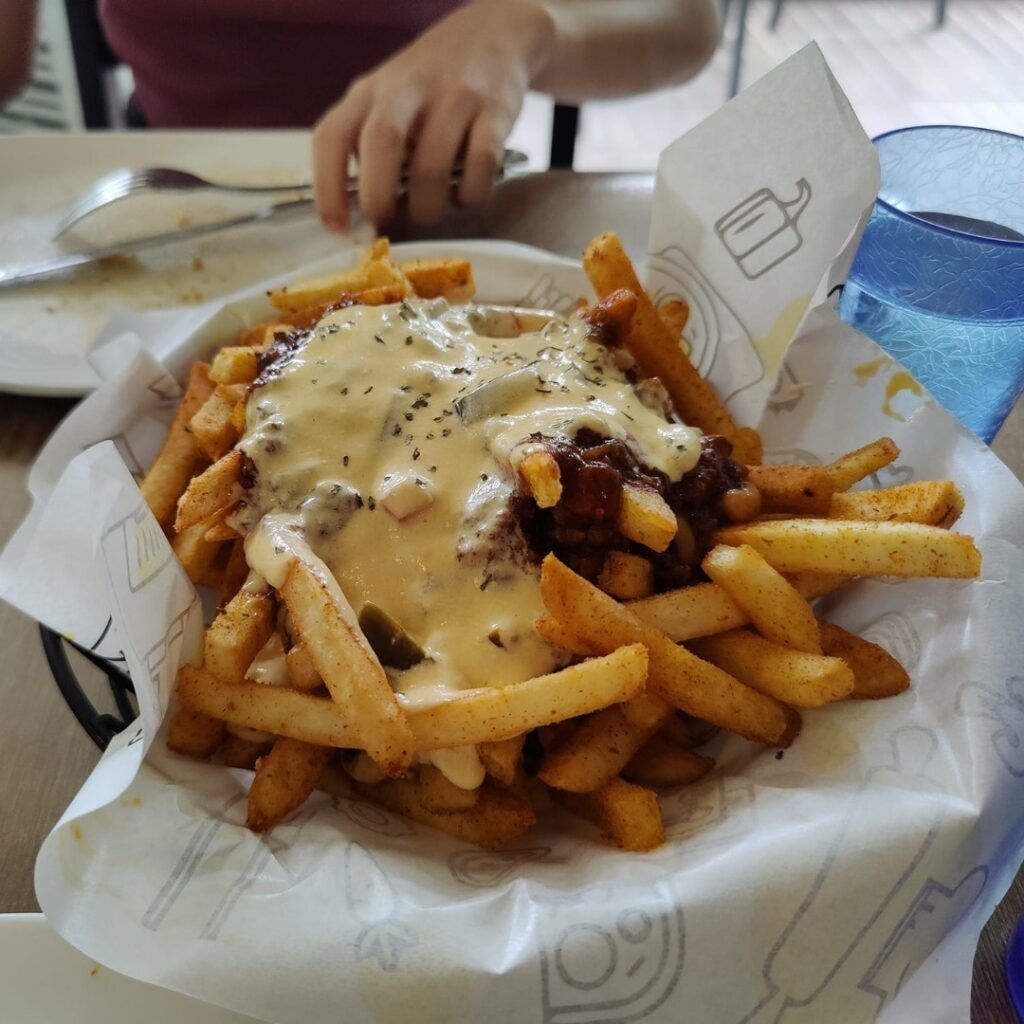 Mains 
The mains menu of Meat N Chill include pork chop, fried chicken, lamb ribs, and pork ribs served with your two preferred side meals. Side dishes include buttered corn, pickled celery, green salad, cornbread, cajun rice, mashed potatoes, coleslaw, and straight-cut fries. 
Cajun Fried Chicken – This cajun fried chicken is known for its juiciness, tenderness, and crispy goodness. It is made with chicken marinated for over 7 hours, coated with special batter, and fried until golden brown. The special sauce garnished on it enhances its taste and plating presentation making this chicken finger-licking. 
Crispy Skin Grilled Salmon – Diners love this dish as it contains many health benefits, rich flavor, and crispy skin. The Tobiko Cream sauce is topped on it to enhance its flavor and texture. This nourishing and comforting dish will give you an exciting dining experience. 
Shira Cognac Beef Short Ribs – It is made with USDA Prime Beef with a tender texture and fall-off-the-bone meat. The delicious fusion of Shiraz and XO sauce coats every cranny and nook of the beef, leaving diners fully satisfied. These beef short ribs are expertly prepared to achieve melt-in-your-mouth goodness.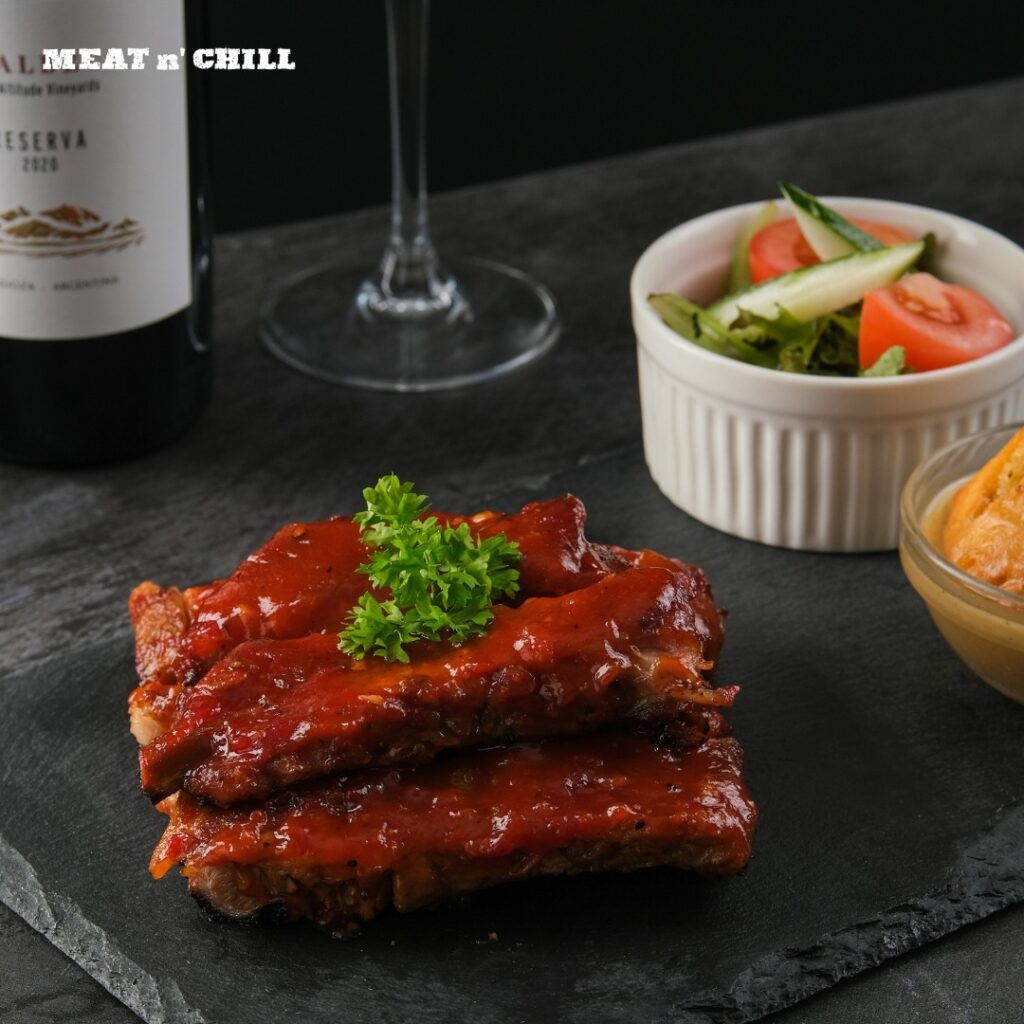 Greens 
The greens offered by Meat N Chill are composed of different salad dishes. It serves Cobb's Salad made with chopped chicken breast, lettuce, bacon, cheddar, tomatoes, apple, hard-boiled egg, and feta cheese; Carne Asada Salad which consists of thinly sliced steak, mixed greens, and homemade dressing; and Grilled Chicken Salad that includes slices of grilled chicken, mixed mesclun greens, tomatoes, and cucumber. These greens are perfect for those who want a nutritious and delicious meal. 
Burgers and Sandwiches 
This restaurant's burgers include Angus Cheese Burger, Three Little Pigs Burger, and Wagyu Burger, while its sandwiches consist of Cubano and Philly Cheesesteak. Three Little Pigs burger is highly recommended by its chefs. It comprises spam, bacon, pulled pork, chopped lettuce, gherkin, and sliced cheddar. In terms of sandwiches, Cubano is the chef's recommendation. It is made with grilled bread filled with tender pulled pork, ham, gherkin, and melted cheddar. These burgers and sandwiches are served with golden fries and coleslaw. 
Meat N Chill Menu Delivery 
Meat N Chill offers delivery services through GrabFood, FoodPanda, and Deliveroo. You can also visit its website at http://www.meatnchill.com and click the "order delivery" button. 
Social Media Pages
Experience the ultimate meat lover's paradise at Meat n' Chill! Follow their social media pages for a sizzling feast of juicy grilled meats, savory sides, and delectable comfort food. Stay updated on their latest menu offerings, exclusive promotions, and special events.
Facebook: https://www.facebook.com/meatnchill
Instagram: https://www.instagram.com/meatnchill/
Email: [email protected]
FAQs
Where is Meat n Chill located in Singapore? 
Meat n Chill is located at 805 Bukit Timah Road, 6th Avenue Centre #01-04, Singapore 279883. 
What types of meat dishes are available at Meat n Chill? 
The types of meat dishes available at Meat n Chill are steaks, ribs, chicken, beef, lamb, luncheon meat, and pork chop. 
Are there vegetarian or vegan options available at Meat n Chill? 
There are no vegetarian or vegan options available at Meat n Chill. 
Is Meat n Chill halal certified? 
Meat n Chill is not a halal-certified restaurant in Singapore. 
Conclusion
The Meat n Chill menu is known for its luscious steaks and pork ribs. Its dishes have a unique flavor, and the head chef is committed to serving diners comforting, finger-licking, and nourishing food. It has a relaxing and beautiful ambiance making it a perfect place for social gatherings such as bonding with family, date nights, and hanging out with friends or colleagues. The selection of its dishes will excite you and make you look forward to your next visit or order.