One of the most renowned cuisines in the world is Spanish cuisine. If you are looking for a nice place where you can enjoy a delicious meal specifically Spanish cuisine, then you can look no more since I have found the perfect restaurant that I am going to introduce to you. The Que Pasa menu has all the most delicious and healthy foods for their customers, this place definitely has good chefs since the foods are fabulous and well presented. Are you interested in this restaurant? If yes then stay with me here in this article and let's get to know Que Pasa, a restaurant that serves Spanish cuisine.
You can find the updated pricing information for the Que Pasa menu below.
MENU
PRICE (SGD)

Cold tapas

White tuna belly
$32.08
Duck rillettes
$23.76
Stuffed peppadews with feta cheese
$21.38
Artichokes
$17.82
Antipasto
$13.07
Sliced tomatoes with Extra virgin olive oil
$11.88

Warm tapas

Smoked chicken quesadilla
$24.95
Baked assorted mushrooms
$16.63
Chorizo sausage with tomato coulis
$19.01
Meatballs with tomato sauce
$26.14
Mergues sausage
$19.01
Patatas
$17.82
Beef wrap
$23.76
Anchovy bread
$17.82
Garlic bread
$7.13
Mixed olives
$13.07
Cod liver
$22.57
Spicy pulled beef quesadilla
$26.14
Irish guinness beef stew
$27.32

Snacks

Mini beef burgers
$30.89
Crispy ikan bilis
$16.63
Chicken wings (half portion 6pcs)
$17.82
Chicken wings (full portion 12pcs)
$26.14
Pork belly kakuni
$20.20
Fried chili tofu
$14.26
Spicy O'shells
$23.76
Kold tako
$24.95
Spam chips
$14.26
French fries
$11.88
Potato wedges
$16.63
Fish & chips
$26.14
Bbq ribs
$27.32
Mutton samosa
$21.38
Chicken karaage
$21.38
Ah mah ngoh hiang
$19.01
Hummus dip
$19.01
Kawa ebi karaage
$20.20

Pizzas

Que pasa pizza
$32.08
No.5 pizza
$28.51
Margherita pizza
$22.57
Four cheese pizza
$28.51
Vegetarian pizza
$22.57
Salami & capers pizza
$28.51
Hawaiian pizza
$28.51
Pulled pork pizza
$29.70
Ice cold beer pizza
$29.70

Softdrinks

Ginger ale
$9.50
Coke light
$9.50
Tonic water
$9.50
Redbull carbonated
$10.69
Panna still water 500ml
$10.69
San pelligrino mineral water 500ml
$10.59

Wine

Cantine volpi moscato piemonte DOC 2012
$106.92
Chateau Ste Michelle merlot 2018
$141.37
Greywacke wild sauvignon 2019
$134.24
Taltarni T series Sauvignon blanc 2019
$122.36
About Que Pasa
Que Pasa is established in 1995, the restaurant's name means "What's happening?" If we are going to translate it into English. This restaurant is a classic style of Spanish bar that serves wines and Spanish snacks. Que Pasa is actually one of the longest-running wine bars in Singapore. Under the same management since they open their business Que Pasa has established its name and a reputation to be a place that offers authentic tapas and wine for their local and tourist clients. Their restaurant was built into an old but restored colonial-era house, it has that old-style wine bar atmosphere on it and it added to the beauty of the restaurant itself.
Que Pasa has hundreds of fine wines from all over the world and together with the wine is their also authentic selection of tapas plates. They also have brandy, plus sherries, sangria punches, and Havana cigars. Every month Que Pasa promotes its wine of the month and offers a special glass or bottle offer. You may refer to their Facebook page to be truly updated on their latest promotion and monthly discounts. Que Pasa is a true Spanish-style bar that gives you an authentic experience once you tried their products.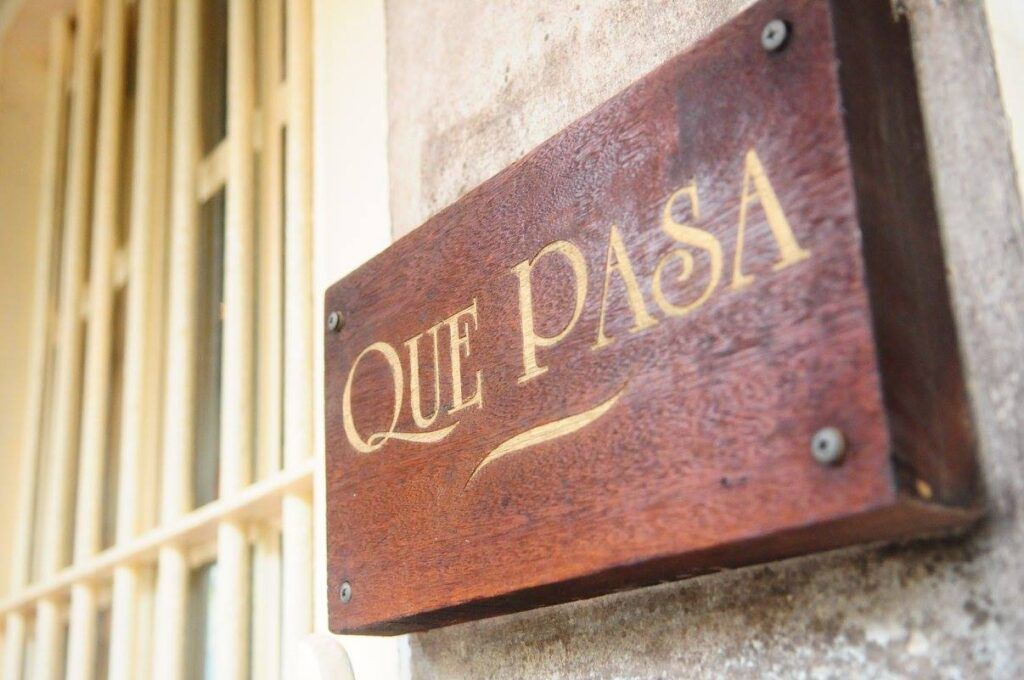 Que Pasa Menu Best Seller
Here are some of Que Pasa's best sellers according to their customers and research.
No. 5 Pizza – This is surprisingly good. Their No. 5 pizza is made with a thin crust base with a crispy but not hard texture. It is topped with thin slices of parma ham and fresh rocket. It has the right amount of saltiness that you are looking for in a pizza and when it comes to the taste this one is really delicious.
Huevos Estrellados Con Jamon – This is a dish that is made with iberico ham bellota paleta and eggs on a bed of fries. You have to mash up the egg and ham to go with the fries and that's the way to enjoy this dish. This simple dish is a comfort food after a stressful day. The taste is just right and it's not even salty or hot, I like this better with a bottle of wine or beer.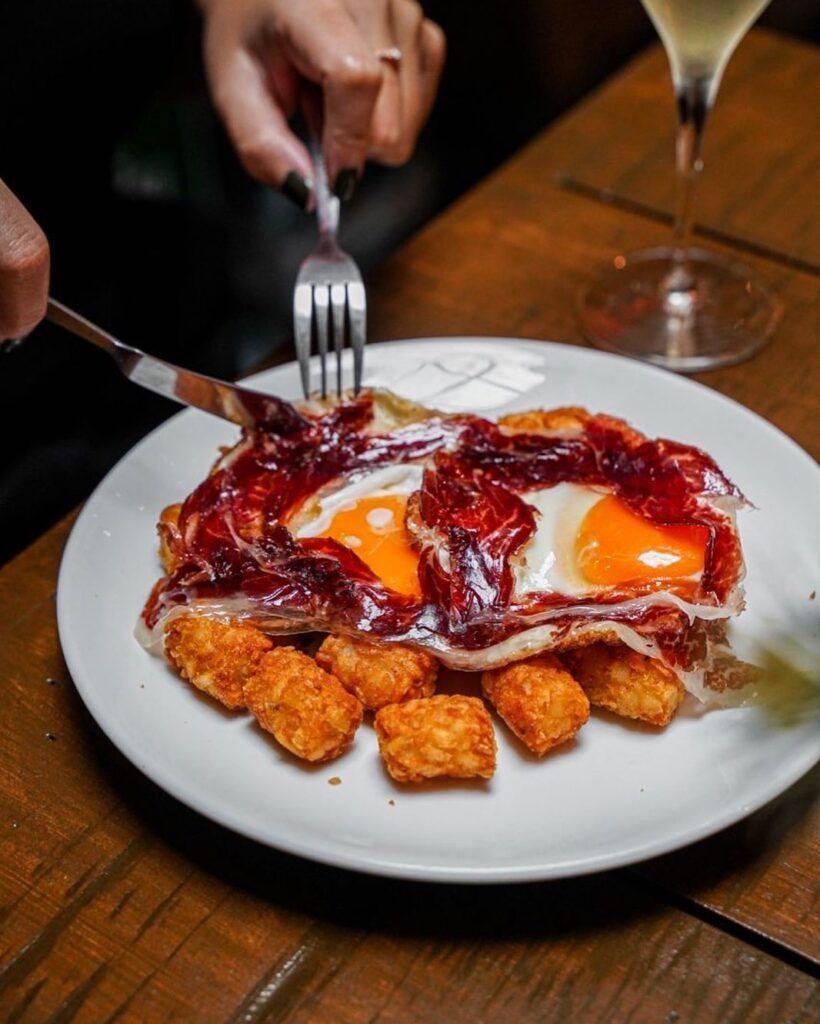 Mini Burgers – Usually ordered with customers accompanied by their kids their mini burger is the best thing to order on their menu to make your kids quiet and busy. Made with a mini soft bun and beefy burger patties their mini burgers are served with 3 mini burgers, french fries, and dipping sauce.
Que Pasa Menu Cold Tapas
The cold tapas menu of this restaurant consists of 6 delicious dishes. First on the list is their white tuna belly which is also served with slices of bread, next is their duck rillettes which is also served with slices of bread. They also have stuffed peppadews with feta cheese. Artichokes and antipasto are also included on their cold tapa list menu. And lastly their sliced tomatoes with extra virgin olive oil. 
Que Pasa Menu Warm Tapas
On their warm tapas menu, they have 13 items. First on the list is their smoked chicken quesadilla, baked assorted mushrooms, and chorizo sausage with tomato coulis are also great choices and also included on their warm tapas menu. Meatballs with tomato sauce and mergues sausage for different options and potatoes if you don't want any meat. The beef wrap is one of the best on this menu which I really like. They also have anchovy bread and garlic bread. Mixed olives, Cod liver, and a spicy pulled beef quesadilla are one of the most favorite as well as Irish Guinness beef stew.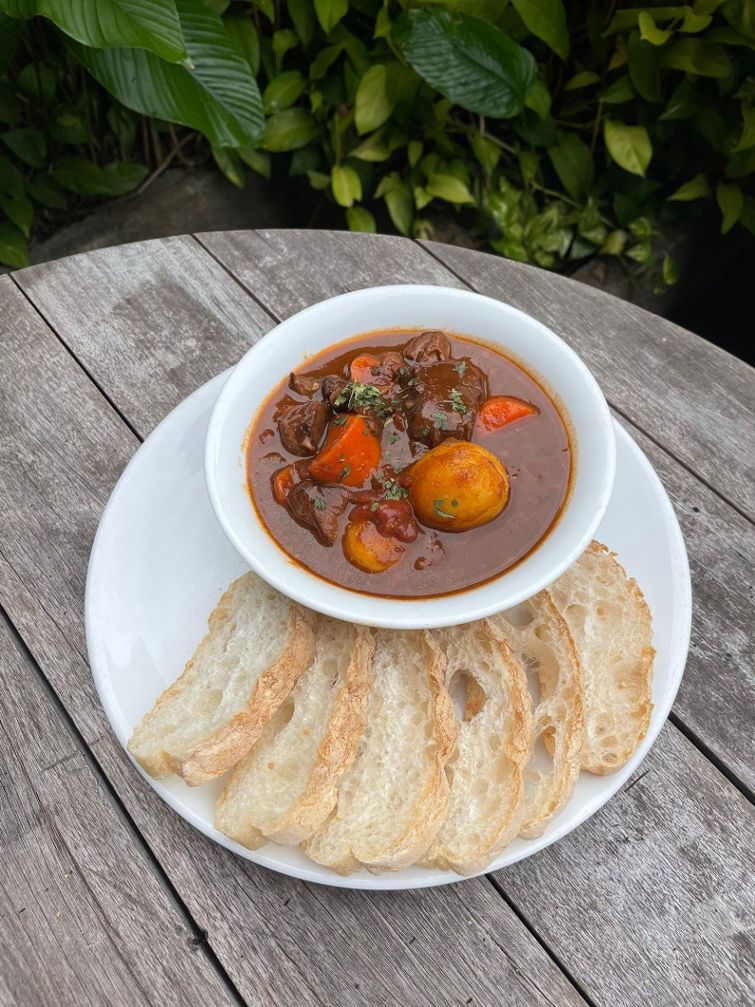 Que Pasa Pizza Menu
Que pasa serves different kinds of pizza. They have their que pasa pizza which is their Signature pizza. Their No. 5 pizza is also included in the best-selling list. Margherita pizza if you want to keep classic, 4 Cheese pizza if you're a cheese lover, Vegetarian pizza for vegetarian customers, Salami and Capers pizza, and Hawaiian pizza for clueless customers who don't know which to order. Pull Pork Pizza which is a really meaty pizza and their Ice-cold Beer pizza.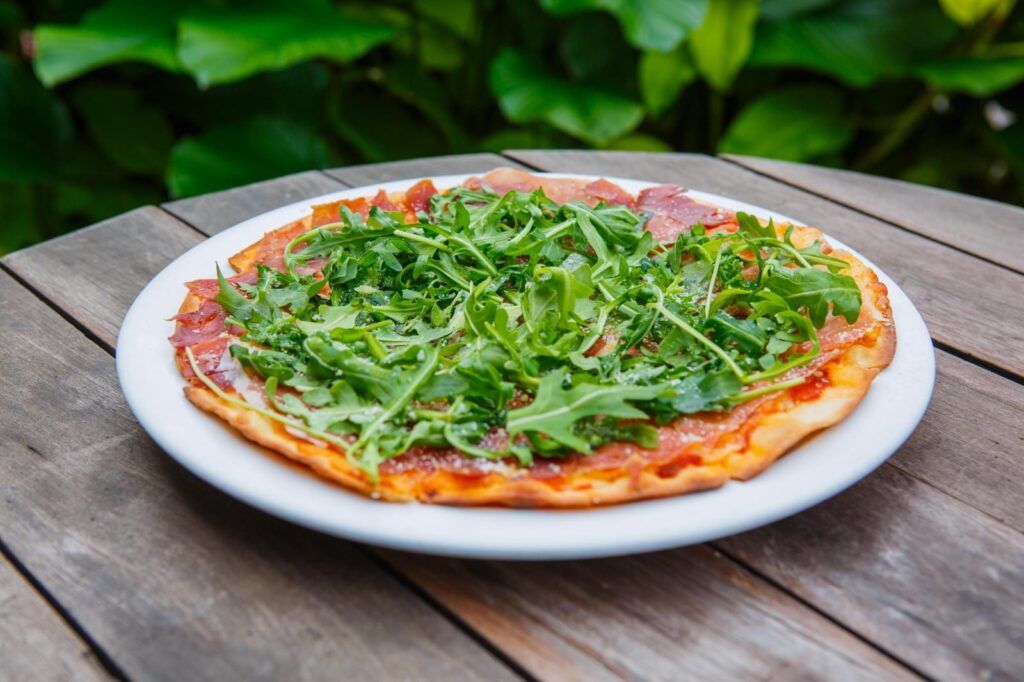 Que Pasa Menu Delivery
Ordering a menu from Que Pasa is easy and convenient. You have two options to choose from. First, you can visit their website at https://quepasasg.oddle.me/ where you can browse their menu and place your order directly. The website is user-friendly, making it simple to navigate and select your desired items.
Alternatively, if you prefer using food delivery services, you can rely on popular platforms such as Food Panda, Deliveroo, and other available services in your area. Simply select your preferred delivery service, search for Que Pasa, and place your order through their platform. This way, you can enjoy the convenience of having your favorite dishes delivered to your doorstep hassle-free.
Que Pasa ensures a smooth and efficient ordering experience, whether you choose to order through their website or via a food delivery service. They prioritize customer satisfaction and strive to provide high-quality service from start to finish.
Social Media Pages
Craving authentic Mexican cuisine? Look no further than Que Pasa! Follow our social media pages to stay updated on our latest menu offerings, events, and promotions. Plus, feel free to message us for more information or to place an order. We can't wait to spice up your day!
Facebook: https://www.facebook.com/quepasasingapore
Instagram: https://www.instagram.com/quepasasg/
Website: https://quepasa.com.sg/contact/
FAQs
Is Que Pasa Singapore a Halal restaurant?
The answer is No. Que Pasa is not a halal restaurant because they are serving alcoholic beverages and pork dishes so we cannot consider them as a halal restaurant.
Is Que Pasa Singapore kid-friendly?
Que Pasa is a wine bar tapas restaurant and we all know that kids are not allowed to drink alcoholic beverages unless they are 21 however Que Pasa's menu has a lot of non-alcoholic beverages as well as delicious foods to serve so que pasa for me is a kid-friendly restaurant.
What is the dress code for Que Pasa Singapore?
Que Pasa is a casual dining restaurant however I highly recommend you wear smart casual clothes when dining.
Conclusion
Que Pasa is one of the best places to go if you love classy Spanish tapas. Their bar is located in Emerald Hill which is easy to locate. They have different selections of delicious foods and wine. Their place has a great ambiance and is very lively a great place for a night out with friends. Que Pasa's menu has a lot of delicious and classic food to offer. Great place that gives value to money. They also serve generous portions of food with great quality. The vibe of the restaurant is surprisingly okay and we love it. I highly recommendable this restaurant to anyone who loves great food and wines.