Racines serves a diverse menu that features French, Chinese, and local Singaporean cuisine. The restaurant's chefs aim to create dishes that showcase the rich culinary heritage of Singapore and its neighboring countries. The menu at Racines is divided into several categories, including Appetizers, Soups, Salads, Seafood, Poultry, Meat, Noodles, and Rice. Racines also offers a variety of set menus, including a four-course lunch set, a six-course dinner set, and a Sunday Champagne Brunch set that features free-flowing champagne, wine, and beer.
You can find the updated pricing information for the Racines menu below.
MENU
PRICE (SGD)

Appetizer

Ngoh Hiang
$18.00
Popiah
$18.00
Chicken Satay
$18.00
Country Pate
$28.00
Burratina
$34.00
Garden Salad
$26.00
Caesar Salad
$26.00

Soup

French Onion Soup
$28.00
Double Boiled Soup
$26.00

Main Course

Artichoke Ravioli
$48.00
Saint Jacques
$52.00
Presa Iberica
$54.00
Seabass
$48.00
Steak Frites
$62.00
Black Cod
$48.00
Singapore Laksa
$34.00
Hokkien Mee
$38.00
Prawn Noodles
$38.00
Crab Meat Fried
$28.00
Chicken Rice
$28.00

Side Dish

French Fries
$12.00
Mashed Potatoes
$12.00
Truffle Fries
$14.00
Work-fried Broccoli
$15.00

Desserts

"Tea"ramisu
$22.00
Paviova
$22.00
Mango Sticky Rice
$20.00
Cendol
$20.00
Fraisier
$20.00
Moelleux
$22.00
Cheese Platter
$28.00
Ice Cream
$12.00
Sorbet
$12.00

Sunday Brunch

Sunday Brunch(for adult & child)
$108.00/$54.00
Add-Ons
$60.00
About Racines
Racines is a restaurant located in the heart of the central business district in Singapore, specifically at the Sofitel Singapore City Centre hotel that offers a unique dining experience that combines the best of French and Chinese cuisine, with a focus on using fresh and high-quality ingredients to create memorable dishes. The restaurant also has a lively open kitchen concept, where diners can watch as their meals are prepared by skilled chefs, and a private dining room that can be reserved for special occasions or business meetings
Racines Menu Best Seller
This menu is made up of the different variety of dishes that are ordered by most customers that visit Racines.
Singapore Laksa – This traditional Singaporean dish is a must-try at Racines with a broth that is rich and flavorful and has a nice balance with the coconut milk, spices, and herbs. The dish is topped with prawns, fish cakes, and tofu, which adds a great depth of flavor and texture.
Crab Meat Fried – This dish is a great fusion of Chinese and Singaporean flavors with rice that was cooked perfectly and has a nice aroma from the crab meat. It is a healthy and delicious dish as it is composed of crab meat and vegetable.
Chicken Rice – The chicken in this dish is tender and juicy with a nice flavor, and the rice is cooked with chicken stock and spices, which gives it a rich and savory taste. The dish is served with a side of chili sauce and ginger paste, which adds a nice kick of spice making it highly recommended for anyone who wants to try a traditional Singaporean dish.
French Fries – The french fries at Racines are a simple and classic side dish that is done perfectly. Racines serve the best fries as it has the right amount of crispiness on the outer texture while maintaining their soft insides.
Caesar Salad – This salad is made with fresh romaine lettuce, croutons, parmesan cheese, and a classic Caesar dressing which makes it a great option for those who want a healthy and light dish.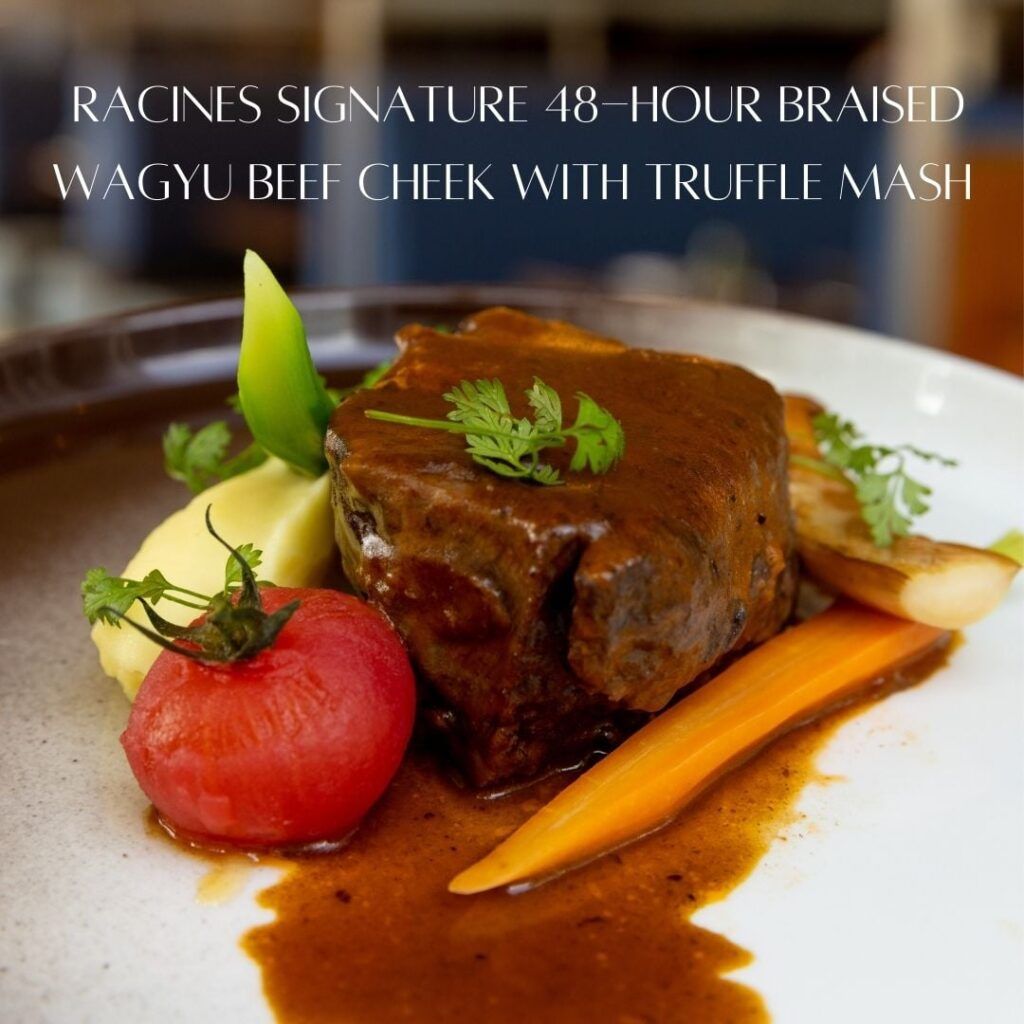 Racines Menu Appetizer
This menu is made up of a different variety of appetizers that are both delicious and above all, budget-friendly.
Ngoh Hiang – This is a popular Hokkien-style dish made with a mix of minced meat, prawns, and vegetables, wrapped in bean curd skin and deep-fried. Racines' version was made crispy on the outside and flavorful on the inside, with a mix of textures that make it a satisfying appetizer.
Popiah – This is a fresh spring roll filled with vegetables and sometimes meat, wrapped in a thin crepe-like skin. Racines' popiah is a refreshing appetizer, with a good balance of flavors and textures. The vegetables used in this dish are fresh and crunchy, while the sauce is flavorful without overpowering the overall taste of the dish.
Chicken Satay – This is a classic Southeast Asian dish of grilled skewered meat, usually served with a peanut dipping sauce. Racines' chicken satay is tender and well-marinated, with a smoky flavor from the grill while the peanut sauce is rich and nutty, with a good balance of sweetness and spiciness.
Racines Menu Main Course
This menu is made up of main dishes that can also be called Racines' specialty for their unique flavors and presentations.
Artichoke Ravioli – This dish features homemade ravioli stuffed with creamy artichoke filling and served with roasted tomato sauce, parmesan cheese, and fresh herbs while the pasta is cooked al dente, and the artichoke filling is rich and flavorful.
Saint Jacques – This dish features perfectly seared Hokkaido scallops served with cauliflower puree, roasted hazelnuts, and a herb emulsion. The scallops in this dish are cooked to perfection and have a sweet and savory flavor while the hazelnuts add a nice texture to it.
Presa Iberica – This dish features succulent Iberico pork shoulder served with grilled green asparagus, confit cherry tomatoes, and roasted garlic puree. The pork is cooked to perfection and has a nice crispy skin on the outside making it a satisfying and filling dish.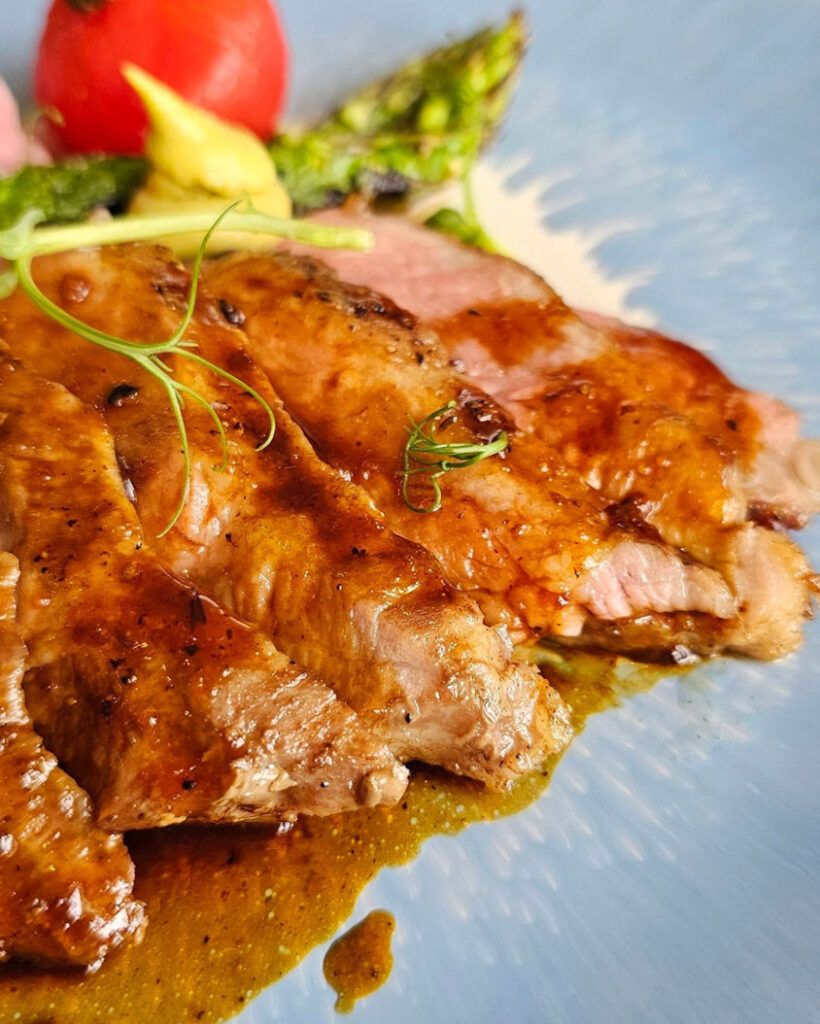 Soup
This menu of Racines is made up of two rich and flavorful soup items that would complete every meal at Racines.
French Onion Soup – This dish is a classic French soup that is normally served as an appetizer that is made from caramelized onions, beef broth, and croutons then completed by melted cheese.
Double-Boiled Soup – This is a traditional Chinese soup-making technique where the soup ingredients are simmered slowly for several hours in a double-boiler pot hence the name, double-boiled soup.
Dessert
This menu provides customers with a variety of sweet treats that are sure to satisfy them. It has something for everyone whether the customers are in the mood for something light to a more fruity and chocolatey dessert.
Sunday Brunch Buffet
From freshly baked pastries to succulent seafood, and artisanal cheeses to handcrafted desserts, Racines' brunch buffet is a feast for the senses. Savor the flavors of international cuisines, accompanied by free-flowing beverages and live cooking stations that add an interactive touch to your dining experience. Immerse yourself in the elegant and inviting ambiance of Racines while enjoying a leisurely Sunday brunch with family and friends.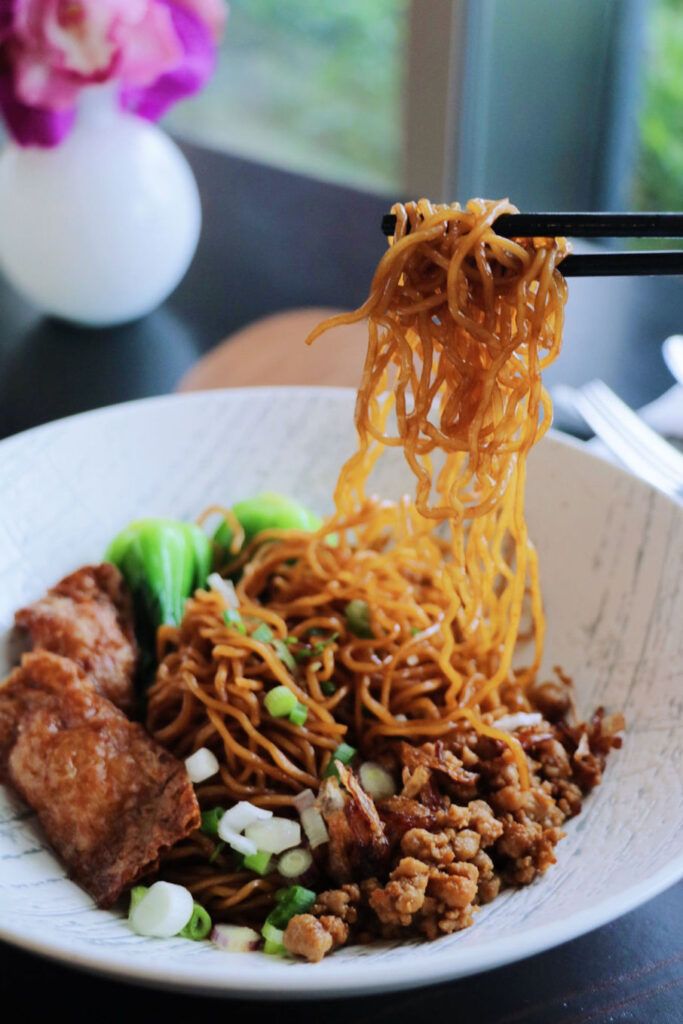 Racines Menu Delivery
Racines provides their customers with a delivery service for a more convenient way to order. This can be done through their website or with delivery services like FoodPanda, GrabFood, and Deliveroo.
Talk to Racines SG Staff
Stay connected with Racines on social media to keep up with the latest news, updates, and mouthwatering highlights from Racines! Follow their pages for a tantalizing glimpse into our culinary world, featuring behind-the-scenes peeks, special promotions, and exclusive offers. Engage with them by liking, sharing, and commenting on our posts, and don't forget to tag Racines' dining experiences for a chance to be featured! Join their online community and let your taste buds be enticed by the flavors of Racines.
Facebook: https://www.facebook.com/SofitelSingaporeCityCentre/
Instagram: https://www.instagram.com/sofitelsingaporecitycentre/
Website: https://www.sofitel-singapore-citycentre.com/gastronomy/racines/
FAQs
What type of cuisine does Racines serve?
They serve a mix of French and Chinese dishes that focuses on fresh and seasonal ingredients.
Is there a dress code for dining at Racines?
The restaurant isn't very strict with its dress code, but smart and casual attire is recommended.
Can I make a reservation at Racines?
Yes, Racines accepts reservations.
Is Racines halal-certified?
As they serve a range of Western and Asian dishes, some of which may contain non-halal ingredients such as pork and alcohol. Therefore, Racines is not halal-certified.
Conclusion
Racines' menu offers an extensive and impressive menu of French and Chinese cuisine, as well as a comprehensive wine list with all the dishes beautifully presented and prepared using high-quality ingredients, resulting in delicious and satisfying meals. Racines prides itself in its sophisticated and elegant atmosphere which makes this restaurant the perfect choice for romantic dinners and other special occasions. Overall, Racines is an excellent option for those looking for a fine dining experience with a mix of French and Chinese flavors.