The Lavo menu is inspired by Italian and American cuisine. It serves appetizers, seafood, pasta, pizza, salads, grilled foods, desserts, cocktails, and wines. This restaurant also offers 2-Course and 3-Course set lunches during weekdays, except holidays from 11:00 AM to 3:00 PM. On Sundays, it provides a champagne brunch with a la carte buffet and food & beverage free flow. 
You can find the updated pricing information for the Lavo menu below.
MENU
PRICE (SGD)

Appetizers

"The Meatball"
$39.00
Charred Octopus
$33.00
Eggplant Parmigiana
$25.00
Fried Calamari
$31.00
Garlic Bread
$23.00
San Daniele Ham & Figs
$35.00
Scallops Alla Livornese
$35.00
Tuna Tartare
$35.00
Wagyu Beef Carpaccio
$33.00

Raw Bar

Fin De Claire Oyster (12 Pcs
$95.00
Fin De Claire Oyster (6 Pcs)
$45.00
Jumbo Shrimp Cocktail
$44.00
Maine Lobster Cocktail
$68.00
Seafood Plateau Grande
$230.00
Seafood Plateau Piccolo
$170.00

Salads

Asparagus And Artichoke Salad
$28.00
Burrata
$28.00
Classic Caesar
$28.00
Verde Salad
$22.00

Brick Oven Pizza

Black Truffle
$35.00
Carne
$37.00
Margherita
$32.00
Spinach And Artichoke
$33.00

Pastas

Home Made Tagliatelle
$39.00
Linguini White Clams
$43.00
Mafaldine Seafood Alfredo
$41.00
Penne Alla Vodka
$37.00
Potato Gnocchi
$46.00
Rigatoni Melanzana
$36.00
Silk Hankierchief's
$38.00
Spaghetti Carbonara
$38.00
Spaghetti Tomato And Basil
$31.00

House Specialties

Chicken "Dominick"
$46.00
Chicken Marsala
$44.00
Chicken Parmigiana
$43.00
Grilled Prawns Spiedini
$43.00
Grilled Salmon Oreganato
$45.00
King Crab Piccata
$69.00
Meditterean Seabass
$48.00

From The Grill

Bone-In Rib Eye
$218.00
Filet Mignon
$80.00
Iberico Pork Chop
$75.00
Lamb Chops
$88.00
New York Strip
$110.00
Porterhouse
$185.00

Trimmings

Creamed Spinach
$18.00
French Fries
$18.00
Grilled Asparagus
$18.00
Mixed Wild Mushrooms
$18.00
Roasted Rosemary Potatoes
$18.00
Sautéed Spinach
$18.00

Desserts

20 Layer Chocolate Cake
$28.00
Frutta Fresca
$18.00
Gelato / Sorbet
$8.00
Lavo's Tiramisu
$21.00
Ny Berries Cheesecake
$18.00
Panna Cotta
$18.00
Pistacchio Tart
$26.00

The Italian Classics

Americano
$23.00
Aperol Spritz
$23.00
Bellini
$23.00
Campari Spritz
$23.00
Negroni Sbagliato
$23.00
Sgroppino Frozé
$23.00

Negroni Series

Coconut Negroni
$27.00
Dirty Mirror
$27.00
House Aged Negroni
$27.00
Midtown Negroni
$27.00
Profumino
$27.00

Lavo Signature

LG & T
$27.00
Dragon Spritz
$27.00
Lavo Mule
$27.00
Limonito
$27.00
Night King
$27.00
True Gentleman
$27.00
Vieux Carré L'orange
$27.00

Sparkling Wine (Wine By The Glass)

Champagne, Veuve Clicquot 'Yellow Label'
$39.00
Moscato D'asti, Scanavino
$28.00
Prosecco, Ca'vescovo
$21.00

White Wine

Chardonnay, Tormaresca
$30.00
Pinot Grigio, Anselmi Ca'stell
$25.00
Roero Arneis, Monchiero Carbon Recit
$28.00
Sauvignon Blanc/Semillion, Cape Mentelle
$24.00
Vernaccia Di San Gimignano, Cecchi
$27.00

Rose (By The Glass)

Minuty, 'M' Château Minuty
$24.00

Red Wine (Wine by the Glass)

Cabernet Sauvignon, Terrazas De Los Andes
$28.00
Chianti Riserva, 'Cecchi'
$29.00
Pinot Noir, Vincent Girardin
$25.00
Shiraz, Arlequin
$28.00
Super Tuscan, Gaja, Ca'marcanda 'Promis'
$32.00
Tempranillo, Bodegas Comenge
$27.00

Beers

Estrella Galicia
$18.00
Guinness
$20.00
Heineken
$18.00
Hitachino White Ale,
$20.00
Maeloc Dry Cider
$14.00
Peroni
$17.00
Stone Ipa
$18.00
Set Lunch

Set Lunch

2-Course Set Lunch
$38.00
3-Course Set Lunch
$48.00
Sunday Champagne Brunch

Champagne Brunch

Food and Beverage Free Flow
$68.00++
Food Only
$98.00++
Sunday Champagne Brunch Inclusions

RAW BAR (By The Piece, Each - 30 Gram)

Crab
Halved shelled scallop
Lobster
Mussel
Poached prawn
Cocktail sauce
Garlic aioli
Lemon

Charcuterie & Cheese Board

Mortedalla
Prosciutto ham
Salami
French "surprise' cheese (6 type)
Berries
Grapes
Honey Comb
Nuts
Olives
Pickles
Breadstick
Home-made focaccia bread (pizza)
Lavosh Cracker

Salad Bar

Romaine Lettuce, Baby Spinach, Cucumber, Tomato, Peppers, Crouton, Parmesan Cheese
Caesar Dressing, House Dressing, Balsamic bottle and Evoo bottle

Salads

Bocconcini
Cherry Tomato
Pesto (nuts, dairy)
Grilled Octopus Salad
Tuna Tartare

Live Station

Mustard, Lavo steak sauce, Jus
Roasted Asparagus, Zucchini, Peppers, Lemon, Broccolini
Tomahawk, Roasted Chicken, Pork Chop

Egg Benedicts Station

Choice of salmon or prosciutto ham

Pizza (All contains diary)

Carne (Pork)
Margarita
Spinach & Mushroom

Hot Sides

Bacon
Chicken Sausage
Eggplant Parmigiana (Dairy, Gluten)
Home Fries (eggs)
Lavo Meatball (Pork, Gluten)
Pasta Tomato Basil (Gluten)
Salmon Oreganato
Spinach Frittata

Desserts

Assorted Donuts
Berry Tiramisu
Chocolate Muffin
Egg Tart
Gelato House Made Seasonal Flavours
Seasonal Fruit Platter
Sorbet House Made Seasonal Flavours

Specialty Cocktails

Bloody Mary (Stolichnaya, Tomato Juice, Chilli Padi, Lemon Juice, Worchestre Sauce, Horseradish)
Dragon Spritz (Stolichnaya, Aperol, Dragon Fruit)
L'Expresso (Stolichnaya Vanilla, Crème De Cacao,Kahlua, Frangelico, Coffee Espuma)
Lavo Mule (Stolichnaya, Lime, Homemade Ginger Syrup)
Midtown Negroni (Gordon's Gin, Amaro Montenegro, Cinzano Dry)
Mimosa (Ca'vescovo Brut, Orange Juice)
Mojito (Plantation Dark Rum, Kaffir Lime Leaves, Calamansi, Mint, Gula Melaka)
Voodoo Economics (St. Germain, Granny Smith Apple Juice, Prosecco)

Wine by the Glass

White
Anselmi ca'stella, pinot grigio, friuli, italy, 2019
Red
Terrazas De Los Andes Reserva Cabernet Sauvignon, Mendoza, Argentina, 2018

Beers

Heineken (Holland)

Non-Alcoholic Beverages

Apple Juice
Cranberry Juice
Lime Juice
Orange Juice
About Lavo 
Lavo is an Italian restaurant known for its scenic view of the city's skyline and hearty American-Italian cuisine. It is located on the rooftop or 57th floor of Marina Bay Sands, giving diners a 180-degree view of the city. This dining place also offers an elegant indoor and outdoor lounge, providing diners with a cozy atmosphere. 
Lavo Menu Best Seller 
Lavo is known for its flavorsome Italian dishes. Here are some of the best sellers of Lavo's menu that complement well with the scenic view of the restaurant, giving diners a satisfying dining experience. 
The Meatball – A special dish of Lavo is always on the list of its diners. It is also one of the dishes tried by most of their first-time customers. This iconic dish is made with one pound of fresh ground imperial wagyu, veal, and Italian sausage doused in a luscious marinara sauce and topped with fresh whipped ricotta. The plating presentation makes it eye-catching and impressive.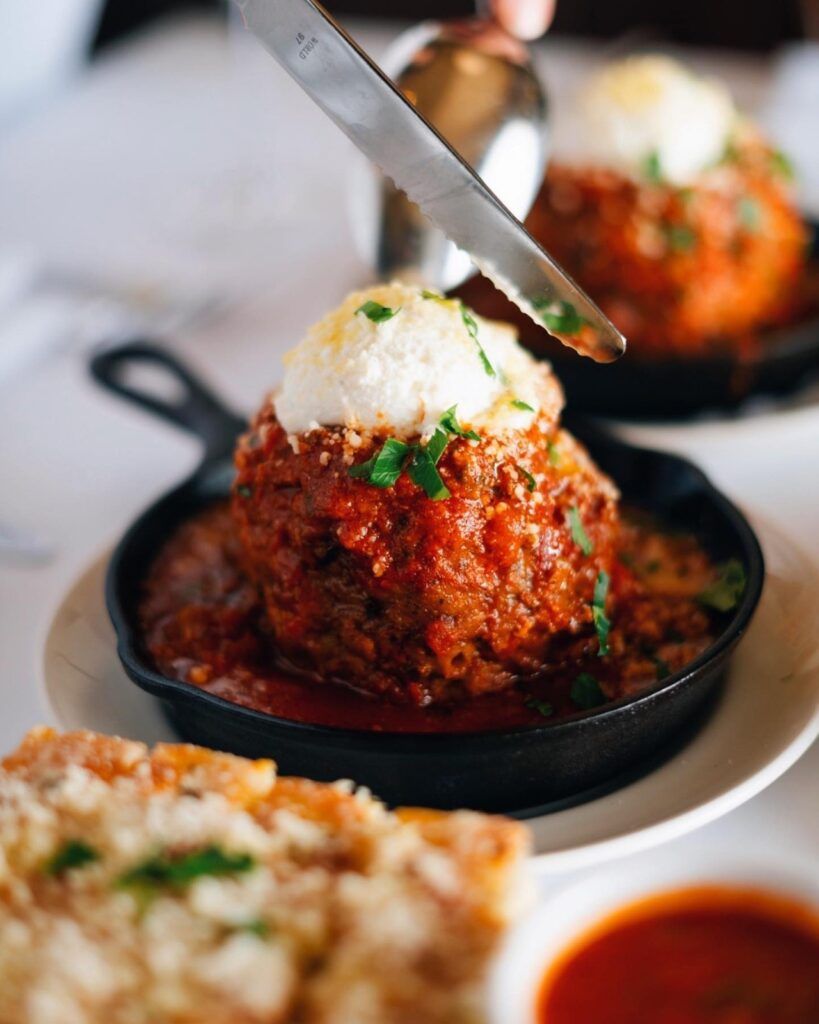 Spinach and Artichoke – This spinach and artichoke pizza of Lavo comprises Salsa Verde, Fava Beans, and Tomato Vinaigrette. It is a healthy pasta packed with delicious flavors. The ingredients of this pizza are combined perfectly and evenly distributed, making each bite gratifying. 
King Crab Piccata – One of the house specialties menu of Lavo that never fails to satisfy its customers, especially seafood lovers. It is made up of king crab cooked in vermouth capers & lemon butter. This seafood piccata is a must-try dish with a distinctive and pleasurable flavor. 
Spaghetti Carbonara – Spaghetti and carbonara are the two most popular and loved Italian pasta. The spaghetti carbonara of Lavo is made with spaghetti pasta cooked with prosciutto, onions, bacon, and cream sauce. This fancy bowl of pasta is perfect if you want something classic and filling. 
20-Layer Chocolate Cake – Made with an alternate layer of peanut butter and chocolate, this 20-layer chocolate cake has a pleasing visual that will encourage you to try it. It is also called Chocolate Devil's Food Cake and Peanut Butter Mascarpone. This is a perfect dessert or food if you want a unique and extraordinary cake on special occasions such as birthdays or anniversaries. 
Lavo Menu Appetizers 
Start your meals with these classic and unique appetizers of the Lavo menu. The appetizers that it offers are garlic bread, meatball, scallops, ham & figs, tuna tartare, wagyu beef, fried calamari, octopus, and eggplant parmigiana. 
Garlic Bread – Slices of garlic bread are served with basil pesto, marinara sauce, and gorgonzola dolce. The bread and marinara taste authentic, as their flavor is almost identical to those served in American restaurants. 
Charred Octopus – Octopus is seasoned and grilled perfectly. It is served with endive, celery, oregano, fennel, and red wine vinaigrette. A slice of lemon also comes with this dish to make it more delicious. 
Fried Calamari – Calamari is coated in a special mix of batter, deep-fried, and served with a dipping sauce. This is a famous seafood appetizer that has a savory and distinctive flavor. It has a slightly chewy and crunchy texture, making it enjoyable. 
Lavo Raw Bar Menu
These dishes include shrimp, Maine lobster, fin de claire lobster, and seafood plateau. Lavo highly suggests alerting the servers to any food allergies to prevent allergic reactions that may cause discomfort. 
Fin De Claire Oyster – If you want a less fleshy oyster, this seafood dish is one of the best options. It has a soft color, elongated flesh, and salty and nutty flavor. Tabasco, Mignonette, and Cocktail are the three kinds of sauces garnished on it to enhance its flavor.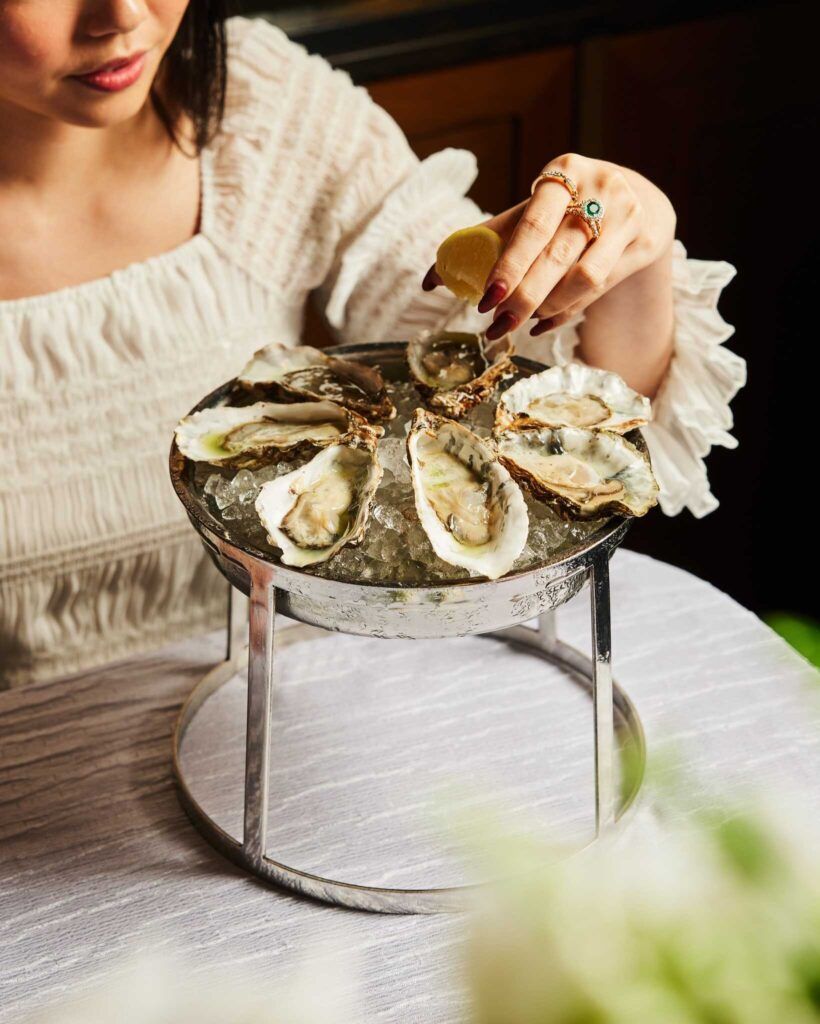 Jumbo Shrimp Cocktail – Four jumbo shrimp are served with lemon and spicy cocktail sauce. Shrimp's vibrant color and fresh flavor will make you love this dish. It has a unique presentation as it is served on top of an ice bucket. 
Seafood Plateau Piccolo – For those who are a fan of seafood dishes, this is the platter that will satisfy your cravings. It consists of jumbo shrimp, whole Maine lobster, Alaskan king crab, scallop salad, crabmeat salad, and tuna ceviche. 
Salads 
Salads are great for those who want a light and healthy meal. Lavo serves classic and Italian salad menu such as Asparagus and Artichoke, Verde, Caesar, and Burrata packed with nutrients and delicious flavors. 
Classic Caesar – Caesar is one of the classic salads and is well-known around the world. This Caesar salad version of Lavo comprises romaine lettuce, garlic croutons, and parmesan cheese. 
Burrata – The slices of heirloom tomato are topped with burrata. It is garnished with pesto sauce and basil leaves. The burrata's elegant white color and its fresh ingredients' vibrant color make it visually appealing.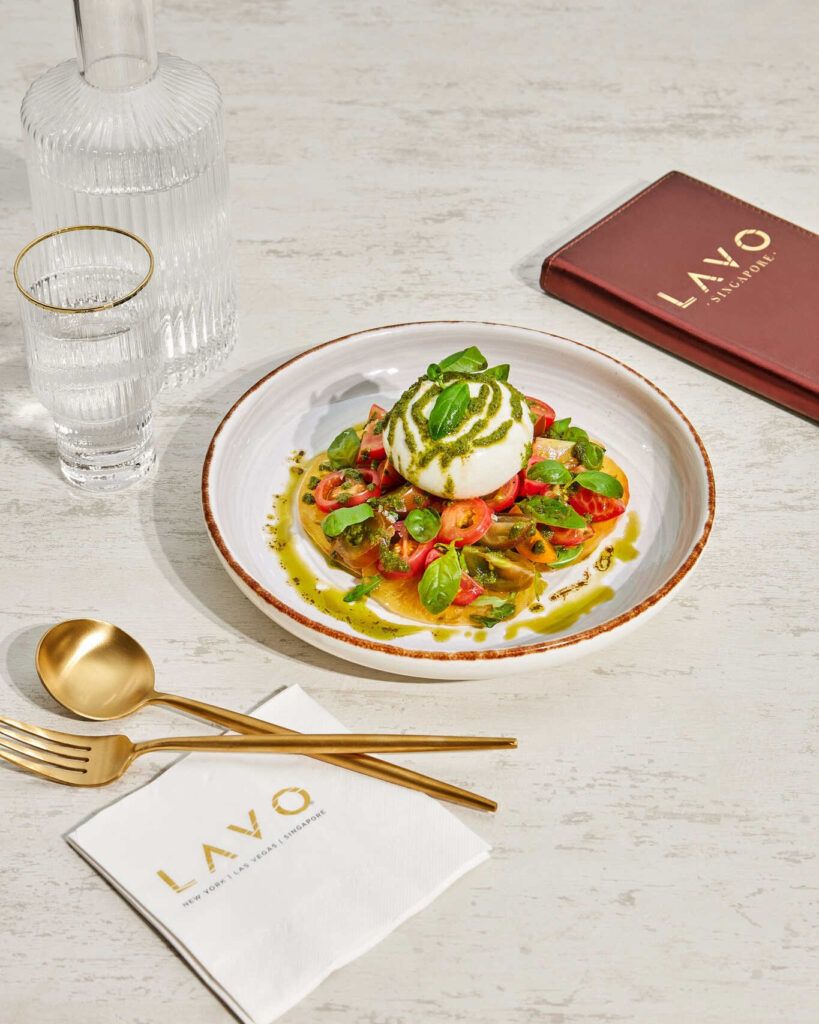 Verde Salad – A refreshing salad that includes different greens such as avocado, cucumber, marcona almond, rosemary vinaigrette, and honey. This light and nutritious salad dish contains many minerals and vitamins. 
Brick Oven Pizza 
Lavo restaurant cooked its pizza in a brick oven. Unlike ordinary pizzas cooked in an electric or conventional oven, these are notable as they have distinct styles, tastes, and textures. 
The pizzas served by Lavo consist of Margherita, made up of fresh mozzarella, tomato, and basil; Carne, which includes salami, prosciutto, tomato, pepperoncini, gorgonzola, fresh mozzarella; Black Truffle, which includes various mushroom, arugula, and ricotta; and Spinach and Artichoke, comprises of spinach, fresh mozzarella, and black olive.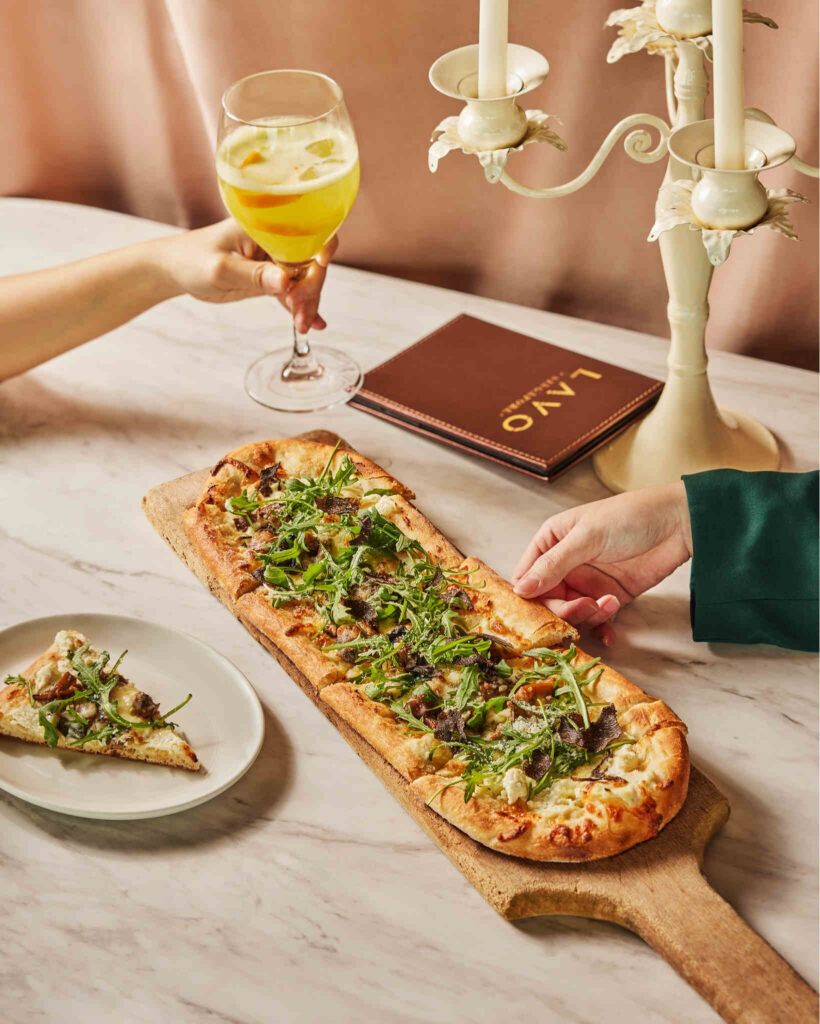 The brick oven has a higher temperature, making it easier and faster to prepare pizzas. The cooking technique of these pizzas makes them extraordinary as they have new flavors. These pizzas have a charred crust, smoky flavor, perfect dough texture, crispy outside, and soft on the side. 
Pastas 
Pasta is one of the iconic and most famous Italian cuisine. The kinds of pasta offered by Lavo are Homemade Tagliatelle, Mafaldine Seafood Alfredo, Silk Hankerchiefs, Potato Gnocchi, Spaghetti Carbonara, Penne Alla Vodka, Rigatoni Melanzana, Linguini White Clams, and Spaghetti Tomato and Basil. These kinds of pasta have an authentic Italian taste with a delicious flavor. 
Lavo Menu Delivery 
Lavo Singapore does not offer delivery services. Its menu is only available for dine-in and takeaway. If you want to order your favorite food for takeaway, call them at +65 6688 8591 to arrange your orders. 
Lavo Social Media Pages
Discover the epitome of elegance and culinary excellence at Lavo. Follow their social media pages to stay updated on the latest menu creations, upcoming events, and exclusive promotions. Immerse yourself in the Lavo experience and be enchanted by its sophisticated ambiance, world-class service, and exquisite flavors. Join a community of discerning food enthusiasts and embark on a gastronomic journey like no other. Whether you're seeking a memorable dining experience or planning a special occasion, let Lavo be your ultimate destination. Follow them now and elevate your culinary adventures with Lavo.
Facebook: https://www.facebook.com/LavoSingapore
Instagram: https://www.instagram.com/lavosingapore/
Twitter: https://twitter.com/lavosingapore
Website: https://lavosingapore.com/contact/
FAQs
What are the operating hours of Lavo Singapore? 
Lavo Singapore is open from 11:00 AM to 12:00 AM from Monday to Saturday. Its operating hours on Sundays are 12:00 PM to 12:00 AM. 
What type of cuisine does Lavo Singapore offer? 
Italian and American are the types of cuisine offered by Lavo Singapore. 
Is there a dress code at Lavo Singapore? 
Yes, there is a dress code at Lavo Singapore. Diners are required to wear smart casual or sophisticated and refined attires. 
Is Lavo halal-certified? 
Lavo Singapore is not a halal-certified restaurant. 
Conclusion
The Lavo menu consists of scrumptious Italian and American cuisines. One of the features of this dining place loved by its diners is its breathtaking view of the stunning city skyline and fantastic sunset as it is situated on the rooftop of Marina Bay Sands. Reservations or booking a table is required; however, there are times that they allow walk-in diners if there is still an unreserved table. Diners must wear casual attire as the restaurant has a strict dress code policy.