The Aburiya menu offers a diverse range of dishes with a focus on yakiniku, or Japanese barbecue with a selection of premium meats, seafood, vegetables, and other side dishes.  For those looking for a break from grilling, Aburiya also offers a selection of fresh and quality cuts of sushi and sashimi and a variety of dipping sauces to enhance the flavors of the grilled meats and seafood. To conclude the dining experience, Aburiya offers a selection of desserts, such as mochi ice cream or traditional Japanese sweets.
You can find the updated pricing information for the Aburiya menu below.
MENU
PRICE (SGD)

Wagyu

Usugaki Mori 180G
$32.00
Aburiya Yukke
$20.00
Wagyu Tataki
$20.00
Wagyu Negishio Yukke
$20.00
Tokusen Wagyu Mori
$60.00
Tokusen wagyu Sirloin
$38.00
Tokusen Wagyu Karubi
$30.00
Tokusen Wagyu Rosu
$52.00
Tokusen Wagyu Zabuton Chateaubriand
$30.00
Tokusen Wagyu Chateaubriand
$36.00
Tokusen Wagyu Misuji
$98.00
Tokusen Wagyu Misuji
$32.00
Tokusen Kazoku Mori
$100.00
Kazoku Mori
$60.00
Wagyu Akami
$30.00
Wagyu Karubi
$40.00
Wagyu Rare Mori
$34.00
Kiritoshi Tokumori
$30.00

Set Menu

Set A 2 Pax
$140.00
Set B 2 Pax
$170.00

Wagyu Beef

Wagyu Kurubi
$16.00
WAgyu Rosu
$20.00
Wagyu misujkji
$22.00
Wagyu kata-Sankaku
$22.00
Wagyu Naka Karubi
$18.00
\Wagyu Akami Foie Gras
$20.00
Wagyu Chunk Sirloin
$80.00

Beef

Atsugiri Tongue
$28.00
Tongue
$22.00
Harami
$16.00
Horumon
$14.00
Mino
$4.00

Pork

Buta Sirloin
$14.00
Buta Karubi
$12.00
Buta Kata-Rosu
$12.00
Tontoro
$12.00
Sausage
$10.00
Buta Mori
$28.00

Seafood

Hotate butter-Yaki
$14.00
Hotate Miso
$14.00
Ebi Butter-Yaki
$17.00
Ebi Miso
$7.00

Vegetables/Salad

Eringi
$7.00
Ninniku
$7.00
Corn
$7.00
Tamanegi
$7.00
Cabbage
$7.00
Naganegi
$7.00
Yasai Mori
$14.00
Portobello
$9.00
Tomato Salad
$9.00
Mizuna Salad
$14.00
Aburiya Salad
$14.00
Wagyu Suji Negi
$9.00
Horenso Salad
$14.00
Potato Salad
$9.00
Gyu Shabu Salad
$14.00
Sanchu
$9.00

Donabe Gohan

Rice
$3.00
Garlic rice
$14.00
Bibinba
$14.00
2-Gou Donabe Gohan
$14.00
3-Gou Donabe Gohan
$16.00
4-Gou Donabe Gohan
$20.00
Onigiri
$6.00
Tamago Kuppa
$11.00
Tegutan Kuppa
$14.00

Ippin/ala Carte

Hakusai Kimchi
$8.00
Daikon Kimchi
$8.00
Okura Kimchi
$8.00
Kyuri Kimchi
$8.00
Moyashi Namuru
$8.00
Cobo Namuru
$8.00
Horenso Namuru
$8.00
Nori
$8.00
Hokkaido Edamame
$4.00
Cheese Chijimi
$8.00
Cheese Chijimi
$12.00

Soup

Tomago
$8.00
Gyu-Kotsu
$12.00
Tegutan Kuppa
$2.00
Buta Kimchi Chige
$15.00
Seafood Chige
$15.00
Tofu Chige
$13.00

Noodle

Tegutan Ramen
$14.00
Tamago Udon
$14.00
Gyu-Kotsu Paitan Ramen
$14.00
Reimen
$14.00
Bibinmen
$14.00
Dessert

Single Scoop Ice Cream

$14.00
Double Scoop Ice Cream
$7.00
Matcha Parfait
$12.00
Chocoalte Parfait
$12.00
About Aburiya 
Aburiya is a popular Japanese restaurant located in Singapore that specializes in yakiniku, which is a style of Japanese barbecue where diners grill their own meat and vegetables at the table. They offer an authentic yakiniku dining experience, allowing guests to grill high-quality meats, such as Wagyu beef, Kurobuta pork, and chicken, to their preferred level of doneness. Aburiya also offers private dining rooms for those who prefer a more intimate setting providing privacy and are perfect for special occasions or business meetings.
Aburiya Menu Best Seller
This menu is made up of the most popular options at Aburiya as it is made up of top-quality meats that are the best for an exceptional grilling experience
Tokusen Wagyu Sirloin – This is one of their best-selling options and is a highly recommended dish at Aburiya. Made from premium Wagyu beef, this cut of sirloin is known for its exceptional marbling and tenderness, and when it is grilled to perfection, it offers a melt-in-your-mouth experience with rich flavors.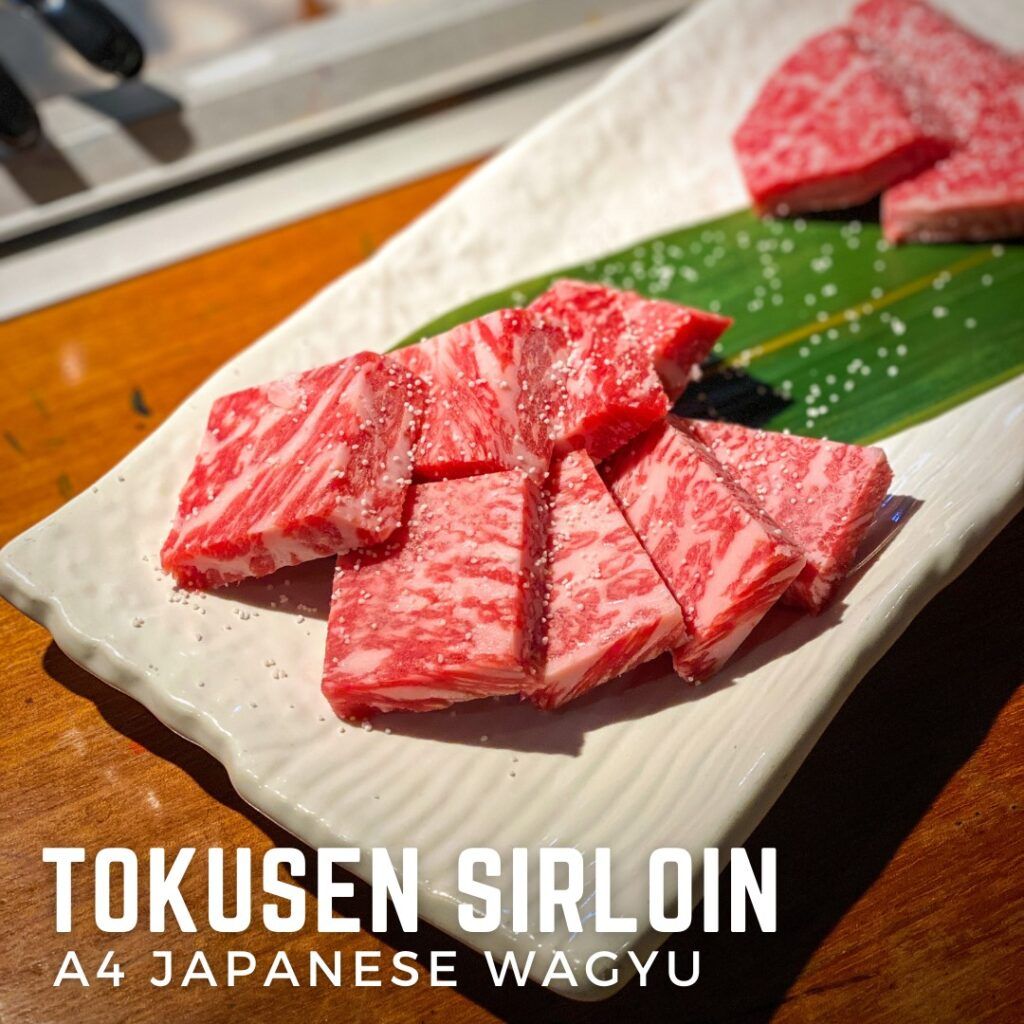 Kazoku Mori – The Kazoku Mori is a delightful platter that allows you to sample a variety of flavors from Aburiya's menu which includes a selection of different meats, such as Wagyu beef, Kurobuta pork, and chicken, grilled to perfection. This dish is perfect for sharing among a group, offering a diverse range of textures and flavors.
Wagyu Akami – This is another standout dish at Aburiya which is composed of lean cuts from Wagyu beef, which are known for their deep, beefy flavors. While not as heavily marbled as the other cuts, the Wagyu Akami still offers a tender and succulent experience when grilled. The natural richness and tenderness of the Wagyu beef shine through, making it a satisfying choice for meat lovers who appreciate robust flavors.
Wagyu Rare Mori – This dish allows you to explore different textures and flavors within the Wagyu beef spectrum as it is a special combination platter that features an assortment of rare cuts of Wagyu beef.  Each cut is carefully selected to showcase the unique qualities of the beef, ranging from tender to slightly chewy ensuring a memorable dining experience.
Kiritoshi Tokumori – It is a premium assortment platter that includes a variety of meats, seafood, and vegetables. This platter provides a well-rounded dining experience with an array of flavors and textures perfect for those who want to explore a comprehensive selection of flavors at Aburiya.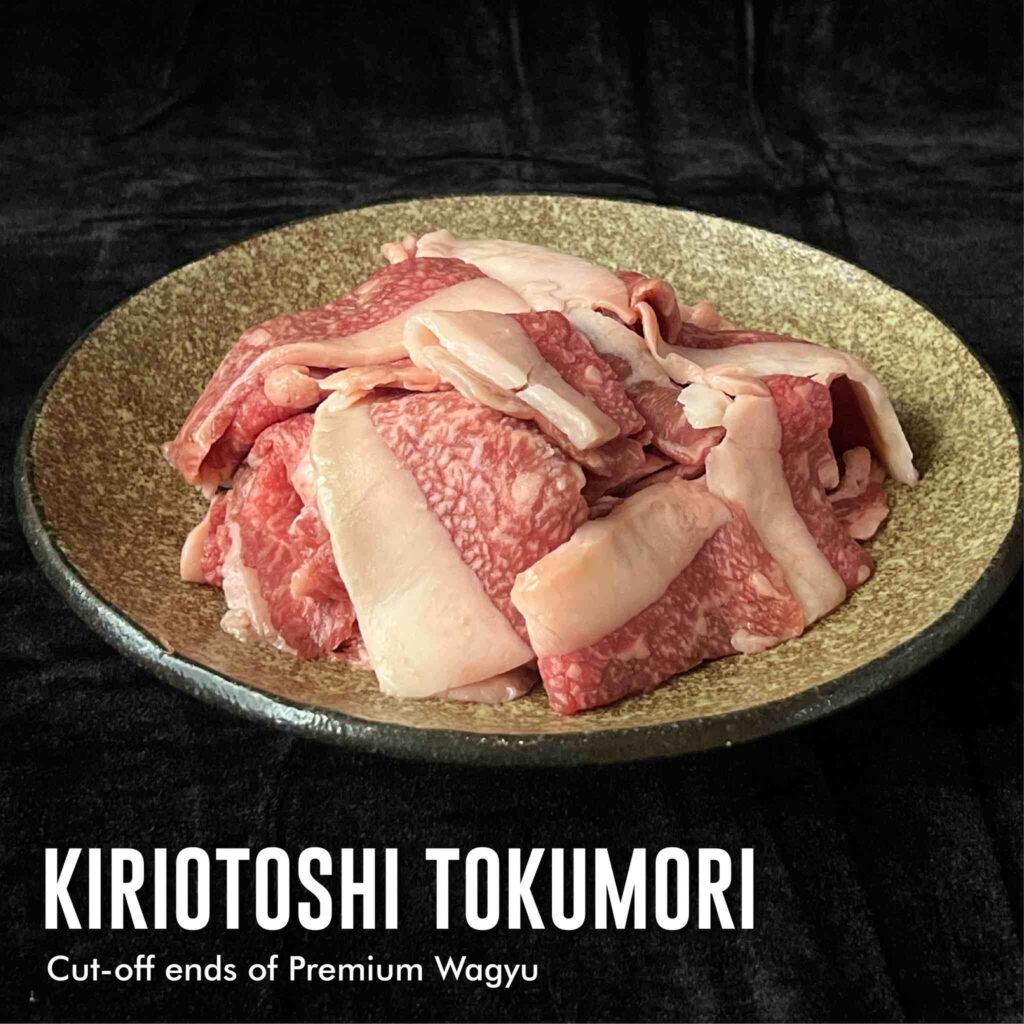 Aburiya Menu Platter
This menu is made up of different platters each of which presents a unique preparation style for anyone to enjoy.
Aburiya Yukke – This platter is made with high-quality beef, the Yukke is finely minced and seasoned with a combination of savory and umami flavors and is often served with a raw egg yolk on top, which adds a creamy richness to the dish.
Wagyu Tataki – The Wagyu Tataki is a standout platter that showcases thinly sliced, lightly seared Wagyu beef which combines the tenderness of the beef with a smoky flavor from the quick searing process.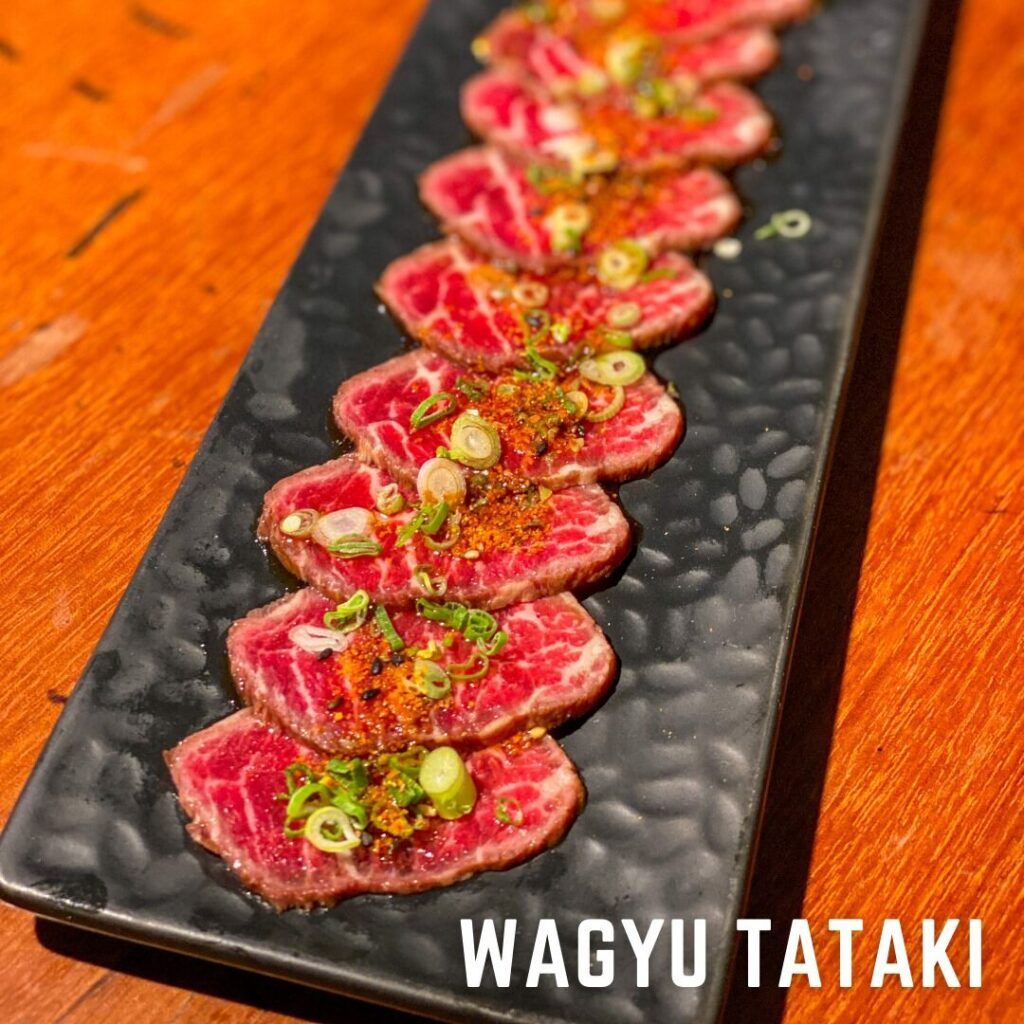 Wagyu Negishio Yukke – It is another delectable platter offered at Aburiya which features finely minced Wagyu beef mixed with green onions (negi) and a savory sesame-based sauce (negishio). The combination of the tender Wagyu beef and the aromatic flavors of the sauce creates a delicious harmony. 
Aburiya Menu Ala Carte
This menu is made up of different a la carte items that will surely add a refreshing and tangy dimension to your meal.
Hakusai Kimchi – It is a delightful a la carte item at Aburiya made with Napa cabbage and is known for its crunchy texture and tangy flavor. The cabbage is typically fermented with a combination of spices, garlic, and chili peppers, resulting in a robust and refreshing taste that complements the grilled meats perfectly.
Daikon Kimchi – It is a variation of kimchi that features daikon radish as the main ingredient which offers a crisp and slightly milder taste compared to cabbage kimchi. This adds a refreshing and crunchy element to your dining experience, providing a contrast of textures and a subtle kick of heat.
Okura Kimchi – This is a unique addition to Aburiya's a la carte menu as it features pickled and fermented okra, which adds a distinct texture and flavor to the traditional kimchi concept.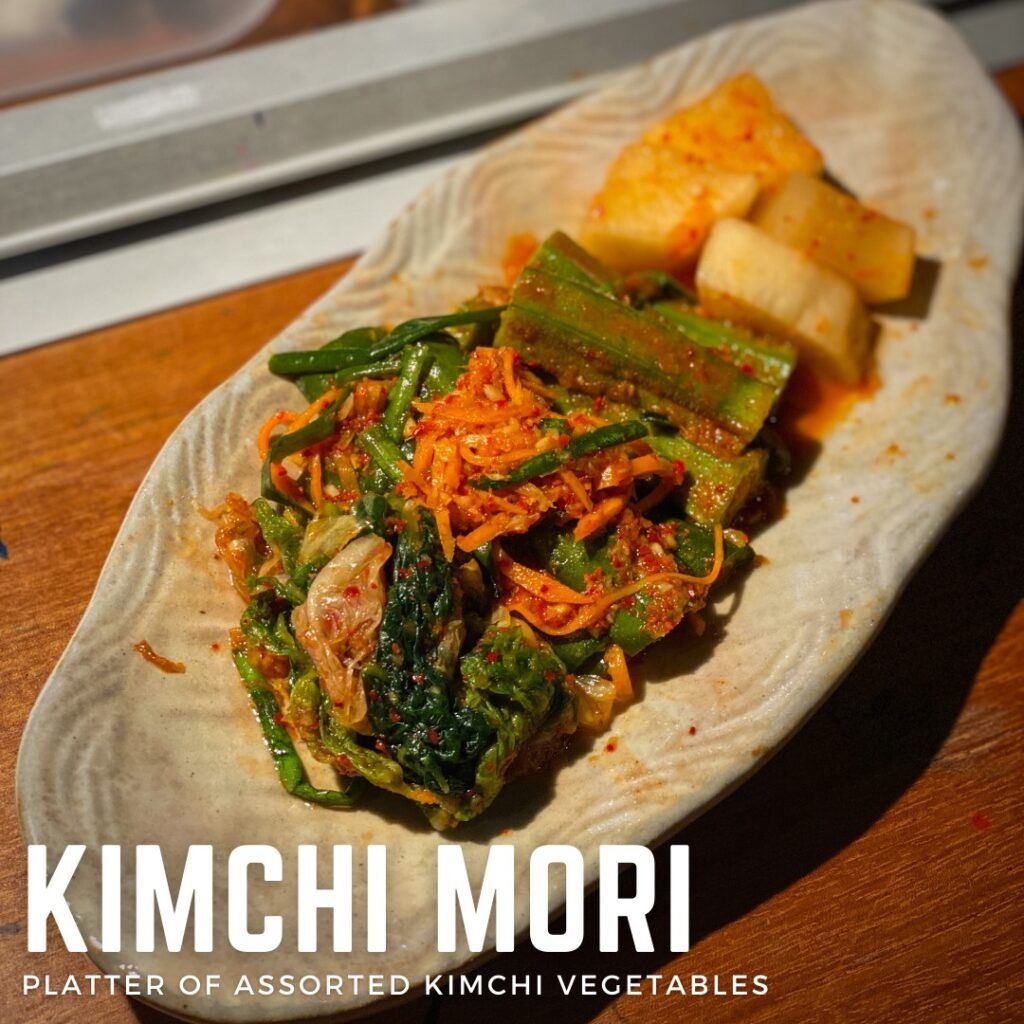 Vegetable
This menu is made up of different vegetable options that will not only complement the grilled meats but also provide a balance to your meal.
Naganegi – The Naganegi is a vegetable dish offered at Aburiya that features long Japanese green onions which is a pretty simple yet flavorful option that adds a touch of freshness to your meal.
Yasai Mori – This s a vegetable platter that showcases a variety of seasonal vegetables that provides a refreshing and colorful addition to your dining experience, offering a balance of flavors and adding nutritional value to your meal.
Portobello – This dish features large and meaty Portobello mushrooms, which are grilled to perfection. It offers a vegetarian option from Aburiya's menu that is hearty and flavorful, making it a great choice for mushroom lovers.
Set Menu
This menu is perfect for those who visit the restaurant in pairs, providing a satisfying and enjoyable dining experience. These set menus allow you to explore a variety of tastes and textures, providing a glimpse into the restaurant's offerings and ensuring a memorable dining experience at Aburiya.
Aburiya Menu Delivery
Aburiya provides a delivery for customers who browse from their devices via their online site, social media pages, and third-party delivery services like FoodPanda. This makes ordering so much more convenient for those who are busy with work, school, and other activities.
Aburiya Social Media Pages
At Aburiya, they believe in creating unforgettable dining experiences for their valued customers. Stay connected with them through our social media pages to be the first to know about their latest promotions, mouthwatering dishes, and exclusive events. Join their online community and engage with fellow food enthusiasts while indulging in the art of Japanese grilling.
Facebook: https://www.facebook.com/aburiya.singapore/
Instagram: https://www.instagram.com/aburiyasg
Website: https://www.aburiya.com.sg/newsblog
FAQs
What types of meats are available at Aburiya?
Aburiya offers a diverse selection of meats for grilling such as Wagyu Beef, Kurobuta Pork, Chicken, and Seafood options.
Can I make a reservation at Aburiya?
Yes, you can make a reservation at Aburiya
Are there any signature dishes or recommended menu items at Aburiya Singapore?
Yes, there are several signature dishes and recommended menu items at Aburiya Singapore which includes their wagyu beef, kurobuta pork, seafood items, and more!
Is Aburiya a halal-certified restaurant?
Aburiya Singapore is not a halal-certified restaurant because they have pork on their food menus.
Conclusion
Aburiya's menu specializes in yakiniku, offering a delightful and interactive dining experience featuring premium meats, seafood, vegetables, and a variety of accompanying dishes. Their focus on high-quality ingredients ensures a memorable and flavorful meal, while the warm and welcoming ambiance creates a cozy atmosphere for diners. Overall, Aburiya is a fantastic choice that delivers an authentic and satisfying culinary journey whether you're a yakiniku enthusiast or looking to explore Japanese barbecue.