The Qi Ji menu features a variety of delicious dishes that perfectly represent the flavors of Singapore. From their signature Nasi Lemak, featuring fragrant coconut rice served with various accompaniments like fried chicken, otah, and sambal chili, to their flavorful Laksa with rich, aromatic broth and fresh ingredients, Qi Ji delivers a delightful culinary experience. Additionally, Qi Ji offers a selection of snacks and desserts, such as crispy spring rolls which is perfect for satisfying cravings or enjoying a light bite.
You can find the updated pricing information for the Qi Ji menu below.
MENU
PRICE (SGD)

Mains

Nasi Lemak Set 1
$7.70
Nasi Lemak Set 2
$7.70
Nasi Lemak Set 3
$9.10
Nasi Lemak Set 4
$10.50
Nasi Lemak Set 5
$10.50
Nasi Lemak Set 6
$6.90
Laksa (Clams)
$7.70
Laksa (Prawns)
$9.50
Laksa Deluxe
$12.30
Mee Siam
$6.70
Mee Rebus
$6.70

Ala Carte

Otah
$1.70
Chicken Wing
$2.70

Homemade Beverages

Barley
$2.70
Bandung
$2.80
Ice Lemon Tea
$2.80
Lime Juice
$2.80
Water Chestnut
$2.80
About Qi Ji
Qi Ji is a well-known restaurant in Singapore that specializes in serving traditional local dishes, focusing on authentic flavors and quality ingredients. In addition to their signature sets, they also offer a variety of snacks and desserts like fried spring rolls, otah, and traditional laksa. Qi Ji prides itself on delivering delicious and affordable meals, making it a popular choice among locals and visitors. Overall, Qi Ji's menu has various options to satisfy your taste buds for customers that are craving a hearty rice dish or a comforting bowl of noodles
Qi Ji Menu Mains
This menu is made up of the main dishes that Qi Ji offers. The majority of the dishes are already prepared sets, making for a convenient dining experience.
Nasi Lemak Set 1 – This set offers a delightful combination of fragrant coconut rice, crispy chicken wing, ikan bilis (anchovies), peanuts, fried eggs, and a side of sambal chili. The rice is perfectly cooked and infused with coconut flavor, while the accompaniments provide a satisfying mix of textures and flavors.
Nasi Lemak Set 2 – Nasi Lemak Set 2 introduces a delicious twist with their tender and succulent fried chicken drumstick. Served with aromatic coconut rice, ikan bilis, peanuts, fried egg, and sambal chili, this set offers a flavorful and fulfilling dining experience.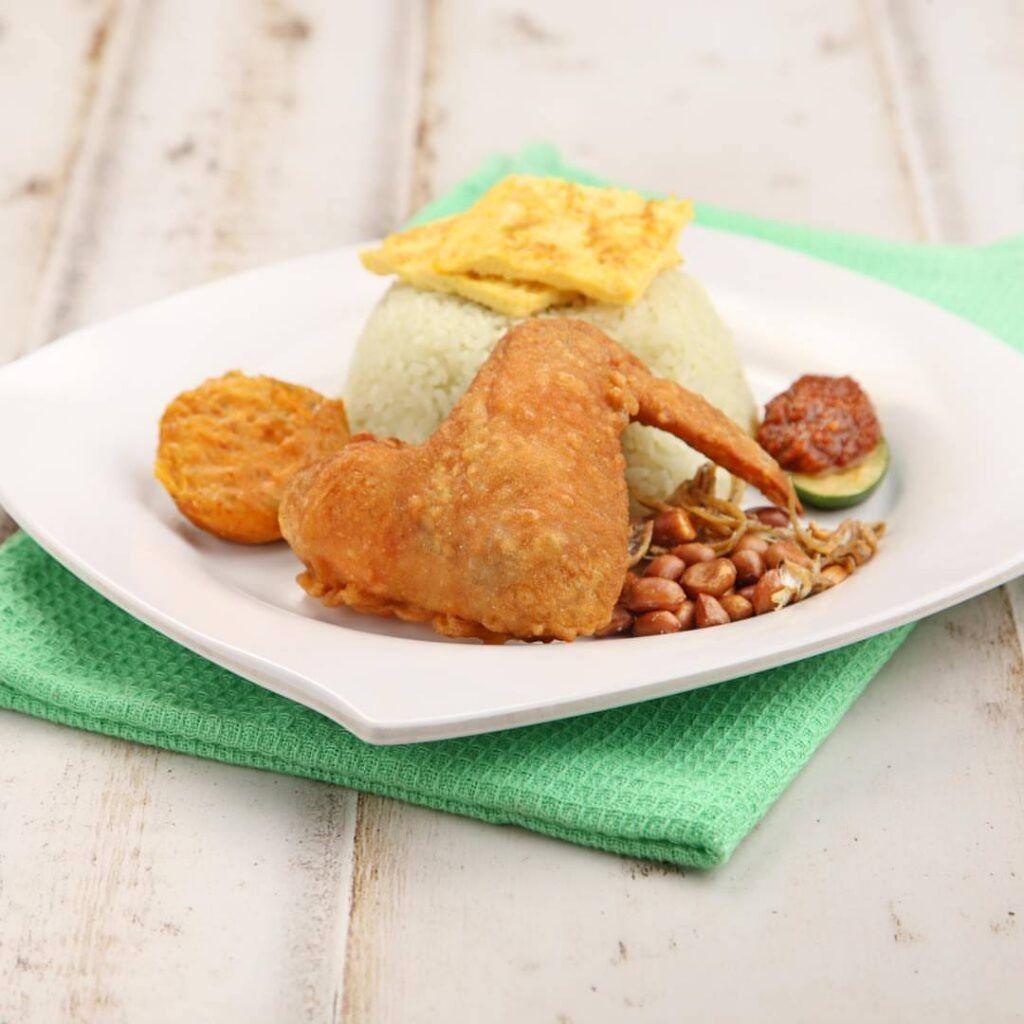 Nasi Lemak Set 3 – A menu of Qi Ji that has a combination of crispy fish, fragrant coconut rice, ikan bilis, peanuts, fried egg, and sambal chili this dish creates a harmonious blend of flavors. The fish fillet is cooked to a golden crispness, providing a delightful contrast to the soft and fluffy rice which is perfect for those who prefer seafood dishes.
Nasi Lemak Set 4 –  It features fragrant coconut rice served with a variety of delectable accompaniments. The set typically includes a succulent piece of fried chicken, crispy ikan bilis (anchovies), roasted peanuts, a fried egg, and a side of sambal chili sauce. With the addition of the seafood, the dish is enhanced by a symphony of flavors and textures created by the mix of these items.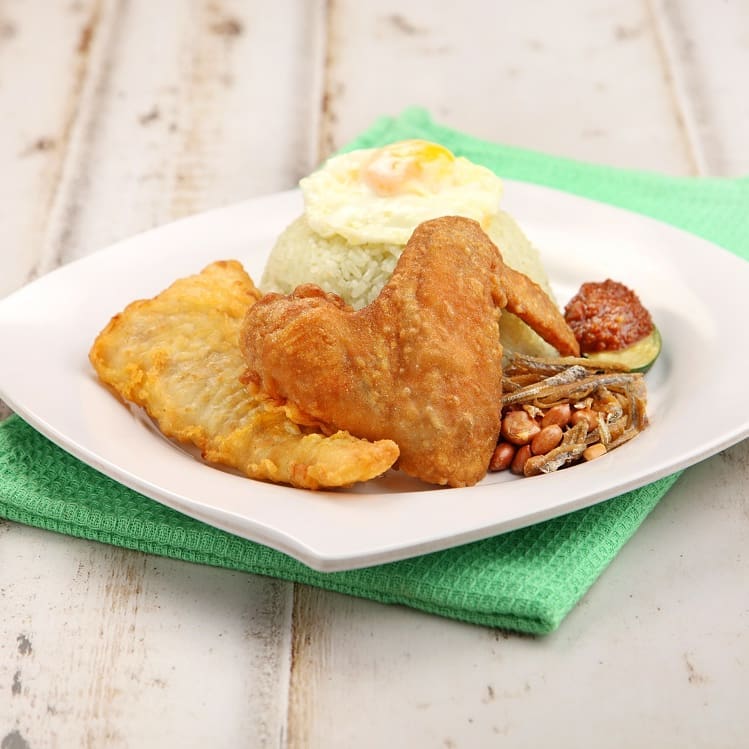 Nasi Lemak Set 5 – The rendang chicken in this dish is slow-cooked in a rich blend of spices, coconut milk, and herbs, resulting in tender meat that is infused with aromatic flavors. Complemented by the usual accompaniments such as ikan bilis, peanuts, fried egg, and sambal chili, Nasi Lemak Set 5 is a hearty and satisfying option for those seeking a combination of fragrant rice and flavorful rendang.
Nasi Lemak Set 6 – This set features a delightful combination of coconut rice, a selection of fresh seafood, and the usual accompaniments. Customers can expect to enjoy succulent prawns or fish fillet, which are cooked to perfection and served alongside crispy ikan bilis, roasted peanuts, a fried egg, and sambal chili sauce. 
Laksa (Clams) – This dish is a delightful dish that brings together the aromatic flavors of the classic Singaporean laksa with the briny goodness of clams. The rich and spicy coconut-based broth is infused with a harmonious blend of herbs, spices, and shrimp paste, creating a flavorful base for the dish. 
Laksa (Prawns) – The dish features a fragrant and spicy coconut broth that is packed with the flavors of herbs, spices, and shrimp paste. The succulent prawns are cooked to perfection and served alongside rice noodles, creating a delightful combination of textures.
Laksa Deluxe – This indulgent version features a rich and creamy coconut broth filled with a medley of ingredients, including succulent prawns, fresh fish slices, clams, tofu puffs, and bean sprouts. The combination of these ingredients creates a symphony of flavors and textures, with the seafood adding a delightful touch to the dish.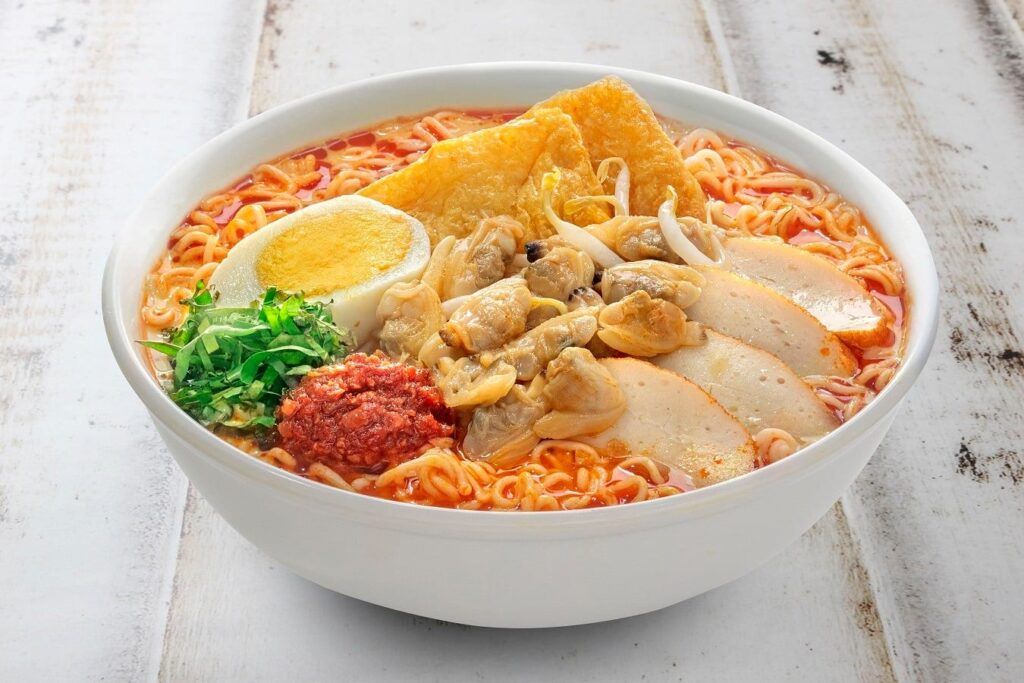 Mee Siam – The dish is typically served with various toppings, such as bean sprouts, tofu, egg, and sliced chili, adding texture and freshness to the dish which makes it a popular choice for those seeking a zesty and flavorful noodle dish.
Mee Rebus – Qi Ji's version of Mee Rebus features a thick and flavorful gravy made from a blend of sweet potatoes, spices, and shrimp paste. The yellow noodles are cooked in this delicious gravy, and the dish is typically garnished with bean sprouts, fried tofu, hard-boiled egg, and a squeeze of lime for a refreshing tang. 
Qi Ji Menu Ala Carte
This menu is made up of two different dishes that complement Qi Ji's main offerings.
Otah – This otah is a traditional Singaporean snack that features a blend of groundfish, spices, and coconut milk, wrapped in a banana leaf and grilled to perfection. Each bite offers a delightful balance of spiciness and smokiness, making it a satisfying treat for both locals and visitors alike.
Chicken Wing – These crispy and succulent chicken wings are marinated with a flavorful blend of herbs and spices, creating a deliciously seasoned coating. The wings are then deep-fried to preserve the moist, soft meat inside while achieving a crispy, golden outside.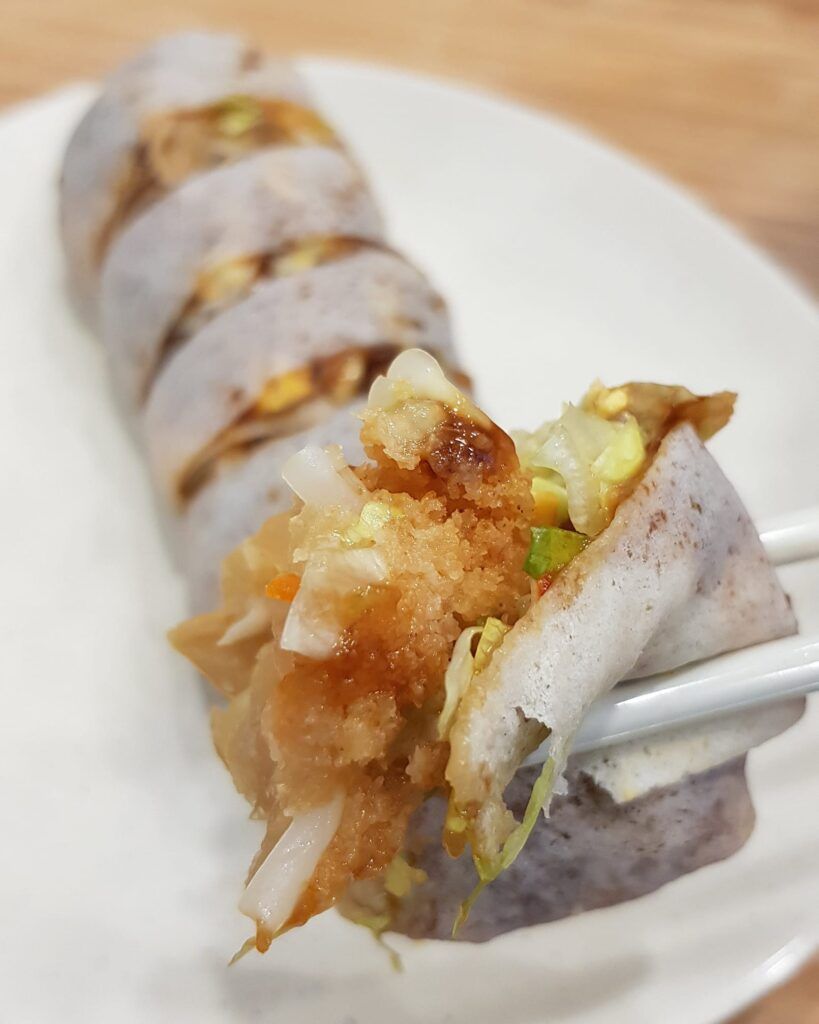 Homemade Beverages
This menu of Qi Ji is made up of a wide selection of refreshing homemade beverages that is perfect for a hot day.
Barley – This beverage is made from cooked barley grains, and offers a cooling and soothing effect, especially in Singapore's tropical climate. The natural flavors of Qi Ji's Barley are brought out by the light sweetness.
Bandung – This pink-hued beverage is made by combining rose syrup with evaporated milk and water which results in a creamy and fragrant beverage that is both sweet and floral. 
Ice Lemon Tea – The tea base used in this beverage is carefully brewed to achieve a satisfying depth of flavor, while the addition of lemon juice adds a refreshing zest.
Qi Ji Menu Delivery
Qi Ji's menu delivery offers a more convenient way of ordering which allows customers to enjoy their favorite dishes from the comfort of their own homes. With the help of third-party delivery services like FoodPanda, customers can order their favorite dishes from Qi Ji through their mobile devices and computers.
Qi Ji Social Media Pages
Indulge in their delectable range of local delights, from fragrant chicken rice to flavorful laksa and crispy fried snacks. Follow Qi Ji on social media to join a community of food enthusiasts and get inspired by their culinary creations.
Facebook: https://www.facebook.com/QiJiSingapore
Instagram: https://www.instagram.com/qijisg
Twitter: https://twitter.com/qiji_ourchoice
Website: https://www.qiji.com.sg/
FAQs
What types of food does Qi Ji offer?
Qi Ji offers a wide variety of foods that focuses on Singaporean and Malaysian cuisine.
Are there vegetarian or vegan options available at Qi Ji?
Yes, Qi Ji offers vegetarian and vegan options on their menu.
Are there any signature dishes at Qi Ji?
Yes, Qi Ji has several signature dishes that have become popular among their customers like the Nasi Lemak and laksa noodles.
Are there any promotions or discounts available at Qi Ji Singapore?
Qi Ji Singapore oftentimes provide promotions and discounts for their loyal customers.
Does Qi Ji have a loyalty program?
Yes, Qi Ji has a loyalty program that allows its customers to redeem various rewards.
Conclusion
Qi Ji's menu highlights popular dishes with the likes of Nasi Lemak, Laksa, and Hainanese Chicken Rice. It is a well-established restaurant in Singapore that showcases the rich and diverse flavors of local cuisine, offering a satisfying culinary experience for locals and tourists. The establishment has an inviting ambiance and the menu is filled with a variety of delicious food offerings making Qi Ji a go-to spot for anyone looking to indulge in the authentic tastes of Singapore.