Got tired from a long boring day? Then let's level up your today's venture as we introduce to you the most famous curry puff! Huh? You don't feel to have a crunchy curry puff and want to have a complete set of meals with rice instead? Then we definitely and still got your back buddy! They had a wide variety of Bento Sets which can truly entice your palate! Enjoy every penny at Old Chang Kee as they are not only great at curry puffs but also some other meals that might interest you. Choose from any of the following: Cheesy Chicken Sausage Onstik, Dry Mee Siam Bee Hoon, Gyoza Onstik, and a lot more! All this time, the Old Chang Kee menu serves the best meal specifically the curry puff to its customers.
What the company along with the staff wants is to serve greatness in each munch on a single but enjoyable platter. Here at Old Chang Kee, you can definitely enjoy your meal while having a comfortable stay, as it gives not just a great food selection but an ambiance that can really give you peace of mind and the rest that your heart wants.
If you want to try a wide variety of tasty curry puffs, then visit us at the different branches here in Singapore. Enjoy your wonderful breakfast with us and let's create a great memory that you can treasure!
Old Chang Kee Menu Price List [Updated]
You can find the updated pricing information for the Old Chang Kee food items below.
MENU
PRICE (SGD)

Bee Hoon

Braised Bee Hoon
$1.70
Dry Mee Siam Bee Hoon
$2.70

Boxes

Curry'O Box
$9.00
Spring'O Box
$9.00

Snacks

Big Fishball OnStik
$2.40
Cheesy Chicken Ball Onstik
$2.00
Cheesy Chicken Sausage Onstik
$2.00
Cheezy Fish Finger With QQ Fries
$4.00
Chicken Chunky Pops
$3.30
Chicken Nugget Onstik
$2.00
Chicken Wing
$2.00
Crab Nugget Onstik
$2.00
Curry'O
$1.80
Fish Fillet Onstik
$2.00
Fishball on Stik
$1.70
Gyoza Onstik
$1.90
Prawn Nugget Onstik
$2.00
Sardine'O
$1.80
Spring'O
$1.80
Tiger Prawn OnStik
$2.10

Valued Bento Sets

Set A: Sambal Fish Rice
$6.90
Set B: Chicken Chop Rice
$6.90
Set C: Dry Curry Chicken Rice
$6.90
Set D: Sweet and Sour Fish Rice
$6.90

Valued Bento Sets: Local

Set A: Stir-fry Chicken Breast Rice
$7.50
Set B: Steamed Fish with Seaweed Sauce Rice
$7.50
Set C: Hainanese Chicken Rice
$7.50
About Old Chang Kee
The humble beginning of Old Chang Kee started in the year 1956, they started their small business near the Rex Cinema. As they create their branding as a curry puff store, the resident near them coined their famous curry puff as "Rex Curry Puff", due to the fact that it was standing firmly side-by-side with Rex Cinema.
Due to the extravagant and unique aroma that it radiates, the heart of Singaporeans both young and old has been captured by Old Chang Kee. They found pleasure in each bite which results in a strong brand that still stands up today. This six-decade curry puff serves not only a crunchy meal but also memories that are kept hidden in every Singaporean heart.
Mr. Han Keen as the CEO of the company didn't settle for a little privilege.  In the year 1986, he tried to capture and successfully acquired Old Chang Kee and put all of his remaining savings just to make it a successful brand. At present time, Old Chang Kee had over 70 outlets that can be found across Singapore!
If you wish to know further details about Old Chang Kee, then I suggest that you buy a curry puff first to maximize your Old Chang Kee experience.
Old Chang Kee Menu Best Seller
Do you love to taste the best South-East Asian curry puff? The Old Chang Kee is your food buddy! Have your own curry puff or locally known as epok-epok and karipap.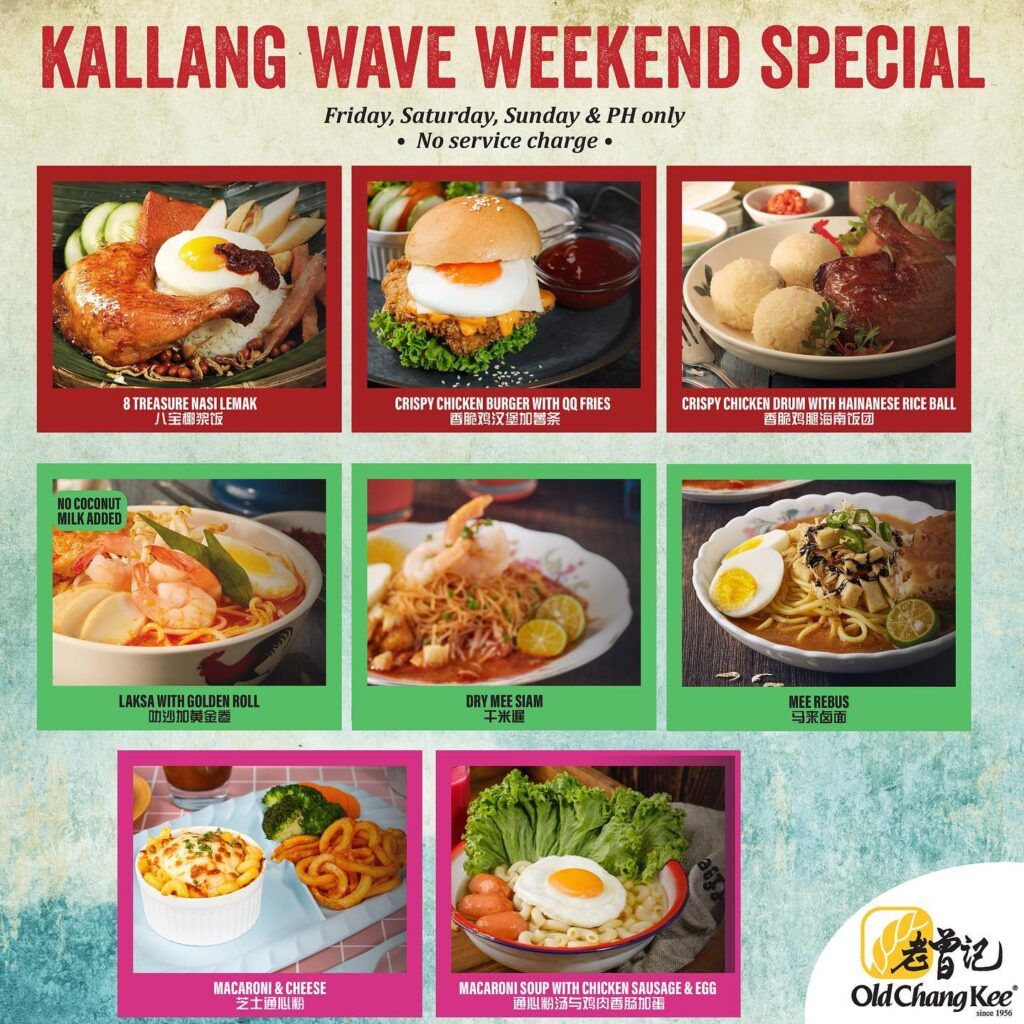 Enjoy this local and traditional Singaporean food for 1.80 dollars only! Since the beginning of its domination in the year 1956, Rex Curry Puff became a traditional and classical food that you can find in every Singaporean's dinner.
Want to know what's inside this curry puff? Since a lot of people are curious about its taste, then I gladly present to you how this curry puff taste. If you are a fan of crunchy bread then it is the main texture of curry puff. It is filled inside with chicken, egg, curried potato, seasonings such as salt and pepper, and some other different ingredients which cannot be disclosed to the public.
Old Chang Kee Menu Bento
Since we all love to eat on a single platter, the Old Chang Kee menu harnessed that famine and managed to develop a wide set of Bento Boxes. You can have your perfect meal in a single order. How? Just order at the counter, and state that you would like to have a bento box. They'll allow you to pick from their wide selection and once you had your own chosen meal then wait for your bento box to arrive.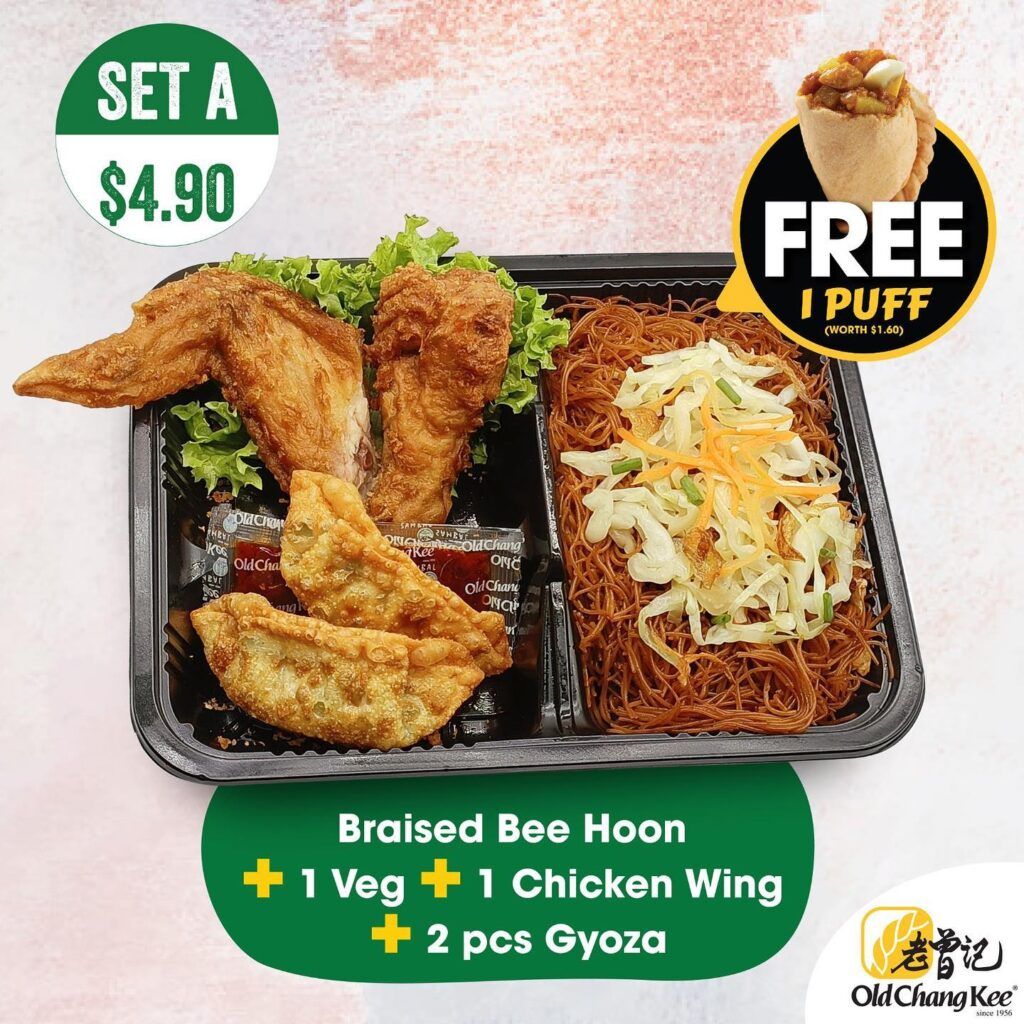 You can choose between sets A to D of different bento boxes like Valued Bento Sets, Local Bento Sets, Vegetarian Bento Sets, and a lot more! So visit us now and have your own bento set!
Old Chang Kee Menu Delivery
Some of us don't want to go out because of the pandemic but lucky for us, Old Chang Kee Singapore now offers an island-wide delivery! Yes, you heard it right? Enjoy your own curry puff together with your loved ones at the convenience of your own comfortable and relaxing home! To purchase orders from the Old Chang Kee menu, you can try the local food servicing app just as food panda, grab food, and Deliveroo.
What surprised me today is the ability of Old Chang Kee to grasp the power of Shopee! You may be confused today about what I am talking about. I just simply want to inform you guys that you can actually buy their meal via Shopee! Yes, it is indeed mind-blowing because we knew that Shopee is just a department store on a phone. You can visit their Shopee store by typing: Old Chang Kee Official Store. You can also look at your browser, and search for Old Chang Kee Singapore. Click and open the first search result just follow the step-by-step guide which is already plastered on your own screen then wait for your curry puff to arrive.
Talk to Old Chang Kee Staff
Since the foundation of social media, Old Chang Kee didn't hesitate to hop into the social media trend. Old Chang Kee managed to establish accounts – which you can use to talk to them – on three different platforms, this platform includes Facebook, Instagram, and even Email.
You can search for Old Chang Kee via Facebook, just click on the search bar and type "Old Chang Kee Singapore". The Facebook community already has strong followers, and as the growth continues, Old Chang Kee offers its community limited giveaways for those who actively participate on their social media accounts.
In addition, you can also follow Old Chang Kee through Instagram. Just look for @oldchangkeesingapore with an active community of 20.9K individuals. Amazing right? That doesn't stop there as they welcome your concerns through email. You can directly email them via: [email protected].
If you wish to have a direct phone call, their lines are always open. Just dial: + (65) 6303 2400 or the fax: (65) 6303 2415.
FAQs
People are always curious about something. Just like "what should I buy in this store", "what is their best seller" and such. Below is a list of frequently asked questions by people online and those who visit Old Chang Kee.
How long can you keep Old Chang Kee?
If you truly love your food you will definitely empty your platter, however, there are instances that we can get full easily that's why we usually had our left over. In some instances, due to our busy schedules, we tend to forget our cravings for a specific food. Old Chang Kee can assure you that with proper storage, the food can be stored for over 3 months.
Old Chang Kee stated that their frozen food can last long if they keep it sealed in the refrigerator. But they advised that you should eat their frozen goods within three months to prevent food poisoning.
However, if we are talking about the curry puff that can also be bought at Old Chang Kee, then it can only be stored for about 2 days maximum.
What does Old Chang Kee sell?
If you wish to visit Old Chang Kee, then you should know that the menu that they are specializing in curry puffs. Curry puffs are synonymous with dumplings but it is somehow had a crunchy outer appearance. This favorite puff is made from a combination of egg, curry potato, and chicken seasoned with different herbs and spices.
What is unique about Old Chang Kee?
Of course, the unique thing about Old Kang Chee is its best-selling menu which is curry puffs. They commonly coined it as Rex Curry Puff due to its origin which is the Rex Cinema. The uniqueness of Old Chang Kee curry puff is what made it stand amongst large competitors.
Conclusion
I believe that in order to achieve greatness in life one has to suffer first. In line with the idea of creating a great brand, Mr. Han Keen develop his own food business which starts with a single idea, to provide snacks to those who watch the cinema.
As our community grows and progress, we may notice that with this generation, a lot of food business emerge and evolved through time. These food enthusiast tried to develop their own unique vision for their brand, but not all of them succeeded. However, in the case of Old Kang Chee they didn't just succeed but also leave a legend in the land of Singapore.
Since their story began from a little business into a golden firm, Mr. Han Keen decided to expand its business and reached rapid growth. In each part of Singapore, you can certainly sight Old Kang Chee. From north to south, and east to west; a curry puff is being served.
As the best curry puff producer, the Old Chang Kee menu proudly presents to you its plethora of food variations that you can truly enjoy. So if you would like to have a taste of our famous curry puff, then this is your sign to visit us today!