The Avenue menu consists of small bites, desserts, and custom-made cocktails. Waffle Fries and Charred Corn Ribs are the vegan dishes that this lounge serves. The simplicity of its menu makes it easier for diners to pick the food and cocktails that will satisfy them. Table reservation is highly advisable, and wearing a smart casual is required to experience the nightlife it offers. 
You can find the updated pricing information for the Avenue menu below.
MENU
PRICE (SGD)

Small Bites

BBQ Pork Belly
$26.00
Charred Corn Ribs (V)
$22.00
Chicken Karaage
$26.00
Devil's Chicken
$26.00
Grilled Lamb Chop
$30.00
Salt Pepper River Shrimps
$26.00
Tuna Tartare Tacos
$26.00
Waffle Fries (V)
$22.00
Wagyu Slider
$28.00

Dessert

Assorted Churros
$24.00
Chocolate Bowling Ball
$40.00
Donut Balls
$26.00
Seasonal Fruits Platter
$34.00

Cocktails

Banana Cue
$28.00
Caliente
$28.00
Eve's Garden
$28.00
G.L.T.
$28.00
Green Paradise
$28.00
She's So East Coast
$28.00
Smokescreen
$28.00
Sunny Island
$28.00
About Avenue
Avenue Singapore is one of the brands under Tao Group Hospitality. This lounge is situated at the heart of The Shoppes at Marina Bay Sands. It is one of the places in Singapore that offers a luxurious nightlife experience. Some of the games and activities that it provides are Arcade Games, Pool Table, Mini Bowling Alley, and Karaoke Room. 
Avenue Menu Waffle Fries 
Waffle fries are made from potato sliced in a crosswise-crinkle cut. The crannies and nooks of these fries make each bite flavorful as they absorb the seasoning well, and the sauce sneaks in perfectly. It has a crispy texture, golden brown color, appetizing presentation, and delicious taste. The Grana Padano cheese and truffle dip that comes with it add flavor and texture.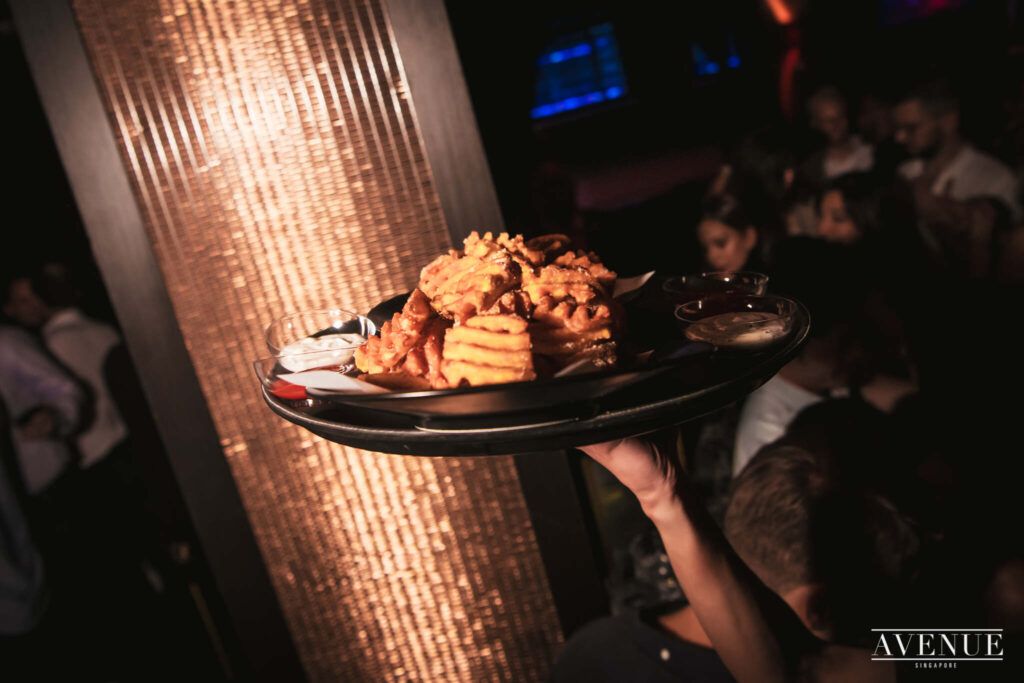 Avenue Menu Charred Corn Ribs 
A vegan food where strips of corn on the cob are seasoned and charred expertly. It is cut into bite-sized pieces, making it more convenient to eat. The paprika and queso blanco enhances the taste of these charred corn ribs. It has a crispy outer layer, a juicy and sweet flavor, and a delicious taste. These plant-based riblets are perfect for those who want something exciting and healthy. 
Avenue Menu BBQ Pork Belly 
The thin slices of pork belly are marinated with barbecue sauce and sesame. Pork belly has a good proportion of meat and fats, making it juicy and meaty. This is a popular meal served in most restaurants as pork is one of the meats used in grilling. It has a perfectly charred end and slight crispiness and gives a comforting feeling that will make you crave more. 
Devil's Chicken 
Devil's Chicken, also known as Pollo Diablo, is a chicken marinated in a special mixture. The gochujang, paprika, and cayenne give this dish a spicy flavor. It has a tender and juicy tender, making every bite delicious. This chicken is one of the dishes you should try as it has a distinctive taste that will stimulate your appetite. 
Salt Pepper River Shrimps 
Shrimp is one of the most popular seafood used in creating different dishes as it has a versatile taste that goes well with other ingredients. This salt pepper river shrimp of Avenue Singapore is flavored with spicy aioli and shishito peppers. The vibrant color of prawns and its delicious taste makes this luscious.
Chicken Karaage 
Karaage is a Japanese word that refers to deep-frying various food in oil. This Chicken Karaage is made of chicken cut into small pieces, coated lightly with batter, and deep-fried until its batter and outer layer become crispy and golden brown. The seaweed flakes garnished on it adds a salty and savory and an additional crunch. Wasabi cream, a classic Japanese flavoring, is served with it, giving chicken karaage an appetizing taste. The consistency of this cream's texture and flavor enhances the taste of this simple Japanese-inspired dish. 
Avenue Menu Wagyu Slider 
Made from premium Wagyu Beef, this Wagyu slider is one of the iconic dishes in American cuisine. This is made with a slider-sized beef patty, white cheddar, and jalapeno. The flavors and textures of these ingredients go well together, making every bite satisfying. It has melt-in-your-mouth goodness as it has exceptional marbling. The rich beefy flavor of Wagyu makes it a hearty snack. 
Grilled Lamb Chop 
The dishes made with lamb are rare as they are not always available in grocery stores or markets. If you are craving lamb meat, this lounge is one of the dining places offering this flavorsome dish. Lamb chops are marinated with garlic balsamic for a couple of hours to infuse the hearty flavor of the sauce into the meat. After marinating, lamb chops are grilled until it achieves the perfect consistency. Diners enjoy this dish as it has a tender texture and rich taste. The garlic balsamic sauce pairs perfectly with the tender and juicy lamb chops and gives a glossy appearance. 
Tuna Tartare Tacos 
Spice up your meal and wake up your senses with these tuna tartare tacos menu from Avenue Singapore. This satisfying snack is made with a crispy taco shell filled with tuna, avocado, spicy soy, and other special ingredients. The avocado gives a creamy texture and adds an essential nutritional value. It is a convenient and filling meal that will satisfy your cravings. 
Dessert 
The desserts served by Avenue Singapore consist of Assorted Churos, which consists of homemade kaya, Nutella, and caramel dulce de leche; Chocolate Bowling Ball, which includes vanilla & chocolate gelato and hazelnut praline; and Donut Balls, comprised of Rainbow Sprinkles and Chocolate Caramel. A seasonal fruit platter which consists of fresh and vibrant fruits is also offered. 
Cocktails 
Customers visit Avenue Singapore to taste its specially curated craft cocktails. Some of the cocktails that it offers are Smokescreen, made with a combination of ginger honey, lemon, Bulleit bourbon, and Laphroaig; Caliente, where Lillet blanc, Don Julio Reposado, Agave, Lemon Juice, and Grapefruit Bitters are mixed; and Banana Cue, a special cocktail that consists of Crème de Banana, Bacardi & Rum, Walnut Bitters, and Gula Melaka.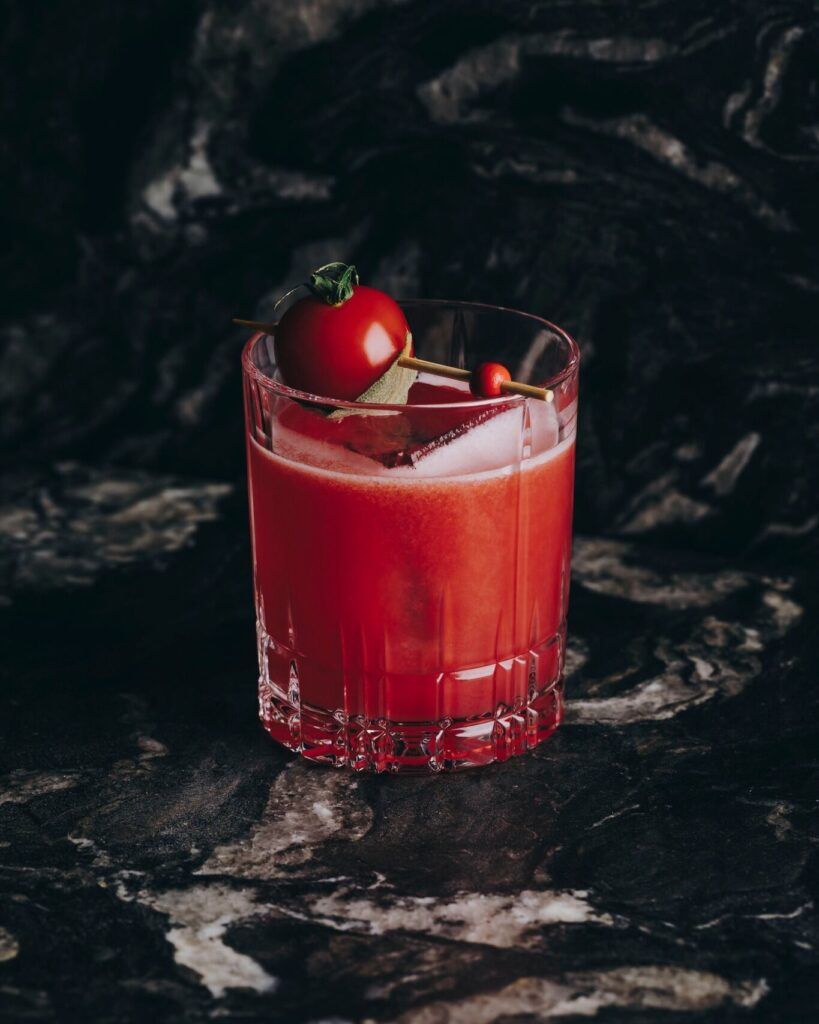 Avenue Menu Delivery 
The food and beverage items of Avenue Singapore are not available for delivery. Call them at +65 6688 8680 for questions and inquiries about reservations or events. 
Social Media Pages
Follow Avenue Singapore on social media for a captivating glimpse into our world of gastronomy and luxury. Stay updated with our latest Avenue menu creations, culinary events, and exclusive promotions.
Facebook: https://www.facebook.com/avenueloungesg/
Instagram: https://www.instagram.com/avenuesingapore
Website: https://avenuesingapore.com/contact/
Email: [email protected]
FAQs 
What are the operating hours of Avenue Singapore? 
Avenue Singapore is open on Wednesdays to Saturdays, from 10:00 PM till late. It is closed every Sunday, Monday, and Tuesday.  
Are there any special events or promotions at Avenue Singapore? 
Yes, Avenue Singapore hosts special events such as its anniversary party and other occasions. 
Does Avenue Singapore have a customer loyalty program? 
Avenue Singapore does not have a customer loyalty program. 
Is Avenue Halal certified? 
Avenue Singapore is not a halal-certified lounge. 
Conclusion
The Avenue menu offers enticing food and bespoke cocktails. This lounge also provides exciting activities and games that will keep you energized. It is a luxurious venue to chill out and enjoy with friends or colleagues. The Live DJ Performances, the music genres in this lounge, and the artist they invite on special occasions make guests or customers happy and satisfied.