CUT, a Wolfgang Puck restaurant located in Singapore, offers a menu that focuses on delivering exceptional quality steaks and other culinary delights. It has a reputation for excellence, CUT is known for its premium cuts of beef sourced from around the world. The menu features a variety of steak options, including filet mignon, New York strip, and ribeye, cooked to perfection and served with flavorful sauces and accompaniments. In addition to steaks, there may be a selection of seafood dishes, such as fresh fish or shellfish, prepared with care and attention to detail. 
You can find the updated pricing information for the CUT menu below.
MENU
PRICE (SGD)

Starters

Prime Sirloin "Steak Tartare"
Maryland Blue Crab Cake
Austrian Oxtail Bouillon
Kaluga Caviar 30g
Hokkaido Scallop "Carpaccio"
Bone Marrow Flan
Maple Glazed Pork Belly
Butter Lettuce
Vietnamese Style Beef Carpaccio
Prawn "Cocktail"
Big Eye Tuna Tartare

Roasted

Sautéed Dover Sole "Meunière"
Whole Roasted Maine Lobster
Baby Chicken Cooked on Rotisserie
Double Thick Iberico Pork Chop
Colorado Lamb Chops

Japanese Pure Breed Wagyu Beef

Sendai Prefecture, Filet Mignon 170g
Sendai Prefecture, New York Sirloin 170g
Sendai Prefecture, Rib Eye Steak 230g

Large Format Cuts

Australian Wagyu Bone in Ribeye 1.5kg
USDA Prime Porterhouse 1.6kg

USDA Prime, Illinois Corn Fed, Aged 21 Days

Filet Mignon 170g
New York Sirloin 340g
Rib Eye Steak 395g
American Wagyu, Snake River Farms, Idaho
Filet Mignon 170g
New York Sirloin 230g
Eye of Rib Steak 280g

Australian Grain Fed, Aged 35 Days

Bone in Filet Mignon, Rangers Valley Angus 380g
Porterhouse (For Two), Rangers Valley Angus 990g

Sauces

House Made Steak Sauce
Yuzu Kosho Butter
Creamy Horseradish
Red Wine Bordelaise
Armagnac & Peppercorn
Argentinean Chimichurri
Béarnaise

From the Market

Tempura Onion Rings
Yukon Gold Potato Purée
Creamed Spinach
Fried Organic Egg
Hand Cut Potato French Fries
Old Bay Aioli
Peewee Potatoes
Patatas Bravas, Garlic Aioli
Sautéed Tuscan Black Kale
Baby Spinach, Garlic
Broccolini
Pecorino, Sun Dried Tomatoes, Garlic, Chili
Cavatappi Pasta "Mac & Cheese"
White Cheddar
Wild Field Mushrooms
Shishito Peppers

Add to the Cuts

Fried Organic Egg
Caramelized Onions
Point Reyes Blue Cheese
Black Truffle 3g
Half 400g Maine Lobster
Foie Gras
Roasted Bone Marrow
Parsley

Desserts

Warm Cherry Crumble
Praline Mascarpone Bar
Kaya "Baked Alaska"
Valrhona Chocolate Soufflé
Selection of Ice Creams and Sorbets

Artisanal Cheeses

Quince, Acacia Honeycomb, Candied Walnuts
Reblochon – Savoie, France
Brillat Savarin – Burgundy, France
Shropshire Blue – Nottinghamshire, England
Cabécou – Midi-Pyrénées, France
Ossau-Irraty – Pyrénées-Atlantiques, France
Garrotxa – Catalonia, Spain

Early Cuts First Course

First Course Maryland Blue Crab Cake
Butter Lettuce
First of the Season Corn Soup

Main Course

USDA Prime Sirloin Steak
Wild Field Mushroom Pasta
Halal Young Chicken

Cuts - Add Ons

Half 400g Maine Lobster
Foie Gras
Fried Organic Egg

Sides

Sautéed Broccolini
Creamed Spinach
Baby Spinach, Garlic

Dessert

Warm Butterscotch Apple Crumble
Praline Mascarpone Bar
Wines By The Flight
Grenache | Ferraton – "Laudun Blanc", Côtes-du-Rhône | France 2016
Chardonnay | Laroche – "Les Chanoines", Chablis | France 2018
Syrah / Grenache | Laroche – "Rosé la Chevalière" | France 2018
Shiraz | Hentley Farm – "Villain & Vixen", Barossa Valley | Australia 2018
Cabernet Sauvignon | Wolfgang Puck, California | USA 2017

Featured Beers

Kirin Ichiban, Japan 5% ABV
Available in 330ml
Hofbräu "Original" Lager, Germany 5.1% ABV

Single Malt Scotch Whisky

Aberlour 15 Y.O.
Ardmore Highland
Balvenie "Double Wood" 12 Y.O.
Balvenie Portwood 21 Y.O.
Clynelish 14 Y.O.
Dalwhinnie 15 Y.O.
Edradour 10 Y.O.
Glendronach 15 Y.O.
Glenfarclas 15 Y.O.
Glenfarclas 17 Y.O.
Glenfiddich 18 Y.O.
Glenfiddich 21 Y.O.
Glenlivet 12 Y.O.
Glenlivet 18 Y.O.
Glenlivet 40 Y.O. "Distilled in 1968, Bottled in 2008"
Glenmorangie 10 Y.O.
Glenmorangie 18 Y.O.
Glenmorangie 25 Y.O.
Glenmorangie "Nectar d'Or"
Macallan 12 Y.O.
Macallan 18 Y.O.
Macallan 25 Y.O.
Oban 14 Y.O.
Royal Lochnager 12 Y.O.
Strathisla 12 Y.O.
Campbeltown
Springbank 15 Y.O.
Islands
Highland Park 12 Y.O.
Highland Park 30 Y.O.
Talisker 10 Y.O.
Talisker 18 Y.O.
Lowlands
Auchentoshan 12 Y.O.
Auchentoshan "Three Wood"
Haig Club "Single Grain"
Islay
Ardbeg "Corryvreckan"
Ardbeg 10 Y.O.
Bowmore 12 Y.O.
Bowmore 18 Y.O.
Bruichladdich 16 Y.O. "Bourbon"
Bruichladdich "Black Art" 23 Y.O.
Bruichladdich "Cask" 23 Y.O.
Bruichladdich "Octomore"
Bruichladdich "The Laddie"
Bunnahabhain 12 Y.O.
Caol Ila 12, 1997
Laphroaig 10 Y.O.
Lagavulin 16 Y.O.

Blended Scotch Whisky

Chivas Regal 12 Y.O.
Dewar's White Label
Famous Grouse
Johnnie Walker Black
Johnnie Walker Gold
Johnnie Walker Blue
Southern Comfort

Indian Whisky

Amrut Classic
Amrut "Peated"
Irish Whisky
Bushmills 10 Y.O.
Jameson

Canadian Whisky

Canadian Club

Japanese Whisky

Black Nikka
Hakushu 12 Y.O.
Hakushu 18 Y.O.
Hibiki 17 Y.O.
Hibiki 21 Y.O.
Hibiki 30 Y.O.
Ichiro's "Chichibu" 3 Y.O.
Kawuizawa 1981 Cask 152
Miyagikyo 10 Y.O.
Miyagikyo 15 Y.O.
Nikka "From the Barrel"
Nikka, Single Cask 1987
Nikka 17 Y.O. Pure Malt
Yamazaki 18 Y.O. Single Malt
Yamazaki 25 Y.O. Single Malt
Yoichi 12 Y.O. Single Malt
Yoichi, Single Malt 1989

American Whiskey

Corn & Rye
Bulleit Rye
Gentleman Jack
High West "Campfire"
High West "Rendezvous" Rye
Hudson Manhattan Rye
Hudson New York Corn
Jack Daniels Black
Redemption Rye
Rebell Yell
Rittenhouse Rye
Willet Rye

Bourbon

Baker`s 7 Y.O.
Basil Hayden 8 Y.O.
Blanton's Original
Blanton's 112 Proof
Booker`s
Buffalo Trace
Bulleit Rye
Elijah Craig 12 Y.O.
Evan Williams 1988
Four Roses "Single Barrel"
Four Roses "Small Batch"
High West "American Prairie"
Hudson Baby Bourbon
Johnny Drum Private Stock
Knob Creek
Maker`s Mark
Noah's Mill
Parker's "Golden Anniversary"
Parker's "Heritage" 27 Y.O.
Redemption High Rye
Rowan's Creek
St. George "Breaking & Entering"
Woodford Reserve
Willet Family Estate 8 Y.O.

Italy – Grappa | Brandy

Nardini, Bianca
Nonino, Fragolino
Nonino, Moscato
Nonino, M?ller Thurgau
Nonino, Sauvignon Blanc
Jacopo Poli, Amorosa di Settembre
Jacopo Poli, Arzente Brandy
Jacopo Poli, Cleopatra Prosecco
Jacopo Poli, Moscato
Jacopo Poli, Torcolato
Jacopo Poli, Sarpa Barrique

France – Cognac

Audry Exception
Audry "Memorial"
Audry "Réserve Spéciale"
Audry XO
Courvoisier 12 Y.O.
Courvoisier VS
Hennessy "Paradis"
Hennessy "Richard" (30ml)
Hennessy VSOP
Hennessy XO
Hine 60 Y.O.
Hine Rare
Lheraud 10 Y.O.
Martell "Cordon Bleu"
Martell VSOP
Remy Martin "Louis XIII" (30ml)
Remy Martin VSOP
Remy Martin XO
Tesseron XO Lot 29 Exception
Tesseron XO Lot 53 Perfection
Tesseron XO Lot 76 Tradition
Tesseron XO Lot 90 Selection

France – Armagnac

Ch. De Laubade 95
Domaine de Jounda 1983
Domaine de Jounda 1989
Domaine de Jounda 1990

France – Calvados

Christian Drouin Selection
Christian Drouin 15 Year
Christian Drouin 1986

Peru – Pisco

Campo de Encanto

Gin

Beefeater
Bombay Sapphire
Botanist
Death's Door
G'Vine "Nouvaison"
Hendrick's
No. 209
Old Raj
Oxley
Plymouth Sloe
Poli Marconi 46
Sipsmith London Dry
Sipsmith Sloe
St. George Rye
St. George Terroir
Tanqueray
Tanqueray No. Ten
Uncle Val's
Whitley Neill

Vodka

Absolut
Belvedere
Belvedere XI
Chopin "Potato"
Effen
Grey Goose
Grey Goose Orange
Imperia
Jean Marc XO
Ketel One
Stolichnaya
Stoli Elit
Tito's Handmade
Ultimat

Rum & Cachaça

Bacardi 151
Cachaca Abelha Silver
Captain Morgan
Caroni 12 Y.O.
Diplomatico
Diplomatico Ambassador
Diplomatico Añejo
Domaine de Courcelles 1972
Havana Club Anejo
Leblon Cachaça
Matusalem Gran Reserva 15 Y.O.
Mt. Gay Black Barrel
Mt. Gay Eclipse
Mt. Gay Extra Old
Mt. Gay 1703 Old Cask Selection
Myer's Dark
Plantation Dark
Plantation White
Pyrat
Zacapa, Solera 23
Zacapa XO
1796 Saint Teresa, Solera

Tequila

Casa Noble Crystal
Don Julio Añejo
Don Julio Blanco
El Tesoro Platinum
Jose Cuervo "La Familia"
Patron Añejo
Patron Platinum
Patron Reposado
Patron Silver
Sauza Blanco
Sauza "Tres Generaciones" Añejo
Siete Leguas Añejo
Siete Leguas Blanco
Ocho Blanco
Ocho "Estate" Añejo
Ocho Reposado
1800 Añejo

Mezcal

Del Maguey "Albarradas"
Del Maguey "Pechuga"
Del Maguey, Vida
Ilegal Joven
Ilegal Reposado
Other Spirits
Amaretto Luxardo
Amaretto di Saronno
Amaro Nonino
Aperol
Campari
Chartreuse VEP Yellow
Chartreuse VEP Green
Drambuie 15 Y.O.
Fernet Branca
Frangelico
Grand Marnier 150
LaFee Absinthe
Luxardo Limoncello
Mancino Bianco
Mancino Rosso
Pimm's
Poli Ciok
Poli Moka
Punt e Mes
Ramazzoti
Sambuca Luxardo
St. George Absinthe Verte

Lagers & Ales

Delirium "Nocturnum" Dark Triple, Belgium 8.5% ABV (330ml)
Green Flash "West Coast IPA", Double IPA, USA 8.1% ABV (355ml)
Hitachino Nest, Red Rice Ale, Japan 7.0% ABV (330ml)
Hitachino Nest, White Ale, Japan 5.0% ABV (330ml)
Hofbräu "Dunkel" Lager, Germany 5.5% ABV (330ml)
Hofbräu "Original" Lager, Germany 5.1% ABV (330ml)
Kirin Ichiban, Lager, Japan 5.0% ABV (330ml)
Magic Hat, Pale Ale, USA 5.1% ABV (330ml)
Modern Times "Blazing World" Amber Ale, USA 6.8% ABV (473ml)
Oakham Ales "Green Devil" IPA, England 6% ABV (500ml)
Rochefort "No. 6" Trappist Ale, Belgium 7.5% ABV (330ml)
Ryujin "Ozeno Yukidoke", Brown Weizen, Japan 5.0% ABV (330ml)
Sheppy's Taylor's Gold Cider, England 6% ABV (500ml)
St. Peters Cream Stout, England 6.5% ABV (500ml)
About CUT 
CUT Singapore is a restaurant owned by Wolfgang Puck, a renowned celebrity chef, and restaurateur, and he has established a presence in various locations around the world, including Singapore. CUT's menu offers a variety of steak options, including prime cuts such as filet mignon, New York strip, and ribeye, sourced from around the world. To go along with the steak options, the menu also offers a variety of seafood, salads, appetizers, and sides.
CUT Menu Best Seller
This menu is made up of a different variety of food items that are the most-ordered by customers that visit CUT.
Whole Roasted Maine Lobster – This is a standout dish with lobster that was cooked to perfection, resulting in tender and succulent meat. The natural sweetness of the lobster is enhanced by the roasting process, creating a delightful flavor profile. The dish is served with complementary sauces that elevate the flavors and textures of the lobster.
Prime Sirloin "Steak Tartare" – It is a classic dish that showcases the restaurant's expertise in handling premium cuts of beef with a tartare that was prepared with finely minced prime sirloin, combined with a harmonious blend of seasonings, herbs, and condiments.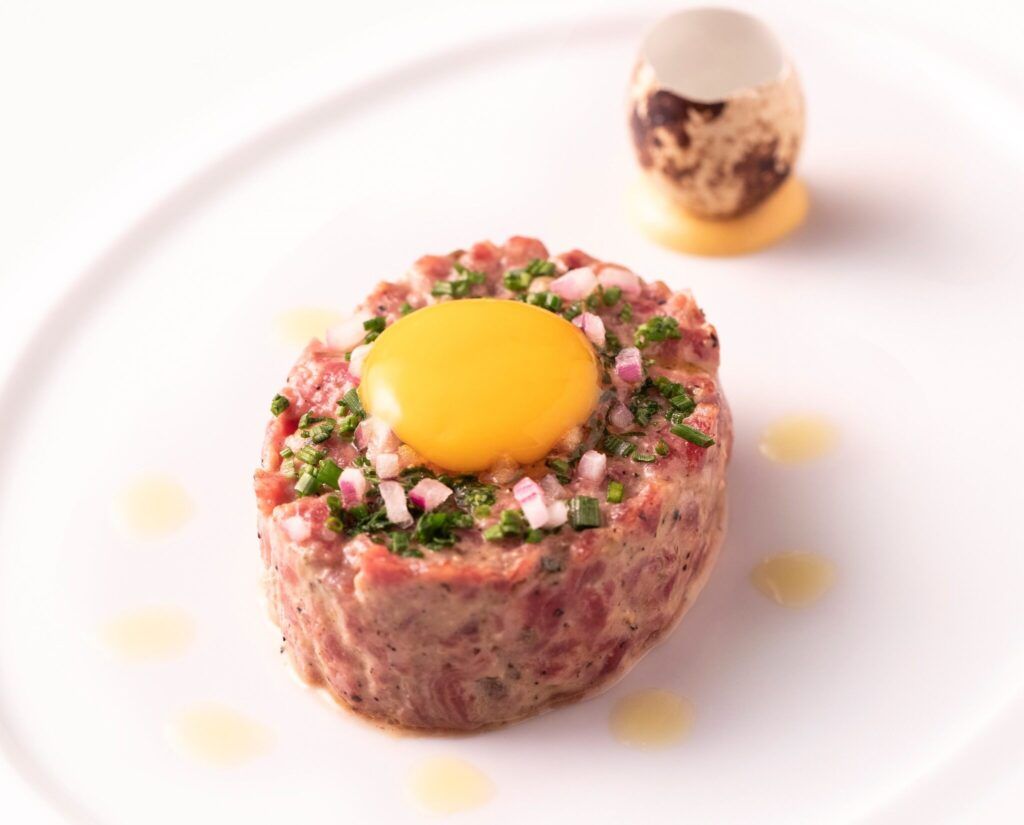 Kaluga Caviar 30g – Kaluga caviar is highly regarded for its large, glossy pearls and rich flavor. This delicacy is often served with traditional accompaniments like blinis or toast points and may be accompanied by condiments such as crème fraîche or finely chopped onions. 
Maple Glazed Pork Belly – The Maple Glazed Pork Belly dish at CUT offers a delightful combination of sweet and savory flavors with a pork belly that was cooked to achieve a crispy exterior and tender, melt-in-your-mouth texture.
CUT Menu Starters
This menu is made up of a variety of starting options that will help kickstart your wholesome and fine dining experience at CUT.
Austrian Oxtail Bouillon – This traditional soup is prepared by using oxtail, which imparts a deep and hearty flavor to the broth. The bouillon is typically slow-cooked to extract the flavors from the bones, resulting in a savory and flavorful base. 
Hokkaido Scallop "Carpaccio" – The dish is likely prepared by thinly slicing the scallops and presenting them in a visually appealing arrangement. The scallops are dressed with citrus or other complementary flavors to enhance their natural sweetness while the whole dish is garnished with additional ingredients to provide texture and flavor contrast.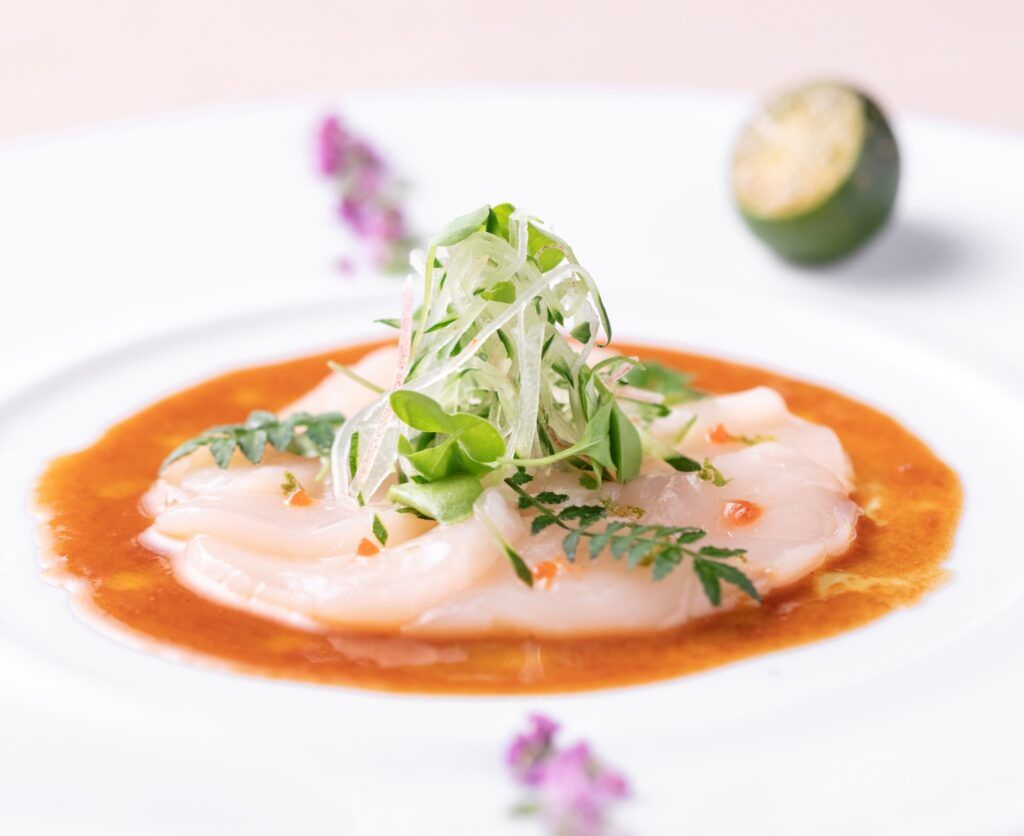 Bone Marrow Flan – It is a luxurious and indulgent dish that highlights the rich and velvety texture of bone marrow. The flan is prepared by blending bone marrow with cream or other ingredients to create a smooth and creamy custard-like texture and seasoned with herbs, spices, or other flavorings to add depth and complexity.
CUT Menu Roasted
This menu is made up of a different variety of roasted dishes that are both delectable and budget-friendly.
Baby Chicken Cooked on Rotisserie – The chicken used in this dish is cooked on a rotisserie, resulting in a beautifully browned and crispy skin while retaining its tenderness and juiciness while the seasoning and herbs used during the cooking process enhance the flavors of the chicken, creating a delicious and well-rounded taste.
Double Thick Iberico Pork Chop – Iberico pork is known for its marbling and intense flavor profile and the double thickness of the pork chop allows for a juicy and moist interior while achieving a caramelized and flavorful crust on the outside.
Colorado Lamb Chops – Known for their high quality and rich flavor, these lamb chops are prepared and cooked to perfection, resulting in a succulent and juicy texture, and then seasoned with herbs or spices that complement its natural flavors.
USDA Prime
This menu is made up of different varieties of steak cuts that are USDA Prime-classified.
Filet Mignon 170g – This classic steak is best known for its tenderness and mild flavor, and at CUT, it is served with a choice of house-made sauces, such as bordelaise or chimichurri, and a side dish.
New York Sirloin 340g – The New York sirloin is one of the many popular steak cuts at CUT that is known for its bold, beefy flavor. This offering at CUT is served with a choice of sauces and a side dish that complements this cut of steak.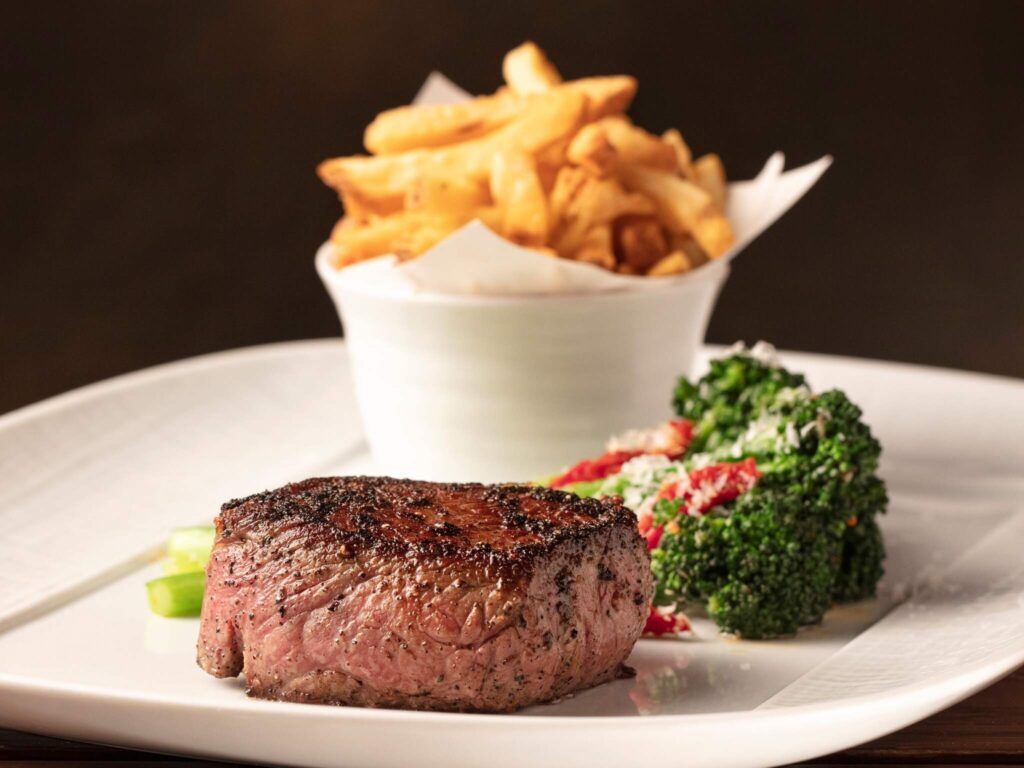 Rib Eye Steak 395g – The rib eye is a well-marbled cut of beef that is known for its rich flavor. At CUT,  it is praised for its tenderness, flavor, and juiciness and served with a choice of sauces and a side dish.
American Wagyu
This menu of CUT is made up of a variety of highly sought-after meats. Each of these options is known for its exceptional marbling, resulting in a tender and flavorful eating experience. The beef is typically sourced from carefully selected farms in the United States, where the cattle are raised with meticulous attention to detail.
Large Format Cuts
The Don Don Donki menu is the star of CUT's offerings, providing an incredible dining experience. These delicious cuts of meat are meant to be enjoyed with friends, as they are cooked with exceptional skill and precision by the talented culinary team. Each bite showcases the team's expertise and dedication to creating a memorable meal.
Desserts
The Don Don Donki menu features a wide range of mouthwatering desserts that are both visually stunning and irresistibly delicious. These delectable treats are thoughtfully crafted to enhance their appeal and make them even more appetizing for customers. Not only do they satisfy your sweet tooth, but they also come at affordable prices, making them a budget-friendly indulgence.
Cocktail Menu
The Don Don Donki cocktail menu is a treasure trove of carefully crafted and imaginative drinks. You'll find a wide range of classic cocktails with a contemporary spin, as well as unique creations that highlight the bar team's skill and innovation. Get ready to explore a diverse selection of libations that will delight your taste buds and showcase the team's creativity.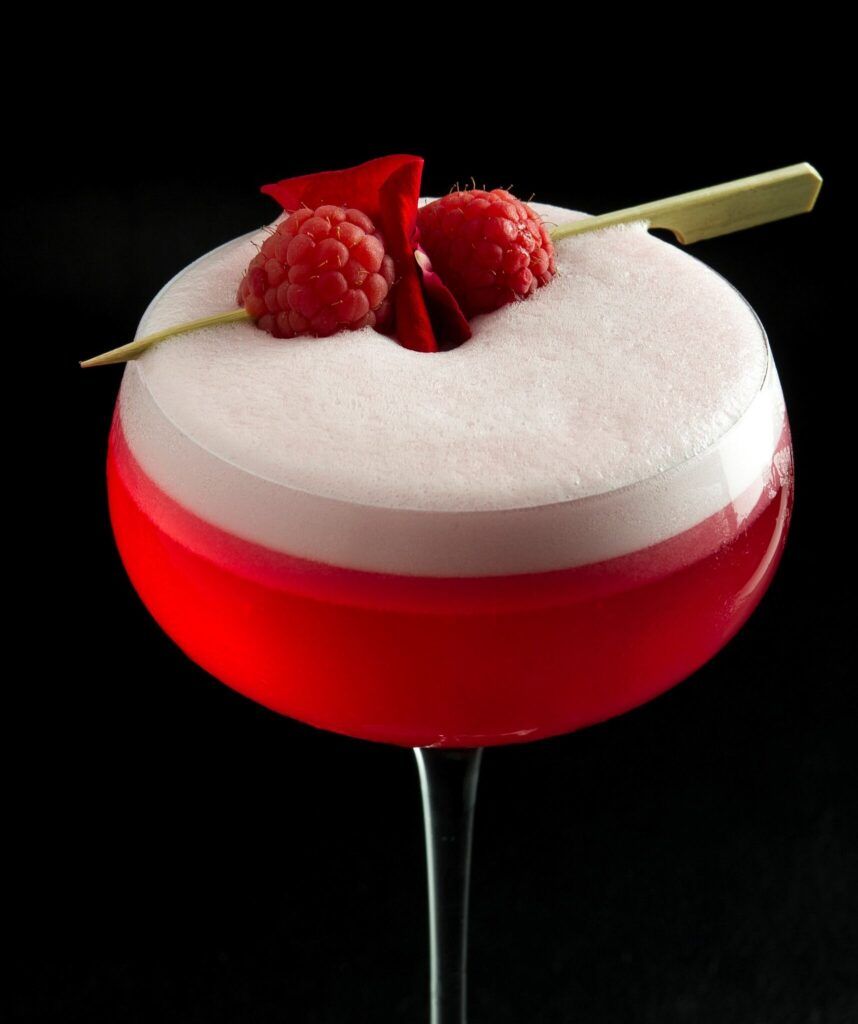 CUT Menu Delivery
CUT provides their customers with a menu delivery to make ordering more convenient and much faster while in the comfort of their homes. Customers can easily order through the help of third-party delivery services such as FoodPanda.
Social Media Pages
Stay connected with CUT Singapore through their vibrant social media pages and unlock a world of culinary excellence. Follow them to be the first to know about their latest menu creations, exclusive promotions, and special events. Join the community and let your culinary adventure begin! #CUTSingapore #CulinaryExcellence #FollowUsForFoodInspiration
Facebook: https://www.facebook.com/CUTSingapore/
Instagram: https://www.instagram.com/cutbywolfgangpucksg
Website: https://wolfgangpuck.com/dining/cut-singapore/
FAQs
What type of cuisine does CUT  offer?
The restaurant specializes in serving high-quality cuts of beef sourced from different regions around the world.
Is CUT a fine dining establishment?
Yes, CUT is considered a fine dining establishment by many.
Can I make a reservation at CUT?
Yes, it is generally recommended to make a reservation at CUT to ensure a table is available for you.
Are there vegetarian or vegan options available at CUT?
Unfortunately, there are no vegetable options at CUT.
Is CUT a halal-certified restaurant?
CUT is not a halal-certified restaurant.
Conclusion
CUT is a renowned steakhouse by Wolfgang Puck whose menu is known for its commitment to exceptional quality and culinary excellence. With a focus on premium cuts of beef sourced from around the world, CUT offers a menu that showcases the artistry of steak preparation. The restaurant aims to provide a memorable dining experience, with precise cooking techniques, flavorful sauces, and accompaniments that complement the steaks perfectly. With its dedication to quality ingredients, incomparable service, and Wolfgang Puck's culinary expertise, CUT is a destination for steak lovers seeking a refined and indulgent dining experience.