Getting into a wholesome restaurant is something that everyone should try and enjoy. Have you ever wondered where to get the most satisfying food that is served in a restaurant without breaking the bank? Atlas bar menu will surely capture your interest once you tried their food item. In this article, we are going to know this restaurant even more and tackle their best sellers and anyone without anything let's go. 
You can find the updated pricing information for the Atlas Bar menu below.
MENU
PRICE (SGD)

Cold

Oyster mignonette, lemon
$38.00
Atlas green olives, basque peppers, pangrattato, sumac
$12.00
Antipasto, marinated peppers, grilled eggplant, roast beets, fennel,
$20.00
European cheese board
$40.00
Rustic bread, artisanal truffle butter
$12.00

Tout de suite

Tulip of champagne
$29.00
The atlas martini
$25.00
Tamara is s green bugatti
$24.00
Young churchill
$28.00
Scandal water
$25.00
Atlas espresso martini
$24.00

Hot

Salt cod and tomato arancini, sauce gribiche
$18.00
Spicy Fried Cauliflower, Paprika Aioli, Pickles
$18.00
Mini Croque Monsieur, Fancy Spanish Cheese, Pickled Shallots
$18.00
Mushrooms On Toast, Chestnut Butter, Wood sorrel
$18.00
Belgian Pomme Frites, Horseradish Bacon mayo
$14.00

Main course

Pork Ribeye, Romano Artichokes, Gremolata, radicchio, fennel, scratching
$36.00
Pan-Roasted Chilean Sea Bass, Lemon Beurre Blanc, Roasted Pumpkin, Sprouts
$40.00
Grilled Corn Risotto, Pickled Baby Maize, Pecorino, Genovese Basil
$28.00
Steak Frites - Smoked Bone Marrow Butter, Shoestring Fries, Jus, Watercress
$42.00

Comforts

Lobster Roll, Celery, Espelette, Chives, Tabasco, Shoestring Fries
$34.00
Buttermilk Fried Chicken Sandwich, Swiss Cheese, Lettuce, Pickles, Harissa, Soft Bun
$22.00
Spicy Chorizo Sandwich, Pickled Capsicum, Rocket, Gherkin Mayo
$24.00

Dessert

Banana And Caramel Cream Pie, Chocolate Shavings
$18.00
Pineapple Granita, Coconut Sorbet, Faba Meringue, Finger Lime, Rum
$18.00
Flourless Chocolate Cake, Fudge, Crème Fraiche Ice Cream, Raspberries
$18.00
Black Forest Pannacotta - Buttermilk, Cherry, Dark Chocolate, Sumac
$24.00
Atlas Warm Madeleines, Homemade Jam, Unsweetened Cream
$18.00

Gin & Tonic

Atlas G&T
$19.00
Gin Tonica
$23.00
Old Tom & Tonic
$22.00
Sloe And Tonic
$24.00
Atlas Orange G&T
$24.00

Alta S Grazing

Mushrooms On Toast, Chestnut Butter, Wood SGD Sorrel
$18.00
Salt Cod And Tomato Arancini, Sauce Gribiche
$18.00
Pork Sausage Roll, Red Pepper Ketchup, Horseradish Cream, Sorrel
$20.00
Mini Croque Monsieur, Fancy Spanish Cheese, Pickled Shallots
$18.00
Belgian Pomme Frites, Horseradish Bacon Mayo
$14.00
Atlas Green Olives, Basque Peppers, Pangrattato, Sumac
$12.00
Rustic Bread, Artisanal Truffle Butter
$12.00
Scones - Classic And Sultana, Clotted Cream, Raspberry Jam
$16.00
Carrot Cake, Cream Cheese Frosting, Walnut
$12.00

Du bon ton

Sainte-Claude
$22.00
Pearl Revival
$24.00
The Lafayette
$25.00
Noble Stone
$27.00
Suzanne's Style
$14.00

Above board

A Flight For One
$48.00
A Flight To Share
$56.00

Others

Lobster Roll, Lemon Mayo, Celery, Espelette,chives, tabasco, shoestring fries
$34.00
A Flight For One
$48.00
A Flight To Share
$56.00
About Atlas Bar
Parkview Square is an iconic building where the Atlas Bar is located. This building was completed in 2002 and by then Parkview becomes the crowning glory of the CS Hwang Charmain. The Hwang family gave the building a new look of elegance to bring its famous spirit into the new generation. The great architecture of the building is inspired by the skyscrapers of New York and Europe. Atlas Bar is actually the celebration of rich beverages and culinary traditions. The results are just spectacular while the American contemporary speaks underground accents.
Jazz elegance, glamorous decorations, and beautiful surroundings. Guests in Atlas Bar will get the chance to enjoy a great experience with drinking throughout the day and night. The beverages that they offer are champagnes and spirits that come from around the globe, the finest collections of gin, and elegant European cocktails. The restaurant was made by Parkview Square's developer for their guests to have a very welcoming destination with elegance and excellence in service. Customers are sure that in Atlas they are always cordially invited. 
Atlas Bar Menu Best Seller
Here's the list of some of Atlas bar best selling items. 
Afternoon Tea – Atlas' afternoon tea is one of their best-selling items and is quite popular among their customers. You'll definitely like the pastries, each pastry has unique flavors that are different from the usual. It comes with a lovely selection of tea as well and based on experience we will order their afternoon tea again on our next visit. The flavors are all there and definitely delicious. 
Pork Loin – The pork loin of Atlas is a great choice if you're looking for soft and tender pork, it is also charred well and comes along with its delicious sauce that is a bit sweet. They also serve this dish with a buttery and creamy mashed potato. The croque monsieur that comes with this dish is also buttery and has that great fragrance as well.
Steak Frites – This one is our favorite menu of Atlas Bar, The 200g option is a Black Angus Sirloin which I really don't have any complaint about, steak is perfectly cooked as we requested for a medium rare, and the smoked bone marrow butter is great with the steak It gave a creamy and very light buttery taste to the meat. I liked the fries as well. the quality steak is really worth the price.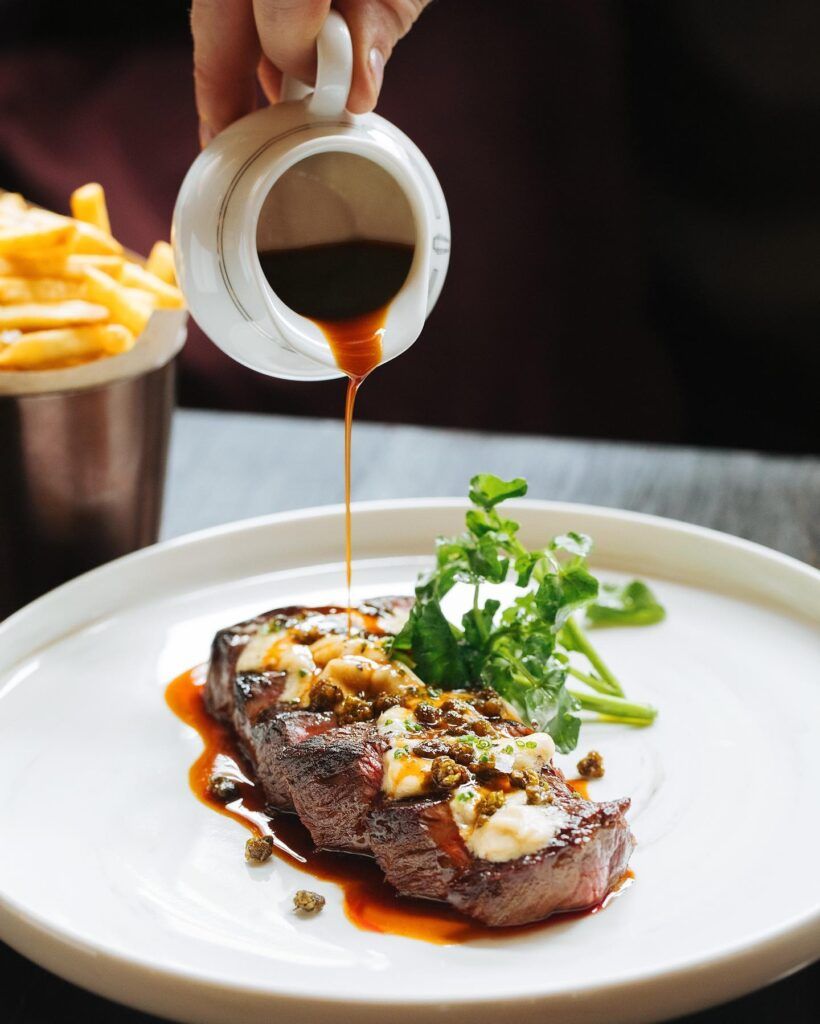 Atlas Bar Menu Starters
Savor the delightful flavors of our signature Truffled Mushroom Arancini, a crispy and creamy delight that will leave you wanting more. Experience the perfect balance of sweetness and spiciness with our addictive Korean Fried Chicken Wings. For seafood lovers, our Chilled Poached Prawns with Cocktail Sauce offer a refreshing and succulent treat. Pair these delectable starters with our handcrafted cocktails and let the flavors harmonize for an unforgettable dining experience. Discover why these dishes have become the talk of the town and ignite your taste buds at Atlas Bar Singapore.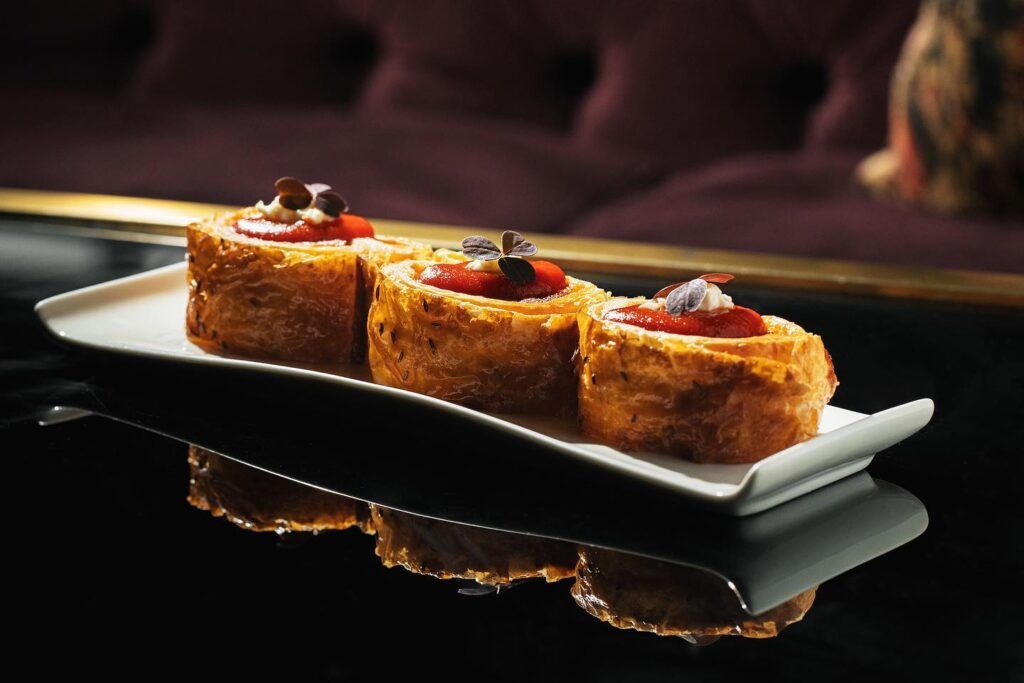 Atlas Bar Menu Tout de Suite
Atlas Tout de Suite has 6 delicious dishes options to choose from. The first item on this menu is their tulip of champagne, this is Piper Heidsieck's essential atlas. Next on their the Atlas martini, which is London dry gin, Umbraco vermouth, orange bitters, and champagne vinegar.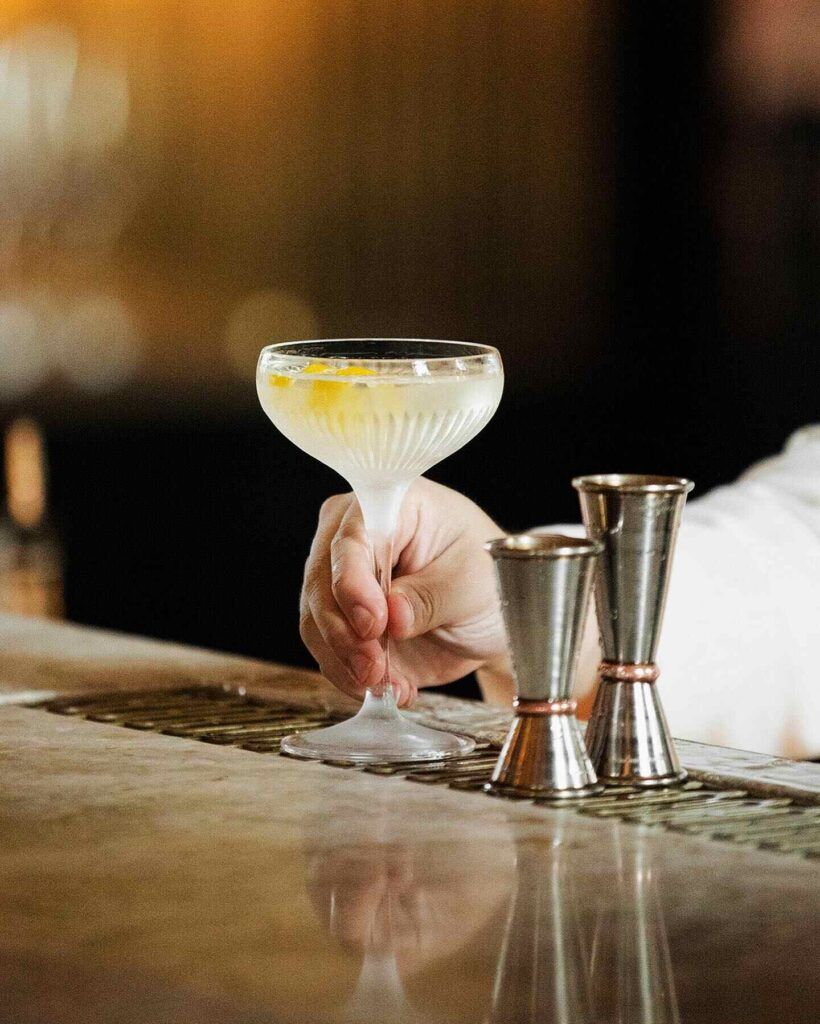 The next item on their tout de suite menu is their Tamara in green Bugatti which is a modern French gin, lavender tincture, mint, lemon, and sugar. Young Churchill is also on this menu, this is islay scotch, pedro ximenez sherry, riesling, and orange bitters. They also have scandal water as an option which is French vodka, Italian dry vermouth, champagne, and citrus bitters. Last but not least is their Atlas espresso martini, which is a coffee liqueur, vodka, aromatic bitters, espresso, cream, and dark sugar. 
Main Course
The Atlas Bar main course menu has 4 options. The first item is their pork ribeye with romano artichoke, gremolata, radicchio, fennel, and scratchings. The next item is their pan-roasted Chilean seabass with lemon beurre blanc, sprouts, and roasted pumpkin. Next is their grilled corn risotto, Pickled Baby Maize, Pecorino, Genovese Basil, and lastly is their Steak Frites – Smoked Bone Marrow Butter, Shoestring Fries, Jus, Watercress
Dessert 
On this menu they have 5 delicious desserts to choose from, first item is their Banana And Caramel Cream Pie, Chocolate Shavings. Next is their Pineapple Granita, Coconut Sorbet, Faba Meringue, Finger Lime, and Rum. They also have Flourless Chocolate Cake, Fudge, Crème Fraiche Ice Cream, and Raspberries. Other options are Black Forest Pannacotta – Buttermilk, Cherry, Dark Chocolate, Sumac and Atlas Warm Madeleines, Homemade Jam, and Unsweetened Cream.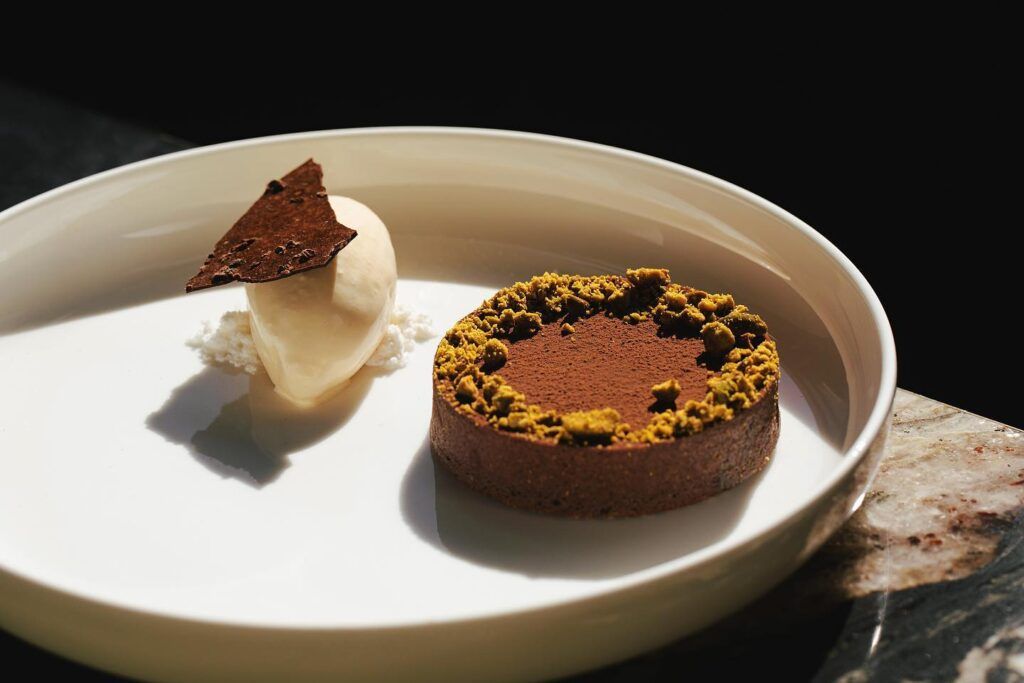 Atlas Bar Menu Delivery
Atlas Takeaways is available all you have to do is to message their WhatsApp number at +65 9739 5591 or send them an e-mail at [email protected] Atlas Takeaways are available daily from 12 noon to 9 pm.
Social Media Pages
Elevate your social experience with Atlas Bar Singapore! Follow their social media pages to stay in the loop on all things Atlas. Discover a curated cocktail menu, featuring exquisite libations crafted by our talented mixologists. Explore their culinary delights, from tantalizing small plates to sumptuous main courses. Stay updated on upcoming events, exclusive promotions, and insider tips for a truly extraordinary experience. Don't miss out on the latest happenings – follow them now and indulge in the epitome of refined dining and exceptional cocktails. #AtlasBarSG #UnforgettableExperience #CraftedCocktails
Facebook: https://www.facebook.com/atlasbarsingapore/
Instagram: https://www.instagram.com/atlasbarsg
Website: https://www.atlasbar.sg/contact
FAQs
What is Atlas Bar Singapore known for?
Altas is known to be a vaulted bar that is located in a beautiful location. They are also known for having the best gin collection with more than 1300 kinds of it. 
Where is Atlas Bar located in Singapore?
Atlas Bar is located on the ground floor of Parkview Square in Singapore. Parkview Square is located at 600 Northbridge Road. 
Is there a dress code at Atlas Bar?
Yes, they have a dress code. The ladies they encourage to wear casual dress pants or skirts, jeans are allowed but absolutely not ripped jeans. For the gentlemen polo's and button-down shirts are allowed, casual dress or pants is okay but no ripped jeans as well. Sport coats are acceptable as well.
Is Atlas Bar halal certified?
Atlas Bar is unfortunately not halal certified however you can always check it through their service personnel. 
Conclusion 
I would recommend this place in a heartbeat, whether you drink Shirley Temples or you're a Champagne snob (in addition to their gin they have one of the best Champagne selections on Earth). There remains a lot of hype surrounding this venue and deservedly so—it's worked its way up to number eight on the world's 50 best bars list. It's a classy operation with people who are clearly thinking about every detail.