LeVel33's menu draws inspiration from the freshest ingredients and seasonal flavors, the menu itself offers a diverse selection of dishes designed to delight the senses. With its emphasis on quality ingredients, creative culinary techniques, and stunning views, the LeVel33 menu captures the essence of contemporary European cuisine while celebrating the vibrant food scene in Singapore. The restaurant is perfect for both beer lovers and food enthusiasts, and even those who are simply looking for a memorable dining experience.
You can find the updated pricing information for the LeVel33 menu below.
MENU
PRICE (SGD)

Contembrewery Menu (6 Course)

Housemade Spent Grain & Herb Focaccia
$148.00
LeVeL33 Signature Raw & Chilled Seafood Platter
$148.00
Heirloom Tomato
$148.00
Local Slipper Lobster Bisque
$148.00

Mains

$148.00
Free-range Australian White Pyrenees Lamb
$54.00
Lychee, Lime & Blond Lager Granita
$148.00
Spent Grain Banoffee Tart
$148.00
The Raw Bar Freshly Shucked Oysters
$6.50
Antonius Siberian Caviar Traditional Condiments & Housemade Beer Blinis
$138.00
LeVeL33 Signature Raw & Chilled Seafood Platter
$48.00
Sustainable Australian Kingfish
$24.00
Raw Hokkaido Scallops
$25.00
Whole Roasted Palermo Pepper
$36.00
Free-range Australian Pork Chop
$42.00
Local Seabass
$39.00

Starters

Housemade Spent Grain & Herb Focaccia
$4.00
Beef Tartare
$26.00
Heirloom Tomato
$24.00
Roasted Carrot Sesame & Nori Terrine
$24.00
Butternut Pumpkin Egg-free Ravioli
$24.00
Sustainable Fremantle Octopus
$32.00
Local Slipper Lobster Bisque
$28.00

Fresh from Grill

LeVeL33 Exclusive Signature Cut In-House Koji Dry Aged Westholme Wagyu Rump Cap
$80.00
Westhole Wagyu Bavette
$64.00
Little Joe Sirloin
$84.00
Portoro Ribeye
$64.00

Sharing Cut of the Day

Local Leaves Salad from Just Produce
$12.00
Paris Mash
$15.00
Stout Braised Mushroom Ragu
$15.00
Truffle & Parmesan Fries
$16.00
Confit shallots, roasted sesame
$15.00
Salsa verde, Olsson's smoked salt
$15.00
Pickled onion, olive, parsley, sherry vinegar
$14.00

Desserts

Spent Grain Banoffee Tart
$16.00
Mango & Coconut Parfait
$16.00
Burnt Pavlova
$16.00
IPA Crème Caramel
$16.00
Tiramisu
$16.00
LeVeL33 Beer Ice Cream
$10.00
Seasonal Fruit Sorbet
$10.00
LOCABA Vegan Gelato Peanut Butter& Raspberry Swirl
$10.00

Freshly Crafted Beer

Wheat Beer
$9.90
India Pale Ale
$9.90
House Porter
$9.90
Stout
$9.90
LeVeL33's Seasonal Craft Beer
$9.90

Sparkling and Wines

Barons De Rothschild NV
$29.00
47 Anno Domini Prosecco
$20.50
Trevisana Prosecco Rosé (2020)
$21.50
Satyr
$18.00
Stagârd 'Handwerk' Vegan
$22.00
Il Borro 'Lamelle
$28.50

Classic Cocktails

Mojito
$26.00
Singapore Sling
$26.50
Espresso Martini
$24.00
Bloody Mary
$25.00
Negroni
$26.00
Old Fashioned
$26.00
Cocktail of the Month
$26.00

Single Malt Whiskies

Glenfiddich 12 Years
$21
Glenfiddich 15 Years
$22.00
Glenfiddich 18 Years
$28.00
The Balvenie 12 Years
$20.00
The Balvenie 14 Years
$23.00
Bruichladdich The Classic Laddie
$19.00
Port Charlotte 10 Years
$21.00
Laphroaig 10 Year Old
$19.00

Non Alcoholic

Mocktails
$11.00
Fruit Punch
$11.00
Summer Twist
$11.00
Virgin Mojito
$11.00
Shirley Temple
$11.00

Non-Alcoholic Spirits & Beer

Alpirsbacher Alcohol-Free Lager
$11.00
Melati Classic Aperitif
$16.00
Lyre's Non-alcoholic Classic Spirits
$16.00
Dark Cane Spirit
$16.00
About LeVel33
LeVel33 is a renowned restaurant and microbrewery located in Singapore known for its stunning views, innovative cuisine, and handcrafted beers. With its incredible views of the city skyline and Marina Bay area, LeVel33 provides a one-of-a-kind and amazing dining experience. Overall, the restaurant has a  combination of gastronomic excellence, superb craft beers, and unparalleled views, and has established itself as a premier destination for food lovers, beer enthusiasts, and those seeking a memorable dining experience in Singapore. 
LeVel33 Menu Best Seller
This menu offers a diverse range of the most popular dishes from LeVel33 that cater to different palates and preferences.
Local Slipper Lobster Bisque – This dish offers a rich and flavorful experience from the bisque that is made from local slipper lobster, which gives it a distinct taste, and its creamy and well-seasoned soup.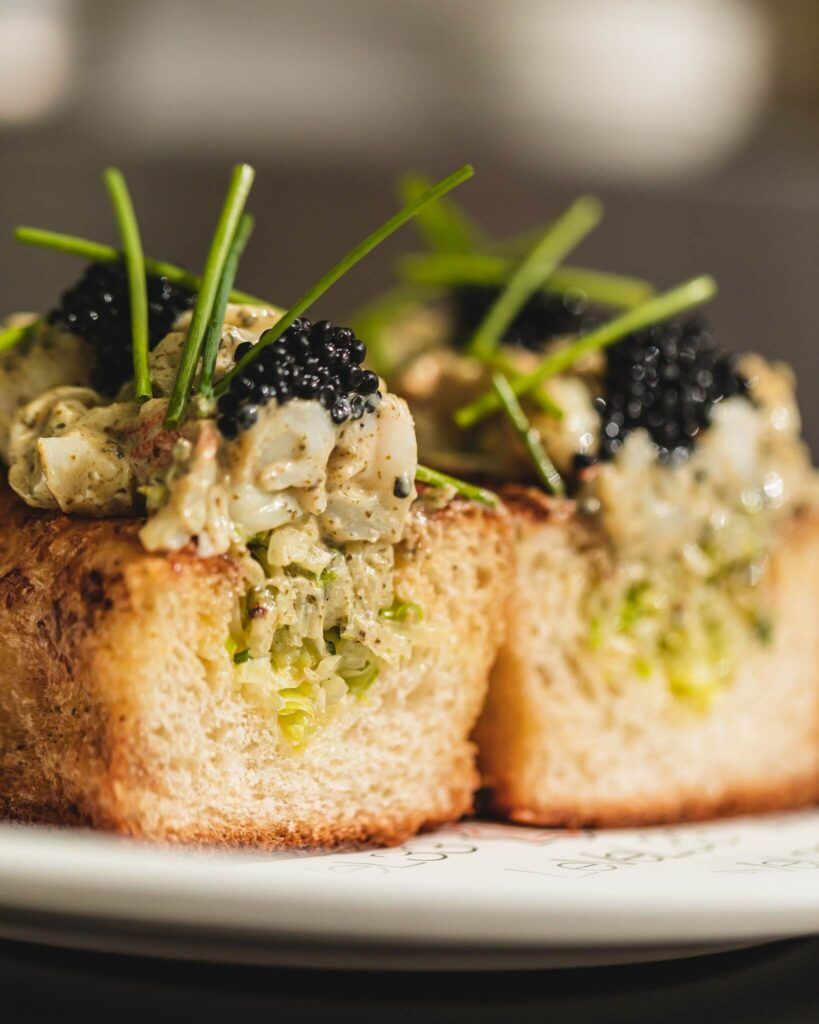 Sustainable Australian Kingfish – It is a standout dish at LeVel33 made from a kingfish that was sourced sustainably, ensuring its freshness and quality then cooked, with a delicate and flaky texture. It is complemented by a flavorful sauce or garnish that enhances its natural taste making it a great option for those who enjoy seafood.
Raw Hokkaido Scallops – The scallops used in this dish are sourced from Hokkaido, as they are known for their excellent seafood. The scallops are served raw, allowing their natural sweetness and freshness to shine, and are thinly sliced and beautifully presented, and accompanied by flavorful dressings or garnishes that enhance their taste. 
Butternut Pumpkin Egg-free Ravioli – This dish is a vegetarian option that brings together the sweetness of butternut pumpkin and the savory flavors of the accompanying sauce making it a delightful choice for those seeking a vegetarian option with rich and comforting flavors.
Portoro Ribeye – This is a succulent and flavorful steak dish that showcases high-quality beef and is seasoned with care to enhance its natural flavors then served with a side of vegetables, potatoes, or a sauce that complements the meat.
LeVel33 Menu Contembrewery
This menu is made up of options that best showcase a fusion of culinary craftsmanship and their passion for brewing. 
Housemade Spent Grain & Herb Focaccia – It is a unique and delicious bread option that is a great choice to start your meal, especially for those who appreciate artisanal bread made with innovative ingredients.
LeVeL33 Signature Raw & Chilled Seafood Platter – This platter features a selection of fresh and premium seafood items such as oysters, prawns, mussels, and crab which makes it a delightful treat for seafood enthusiasts.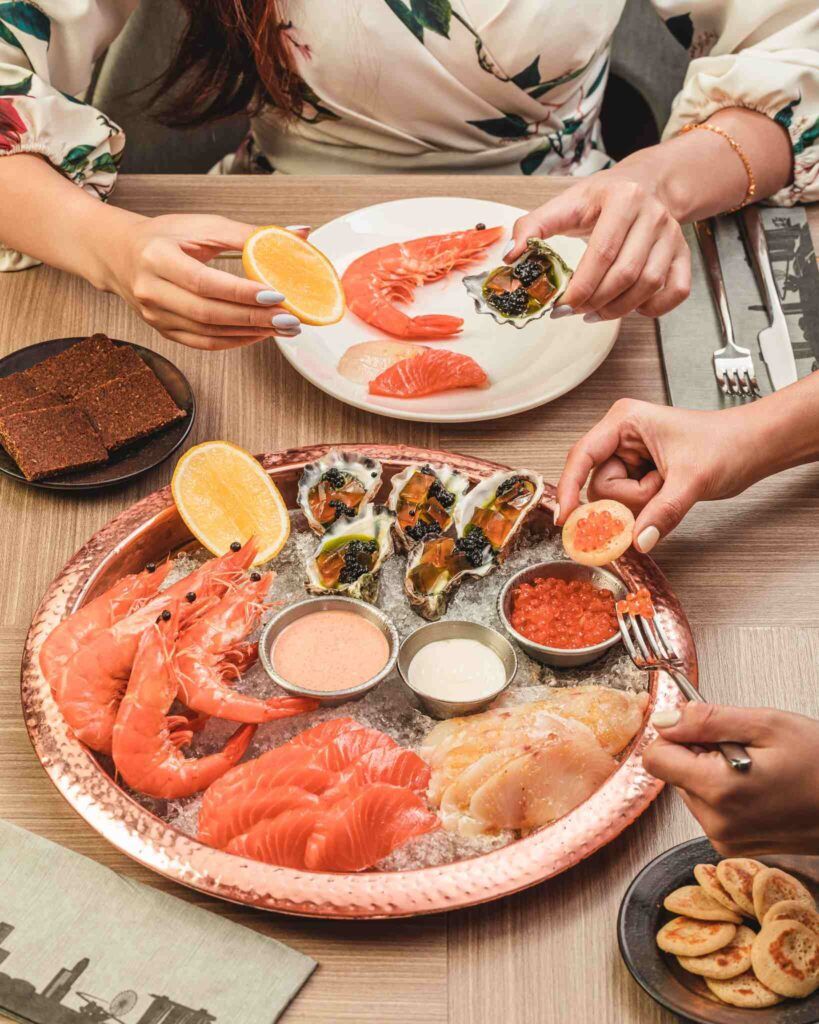 Heirloom Tomato – This dish celebrates the vibrant flavors of ripe and juicy heirloom tomatoes which feature a combination of different heirloom tomato varieties, accompanied by fresh herbs, dressings, or other complementary ingredients.
LeVel33 Menu Starters
This menu is made up of a different variety of unique starters to kickstart your dining experience at LeVel33.
Housemade Spent Grain & Herb Focaccia – The addition of herbs in this dish enhances the aroma and taste of the bread, resulting in a fragrant and flavorful bread making it a great choice to start your meal.
Beef Tartare – The Beef Tartare is a bold and flavorful starter for meat lovers made with high-quality beef, the tartare is expertly seasoned and prepared to bring out the natural flavors of the meat and is served raw or lightly seared, allowing the beef to retain its tender texture.
Heirloom Tomato – This dish is a refreshing and vibrant starter that celebrates the beauty and flavors of heirloom tomatoes which is served in various preparations, such as salads or lightly dressed, the heirloom tomatoes take center stage
Grills
This menu of LeVel33 is made up of premium cut options that are most suited for grilling that complements perfectly with LeVel33's drink offerings.
Westholme Wagyu Bavette – It is a standout dish from their grills menu made with premium Westholme Wagyu beef, known for its exceptional marbling and tenderness, this cut is a true indulgence for meat lovers.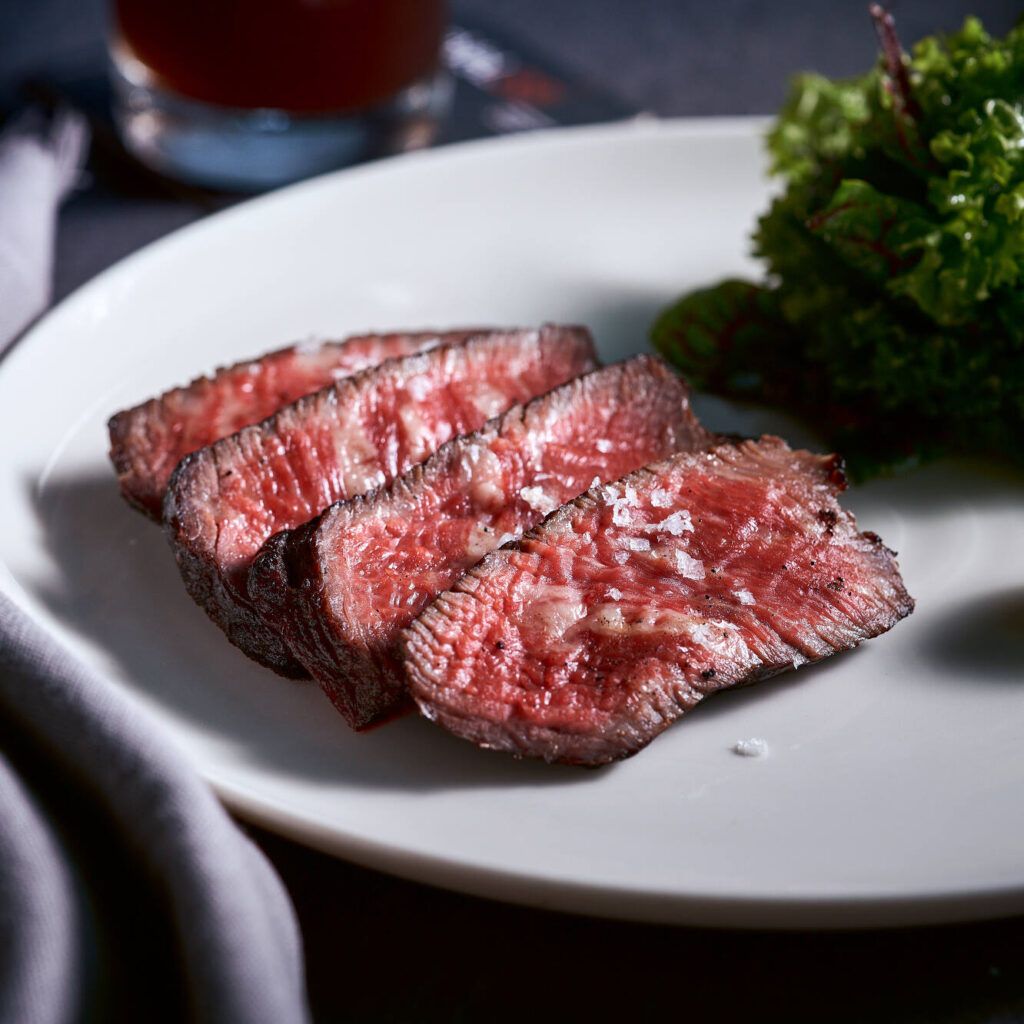 Little Joe Sirloin – The sirloin cut used in this dish was sourced from carefully raised cattle, offering a balance of tenderness and juiciness then expertly grilled to the desired level of doneness, the Little Joe Sirloin is a hearty and satisfying choice.
Portoro Ribeye – This dish is made with high-quality ribeye beef, this cut is known for its rich marbling, resulting in exceptional flavor and tenderness making it a delightful option for steak enthusiasts who appreciate the combination of robust flavors and melt-in-your-mouth texture.
Vegan Menu
This menu offers vegetarian options that can be customized to suit a vegan diet. It shows LeVel33's commitment to quality and creativity extends to catering to various dietary requirements, ensuring that vegan diners can enjoy a satisfying meal with flavorful and thoughtfully prepared dishes.
Executive Set Lunch
The menu at this restaurant comprises a diverse selection of set lunches. These sets are specifically designed to provide a well-balanced and satisfying dining experience, offering a variety of appetizers, main courses, and desserts. With these sets, you can enjoy a range of delectable starters to stimulate your taste buds, followed by hearty main courses that will leave you feeling content. And to top it all off, there's a delectable assortment of desserts to conclude your meal on a delightful note. These thoughtfully crafted set lunches ensure that you can savor a complete and fulfilling dining experience with a perfect blend of flavors and textures.
LeVel33 Menu Delivery
LeVel33 has exciting news for their valued customers! They have launched a convenient menu delivery service, allowing you to order their delicious food no matter where you are or what time it is. You can now indulge in LeVel33's delectable offerings with just a few taps on your smartphone. Thanks to their partnership with popular delivery platforms like GrabFood, FoodPanda, and Deliveroo, ordering your favorite dishes has never been easier. Simply choose your preferred delivery service, browse the menu, select your desired items, and eagerly await the arrival of your scrumptious meal. It's a hassle-free way to enjoy LeVel33's culinary delights from the comfort of your own surroundings.
Social Media Pages
Discover the perfect blend of breathtaking views and exquisite dining at LeVel33. Follow their engaging social media pages to stay updated on their latest promotions, events, and mouthwatering offerings. Whether you're a craft beer enthusiast or seeking a memorable dining experience, LeVel33 is the place to be. Connect with them today and get ready to elevate your culinary journey to new heights!
Facebook: https://www.facebook.com/LeVeL33CraftBrewery
Instagram: https://www.instagram.com/level33_sg/
Website: https://level33.com.sg/location/
YouTube: https://www.youtube.com/@level33craft
FAQs
Where is LeVel33 Singapore located?
LeVel33 Singapore is located at 8 Marina Boulevard, #33-01 Marina Bay Financial Centre Tower 1, Singapore 018981.
What type of cuisine does LeVel33 Singapore offer?
LeVel33 Singapore offers contemporary European cuisine with a focus on using locally sourced and sustainable ingredients and a wide selection of beer.
Are children allowed at LeVel33 Singapore?
Yes, children are allowed at LeVel33 Singapore.
Does LeVel33 Singapore have any dress code?
Yes, LeVel33 Singapore has a dress code. The restaurant requests its patrons to dress smart casual. 
Is LeVel33 a halal-certified restaurant?
Unfortunately, the restaurant doesn't have halal certification.
Conclusion
LeVel33's menu showcases the best of contemporary European cuisine and tantalizes the taste buds of every customer with its thoughtfully crafted dishes. Beyond the exquisite food, LeVel33 takes pride in its position as one of the highest urban craft breweries in the world. Their wide range of handcrafted brews in their menu serves as a testament to their dedication to excellence and originality. LeVel33 is not just a restaurant; it is an experience that captures the essence of fine dining, craftsmanship, and the beauty of Singapore's urban landscape.