Jinjja Chicken's menu offers a variety of Korean-inspired dishes, with a focus on their specialty, Korean fried chicken. With their crispy and flavorful fried chicken as a highlight, which is also available in various options such as wings, drumsticks, and boneless bites, Jinjja Chicken also offers other enticing dishes like bibimbap, a rice dish topped with an assortment of vegetables and meat, and kimchi fried rice, a comforting and tangy delight. The restaurant promises a satisfying taste of Korean flavors and a delightful dining experience to its customers.
You can find the updated pricing information for the Jinjja Chicken menu below.
Menu Items
Prices

Signature

Jinjja Wings
$8.50
Jinjja Drumsticks
$9.50
K-pop Chicken
$5.00
K-cheese Platter
$18.90

Noodles

Jjampong
$11.20
Jjang Myeon
$9.20
JJamjja Myeon
$12.20
Rabokki
$9.20
Beef Ramdon
$11.20
Chicken Myeon
$9.20
Bibim Myeon
$9.20
ARmy Stew
$12.20

Rice

Wings Bap
$8.50
Drumsticks Bap
$8.25
Kimchi Fried Rice
$10.00
Bibimbap
$8.50

Burger

Kimchi Tofu Burger
$0.50
Chicken Burger
$9.50
Bulgogi Beef Burger
$9.50

Salad

Tofu Bibim Salad
$7.50
Chicken Bibim Salad
$8.50

Bigbang Set

Mini Bang Set 3-4 Pax
$41.00
Big Bang Set 4-6 Pax
$46.90
Bigger Bang Set 8-10 Pax
$82.90

Side Dishes

Seasalt Fries
$2.90
Tteokbokki Fries
$3.60
Seaweed Tofu
$3.60
Kimchi
$2.90
Tteokbokki Fries
$3.60
Sesame Seaweed Fries
$2.90
Mozzarella Cheese Sticks
$4.50
Seafood Mandu
$4.50

Beverages

Yuzu
$2.90
Coke
$2.30
Yuzu Soda
$2.30
Hot Tea
$2.90

Coffee and Tea

Americano
$2.20
Latte
$2.90
Cappucino
$2.90
Hot chocolate
$2.90
Iced Green Tea
$2.00
Teh Tarik
$2.90
About Jinjja Chicken
Jinjja Chicken is a popular Korean fast-casual restaurant chain that has multiple branches set up all over Asia including Singapore. They specialize in serving a variety of Korean fried chicken dishes, along with other Korean-inspired menu items.  Jinjja Chicken also serves other Korean favorites like bibimbap, kimchi fried rice, and Korean-style burgers. The establishment in Singapore has a casual and trendy ambiance with a decor that features vibrant colors and Korean-inspired elements, creating a lively and welcoming atmosphere for diners.
Jinjja Chicken Menu Best Seller
This menu is made up of a number of Jinnja Chicken's most popular offerings both in their physical and online stores.
Jinjja Wings – Chicken – These crispy and flavorful chicken wings are the signature dishes at Jinjja Chicken which are coated in the customer's choice of sauce, such as soy garlic or spicy. They offer a delightful combination of crunchiness and succulent meat, making them a crowd-pleasing favorite.
Jjampong – Jjampong is a spicy seafood noodle soup that is popular in Korean cuisine that typically features a rich and spicy broth filled with various seafood ingredients like shrimp, squid, mussels, and vegetables. The noodles add a comforting element, while the spiciness adds a nice kick of flavor.
Jjang Myeon – Jinjja Chicken's Jjang Myeon is a classic Korean dish consisting of noodles served in a thick black bean sauce. The sauce is made with fermented black bean paste and is typically mixed with the noodles along with various toppings such as vegetables, meat, and sometimes seafood. It offers a savory and slightly sweet flavor profile.
Rabokki – This is a fusion dish that combines ramen noodles and tteokbokki. It is served in a spicy sauce and may include additional ingredients like fish cakes, vegetables, and sometimes fried tempura. It provides a satisfying combination of chewy rice cakes and noodles in a flavorful and spicy sauce.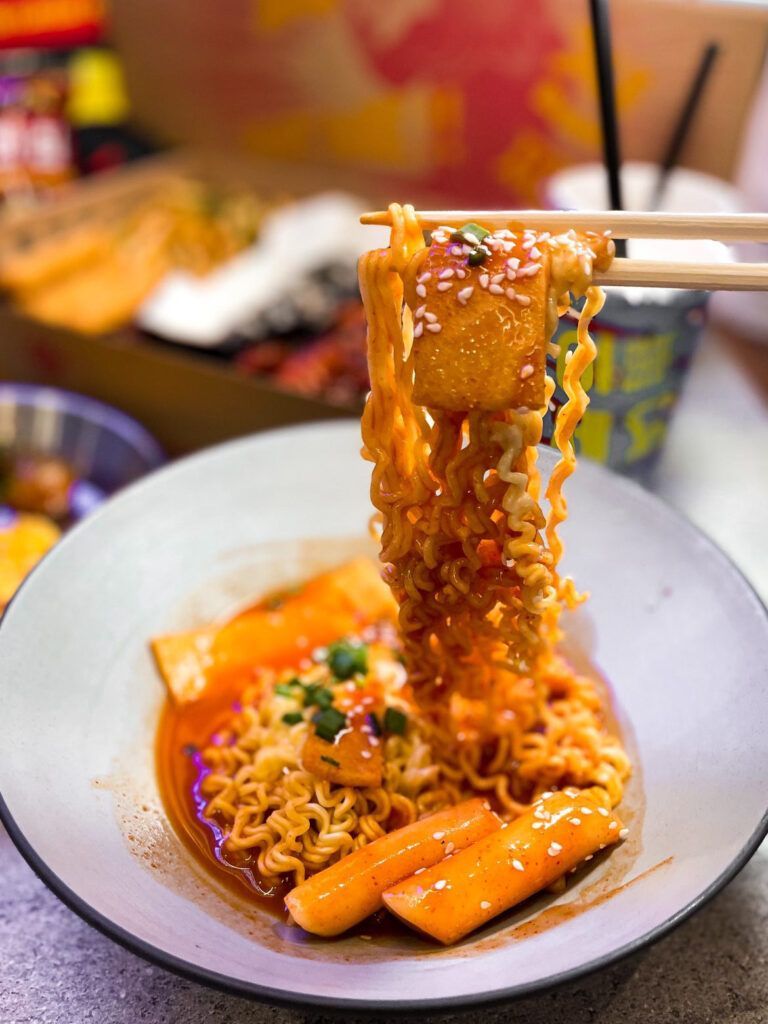 Drumsticks – It is another rice dish offered at Jinjja Chicken which features their delicious drumsticks, known for their tender meat and crispy exterior, served with a portion of rice. This dish provides the convenience of eating flavorful drumsticks together with rice, allowing for a filling and enjoyable dining experience.
Jinjja Chicken Menu Signature
This menu is made up of dishes that are known for their flavorful Korean fried chicken offerings that reflect the restaurant's commitment to quality and taste. 
Jinjja Drumsticks – Jinjja Drumsticks are a specialty at Jinjja Chicken, featuring succulent chicken drumsticks that are seasoned and cooked to perfection. These juicy and flavorful drumsticks are often marinated in a signature blend of spices, offering a delightful combination of tender meat and a crispy outer layer.
K-pop Chicken – This dish consists of crispy fried chicken pieces tossed in a sauce that's packed with bold and tangy flavors and is accompanied by a side of pickled radish or other condiments.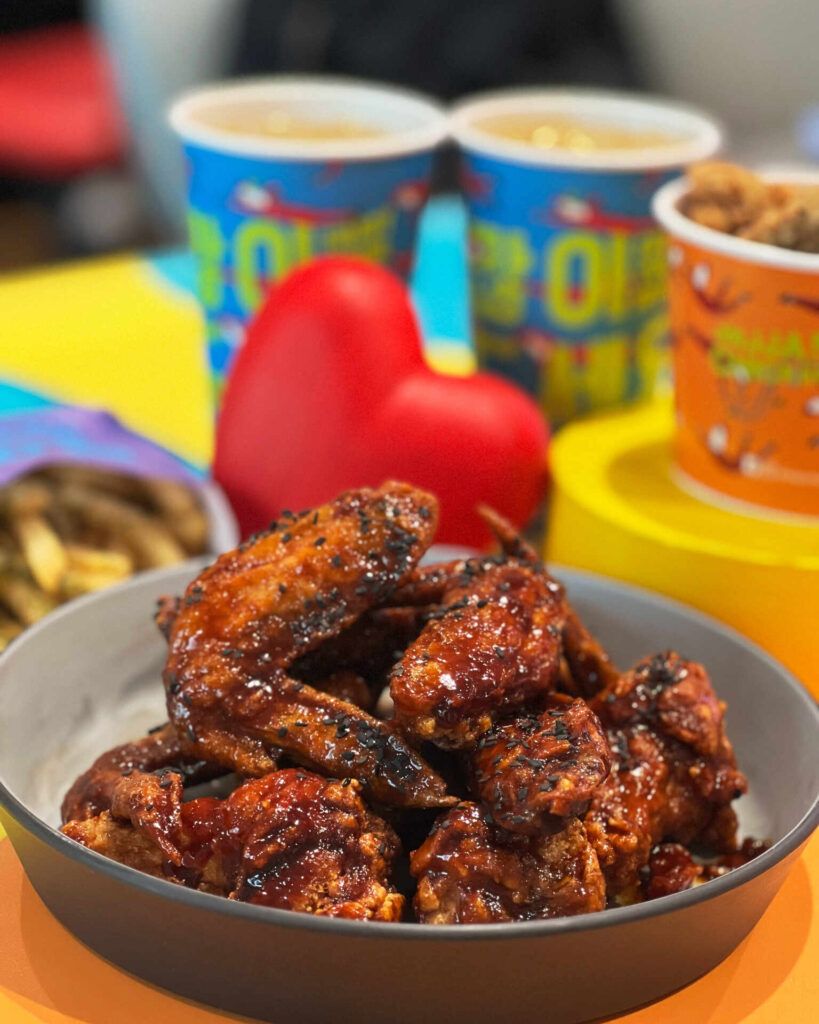 K-cheese Platter – The K-cheese Platter is a delightful combination of Korean fried chicken and cheese, creating a savory and indulgent experience. It includes a selection of crispy chicken pieces topped with melted cheese, resulting in a mouthwatering combination of textures and flavors
Jinjja Chicken Menu Noodles
Each dish that is part of this menu offers a range of flavors and textures, combining noodles with various ingredients and sauces.
Beef Ramdon – This dish gained popularity from the Korean movie "Parasite." It is a fusion of two different types of instant noodles, typically Jjapaghetti and Neoguri. It is often served with tender beef slices, vegetables, and a savory sauce. 
Chicken Myeon – It consists of tender chicken pieces, either stir-fried or simmered in a flavorful sauce, served over a bed of noodles. The noodles used in this dish are wheat-based noodles which offer a comforting and savory flavor profile.
Bibim Myeon – It is a spicy cold noodle dish that is perfect for hot weather or those who enjoy bold flavors that consists of thin wheat noodles dressed in a spicy sauce made from a blend of gochujang, soy sauce, vinegar, and other seasonings.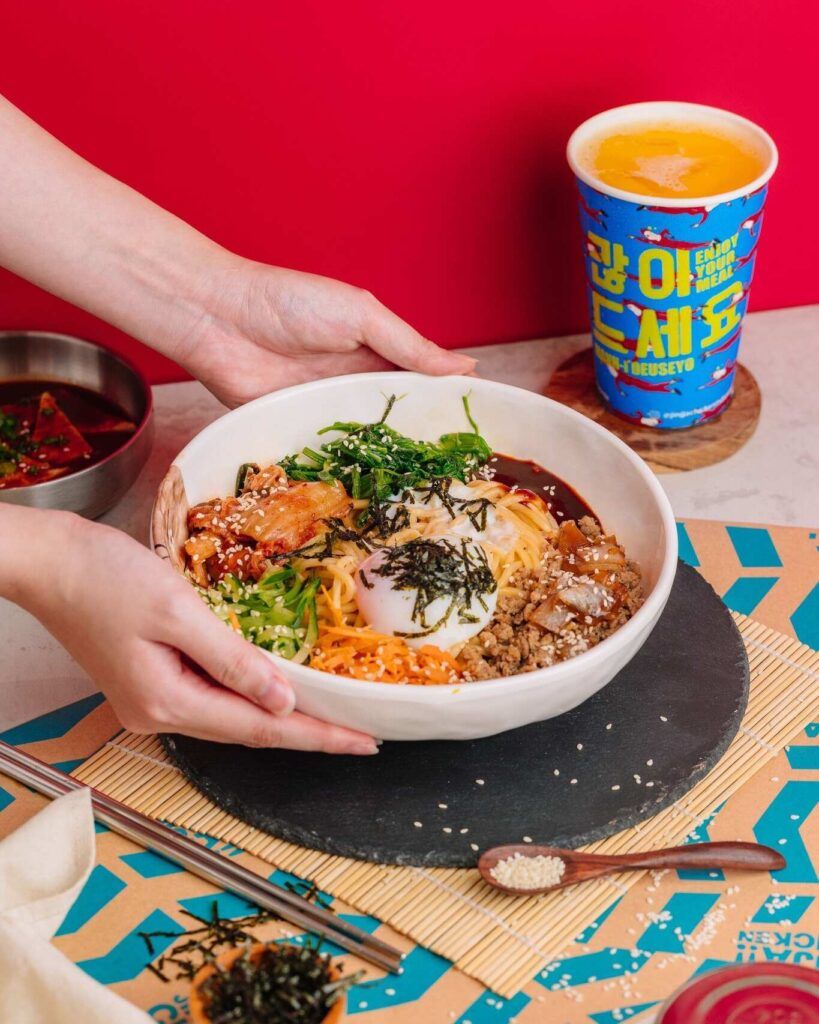 Rice
This menu of Jinjja Chicken is made up of a selection of rice dishes that offer a variety of flavors and textures that cater to different preferences
Wings Bap – The wings in this dish is seasoned and cooked to perfection, offering a flavorful and juicy experience, and then served alongside a bed of rice, providing a satisfying combination of protein and carbohydrates, creating a balanced meal.
Drumsticks Bap – Drumsticks Bap refers to drumstick-shaped rice served with various toppings. The rice is shaped into drumstick forms, typically coated with a flavorful sauce, and served with vegetables or other accompaniments. It offers a unique and playful presentation, combining the enjoyment of fried chicken with the comfort of rice.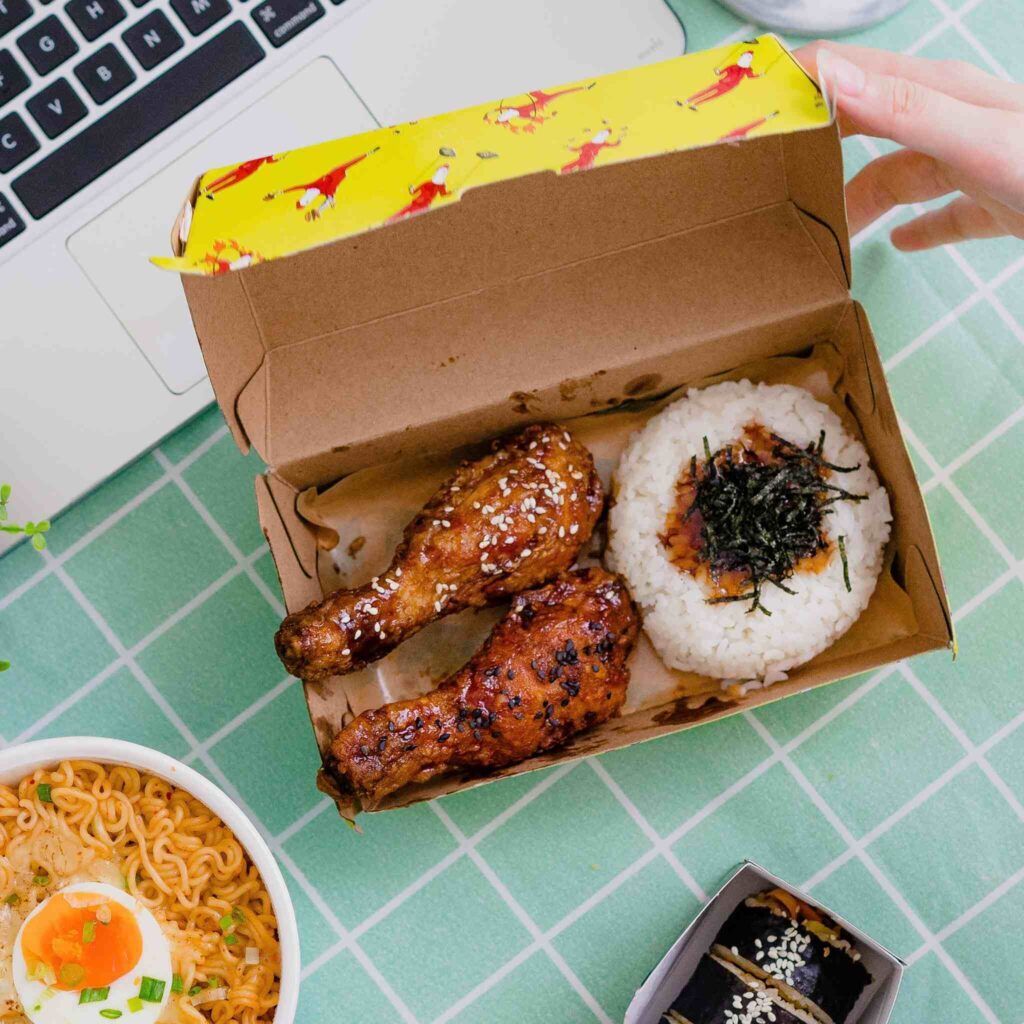 Kimchi Fried Rice – Kimchi Fried Rice is a classic Korean dish that Jinjja Chicken offers as part of their rice dishes which consists of rice stir-fried with kimchi, and vegetables, and includes additional ingredients like meat or seafood.
Big Bang Set
This set is a meal option that brings together a variety of delicious Korean flavors and generous portions. It includes a combination of their famous crispy fried chicken, which can be customized with different sauces and spice levels to suit your taste preferences.
Jinjja Chicken Menu Delivery
Jinjja Chicken offers a delivery menu, allowing customers to enjoy their delicious menu items from the comfort of their own homes. Third-party delivery services like FoodPanda, GrabFood, and Delivery provide a convenient way to browse the menu, place an order, and have it delivered to the customer's doorstep.
Social Media Pages
Craving the best Korean fried chicken in town? Look no further than Jinjja Chicken! Stay connected with them by following their social media pages for exclusive updates on new menu items, special promotions, and upcoming events.
Facebook: https://www.facebook.com/jinjjachicken
Instagram: https://www.instagram.com/jinjjachicken
Twitter: https://twitter.com/jinjjachicken
Website: https://www.jinjjachicken.com/contact-us
FAQs
Where can I find Jinjja Chicken Singapore?
Jinjja Chicken is located in multiple spots in Singapore such as in Bugis, Westgate, and Northpoint Shopping Centre.
What makes Jinjja Chicken Singapore's fried chicken unique?
The combination of their chicken's flavorful sauces, crispy coating, high-quality ingredients, Korean-inspired flavors, and attention to detail makes it unique.
Is Jinjja Chicken Singapore suitable for families or large groups?
Yes, Jinjja Chicken in Singapore is suitable for families or large groups.
Can I customize the spiciness level of the chicken?
Yes, customers are allowed to customize the spiciness level of the chicken to suit their preferences. 
Is Jinjja Chicken halal?
Jinjja Chicken in Singapore is not halal-certified.
Conclusion
The Jinjja Chicken menu offers a delightful dining experience for fans of Korean cuisine with the specialty Korean fried chicken as the highlight. The menu also features other Korean favorites like bibimbap and kimchi fried rice, providing a variety of flavors and textures. Jinjja Chicken's menu offers something for everyone, showcasing the vibrant and flavorful aspects of Korean food, be it a quick snack or a satisfying meal. Completed with their restaurant's trendy ambiance, Jinjja Chicken is a go-to destination for a satisfying Korean culinary adventure in Singapore.