Chir Chir Fusion Chicken Factory serves Korean-style fried chicken and other Korean fusion dishes. The menu features a variety of chicken dishes including honey butter, crispy fried, garlicky soy, spicy yangnyeom, sour cream and onion, K-Urry, and spicy chilli soy chicken. They also offer a range of sides and appetizers such as mac & cheese, honey butter fries, and kimchi fried rice, and a selection of beverages including soft drinks, green tea, mineral water, and beer to complement their food items.
You can find the updated pricing information for the Chir Chir menu below.
MENU
PRICE (SGD)

Fried Chicken

Honey Butter Chicken
$40.60
Crispy Fried Chicken
$22.90
Garlicky Soy Chicken
$24.10
Spicy Yangnyeom Chicken
$24.10
Vampire Killer
$35.00
Sour Cream & Onion Chicken
$37.40
K-Urry Chicken
$22.90
Spicy Chilli Soy Chicken
$22.90

Beverages

Coke
$4.20
Coke Light
$4.00
Sprite
$4.20
Green Tea
$4.20
Mineral Water
$3.00

Alcohol

Cass
$11.80
Asahi Dry
$12.90
About Chir Chir
Chir Chir is a Korean casual dining restaurant chain with several branches in Singapore whose menu is known for its unique take on Korean fried chicken, offering a variety of chicken dishes prepared in different flavors and styles. The Chir Chir menu also includes other Korean dishes, such as pasta, pizza, and rice dishes, with a fusion twist as they aim to provide a fun and vibrant dining experience with their lively atmosphere and colorful presentation of food. 
Crispy Fried Chicken – Chir Chir's Crispy Fried Chicken menu is an absolute delight and one of their signature dishes that is expertly fried to perfection, resulting in a crunchy and golden-brown exterior that encases juicy and tender meat inside while keeping the batter light and crispy, providing a satisfying texture with each bite. The seasoning is well-balanced, with a hint of savory and slightly sweet flavors that complement the chicken beautifully.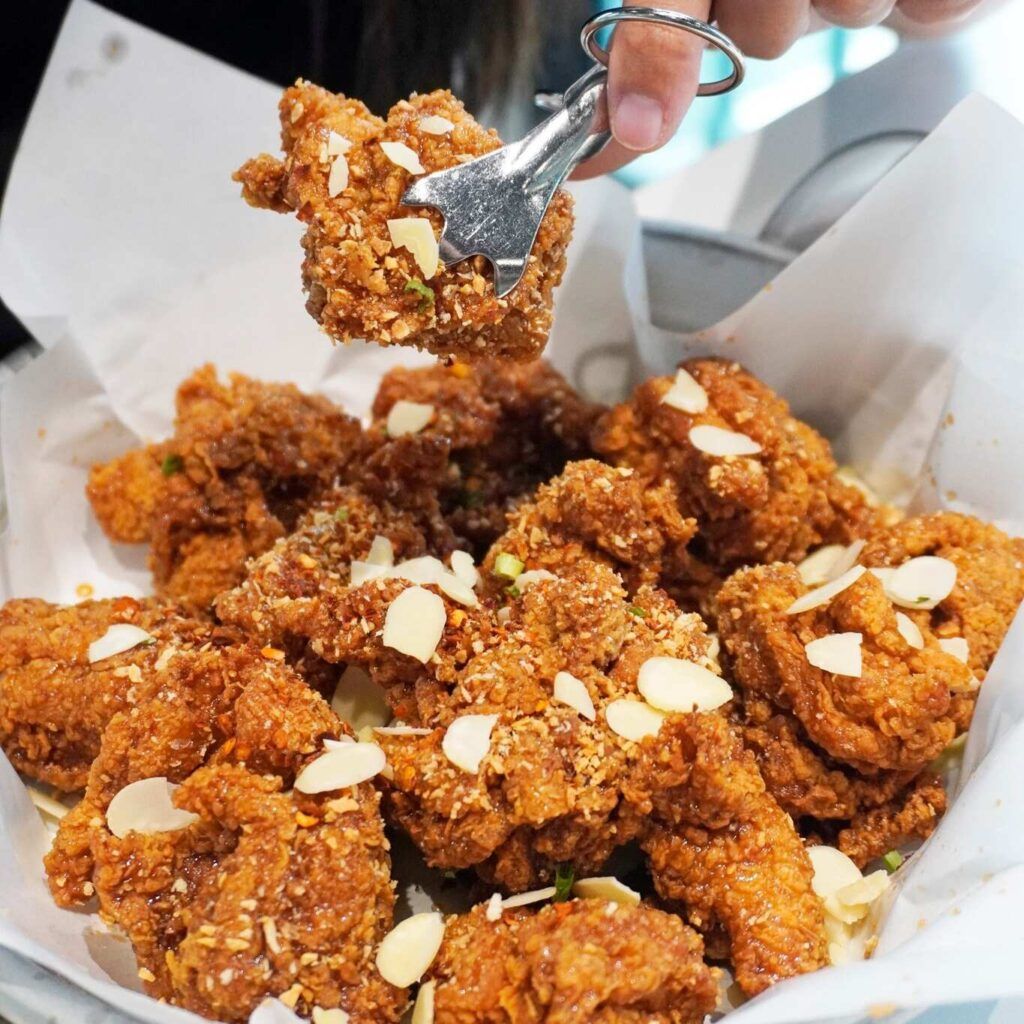 Spicy Yangnyeom Chicken – This is a fiery and flavorful chicken dish that packs a punch because it is coated in a deliciously spicy sauce that combines the heat of Korean red chili peppers with a touch of sweetness. The sauce is well-balanced, offering a perfect blend of spice, tang, and umami flavors with each piece of chicken generously coated with it to ensure that every bite is filled with that fiery kick. The chicken itself remains tender and moist on the inside while the outside is crispy and slightly caramelized from the sauce making it perfect for those who love bold and spicy flavors. 
Garlicky Soy Chicken – It is a mouthwatering dish that showcases the perfect harmony of savory and garlicky flavors. The chicken is marinated in a special soy-based sauce infused with fragrant garlic, creating a delightful blend of umami and aromatic notes. The rich, well-balanced sauce adds a delightful garlicky twist while letting the chicken's inherent flavors come through. The Garlicky Soy Chicken is a fantastic choice for garlic lovers who appreciate a savory and flavorful dish.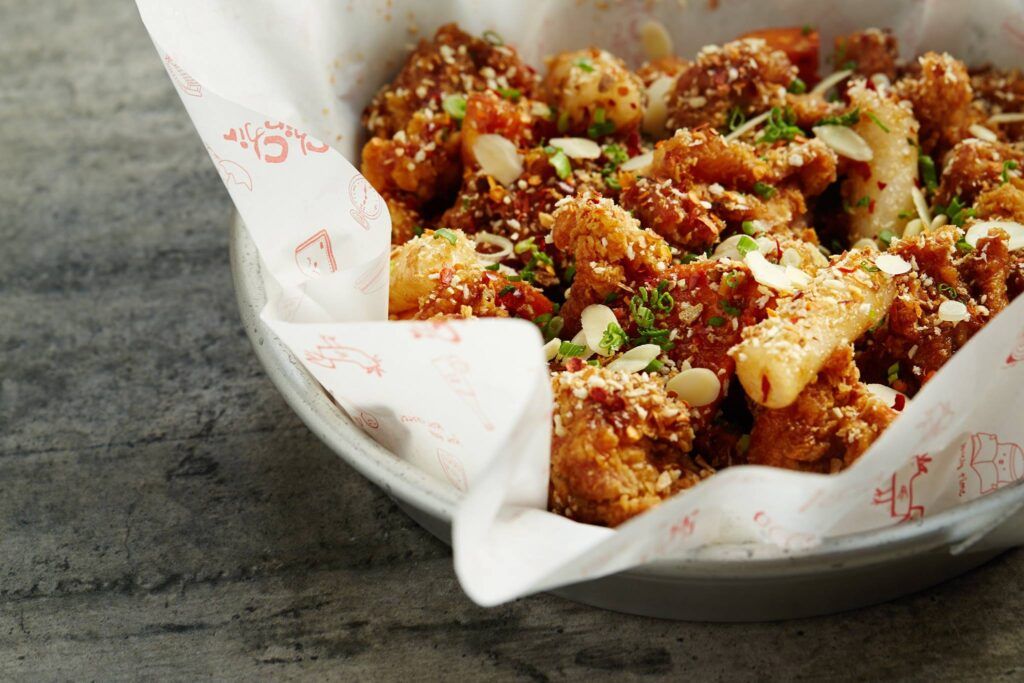 Spicy Chilli Soy Chicken – This is another fiery and flavorful chicken dish that packs a punch of heat and spices because of the spicy chili soy sauce that coats the chicken which creates a vibrant and bold flavor profile. The sauce combines the umami richness of soy sauce with the fiery kick of chili, resulting in a tantalizing blend of flavors that will awaken your taste buds. It delivers a satisfying heat and a burst of flavors that will leave you craving another bite.
Sour Cream and Onion Chicken – This chicken is coated in a special blend of sour cream and onion seasoning, resulting in a unique and flavorful taste experience. This classic combination results in a unique but delightful twist which makes it milder than the other chicken variety that Chir Chir offers yet one of the flavorful options. This chicken dish is worth a taste if you are simply looking to try something different and most especially if you're a fan of sour cream and onion flavors.
Honey Butter Chicken – A delectable menu of Chir Chir that combines the sweetness of honey with the richness of butter, resulting in a delightful flavor profile. The chicken is coated in a sticky, caramelized honey butter glaze that adds a sweet and savory taste to each bite giving it a tender and juicy texture with a crispy and golden-brown outer coating that provides a satisfying crunch. It's a crowd-pleaser that offers a delightful blend of sweet and savory flavors that will leave you craving more.
Vampire Killer – This is a unique and flavorful chicken dish that packs a punch with its spicy and tangy sauce. The Vampire Killer chicken is marinated in a special spicy sauce that is known for its bold and fiery flavors which creates a complex flavor profile that tantalizes the taste buds. Overall, it offers a satisfying level of heat and flavor that will excite your taste buds and leave you craving more.
K-urry Chicken – K-urry chicken is a delightful menu of Chir Chir that combines the bold flavors of Korean and curry cuisine which results in a unique and exciting twist to traditional curry chicken. The roasted chicken itself has a crispy, golden exterior that gives way to tender, savory meat when mixed with the flavorful curry sauce, producing a delightful contrast in textures and flavors. The dish is hearty, flavorful, and satisfying, making it a great option for those seeking a combination of Korean and curry flavors in one delectable meal.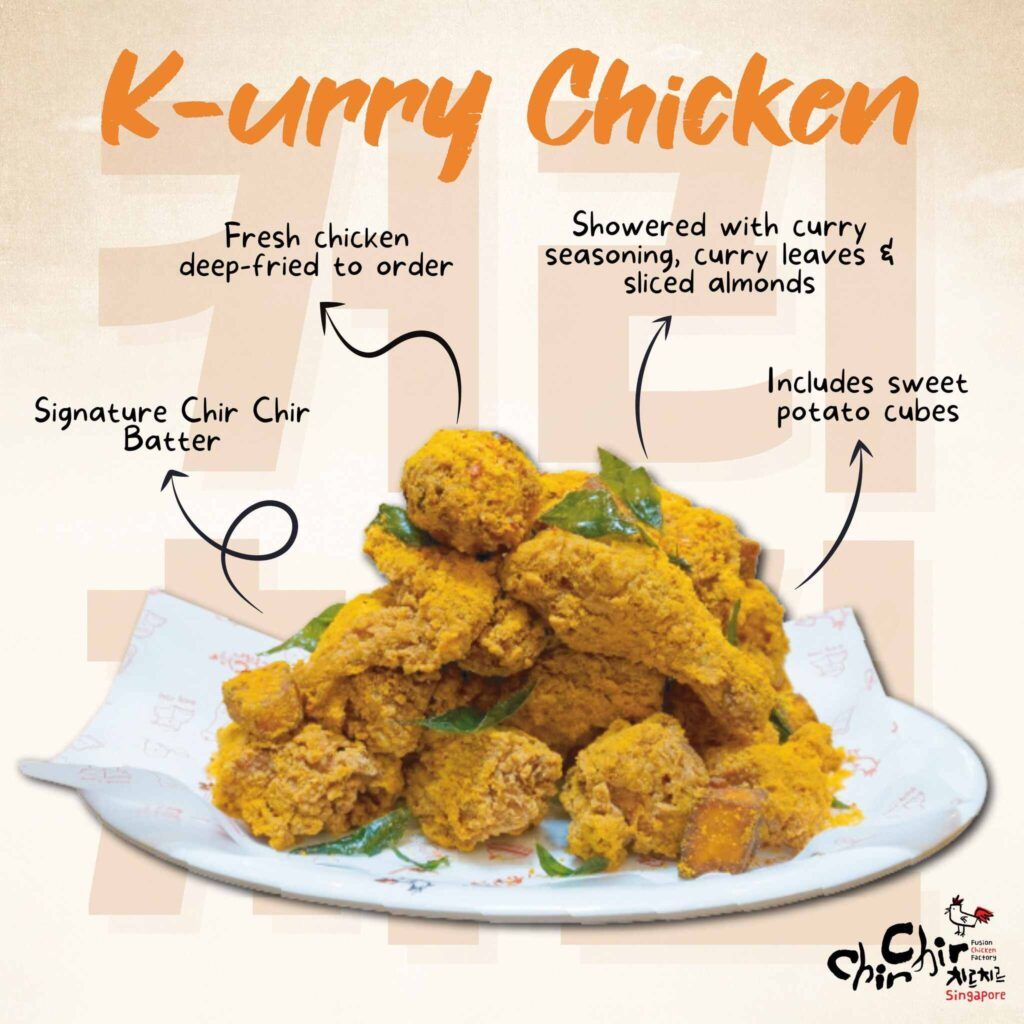 Chir Chir Menu Delivery
Chir Chir provides its customers with a delivery service to make ordering more convenient. Customers can use third-party delivery services like FoodPanda to order from anywhere and anytime they want without directly visiting their store. This option is very popular for busy individuals that are working or studying and does not have the time to go out.
Social Media Pages
Looking for the ultimate destination for delicious Korean fried chicken? Look no further than Chir Chir Singapore! Follow their social media pages for a finger-licking experience like no other. Stay updated on the latest promotions, exclusive offers, and exciting events by following them on social media.
Facebook: https://www.facebook.com/ChirChirSingapore/
Instagram: https://www.instagram.com/chirchirsg
Email: [email protected]
Website: https://kfoodgroup.oddle.me/en_SG/
FAQs
What type of cuisine does Chir Chir serve?
Chir Chir is a Korean restaurant that specializes in Korean-style fried chicken. 
Does Chir Chir offer delivery services?
Yes, Chir Chir does provide delivery services for its customers.
What are some popular dishes at Chir Chir?
Some of their popular dishes include Honey Butter Chicken, Nest Snow, Spicy Yangnyeom Chicken, Garlic Roasted Chicken, and Spicy BBQ Roasted Chicken.
Are there vegetarian options available at Chir Chir?
While their focus is primarily on chicken dishes, Chir Chir does offer some vegetarian options on their menu.
Is Chir Chir a halal-certified restaurant?
Unfortunately, no, Chir Chir is not halal-certified. 
Conclusion
Chir Chir Fusion Chicken Factory is a popular restaurant in Singapore known for its Korean-style fried chicken and fusion dishes with a diverse menu that includes various flavors of crispy fried chicken, along with a selection of sides and beverages. Chir Chir offers a unique dining experience that combines Korean flavors with Western-style comfort food. There are plenty of options to satisfy your cravings, whether you're a fan of honey butter, spicy, or garlicky soy chicken, which makes it a go-to destination for those looking for delicious and flavorful Korean fried chicken in Singapore.