Milk tea is internationally recognized as a comfort drink. There are a lot of milk tea establishments that are mushrooming all over the country and to the rest of the world but have you ever wondered which milk tea business is the best that is available in your country or location? You can rest your thoughts since I have found a business that can satisfy your milk tea cravings. The Sharetea menu has a lot of delicious milk tea for their customers and aside from that they also have nonmilk tea products if you're not a fan of milk tea.
Do you have any idea about them or have you ever heard about them? If not I'm sure staying in this article would be a great idea to know them further, the products that they offer and of course their prices. So without further ado let's start!
You can find the updated pricing information for the Sharetea menu below.
MENU
PRICE (SGD)

Popular

Okinawa milk tea
$5.00
Ice cream milk tea
$5.00
Peach fruit tea
$4.20
Yakult green tea
$4.90
Classic milk (red) tea
$4.20
Pearl milk (red) tea
$4.60

Ice cream

Ice cream milk tea
$5.00
Ice cream cocoa lover
$5.70

Milk tea

Classic milk (red) tea
$4.20
Oolong milk tea
$4.20
Pearl milk (red) tea
$4.60
Mini pearl milk (red) tea
$4.60
Homemade pudding milk tea
$5.00
Grass jelly milk tea
$5.00
Honey milk tea
$4.90
Matcha red bean milk tea
$5.40
Longan red date milk tea
$4.60
Coffee jelly milk tea
$5.00
Lychee de coco milk tea
$5.00
Red bean milk tea
$5.00
Winter melon milk tea
$4.50

Contemporary flavors

Okinawa milk tea
$5.00
Hokkaido milk tea
$4.90
Taro white pearls milk tea
$5.30
Avocado paradise
$5.30
Cocoa lover
$4.90
Creamy corn
$4.50
QQ happy family milk tea
$5.20
Mango milk tea
$4.70
Earl grey honey milk tea
$4.90

Brewed tea

Honey green tea
$3.70
Honey red tea
$3.70
Winter melon tea
$3.10
Longsn red date
$3.70
Classic oolong tea
$3.00
Classic green tea
$3.00
Classic red tea
$3.00

Fruit tea

Strawberry iced tea
$3.90
Peach fruit tea
$4.20
Mango green tea
$4.20
Honey aloe vera
$4.20
Honey lemon
$4.10
Honey lemon with ai yu jelly
$5.00
Orange green tea
$4.20
Fruity fruit tea
$4.50
Ume plum fruit tea
$3.90
Passion fruit green tea
$4.20
Passion fruit red tea
$4.20
Sour plum iced tea
$4.20
Lime green tea
$3.90
Lime red tea
$3.90
Mixed berries iced tea + aiyu
$5.50
Earl grey orange iced tea
$4.20
Honey grapefruit iced tea
$4.20
Passion fruit citrus iced tea
$4.50

Creme Beverage

Green tea with salty creme
$3.90
Red tea with salty creme
$3.90
Oolong tea with creme
$3.90
Winter melon tea with sweet creme
$4.00
Mango green tea with creme
$4.70

Fresh milk

Matcha latte
$5.70
Chocolate fresh milk
$5.50
Grass jelly fresh milk
$5.10
Handmade taro fresh milk
$6.60

Yakult

Yakult green tea
$4.90
Yakult lime green tea
$5.40
About Sharetea
Cheng Kai Lung is the person behind the success of Sharetea, he is the founder of this establishment in the year 1992, the origin of Sharetea is in Taiwan, Cheng Kai Lung is a former director that is working in the film and TV industry. Though his job is already one of the best jobs in the world he is not contented yet and that's the reason why he quit his fabulous job to build his very own tea business that can be found on the streets. In the early months of his business, he encountered a lot of hardship however instead of just quitting the business and going back to his old work he is determined to make his business bloom. After all of his hardship and dedication to his business, Sharetea was recognized by the customers.
Sharetea Menu Best Seller
Here are some of their popular and best-selling items.
Okinawa Milk Tea – Sharetea's version of Okinawa milk tea becomes famous for its brown sugar content which gives their Okinawa milk tea a rich sugar cane flavor. This type of milk tea is made to be slightly sweeter than any other milk tea. If you are a fan of milk tea, I highly recommend that you should go to their shop and try their Okinawa milk tea. The tea has that sweet and light flavor that could be appealing to anyone whether you are a milk tea fan or not. The sugar and milk in their Okinawa milk tea are just right giving this a very pleasant flavor and taste without over powering the taste of the tea.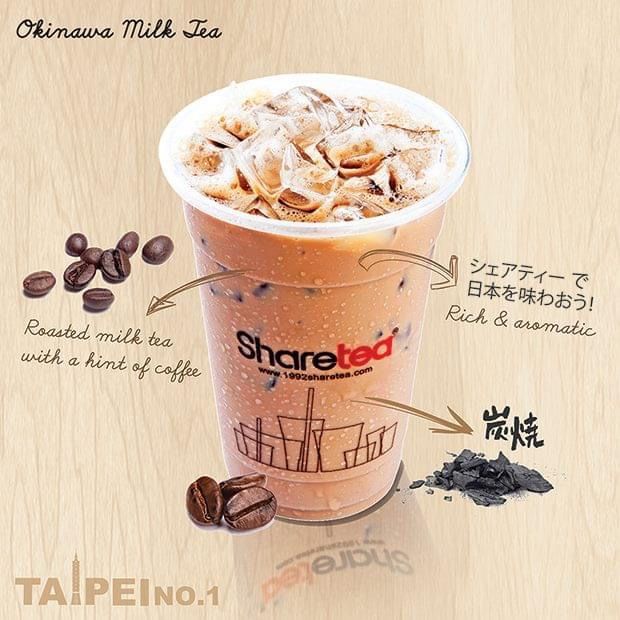 Winter Melon Milk Tea – Sharetea's version of winter melon milk tea is something that could be your new favorite. This one is another great tea on their menu it is made from the best brewed tea plus fresh milk and sweetener. This is one of the best item to order on their menu and specially made for the hot weather of Singapore in summer. If you are just exploring and doesn't have any idea in what to order this one is also a safe choice.
Ice Cream Milk Tea – Ice cream milk tea of Sharetea is something that you shouldn't miss. Their ice cream milk tea has unique flavors plus the creaminess and the sweetness of tye milk tea, it also has a and a bit of salty. This one is a great drink and a great choice if you want to order something special while being sure that your milk tea would be delicious. Upon ordering this ice cream milk tea if you still want to be more extra you can add jelly or boba but in my case i used to add pudding and boba on my ice cream milk tea. This item in their menu is worth trying and quite special, definitely a must try.
Peach Fruit Tea – This one is perfect for hot weather or basically a summer drink. This drink is refreshing with a slightly strong peach flavor. The taste of their peach fruit tea is very good it has the just right flavors that you can find in a fruit tea. The quality of this fruit tea is also great and it seems like it also has fruit bits because of how flavorful it is.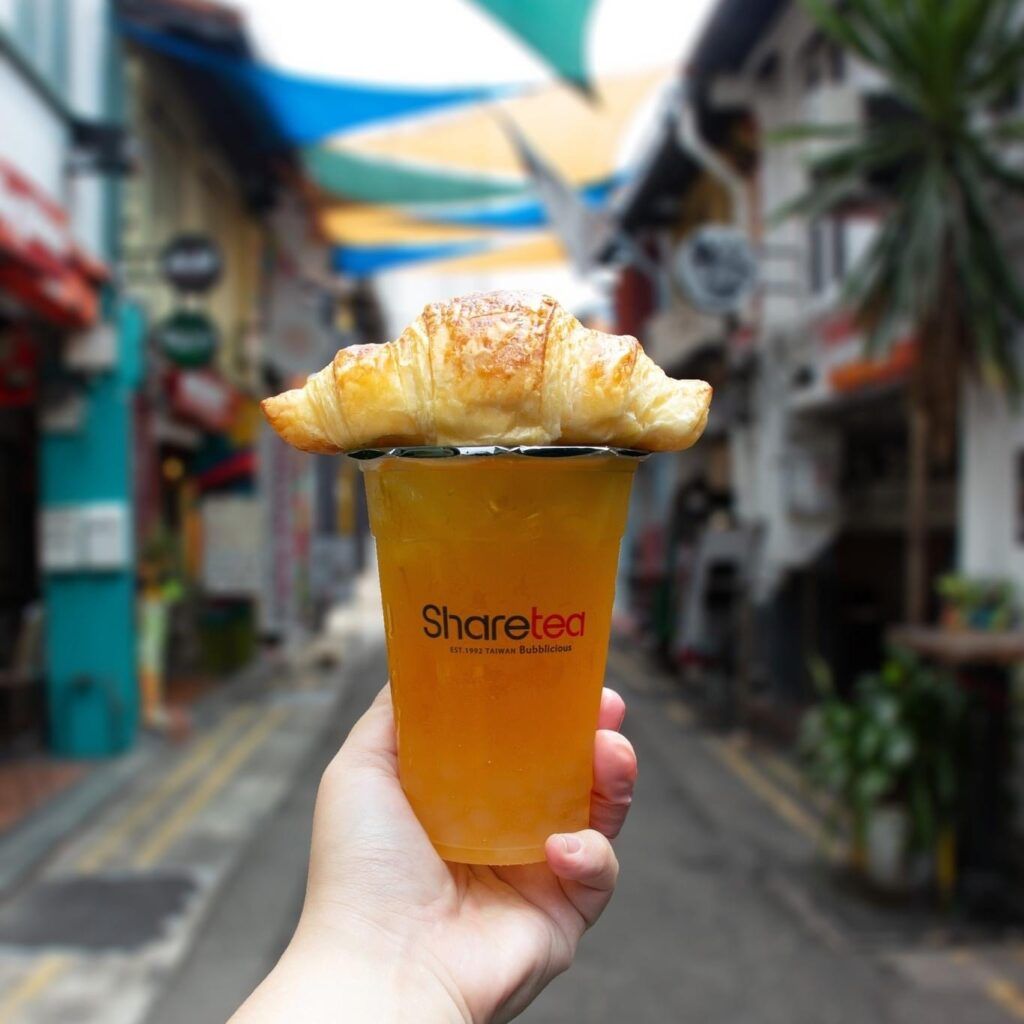 Sharetea Menu Milk Tea 
Sharetea's milk tea menu has a lot of different beverages to offer, they actually have 13 milk tea flavors on this menu, if you're a milk tea fan you shouldn't miss their selections of milk teas. They have classic milk tea, oolong milk tea, pearl milk tea, grass jelly milk tea, coffee jelly milk tea, and other delicious choices like homemade pudding milk tea, winter melon milk tea, red bean milk tea, and many more. 
Sharetea Fruit Tea Menu
On their fruit tea menu, you'll get to enjoy a lot of different choices of healthier beverages like strawberry iced tea, peach fruit tea, and mango green tea. Honey lemon and fruity fruit tea are my top favorites but aside from those they also have orange or passion fruit green tea, lime green or red tea, sour plum iced tea, mixed berries iced tea, and earl grey orange iced tea. Other options include honey grapefruit iced tea and passion fruit citrus iced tea.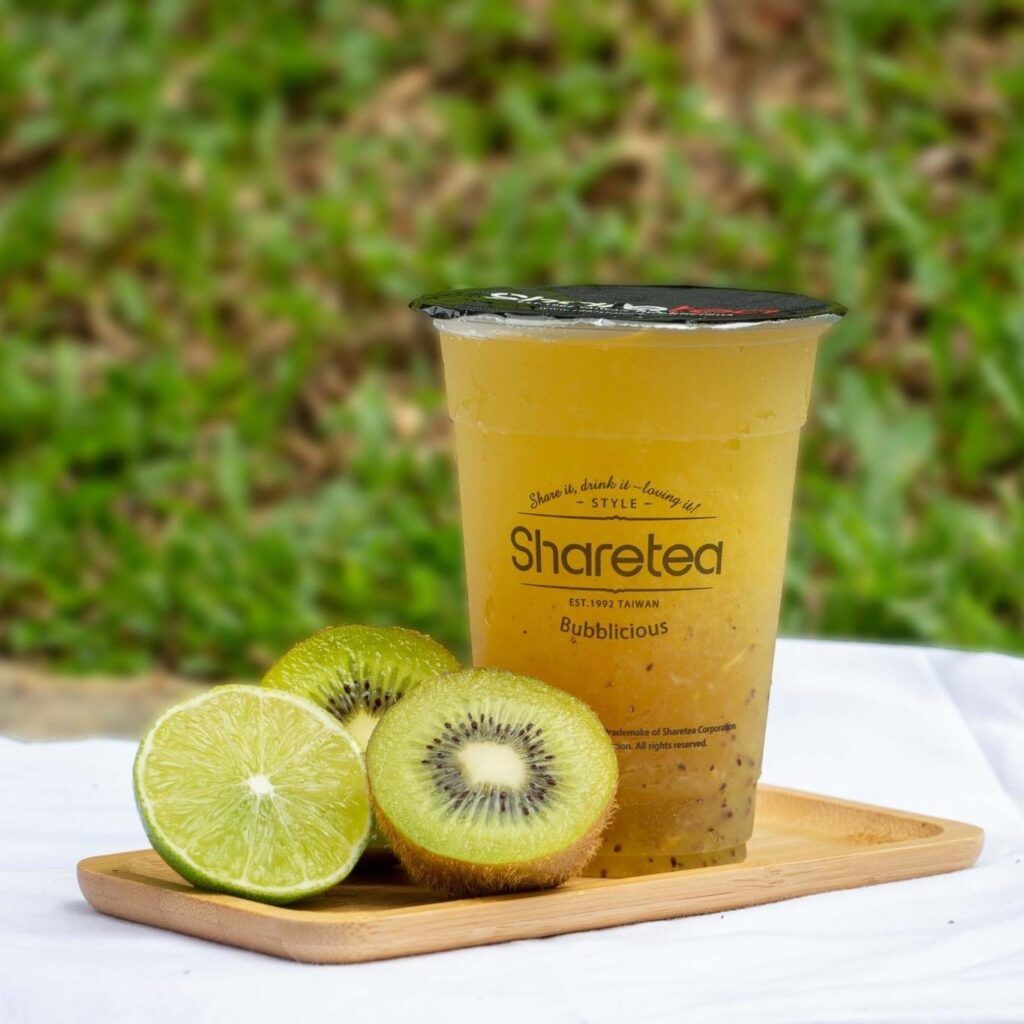 Ice Cream
Sharetea offers two delightful options on their ice cream menu. The first one is their ice cream milk tea, which is absolutely delicious and a true indulgence. It combines the creamy goodness of ice cream with the rich and flavorful taste of its signature milk tea. It's a treat that will surely satisfy your cravings.
The second option is their ice cream cocoa lover, specially crafted for all the chocolate enthusiasts out there. If you adore chocolate, this is the perfect choice for you. It combines the smoothness of ice cream with the irresistible taste of cocoa, creating a heavenly dessert that will be appreciated by any chocolate lover.
Whether you prefer the creamy goodness of their ice cream milk tea or the heavenly chocolate experience of their ice cream cocoa lover, Sharetea's ice cream menu offers something delightful for everyone who loves sweets.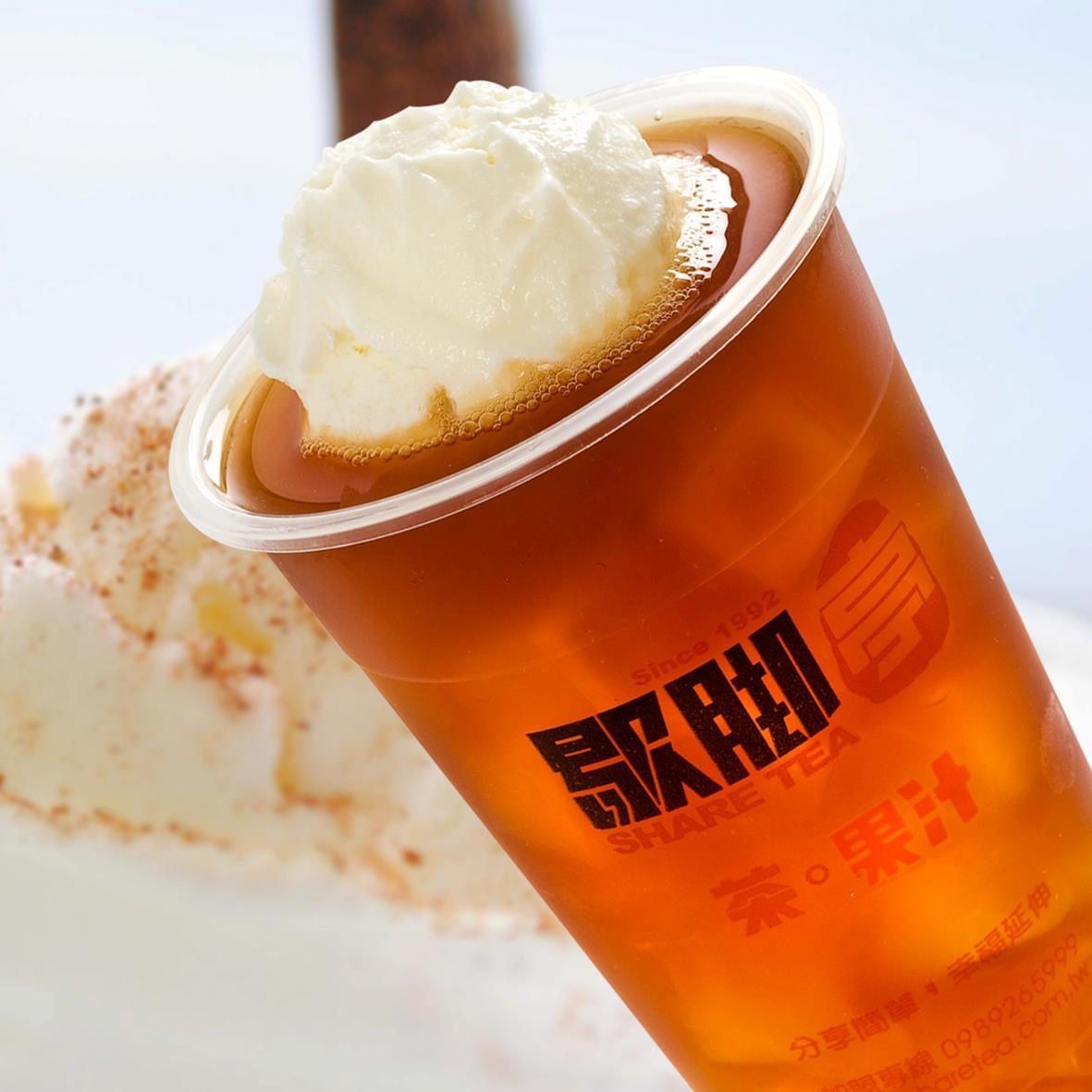 Sharetea Menu Delivery
No worries if you're too busy to go to Sharetea and get your favorite menu. You can order it online instead! There are convenient delivery services like Deliveroo, FoodPanda, and others in your area that can help. Just visit their website or use their app to find Sharetea branches near you.
Sharetea Social Media Pages
Stay connected with Shake Farm and join the vibrant community on social media! Follow them for daily inspiration, mouthwatering food photos, and updates on the latest menu creations. Don't miss out on exclusive promotions and giveaways!
Facebook: https://www.facebook.com/ShareteaSG
Instagram: https://www.instagram.com/shareteasg
Email: [email protected]
FAQs
What types of drinks are available at Sharetea?
Sharetea serves fruit teas, milk teas, brewed tea, fresh milk, ice-blended brewed tea, and their signature mojito.
Is there a delivery service available for orders from Sharetea?
No, upon checking they don't have their own delivery website as of now however you can order their products from delivery services that are available in your location.
Can I customize my drink at Sharetea?
Yes, you can customize the drinks that you are about to order in Sharetea. They have add-ons depending on your preference.
Is Sharetea halal-certified?
Yes! Sharetea in Singapore is definitely halal-certified.
Conclusion
Great place to go if you're craving milk teas and other delicious beverages. Sharetea's menu has a lot of options for you and for sure you'll find what you're looking for on their menu. Their products are high quality and when it comes to the taste it's like you're getting your drinks from an expensive shop. Highly recommend that everyone try halal certified and can be enjoyed by Muslim customers as well. Clean place great service, a must-try milk tea shop for everyone.