The Tendon Kohaku menu consists of Japanese cuisines, such as tendon, a combination of tempura and tendon. It also offers platters comprising various delicious tempuras made from vegetables, seafood, and chicken. Original and spicy are the flavors of sauces that this restaurant offers. These dishes are also served with pickles, usually yuzu pickles, which add a citrusy flavor profile to these dishes. Classic and popular Japanese side dishes are also offered that work ideally with the various kinds of tempura it serves. 
You can find the updated pricing information for the Tendon Kohaku menu below.
MENU
PRICE (SGD)

Standard

Kohaku Tendon with Soup
$16.00
Seafood Tendon with Soup and Ikura
$23.00
Vegetable Tendon with Soup
$15.00

Platters (No Rice)

Kohaku Platter for 1
$15.00
Seafood Platter with Ikura
$24.00
Prawn Tempura Platter
$32.00
Vegetable Platter
$22.00

Side Dish

Edamame
$4.00
Kohaku Tofu
$4.00
Onsen Egg
$2.00
Otsumami Kurage
$4.00
Otsumami Wakame
$4.00
Yuzu Pickles
$4.00

Beverages

Coke
$3.00
Coke Light
$3.00
Sprite
$3.00
Ice Lemon Tea
$3.00
About Tendon Kohaku 
The first branch of Tendon Kohaku was opened in Singapore. Its name comes from Tendon, a traditional Japanese dish where tempura and donburi are combined, and from Kohaku, which means amber. The hand-picked ingredients, consisting of seafood, vegetables, meat, and prawns, are coated with homemade batter and deep-fried in special oil until crispy and amber. 
Tendon Kohaku Menu Standard 
The standard menu of Tendon Kohaku consists of battered and fried seafood, vegetable, and meat dishes laid on Japanese rice. These dishes are served with your preferred sauce, pickles, and a hearty soup, making your meals more satisfying.
Kohaku Tendon with Soup – This tendon Kohaku meal consists of two prawns, French beans, squid, chicken breast, baby corn, pumpkin, crab stick, shitake mushroom, and white rice. It is the signature and most popular meal of this restaurant that impresses its patrons. 
Vegetable Tendon with Soup – For those who want a healthy meal, this vegetable tendon with soup is an ideal choice. Pumpkin, maitake mushroom, capsicum, baby corn, asparagus, lady finger, shitake mushroom, and two French beans are laid on steamed white rice.
Seafood Tendon with Soup and Ikura – It comprises scallops, dory fish, squid, two prawns, French beans, lotus root, baby corn, and seaweed. The features of this meal that make it pleasurable are the crunchy texture, delicious taste, and fresh flavors.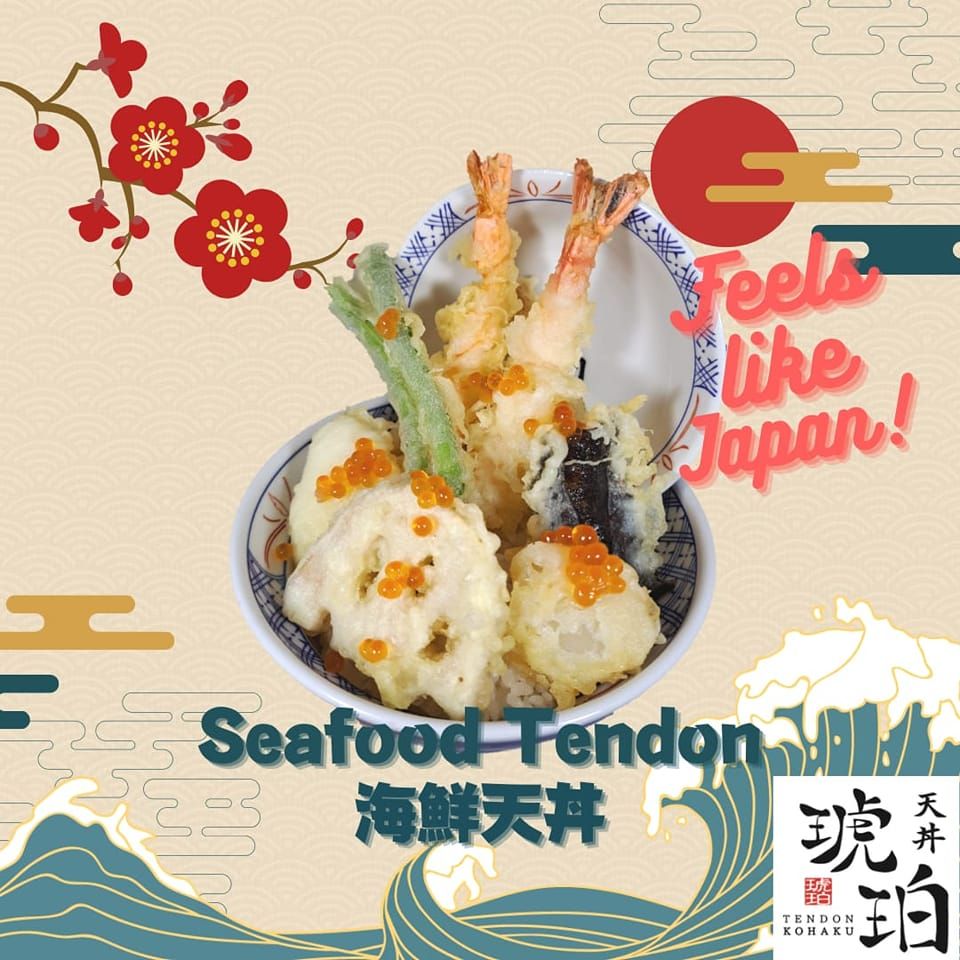 Tendon Kohaku Menu Platters 
The seafood, vegetable, and prawn tempura platters are good for sharing, while its signature Kohaku platter suits one person. These platters are served with sauce and pickles and do not include rice. 
Kohaku Platter for 1 – A platter that comes with seafood, meat, and vegetables. The included dishes in this platter are prawns, crab sticks, squid, chicken breast, French beans, pumpkin, baby corn, and shitake mushroom. 
Seafood Platter with Ikura – This seafood platter will satisfy seafood lovers as it consists of four prawns, four crab sticks, four dory fish, and four squids. Ikura is garnished on these seafood dishes, making them visually appealing. 
Prawn Tempura Platter – Satisfy your tempura cravings with this prawn tempura platter with twelve pieces of black tiger prawns that are battered and fried expertly. The gratifying crunch in every bite makes this dish enticing. It is one of the most popular dishes on its menu, loved by its patrons.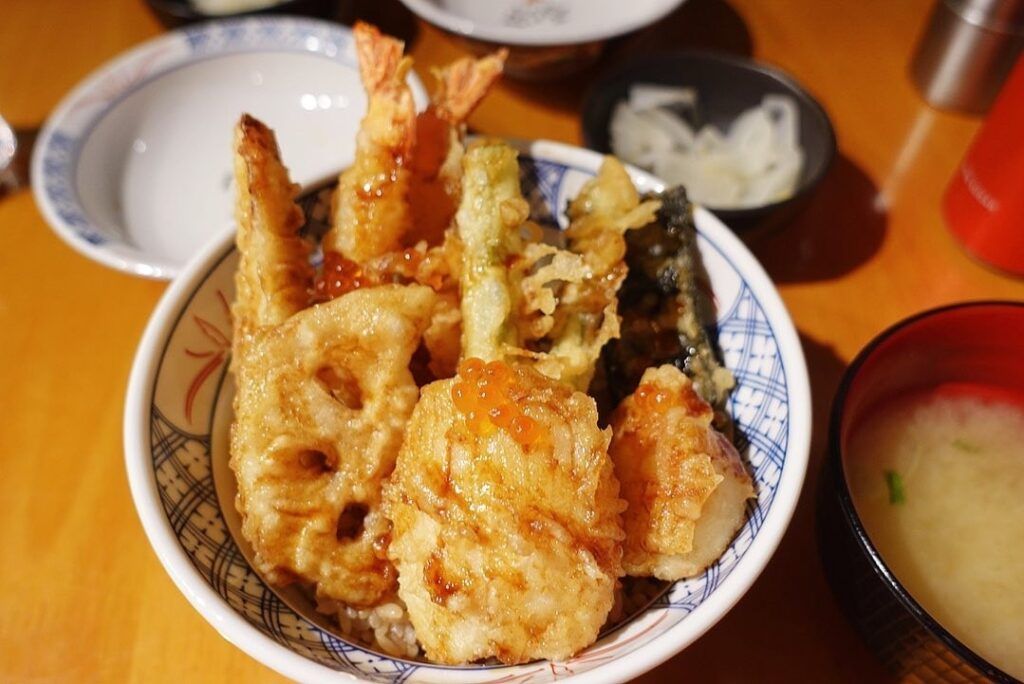 Vegetable Platter – Enjoy a healthy meal with this vegetable platter served by Tendon Kohaku. The vegetables in this dish are lady finger, capsicum, maitake mushroom, baby corn, shiitake mushroom, and pumpkin. This platter is great for three to four people and perfect for people from all walks of life. 
Tendon Kohaku Menu Side Dish 
The side dishes of Tendon Kohaku consist of satisfying Japanese delicacies that complement well with other cuisines it serves. These items add flavor, texture, and nutrients, making your Japanese dining experience pleasurable. 
Kohaku Tofu – It is a special tofu prepared by this restaurant using fresh, authentic, and high-quality ingredients to serve customers a delicious and unique dish. It is laid on top of homemade soy sauce and garnished with special ingredients. 
Edamame – Edamame is a healthy side dish rich in soy protein, fiber, and other essential nutrients that can make you healthier when eaten more often. It is easy to prepare as it can be steamed or boiled and served with salt or your preferred condiment. This is a common appetizer or side dish served in most Japanese restaurants in different parts of the world. 
Onsen Egg – Traditionally, this onsen egg is cooked in hot springs, making the yolk firm and creamy and egg white soft, and milky. This poached egg is one of the classic dishes that the Japanese enjoy for breakfast. It can be laid on white steamed rice as it adds a velvety texture and mouthwatering goodness. 
Otsumami Kurage – A delicious food in Japan where jellyfish is seasoned with a special blend of spices and seasonings. It is one of the famous food items added to sushi dishes or served as a side dish in bento that pairs perfectly with other dishes. The luscious taste of this kurage will make your meal more gratifying. 
Otsumami Wakame – Wakame is known for its distinctive and strong flavor with a hint of sweetness. This edible and highly nutritious seaweed contains minerals, vitamins, and other essential nutrients good for the body. It is often served as a side dish to seafood or an additional ingredient for salads and soups. 
Yuzu Pickles – The citrusy notes, distinctive flavor profile, and appetizing aroma of this yuzu pickle will boost your appetite. Its taste and fragrance work beautifully with other dishes, making it one of the ingredients added and served with Japanese cuisine.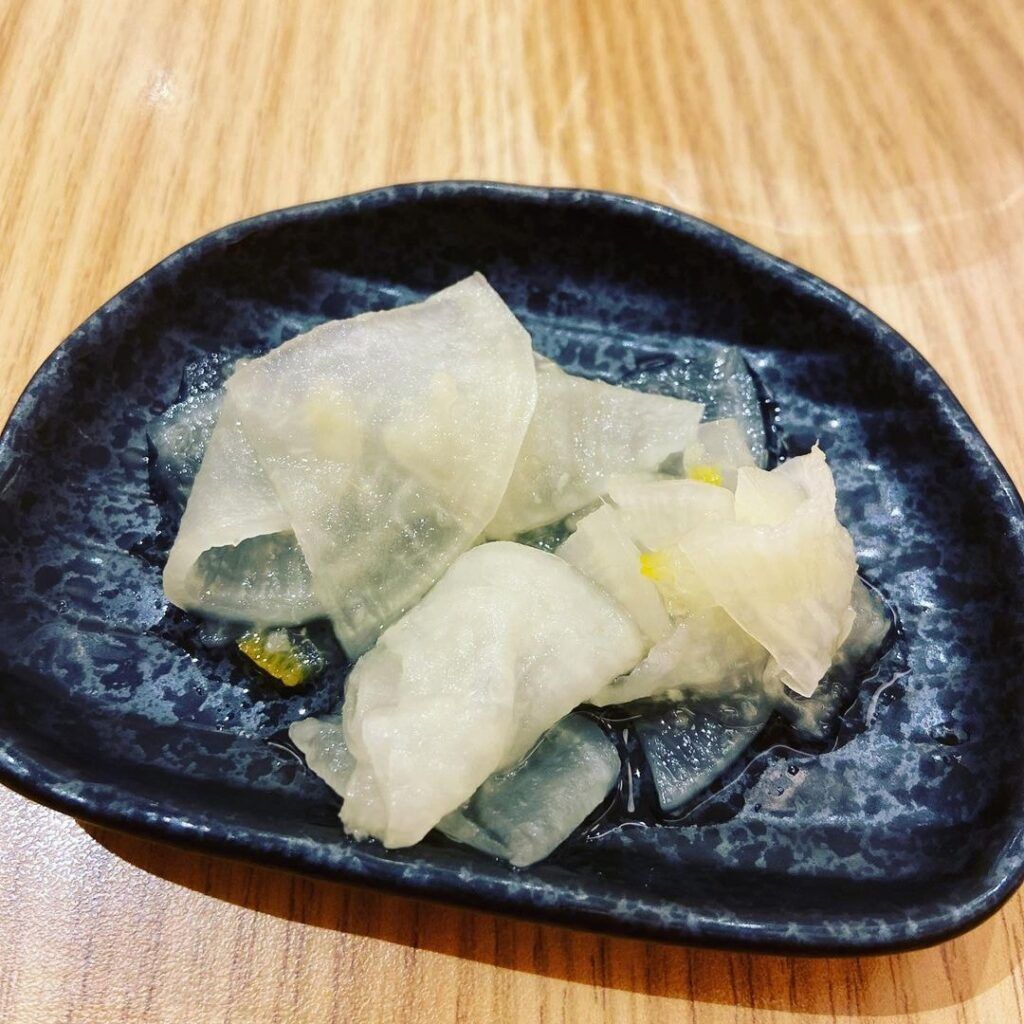 Beverages 
The beverages offered by Tendon Kohaku Singapore consist of soft drinks and lemon tea. Coke, coke light, and Sprite are the soft drinks that this Japanese restaurant serves. For those who want a fruity and refreshing drink, the Iced Lemon Tea is a great choice. It is also one of the crowd's favorite thirst quenchers, making them feel refreshed. 
Tendon Kohaku Menu Delivery 
The Japanese dishes served by Tendon Kohaku are available for delivery. Place your order through the restaurant's delivery platforms, such as Oddle, Foodpanda, and GrabFood.  
Social Media Pages
Follow their social media pages to stay connected with the latest updates, mouthwatering tempura creations, and exclusive promotions. Step into their store and be greeted by a warm and inviting ambiance, where skilled chefs artfully prepare each tempura dish with precision and passion.
Facebook: https://www.facebook.com/kohaku.tempura
Instagram: https://www.instagram.com/tendonkohaku_sg
Email: [email protected]
FAQs
Where is Tendon Kohaku located? 
The outlets of Tendon Kohaku Singapore are located in the following areas: 
Chinatown Point (133 New Bridge Rd, #02-34, Singapore 059413)
Circular Road (64 Circular Rd, #01-01, Singapore 049418)
Clarke Quay Central (6 Eu Tong Sen St, #B1-52/53, Singapore 059817)
Suntec City (3 Temasek Blvd, #03-310/311, Singapore 038983)
What are the signature dishes at Tendon Kohaku? 
The Kohaku Tendon, which consists of seafood, chicken, vegetables, and rice, is the signature dish of Tendon Kohaku. 
Are there any vegetarian options available at Tendon Kohaku? 
Yes, the Vegetable Tendon and Platter are the vegetarian options served by this restaurant. 
Are there any spicy options available at Tendon Kohaku? 
Yes, Tendon Kohaku offers spicy dipping sauce for those who want to spice up their meals. 
Is Tendon Kohaku halal certified? 
Tendon Kohaku Singapore is not a halal-certified Japanese restaurant. 
Conclusion 
The Tendon Kohaku menu is simple, making it easy for diners to choose their meal. Kohaku Tendon is this restaurant's signature and famous dish that you should not miss out on, as it has a classic, authentic, and unique taste. If you will order for delivery, lay tempura on a tray, spray it with water to moisten it, and reheat it until it becomes crispy to enjoy its crispiness and mouthwatering goodness.