There are a lot of delicious food items that are available in the market these days but are you looking for something that is quite affordable and at the same time will give you the best food experience especially when it comes to bentos and other dishes like mien? Chen's Mapo Tofu menu has a wide variety of options to choose from and at the same time, this place offers a lot of popular comfort dishes for you. Have you heard about this establishment before? If yes how's the experience? And if not then maybe you can stay in this article to know further about them. Let's get to know Chen's Mapo Tofu more and learn about their food and food prices. Let's go! 
You can find the updated pricing information for Chen's Mapo Tofu menu below.
MENU
PRICE (SGD)

New (for one)

Signature combo (soup/dry) + Duck karaage
$25.50
Shoyu kurobuta don + duck karaage
$26.50
Kurobuta tonkatsu with kombu mien + duck karaage
$28.80
Mapo don/mien + duck karaage
$22.80
Plant based mapo don/mien + seasonal vegetables
$21.80

Bundles

Signature mapo bundle - 2 pax
$48.80
Bestseller bundle - 2 pax
$52.50
Meatless bundle - 2 pax
$50.80
Bestseller feast - 4 pax
$101.30
Family value feast - 5 pax
$131.20

Bentos

Mapo tofu bento
$17.50
Kurobuta with gyoza bento
$17.50
Signature bento
$19.50
Kurobuta and tori bento
$19.50
Meat-free bento
$20.50
Premium bento
$22.50

Mains

Shoyu kurobuta kombu mien
$19.50
Signature combo
$17.50
Mapo don
$14.80
Mapo mien
$14.80
Plant based mapo don
$16.80
Plant based mapo mien
$16.80
Dan dan mien
$14.80
Kurobuta tonkatsu with kombu mien
$20.80
Shoyu kurobuta don
$18.50
Twice cooked tori don
$17.80
Miso nasu don
$15.80
Chuka don
$18.50

Sides

Kurobuta with garlic sauce
$7.00
Duck karaage
$8.00
Mala fried gyoza (5pcs)
$8.50
Spicy Szechuan dumplings (5pcs)
$8.50
Szechuan popcorn chicken
$7.00
Hot and sour soup
$6.50
Szechuan century egg and tofu
$5.00
Seasonal vegetables
$5.00
Mapo tofu
$12.80
Plant based mapo tofu
$15.60
Onsen egg
$2.00
Hokkaido rice
$2.80

Drinks

Calamansi juice
$3.60
Coke
$3.30
Coke zero
$3.30
Sprite
$3.30
Ayataka
$3.30
Oolong
$3.30
Mineral water
$3.00
About Chen's Mapo Tofu
Chen's mapo tofu is quite popular and is actually a CBD favorite. This establishment is located in Shenton Way and is easy to locate. Chef Liew Tan Heong collaborated with Shisen Hanten to produce this modern-day casual type restaurant. Some of the chefs' famous dishes are being remade in this restaurant to make a dish that is equally satisfying yet affordable and suitable for everyone. Their mapo don is incomparable to be fair, it has the right amount of flavors in it that are unforgettable and will surely linger on your tastebuds. In the year 2017, they decided to open Chen's Mapo Tofu making sure that they had already given proper development and research on their dishes to serve with the meticulous Singaporean taste.
They also got the idea of serving Japanese Sichuan or donburi dishes over white rice. This concept becomes a hit and the crowd especially those in their vicinity started to recognize them because they serve delicious and affordable meals and that's what people are looking for nowadays, the restaurant becomes a success after that. After their success and hardships, Chen's Mapo Tofu received numerous awards and recognitions as proof that they are offering really good food while giving value to your hard-earned money. They even receive a bib gourmand in the year 2019 and still continue to improve and grow for the best. 
Chen's Mapo Tofu Menu Best Seller
Here's a list of some of their best-selling items that everyone should try. 
Signature Combo (Soup/Dry) + Duck Kaarage  – This item is one of their best sellers and is really delicious and satisfying. You will get the chance to Enjoy the best of both worlds with their mien that is topped with minced meat and their Signature Mapo Don. The duck karaage is also at a different level, to be honest.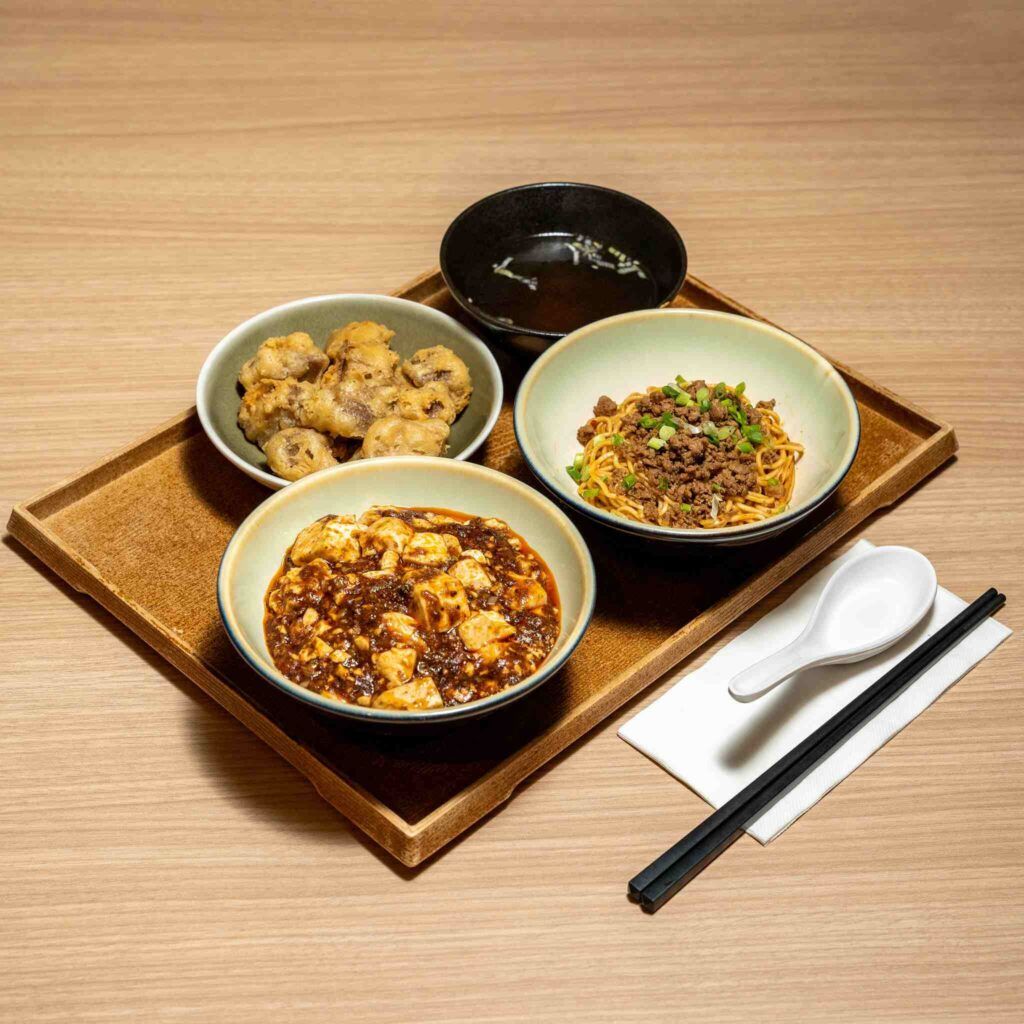 Mapo Don/Mien + Duck Kaarage – Chen's Mapo Tofu version of mapo don/mien + duck karaage is something that you should try if you love the savory minced meat on top of your white rice and are also a fan of fried duck karaage. This item on their menu is not surprisingly one of their top-selling food. All the flavors and the right texture are in this one and you'll be sure that you will get the best. 
Bestseller Bundle 2 Pax – This menu of Chen's Mapo Tofu is the one that you should order if you're going to visit their restaurant with a friend. Their best-seller bundle is made with shoyu buta don, Mapo Don, seasonal vegetables, and Szechwan Popcorn Chicken. It is also served with 2 of their Seasonal Beverage and is highly recommended for 2 pax.
Mapo Mien – One of their most simple dishes yet also included in their best-selling items. Chen's Mapo Tofu version of mapo mien is actually their signature mapo tofu that is savory and really delicious plus some delicious Minced Meat that they serve on top of freshly cooked Noodles. Very simple yet delicious and of course very affordable.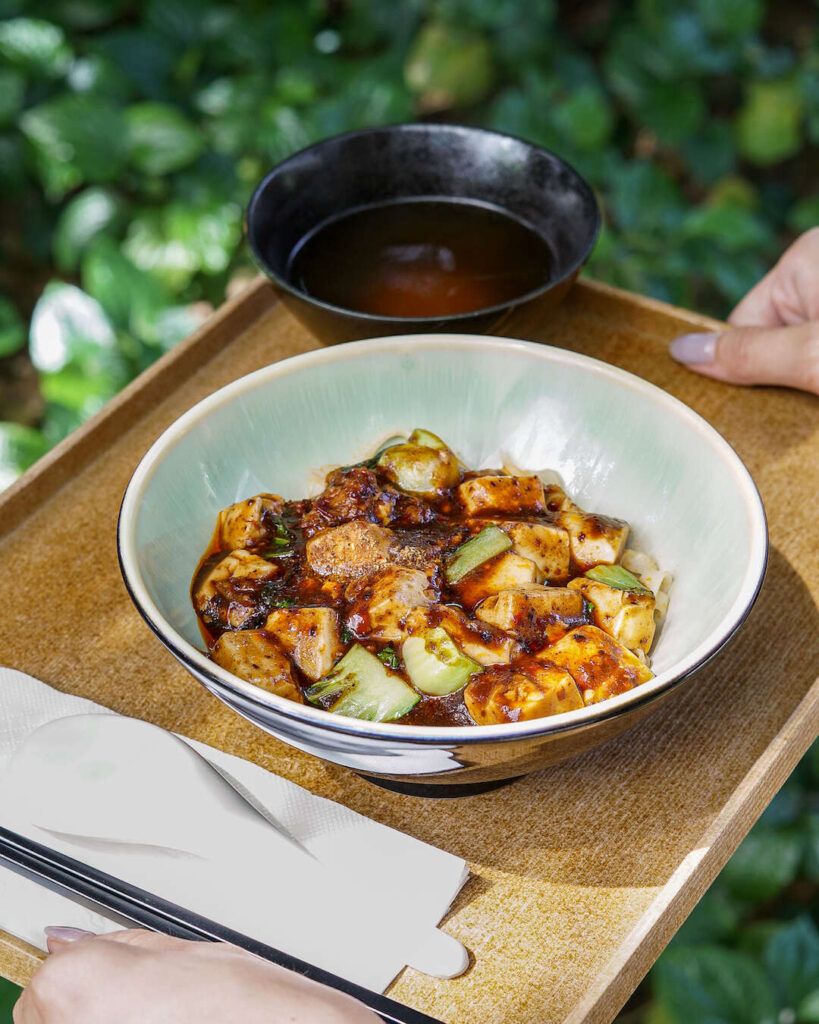 For One Menu
They have 5 choices on their for-one menu. First is their Signature Combo (Soup/Dry) + Duck Kaarage this is a great choice if you love to enjoy 2 items at the same time. Next is their Shoyu Kurobuta Don + Duck Kaarage which is also a good choice. Kurobuta Tonkatsu with Kombu Mien + Duck Kaarage is also included on this menu this is also a great option if you are looking for something good. Other options are Mapo Don/Mien + Duck Kaarage and Plant-Based Mapo Don/Mien + Seasonal Vegetables. 
Chen's Mapo Tofu Menu Bundles
On their bundle menu, they also have 5 choices of delicious dishes. The bundle's menu is great for sharing. The first item is their Signature Mapo Bundle, this one is good for 2 pax already. Next is their Bestseller Bundle which is also good for 2 pax. Meatless Bundle is also great for 2 pax while their Bestseller Feast is great for 4 pax. The last item on this menu is their family value feast, this one is good for 5 pax. 
Sides
There are a lot of delicious items that are included on their side menu. The first item is their mala gyoza which is served 5pcs already and is really good with their mien. They also have spicy Szechuan dumplings for spicy lovers. Another option is their Szechuan popcorn chicken. Hot and sour soup is also a must-try on this menu. Other options are Szechuan century egg and tofu, seasonal vegetables, mapo tofu, plant-based tofu, onsen egg, and Hokkaido rice. 
Chen's Mapo Tofu Menu Delivery
Ordering online your favorite Chen's Mapo Tofu made easier simply by going to this website at https://chensmapotofu.oddle.me aside from that you can also use other services like grab food, Deliveroo, and Foodpanda. You can also try ordering thru their official Facebook account. 
Social Media Pages
Follow Chen's Mapo Tofu on social media to stay connected with our latest updates, exclusive promotions, and mouthwatering dishes. Don't miss out on the chance to indulge in authentic Sichuan flavors right here in Singapore.
Facebook: https://www.facebook.com/ChensMapoTofu/
Instagram: https://www.instagram.com/chensmapotofu
Email: [email protected]
Website: https://www.ouerestaurants.com/concepts/chens_mapo_tofu
FAQs
Can I customize the spiciness level of the Mapo Tofu dish at Chen's Mapo Tofu?
Yes, the great news is their customers can actually customize the spicy level of their mapo tofu dish. This is a great idea so that everyone is happy and comfortable with their order. All you have to do is to ask about it on their service personnel. 
Are reservations recommended at Chen's Mapo Tofu?
You can actually go to their place without reservations so we can say there's no need for a reservation anymore though a lot of customers are reserving their seats for a better experience since they have a lot of customers that wanted to eat at their restaurant. 
Does Chen's Mapo Tofu accept credit cards or is it cash-only?
The great news is they accept credit cards, debit cards, and cash to make it easier for their customers to enjoy their services. 
Is Chen's Mapo Tofu halal certified?
No, Chen's Mapo Tofu is not halal certified since they are serving pork meats. 
Conclusion
The best place to go if you're looking for the best mapo tofu and if you're someone who loves to try different foods at the same time. Chen's Mapo Tofu menu surely has everything that you needed and will surely satisfy your cravings in no time. This place is amazing not only because their foods are affordable and delicious but because their customer service is great, the service personnel are polite and always smiling and also approachable. The place is also clean and well-maintained. The ambience is good and customer friendly and the place is comfortable. Highly recommended for everyone.