The Paris Baguette menu has a wide selection of cakes, bread, pastry, dessert, sandwich, salads, ice cream, and pasta. It also offers a combo meal where customers can enjoy a cake & coffee set and bread bundle at an affordable price. Merchandise such as jams, teatras, and tote bags are also offered and are perfect to be given as a gift. This bakery is known for offering Korean and French-inspired delicious goods.
You can find the updated pricing information for the Paris Baguette menu below.
MENU
PRICE (SGD)

Very! Berry Starwberry

Very Berry Good Sliced Tart
$9.90
Very Berry Royal Pudding
$5.30
Very Blueberry Yogurt Cheese Cake
$9.60
Very Strawberry Danish Roll
$4.90
Very Strawberry Yogurt Cheese Cake
$9.90
Mini Strawberry Cream Cube Toast
$4.50
Strawberry Peanut Crumble Cream Bread
$4.30
Strawberry Peanut Crumble Peanut Cream
$4.30
Double Berry Cream Croissant
$6.70
Very Berry Good Whole Tart
$60.00

Roll and Pound Cake

Berry Roll Cake
$16.90
Duet Roll Cake
$16.90
Korean Honey Castella
$16.90
Pecan Banana Pound Cake
$16.90
Quattro Cheese Pound Cake
$16.90
Signature Pound Cake
$16.90
Signature Silky Roll Cake
$16.90
Korean Tangerine Roll Cake
$16.90
Pound Cake (slice)
$2.00
Shine Muscat Roll Cake
Walnut Pound Cake

Bread, Pastry, and Loaf

Big Choco Twist
$4.30
Big Sweet Potato Twist
$4.30
Chocolate Danish Pastry Toast
$5.20
Caramelised Butter Pastry
$4.90
Chocolate Croissant
$4.30
Cream Cheese Whole Wheat Pastry
$4.90
Croissant
$3.90
Double Cheese Croissant
$4.30
Mini Choco Twist
$5.90
Mini Croissant
$5.90
Multigrain Toast
$6.30
Premium Milk Toast
$6.00
Softness Chocolate Bread
$3.90
Softness Cranberry Bread
$3.90
Sweet Chestnut Toast
$5.20
Natural Yeast Bread
$3.90
Cream Cheese Roll Pie (3pcs)
$4.30
Sour Cream & Onion Cheese Roll Pie (3pcs)
$4.90
Mushroom Baguette Pizza
$5.20
Dark Choco French Pastry
$4.30
Hawaiian Baguette Pizza
$5.20
PB Power Garlic Baby
$4.90
Brown Sugar Korean Sweet Pancake
Mini Yogurt Bread
Hongkong Tea House Peanut Butter French Toast
Quattro Mushroom Baguette Pizza
PB Classic Baby
Caramelized Butter Pastry
Pain Au Chocolat
Honey Gorgonzola Bread
Softness Korean Milk Cream Bread
Fresh Choco Cream Bread
Softness Cheesy Bread
Cream Cheese Swirl Cinnamon Bun
Red Bean Peanut Crumble Bread
Chewy Glutinous Bread
Red Bean Mochi Bread
$2.90
Sweet Potato Bread

Sandwich, Salad and Hot Meal

Mushroom Cream Soup
$6.00
Caesar Chicken Baguette Sandwich
$9.90
Egg Mayo & Avocado Croissant Sandwich
$9.50
Tuna & Egg Mayo Club Sandwich
$10.50
Smoked Salmon Salad
$13.00
Cranberry Chicken Pastry Wrap Sandwich
$10.50
Caesar Chicken Croissant Sandwich
$9.90
Ham & Cheese Baguette Sandwich
$9.50
Ham & Cheese Pastry Wrap Sandwich
$10.50
Oven Baked Chicken Wrap Sandwich
$9.50
Salmon Cream Cheese Croissant Sandwich
$10.50
Tuna & Tartar Croissant Sandwich
$9.90
Caesar Chicken Salad
$11.50
Oven Baked Chicken Salad
$11.50
Smoked Salmon Lemon Salad
Baked Chicken Sriracha Salad
Baked Chicken Wrap Sandwich
$9.50
Classic Ham & Cheese Baguette

Whole Cake

Double Choco Fudge Cake
$53.00
Fresh Cream Cake
$58.00
Fresh Yogurt Cream Cake
$58.00
New York Cheesecake
$53.00
Tiramisu Cheesecake
$53.00
Choco Cheese Mousse Cake
$58.00
Blueberry Yogurt Cream Cake
$58.00
Fresh Chocolate Cream Cake

Short Cake

Blueberry Yogurt Tart
$9.60
Double Choco Fudge Cake (slice)
$8.50
Fresh Strawberry Yogurt Cake
$10.60
New York Cheesecake (slice)
$8.50
Paris Rocher
$10.60
Tiramisu Cheese Short Cake
$8.50
White Chocolate Earl Grey Tea Cake
$9.60
Caramel Banana Tart
$9.60

Soft Bread

Best Ever Garlic Bread
$4.30
Cream Cheese Mochi Ball
$4.30
Cream Cheese Swirl Cinnamon
$2.90
Plain Bagel
$2.70
Soft Strawberry Cheesecake
$2.70
Crispy Apple Pie
$2.90
Cheese Sausage Bread
$2.90
Chewy Cheddar Cheese Stick
$2.90
Crumbly Red Bean Peanut Soboro Bread
$2.90
HK Peanut Butter French Toast
$2.90
Korean Black Sesame Sweet Rice Bread
$2.70
Korean Milk Cream Bread
$2.90
Peanut Crumble Bread
$2.70
Soft Cheesecake
$2.90
Sweet Red Bean Bread
$2.90
Brown Sugar Chewy Pancake
$2.90

Combo Meal

Cake Bundle (4pcs)
$30.00
2 for $30 Roll/Pound Cake
$30.00
3 for $12.50 Signature Bread Bundle
$12.50
Cake & Coffee Set (1 cake and 1 drink)
$13.90
4 for $10 Bread Bundle
$10.00
2 for $38.80 (Fu) Pancakes
$38.80

Coffee

Americano
$5.20
Café Latte
$6.20
Cappuccino
$6.20
Caramel Latte
$6.20
Milk Cream Americano
$6.20
Milk Cream Café Latte
$7.20
Mocha Latte
$7.20
Cold Brew Americano
$6.20
Cold Brew Honey Latte
$7.20
Milk Cream Iced Americano
Espresso

Dessert

Mr. Bear Madeleine (Chocolate)
$2.00
Ms. Bear Madeleine (Vanilla)
$2.00
Choco Tiramisu Cheese Tart
$3.50
No. 1 Cheese Tart
$3.50
Original Royal Pudding
$5.30
Royal Pudding Box (6pcs)
$30.00
Blueberry Macaron
$3.50
Chocolate Macaron
$3.50
Salted Caramel Macaron
$3.50
Vanilla Macaron
$3.50
Macaron Box
$35.00
Sweet Corn Cheese Tart
$3.50
Camembert Cheese Macaron
$3.50
Peanut Butter (Fu) Pancake
$28.80
Red Bean (Fu) Pancake)
$28.80
(Fu) Pancake (1pc)
$2.80
Cookie Box
Cranberry Walnut Cookie
Dark Choco Macadamia Cookie
English Toffee Cookie
Choco Fudge Walnut Cookie
Double Choco Fudge Cookie

Tea and Others

Teatra First Breakfast Tea
$6.20
Teatra Floral Chamomile (Hot)
$6.20
Teatra Fruity Green Tea (Hot)
$6.20
Teatra Earl Grey (Hot)
$6.20
Green Tea Latte
$7.20
Milk Cream Chocolate
$8.20
Korean Yuja Honey Tea
$4.90
Pineapple Orange Honey Juice
$4.90
Peach Mango Juice
$4.90
O(EAU) Water
$3.50
Teatra Floral Chamomile (Bottle)
$4.90
Teatra Orange Rooibos Tea (Bottle)
$4.90
Blueberry Yogurt Smoothie
$7.20
Strawberry Yogurt Smoothie
$7.20
Sparkling Yuzu Mint Tea
$8.20
Yuzu Mint Tea
$7.20
Teatra Winter Fruit Bunch (Hot)
$6.20
Teatra Chocolatey Ceylon (Hot)
Sparkling Lime Water
Peach & Mango Honey Juice

Merchandise

Mini L'epicier Jam
$3.90
Baguette Tote Bag
$20.00
Silky Roll Cake Towel
$10.00
L'ecipier Hallabong Jam
&7.50
Teatra Chocolaty Ceylon Tin
Teatra Winter Fruit Bunch Tin
L'ecipier Apple Jam
L'ecipier Blueberry Jam
L'ecipier Strawberry Jam
PB Mini Pudding Tote Bag
PB Cake Tote Bag
Teatra Gift Box (3 tins)
Teatra Floral Chamomile
Teatra Earl Grey
Teatra Fruity Green Tea

Sandwich Meal

Gourmet Sandwich Set
$13.90
Value Sandwich Set
$12.90

Pasta and Risotto

4 Mushrooms Cream Pasta
$25.50
Clam Mussel Aglio e Olio
$23.00
Mentaiko Prawn Cream Pasta
$25.50
Spicy Beef Bulgogi Cream Pasta
$25.50
Spicy Seafood Pasta
$27.00
4 Mushrooms Cream Risotto
$25.50
Spicy Beef Bulgogi Cream Risotto
$25.50
Tenderloin Chop Steak Pasta
$35.00
Tenderloin Chop Steak Risotto
$35.00

Ice Cream

Premium Chocolate Ice Bar
Korean Roasted Soybean Waffle Ice Cream
Premium Milk & Mango Ice Bar
Premium Milk & Banana Ice Cream
All Day Green Tea Cup
All Day Chocolate Cup
Real Watermelon Ice Bar
Real Mint Chocolate Ice Bar
Real Strawberry Bar
Strawberry Yogurt Cone
Café Chocolate Cone
Ice Mochi (3EA)
Red Bean Ice Bar
Melon Ice Bar
Strawberry Ice Bar
Chocolate Ice Bar
Cookie Cream Macaron Ice Cream
Mint Chocolate Macaron Ice Cream

Dining

Bresaola (Beef Ham) Eggs Benedict
Multigrain Toast Sandwich
Truffle & Parmesan Cheese French Fries
Fish & Fries
Smoked Salmon Eggs Benedict
Signature Mushroom Cream Risotto
Bresaola (Beef Ham) Croque Madame Sandwich
Signature Mushroom Cream Pasta
Puttanesca Tomato Pasta
$23.00
Smoked Salmon Open Sandwich
Classic French Toast
Korean Honey Castella French Toast
PB Big Breakfast
About Paris Baguette
The beginnings of Paris Baguette can be traced back to 1945 as it was established as a small bakery named Sangmidang. In 1988, it opened its first store in South Korea and named it Paris Baguette. Its management is committed to creating a culture that is not yet existing to give its customers a unique and memorable dining experience.
Paris Baguette Menu Best Seller
Paris Baguette is known for delicious and unique cakes, bread, and sandwiches. These are some of the best-sellers of the Paris Baguette that are phenomenal for their creative presentation and distinctive taste.
Best Ever Garlic Bread – This soft bread is inspired by well-known street food in Korea. Buttery garlic and soft cream cheese are spread on it. The aroma of butter, the delicious taste of garlic bits, and the sweetness of cream cheese make it mouthwatering. It is named best-ever garlic bread as it is a one-of-a-kind pastry that you will only taste here at Paris Baguette.
Silky Roll Cake – One of the signature menu of Paris Baguette. It is made with fresh eggs, buttercream, flour, raisins, and other secret ingredients. Its soft texture and rich flavors always impress its customers. The Guinness World Record certification of this cake is proof of how tasty and good it is. 
Cranberry Chicken Pastry Wrap Sandwich – One of the sandwiches is loved by the crowd as it has a luscious flavor and provides essential nutrients. The tender shredded chicken mix that is made with dried cranberries, tomato, crunchy iceberg lettuce, and mayonnaise is wrapped in a fluffy and slightly crunchy pastry sheet.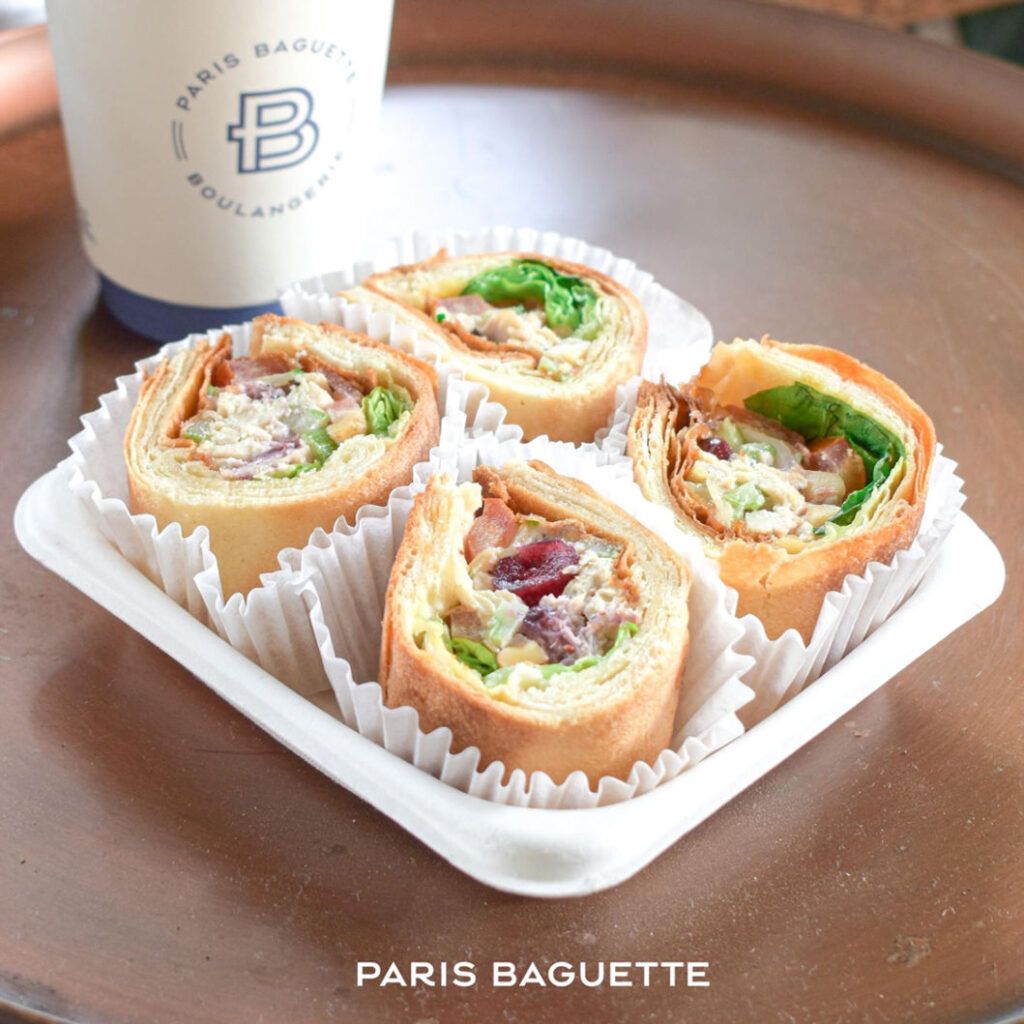 Egg Mayo and Avocado Croissant Sandwich – The crispy croissant is filled with lettuce, slices of tomatoes and avocados, egg mayo mixture, and whole grain mayo sauce. It is a perfect sandwich for those who want a filling and quick-bite meal. The fresh ingredients and the spices of egg mayo make every bite satisfying.
Crumbly Red Bean Peanut Soboro Bread – Soboro Bread is stuffed with red bean paste and topped with peanut crumbles. The nuttiness of its topping, the softness of the Korean Soboro bun, and the sweetness of its filling are the features of this dish that makes it a best seller. It is perfect for snacks and best paired with coffee as it enhances its taste.
Paris Baguette Menu Verry Berry
The Very Berry desserts of Paris Baguette are perfect for strawberry lovers as these sweet and luscious treats are bursting with fresh strawberry flavors. These will surely satisfy your strawberry and sweet cravings.
Very Berry Royal Pudding – It is a luscious dessert that is perfect for any kind of occasion. This pudding consists of a layer of Paris Baguette's signature milk pudding, refreshing strawberry pudding, and delicious raspberry jelly. It is served in a glass bottle which makes it aesthetically pleasing.
Very Strawberry Yogurt Cheesecake – This dessert is made up of strawberry yogurt cheese mousse with strawberry jam and almond cookie crumbles. The fresh strawberries that are topped on this cake enhance its presentation and add an appetizing flavor.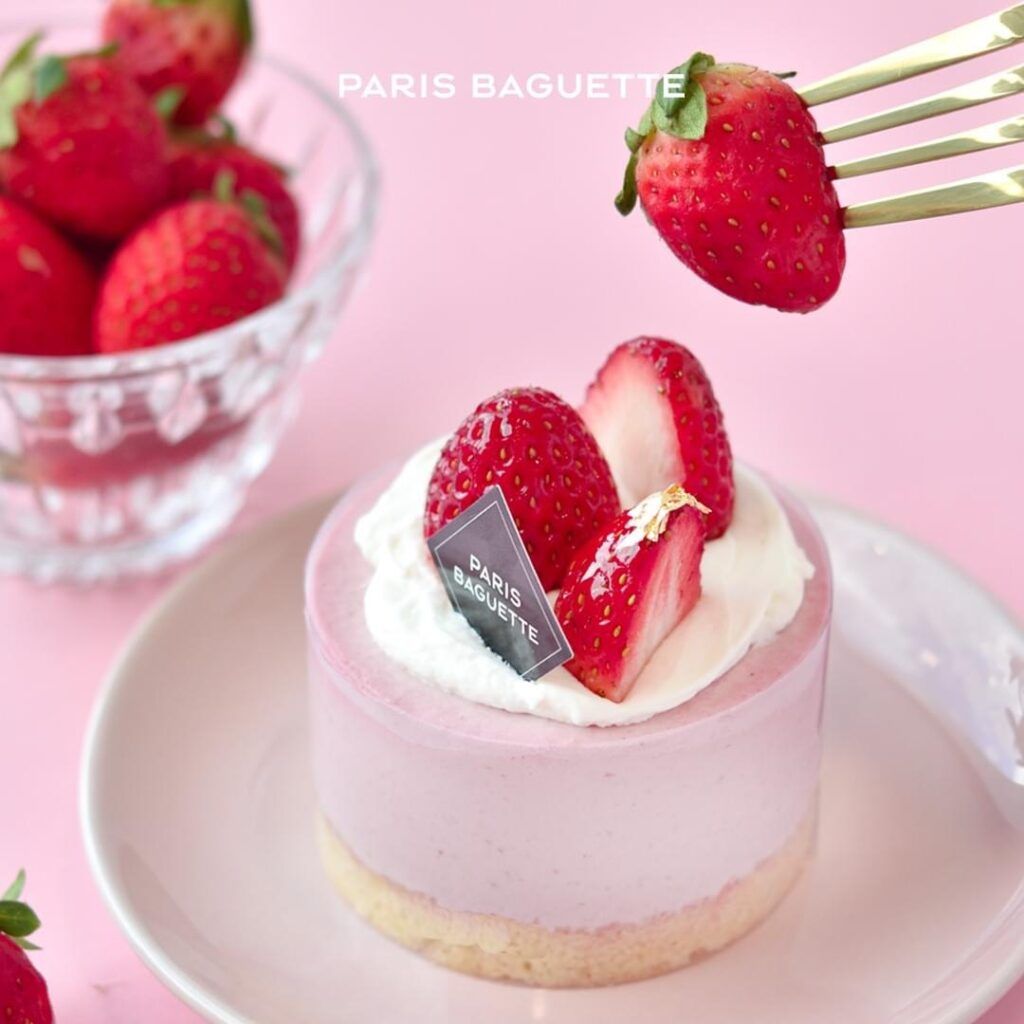 Mini Strawberry Cream Cube Toast – One of the Paris Baguette's unique desserts. Its cube shape and exciting flavor make it extra special. This strawberry-flavored toast has custard whipped cream in the center and dried strawberries that are baked expertly.
Paris Baguette Menu Roll/Pound Cake 
These roll/pound cakes of Paris Baguette are made up of authentic and finest ingredients. Here are some of the flavorsome cakes that you must try when you visit or order from this restaurant.
Korean Honey Castella – Castella is one of the most popular cakes in Korea as it has a distinctive taste that people loved. This sponge cake bar is made with castella and natural honey from Korea.
Pecan Banana Pound Cake – A pound cake made up of moist whole wheat with banana and pecan. The sweet flavor of banana and the crunchy texture of pecan on its top makes every bite pleasurable.
Korean Tangerine Roll Cake – Korean Tangerine gives this roll cake a citrusy and sweet flavor as well as vibrant yellow-orange color. The cream filling is also infused with Jeju tangerine. It has a refreshing appearance and taste that makes it a tasty snack.
Bread & Pastry Menu
The bread & pastry menu of Paris Baguette is perfect for those who want a light and quick snack. It serves choco and potato twist, croissant, toast, wheat pastry, and roll pie. These are some of the bread and pastries that you should not miss out on. 
Natural Yeast Bread – Soft and chewy bread that is derived from "nuruk", a Korean traditional starter culture. Paris Baguette uses top-notch quality ingredients in creating this bread and it is baked on advanced baking technology to make it healthy and tasty.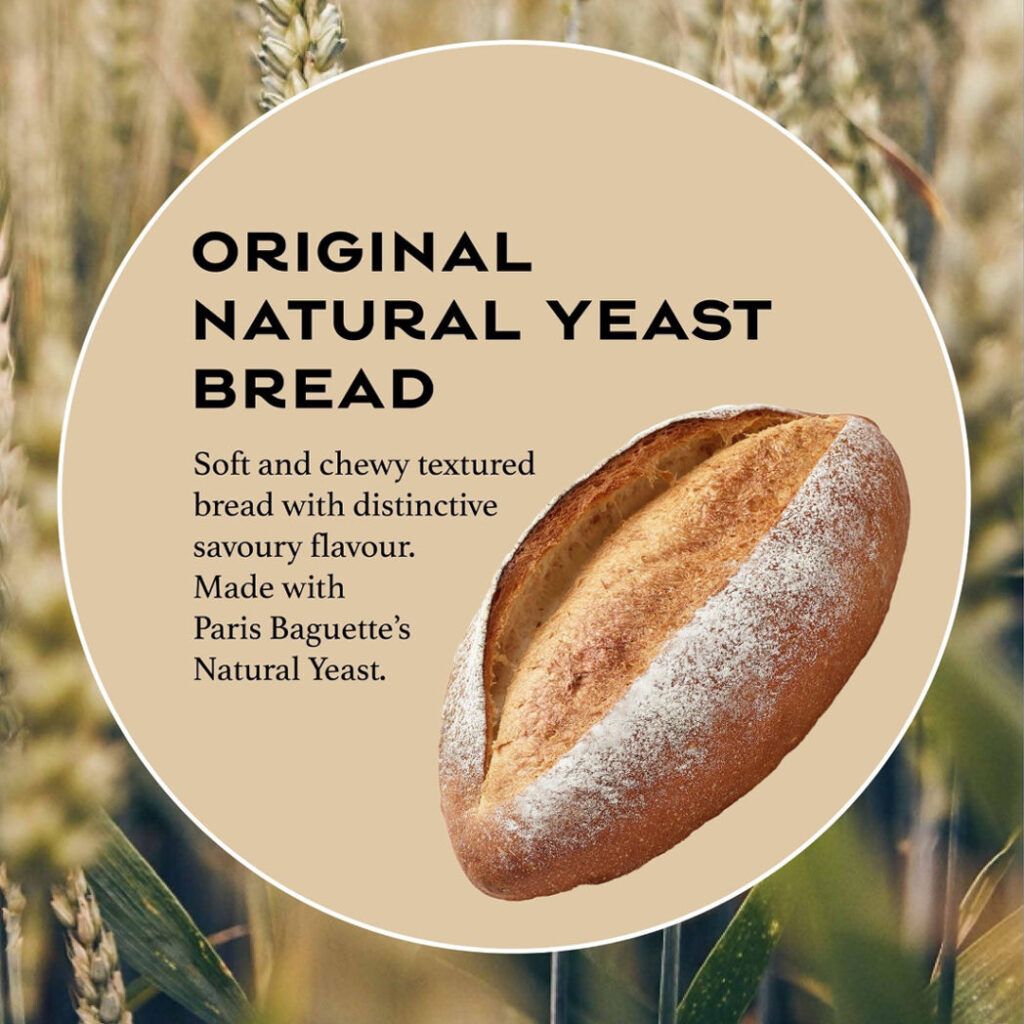 Chocolate Danish Pastry Toast – These slices of Chocolate Pastry Toast are made with multiple layers of chocolate chips and buttery pastry sheets. The savory and chocolatey flavor of this loaf makes it enticing.
Double Cheese Croissant – A perfect snack for cheese lovers as the croissant is filled with cheddar cheese that is salty and sweet. It is coated with parmesan cheese that gives a cheesier flavor and crunchy texture.
Paris Baguette Whole Cake Menu
Cakes are one of the desserts that are prepared at different events, especially during birthdays. Paris Baguette recommends consuming these cakes within the day of purchase to enjoy their fresh and natural flavors.
Tiramisu Cheesecake – This tiramisu cheesecake is made with layers of mascarpone cream, coffee sponge, and espresso. Its marble mirror glaze coating makes it exquisite. It is good for sharing of four to six people.
Double Choco Fudge Cake – Chocolate is the classic and popular flavor of cake that is well-loved by the crowd. This moist and dark cake is bursting with rich chocolatey flavor as it is topped with chocolate fudge frosting.
Fresh Cream Cake – This soft and moist cake is made with fresh cream and topped with fresh strawberry and blueberry. The white color of this cream cake and the vibrant color of its topping give it an elegant look.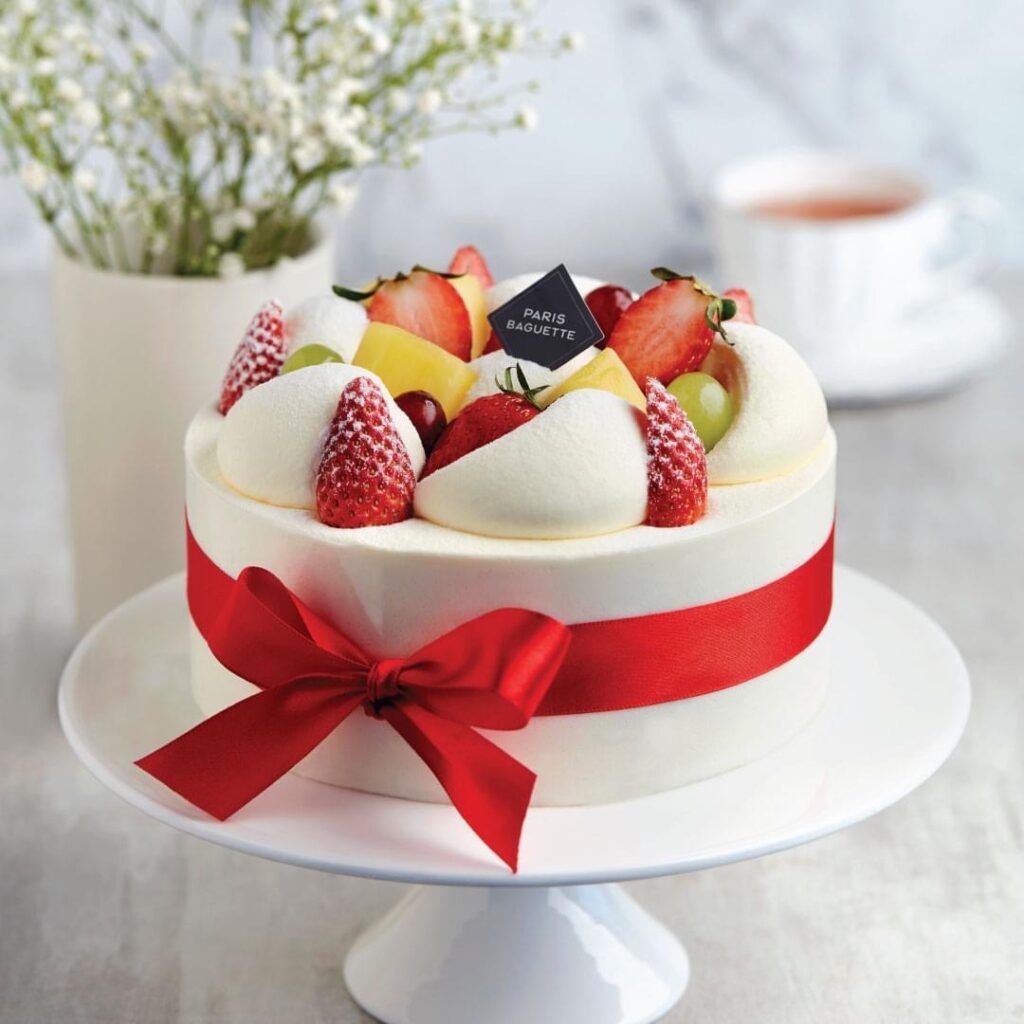 Coffee & Beverage
Coffee is the best drink that is paired with cakes, bread, and pastries. The coffee menu that Paris Baguette serves consists of Iced Americano, Milk Cream Café Latte, Milk Cream Iced Americano, Caramel Latte, Mocha Latte, Americano, and Espresso. It also serves other beverages such as teas, bottled juices, smoothies, milk cream chocolate, and water for those who are not a fan of coffee drinks. These coffee and beverages go well with the pastries that this restaurant offers. 
Ice Cream
Ice Cream is a dessert that is loved by people of all ages. Some of the ice creams that this restaurant serves are Premium Chocolate Bar, Korean Roasted Soybean Waffle Ice Cream, Premium Milk & Mango Ice Bar, All Day Chocolate Cup, and Strawberry Yogurt Cone. For ice cream and macaron lovers, the macaron ice cream that is available in Cookie Cream and Mint Chocolate flavors is the best option.
Paris Baguette Menu Delivery 
Enjoy the convenience of Paris Baguette's menu options in Singapore, which are available for pick-up, doorstep delivery, and pre-order. Whether you're on the move or prefer to have your food delivered straight to your home, Paris Baguette has got you covered. For delivery, simply place your order on Grabfood or visit their online shop at https://parisbaguette.oddle.me/en_SG. It's easy to access their delicious offerings and satisfy your cravings with just a few clicks. Indulge in the delectable treats from Paris Baguette without any hassle – pick-up, delivery, or pre-order, the choice is yours!
Social Media Pages
Indulge in the authentic French pastries and bread at Paris Baguette while supporting them on their social media pages. Stay updated on their latest offerings and promotions by following them on social media. Don't miss out on the chance to savor the exquisite taste of their freshly baked goods.
Facebook: https://www.facebook.com/sg.parisbaguette/
Instagram: https://www.instagram.com/parisbaguette_sg/
Website: https://www.parisbaguette.com.sg/contact/
Twitter: https://twitter.com/parisbaguettes
Conclusion
The Paris Baguette menu is well-loved by its customers as it consists of delicious and savory goods. The cakes that it offers are extensive making them perfect for any kind of celebration. It has been a favorite place of those who want a sweet and quick snack as it continuously makes efforts in establishing a new and exciting "bakery culture."