Japanese cuisine has a great presentation, the freshest ingredients, and clean flavors. In this cuisine, you will find a unique and delicious taste that I'm pretty sure you will enjoy. If you want to know the best destination for your cravings then this is for you. The Man Man Unagi menu has a lot of delicious and different flavors to offer. In this article, we are going to get to know this establishment a little bit more especially their price and the food that they serve. Stay with me here and together let's explore Man Man Unagi. Let's go!
You can find the updated pricing information for the Man Man Unagi menu below.
MENU
PRICE (SGD)

Hitsumabushi

Wagyu hitsumabushi
$29.98
Hokaido ikura hitsumabushi
$58.54
Hitsumabushi
$38.15
Large hitsumabushi
$50.16
Double layer large hitsumabushi
$89.73
Large nodoguro hitsumabushi
$50.16
Nodoguro hitsumabushi
$38.15

Donburi

Medium unagi don
$38.15
Large unagi don
$46.53
Unagi tamogo don
$27.35

Ala carte

Kaba-yaki
$37.80
Shira yaki
$37.80
Unagi bone crackers
$7.01
Toku toku kaba-yaki
$68.13
Toku toku shira yaki
$68.13
Uzaku
$12.92
Mentaiko
$13.22
Mentaiko tamagoyaki
$16.81
Unagi roll
$17.81
Ikura ala carte
$28.16
Umaki
$16.81
Grilled flat flounder fish
$23.76

Add ons

Wasabi paste
$1.09
Seaweeds
$1.09
Japanese rice
$3.28
Unagi sauce
$1.09
Soup
$1.09
Pickles
$1.09

Desserts

Black sesame mochi
$3.28
Black sesame mochi 2pcs
$5.45
Black sesame mochi 10pcs /packet
$27.25
About Man Man Unagi
Man Man Unagi started serving its customers in 2015. In the year 2017, they won a prestigious award that made them even more famous. This restaurant even though a bit small in space has a lot of customers queue just to try their unagi's and other products. They only serve less than one-year-old eel, and those eels are from Japan. Man Man Unagi is located at keong saik road near MRt and can be found thru Waze as well. Their opening hours are from 11:30 am until 2:30 pm and reopen from 6:00 pm until 10 pm.
Man Man Unagi Menu Best Seller
Here's the list of Man Man Unagi's best-selling items. These items are already popular among their customers
Hitsumabushi – This is the most popular and best sellers dish of Man Man Unagi. This is actually an unagi don that can be enjoyed in three different kinds of ways. The first one is to try it plain, the second one is to add onions, seaweed, and fresh wasabi and the third option is to pour it over the rice and enjoy it. Whichever way this is delicious. Man Man Unagi's are really good. This is also the crowd's favorite of all time.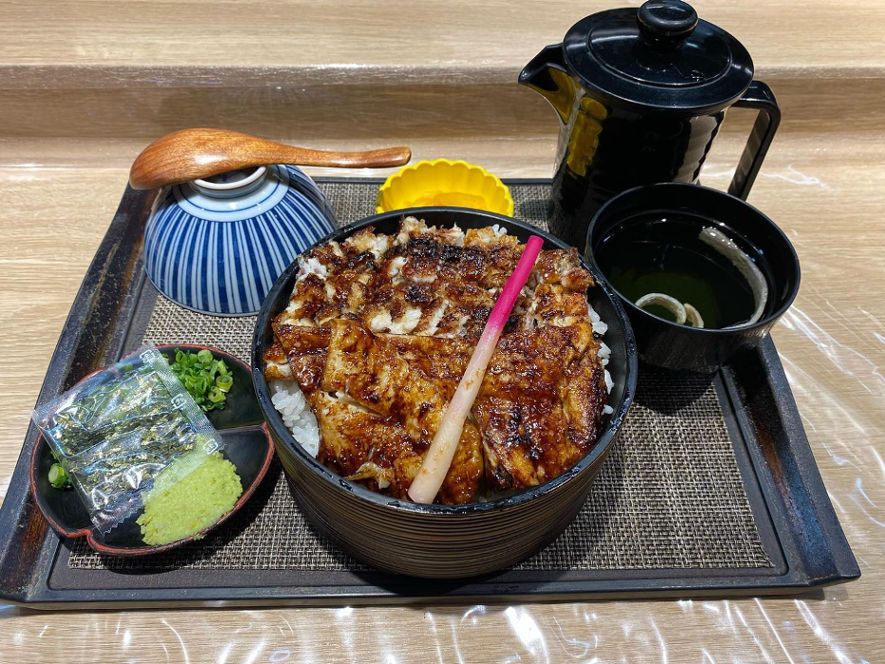 Butamabushi – This meal comes with a stewed pork belly so if you love pork then this is the perfect dish for you. instead of grilled eel, they replaced it with a stewed belly of pork. After all, it's really hard to find pork in an unagi restaurant but Man Man Unagi's butanabushi holds its own name. The meat doesn't have a lot of fats and is actually leaner, and meat is served tender you can actually cut it with just a pork or chopstick. This is one of my top favorites and I highly recommend this one.
Kimo Don – Man Man Unagi's version of kimo don menu is served with unagi (just a portion), kimoyaki which is actually the liver of the eel and tamagoyaki. The kimoyaki is quite popular among customers and this is usually sold out within just the first hour that it is served. Normally it takes not just 1 eel to make a small portion of kimoyaki as I heard that it takes 7 eels just to make a small portion of it. It has a mild taste and this is also one of their highly recommended dish.
Yahatamaki – Man Man Unagi's version of yahatamaki is made with burdock which they rolled inside eel meat. It has that distinctive taste, the eel taste gorgeous and the burdock is crunchy with a slight sweetness. This is also a must try
Hokkaido Ikura Hitsumabushi – This fabulous meal consists of a bowl of white rice with their specialty freshly grilled unagi, it also has ikura from Hokkaido. This dish's juicy texture made this dish popular. The flavors are bursting into your mouth with every bite. It is also served with soup to partner with your grilled unagi. This is so good I swear so anyone should try this.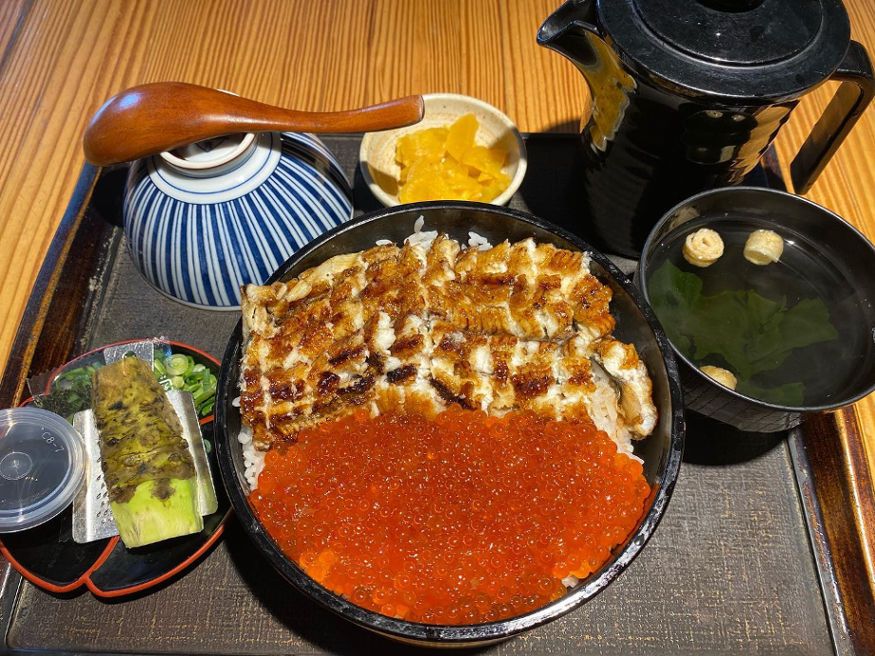 Black Sesame Mochi – Your dining experience with Man Man Unagi will not be complete without trying their black sesame mochi. This chewy and stretchy dessert has the right amount of sweetness that you will surely enjoy. This is also included on their bestseller list and can be brought in 1 pc, 2 pcs or 10 pcs packs.
Man Man Unagi Menu Hitsumabushi 
This is unagi, this one is made with a fresh and live eel that they clean and grilled the moment you order it or beef. In this menu, the customers have 7 options for hitsumabushi. The first one is their wagyu hitsumabushi, this is the perfect choice for wagyu lovers. Next, is their Hokkaido ikura hitsumabushi which is also included already in our best-seller list. They also have the hitsumabushi and the large hitsumabushi. If you want to make it double you can try their double-layer large hitsumabushi. They also have large Nodoguro hitsumabushi and lastly their Nodoguro hitsumabushi.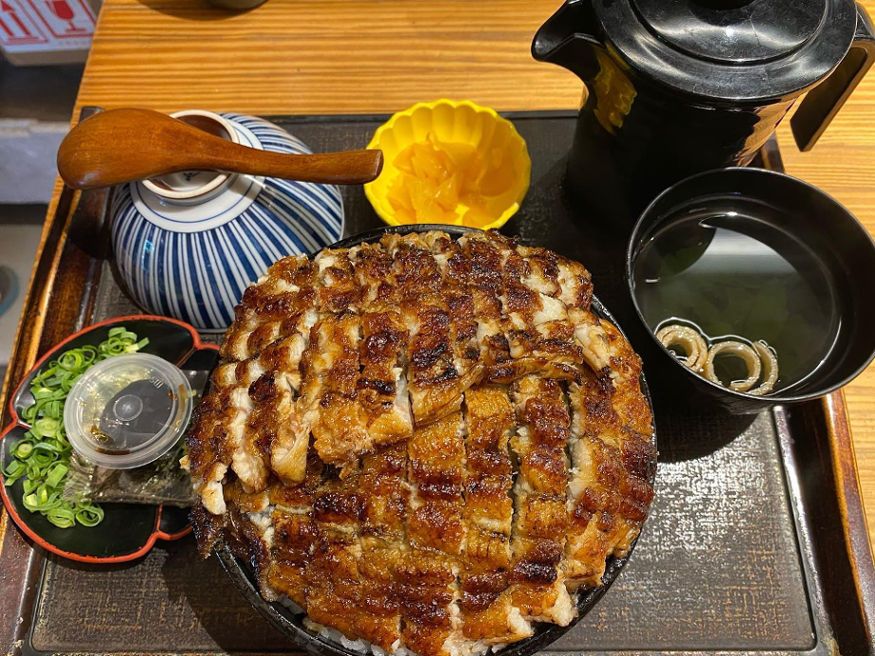 Donburi
Man Man Unagi offers 3 choices for their donburi menu. They have medium unagi don which is made with a bowl of Japanese rice and topped with fresh eel fillet that they Grilled. Next is their large unagi don, which is basically just like the previous dish it's just large in servings, last but not least is their unagi tamago don, which has rice, pickles, unagi, and tamagoyaki or Japanese omelette.
Man Man Unagi Menu Ala-Carte
Man Man Unagi's ala carte menu has a lot of options. This is their menu's largest item. Kaba yaki and Shira yaki are included on their ala Carte menu. If you are looking for something different they have unagi bone crackers as well. Toku toku kaba yaki and toku toku Shira yaki are also included on their ala carte menu. Uzaku, mentaiko, and mentaiko tamogayaki are also included on the ala carte menu. Unagi rolls, ikura, umaki, and grilled flat flounder fish are also included on their ala carte menu.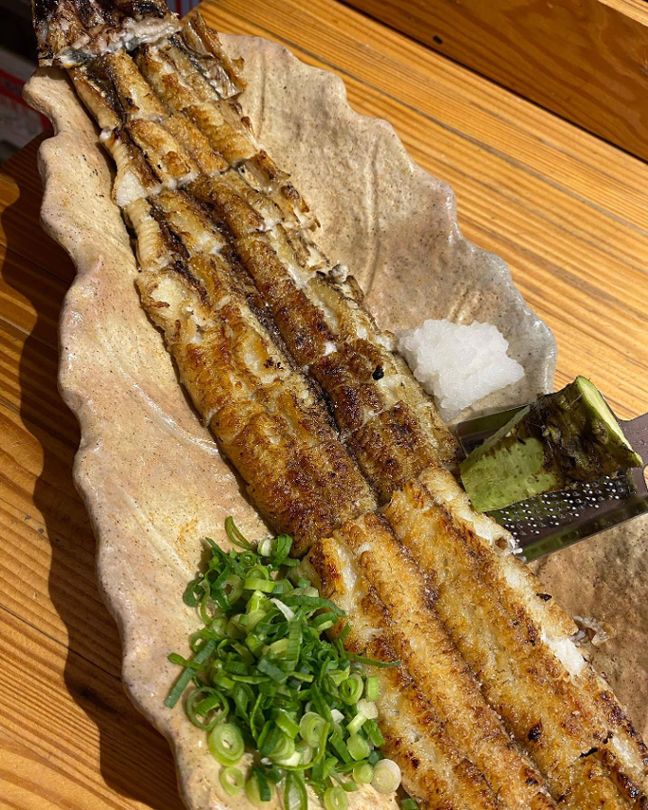 Dessert
At Man Man Unagi, their dessert menu focuses on one delightful option: the black sesame mochi. This mouthwatering treat features a soft and chewy texture, crafted from glutinous rice flour and filled with a luscious black sesame paste. You can order it individually for a quick taste, as a pair to share, or even as a pack of 10 for a generous serving. Treat yourself to the simplicity and richness of Man Man Unagi's black sesame mochi and experience the flavors of Japanese cuisine in every bite.
Man Man Unagi Menu Delivery
Ordering online your favorite Man Man Unagi food items is made easy. All you have to do is to go to their website at https://manmanunagi.oddle.me/ and order your favorite item. This site also offers pick-up aside from delivery. You can also use other delivery services that food couriers are offering just as Deliveroo and Grab Food. 
Social Media Pages
Craving for some authentic Japanese cuisine? Look no further than Man Man Unagi! Their mouthwatering grilled eel (unagi) dishes are a must-try for any foodie. Don't miss out on the chance to savor their signature unagi Hitsumabushi, which comes in a range of sizes to suit your appetite. Follow their social media pages for updates on new menu items and promotions, and order online for delivery or takeout. Trust us, you won't be disappointed!
Facebook: https://www.facebook.com/Man-Man-Japanese-Unagi
Instagram: https://www.instagram.com/manmanunagi.keongsaik
FAQs
What makes Man Man Unagi unique?
What makes this restaurant unique is the way they serve their unagi. It is really fresh as you can see them still moving before cleaning them and grilling. Aside from that Man Man Unagi has a lot of flavors.
Is there a dress code at Man Man Unagi?
Yes, there is a dress code in Man Man Unagi and that's casual. I'm just kidding well there's no restriction on your attire and jeans and T-shirts are okay. It's easier to eat when you are comfortable right?
What is the best time to visit Man Man Unagi?
I noticed that whenever we are trying to visit Man Man Unagiin the evening the queue is always long and you have to wait for a couple of minutes so I highly recommend that you visit them at 11:30 in the morning or 3:30 pm the time when they reopen for evening.
Is Man Man Unagi halal-certified?
We can't tell that this restaurant is completely halal since we can't find any confirmation regarding this matter however they have a lot of dishes that are halal-friendly. The best examples are their beef dishes or their unagi.
Conclusion
This is the best and actually perfect place to go if you are a big fan of Japanese cuisine specially unagi. Man Man Unagi's menu has a lot of delicious and healthy food to offer for their loyal customers, though I cannot tell that their prices are cheap but it's all worth it because of how delicate their foods are. I also noticed that their place is a little bit small however they have this long bench-style chair that you can sit and view the unagi grilling. Overall this restaurant really set the standard high for Japanese restaurants. The quality of their products is just exceptional, I highly suggest that everyone should try this restaurant especially those foodies like me, you can miss a restaurant this good.