The Shake Shack menu consists of fast-food items such as burgers, chicken bites, hotdogs, crinkle-cut fries, frozen custard, shakes, and biscuits. Meats are made with 100% natural ingredients with no additional hormones to keep the natural flavors of these snacks. Its Angus beef is vegetarian fed and raised in pastures and its other ingredients are directly sourced from the best suppliers.
You can find the updated pricing information for the Shake Shack menu below.
MENU
PRICE (SGD)

Burgers

ShackBurger® (Single)
$9.90
ShackBurger® (Double)
$13.70
SmokeShack™ (Single)
$11.80
SmokeShack™ (Double)
$15.60
Shroom Burger
$11.70
Shack Stack™
$15.50
Hamburger (Single)
$8.10
Hamburger (Double)
$11.30
*Add Applewood-smoked bacon
$2.00

Chicken

Chicken Shack™
$9.90
Dark Meat Hot Chicken
$11.50
Chicken Bites™ (6-count)
$6.70
Chicken Bites™ (10-count)
$8.70

Flat-Top Dogs

Hot Dog
$5.50
Cheese Dog
$7.00
Smoke Dog
$8.80

Crinkle Cut Fries

Fries
$4.80
Cheese Fries
$6.30

Shakes & Frozen Custard

Featured Shakes
$9.10
Classic Shakes (Vanilla, Chocolate, Strawberry, Black & White, Salted Caramel, Common Man Coffee)
$7.60
*Make it Malted (Shake Add-On)
$1.00
Floats
$8.10
Cups & Cones (Frozen Custard) (Single)
$5.00
Cups & Cones (Frozen Custard) (Double)
$8.10

Singapore Exclusive

Pandan Shake
$8.60

Woof

Bag O' Bones
$6.10

Wine

White (Sauvignon Blanc, France) (6oz glass)
$12.50
White (Sauvignon Blanc, France) (25oz bottle)
$47.00
Red (Pinot Noir, France) (6oz glass)
$12.50
Red (Pinot Noir, France) (25oz glass)
$47.00

Beer

ShackMeister™ Ale (12oz)
$9.90
ShackMeister™ Ale (25oz)
$14.00
Belgian Witbier (12oz)
$9.90
Belgian Witbier (16oz)
$14.00
Love Wild IPA (12oz)
$9.90
Love Wild IPA (16oz)
$14.00

Drinks

Featured Lemonade (Small)
$4.50
Featured Lemonade (Large)
$5.50
Fresh Lemonade (Small)
$4.50
Fresh Lemonade (Large)
$5.50
Fifty/Fifty (Small)
$4.50
Fifty/Fifty (Large)
$5.50
Bottled Water
$3.00
Organic Brewed Iced Tea (Small)
$3.90
Organic Brewed Iced Tea (Large)
$4.90
Fountain Soda (Small) (Coca-Cola Original Taste Less Sugar, Coca-Cola Zero Sugar, Fanta Grape)
$3.70
Fountain Soda (Large) (Coca-Cola Original Taste Less Sugar, Coca-Cola Zero Sugar, Fanta Grape)
$4.70
Abita Bottled Root Beer
$4.70
Apple Juice
$5.00

Concretes

Jewela Melaka (Single)
$7.80
Jewela Melaka (Double)
$9.90
It Takes Two To Mango (Single)
$7.80
It Takes Two To Mango (Double)
$9.90
Shack Attack™ (Single)
$7.80
Shack Attack™ (Doule)
$9.90
About Shake Shack
Shake Shack started as a hotdog stand to raise funds for an art project. It has become successful as many people line up to taste the delicious snacks that it offers. With this success, the brand Shake Shack was established and opened as a permanent kiosk. Standing up for something good, holding themselves accountable, enriching neighborhoods, and people-first culture are its business philosophy.
Shake Shack Menu Best Seller
Shake Shack offers different kinds of fast food. Here are some of the best-sellers of Shake Shack Singapore that always excites customers and makes them look forward to their next visit.
Shack Burger® – A signature burger of Shake Shack that is available in Single and Double. The Shack Burger Single comes with a single beef patty while the Double comes with two beef patties and cheese. Its other fillings consist of lettuce, tomato, and ShackSauce.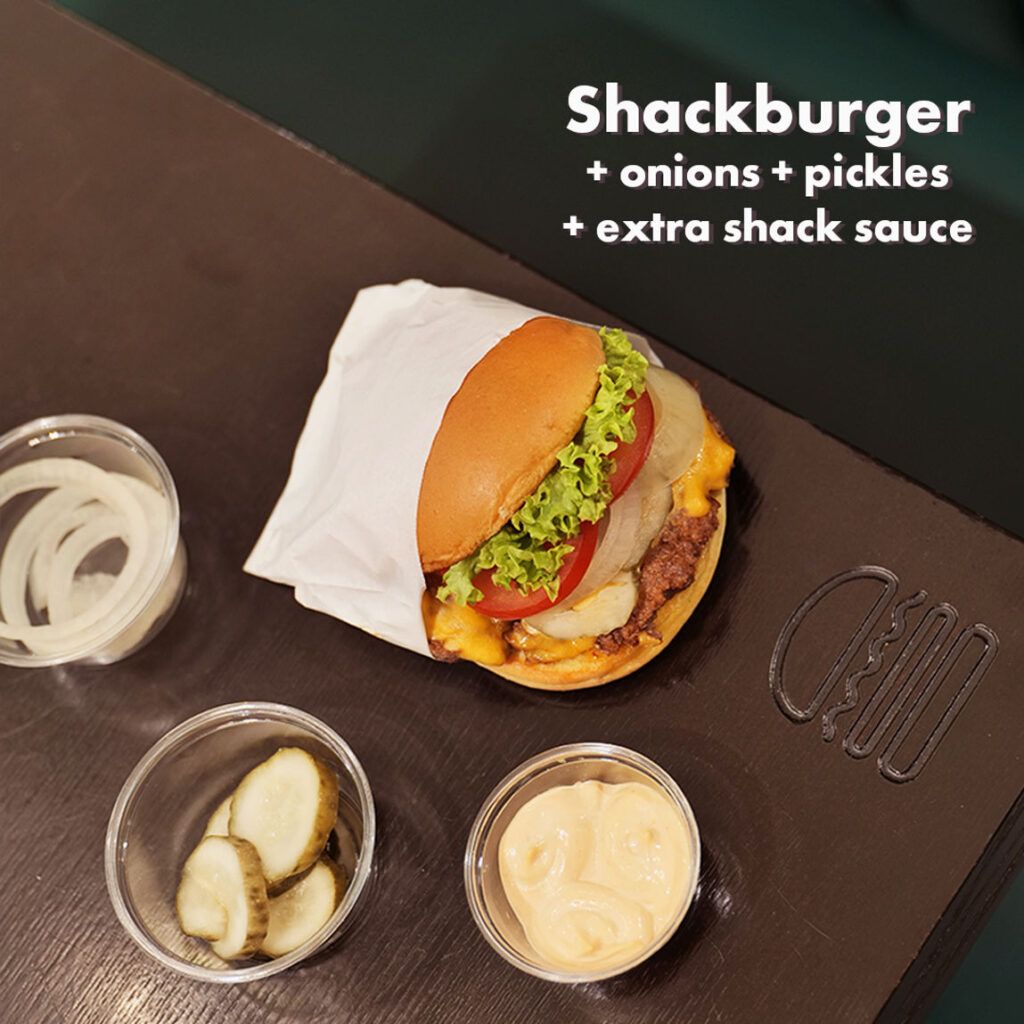 Shack Stack™ – Filled with beef patty, cheese, portobello mushroom patty, slices of tomato, and lettuce, this burger is a great choice for those who want a filling meal. The rich and earthy flavor of mushroom as well as the cheesiness of its filling makes it one of the favorite burgers of its patrons.
Chicken Shack™ – Made with 100% natural chicken, this burger consists of crispy chicken breast, pickles, tomato, and buttermilk herb mayo that are stuffed in a soft potato bun. Lettuce can also be used as a wrap instead of a potato bun if you want a lighter and healthier meal.
Chicken Bites™ – Whole white meat chicken pieces are breaded with deep-fried until it achieves the right crispiness and juiciness. It is available in 6 and 10 pieces. Honey mustard and BBQ are the sauce options that can be paired with it.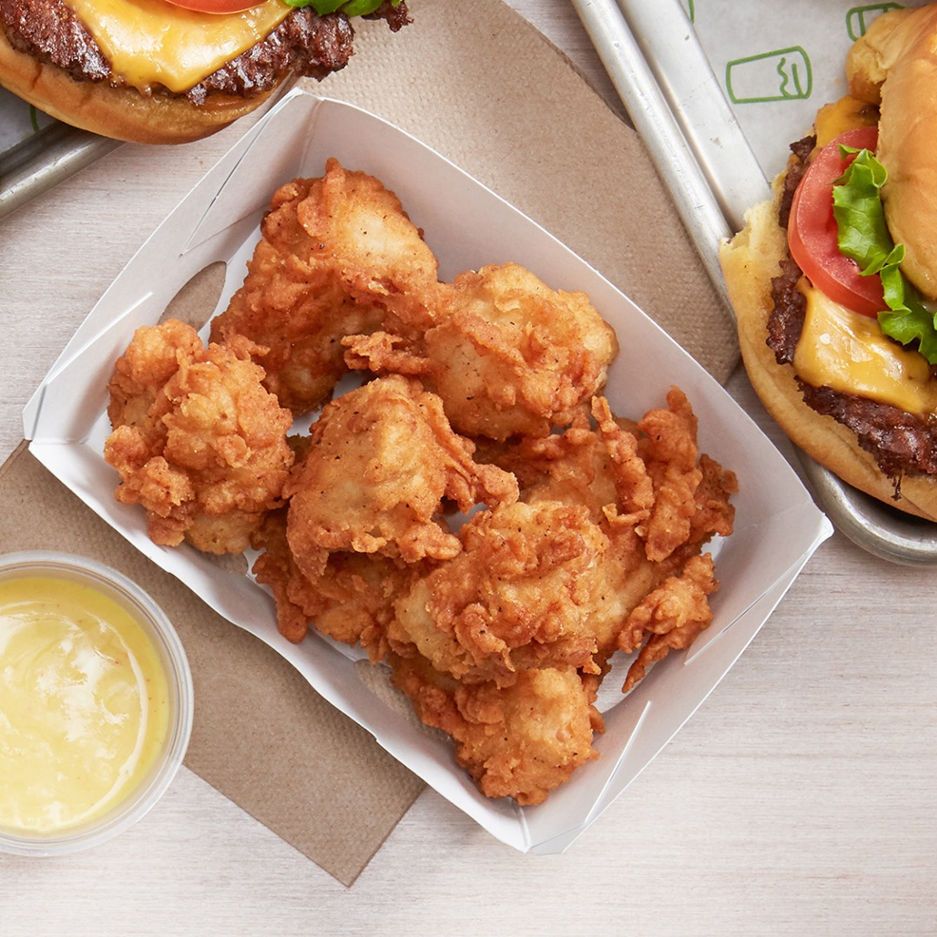 Fries – Fries are the classic food item that is paired with burgers. Classic and cheese flavors are the two varieties of fries that Shake Shack offers. Make your meal more satisfying by combining these delicious fries with your favorite burger.
Shake Shack Menu Burgers
Shake Shack serves customizable burgers as diners can add their favorite topping and remove some of its ingredients. The potato buns used in these burgers are not gluten-free. If you want to make your burger healthier, you can replace its potato buns with lettuce wrap.
SmokeShack – Layered with ShackSauce, chopped cherry powder, applewood smoked bacon, cheese, and beef patty, this cheeseburger is an ideal choice for those who are not into lettuce and tomato.
Shroom Burger – This shroom burger is extraordinary as the patty used is made with portobello mushroom stuffed with melted Monterey Jack, Tilsiter, and Colby cheeses. Fresh lettuce, slices of tomato, and the special sauce of Shake Shack are topped on it.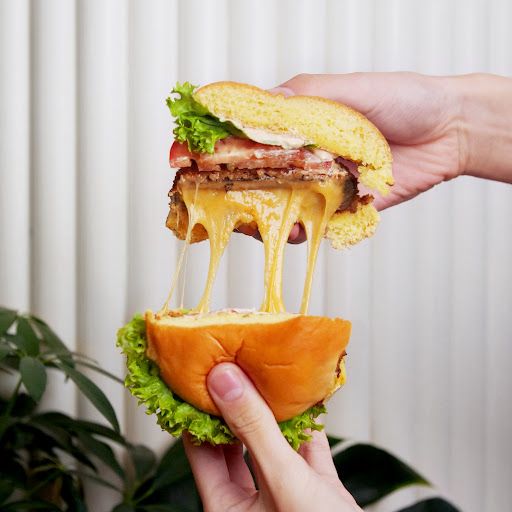 Hamburger – Create your preferred burger combination with this hamburger where you can add your favorite toppings. It comes with a single beef patty and your choice of toppings such as Bacon, Cheese, Beef Cheese Patty, Chicken Patty, and Shroom Patty.
Shake Shack Menu Flat-Top Dogs
These flat-top dogs are the food item that started it all as these are the first products that Shake Shack offered to the public. Hotdogs are one of the all-time favorite snacks of the crowd as they are affordable and filling.
Hot Dog – A classic hot dog made with 100% pure beef. Its pure beef filling gives a meaty texture and distinctive taste. It is a great choice for those who want an affordable snack with a simple yet delicious flavor.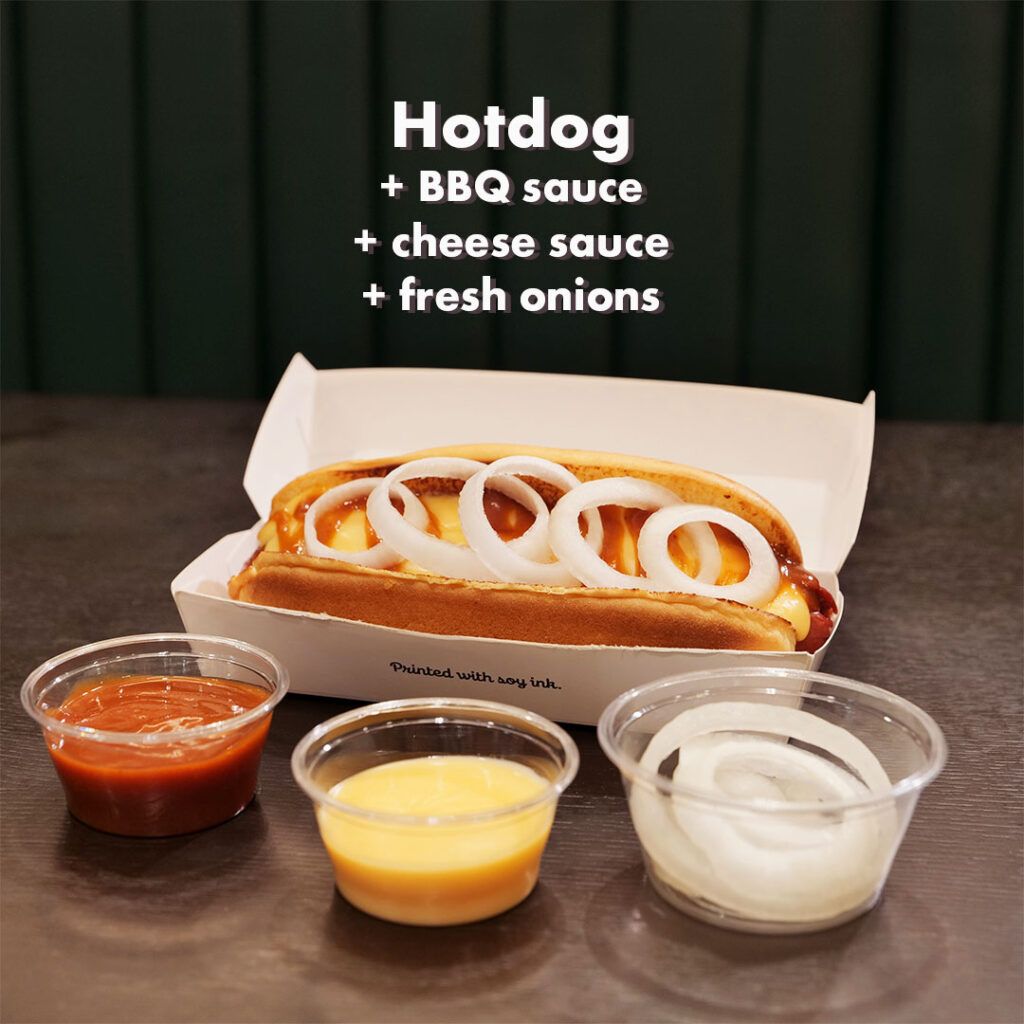 Cheese Dog – Satisfy your cheese and hot dog cravings with this hearty meal. The hot dog is sliced lengthwise and filled with creamy cheese sauce. Every bite of this hot dog snack is satisfying as it is bursting with rich cheesy flavor.
Smoke Dog – Shake Shack adds an extra layer of flavor and texture to their classic hotdog by adding cheese sauce, cherry peppers, and applewood-smoked bacon. Its flavorful toppings add a layer of delicious flavor making every bite pleasurable.
Crinkle-Cut Fries
Shake Shack cut its fries in crinkle-style to make them crispier and adds more surfaces for seasonings and dipping sauce which results in a flavorful and irresistible snack. These fries are typically paired with burgers for a more filling and hearty meal.
Fries – When it comes to the menu of Shake Shack, nothing beats the classic and original flavor of their fries. These fries have stood the test of time and continue to be an all-time favorite among customers. The combination of their classic flavor, along with their crispy, crunchy texture and the perfect amount of saltiness, creates a truly satisfying experience. The comfort that these classic fries provide is one of the reasons why people love them so much.
Cheese Fries – For those who love cheese, these fries topped with homemade cheese sauce are the perfect snack. The flavor of these fries is highly addicting which will make you come back for more.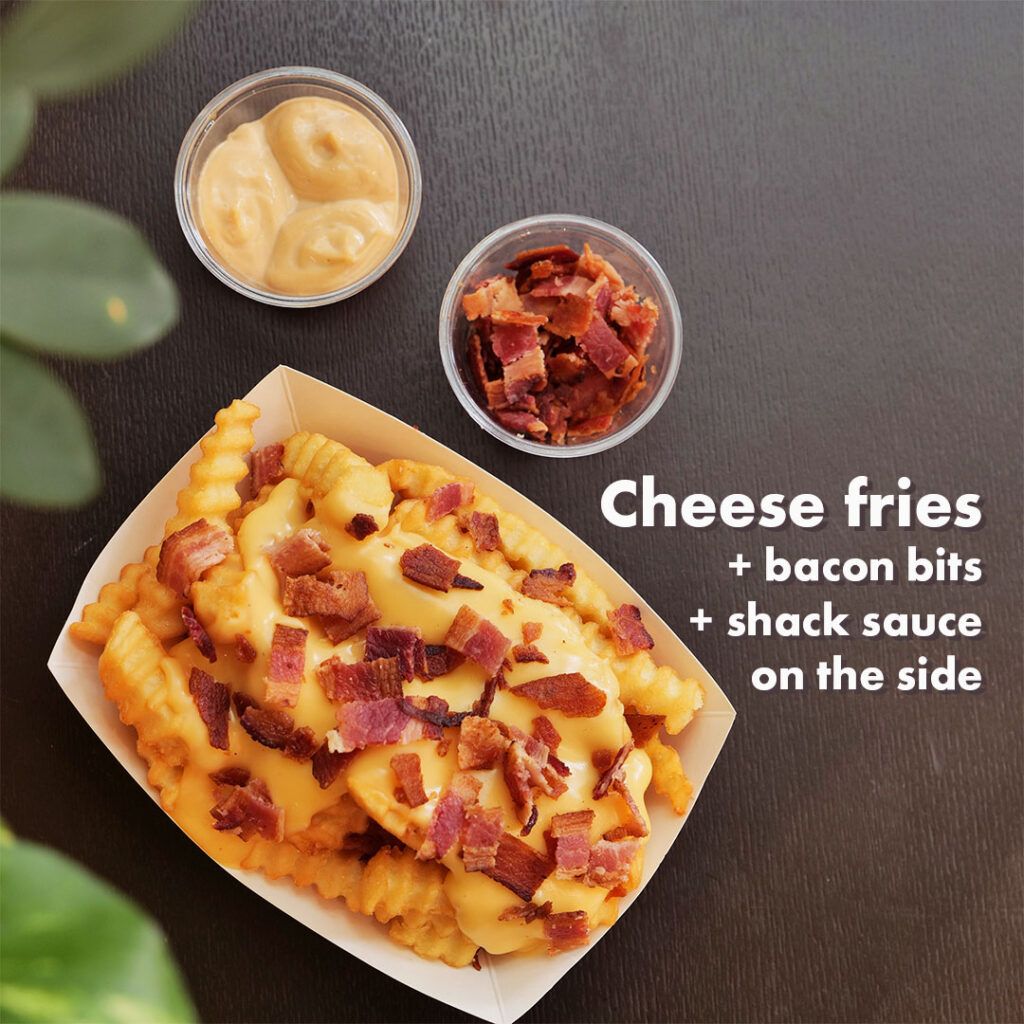 Frozen Custard
Frozen custard is a delicious dessert that is best enjoyed during hot weather. The luxurious frozen custard of shake shack is available in vanilla and chocolate flavor. Real sugar and milk that are directly sourced from farmers who are not using growth hormones are the natural ingredients of this dessert that make it special. It does not use corn syrup and the caramel sauce and fudge sauce that are added to it do not contain any shelf-life lengtheners. It is served on a cup or cone, whichever is your preference, and is also available in single and double serving sizes. These thick, creamy, and rich frozen custards are made fresh every day to keep their delicious flavor and dense texture.
Drinks
The drinks that Shake Shack offer consists of Lemonade, made with real sugar; Fifty/Fifty, half organic iced tea, and half lemonade; Organic Brewed Iced Tea, brewed fresh daily; and Fountain Soda which includes Fanta Grape, Coca Cola Zero Sugar, and Original Taste Less Sugar. These drinks are available in small and large sizes. Apple Juice, Abita Bottled Root Beer, and Bottled Water. Its zesty lemonade is a great drink if you want something light and refreshing.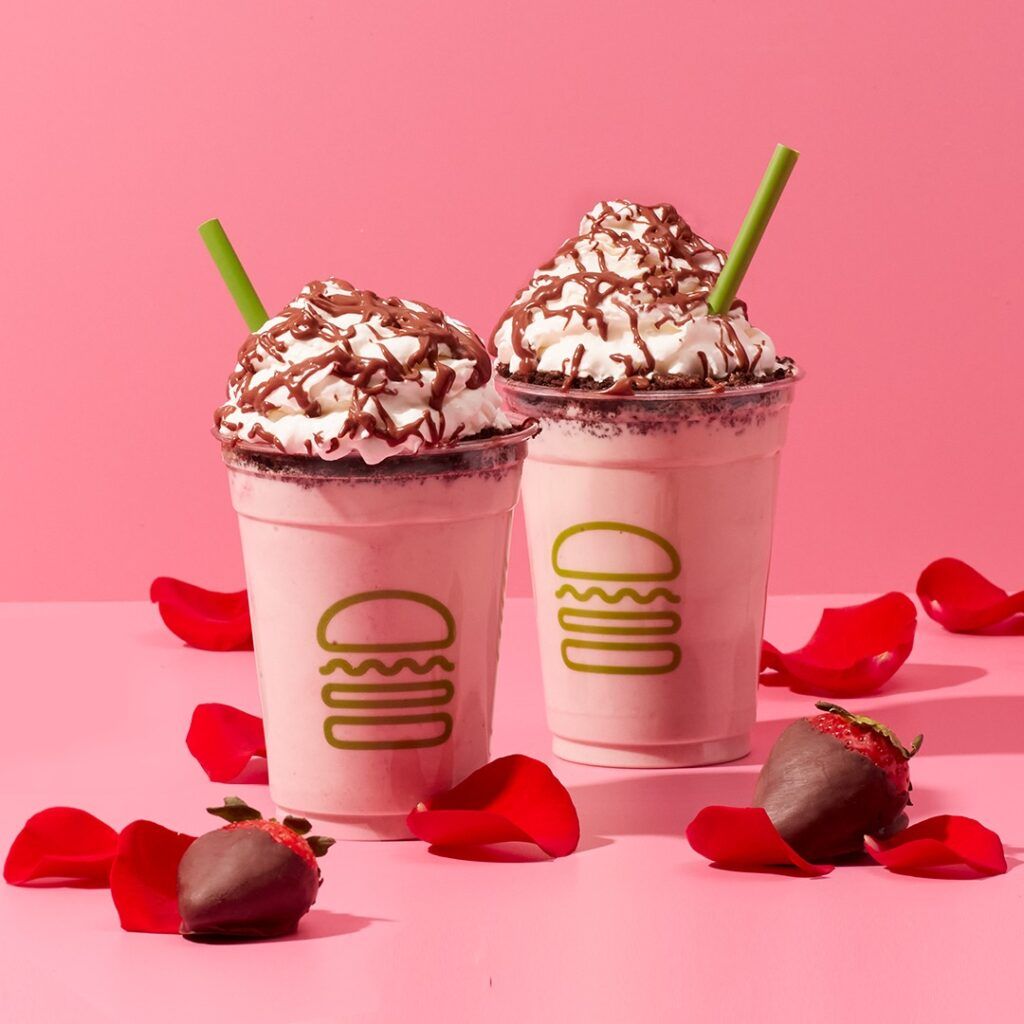 Shake Shack Menu Delivery
Experience the delectable menu offerings of Shake Shack, right at your doorstep. No need to step out of the comfort of your home or office – with the convenience of FoodPanda, GrabFood, and Deliveroo, you can now have your favorite Shake Shack meals delivered straight to you. Indulge in their iconic burgers, crispy fries, and irresistible shakes, all in the company of your loved ones. So sit back, relax, and let them bring the flavors and joy of their menu to you, wherever you are.
Social Media Pages
Come and try Shake Shack, the home of delicious burgers, hot dogs, and shakes! Don't miss out on their signature ShackBurger and crispy crinkle-cut fries. Follow their social media pages to stay updated on the latest menu items and promotions. Join the Shack fan community today!
Facebook: https://www.facebook.com/shakeshacksg
Instagram: https://www.instagram.com/shakeshacksg/
Email: [email protected]
YouTube: https://www.youtube.com/@shakeshacksingapore
Website: https://www.shakeshack.com.sg/contact-us/
FAQs
What kind of food does Shake Shack Singapore serve?
Shake Shack Singapore serves fast food classics such as burgers, fries, and frozen custard.
Does Shake Shack Singapore have any vegetarian or vegan options?
The only vegetarian food that Shake Shack Singapore offer is the Shroom Burger which is made with lettuce, tomato, a special sauce, and a portobello mushroom patty that is filled with cheese.
How much does a meal at Shake Shack Singapore typically cost?
At Shake Shack Singapore, you'll find a menu that offers a delightful range of options at affordable prices. Typically, a meal at Shake Shack will cost you around $5 to $15, depending on what you order, any extras you choose, and the size of your serving. With their commitment to quality ingredients and delicious flavors, Shake Shack provides excellent value for your money.
Is it halal-certified? 
Please note that Shake Shack Singapore is not a halal-certified fast-food restaurant. While they offer a wide range of delicious menu items, it's important to be aware that their offerings may not adhere to specific dietary restrictions or requirements. However, Shake Shack Singapore takes pride in serving high-quality ingredients and delivering exceptional flavors to all of their customers.
Conclusion
The Shake Shack menu consists of traditional fast-food meals that are fresh, simple, and high-quality. This is the best place to go if you want to relax with your loved ones and enjoy comfort food. Shack Attack™ is one of the items on its menu that you should purchase as the restaurant donates 5% of its sales to its chosen charitable institutions.