The Lad and Dad menu features British comfort food. It serves classic food combinations with a Singaporean twist to make its dishes authentic and unique. Fish and chips, chicken and oyster nuggets, beef stew, and sausages are some dishes it serves. Each dish is prepared expertly to give diners a one-of-a-kind dining experience. It also offers frozen food packs that you can enjoy at home anytime.
You can find the updated pricing information for the Lad and Dad menu below.
MENU
PRICE (SGD)

Mains

Beef Stew
$22.42
Fish & Chips (S, 150 g)
$22.42
Bangers & Mash
$18.88
Scampi & Chips
$22.42
Fish & Chips (L, 300g)
$34.22

Sides

Classic Chips
$9.44
Posh Chips
$14. 16
Pigs in Blanket
$18.88
Scotch Egg
$14.16
Oyster Nuggets
$18.88
Onion Rings
$11.80
Chicken Nuggets
$14.16

Soft Drinks

Coke Classic
$4.72
Ginger Ale
$4.72
Tonic Water
$4.72
Soda Water
$4.72
About Lad and Dad
Lad and Dad restaurant was founded by Keith Koh and his dad in the year 2015 in Serangoon Gardens. His experiences inspired him to establish a restaurant that offers simple British food. He aims to introduce British food to Singaporeans and make it affordable. They transferred to Tanjong Pagar as they saw it as a better and ideal location.
Lad and Dad Main Menu
The delicious main dishes of Lad and Dad restaurant include beef stew, fish & chips that are available in small and large servings, scampi and chips, and bangers and mash.
Beef Stew – Beef chunks are cooked with root vegetables, ale gravy, and herbs. A mashed potato is placed on its side and shaped like an arc. The meat used in creating this dish is grass-fed, making it tender, aromatic, and flavorful.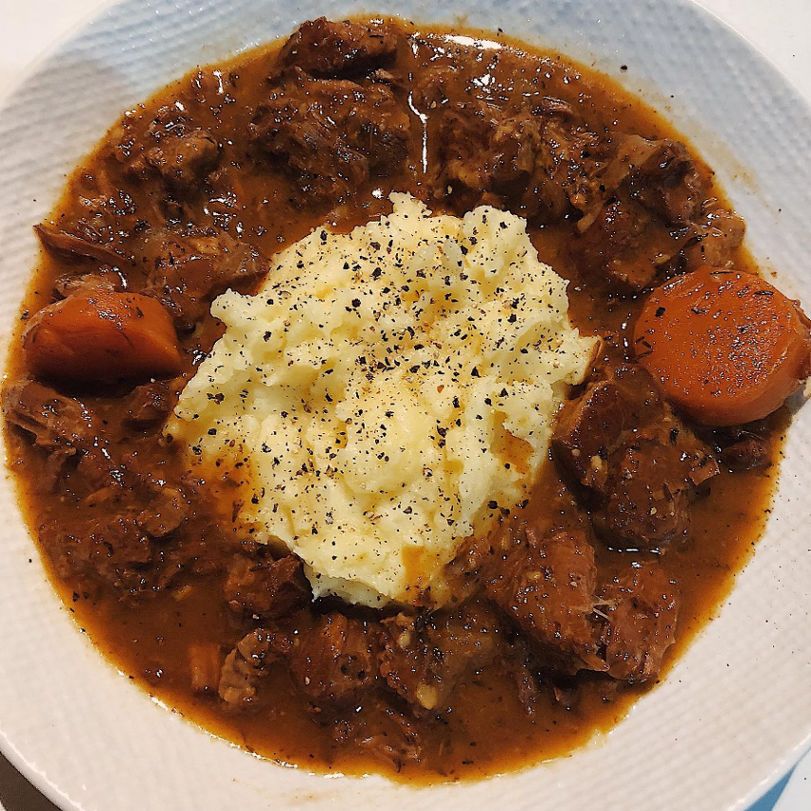 Fish and Chips (S, 150 g) – The beer-battered Atlantic haddock is served with thick-cut chips, mushy peas, gherkin tartar sauce, and a slice of lemon. The crunchy batter of fish and the crispiness of chips complement the sauce served with them.
Fish and Chips (L, 300 g) – Fish and chips are among the crowd's favorite combinations, so Lad and Dad offer a large serving of this menu for those who want more or have a big appetite. It is not oily, which makes diners enjoy its crispiness. The mushy pea is the sauce that makes this dish unique. 
Scampi and Chips – For those who prefer prawns over haddock, this is an ideal choice. Tiger prawns are battered with beer and other unique ingredients and served with thick-cut chips and gherkin tartar sauce.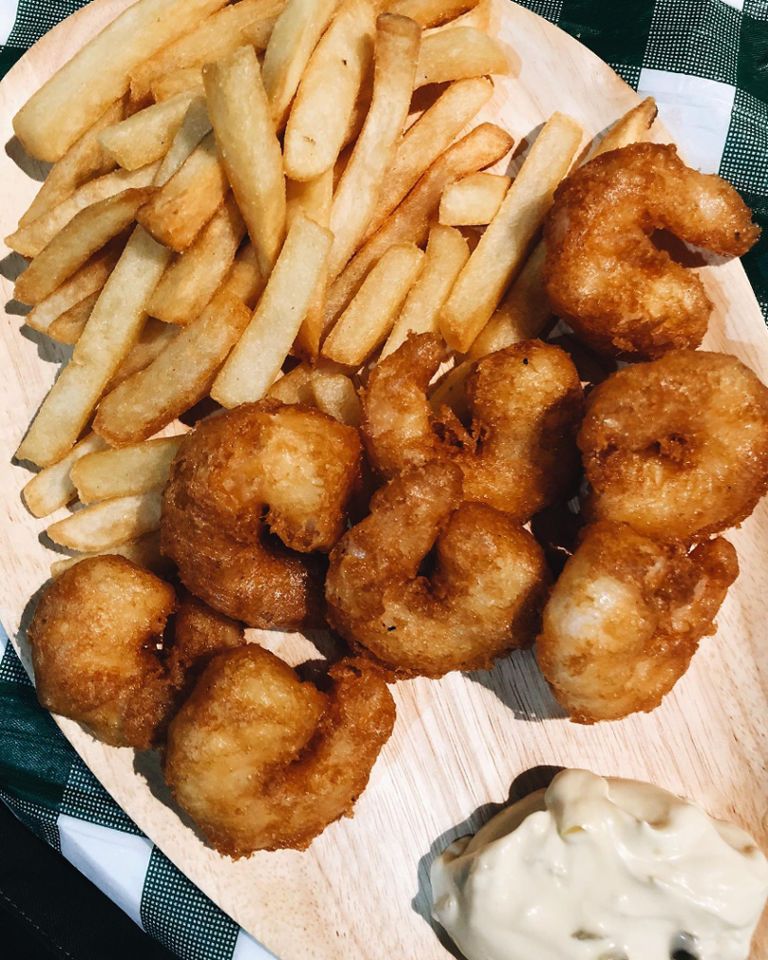 Bangers & Mash – Mashed potatoes and beef are placed on the center of the plate, and the two fresh English pork sausages are laid on its top. It is garnished with ale gravy and herbs that make this dish luscious.
Lad and Dad Menu Sides 
The side dishes of Lad and Dad consist of chips, sausages, nuggets, onion rings, and poached eggs. These light and tasty dishes are perfect for those who want a quick snack.
Classic Chips – Classic chips are one of the famous side dishes that different restaurants offer, as their goodness always impresses the crowd. Chips are cut into thick slices are coated with a unique breading mix. Ketchup is served on its side to enhance its taste. It is also the usual condiment paired with these chips.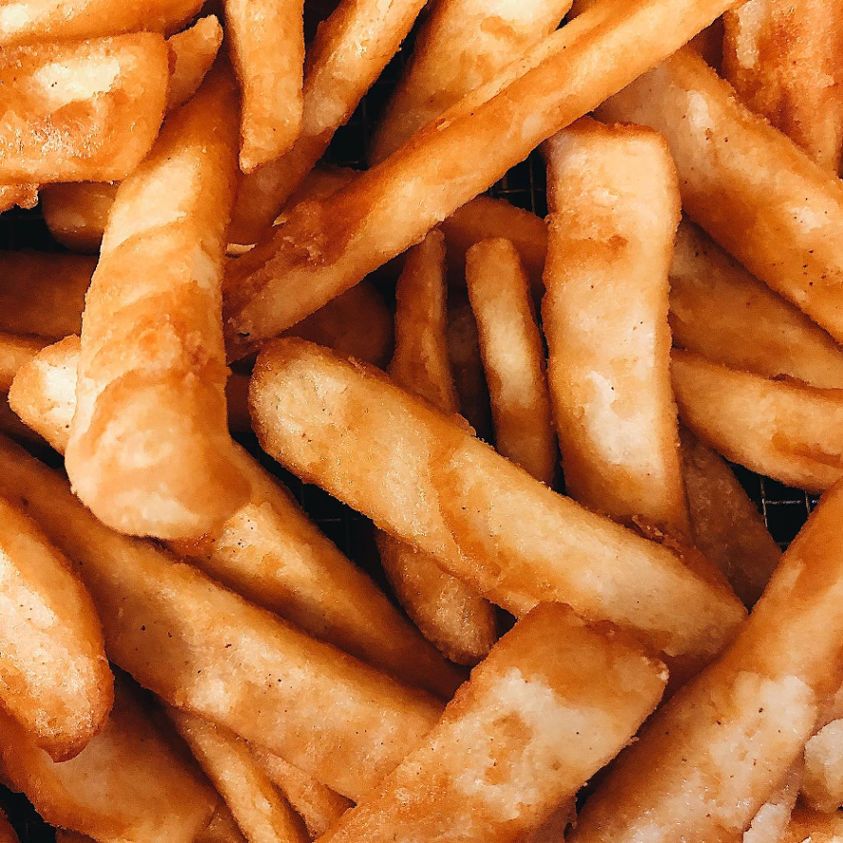 Posh Chips – Enjoy a flavorful and hearty snack with these posh chips. These traditional chips are topped with cheddar cheese, aburi mozzarella, beef, and ale gravy. The crispiness of chips and the goodness of their toppings makes every bite exciting.
Pigs in Blanket – The fresh English pork sausage is wrapped in smoked bacon. Maple glaze gives this dish a sweet and savory flavor and enhances its presentation. It is served on a skewer, and each skewer consists of 3 sausages. The meaty and delicious taste of this dish will boost your appetite.
Scotch Egg – A pickled soft-boiled egg is coated with sausage meat and a special breading mix. The purple slaw on its side adds flavor and texture and enhances the visual appearance of this dish. This is a simple meal that is bursting with flavors.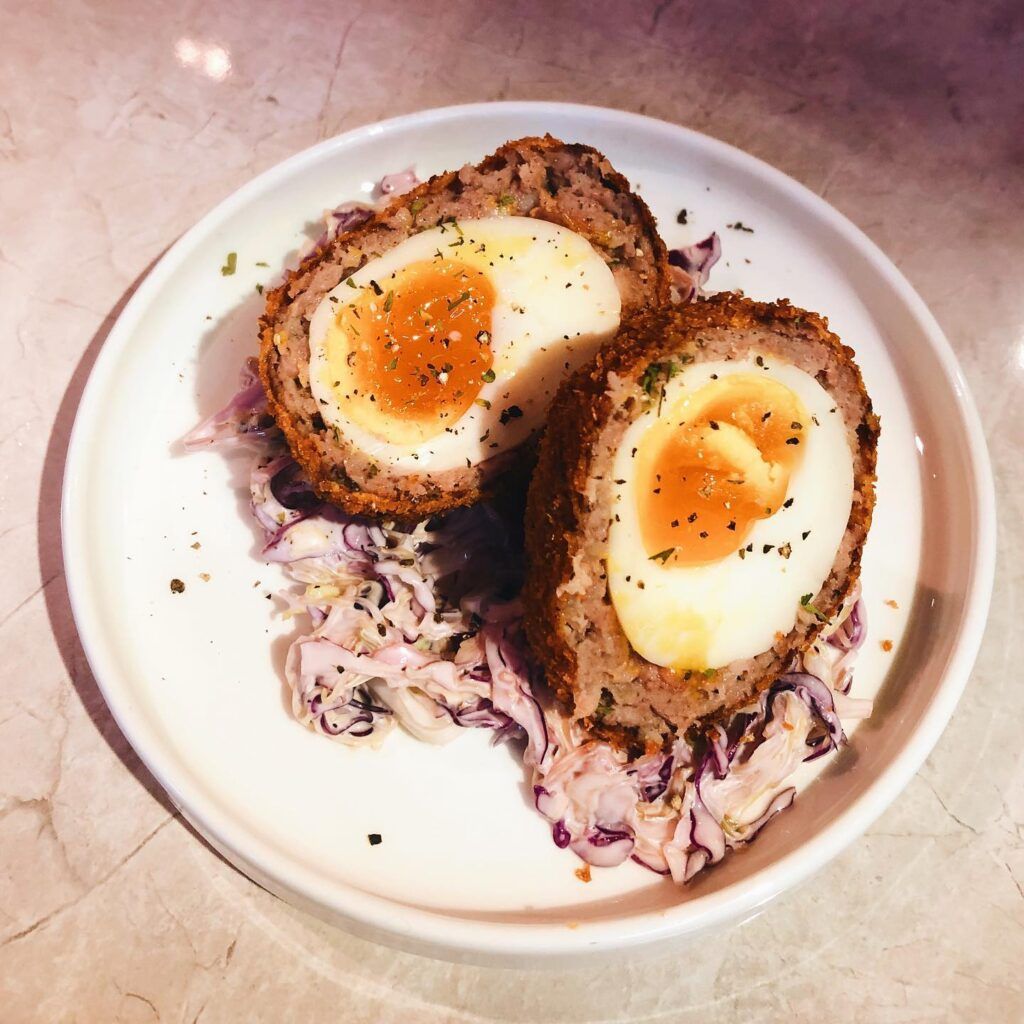 Oyster Nuggets – Oyster nuggets are one of Lad and Dad's must-try dishes, especially if you love seafood. Beer-battered oysters have a crunchy texture and delicious flavor. The special gherkin tartar sauce is served to make them extra flavorful.
Onion Rings – This is one of the crowd's favorite fast-food dishes. It is made with sliced onions coated with special batter and deep-fried until it becomes crunchy and golden brown. Ketchup also comes on its side to add texture and flavor to each bite.
Chicken Nuggets – One of the most loved side dishes of its patrons, especially kids. It is juicy and tender on the inside and crispy on the outside. This is one of the light and convenient meals that goes well with other dishes or can be enjoyed on its own.
Soft Drinks
These are the refreshing and flavorful beverages offered by Lad and Dad Singapore. It comprises canned soft drinks like Coke Classic and Schweppes beverages such as Ginger Ale, Tonic Water, and Soda Water.
Coke Classic – Coke is a popular drink that restaurants in different parts of the world offer. This carbonated soft drink's classic flavor captures the crowd's taste. It goes well with most food making it one of the favorite drinks of its patron.
Ginger Ale – Ginger Ale is a drink that tastes like no other as the ingredients used in creating it are sourced from different parts of the globe, such as Australia, India, and other countries. The citrus oil is added to make it more delicious
Tonic Water – A great-tasting and refreshing sparkling drink with a mild sweet taste. This bubbly and delicious tonic water can be enjoyed on its own, as a mixer, or with fruit juice.
Soda Water – This canned Schweppes Soda Water is a tasty drink with a smooth texture. It contains fewer artificial flavors and goes well with beverages such as juice and cocktails.
Frozen Products
The English sausage is one of the crowd's favorite dishes in this restaurant, so Lad and Dad's restaurant offers a frozen product that customers can bring to their homes. This sausage is made with fresh pork, spices, and herbs. These frozen sausages are approximately 1 kilo, consisting of 15 pieces, and have a one-month shelf life. Pair these sausages with bread or potatoes for a filling and satisfying meal. With this frozen product, you can enjoy them anytime at home with your loved ones.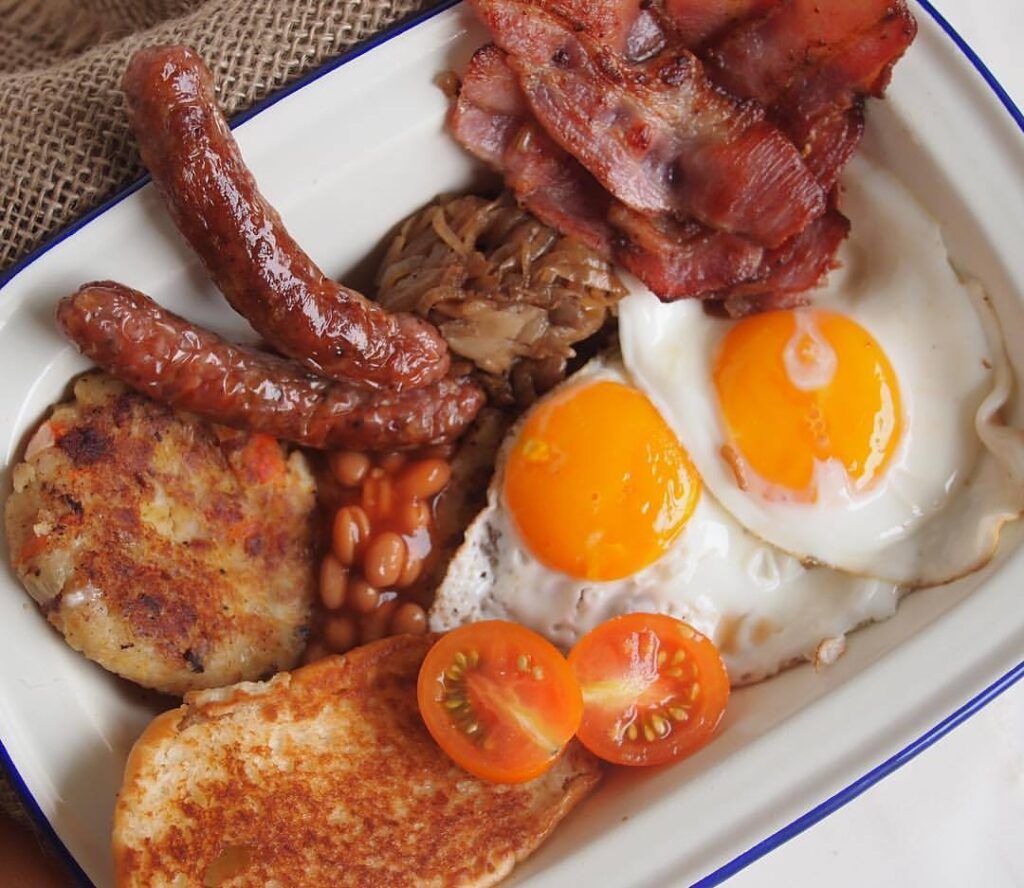 Lad and Dad Menu Delivery 
To get your hands on the mouth-watering dishes from Lad and Dad, simply check out their website. It's super easy to navigate and browse their menu, and once you've made your selection, you can conveniently place your order with just a few clicks. You can also find Lad and Dad on other delivery platforms like Deliveroo if you prefer. So don't hesitate, go ahead and check out Lad and Dad's website now to satisfy your cravings and enjoy a hassle-free dining experience!
Social Media Pages
Looking for a new burger joint to try? Look no further than Lad and Dad, where you can indulge in delicious burgers and sides. Don't forget to check out their social media pages for updates on their latest offerings and promotions. Support this local business and enjoy a satisfying meal at the same time!
Facebook: https://www.facebook.com/ladanddadsg
Instagram: https://www.instagram.com/ladanddad.sg/
Email: [email protected]
FAQs
What types of dishes do Lad and Dad serve?
Lad and Dad specialize in serving up a delightful variety of comforting dishes. Picture yourself savoring their hearty stews, crispy chips, flavorful nuggets, and succulent sausages. Each dish is carefully crafted to deliver a burst of deliciousness that will warm your soul and leave you craving for more. Whether you're a fan of rich flavors, satisfying crunch, or juicy bites, Lad and Dad have got you covered with their mouthwatering selection. Treat yourself to a delectable feast and experience the ultimate satisfaction with Lad and Dad's scrumptious stews, crispy chips, tasty nuggets, and flavorful sausages.
Are there any vegetarian options at Lad and Dad Singapore?
It's worth noting that Lad and Dad Singapore's menu is primarily centered around meat-based dishes, and they do not offer any vegetarian options at the moment. However, if you're a meat-lover, you're in for a treat! Lad and Dad's carefully curated selection of dishes is sure to delight your taste with their rich and savory flavors.
Is Lad and Dad halal-certified? 
Please note that Lad and Dad restaurant in Singapore does not have a halal certification. It's important to be aware that their dishes may not adhere to specific halal dietary guidelines.
Conclusion
The Lad and Dad menu is simple to make it more convenient for their customers to pick the food that will satisfy their cravings. Its unique fish and chips dish is the most popular and most-loved item on its menu, as it has an appetizing taste and texture. The simplicity of its menu and the flavorful comfort foods it offers make it the best place to hang out with your loved ones.