Are you looking for a place in Singapore that serves delicious treats? Look no more since I have an interesting recommendation for you. The Fluff Stack menu has a lot of delicious and affordable food items just for you. Fluff Stack offers jiggly, irresistible, and soufflé pancakes and they specialize in it so you know that you will get the best.
Have you ever encountered this establishment or have you heard about Fluff Stack? If not and you're kinda interested in our article for today then you should stay with me here and let's get to know the Fluff Stack even more. Let's talk about their food, their prices, best sellers, and something about them. I'm being too talkative about this since I'm excited as well so let's not delay everything and let's begin.
You can find the updated pricing information for the Fluff Stack menu below.
MENU
PRICE (SGD)

Popular

Classic premium soufflé pancakes
$16.00
Hazelnut chocolate soufflé pancakes
$16.50
Mango passion fruit soufflé pancakes
$17.80
Tiramisu soufflé pancakes
$16.50
Salted caramel
$16.50
Rose green sparkling tea (cold brew)
$6.50

Soufflé pancake

Classic premium soufflé pancakes
$16.00
Mango passion fruit soufflé pancakes
$17.80
Hazelnut chocolate soufflé pancakes
$16.50
Tiramisu soufflé pancakes
$16.50
Musang king soufflé pancakes
$19.00
Mango & coconut
$18.00
Salted caramel
$16.50

Cold brew coffee

Jigoku (cold brew)
$6.50
Kuro black (cold brew)
$5.00
Mocha (cold brew)
$6.50

Cold brew tea

Rose green sparkling tea (cold brew)
$6.50
Marigold sparkling tea (cold brew)
$6.50

Beverages

Gold thai milk tea
$5.00
Matcha
$6.00
Kokoa
$5.50
Bottled water
$2.50
Coke classic
$2.50
A&W
$2.50
Sprite
$2.50
Rose thai milk tea
$5.50
Passion fruit
$5.00
About Fluff Stack
Fluff Stack is an establishment that is known for creating and offering delicious, unique, and jiggly souffle pancakes that are not just tasty but are Instagrammable because of the appearance of their products when they serve them. Started with only one store, Fluff Stack faced a lot of trials however they easily won everything because customers already noticed how good their products are and now they are famous already and becomes a household name.
As of today, Fluff Stack has 4 branches across Singapore. The preparation time of their production also improves since when they started their products will be ready in 45 minutes but now because of innovation and new technology, their products are ready within 15-20 minutes. Their desserts are very pleasantly presented and their pancakes are really fluffy and delicious. The flavors that you can find on their products are just outstanding.
Fluff Stack Menu Best Seller
Here's the list of some of Fluff Stack's best-selling food items that are already quite popular among their customers.
Oolong Souffle Pancakes – This souffle pancake has oolong cream I noticed that this one was the first to be sold out among their food items when I visited their place. The texture of this souffle pancake is airy, fluffy, and soft but really creamy because of the oolong cream, and delicious. The fluffiness of this item can be compared to cotton candy. This one is also a must-try.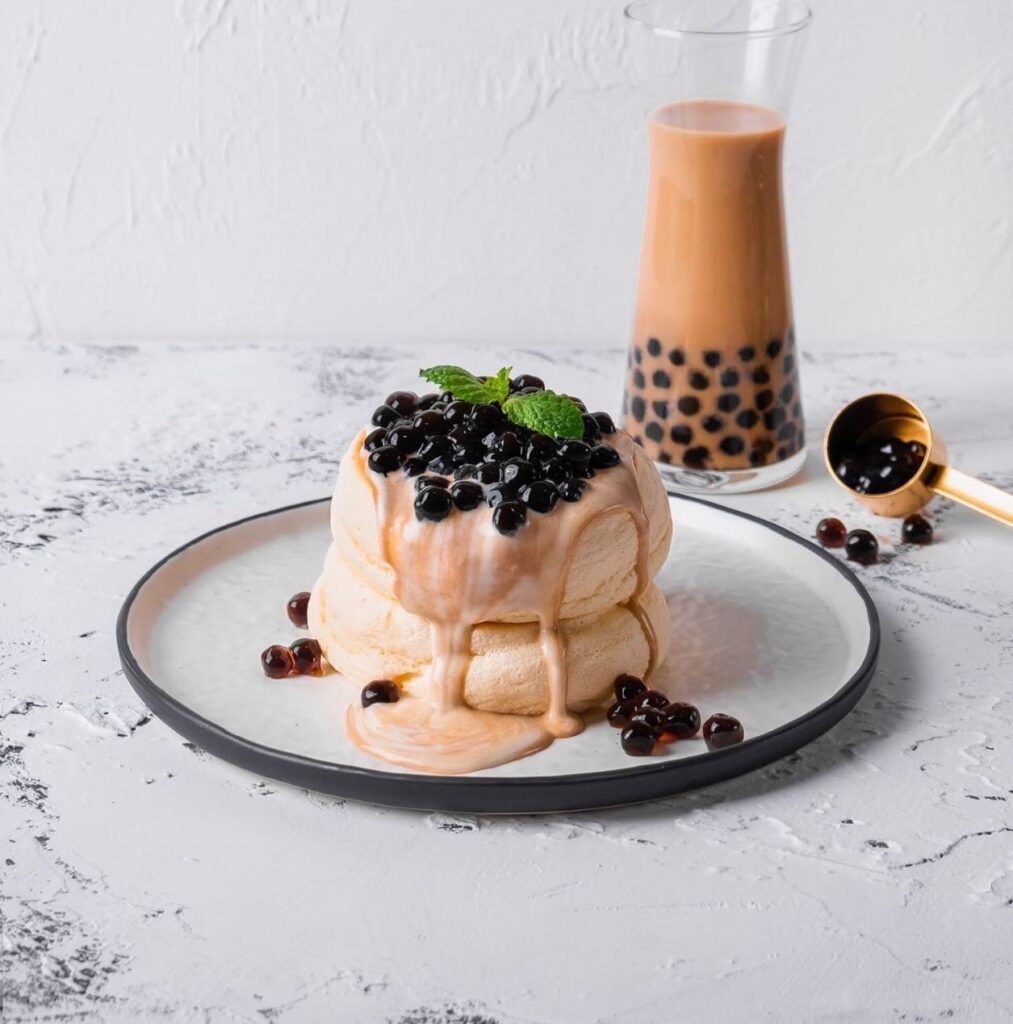 Classic Premium Souffle Pancakes – This fluffy and really delicious Classic souffle pancake is served with pure maple syrup from Canada. This pancake is something that you shouldn't miss especially if you want to savor the real flavor of Fluff Stack pancakes. Classic premium soufflé pancakes are also served with a slice of strawberry and a little cream.
Tiramisu Soufflé Pancakes – This one is made with mascarpone cream, cold house espresso, caramel biscuits, and cocoa powder. They also serve this one with maple syrup. Tiramisu souffle pancake is highly recommended for those who love tiramisu but can decide since also pancake lovers.
Fluff Stack Menu Souffle Pancake
The Fluff Stack souffle pancake menu has 7 different food items to choose from. First on their list is their classic premium souffle pancake which is also included in our list of best sellers. Mango passion fruit souffle pancakes are also available on this menu this one is quite popular because of the seasonal mango on it. Hazelnut chocolate souffle pancakes are one of the best choice on this menu as well as their tiramisu souffle pancakes which are also included on our best-seller list. Musang king souffle pancakes, mango & coconut, and salted caramel are other great options.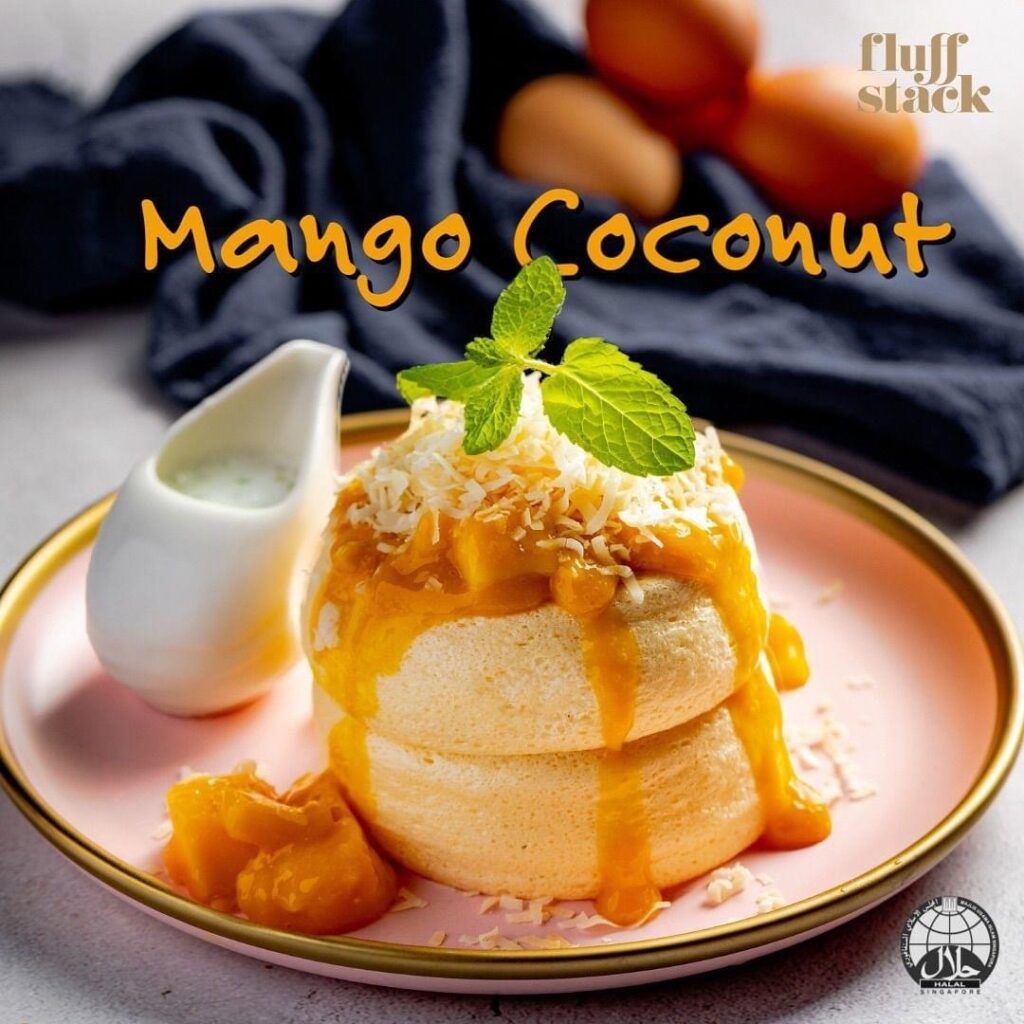 Fluff Stack Menu Cold Brew Coffee
Fluff Stack's cold brew coffee menu has two options, they have rose green sparkling tea which is a sparkling tea with a floral note and fresh lime. Another option is their marigold sparkling tea which is made with sparkling gold tea with floral notes as well as freshly squeezed lime.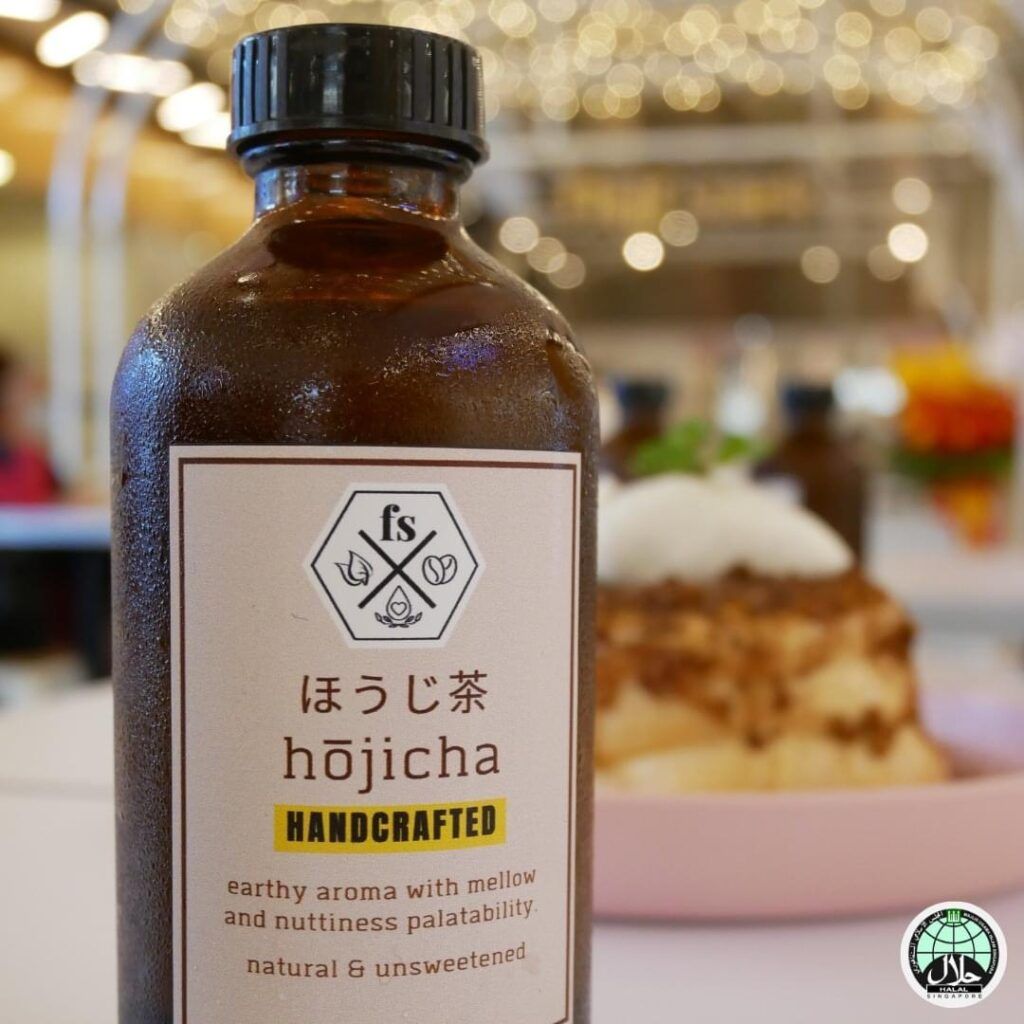 Beverages
On the Fluff Stack beverage menu, they have 9 items to choose from to partner with your chosen dessert. The first item on their beverage menu is their cold Thai milk tea, they also have matcha or cocoa if you're into this kind of drink. They also have bottled water and soft drinks like Coke Classic, A&W, and Sprite. Rose Thai milk tea and passion fruit are also included on this menu.
Fluff Stack Menu Delivery
Ordering your favorite Fluff Stack food items is made easier simply by using third-party delivery services like Foodpanda, grab food and Deliveroo.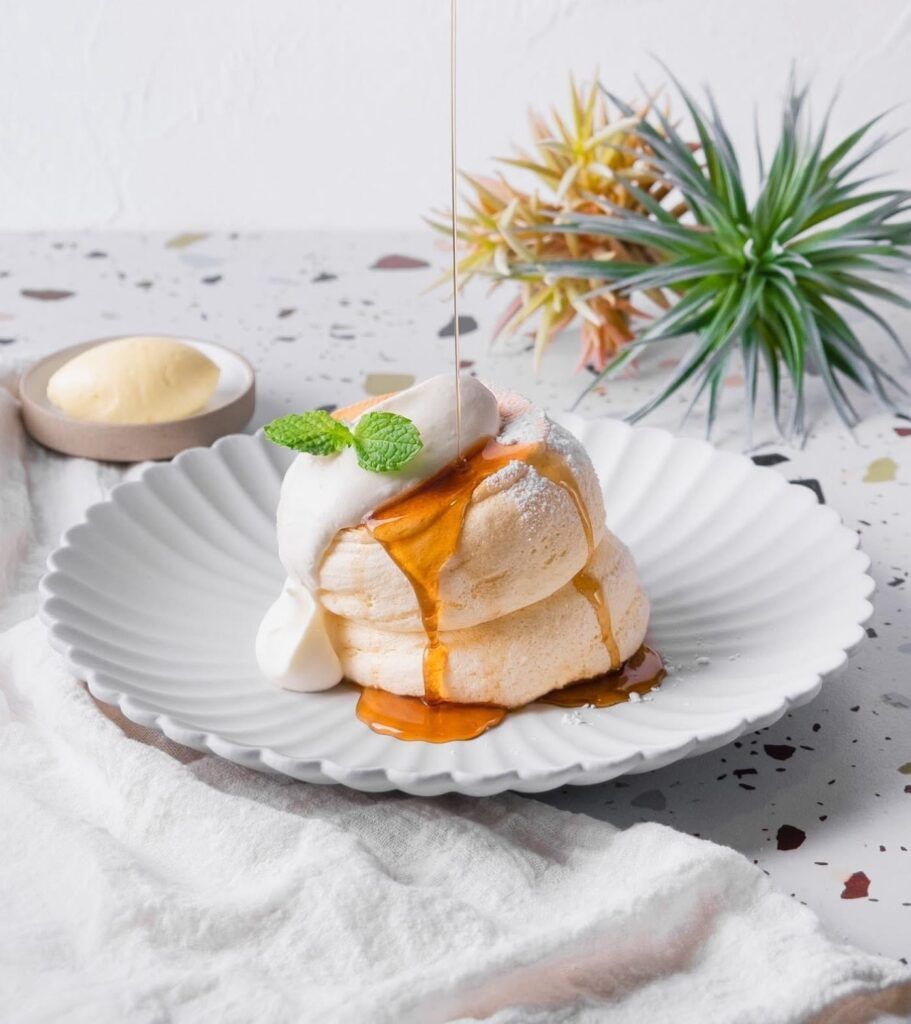 Talk to Fluff Stack SG Staff
Fluff Stack is not only a haven for pancake enthusiasts but also a vibrant community of food lovers. Join them on their social media pages to stay connected with all things Fluff Stack! Follow them for mouthwatering pancake photos, behind-the-scenes peeks, and updates on new flavors and seasonal offerings. Be the first to know about their exclusive promotions and giveaways. You can message them to get more information if you are planning to hold an event or reservations. Join the Fluff Stack community today and be part of the pancake revolution!
Facebook: https://www.facebook.com/fluffstacksg/
Instagram: https://www.instagram.com/fluffstack
Website: https://fluffstack.business.site/#details
FAQs
What are some popular items on the Fluff Stack menu?
Some of the most popular items on their menu are classic premium soufflé pancakes, Hazelnut Chocolate Souffles pancakes, Mango Passion Fruit Souffles Pancakes, Salted Caramel pancakes, and their Rose Green Sparkling Tea.
Are there vegetarian or vegan options at Fluff Stack?
We all know that one of the key ingredients when making souffle pancakes and other desserts is an egg. However, you can try to order their drinks if you're looking for a vegan option on their menu.
Can I order Fluff Stack for delivery?
Yes, you can actually order your favorite Fluff Stack food item thru food panda and grab foods or other delivery services.
Is Fluff Stack halal?
Yes, Fluff Stack is defined as halal certified and they are the first Japanese souffle pancake place that becomes halal certified in Singapore! So our Muslim friends can enjoy their delicious desserts without worrying.
Conclusion
Fluff Stack is a local business that is established by pancake enthusiasts. They are also the biggest and also first halal-certified souffle pancake business in Singapore. The Fluff Stack menu has a lot of variations especially when it comes to desserts and drinks. In Fluff Stack they always make sure that they are serving only the fluffiest desserts for their customers. They make sure that the quality of their products is okay by using only the freshest ingredients available to ensure quality. They love what they do that's why their products are always the best. Fluff Stack is highly recommended for those who are looking for the best pancakes and other desserts in the market.