Komala's Restaurant menu consists of extensive cuisines inspired by Indian and Asian cultures. It serves starters, rice specialties, Chinese-Indian cuisines, Singapore's local delights, fusion dishes, Indian breads & subzhee delights, chaat items, snacks, dosai favorites, side dishes, and beverages. This restaurant also provides catering services for all occasions, making planning for your special events easier. It is also committed to cleanliness and hygiene to prepare its products safely. 
You can find the updated pricing information for Komala's Restaurant menu below.
MENU
PRICE (SGD)

Rice Specialties

Cashew Pulao
$8.20
Curd Rice with 1 Vegetable, Pappadam
$6.00
Dhum Briyani & Veg Kurma
$6.50
Ghee Rice
$7.50
Jeera Pulao
$7.50
Peas Pulao
$7.50
Steam Rice - Basmathi
$3.50
Today's Rice Special with Vegetable
$6.50
Veg Pulao
$7.50

Chinese (Chindian Dishes) (10AM - 10PM)

Chilli Gobi
$7.80
Chilli Mushroom
$8.50
Chilli Paneer
$8.80
Chilli Potato
$7.60
Chilli Tofu
$8.20
Chilli Vegetable
$8.50
Garlic Fried Rice
$8.00
Gobi Manchurian
$8.20
Idly Manchurian
$7.20
Kway Teow Noodles
$8.20
Mix Veg Noodles
$8.60
Mixed Mock Fried Rice
$8.80
Mock Chicken Black Pepper Fried Rice
$8.70
Mock Chicken Fried Rice
$8.50
Mock Prawn Noodles
$8.60
Mock Seafood Fried Rice
$9.00
Mushroom Fried Rice
$8.40
Mushroom Manchurian
$8.40
Mushroom Noodles
$8.40
Paneer Fried Rice
$8.90
Potato Manchurian
$7.60
Szechuan Fried Rice
$7.60
Szechuan Noodles
$8.20
Szechuan Paneer
$8.80
Tofu Manchurian
$8.00
Veg Fried Rice
$7.90
Veg Noodles
$7.60

Singapore's Local Delights

Mee Goreng
$8.20
Mee Goreng Beehoon Mix
$8.40
Meehoon Goreng
$8.20
Mock Chicken Sambal
$8.40
Mock Fish Sambal
$8.70
Mock Prawn Sambal
$8.70
Nasi Goreng Ayam
$7.90
Nasi Goreng Kampong
$7.90
Tofu Sambal
$8.20

Fusion Dishes

Chettinad Mock Chicken
$8.90
Chilli Mock Chicken
$8.20
Kadai Mock Chicken
$8.60
Mock Chicken 65
$8.00
Mock Chicken Black Pepper
$8.50
Mock Chicken Manchurian
$8.50
Mock Mutton Masala
$9.40
Mock Prawn Masala
$9.50

Starters

Fried Mushroom
$6.50
Gobi 65
$7.50
K-Wrap
$4.20
Onion Pakkora
$5.50
Papadam Chips (10 pcs South Indian)
$3.00
Potato Fries
$4.50
Spring Rolls
$5.00
Tofu Cubes
$6.20
Veg Samosa (2 pcs)
$4.50

Side Orders - Add Ons

Chenna Masala
$2.80
Extra Coconut Chuttney
$1.20
Extra Onion Chuttney
$1.20
Extra Pav (2 pcs)
$2.20
Extra Rasam
$1.80
Extra Sambar Meats
$2.80
Extra Sambar Tiffin
$2.30
Gajar Halwa
$2.70
Gulab Jamun (2 pcs)
$4.20
Kesari
$2.50
Kurma
$2.80
Mock Curry
$2.80
Payasam
$2.60
Rasamalai (2 pcs)
$5.40
Steam Rice - Basmathi
$3.50

Promotions

Double Chaat Combo
$11.60

Bundle Deals (Comes with Condiments)

10 Idiyappam & Kurma Bundle Deal
$15.80
10 Idles Bundle Deal
$17.50
10 Masala Dosai Bundle Deal
$46.00
10 Plain Dosai Bundle Deal
$38.00
10 Samosas Bundle Deal
$22.00
10 Vadais Bundle Deal
$17.50

Value Meals

Bhattura & Samosa Meal
$10.50
Briyani Poori Meal
$12.00
Chappathi Meal (4 pcs)
$9.40
Masala Dosai Meal
$9.80
Mock Briyani Meal
$13.00
Mysore Masala Meal
$9.50
Naan (Butter) Meal (2 pcs)
$9.90
North Indian Thali
$13.00
Onion Masala Meal
$9.50
Onion Rawa Masala Meal
$9.70
Onion Uthappam Meal
$9.00
Parotta Meal (2 pcs)
$9.70
Plain Dosai Meal
$9.20
Poori Meal (3 pcs)
$9.00
Rawa Dosai Meal
$8.70
South Indian Meal
$12.00
Veg Burger & Fries Meal
$9.70

Breakfast Meals

Idly (2 pcs) & Vadai ( 1pc) Meal
$8.00
Pongal Vadai Meal
$8.40

Mini Meals

Briyani & Thair Bhat
$9.00
Chappathi & Thair Bhat
$9.00
Special Rice & Briyani
$9.00
Special Rice & Thair Bhat
$9.00

Dosai Favorites

Butter Dosai
$5.80
Butter Masala Dosai
$7.20
Cheese Dosai
$6.70
Cheese Masala Dosai
$7.20
Cheese Uttapam
$6.70
Chilli Cheese Uthappam
$7.00
Coriander Uttapam
$6.00
Ghe Masala Dosai
$7.20
Ghee Dosai
$5.90
Ghee Rawa Dosai
$5.60
Masala Dosai
$5.40
Onion Dosai
$5.70
Onion Padi Uttapam
$6.60
Onion Rawa Dosai
$6.00
Onion Rawa Masala Dosai
$6.50
Onion Uttapam
$5.90
Podi Dosai
$6.00
Podi Uttappam
$6.20
Rawa Masala Dosai
$6.00
Tomato Uttappam
$6.40
Veg Uttappam
$6.70

Snack Items

Chappathi Plate (3 pcs)
$6.40
Cheese Parotta
$6.70
Idiyappam Kurma (3 pcs)
$5.60
Idiyappam Mock Curry (3 pcs)
$6.20
Idly (2 pcs) & Vadai ( 1pc) Meal
$6.20
Idly (3 pcs)
$6.20
Idly Plate (2 pcs)
$4.50
Kothu Parotta
$7.90
Masala Parotta
$7.90
Pappadam Chips (10 pcs)
$3.00
Parotta with Kurma (2 pcs)
$6.00
Parotta with Mock Curry (2 pcs)
$6.60
Poori Plate (2 pcs)
$6.00
Sambar Idly
$6.00
Sambar Vadai (2 pcs)
$6.00
Savory Packets (2 Nos)
$3.50
Vadai Pack (Family Pack - 4 pcs)
$7.50
Vadai Plate (2 pcs)
$4.50
Veg Burger
$4.90
Veg Puff
$2.10
Veg Samosa (2 pcs)
$4.50

Chaat Items (4 PM to 10PM)

Dhahi Poori
$6.70
Dhahi Samosa
$6.70
Masala Poori
$6.70
Paani Poori
$6.70
Pav Baji
$6.70
Samosa Chaat
$6.70

Indian Subzhee Delights (11:30AM - 3:30PM & 6:30 PM - 10:00 PM)

Aloo Gobi
$8.50
Aloo Mutter
$8.70
Aloo Palak
$8.70
Bindhi Fry
$9.70
Bindhi Masala
$9.00
Butter Naan
$2.80
Butter Roti
$2.90
Chappathi (2 pcs)
$2.20
Cheese Naan
$3.60
Chettinad Veg Curry
$9.00
Dhall Makhani
$8.70
Dhall Masala
$8.70
Dhall Palak
$8.70
Dhall Thadka
$8.70
Garlic Naan
$3.50
Kadai Paneer
$9.60
Kadai Vegetable
$8.90
Kashmiri Naan
$4.50
Kheema Naan
$4.60
Kulcha
$3.70
Mushroom Mutter Methi
$9.70
Mutter Paneer
$9.60
Palak Paneer
$9.60
Paneer Burji
$9.50
Paneer Butter Masala
$10.00
Paneer Makhani
$9.60
Paneer Tikka Masala
$11.00
Plain Naan
$2.40
Poori / Parotta
$1.50
Pudhina Paratha
$4.00
Pulka (3 pcs)
$5.40
Roti
$2.40
Stuffed Naan
$4.50
Tandoor Paratha
$3.30
Vegetable Jalfreeze
$8.70

Soft Drinks

Badham Milk
$4.50
Butter Milk (Chaas)
$2.80
Coke
$1.80
Fresh Lime Juice
$2.80
Ice Lemon Tea
$1.80
Mango Juice
$2.80
Mango Lassi
$4.50
Mineral Water
$1.60
Rose Milk
$3.50
Sprite
$1.80
Sweet Lasi
$3.70
About Komala's Restaurant 
Komala's Restaurant is managed by R.T. Sekar, the son of Mr. M. Rajoo, the founder of Komala's Group. It started as a simple restaurant serving vegetarian meals influenced by the traditional cuisines of South India. The management is committed to serving customers with affordable, authentic, and quality cuisines. It has a Western-inspired ambiance and a fast-food self-service concept.
Komala's Restaurant Menu Best Seller 
Komala's Restaurant is known for offering authentic Indian and Asian cuisines. These are some of the best sellers of Komala's Restaurant that are well-loved for their wholesome flavor and surprising goodness. 
Poori Plate – Poori is an Indian deep-fried bread made from unleavened whole-wheat flour, salt, and water. It has a slight crispiness on the outside and is soft and fluffy inside. To make it more delicious, it is served with curry and veg kurma. 
Masala Dosai Meal – This masala dosai meal is a popular dish in South India, where a spiced potato curry is stuffed in a crispy crepe made with fermented rice and lentil batter. The cuisines that complete this meal are idly two types of chutney, vadai, big sambar, and drink.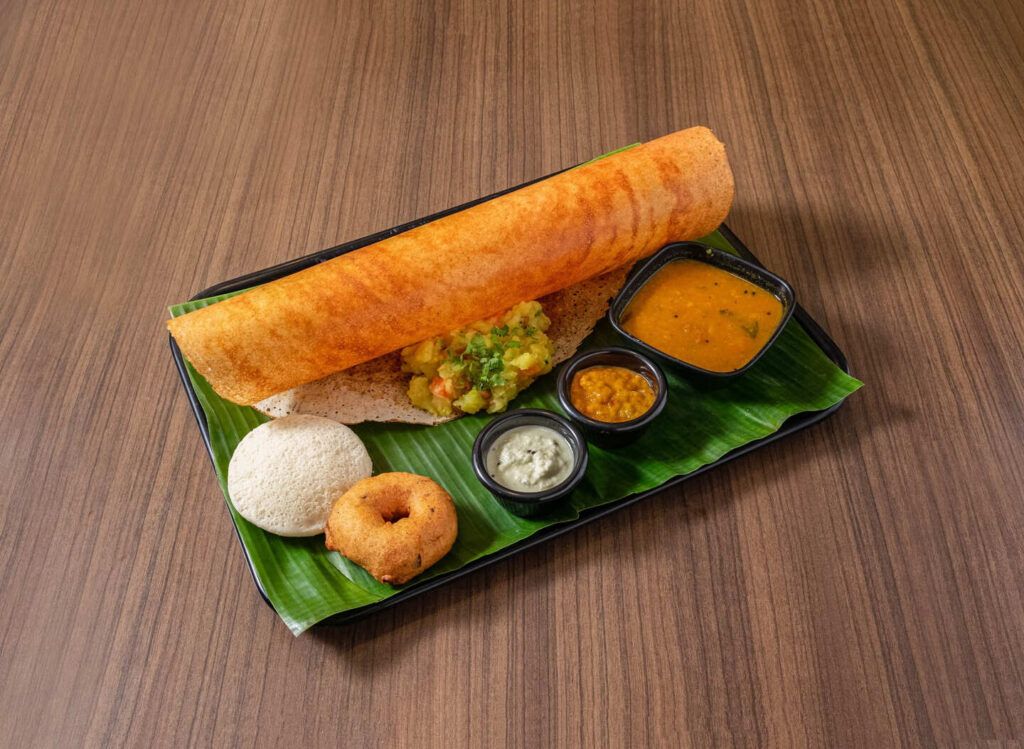 Idly and Vadai – Idly and Vadai are two of the crowd's well-loved dishes from India. It consists of two pieces of idly, a steamed savory rice cake known for its fluffiness, delicious taste, and the essential nutrients it contains. Vadai is a hearty snack that looks like a doughnut and is crispy, fluffy, and flavorsome. It is served with special condiments and gravy that enhances its flavors. 
Parotta with Kurma – Parotta is an unleavened flatbread, locally known as Prata, in Singapore. The inner layer of this delicacy is soft, while its outer layer has a well—balanced fluffiness and crunchiness. Komala's Restaurant served this dish with the traditional Kurma gravy. 
South Indian Meal – It is one of the favorite meals of its patrons as it consists of popular South Indian cuisines. This South Indian meal includes rice, three vegetables, sambar, raitha, puli curry, rasam, payasam, their, appalam, and drink. The cuisines that come with this value meal will give a satisfying Indian dining experience. 
Komala's Restaurant Rice Specialties Menu
The rice specialties offered by Komala's Restaurant comprise basmathi, ghee, pulao, curd rice, and biryani. These rice dishes are flavorful as the ingredients that come with it are perfectly mixed to serve diners delicious meals. 
Ghee Rice – This is a traditional Indian rice cooked with pure ghee and other special spices and ingredients. This is one of the restaurant's rice specialties you should try as it is packed with flavors, an appetizing aroma, and irresistible goodness that will make you crave more.
Veg Pulao – It is a cuisine commonly served in Indian homes and at different celebrations. The rice is made with herbs and vegetables that are mixed creatively, making every bite satisfying. The fragrant scent of this veg pulao is sure to stimulate your appetite. 
Curd Rice with 1 Vegetable, Pappadam – A simple yet flavorful dish that is comforting and nutritious as it contains essential nutrients. It is made with pre-cooked rice, curd or yogurt, and other special spices. This rice comes with one vegetable and pappadam, a delicious side dish made with black gram flour. 
Chinese (Chindian Dishes) Menu
Komala's Restaurant serves Indian-Chinese cuisines such as fried rice, noodles, chili-flavored food items, mock dishes, and Manchurian. These dishes are made with Chinese spices and cooking methods adapted to Indian taste. 
Gobi Manchurian – Gobi Manchurian is made from cauliflower doused in a spicy Manchurian sauce and other aromatics, then deep-fried expertly. The tangy and spicy flavors and the crispy goodness are this dish's features that make it irresistible.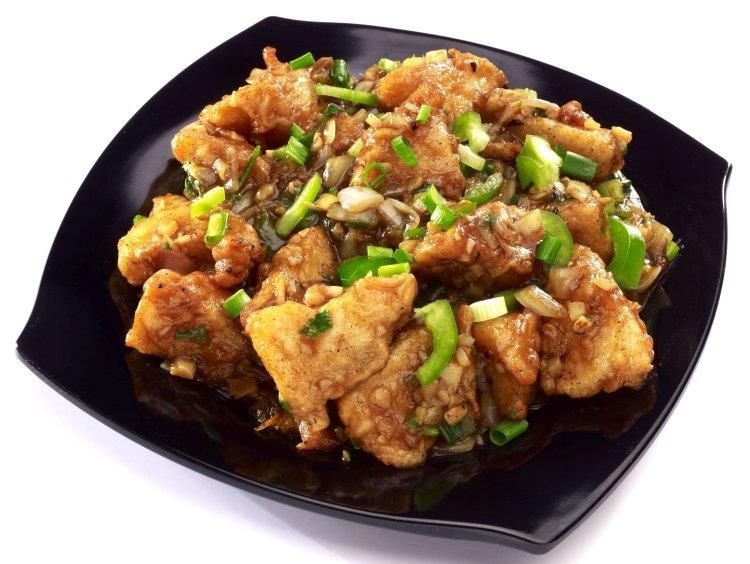 Mushroom Noodles – A tasty, comforting, and quick-to-prepare dish where noodles are cooked with mushrooms, vegetables, and other spices. This flavorful cuisine is flavorful and heartwarming, making it a go-to food for its customers. 
Paneer Fried Rice – This is one of the variations of Indian-Chinese fried rice packed with flavors. It is made with rice sauteed with paneer or Indian cottage cheese, vegetables, and soya sauce. The authentic spices from India and China are blended perfectly, resulting in a hearty cuisine. 
Singapore Local Delights 
The Singaporean local delights menu of Komala's Restaurant consists of dishes that are loved by the locals in Singapore. It serves noodles, fried rice, tofu sambal, and mock dishes such as chicken, prawn, and fish. 
Mee Goreng – Mee Goreng is one of the favorite dishes of Singaporeans, where noodles are smothered in a special sauce that gives a delicious taste and glossy appearance. It is cooked with bean curd, bean sprouts, and mixed greens. 
Tofu Sambal – This cuisine is made with tofu cooked expertly in sambal sauce and spices. It has a delicious flavor that goes well with other cuisines, making it a versatile dish that can be enjoyed on its own or with other food items. 
Nasi Goreng Ayam – It is a well-known fried rice variant in Singapore with a perfect blend of chicken, aromatics, vegetables, and special spices and seasonings. The gooey yolk of a sunny-side-up egg on its top adds a layer of texture and flavor, making it gratifying. 
Fusion Dishes 
The fusion menu served by Komala's Restaurant consist of mock cuisines that are nutritious and flavorful. The varieties of mock chicken it provides are kadai, chili, Chettinad, Manchurian, and black pepper. It also offers mock prawn and mock mutton in masala flavor. These fusion dishes are available from 11:00 AM to 2:30 PM and 6:00 PM to 10:00 PM.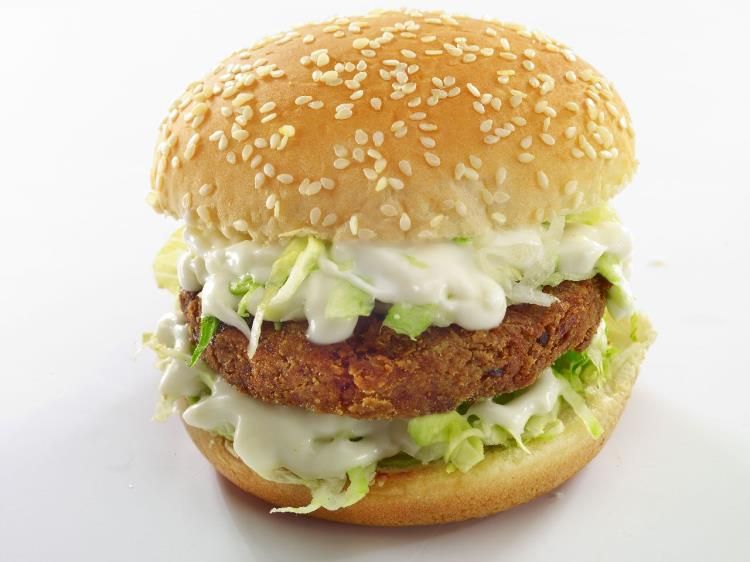 Komala's Restaurant Menu Delivery 
Visit the official website of Komala's Restaurant at https://www.komalasrestaurants.com/Delivery to order your favorite dishes for home delivery. It is also available on its partnered platforms, such as GrabFood, FoodPanda, and Deliveroo, to give customers additional delivery options. 
Social Media Pages
Whether you're a dedicated vegetarian or simply seeking a satisfying meat-free meal, Komala's Restaurant is your haven for wholesome and flavorful dishes. Join their online community to explore their menu, discover the daily specials, and receive exclusive promotions.
Facebook: https://www.facebook.com/KomalasRestaurant
Instagram: https://www.instagram.com/sgkomalas/
Website: https://www.komalasrestaurants.com/Contact-Us
FAQs
What type of cuisine does Komala's Restaurant specialize in? 
Komala's Restaurant specializes in Indian cuisine. 
Are there vegetarian or vegan options available at Komala's Restaurant? 
Yes, there are vegetarian or vegan options available at Komala's restaurant. 
Can I make a reservation at Komala's Restaurant? 
Yes, you can make a reservation at Komala's Restaurant by contacting them at +65 6444 0444 or [email protected]. 
Is Komala's Restaurant a halal-certified establishment? 
Yes, Komala's Restaurant is a halal-certified establishment in Singapore. 
Conclusion 
Komala's Restaurant menu is known for its South Indian cuisine. This restaurant strives to serve freshly cooked food by ensuring that cuisines will be served within 3 minutes after the customer places an order. It also has a good hospitality service as the management employs good workflow management, ensuring the tasks are clearly specified for each staff member.