Ju95's menu showcases an array of delicious dishes that blend the best of Japanese cuisine with modern culinary techniques. The menu offers a diverse range of options, including tantalizing appetizers, hearty mains, and mouthwatering desserts. So for those who are looking for delicious and convenient Japanese dishes in Singapore, Ju95 is one of your best bets! Aside from the fact that they serve delicious food items, their products are generously proportioned and affordable as well which makes them popular with the masses.
You can find the updated pricing information for the Ju95 menu below.
MENU
PRICE (SGD)

Snacks

Rock Oyster
$8.00
Seawee Potato Pave
$12.00
Parmesan and Rosemary Churros
$16.00
Parfait Ju
$18.00

Small Plates

Hoiuse Whipped Ricotta
$20.00
Cold Angel Hair
$26.00
Hay Smoked Hamachi
$28.00
Wagyu Tartare
$32.00
Grilled Tiger Prawns
$30.00
Pork Jowl
$28.00
Grilled Freshwater Eel
$28.00
Grilled Spanish Octopus
$38.00

Mains

Grilled Baby Squid
$45.00
Iberico Pork Rack
$52.00
Australian Lamp Rump
$48.00
Grilled Tiger Grouper
$98.00
Wagyu Hanging Tender
$68.00

Starters

Mizuna and Radish Salad
$16.00
Cahsew Nut Gazpacho
$16.00
Grilled Baby Squid
$20.00
Cold Angel Hair
$26.00
Hay Smoked Hamachi
$28.00
Wagyu Beef Tartare
$32.00

Desserts

Ice Cream Sandwich
$14.00
Taste of Japan
$16.00
Misso Panna Cotta
$16.00
Texture of Chocolate
$18.00
Eggnog
$18.00

To Share

Seaweed Potato Pave
$12.00
Grilled Cauliflower
$15.00
Grilled Brussels Sprouts
$16.00
Parmesan and Rosemary Churros
$16.00
Parfait Ju
$18.00
House Whipped Ricotta
$20.00

Sandos

Spiced Chicken Katsu
$16.00
Gogreen
$17.00
Pecking Pork Belly
$17.00
Smoked Beef Brisket Pastrami
$19.00

Signatures

No Bad Juju
$20.00
Get High
$21.00
Hornychiwa
$22.00
Coco Deez Nuts
$22.00
Maria Ozawa
$22.00
Pitch Black
$22.00
Creampie
$22.00
Jalapenis
$23.00
Caramel toe
$23.00
Boozy Bitch
$24.00

Wines

Spy Satellite
$88.00
Domaine Celine Et Frederic Gueguen
$118.00
Killibinbin
$94.00
Domaine de Cabasse cotes de Rhone Marguerite
$128.00
If You See Kay
$138.00
Layer cake
$148.00

Sakes

Shirataka Jozen Mizuno
$138.00
Jyopari Ginjo
$138.00
Wakatake Onna Nakase
$158.00
Hokusa Wave Junmai Daiginjo
$158.00
Hourai Junmai Daiginjo Iro Otoko
$168.00
Kotsuzumi Hana Ari Tohka junmai Daihinjo
$168.00
Yamatan Masamune
$198.00

Bubble

Costellore Presecco Doc Spumant NV
$92.00
Champagne Haslinger
$128.00
Champagne Paul Louis Martin
$148.00
Dom Perignon
$688.00

Beers

Suntory Premium Malt
$14.00
About Ju95
Ju95 is a modern-day restaurant that is located in the middle of Singapore. It has a menu that focuses on Japanese and fusion cuisine and offers a unique dining experience for food enthusiasts and simple diners alike. The restaurant boasts an inviting ambiance and a menu that combines traditional Japanese flavors with modern twists that deliver a memorable dining experience for customers who are looking to explore unique and innovative Japanese dishes that will satisfy their palates.
Ju95 Menu Best Seller
This menu is made up of a different variety of fusion dishes that are mostly ordered by visiting customers at Ju95.
Wagyu Tartare – This dish features finely chopped raw wagyu beef seasoned with various flavors and served with accompaniments such as egg yolk, capers, onions, and seasonings, and is well-known for its rich and melt-in-your-mouth texture.
Grilled Tiger Prawns – Grilled tiger prawns from Ju95 are commonly prepared by grilling large and succulent prawns until they turn slightly charred and have a smoky flavor, and are often seasoned with spices or marinades for added taste.
Pork Jowl – Pork jowl refers to the cheek area of the pig and is known for its rich and flavorful meat and is prepared by grilling, braising, or frying depending on the customer's preference resulting in a tender and juicy pork with a delicious combination of fat and meat.
Wagyu Hanging Tender – The wagyu hanging tender is a lesser-known cut of beef that comes from the diaphragm area of the cow but is prized for its tender texture and marbling, which adds a rich buttery flavor when cooked quickly over high heat to maintain its juiciness.
Grilled Spanish Octopus – It is a delightful dish that showcases the tenderness and unique flavor of octopus. The octopus is typically tenderized and then grilled until it develops a slightly crispy exterior while remaining tender and succulent on the inside.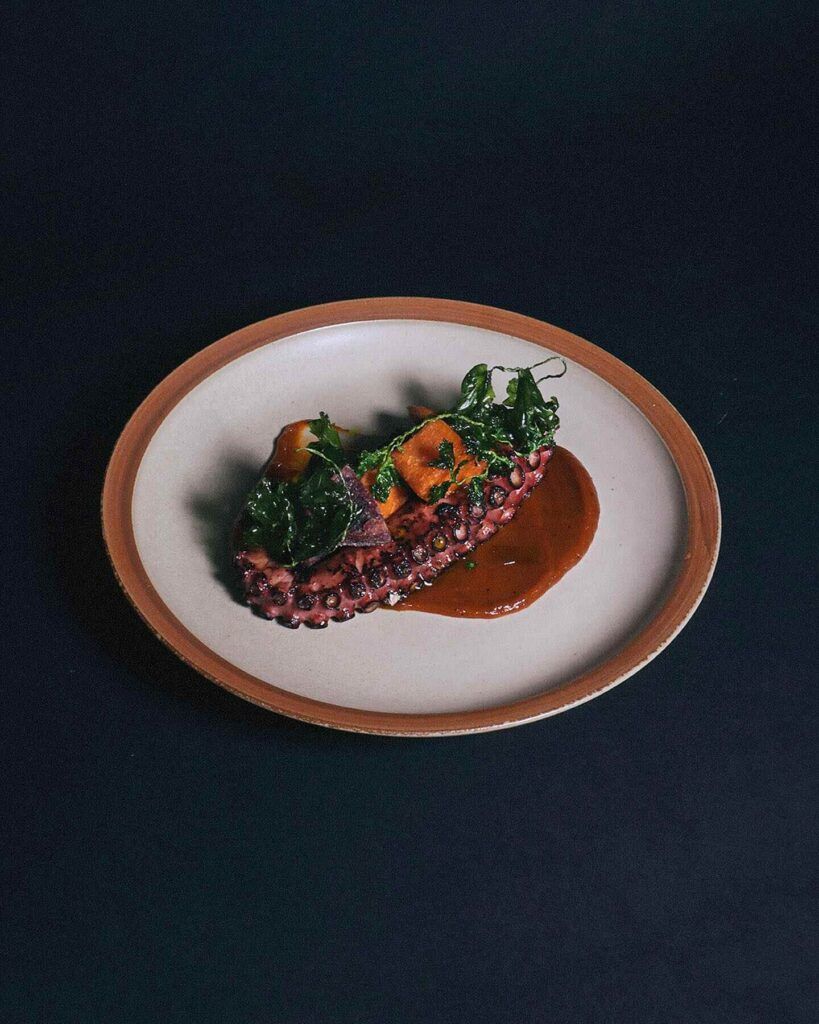 Ju95 Menu Starters
This menu is made up of a variety of appetizers that are a must-try to kickstart the dining experience at Ju95.
Mizuna and Radish Salad – Mizuna and radish salad is a refreshing and vibrant dish that combines mizuna greens and thinly sliced radishes. It is often dressed with a light vinaigrette or dressing, resulting in a crisp and flavorful salad.
Cashew Nut Gazpacho – Cashew nut gazpacho is a variation of the traditional Spanish cold soup that typically includes ingredients like ripe tomatoes, cucumber, bell peppers, garlic, and cashew nuts blended together and a soup that is served chilled which offers a creamy and nutty flavor.
Cold Angel Hair – This dish typically features delicate strands of angel hair pasta that are cooked to al dente perfection and then chilled. The chilled pasta is then tossed with a flavorful dressing or sauce, such as a citrus vinaigrette, garlic-infused oil, or a light tomato-based sauce.
Ju95 Menu Mains
This menu is made up of a variety of main dishes that are popular with many customers due to their delicious tastes and price.
Grilled Baby Squid – Grilled baby squid is a common but popular seafood appetizer that can be ordered at Ju95. The squid is typically marinated or seasoned with herbs and spices, then grilled until it develops a slightly charred and smoky flavor and is served with accompanying sauces or dips.
Iberico Pork Rack – Ju95's Iberico pork rack is a prime cut from the rib section, often prepared by grilling or roasting which results in a tender and juicy meat with a delicious combination of fat and meat flavors.
Australian Lamb Rump – Australian lamb rump is a cut of meat from the back of the lamb, known for its tenderness and distinct flavor that is prepared by grilling, roasting, or pan-searing, and is often served with accompanying sauces or garnishes.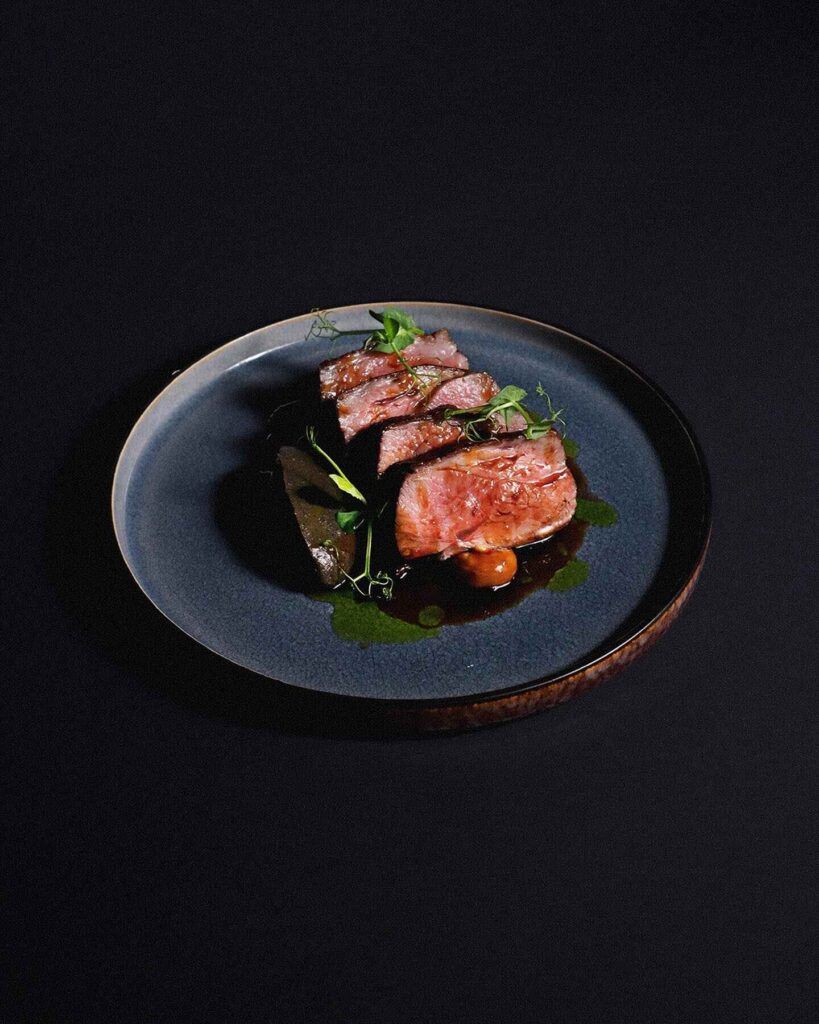 Small Plates
This menu is made up of small plate items that are known for their beautiful presentation and delicious tastes.
House Whipped Ricotta – It features smooth and creamy whipped ricotta cheese that is perfectly seasoned and accompanied by a selection of complementary ingredients. The dish is often served with toasted bread or crackers, allowing you to spread the rich and flavorful ricotta on a crunchy base.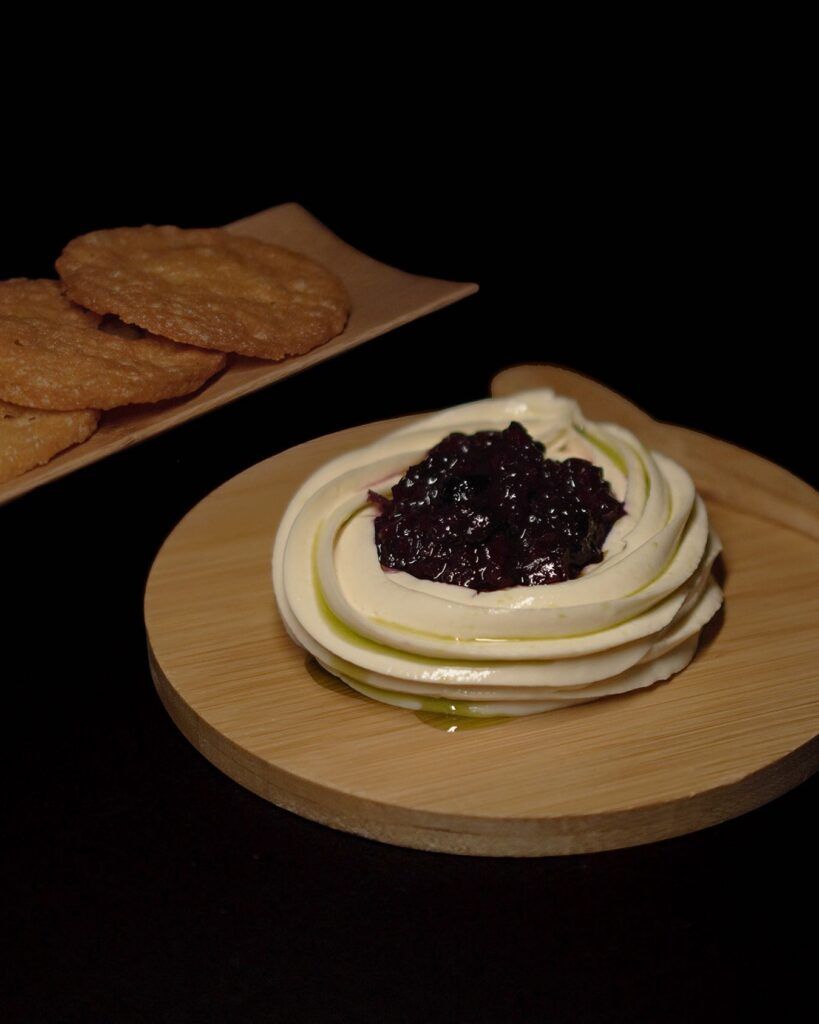 Cold Angel Hair – This dish showcases the creamy and velvety texture of freshly whipped ricotta cheese, which is made in-house to ensure its quality and flavor. The ricotta is expertly seasoned, allowing its natural richness to shine through.
Hay Smoked Hamachi – It is a unique small plate option that showcases the delicate flavors of Hamachi, also known as yellowtail. The Hamachi is carefully smoked using hay, which imparts a subtle smoky aroma and enhances the natural flavors of the fish. 
Sides
Ju95's Sides menu offers a delectable selection of dishes that perfectly complement the main courses and add an extra layer of flavor to your dining experience. These side dishes are crafted with care and attention to detail, showcasing a blend of innovative culinary techniques and high-quality ingredients.
Dessert
Ju95's Dessert menu is a delicious combination of flavors, textures, and artistry, offering a sweet ending to your dining experience. Each option is carefully crafted by talented pastry chefs, and the desserts at Ju95 are a must-try for many sweet lovers.
Ju95 Menu Delivery
Ju95 Menu Delivery brings the delicious food offerings of Ju95 restaurant straight to your doorstep. Customers can conveniently order their favorite dishes at Ju95 with their mobile devices through third-party delivery services like FoodPanda.
Social Media Pages
Follow their vibrant social media pages to stay connected with the latest updates, irresistible promotions, and mouthwatering offerings. Explore their online store, where you can conveniently order a wide variety of fresh and flavorful dishes, from nourishing salads and hearty wraps to energizing smoothies and delectable desserts.
Facebook: https://www.facebook.com/ju95.co
Instagram: https://www.instagram.com/ju95.co
Email: [email protected]
FAQs
What type of cuisine does Ju95 specialize in?
Ju95 specializes in a fusion of Japanese cuisine, incorporating both traditional Japanese flavors and contemporary culinary techniques.
Does Ju95 offer any promotions or discounts?
Ju95 occasionally offers promotions and discounts to enhance the dining experience for its customers.
Does Ju95 have a loyalty program?
Yes, Ju95 provides a loyalty program to reward its loyal customers.
What are the operating hours of Ju95?
Here are the operating hours of Ju95:
Monday Closed
Tuesday 6–11 PM
Wednesday 6–11 PM
Thursday 12–2 PM, 6–11 PM
Friday 12–2 PM, 6 PM–12 AM
Saturday 6 PM–12 AM
Sunday 5–10 PM
Does Ju95 have any halal certifications?
There are no indications that Ju95 is a halal-certified restaurant or not.
Conclusion 
Ju95 is an excellent dining restaurant in Singapore that offers a memorable dining experience with its innovative fusion of Japanese cuisine, creative dishes, and commitment to using quality ingredients. The restaurant also has an inviting ambiance and an attentive service staff that enhances the overall dining experience even further which makes the restaurant a highly recommended choice for those who are looking for a modern and distinctive dining experience in Singapore.