The Beef Station menu consists of noodles and rice meals paired with various beef cuisines such as beef balls, sliced beef, tendons, tripe, brisket, A5 Grade Wagyu Beef, and Oxtail. It also serves Plain Noodles, Oyster Sauce Vegetable, Nyonya Curry Chicken, Chicken Rice Bowl, Braised Chicken Wings, and Braised Tau Kwa Set that does not consist of beef. The best ingredients and signature sauce used by The Beef Station make their cuisine special. 
You can find the updated pricing information for The Beef Station menu below.
MENU
PRICE (SGD)

Premium

Oxtail Soup/Dry
$22.50
Oxtail Stew With Rice
$22.50
Wagyu Beef Rice Bowl
$22.50
Wagyu Beef Soup Noodle
$22.50
Wagyu Beef Soup With Rice
$22.50

Hainanese Beef Noodles

Beef Balls
$7.50
Beef Shin
$11.30
Beef Tendon
$11.30
Beef Tripe
$11.30
Mixed Beef
$11.30
Plain Noodle
$2.50
Sliced Beef
$8.80

Brisket Items

Mala Brisket (Regular)
$11.30
Mala Brisket (Large)
$16.30
Rendang Brisket (Regular)
$11.30
Rendang Brisket (Large)
$16.30
Signature Brisket (Regular)
$11.30
Signature Brisket (Large)
$16.30

Other Noodles

Curry Mixed Beef Noodle
$11.50
Curry Sliced Beef Noodle
$10.50
Mala Mixed Beef Noodle
$13.10
Mala Sliced Beef Noodle
$10.50
Minced Beef Noodle
$11.30
TBS Mini Trio
$16.30

A La Carte

Braised Beef Platter
$11.80
Nyonya Curry Chicken
$9.40

Rice

Chicken Rice Bowl
$9.40
Minced Beef Rice Bowl
$9.40

Sides

Braised Chicken Wings
$6.80
Braised Tau Kwa Set
$5.60
Oyster Sauce Vegetables
$5.60

Add Ons (Applicable for some items only)

Beef Balls (3 pcs)
$2.30
Shin
$5.00
Sliced Beef
$2.50
Tendon
$3.00
Tripe
$2.50
Mala Brisket
$6.30
Rendang Brisket
$6.30
Signature Brisket
$6.30
Beansprouts
$0.60
Braised Egg
$1.30
Fried Egg
$1.30
Noodles
$1.30
Rice
$1.30
Soup (Large)
$2.50
Soup (Small)
$1.30
Wagyu
$8.00

Mains (Applicable for some items only)

Ban Mian
$1.30
Kuey Teow
$1.30
Rice
$1.30
Thick Bee Hoon
$1.30
Thin Egg Noodle
$1.30
Yellow Noodle
$1.30

Beverages

Bundaberg (Lemon, Lime, Bitters)
$5.00
Bundaberg (Root Beer)
$5.00
Coke
$2.50
Coke Zero
$2.50
Green Tea
$2.50
Homemade Barley
$2.30
Homemade Iced Lemon Tea
$2.30
Homemade Lime Juice
$1.90
Mineral Water
$2.50
Ribena Lite
$3.50
Snapple (Apple)
$5.00
Snapple (Grape)
$5.00
About The Beef Station
The Beef Station specializes in Beef Noodles, famous for their appetizing aroma and delicious taste. It has a warm interior and a cozy ambiance that makes the dining experience satisfying. This restaurant is open from Monday to Sunday, 11:00 AM to 9:30 PM, and closed every Tuesday. It offers dine-in, takeaway, and islandwide delivery services through its partnered platforms. 
The Beef Station Menu Best Seller 
The Beef Station is known for its aromatic and flavorful beef noodles. These are some of the best sellers of this restaurant that you should try when you visit or order from this restaurant. 
Wagyu Beef Rice Bowl – This rice bowl consists of white steamed rice, boiled eggs, bok choy, and wagyu beef. The beef is garnished with sesame seeds and drizzled with a special sauce, adding flavor and nutrients to this meal.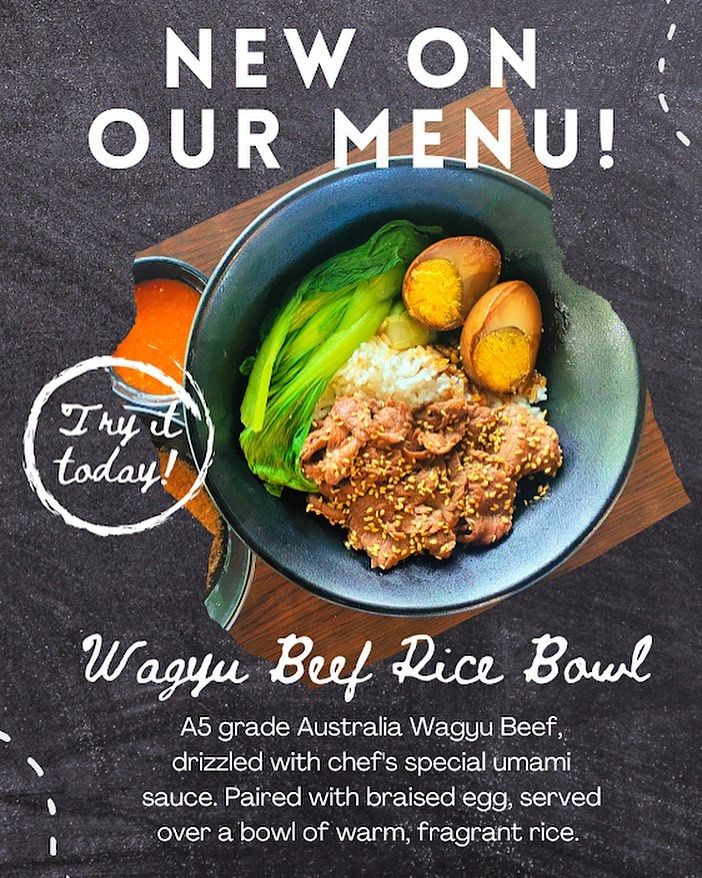 Nyonya Curry Chicken – Nyonya Curry Chicken is a hearty dish where the boneless chicken thigh is cooked with potatoes and a boiled egg. It is an excellent option for those who are not into beef dishes. The delicious flavor of this cuisine makes it an ideal dish for all ages. 
Sliced Beef – Sliced beef is one of the highly recommended cuisines of its talented chefs. This noodle is cooked in a satisfying broth and topped with slices of tender and juicy beef and other ingredients.  
TBS Mini Trio – Mini bowls of noodles are served in this trio. It consists of brisket, sliced beef, and minced beef. Each mini bowl's beefy and surprising goodness of this menu of The Beef Station will give you a gratifying dining experience. 
Braised Beef Platter – Enjoy a savory meal with this braised beef platter of shin meat, tau pok, tau kwa, and boiled egg. It is garnished with a special sauce that gives its ingredients a glossy look that entices its customers. Mixed greens and calamansi are served on its side to enhance its flavor and presentation.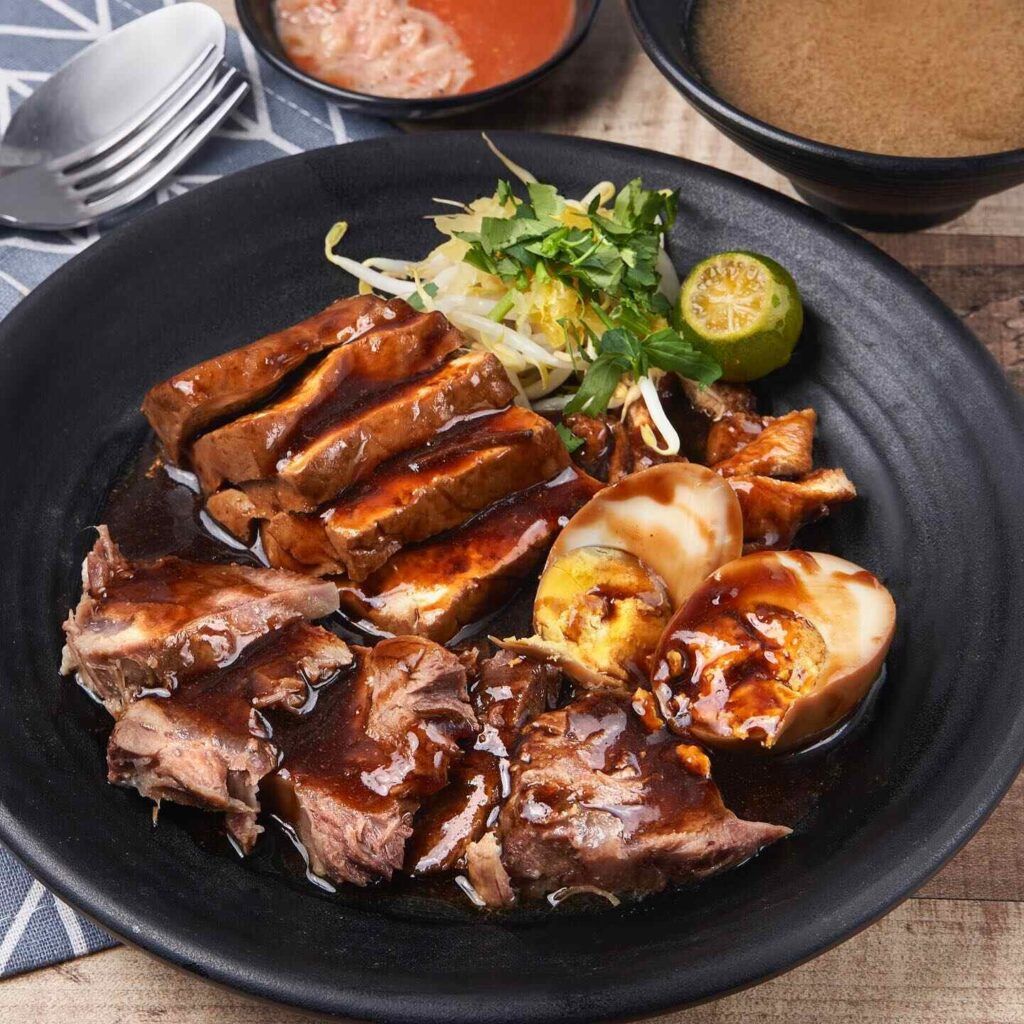 The Beef Station Menu Premiums 
The premium cuisines The Beef Station serves include wagyu beef and oxtail with rice or noodles. These cuisines are remarkable for their satisfying flavors as the ingredients are excellently combined. 
Wagyu Beef Soup Noodle – Your choice of noodles is cooked in a flavorsome broth and topped with bok choy, tender A5 Grade Wagyu wagyu beef, and greens. It is a great dish during cold weather as the taste of the soup goes perfectly with other ingredients.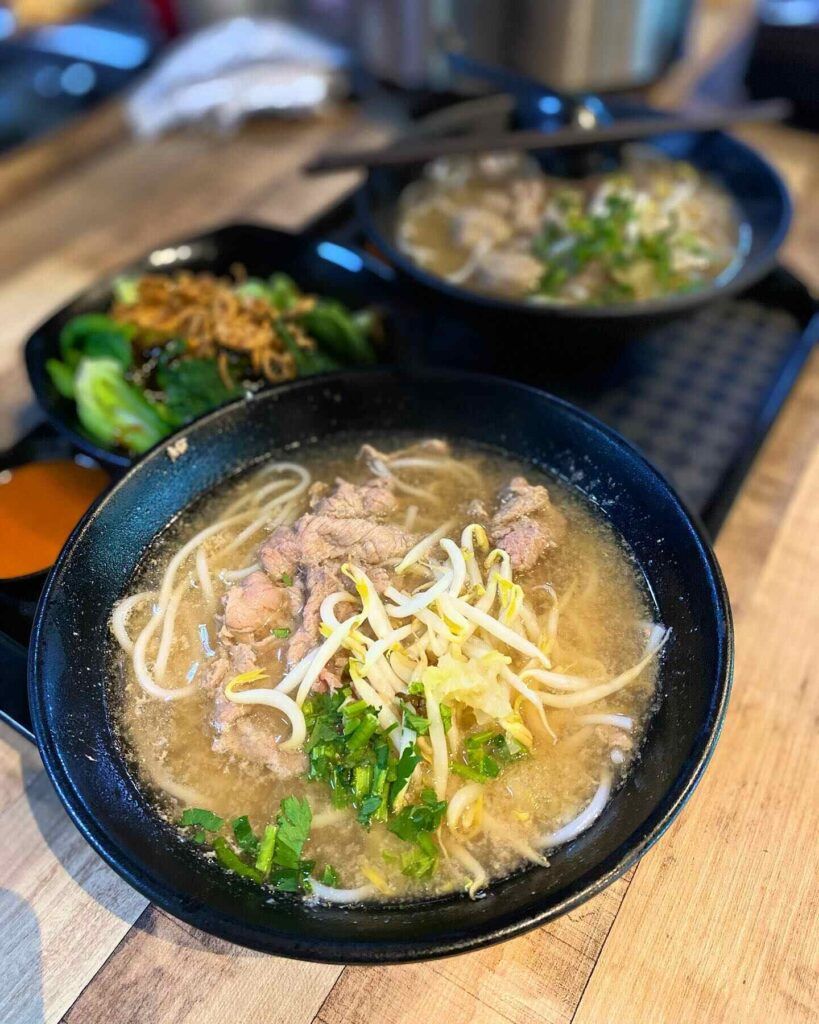 Oxtail Stew with Rice – It is a classic comfort food where oxtail is simmered in a thick sauce, diced carrots, and other special ingredients. The white steamed rice and calamansi served on its side completes this meal. This dish has a classic taste as it is prepared using a Hainanese-Western style method. 
Oxtail Soup/Dry -A simple and delicious meal made with oxtail. This tender oxtail is served with the restaurant's special gravy or soup. It is available in soup and dry variations to cater to the different preferences of diners. 
The Beef Station Menu Hainanese Beef Noodles 
Hainanese Beef Noodles are one of the comfort foods loved by Singaporeans. Customers can customize their noodles, choose their preferred main dish and preparation method, and add delicious toppings or sides. 
Beef Tripe – Beef tripe is the key ingredient of this noodle dish that makes it delicious. The beef tripe has a pleasing texture chewy texture and mild flavor that goes perfectly with soup and noodles. 
Beef Balls – This Hainanese beef noodle comprises ten meaty, flavorful, and aromatic beef balls. The soup noodle is excellent for those who want a heartwarming meal, especially in cold weather, while the dry noodle is ideal for those who want a flavorful and simple noodle. 
Mixed Beef – A noodle loaded with beefy goodness as it comes with sliced beef, shin meat, beef balls, tendons, and tripe. It is also garnished with greens, beansprouts, and special ingredients that enhance its taste. With this noodle, you will enjoy a delicious combination of various meat, from beef, that will satisfy your cravings. 
Brisket Items 
The brisket menu of The Beef Station consists of the specialty and famous items of this restaurant. It offers rendang brisket paired with rice and noodles in original and spicy flavors. 
Signature Brisket – This is the signature and one of the best-selling cuisines loved by the diners of the Beef Station. Beef tripe is expertly cooked in the restaurant's signature sauce until it becomes tender and the meat absorbs the flavor. The juiciness and melt-in-your-mouth goodness of this dish is the features that always satisfy its customers' palate. 
Mala Brisket – If you are feeling adventurous and want to spice up your meal, this mala brisket is perfect. It is the spicy version of the signature brisket noodle of this restaurant. The mala seasoning is one of the famous flavor profiles of Sichuan cuisine and imparts a numbing and spicy taste. 
Rendang Brisket – It is a popular cuisine of this restaurant that can boost your appetite and make you enjoy your meal. The delicious sauce gives this rendang brisket a distinctive flavor, and the other items served on its side entice guests to try this dish.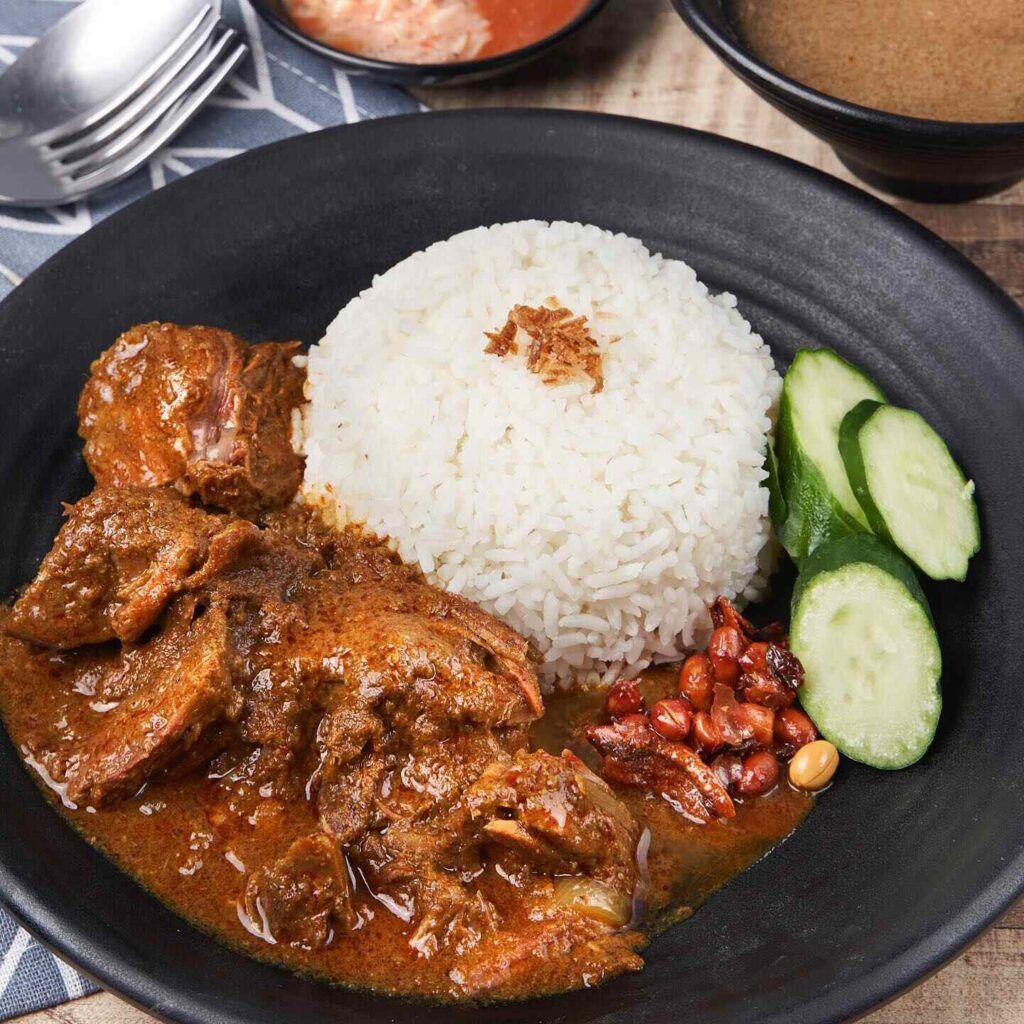 Other Noodles 
The other beef noodles menu of The Beef Station served are Mini Trio, Mala Spiced Beef Noodle, Mala Mixed, Minced Beef, Curry Sliced, and Curry Mixed. The noodle choices offered by this restaurant are Ban Mian, Kuay Teow, Thin Egg Noodles, Thick Bee Hoon, and Yellow Noodles.
Customers can choose up to two variants of noodles. To make your meals more pleasurable, add toppings, ingredients, or other complementary dishes such as soup, beansprouts, rice, noodles, egg, wagyu, brisket, tripe, shin, tendon, beef ball, and sliced beef. 
Sides 
The Beef Station offers side dishes you can pair with your noodle or rice meal to boost their flavor. It serves Braised Chicken Wings consisting of 3 pieces of drumettes with wings, Oyster Sauce Vegetable, and Braised Tau Kwa Set comprising beancurd skin, braised beancurd, and egg. 
The Beef Station Menu Delivery 
Savor the delicious beef noodles from The Beef Station in the comfort of your own home with their convenient delivery service. You can now enjoy their mouthwatering dishes no matter where you are on the island, thanks to their Islandwide delivery option available through popular platforms like Foodpanda, GrabFood, Deliveroo, and Qashier. To place your order, simply give them a call or reach out to them via Whatsapp at +6563849149.
The Beef Station Social Media Pages
Join their online community and be treated to exclusive promotions, behind-the-scenes glimpses, and a virtual feast for the senses. Embrace your love for beef and let The Beef Station take your taste buds on an extraordinary journey. Follow their social media pages to stay in the loop with their latest offerings, from mouthwatering steaks to juicy burgers and more.
Facebook: https://www.facebook.com/thebeefstationsg
Instagram: https://www.instagram.com/thebeefstationsg
Website: https://www.thebeefstation.com.sg/
FAQs
Where is The Beef Station located? 
The location of The Beef Station is at 2 Tai Thong Crescent, #01-05 The Venue Shoppes, Singapore 347836. 
What types of beef dishes do they serve? 
Beef Noodles and Brisket Items are the beef noodles that this restaurant serves. 
Do they offer vegetarian or non-beef options? 
The Beef Station does not offer vegetarian options but serves non-beef cuisines such as Nyonya Curry Chicken, Plain Noodles, and other side items. 
Is The Beef Station halal certified? 
The Beef Station is not a halal-certified restaurant in Singapore. 
Conclusion 
The Beef Station menu is popular for its brisket, Hainanese-style beef noodles, and other beef dishes. Its cuisines are customizable, so you can combine your favorite ingredients that will satisfy you. Customers also highly appreciate the customer service of its staff and the easy ordering process. It is spacious, well-ventilated, well-lighted, and has a welcoming ambiance to make you enjoy your meals.