Want to have a taste of delicious, satisfying, and affordable treats? At Twelve Cupcakes, you can find the perfect treats that you are looking for, as their menu is filled with a wide variety of irresistible cupcakes that are sure to satisfy your dessert cravings! From classic flavors like Vanilla and Chocolate to more unique options like Matcha and Salted Caramel, each item is expertly baked to perfection, with a moist and fluffy cake base that is topped with a generous creamy frosting. 
You can find the updated pricing information for the Twelve Cupcakes menu below.
MENU
PRICE (SGD)

Cupcakes

Box of 3 Cupcakes
$12.00
Box of 6 Cupcakes
$22.00
Box of 12 Cupcakes
$40.00

Mini Cupcakes

Mini Cupcakes Box Of 6
$16.80
Mini Cupcakes Box of 12
$23.80

Eggless Cakes

Eggless Crunchy Hazelnut (6 Inch)
$41.80
Eggless Crunchy Hazelnut (Mini)
$11.00

Animal Cakes

The Cuddly Bear NEW!!!
$38.80
Hoot Wise Old Owl Cake
$38.80
Rainbow Unicorn Cake
$38.80
Cutie Hedgehog
$38.80
The Jungle Lion
$38.80
The 'Good Fortune' Tiger
$38.80

Cakes

Coconut Passionfruit
$38.80
Crunchy Hazelnut Whole Cake
$38.80
Rocky Choco Crunch
$38.80
Dark Chocolate Praline
$38.80
Blackforest
$38.80
Tiramisu
$38.80

Petite Cakes

Petite Dark Chocolate Praline
$25.80
Petite Rocky Coco Crunch
$25.80
Petite Chocolate Mousse
$25.80
Petite Oreo Cake
$25.80
Petite Mango Passionfruit Cake
$25.80
Petite Tiramisu Cake
$25.80
Red Velvet Cake
$25.80
Petite Coconut Passionfruit
$25.80

Mini Cakes

Mini Crunchy Hazelnut Cake
$11.00
Mini Rocky Coco Crunch
$11.00
Mini Tiramisu
$11.00
Mini Mango Passionfruit
$11.00
Mini Ondeh Ondeh
$11.00
Mini Red Velvet Cake
$11.00
Mini Coconut Passionfruit
$11.00
Sliced Cakes Section
Crunchy Hazelnut Slice Cake
$4.80
Rocky Choco Crunch Slice Cake
$4.80
Red Velvet Slice Cake
$4.80
Mango Passionfruit
$4.80
Chocolate Mousse Slice Cake
$4.80
Bundle of 3 Slice Cake
$12.00
Tiramisu Sliced Cake
$4.80

Honey Cake

Honey Cake
$14.50
Chocolate Honeycake
$15.50
About Twelve Cupcakes
Twelve Cupcakes is a renowned cupcake bakery in Singapore that has captured the hearts of dessert lovers with its delightful and delectable creations. Twelve Cupcakes has a large number of locations all across the island and has become a popular spot for visitors looking for delectable food. Each cupcake is lovingly crafted with the finest ingredients, ensuring a perfect balance of flavors and a moist, tender texture, and is beautifully decorated with smooth, creamy frosting, adding a touch of elegance to these miniature works of art. 
Twelve Cupcakes Menu Best Seller
This menu consists of the best-selling treats that are offered at Twelve Cupcakes, both in their physical and online stores.
Crunchy Hazelnut Whole Cake – It is a delightful treat that combines the richness of hazelnuts with the sweetness of a moist and fluffy cake. The cake is layered with a luscious hazelnut cream filling and generously coated with crunchy hazelnut bits on the outside. 
Rainbow Unicorn Cake – This is a visually stunning creation that is sure to bring joy to any celebration that features layers of vibrant rainbow-colored sponge cake, frosted with smooth and creamy vanilla buttercream, and topped with adorable unicorn decorations and sprinkles, it's a feast for both the eyes and the taste buds.
Mini Tiramisu – It features layers of delicate sponge cake soaked in coffee liqueur and then paired with a creamy mascarpone cheese filling that has been dusted with a lot of cocoa powder. Despite its small size, each mini Tiramisu is packed with rich and indulgent flavors that capture the essence of the traditional dessert.
Mini Red Velvet Cake – It is layered with a creamy cheese frosting that is both silky and tangy which perfectly complements the sweetness of the cake. The Mini Red Velvet Cake is moist, flavorful, and visually appealing, making it a delightful choice for any occasion.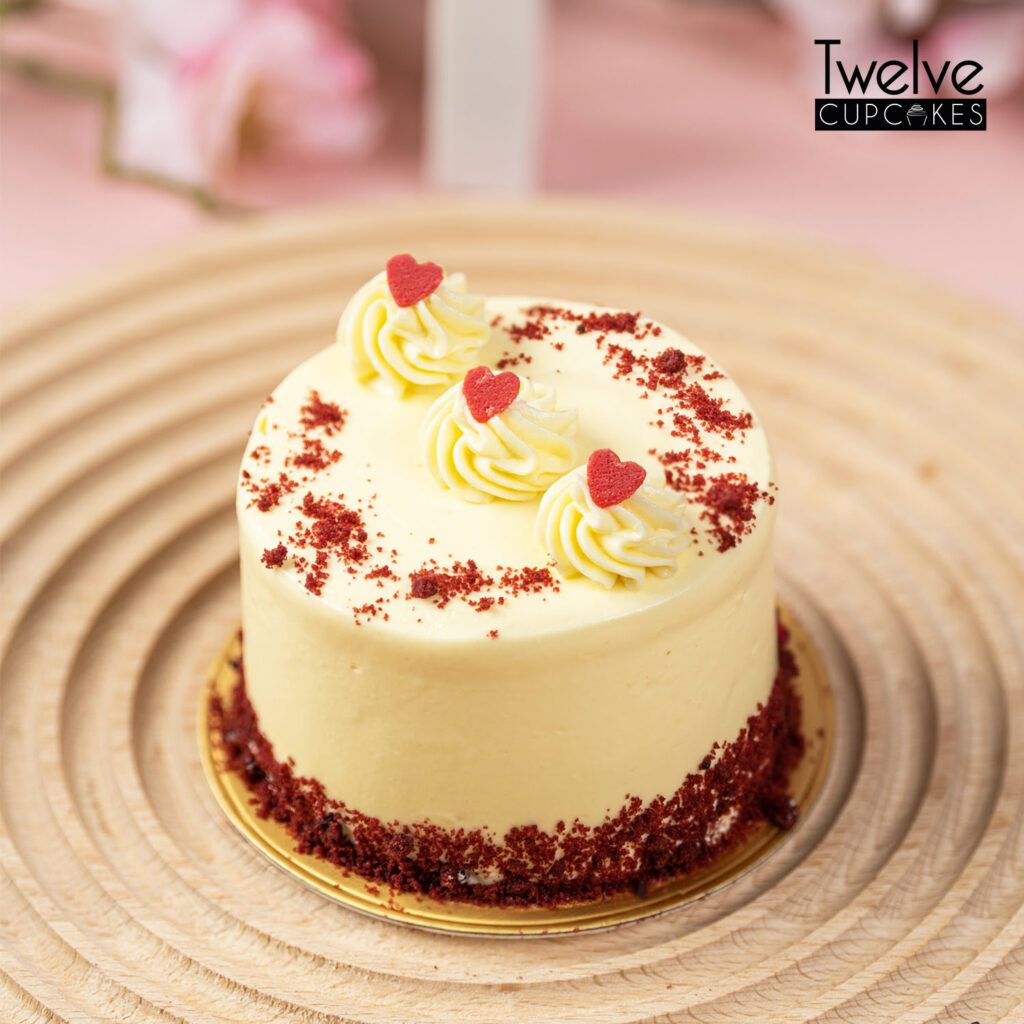 Honey Cake – This cake is incredibly moist and tender, with layers of honey-infused sponge cake and a light honey frosting. The delicate floral notes of the honey shine through, providing a unique and delightful flavor profile
Twelve Cupcakes Menu Cupcakes
This menu consists of cupcake boxes, each of which has a different number of cupcakes inside.
Box of 3 Cupcakes – The 3 cupcakes included in this box has the perfect balance of cake and frosting making them moist, fluffy, and bursting with flavors! This is the perfect choice for those seeking small but filling and delicious treats.
Box of 6 Cupcakes – This box is a great choice for those who want to sample a variety of flavors or share with friends and family. This box includes six delicious cupcakes, each with its own unique flavor and frosting, and are beautifully decorated, making them a delightful centerpiece for any occasion.
Box of 12 Cupcakes – This box features an assortment of twelve mouthwatering cupcakes in a range of flavors, ensuring there's something for everyone. From classic flavors like vanilla and strawberry to more adventurous options like matcha and cookies and cream, these cupcakes are a crowd-pleaser.
Twelve Cupcakes Menu Animal Cakes
This menu is made up of a variety of animal-themed cakes that are perfect for kids' birthday celebrations.
The Cuddly Bear NEW!!! – This animal-themed cake features a charming bear design, complete with fluffy frosting fur and cute fondant details. The cake itself is moist and flavorful, making every bite a delightful experience that will surely bring smiles and create lasting memories.
Hoot Wise Old Owl Cake – This cake showcases an old owl atop a tree branch, with intricate icing details that bring the design to life. The cake has layers of beautiful cake and wonderful frosting, making it not only visually appealing but delicious in terms of taste as well.
Cutie Hedgehog – This cake features a hedgehog design, complete with textured frosting resembling hedgehog spines and cute fondant accents. The cake's layers of cake and icing work perfectly together, and the texture of the cake is moist and flavorful in taste.
Cakes
This menu is made up of delicious and beautiful cakes, available in different flavors and sizes.
Coconut Passionfruit – The cake layers in this cake are moist and fluffy, infused with the tropical essence of coconut. The passionfruit filling adds a burst of tanginess that perfectly balances the sweetness.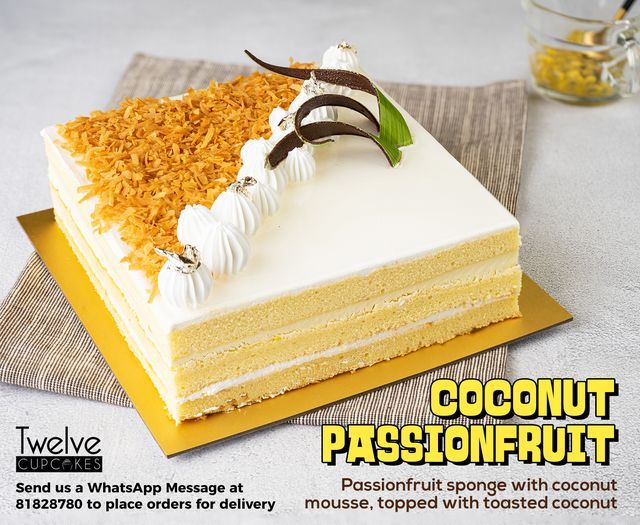 Rocky Choco Crunch – This cake features rich and decadent chocolate cake layers that are generously filled with chocolate ganache and topped with a generous sprinkling of crunchy chocolate balls. Each bite offers a delightful combination of textures, with the moist and velvety cake contrasting with the crunchy chocolate bits.
Dark Chocolate Praline – This cake showcases layers of rich and moist dark chocolate cake that are layered with luscious chocolate ganache and topped with a delightful praline crunch. The intense flavors of dark chocolate in this cake are complemented by its sweet and nutty toppings.
Eggless Cakes
This menu includes a variety of flavors and designs to choose from, allowing individuals to enjoy delicious and beautifully crafted cakes without the use of eggs. This menu could serve as a great option for those customers who are looking for egg-free alternatives.
Mini Cupcakes
This menu is made up of a variety of delightful bite-sized treats that pack a punch of flavor. Despite their smaller size, these mini delights are bursting with all the goodness you'd expect from Twelve Cupcakes. Each mini cupcake is beautifully decorated, showcasing intricate designs and vibrant colors that make them visually appealing.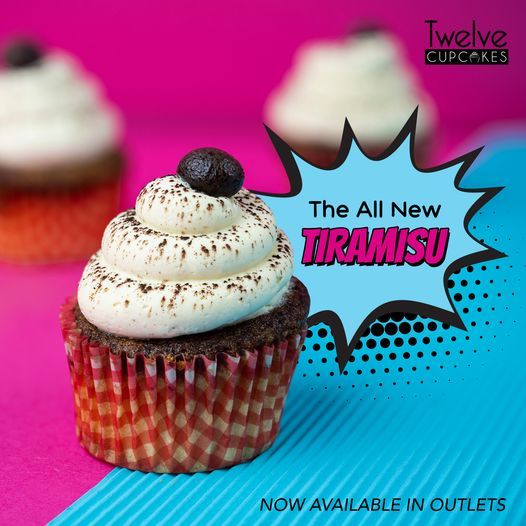 Twelve Cupcakes Menu Delivery
Twelve Cupcakes menu delivery brings their great-tasting and affordable cupcakes right to your doorstep. You can order your favorite treat at Twelve Cupcakes without having the need to go outside! Instead, you can use your mobile devices and order through third-party delivery services like FoodPanda.
Social Media Pages
Share your cupcake adventures, connect with fellow cupcake lovers, and let the sweetness unfold. Experience the magic of Twelve Cupcakes, where every cupcake tells a story and brings a smile to your face. Follow their social media pages to stay up to date with their delectable cupcake creations, seasonal flavors, and exciting promotions. Step into their store and be greeted by a charming display of beautifully crafted cupcakes, baked with love and care.
Facebook: https://www.facebook.com/profile.php
Instagram: https://www.instagram.com/twelvecupcakes
Twitter: https://twitter.com/twelvecupcakes
YouTube: https://www.youtube.com/@twelvecupcakes
Website: https://twelvecupcakes.com/order-now
FAQs
Where are the Twelve Cupcakes outlets located in Singapore?
You can find an outlet at 1 Hougang Street 91 #01-12. Singapore 538692.
What types of cupcakes do Twelve Cupcakes Singapore offer?
They provide a diverse selection of flavors, ranging from classic favorites to innovative creations which include Red Velvet, Chocolate Salted Caramel, Cookies and Cream, Strawberry Vanilla, and Pandan Coconut.
Can I preorder cupcakes for special occasions or events at Twelve Cupcakes Singapore?
Twelve Cupcakes requires advance notice for any pre-orders.
Do Twelve Cupcakes Singapore cater for larger events or parties?
Yes, Twelve Cupcakes Singapore also offers catering services for larger events or parties.
Do Twelve Cupcakes have any halal certifications?
All desserts offered at Twelve Cupcakes are all halal-certified.
Conclusion
Twelve Cupcakes is the perfect place for all the cupcake lovers in Singapore! They have a wide selection of different flavors, and expertly crafted treats, and their attention to detail in each one of their products is unrivaled. Twelve Cupcakes delivers on taste and presentation whether you're seeking a classic favorite or a unique flavor combination which makes it a must-visit for anyone with a sweet tooth. Visit Twelve Cupcakes to enjoy their sweet treats and find yourself lost in the new world of sweetness!