The Jollibean menu is known for its high-quality soy beverages. The soy milk it serves is sourced from Canada and made fresh daily to give customers nutritious, delicious, and high-quality beverages. It also offers traditional pancakes and mini rolls stuffed with tasty fillings such as peanut spread, red beans, brown coconut, cheese, chocolate, and pandan kaya. This restaurant provides combo sets and limited-time offers where you can enjoy its products at an affordable price. 
You can find the updated pricing information for the Jollibean menu below.
MENU
PRICE (SGD)

Limited Time Offers

20% Off Joy Bundle
$7.30
Brown Sugar Bobba Horlicks Soyfreeze
$5.90
Brown Sugar Bobba Horlicks Soyfreeze + Mee Chiang Kueh
$7.90
Horlick Bobba Soy
$5.20
Hot Horlicks Bobba Soy + Mee Chiang Kueh
$7.50
Iced Brown Sugar Bobba Horlick
$5.90
Iced Brown Sugar Bobba Horlicks Soy + Mee Chiang Kueh
$7.90

Oat Milk by Oatly

Banana Oatfreeze
$6.00
Chocolate Oatfreeze
$6.00
Iced Chocolate Oat Milk
$5.70
Iced Mocha Oat Milk
$5.70
Iced Vanilla Oat Milk
$5.20
Mocha Oatfreeze
$6.00
Vanilla Oatfreeze
$6.00

Mee Chiang Kueh

Brown Coconut Mee Chiang Kueh
$2.70
Hazelnut Peanut Mee Chiang Kueh
$3.70
Peanut & Red Bean Mee Chiang Kueh
$2.70
Peanut Mee Chiang Kueh
$2.60
Red Bean Mee Chiang Kueh
$2.60

Mini Rolls

Cheese Mini Rolls
$4.30
Mixed Mini Rolls
$4.00
Peanut Mini Rolls
$4.00
Red Bean Mini Rolls
$4.00

Jolli Pancake

Cream Cheese Soy Waffle
$5.20
Soy Waffle
$2.70

Maru

Chocolate Fudge Maru
$2.40
Double Cheese Maru
$3.00
Pandan Kaya Maru
$2.30
Peanut Maru
$2.20
Red Bean Maru
$2.20

Stay Crisp

Hazelnut Stay Crisp
$2.30
Peanut Stay Crisp
$2.20
Red Bean Stay Crisp
$2.20

Combo Sets

Jolli Set JOLLI (1 Classic Soymilk, 1 Classic Soy Pudding & 1 Mee Chiang Kueh)
Jolli Bundle Set JOLLI (1 Classic Soymilk, 1 Chewy Pearls Soy, 1 Chocolate Fudge Maru Pancake, 1 Classic Soy Pudding, 1 Waffle, 1 Stay Crisp Peanut Pancake, & 1 Mee Chiang Kueh)
$16.20

Bean Curd

Almond Soy Beancurd
$3.70
Ginger Juice Beancurd
$2.80
Grass Jelly Beancurd
$2.80
Gula Melaka Beancurd
$2.80
Soy Beancurd
$2.40
Choice of Dessert Toppings
Chewy Pearls
$1.00
Azuki Red Beans
$1.00
Grass Jelly
$1.00

Soy Pudding

Almond Soy Pudding
$3.40
Classic Soy Pudding
$2.70
Choice of Dessert Toppings
Chewy Pearls
$1.00
Azuki Red Beans
$1.00
Grass Jelly
$1.00

Jfreeze Series

Azuki Red Bean Soy Freeze
$4.30
Coffee Soy Freeze
$4.30
Dark Chocolate Soy Freeze
$4.30
French Vanilla Soy Freeze
$4.30
Jspecial J
$4.70
Matcha Soy Freeze
$4.30
Mocha Soy Freeze
$4.30
Choice of Dessert Toppings
Chewy Pearls
$1.00
Azuki Red Beans
$1.00
Grass Jelly
$1.00

Ready To Drink

Coconut Water
$2.50
Pack Oatly Oat Milk
$9.00
Soymilk - Collagen
$2.50
Soymilk - Original
$2.50
Soymilk Red Dates
$2.50

Bottled Beverages

Almond Soy
$4.00
Chewy Pearls Soy
$3.90
Chocolate Soy
$4.00
Classic Soy Milk
$2.80
Coffee Soy
$4.00
Ginger Soy
$3.50
Grass Jelly Drink
$2.80
Grass Jelly Soy
$3.50
Gula Melaka Soy
$3.20
Matcha Soy
$3.70
Choice of Dessert Toppings
Chewy Pearls
$1.00
Azuki Red Beans
$1.00
Grass Jelly
$1.00
About Jollibean 
Jollibean is one of the brands managed by Jollibean Foods Pte Ltd and was founded in 1995. The management aims to bring the traditional and well-loved snacks and beverages commonly served in wet markets into a more convenient location so people can comfortably enjoy them. Its name is derived from Jolli and bean, meaning joy in consuming soy products. 
Jollibean Menu Best Seller 
Jollibean is known for its healthy beverages and flavorsome pancakes that are gratifying. The best sellers of Jollibean are well-loved yummy treats and comfort food that gives joy to its customers. 
Classic Soy Milk – A traditional drink made from nutritious soybeans. This classic drink is well-loved for its creaminess and the essential nutrients that it contains. It can be enjoyed anytime, anywhere, as it is placed in a bottle. 
Classic Soy Pudding – One of the favorite desserts of its patrons as it has a soft, creamy, and smooth texture. It has a melt-in-your-mouth goodness and classic taste that always impresses customers. 
Peanut Mee Chiang Kueh – This mee chiang kueh has a surprising goodness that makes every bite satisfying. The crunchiness of crushed peanuts complements perfectly with the chewy and fluffy pancake.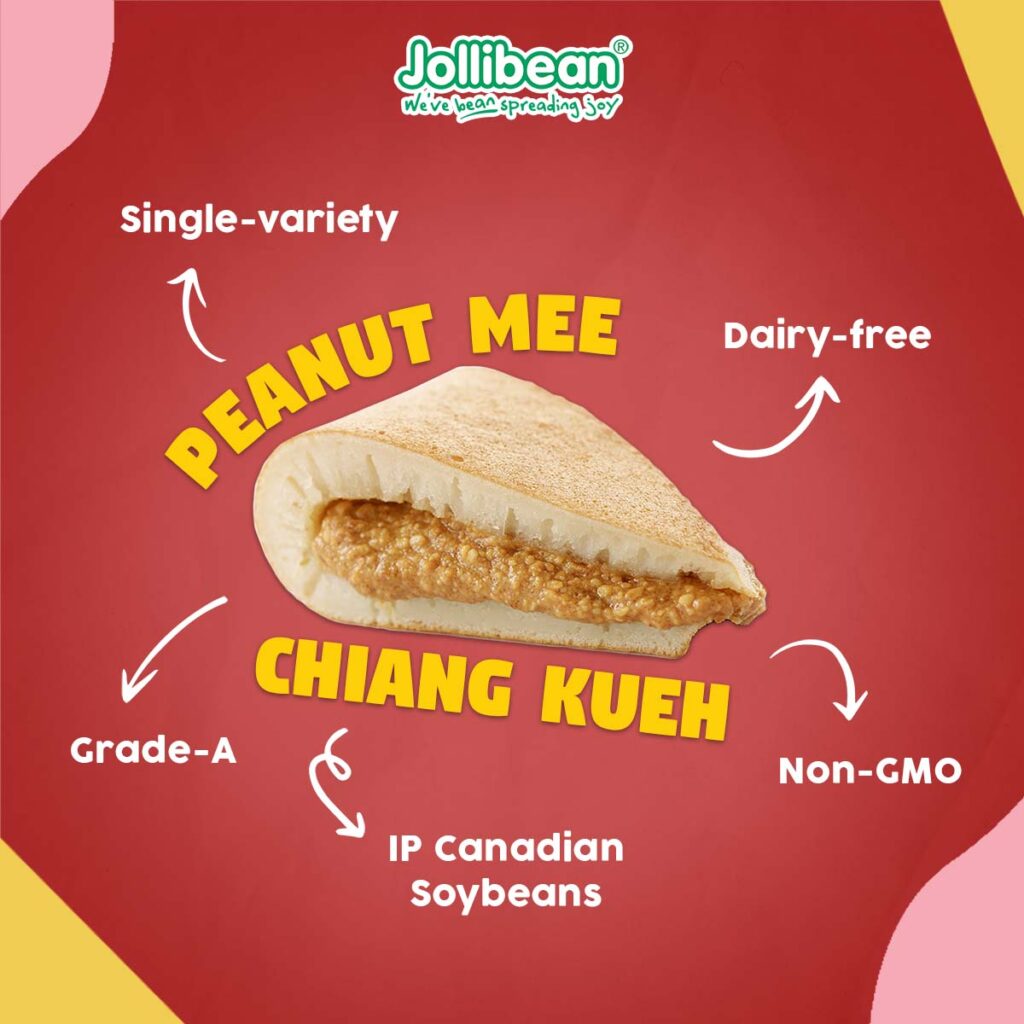 Almond Soy – It is one of the Singaporean favorite drinks, as most of its crowds said it is better than fresh milk. This almond soy drink is known for its diverse nutritional profile, low content of carbohydrates, and a great source of vitamins E and D. 
Mixed Mini Rolls – Enjoy the various rolls served by Jollibean with these mixed mini rolls. Customers can choose between three peanuts and three red beans or two peanuts, two red beans, and two cheese. 
Jollibean Menu Oat Milk by Oatly 
Oatly is a brand that specializes in oat milk. Jollibean uses this oat milk to create comforting beverages. These drinks are available in sugar-free variants for those who want a healthier or less sweet drink. 
Iced Mocha Oat Milk – This iced mocha oat milk is an excellent choice for coffee lovers. It is a chilled coffee drink with a luscious chocolate taste and healthy oat milk. It has a fancy presentation and delicious flavor that encourages people to try it. 
Iced Chocolate Oat Milk – Chocolate is the most-sought flavor of drink that is always a hit for people from different walks of life. It has a rich flavor and luscious taste making them feel good in every sip. 
Vanilla Oatfreeze – Vanilla oatfreeze is a guilt-free beverage with mouthwatering goodness, making it one of the perfect drinks for those not into sweet flavors. This is a nutritious refresher as it is made with wholesome ingredients.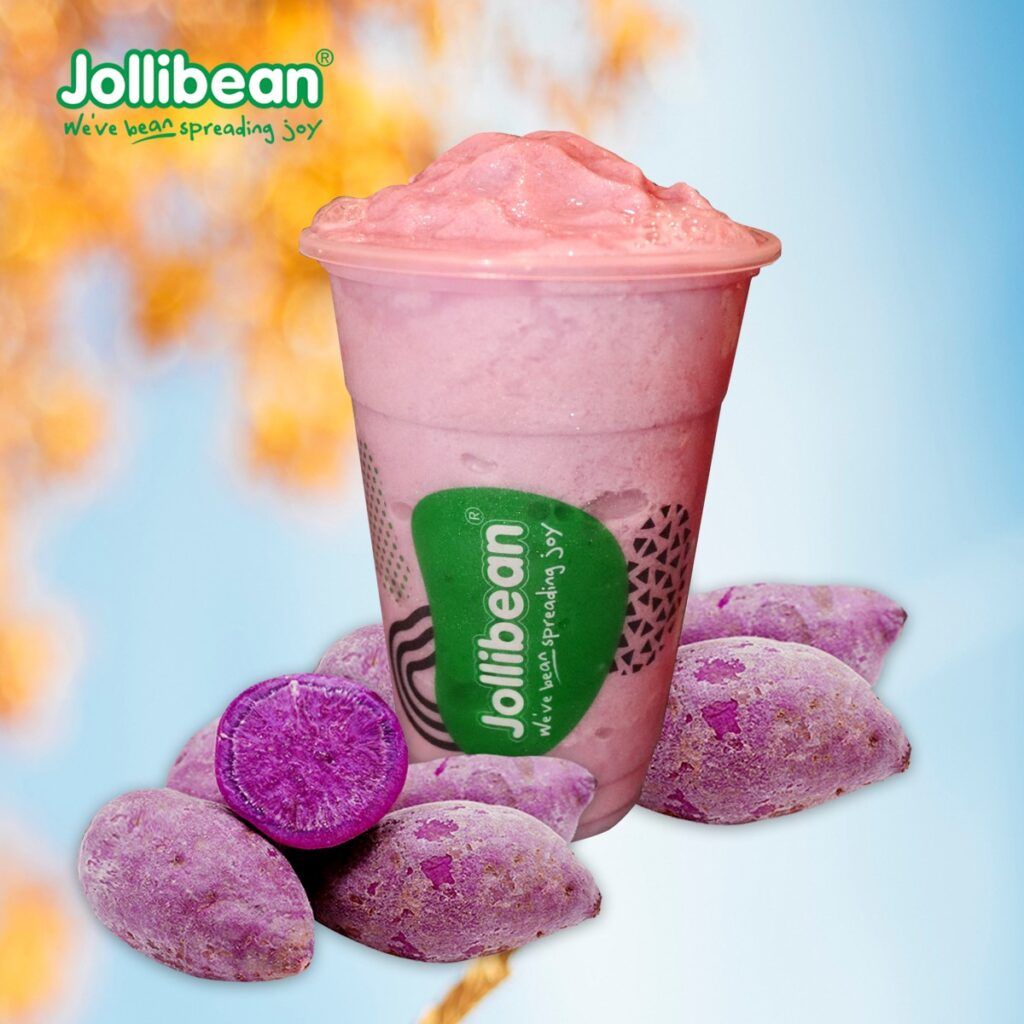 Jollibean Menu Mee Chiang Kueh 
Mee Chiang Kueh is a traditional fluffy and soft pancake popular in Singapore, China, and Malaysia. The flavors of this pancake offered by Jollibean consist of peanut, red bean, hazelnut peanut, and brown coconut.
Hazelnut Peanut Mee Chiang Kueh – It is a delicious pancake stuffed with hazelnut and peanut. Hazelnut gives musty and earthy notes, while the peanut imparts a creamy texture and nutty and sweet taste. The triangular shape of this pancake and its luscious taste will surely satisfy your cravings. 
Brown Coconut Mee Chiang Kueh – The grated coconut gives this pancake a nutty, mildly sweet flavor and chewy texture. It has the right amount of sweetness that makes it appetizing. 
Peanut & Red Bean Mee Chiang Kueh – If you love peanuts and red beans, this is an ideal choice. The sweetness of red beans and the satisfying taste of peanut butter are combined perfectly in this delicious pancake. 
Jollibean Menu Mini Rolls 
The mini rolls offered by Jollibean Singapore consist of flavorsome and classic fillings stuffed in soft and thick bread. Each box contains six delicious rolls, making it perfect for sharing. 
Red Bean Mini Rolls – One of the popular products of Jollibean makes people return for more. Each bite of this mini roll is gratifying as the filling and bread work beautifully together, resulting in a tasty snack. 
Peanut Mini Rolls – Peanut is one of the famous spreads loved by people from around the world. This mini roll's soft and thick bread is filled with a generous amount of peanut butter. 
Cheese Mini Rolls – It is a simple roll with an undeniably delicious taste, making it one of the crowd's favorite comfort foods, as it can satisfy the cravings of kids and adults. The cheesy goodness of this bread pairs perfectly with soft bread. 
Maru 
Maru is a circular-shaped pancake filled with different fillings. These pancakes are remarkable for their delicious fillings and fluffy and moist texture. The fillings or flavors offered by Jollibean are cream cheese, sweet and savory crushed peanuts, creamy chocolate sauce, sweet pandan kaya, and sweet red bean paste.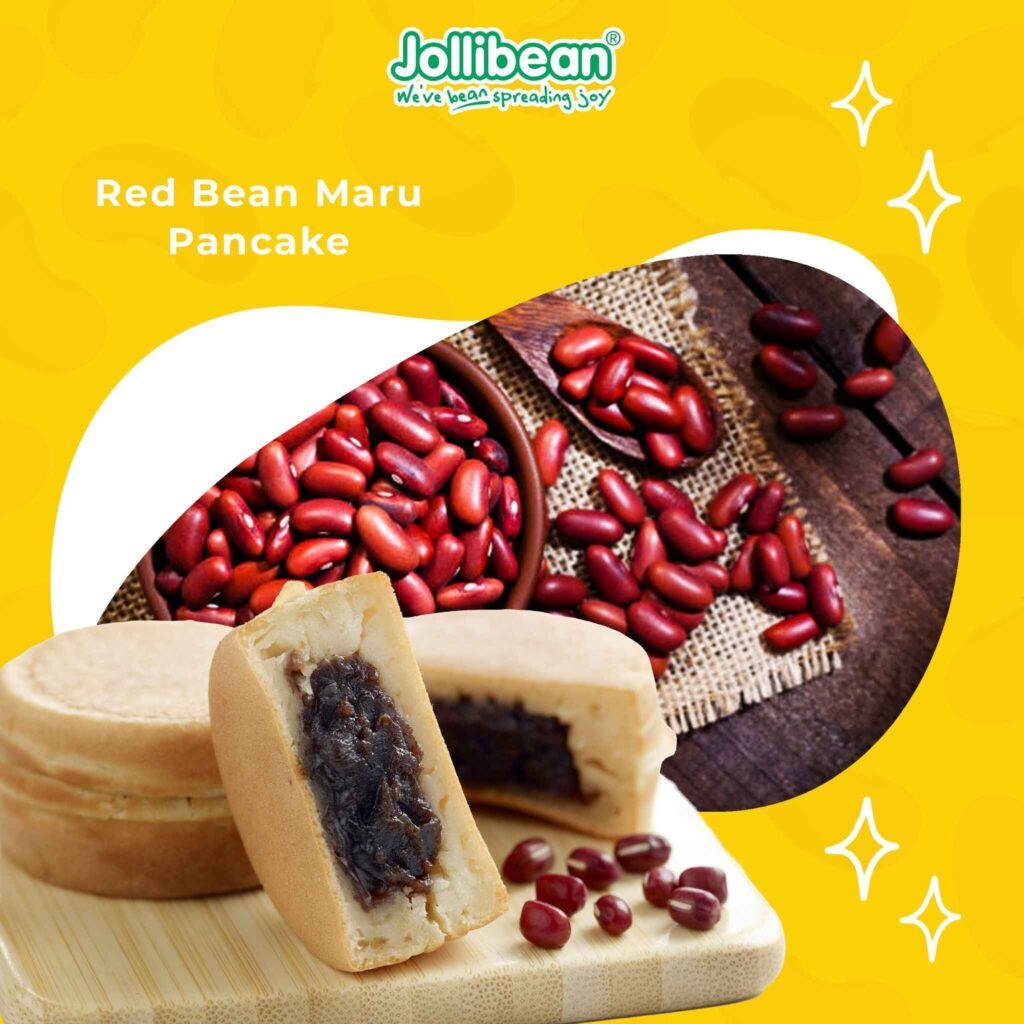 Stay Crisp 
Stay crisps consist of flat or thin pancakes where a delicious filling. It has a crispy texture and triangular shape that makes it look enticing. This restaurant serves Hazelnut Pancake, where chocolate is spread on top of the pancake and garnished with hazelnut; Peanut Pancake, flavored with sweet and savory peanut spread; and Red Bean Pancake, a pleasurable snack topped with sweet red bean paste. 
Jollibean Menu Delivery 
The pancakes and beverages of Jollibean are available for delivery so that you can enjoy them anywhere. Place your orders through the website or application of Foodpanda, GrabFood, or Deliveroo. 
Social Media Pages
Craving delicious and wholesome treats? Look no further than Jollibean, where taste and quality are always at the forefront. Follow our social media pages to stay updated on the latest offerings, promotions, and exciting menu additions.
Facebook: https://www.facebook.com/JollibeanSingapore
Instagram: https://www.instagram.com/jollibean_sg
Website: https://www.jollibean.com.sg/contact.html
FAQs 
Where can I find Jollibean outlets in Singapore? 
Jollibean Singapore has outlets in the following areas: 
Ang Mo Kio Hub (#B2-29 53 Ang Mo Kio Avenue 3 Ang Mo Kio Hub, 569933 Singapore) 
Bugis Junction (#B1-KO9 200 Victoria St Bugis Junction, 188021 Singapore)
Bukit Timah Plaza (#L1-RK1 1 Jalan Anak Bukit Bukit Timah Plaza, 588996 Singapore)
Changi Airport (#B2-13, Singapore Changi Airport 65 Airport Boulevard Terminal 3 North, 819663 Singapore)
IMM (#01-37 2 Jurong East St 21 IMM Building, 609601)
Jewel (78, Airport Boulevard, #B2-259, Singapore 819666)
Lavendar (#B1-02 Lavender MRT Station 50 Kallang Road, 208699 Singapore)
MBLM (#B2-35 8A Marina Boulevard Marina Bay Link Mall, 018984 Singapore)
Mt Alvernia (#01-31 Mount Alvernia Hospital 820 Thomson Road, 574623 Singapore)
Nex (#03-K7/K8 23 Serangoon Central Nex, 556083 Singapore)
NTFH (#02-31 1 Jurong East Street 21, 609606)
Parkway Parade (#01-14A 80 Marine Parade Rd Parkway Parade, 449269 Singapore)
Pioneer MRT (#02-03 31 Jurong West Street 63 Pioneer MRT Station, 648310 Singapore)
Raffles Xchange (#B1-42 5 Raffles Place MRT Station, 048618 Singapore)
Rivervale Mall (#01-12 11 Rivervale Crescent Rivervale Mall, 545082 Singapore)
Seletar (#B2-K1 33 Sengkang West Ave, Singapore 797653)
Shaw House (#01-03 350, Orchard Road Singapore 238868)
Tanjong Pagar MRT (#B1-04 120 Maxwell Road Tanjong Pagar MRT Station, 069119 Singapore)
What are the signature products at Jollibean? 
The signature products of Jollibean are fresh and high-quality soy milk prepared using Grade A, identity-preserved, and non-genetically modified organisms from Canada. 
Does Jollibean serve any non-soy-based products? 
Yes, the non-soy-based products that it serves are mini rolls and pancakes. 
Can I customize my order at Jollibean? 
Yes, you can customize your order at Jollibean by choosing a sugar-free drink or adding additional toppings. 
Is Jollibean halal-certified? 
Yes, Jollibean is a halal-certified restaurant in Singapore. 
Conclusion
Soy beverages are the highlight of the Jollibean menu. It also serves traditional mini rolls and pancakes that complement its beverages. This restaurant's wholesome and quality products bring joy to its customers and community. This restaurant also hosts charitable activities and donates unsold products at their chosen charitable institution at the end of each day so that more people can experience the goodness of their products.