Jewel Coffee offers a diverse and enticing menu that goes beyond your typical coffee shop as their menu was designed to cater to different tastes and preferences to ensure that there's something for everyone. In addition to its exceptional coffee offerings, Jewel Coffee also provides a selection of delectable pastries, sandwiches, and light bites to accompany your beverage of choice. If you love coffee and are looking for a coffee shop with great-tasting and aromatic coffee paired with a tranquil environment to enjoy your coffee, then Jewel Coffee is the place for you!
You can find the updated pricing information for the Jewel Coffee menu below.
MENU
PRICE (SGD)

Kitchen

Mushroom Cream sauce spaghetti
$13.20
Beef Bolognese
$13.20
Chicken Bolognese
$13.20
Beef Lasagna
$13.20
Chicken Lasagna
$13.20
American Beef Pie
$8.20
Chicken Mushroom Pie
$8.20
Ham Spinach Quiche
$8.20
Rendang Beef Pie
$8.20
turkey beef gravy pie
$8.40
chilli crab pie
$8.40
Chicken Ham & Mushroom Mac & Cheese
$10.50
Nonya Laksa
$10.50
Penne With Chicken Bolognese
$10.50
Spaghetti Carbonara
$10.50

Pizza

Margherita Pizza
$14.20
Mushroom and cheese pizza
$14.20
Hawaiian Pizza
$14.20
Beef Pepperoni Pizza
$14.20

Sandwiches and Wraps

beef bulgogi wrap
$8.20
egg & sausage wrap
$8.20
vegetarian cilantro wrap
$8.20
Ham, Egg & Cheese English Muffin
$7.20
Bulgogi chicken sandwich
$11.20
Sriracha Tuna Pita
$11.50
Fajita Chicken Sandwich
$11.20
Tex Mex Beef Wrap
$11.50
Tandoori Chix Wrap
$11.20
smoked salmon sandwich w horseradish mayo
$12.80
Thai Chicken Wrap
$8.20
Roasted Beef sandwich
$12.10
Thai green curry chicken wrap
$8.20
Turkey Ham Tomato Wrap
$8.20

Pastries and Cakes

Kouign Amann
$4.60
Sticky Cinnamon bun W/Pecans
$5.10
Almond Croissant
$4.80
Pain Au Chocolate
$4.30
Croissant
$4.10
Chocolate Muffin
$5.20
Blueberry Muffin
$5.20
Banana Walnut Muffin
$5.20
Sausage Roll
$6.20
Curry Chicken Puff
$6.20
Bubble Gum Cake
$9.20
Rainbow Cake
$9.20
Ondeh Ondeh Cake
$7.80
Carrot Cake
$7.30
Chocolate Brownie
$7.10
Burnt Cheesecake
$8.30
Speculoos Cheesecake
$8.30
Chocolate Truffle Cake
$7.80
D24 Durian Choc Fudge Cake
$8.20
Cream Cheese
$1.50

Soup

Tomato Soup
$6.10
Mushroom Soup
$6.10

Cookies

Chocolate Chip Cookie
$4.40
Oatmeal Raisin Cookie
$4.40

Espresso Based

Oatmilk Gibraltar
$7.40
Espresso
$5.50
Macchiato
$5.50
The Gibraltar
$6.40
Soy Gibraltar
$7.40
Cappuccino
$6.60
Low Fat Cappuccino
$6.60
Soy Cappuccino
$7.60
Flat White
$7.10
Low Fat Flat White
$7.10
Latte
$7.10
Iced Latte
$8.10
Lowfat Latte
$7.10
Iced Low Fat Latte
$8.10
Soy Latte
$8.10
Soy Flat White
$8.10
Iced Soy Latte
$9.10
Mocha
$7.60
Iced Mocha
$8.60
Lowfat Mocha
$7.60
Soy Mocha
$8.60
Iced Soy Mocha
$9.60
Long Black
$6.30
Americano
$6.30
Iced Americano
$7.30
Cold Brew

Brew of the Day

$7.10
Brewed Coffee Chemex
$4.20
Brewed Coffee - V60
$7.00
Pokka Peach Tea
$7.10

Other Beverages

Polka Ice Lemon Tea
$3.30
Otis Oat Milk Everyday
$3.30
Otis Oat Milk Barista
$7.30
sparkling Fuji apple
$7.55
coca cola zero sugar
$3.60
Heaven and Earth Jasmine
$3.60
Oatmilk Macchiato
$6.50
Oatmilk Latte
$8.10
Iced Oatmilk Latte
$9.10
Oatmilk Cappucino
$7.60
Iced Tea
$7.10
Hot Chocolate
$7.60
Iced Chocolate
$8.60
Soy Hot Chocolate
$8.60
Iced Soy Chocolate
$9.60
Steamed Milk (12oz)
$4.90
Cold Milk
$4.90
Hot Soy Milk
$5.90
Cold Soy Milk
$5.90
Affogato
$8.70
Vanilla Thickshake
$10.10
Chocolate Thickshake
$10.10
Matcha Latte
$7.40
Iced Matcha Latte
$8.40
Matcha Frappe
$6.90
Chai Latte
$6.90
Iced Chai Latte
$7.90
Taro Latte
$6.90
Iced Taro Latte
$7.90
Taro Frappe
$8.40
Cookies & Cream Frappe
$7.90
JC Mineral Water
$3.10
Coconut Water
$3.80
Otis Choc Oat Milk
$7.55

Hot Teas

Earl Grey Tea
$6.10
English Breakfast Tea
$6.10
Sencha Tea
$6.10
Peppermint Tea
$6.10
Peony Jade Tea
$6.10
Chamomile Tea
$6.10

Desserts

Vanilla Ice Cream(Double Scoop)
$6.10
Single Scoop Vanilla Ice cream
$3.60
Choco Brownie with Vanilla or Chocolate Ice Cream
$8.10
Double scoop Chocolate Ice Cream
$6.10
Single scoop Chocolate Ice Cream
$3.60

Breakfast

Sesame Bagel
$4.90
Plain Bagel
$4.90
Cream Cheese
$1.50
Multigrain Bagel
$4.40
Cinnamon Raisin Bagel
$4.40

Healthy Snacks

Yoghurt Pot
$5.10

Juices

Orange Juice
$6.20
Lemonade
$6.20
About Jewel Coffee
Jewel Coffee is a renowned coffee establishment in Singapore, known for its commitment to quality coffee and exceptional service. This coffee shop has multiple locations across the city making it very accessible to locals which is why it has become a favorite destination for coffee lovers and casual customers alike. The atmosphere at Jewel Coffee is welcoming and comfortable, making it an ideal spot for catching up with friends, getting work done, or simply enjoying a moment of tranquility with a cup of coffee. 
Jewel Coffee Menu Best Seller
This menu is made up of the most ordered dishes from Jewel Coffees' physical and online stores.
Tex-Mex Beef Wrap – This dish is a delightful fusion of flavors made from tender beef that was seasoned with Tex-Mex spices, and wrapped in a soft tortilla along with fresh vegetables. The combination of savory beef, crunchy veggies, and zesty sauce creates a satisfying and flavorful bite.
Bulgogi Chicken Sandwich –  This dish is made with grilled chicken marinated in a traditional Korean bulgogi sauce and sandwiched between two slices of bread along with fresh lettuce, tomatoes, and a special sauce. The tender and flavorful chicken paired with the refreshing veggies makes for a delicious and satisfying meal.
Hawaiian Pizza – The Hawaiian Pizza at Jewel Coffee is a classic favorite that combines sweet and savory flavors. Topped with a generous amount of juicy pineapple, savory ham, and gooey cheese, this pizza offers a perfect balance of flavors.
Beef Lasagna – It is a hearty and comforting dish that is layered with tender beef, rich tomato sauce, and melted cheese, giving this dish delicious flavors. The lasagna is baked to perfection, creating a golden and cheesy crust on top, and then served with a side salad.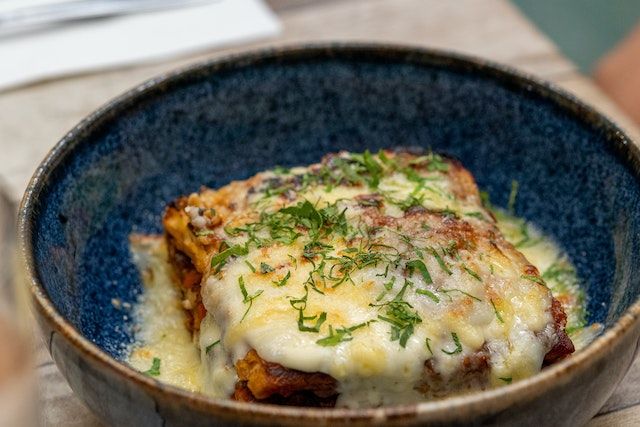 Chicken Lasagna – The chicken lasagna from Jewel Coffee is made up of tender pieces of chicken, creamy béchamel sauce, and a blend of cheeses. The lasagna is baked until golden and bubbly, creating a delicious and comforting dish that makes it a great option for those seeking a lighter alternative to traditional beef lasagna.
Jewel Coffee Menu Kitchen
This menu is made up of a selection of delicious and filling dishes from Jewel Coffee's kitchen.
Mushroom Cream Sauce Spaghetti – The spaghetti noodles in this dish are cooked to perfection and tossed in a rich and velvety mushroom cream sauce. The dish is further enhanced with the addition of sautéed mushrooms, which add a delightful earthy flavor and a satisfying texture.
Beef Bolognese – The hearty and flavorful sauce of this dish is made with ground beef, aromatic herbs, and tomatoes, creating a rich and savory combination. The sauce is served over al dente pasta, making it a satisfying dish that will please any pasta lovers.
Nonya Laksa – This traditional Peranakan dish features a fragrant and spicy coconut-based broth, filled with rice noodles, prawns, fish cake, tofu, and bean sprouts. The broth is infused with a medley of aromatic spices and herbs, giving it a depth of flavor that is both comforting and invigorating. 
Jewel Coffee Menu Pizza
This menu is made up of a wide variety of pizza items that are both filling and satisfying.
Margherita Pizza –  It features a thin and crispy crust topped with a simple yet delicious combination of fresh tomatoes, mozzarella cheese, and aromatic basil leaves. With the sweetness of the tomatoes, the creaminess of the cheese, and the basil, this pizza has one of the most balanced flavors at Jewel Coffee.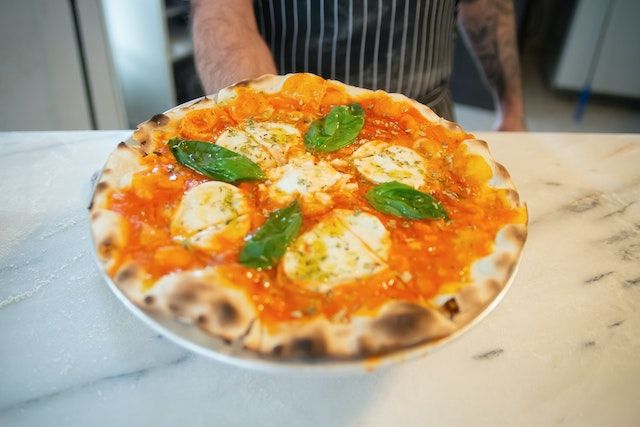 Mushroom and Cheese Pizza – This dish showcases a medley of sautéed mushrooms, including button mushrooms, shiitake mushrooms, and oyster mushrooms, generously spread over a thin crust. The mushrooms give the dish an earthy flavor, while the melted cheese adds a bit of a creamy touch to it.
Beef Pepperoni Pizza – It features a thin and crispy crust topped with flavorful beef pepperoni slices, which add a savory and slightly spicy kick to every bite. The combination of the slightly charred crust, gooey cheese, and zesty tomato sauce creates a mouthwatering flavor profile.
Sandwiches and Wraps
This menu is made up of a selection of sandwiches and wraps that are perfect for those who are looking for a light meal.
Ham, Egg & Cheese English Muffin – It features a freshly toasted English muffin filled with layers of thinly sliced ham, a perfectly cooked egg, and melted cheese. The combination of savory ham, creamy egg, and melted cheese gives the dish the perfect blend of flavors that you can't get enough of.
Sriracha Tuna Pita – It consists of warm pita bread filled with a zesty sriracha-infused tuna salad, crisp lettuce, and other fresh ingredients. The sriracha adds a fiery and tangy element to the tuna, while the crunchy vegetables provide a refreshing contrast.
Fajita Chicken Sandwich – It features tender grilled chicken strips seasoned with fajita spices, layered with a medley of grilled peppers and onions, and served on a soft and toasted bun. The combination of the well-seasoned chicken and the flavorful vegetables creates a delicious and satisfying bite.
Pastries and Cakes
Jewel Coffee's Pastries and Cakes menu offers a delightful selection of treats that perfectly complement its premium coffee offerings. Jewel Coffee's pastries and cakes are all freshly baked and prepared with care to ensure a delightful dining experience for every customer.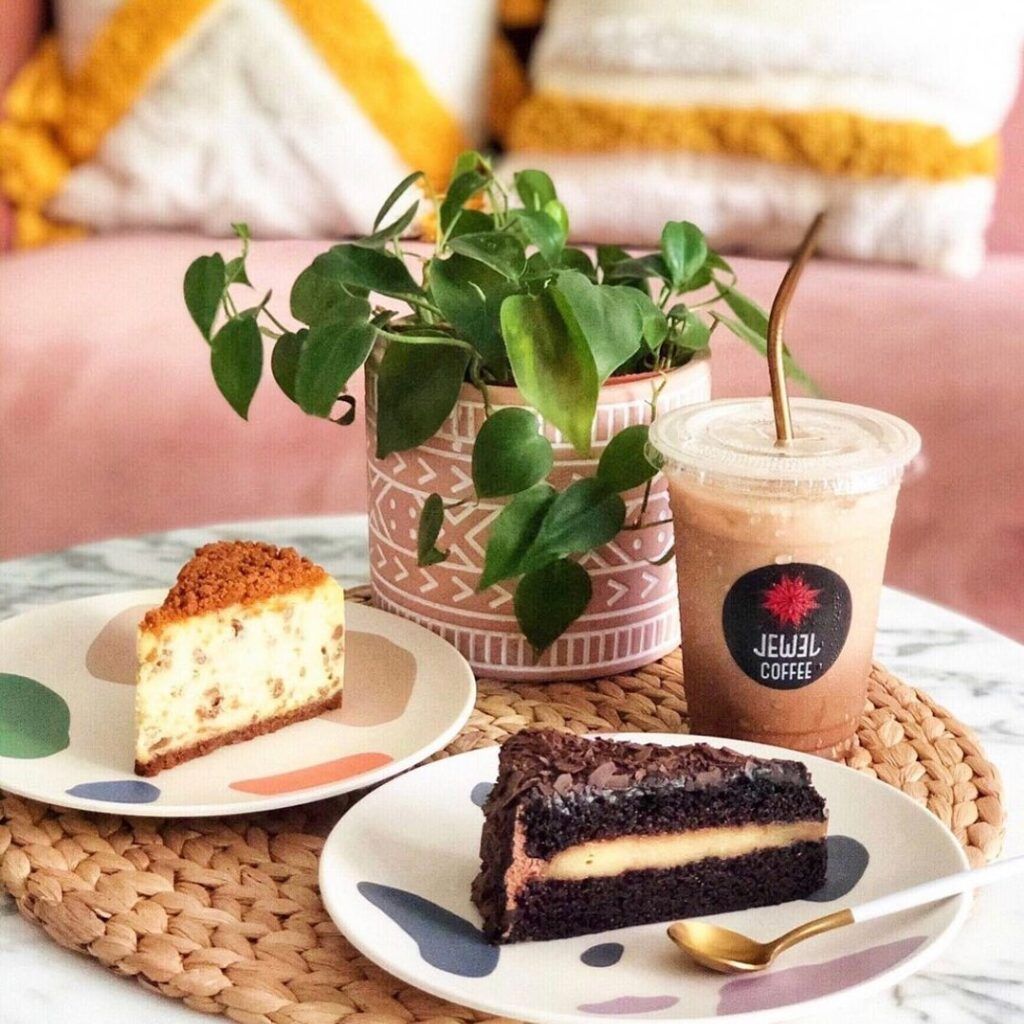 Soups
Jewel Coffee's Soups menu presents a delightful array of comforting and flavorful soups, designed to satisfy your cravings and provide a nourishing meal. Every soup dish on their menu is meticulously crafted using only the finest ingredients, guaranteeing a scrumptious and wholesome dining experience. Whether you're seeking warmth or seeking a hearty meal, Jewel Coffee's Soups menu is here to deliver both deliciousness and nourishment in every bowl.
Jewel Coffee Menu Delivery
Jewel Coffee's menu delivery option allows customers to enjoy their delicious menu offerings from the comfort of their own homes or offices. Customers can order their favorite items at Jewel Coffee with the help of third-party delivery applications like GrabFood.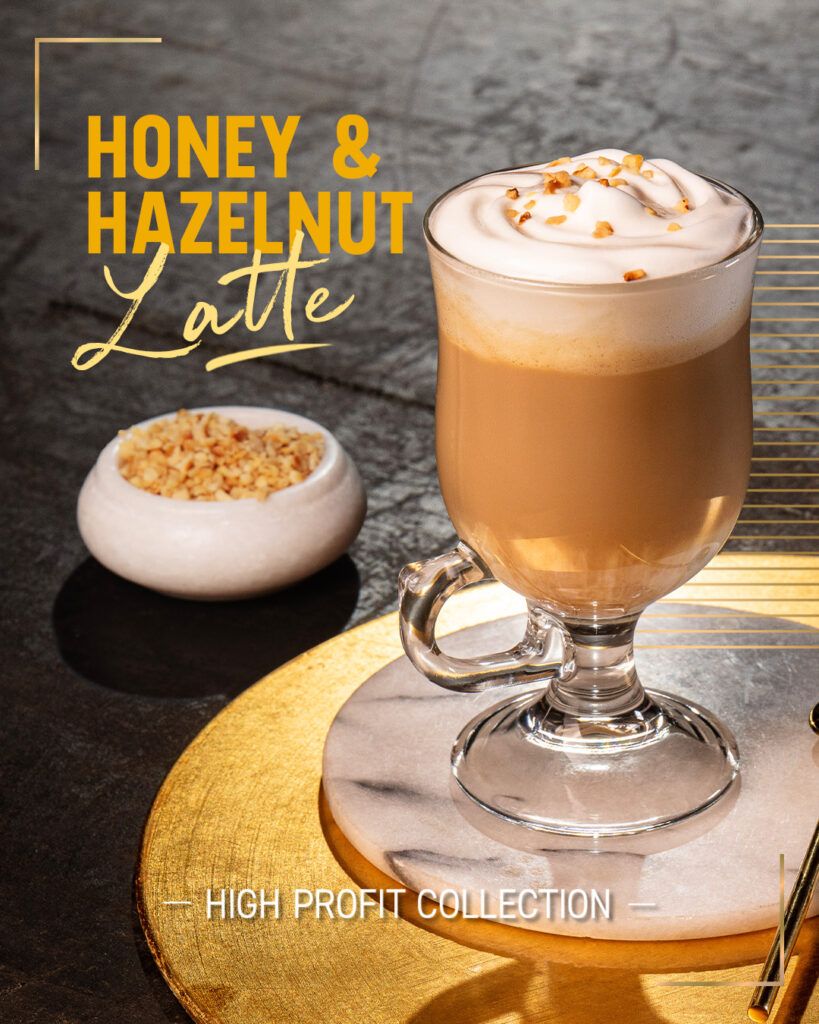 Jewel Coffee Social Media Pages
Follow them on social media to stay connected with their coffee community, get a glimpse behind the scenes, and be the first to know about our latest brews and promotions. Step into their inviting store and let our skilled baristas guide you through a personalized coffee experience, where passion and craftsmanship meet.
Facebook: https://www.facebook.com/Jewelcoffee
Instagram: https://www.instagram.com/jewelcoffeesg
Twitter: https://twitter.com/jewelcoffee
TikTok: https://www.tiktok.com/@jewelcoffee
Website: https://jewelcoffee.com/
FAQs
Where are the Jewel Coffee outlets located in Singapore?
You can find a branch of Jewel Coffee at 53 Ang Mo Kio Avenue 3 #B1-64A AMK Hub Singapore.
What types of coffee do they serve at Jewel Coffee?
They serve a variety of espresso-based beverages, single-origin coffee options, and specialty coffee creations.
Can I buy coffee beans at Jewel Coffee?
Yes, you can purchase coffee beans at Jewel Coffee's establishment.
Can I reserve a table at Jewel Coffee?
Yes, you are allowed to make reservations at Jewel Coffee.
Does Jewel Coffee have any halal certifications?
No, Jewel Coffee does not have halal certification.
Conclusion
Jewel Coffee's menu is filled with a wide range of specialty coffee options crafted with precision and passion. Their menu caters to diverse tastes and preferences, and they take pride in delivering exceptional coffee crafted with passion and expertise. From their espresso-based drinks to unique creations and gourmet snacks, Jewel Coffee ensures that their customers are full and satisfied. So what are you waiting for? Visit Jewel Coffee and let their skilled baristas guide you through a coffee experience that is truly a gem among the coffee shops of Singapore.