The Great Mischief menu is influenced by Catalan or Spanish cuisine. It offers appetizers, snacks, pasta, salad, seafood, meats, and desserts. This restaurant also offers a special menu for kids, such as nuggets and chips, fish and chips, and chicken sausage pasta. These dishes are known for their authentic taste and creative presentation, complementing the restaurant's luxurious ambiance. 
You can find the updated pricing information for The Great Mischief menu below.
MENU
PRICE (SGD)

Tapas

Calamares
$20.00
Callos Fritos
$12.00
Coliflor Tartina
$18.00
Croquetas
$12.00
Ensalada De Anchoas
$16.00
Gambas Al Ajillo
$20.00
Jorizo Tartina
$19.00
Padron Peppers
$13.00
Patatas Bravas
$16.00
Runaway Duck
$17.00
Tortilla De Patatas
$14.00

Gallery Favourites

Chorizo Burger
$22.00
Corderero
$23.00
El Grande
$28.00
El Pollo
$26.00
La Chicky Muffin
$20.00
La Verde
$21.00
Pescado & Chips
$28.00
Pescado Sando
$23.00
Sardinia
$23.00
Torrijas
$20.00

Kids

Chicken Sausage Pasta
$12.00
Fish and Chips
$12.00
Nugget and Chips
$12.00

Dulce (Sweets)

Burnt Cheesecake
$14.00
Churros
$14.00
Crema Catalana
$14.00

Sharing

Devesa Ribeye (300g)
$45.00
Devesa Ribeye (500g)
$75.00
Paella Valenciana
$54.00
Seafood Paella
$54.00
Short Ribs
$52.00
Whole Lemon Sole
$50.00

Mocktails

Berry Sangria
$15.00
Mint Meadow
$10.00
Peach Sangria
$15.00
Very Berry Lemonade
$10.00

Black Hole Brews

Black Cold Brew
$7.00
Cold Brew Tea
$7.00
White Cold Brew
$7.00

Tea By The Pot

British Breakfast
$8.00
Earl Grey
$8.00
Moroccan Mint
$8.00
Secrets of Singapore
$8.00

La Tautila

Blanco (Bottle)
$45.00
Blanco (Glass)
$12.00
Rose (Bottle)
$45.00
Rose (Glass)
$12.00
Tinto (Bottle)
$45.00
Tinto (Glass)
$12.00

Water

Purezza Sparkling
$3.00
Purezza Still
$3.00

Fresh Juice

Green Apple Juice
$6.00
Red Apple Juice
$6.00

Coffee

Babycino
$5.00
Black (6oz)
$5.00
Chocolate Caliente
$6.00
Espresso (3oz)
$3.50
White (6oz)
$5.00
Fresh Milk
$1.00
Ice
$1.00
Oat Milk
$1.00
Soy Milk
$1.00

Bottled (Gusto Organic Soda)

Fiery Ginger With Chipotle
$8.00
Real Cherry Cola
$8.00
Real Cola
$8.00
Sicilian Blood Orange
$8.00
Sicilian Lemon Yuzu
$8.00

Bottled (Santa Vittoria)

Ginger Ale
$7.00
Italian Sparkling Blood Orange
$7.00
About The Great Mischief 
The Great Mischief is one of the concepts of The Black Hole Group. It invokes mischief and creativity, giving diners a multi-sensory experience at National Gallery Singapore. The plating presentation of its dishes and the modern style of its interior design is inspired by the distinctive art of Antoni Gaudi, a pioneer designer and architect of Catalan Modernism. 
The Great Mischief Menu Best Seller 
The Great Mischief offers authentic dishes inspired by the culture of Spain. These are some of this restaurant's best sellers that give diners a unique, memorable, and multi-sensory dining experience. 
Croquettas – The croquettas this restaurant serves are made with turkey ham coated with special breading. It is laid on a spicy tomato sauce and garnished with mozzarella that balances its taste. This is one of the most popular items on its menu that is highly commendable by diners for its crispy batter and melt-in-your-mouth goodness. 
Chorizo Burger – Burgers and chips are two of the crowd's favorite comfort foods. This burger's spicy chorizo beef patty is notable for its juiciness and delicious taste, as it is well-seasoned with special spices and cooked expertly. The other ingredients of this burger are cheese, dill pickle, barbacoa salsa, and aioli.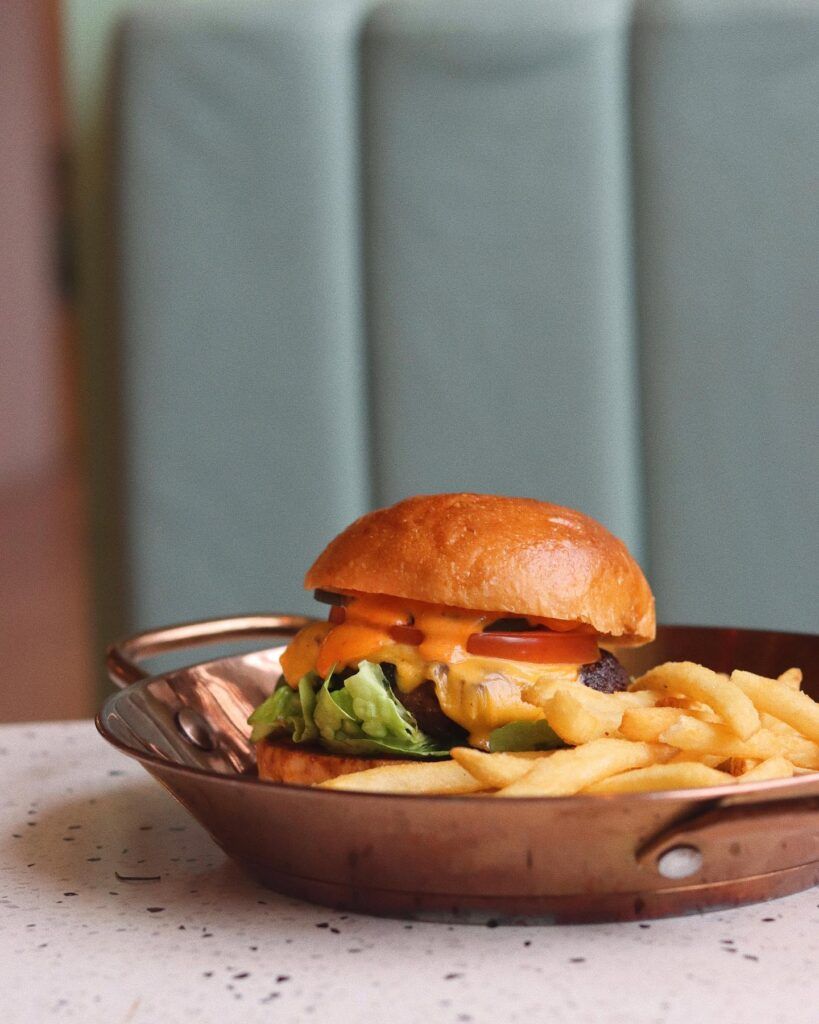 Patatas Bravas – Potatoes are fried until it achieves the perfect taste and texture. It is garnished with spicy tomato sauce and garlic aioli that complements well with it. A sunny-side-up egg is drizzled with herbs and laid on top, adding a velvety texture. 
Pescado & Chips – White fillet is coated with the restaurant's special blend of batter. The fillet and fries have a perfect balance of crispiness and tenderness. It comes with a special tartar sauce and lemon that enhances its flavor. 
Gambas Al Ajillo – It is made with fresh prawns sauteed with chili, aioli, and extra virgin oil. This garlic shrimp is one of the classic food items commonly served at Spanish restaurants. This dish's rich garlic flavor and distinctive taste make it one of this restaurant's best-selling cuisines.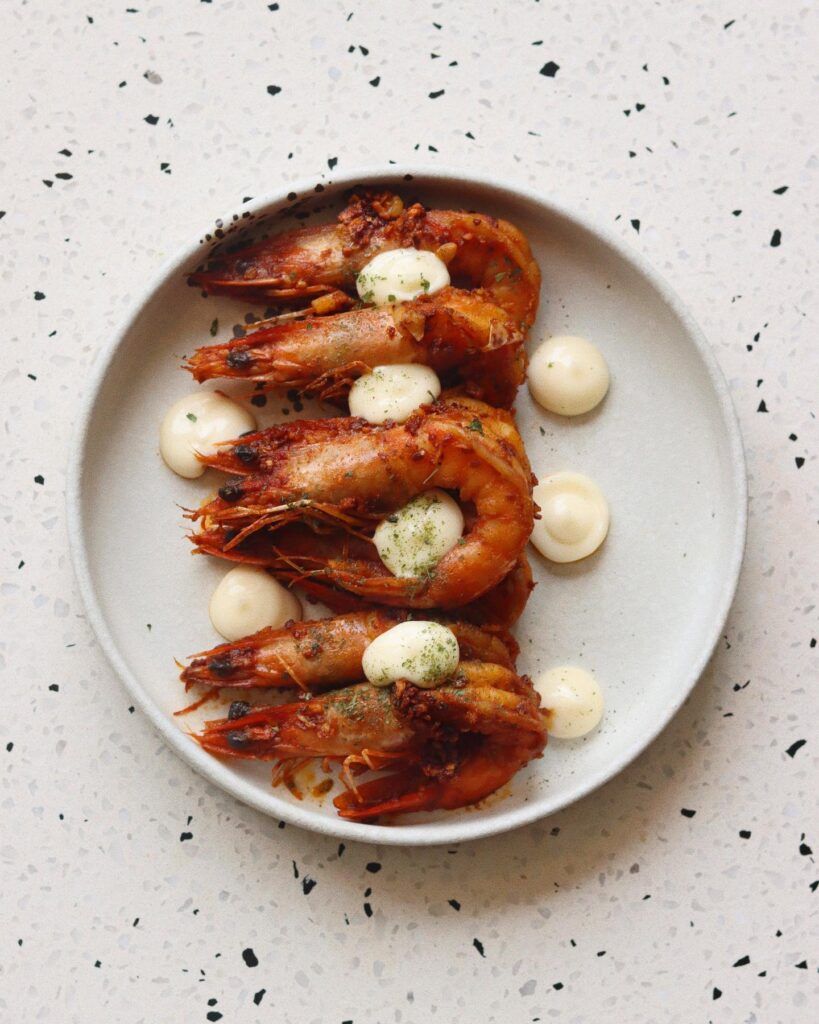 The Great Mischief Menu Tapas 
The tapas offered by The Great Mischief includes croquettes, fried dishes, beef tripe, meat, salad, baked good, seafood, and other comfort foods. These are light and flavorful dishes loved by people of all ages. 
Calamares – These squid rings are spiced with salt and masterfully coated with batter to make each bite satisfying. The roasted garlic aioli imparts an intense and savory flavor. It is dusted with sweet paprika, adding color and mild peppery flavor to the squid. 
Callos Fritos – Callos Frittos are made with deep-fried tripe tossed with spiced salt. It is served with garlic aioli to enhance its taste and texture. This dish is well-loved as it is packed with flavor and has a crispy and tender texture.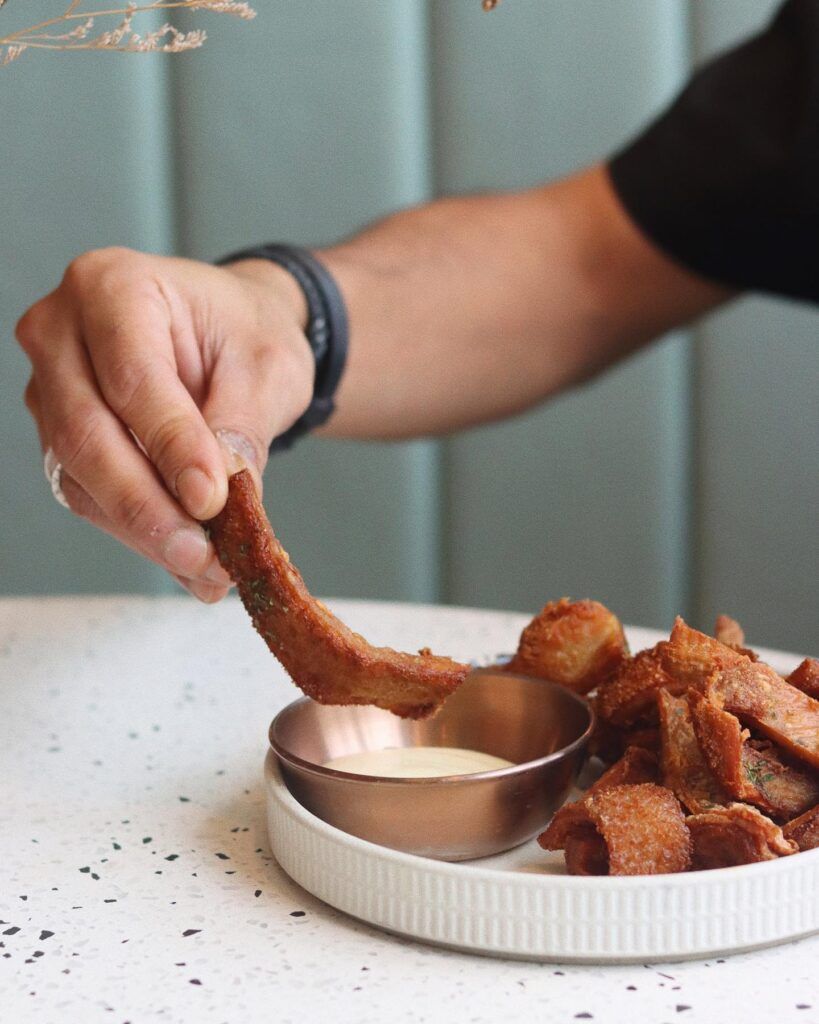 Padron Peppers – A simple dish made with charred peppers and garlic. These peppers are known for their small size and bright green color. Traditionally, it is cooked in olive oil until its skin becomes charred and blistered. 
The Great Mischief Menu Gallery Favourites 
These are the favorite cuisines of its customers that make their visit to the National Gallery more memorable. It includes burgers, pasta, fries, meat, French toast, and a breakfast set prepared using Catalan cooking techniques. 
El Pollo – The half-roasted chicken is rubbed with special spices and seasonings expertly to ensure the flavor is evenly distributed in every part. Mushroom ragu, watercress, and green peas are the other ingredients cooked with it to make it mouthwatering. This meat is doused with gravy that naturally enhances the flavor of the chicken. 
La Verde – This dish comprises pasta cooked with spinach, zucchini, chili, garlic, and grated grana padana. The green color of spinach and zucchini gives this dish an enticing presentation. It also has a perfect balance of creaminess and spiciness that gratifies each bite. 
La Chicky Muffin – It is a delicious muffin with a juicy and tender chicken patty, cheddar, tomatoes, and romaine. The tasty fries are served on its side to give diners a hearty meal. This la chicky muffin is a must-try dish of this restaurant as it has a surprising goodness that will stimulate your appetite.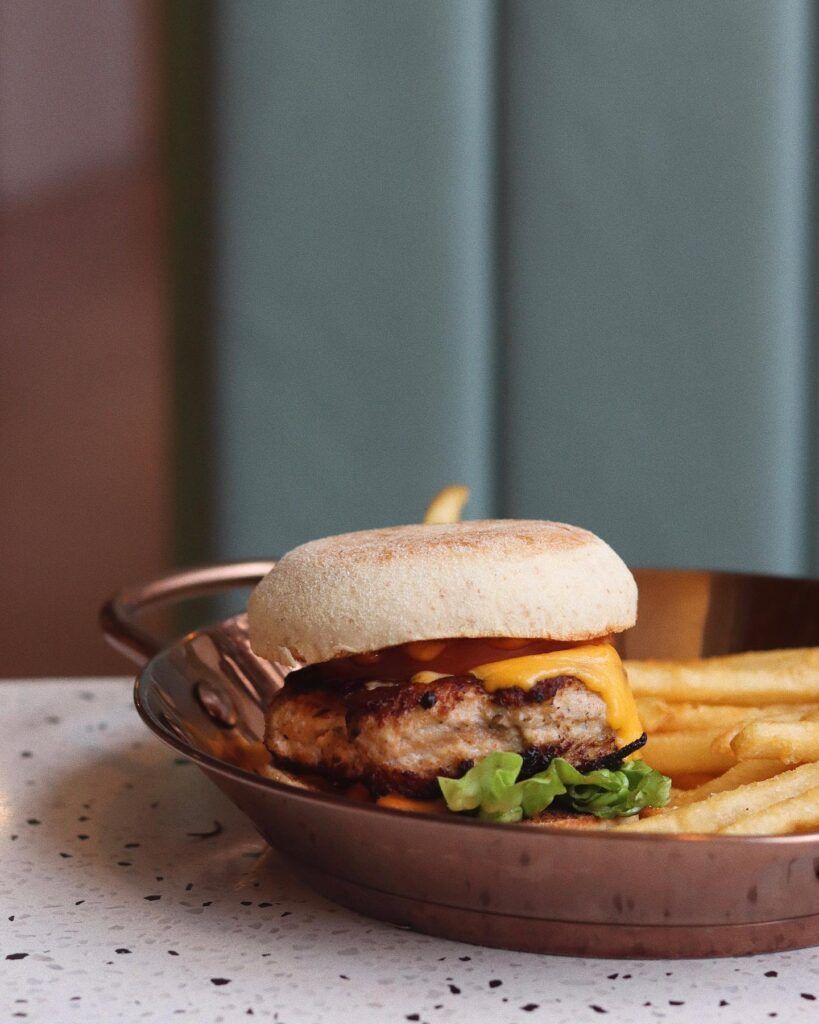 The Great Mischief Menu Drinks 
The Great Mischief's drinks include coffee, tea, hot chocolate, cold brew, bottled beverages, fresh juice, and mocktails. These hot and cold beverages pair perfectly with the cuisines that it offers. 
Cold Brew – The extensive steeping time of this cold brew gives this coffee a smooth and mellow flavor. It also has a thick, syrupy mouthfeel, making each sip enjoyable. Black and white are the two cold brew variants served by The Great Mischief. 
White Coffee – A coffee loved by most people as it has a nutty and sweet flavor profile. It is made by roasting beans at a lower temperature and has a relatively low acidity level as it has lower caffeine content. 
Chocolate Caliente – It is a Spanish hot chocolate drink that has a rich and thick texture. This is a luscious and comforting drink that will satisfy your chocolate cravings. This beverage Is commonly paired with churros in Spain as its taste goes well perfectly. 
Dulce 
The dulce or sweets The Great Mischief serves consists of Churros, a deep-fried dough stick dusted with cinnamon sugar and served with Chantilly cream. It also offers other desserts, such as Crema Catalana and Burnt Cheesecake. These sweets are a good option for those vegetarians. Customers can also ask the friendly staff for the other pastries and baked goods available. 
The Great Mischief Menu Delivery 
The authentic Spanish cuisines of The Great Mischief are available for delivery. Place your orders through the application or website of its partner delivery platforms, such as Oddle, GrabFood, Foodpanda, and Deliveroo. 
Social Media Pages
Welcome to The Great Mischief, where culinary creativity and immersive experiences collide. Follow their social media pages to unlock a world of gastronomic wonders, captivating events, and vibrant community engagement. Share your experiences, connect with fellow epicureans, and immerse yourself in the magic of The Great Mischief. They are inviting you to join them on this extraordinary culinary voyage, where mischief awaits at every turn.
Facebook: https://www.facebook.com/thegreatmischief
Instagram: https://www.instagram.com/thegreatmischief
Website: https://thegreatmischief.oddle.me/en_SG
FAQs 
What type of cuisine does The Great Mischief offer? 
Spanish is the type of cuisine that The Great Mischief offer. 
Does The Great Mischief restaurant have vegetarian or vegan options? 
Yes, The Great Mischief has a vegetarian option, such as Churros and Patatas Bravas. 
Does The Great Mischief offer takeout or delivery services? 
Yes, The Great Mischief offers takeout and delivery services through its partner delivery platforms, such as Deliveroo, Foodpanda, GrabFood, and Oddle. 
Does The Great Mischief offer any special promotions or seasonal menus? 
The Great Mischief does not offer special promotions or seasonal menus. 
Is Great Mischief Halal certified? 
Yes, The Great Mischief is a halal-certified Spanish restaurant in Singapore.  
Conclusion
The Great Mischief menu showcases the finest culinary arts of Catalan in Spain. This great place is perfect for everyone, as it has kid-friendly and vegetarian dishes. If you do not know what to order, try some of its best sellers or ask its friendly staff for food recommendations. This restaurant's dishes and environment are visually appealing, making them eye-catching and Instagrammable.